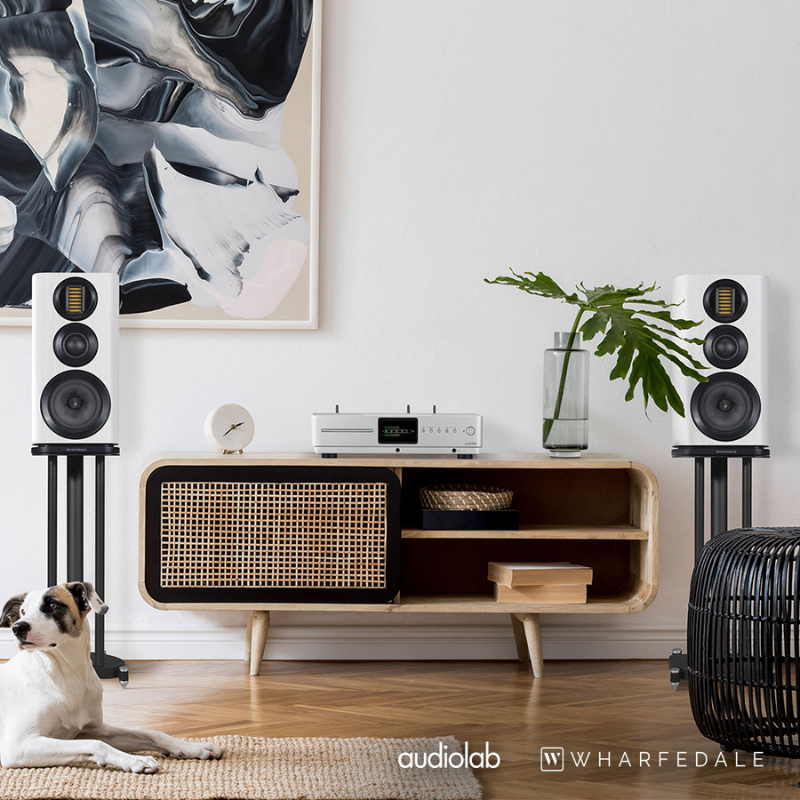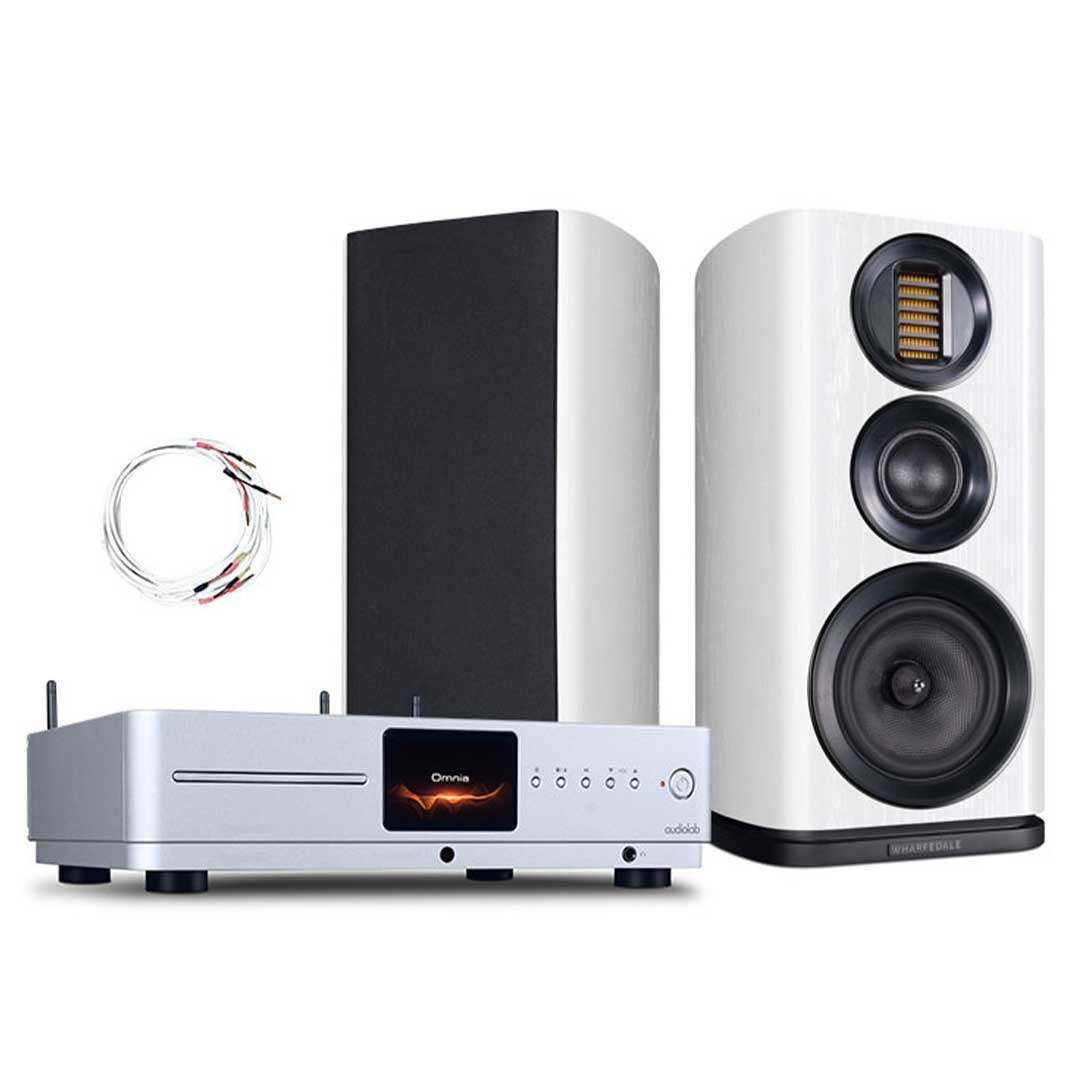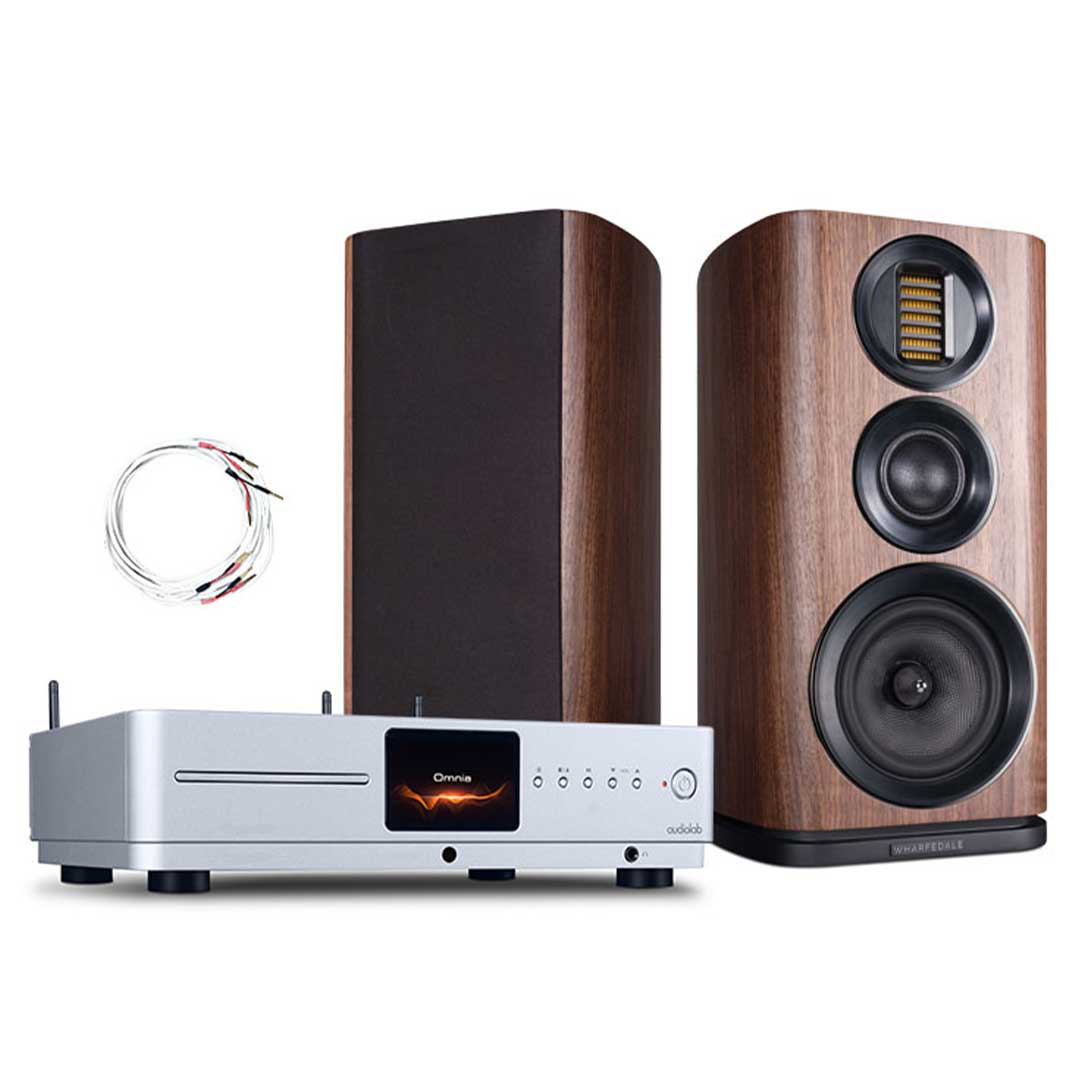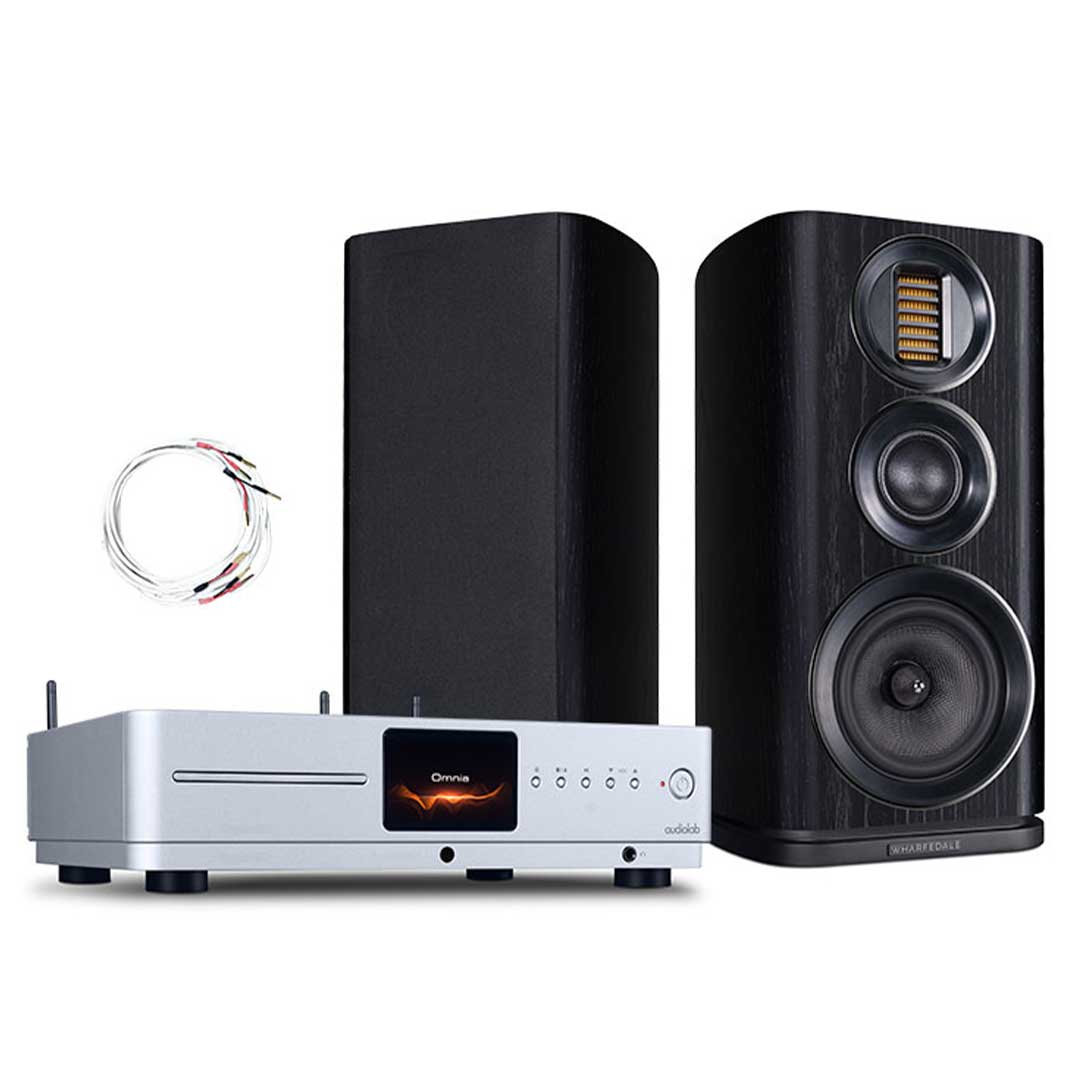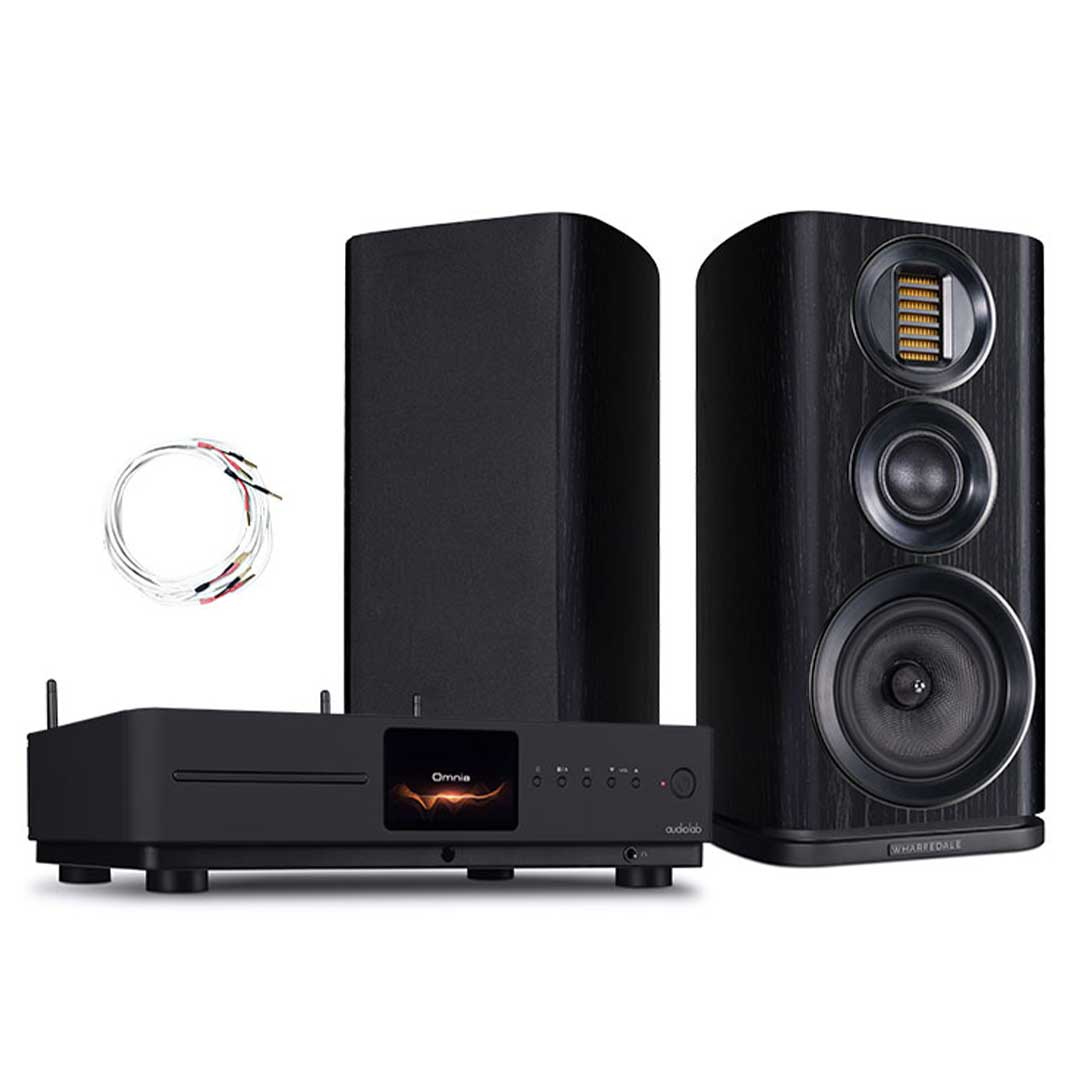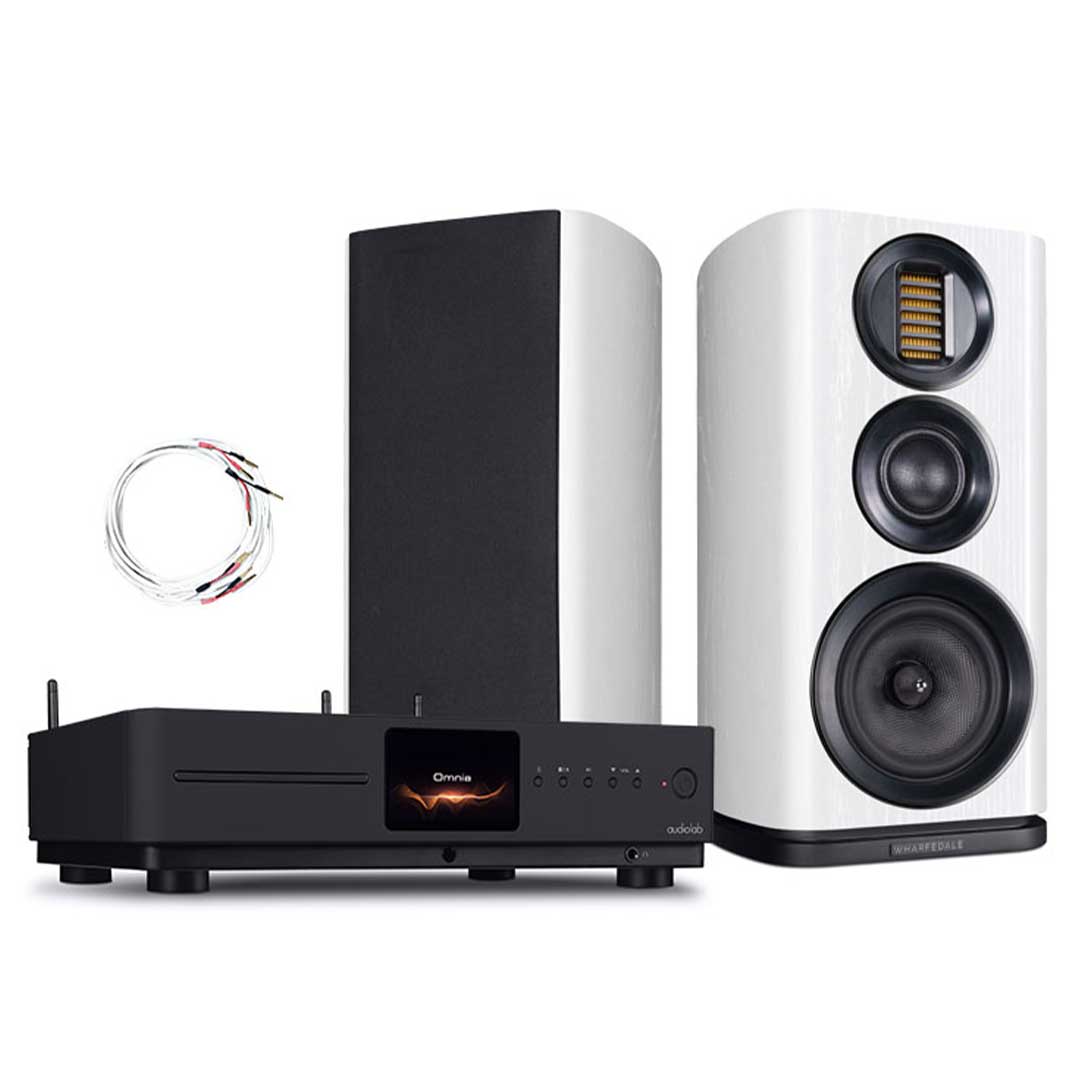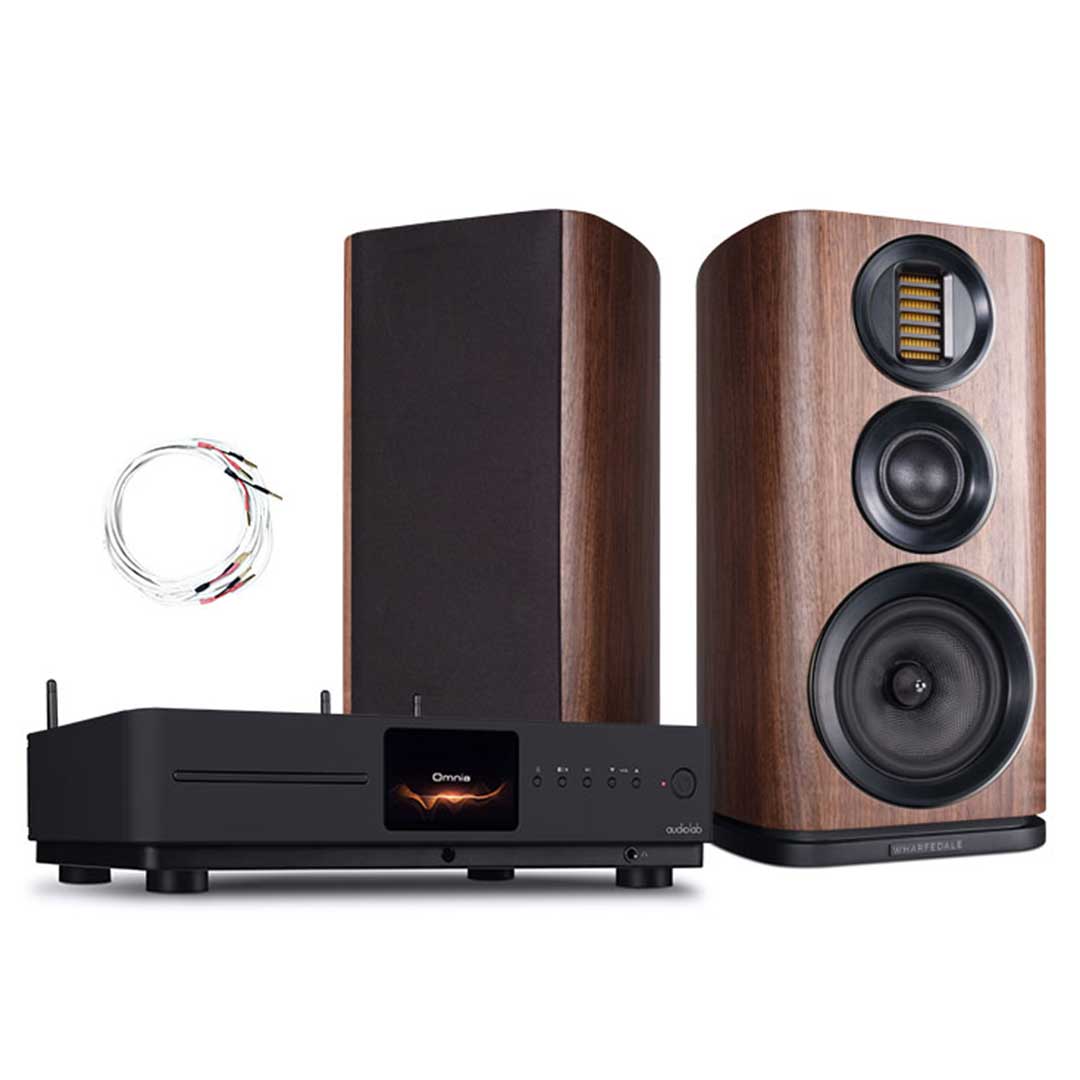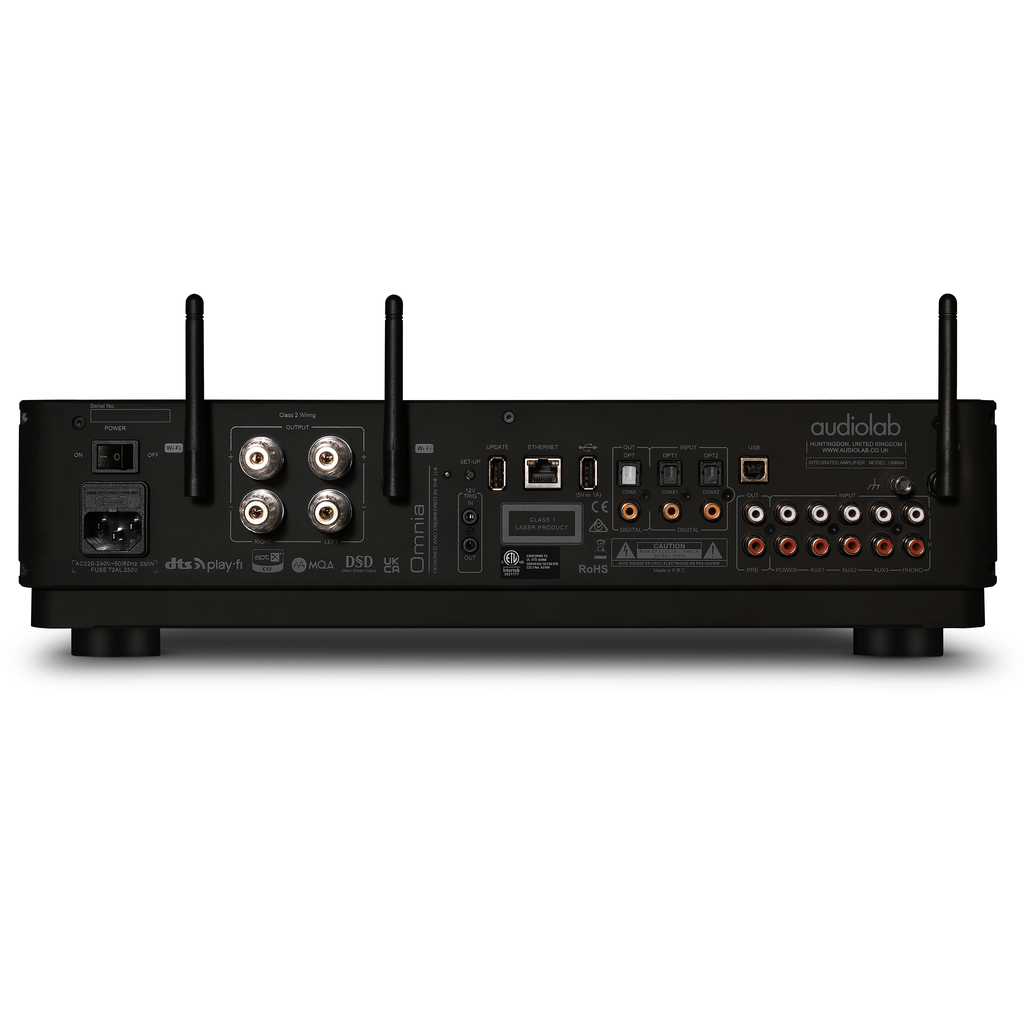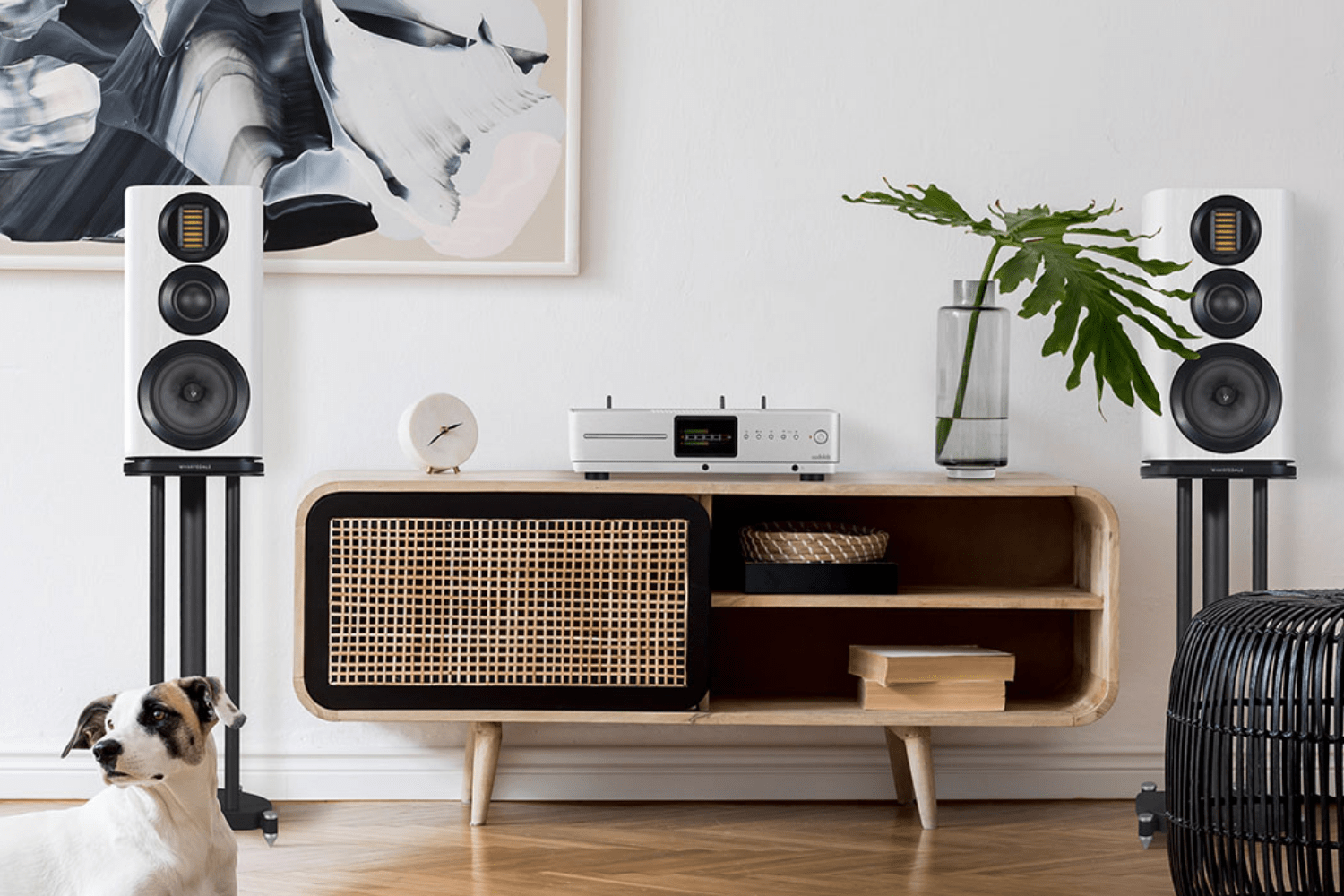 Hotel Revolution Hi-fi Pack
With inbuilt and ready-to-play music functionality, complimentary speaker cable, and an easy-to-follow setup instruction video, this first-class ticket to weeknight wanderlust includes everything you need to play straight from the box.
---
Specifications

General Description:
Integrated Amplifier
Design Philosophy and Core Technology:
2x50W (8ohm) / 2x75W (4ohm) Class AB
ES9038Q2M 32-bit DAC
- 4.3
Built in certified hardware MQA Full decoder (PC USB, Coax/Optical)
CD playback compatible with CD, CD-R, CD-RW discs
USB memory device support (MP3/WMA/AAC/WAV)
DTS Play-Fi technology (IEEE 802.11 a/b/g/n/ac)
Streaming service support includes Amazon Music, Spotify, TIDAL, KKBox, SiriusXM, Napster, Internet Radio, Deezer, iHeartRadio, PANDORA, Qobuz, QQmusic and more
Multi-room / multi speaker group support
Bluetooth 5.0 (aptX/aptX LL) streaming
Low Noise Moving Magnet Phono stage
Dedicated Current-Feedback Headphone AMP
Integrated / PRE-POWER / PRE only Modes
Android / iOS / Kindle Fire / Windows PC Control Support
USB firmware upgrade input
Inputs:
3 x Analogue, 1 x Phono (MM) , 1 x Power Amplifier, 2 x SPDIF (Coax)
2 x SPDIF (Optical), 1 x DTS Play-Fi Streaming, 1xPC USB(USB B)
1xUSB HDD(USB A), 1 x Bluetooth(aptX/aptX LL), 1 x 12V Trigger
Outputs:
1 x PRE Amplifier, 1 x Stereo Speaker, 1 x Headphone, 1 x 12V Trigger
Sampling Frequency:
Optical / Coaxial:44.1kHz ---192kHz
Optical / Coaxial: 44.1kHz ---192kHzPC USB: 44.1kHz - 768kHz (PCM) / DSD64, DSD128, DSD256, DSD512
Preamplifier Section
Gain:
+8dB (Line)+47dB (Phono MM)
Input Sensitivity:
720mV (Line, Volume = 0dB)3.1mV (Phone MM, Volume=0dB)
Input Impedance:
10K (Line)47K // 100pF (Phono MM)
Total Harmonic Distortion (THD):
< 0.0004% (1KHz @ 2V, Volume = 0dB)
Frequency Response:
20Hz-20kHz (+/-0.1dB)
Output Voltage:
2.3V max. (Volume = 0dB)
Output Impedance:
100 ohm
Signal-to-Noise Ratio:
>110dB (Line,A-weighted)76dB (Phono MM,A-weighted)
DAC
D to A Converter:
ES9038Q2M
Total Harmonic Distortion (THD):
< 0.0006% (1KHz @ 0dBFS)
Output level (0dBFS, 1KHz):
2.1Vrms
Max. Sampling Frequency:
Optical, Coaxial: 192KHzEthernet,Wi-Fi: 192KHzUSB A:48kHzPC USB: PCM768kHz, DSD512
Signal-to-noise Ratio (S/N):
114dB (A-weighted)
Power Amplifier Section
Gain:
+29dB
Rated Power Output:
2 x 50W (8 ohm, THD < 1%)2 x 75W (4 ohm, THD < 1%)
Frequency Response:
20Hz-20kHz (+/-0.3dB)
Total Harmonic Distortion (THD):
< 0.003% (1kHz @ 40W / 8ohm)
Input Sensitivity:
720mV
Signal-to-Noise Ratio (S/N):
110dB (A - weighted)
Max. Output Current:
9A
Headphone Amplifier
Total Harmonic Distortion (THD):
< 0.01% (1kHz, 50mW )
Output Impedance:
10ohm
Load impedance:
20-600 ohm
General
Standby Power Consumption:
< 0.5W
Net Weight:
9.1kg
Gross Weight:
11kg
Dimensions (mm) (W x H x D):
440 x156 x 327
Finish:
Black / Silver
Power Requirements (depending on region):
220-240V ~ 50/ 60Hz 100-120V ~ 50/ 60Hz
Standard Accessories:
Power Cord, Remote Control,User Manual, Antennas, etc.
To qualify for Wharfedale's extended 3 year warranty, you must register your product within 90 days from the date of purchase. Visit https://www.wharfedale.co.uk/warranty-registration to complete your online registration.

Items not registered online will have a 1 year warranty.
We offer free shipping on any product over $99. For full details please see our Shipping Policy.

Our returns policy lasts 30 days. If 30 days have gone by since your purchase, unfortunately, we may not be able to offer you a refund or exchange. For full details please see our Refund Policy.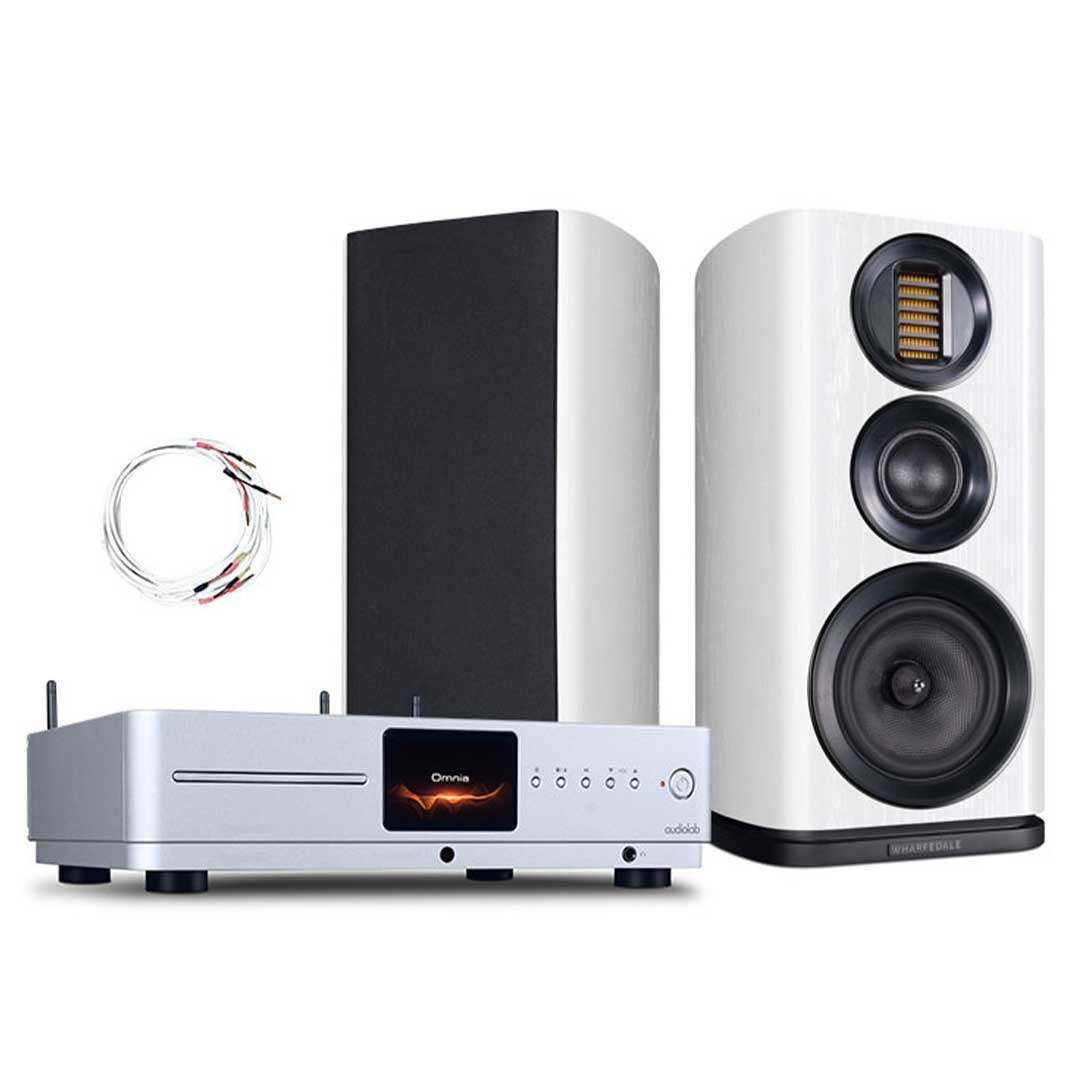 WHAT'S IN THIS PACK?
The Hotel Revolution Hi-fi Pack includes
All relevant cables, including 2 x 3m QED speaker cable with Airloc Mini Connectors & a quick start guide & QR code initiated video setup.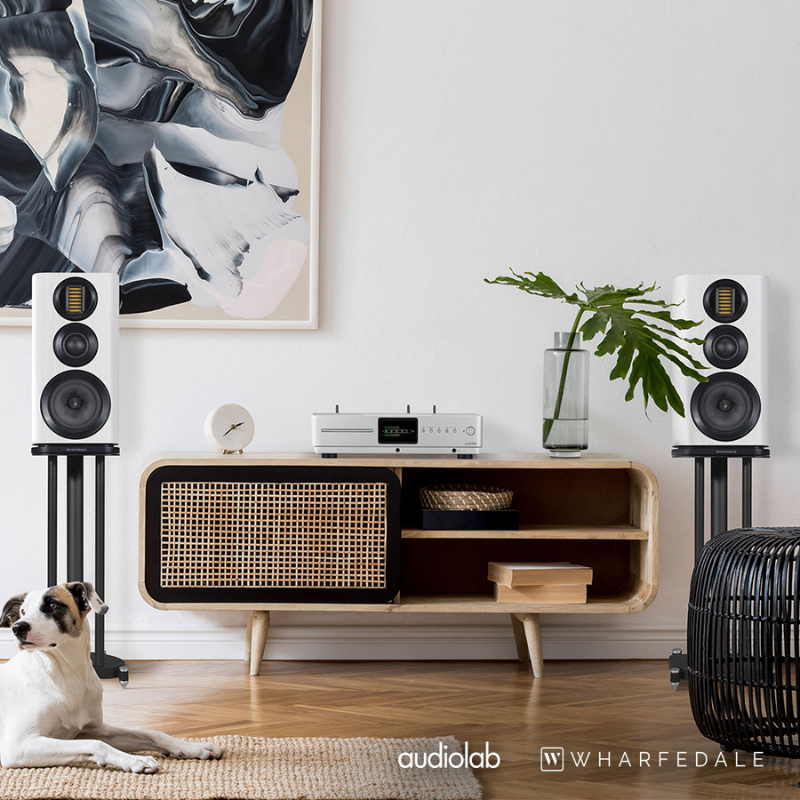 TELL ME MORE ABOUT
The Hotel Revolution Hi-fi Pack
With a wealth of entertainment options delivered in true audiophile resolution, explore the local jazz scene, reconnect with the classics, or take in a show live from your living room, every night! Welcome to Hotel Revolution: check out anytime you like.

We combined Wharfedale's EVO4.2 bookshelf loudspeakers with Audiolab's OMNIA all-in-one streaming amplifier to create a complete music system with advanced technological features and audiophile-grade sound quality.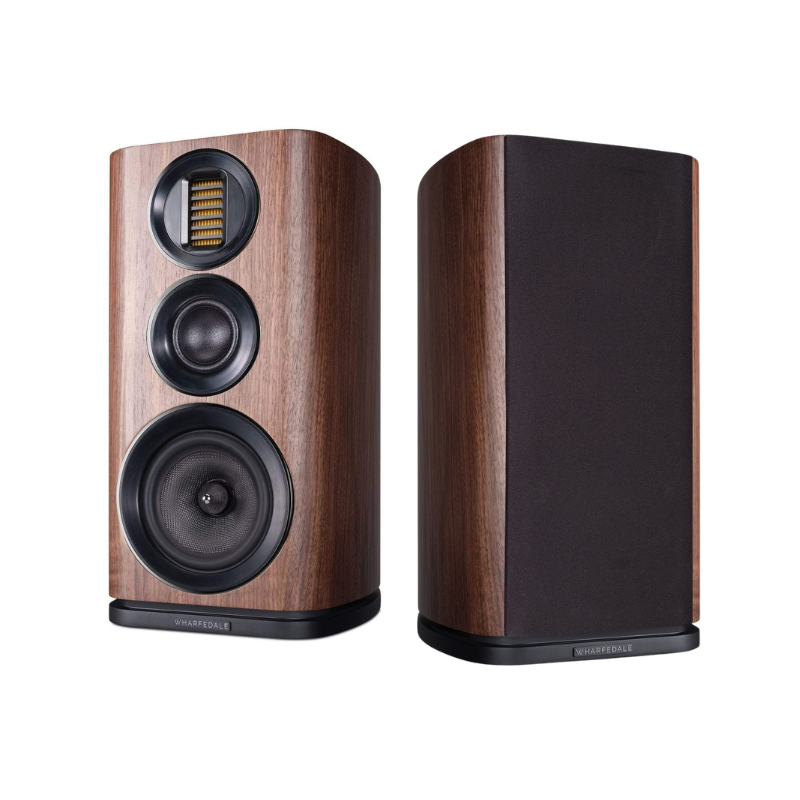 Wharfedale Evo 4.2 Standmount Speakers
There are many evolutions in a lifetime of quality listening; Wharfedale wants to be there for all of yours. Borrowing from the very best of their flagship model Elysian, Wharfedale built for you a premium step-up series packing more technology and more performance per square inch than any other speaker in its category. Now Wharfedale is here for the next evolution in your music journey thanks to EVO4.2.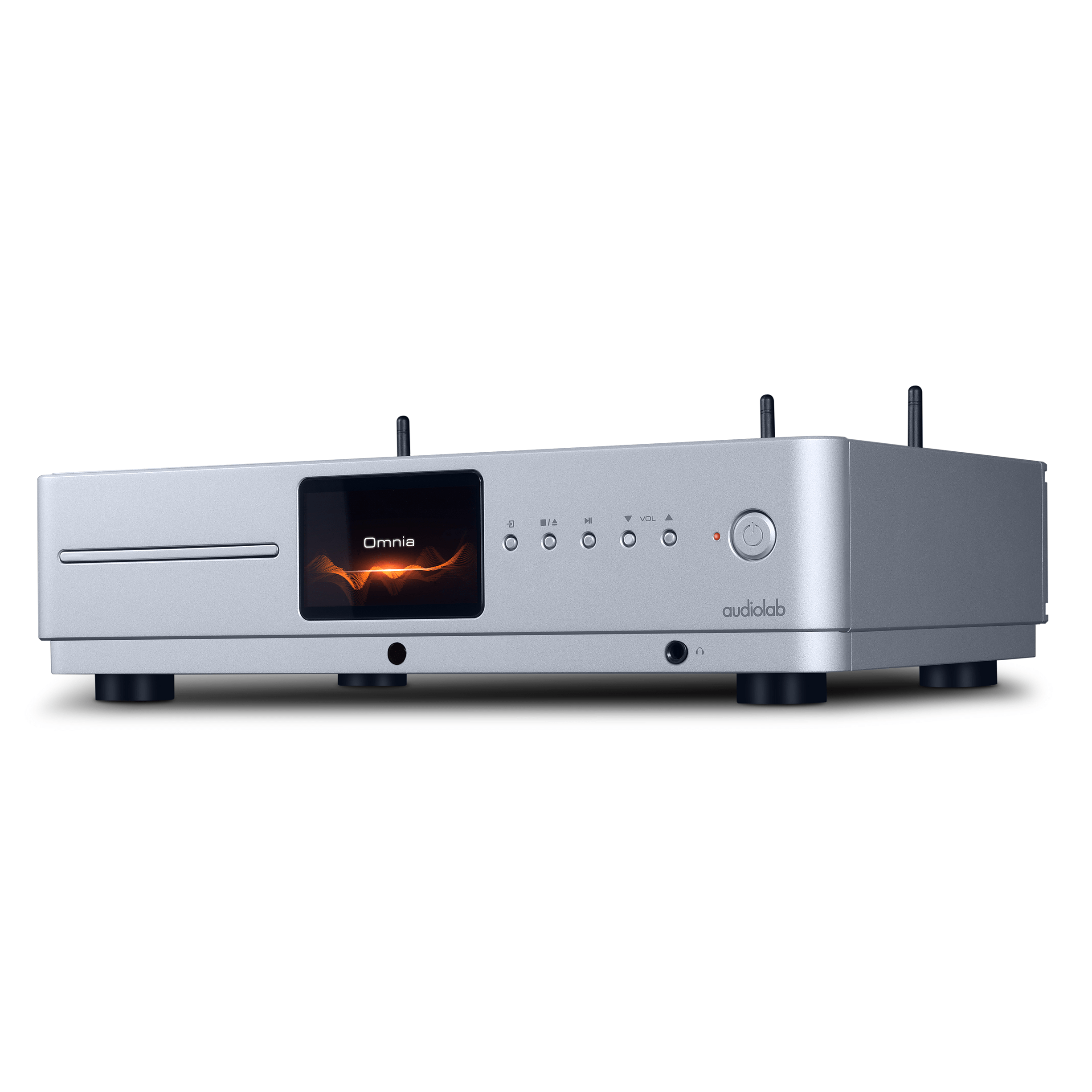 Audiolab OMNIA Integrated Amplifier
Omnia is an amplifier, yes. But also, a wireless multi-room streamer, a CD player, a Bluetooth player, and headphone amp. Combined with its vast range of digital and analogue inputs, the Hotel Revolution entertainment roster is incredibly broad.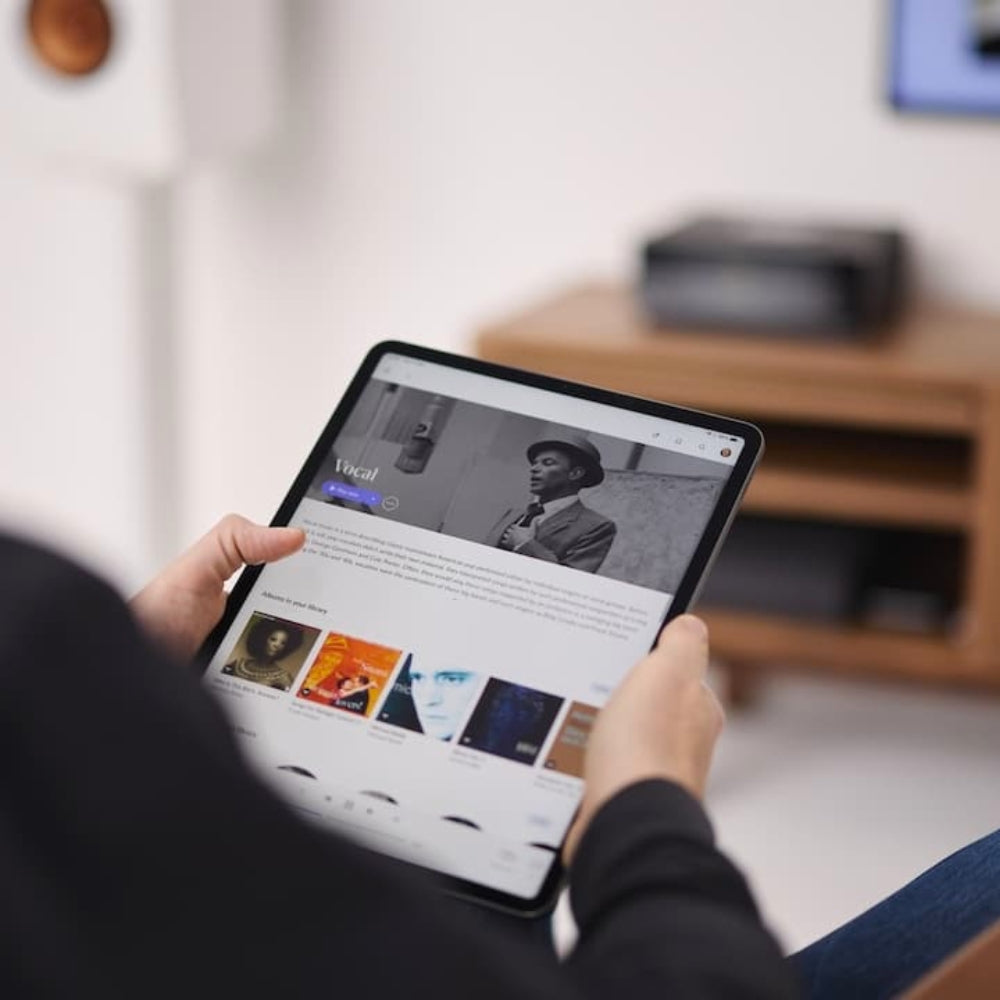 Stream Everything
With onboard DTS Play-FI, access all your favourite streaming services like Spotify, Tidal, Amazon Music & more. Plus, Play-Fi's easy-to-use app for both iOS and Android smart devices gives you palm-sized control over the evening's entertainment.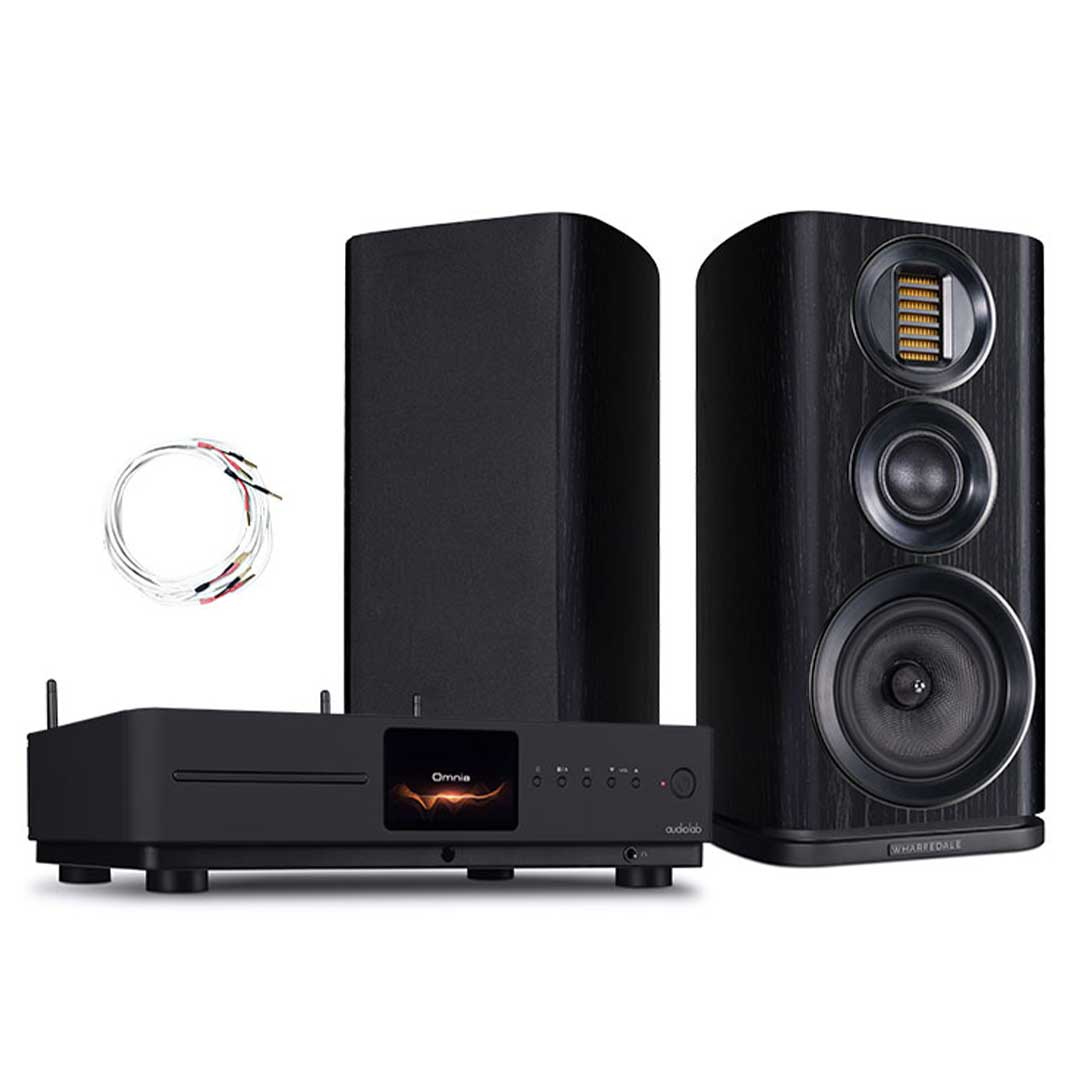 The Omnia is a very capable and well-specced just-add-speakers system that is well worth an audition.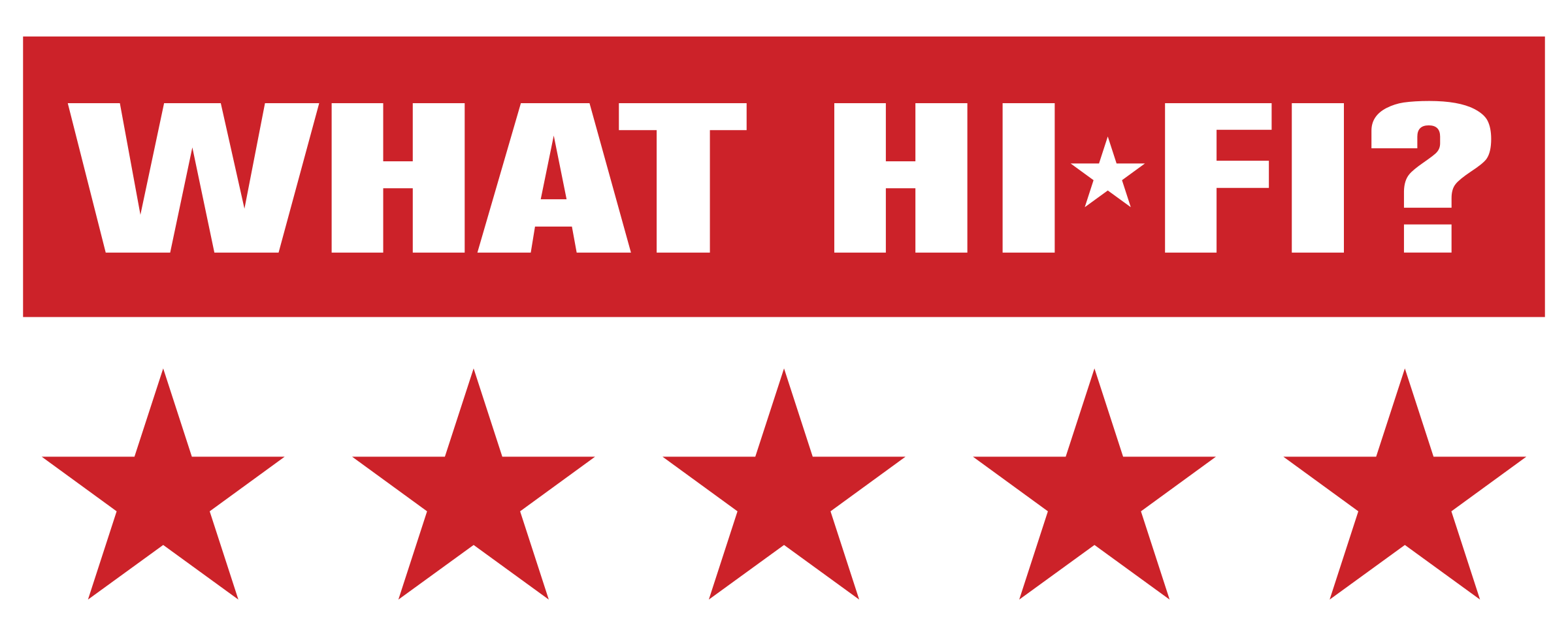 The Hotel Revolution Hi-fi Pack
The quality of sound and build of these speakers are awesome. I use these speakers in quite a large open plan area and have no issues with sound quality when matched with the audiolab amplifier. The only thing I might do in the future is possibly add a subwoofer to get a bit more bass punch. The system was easy to setup and I normally stream Apple Music through Bluetooth and the sound quality sounds great.
WHILE YOU ARE BROWSING
You may also like