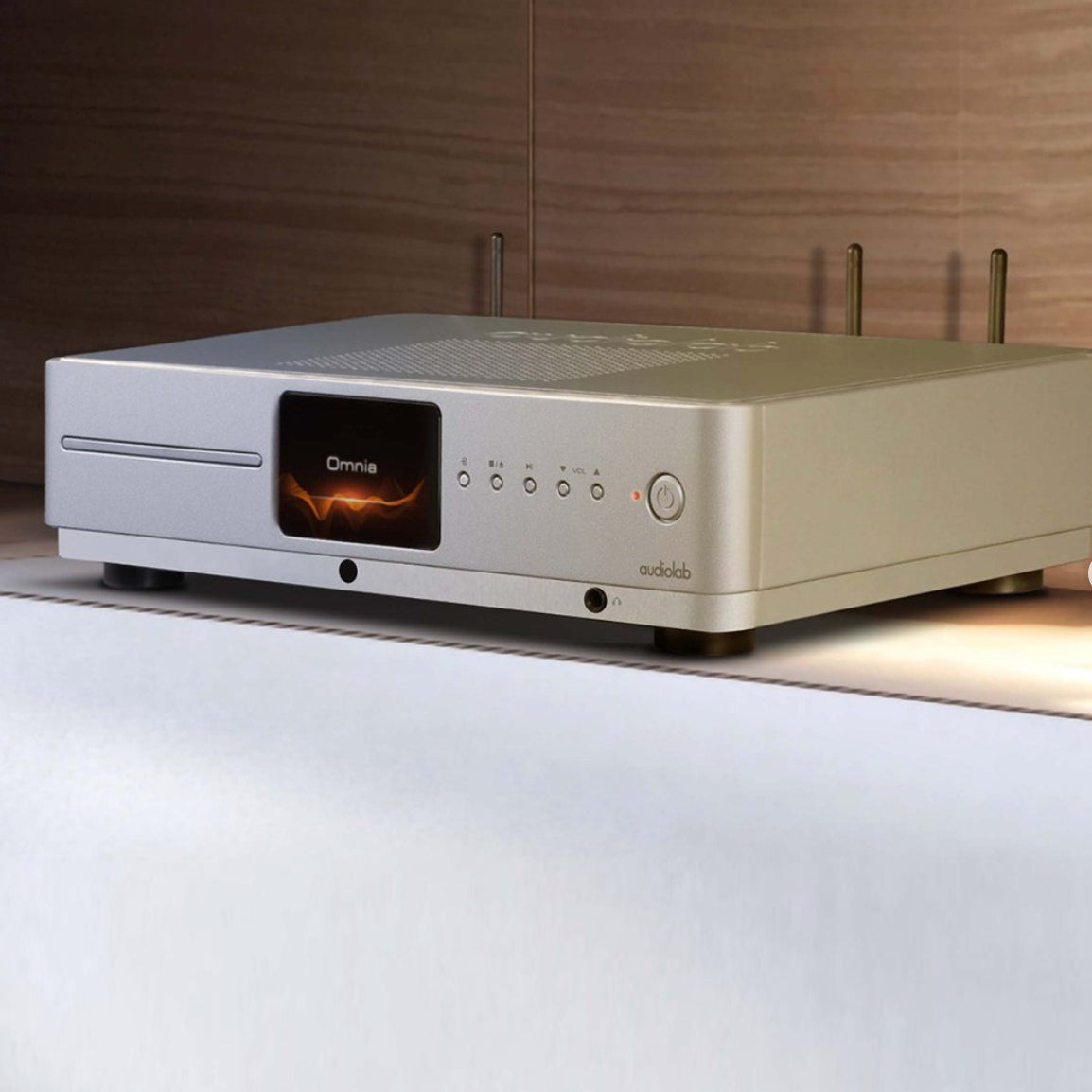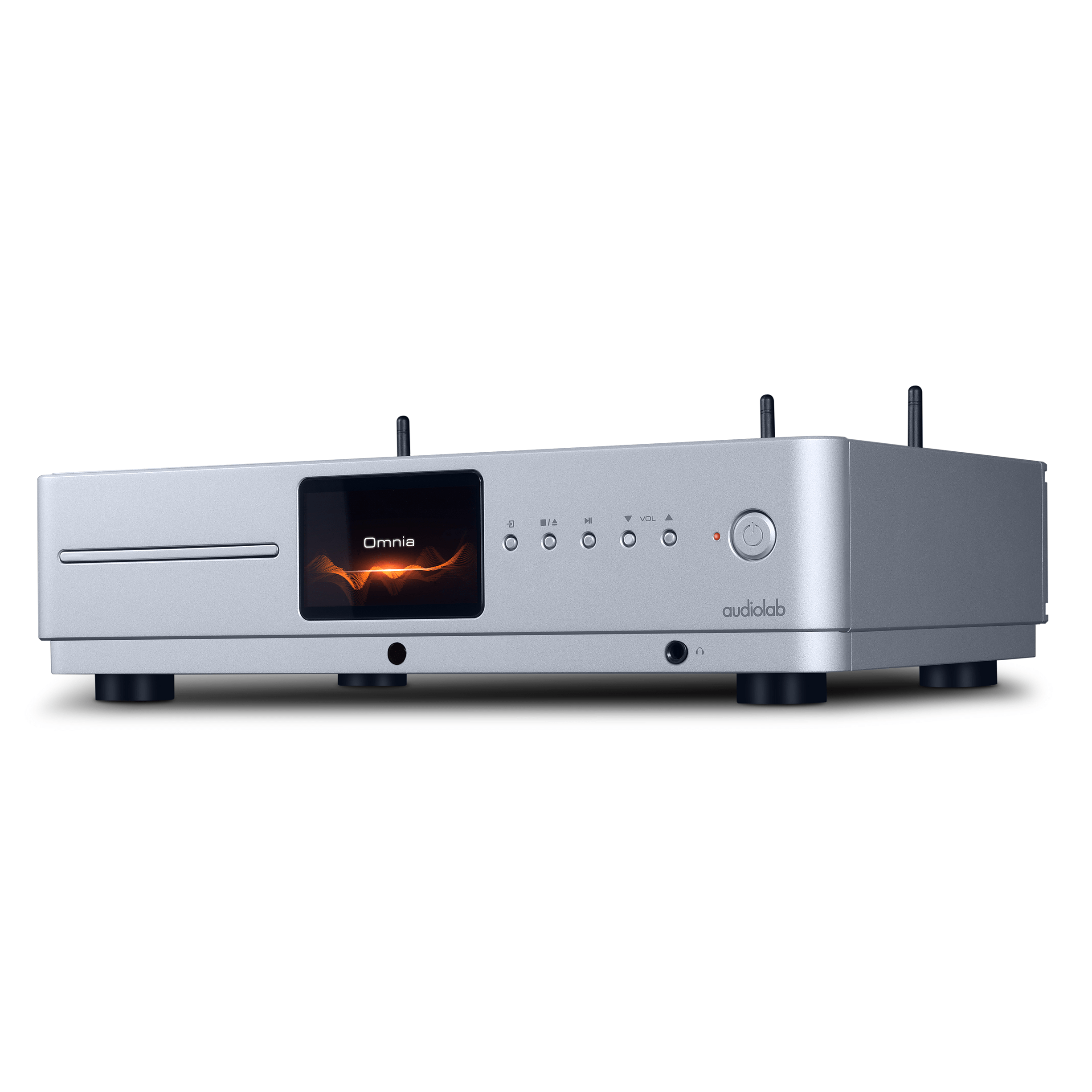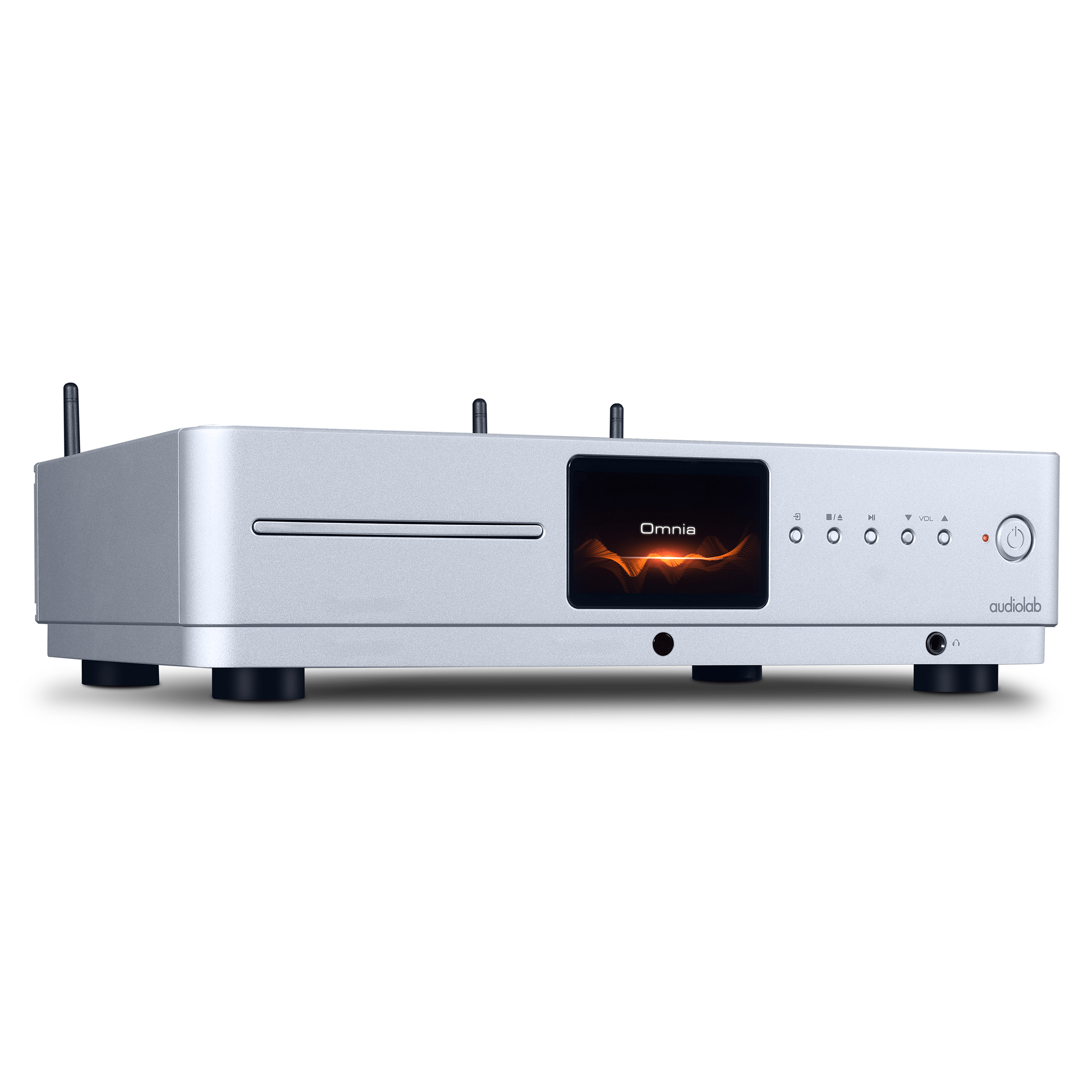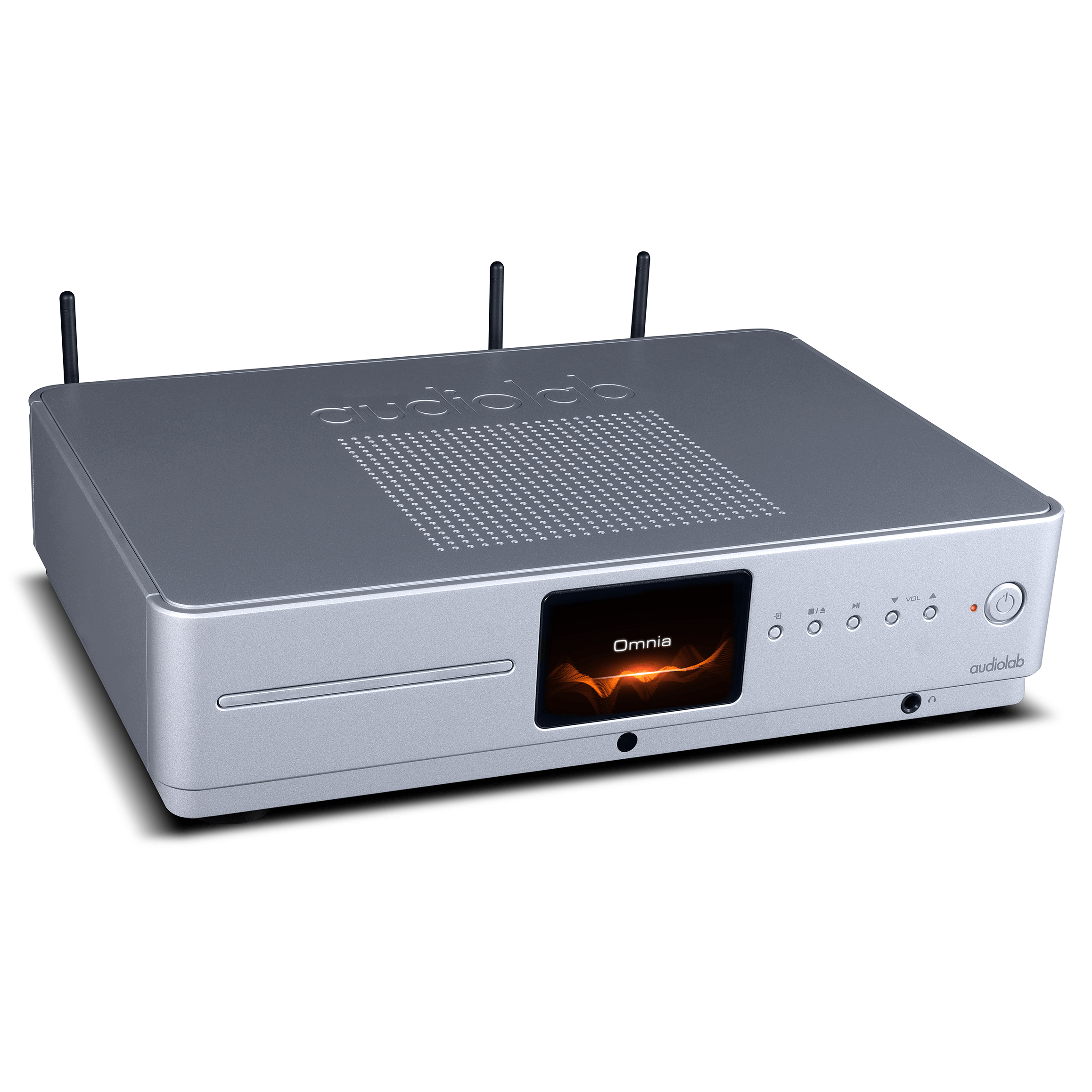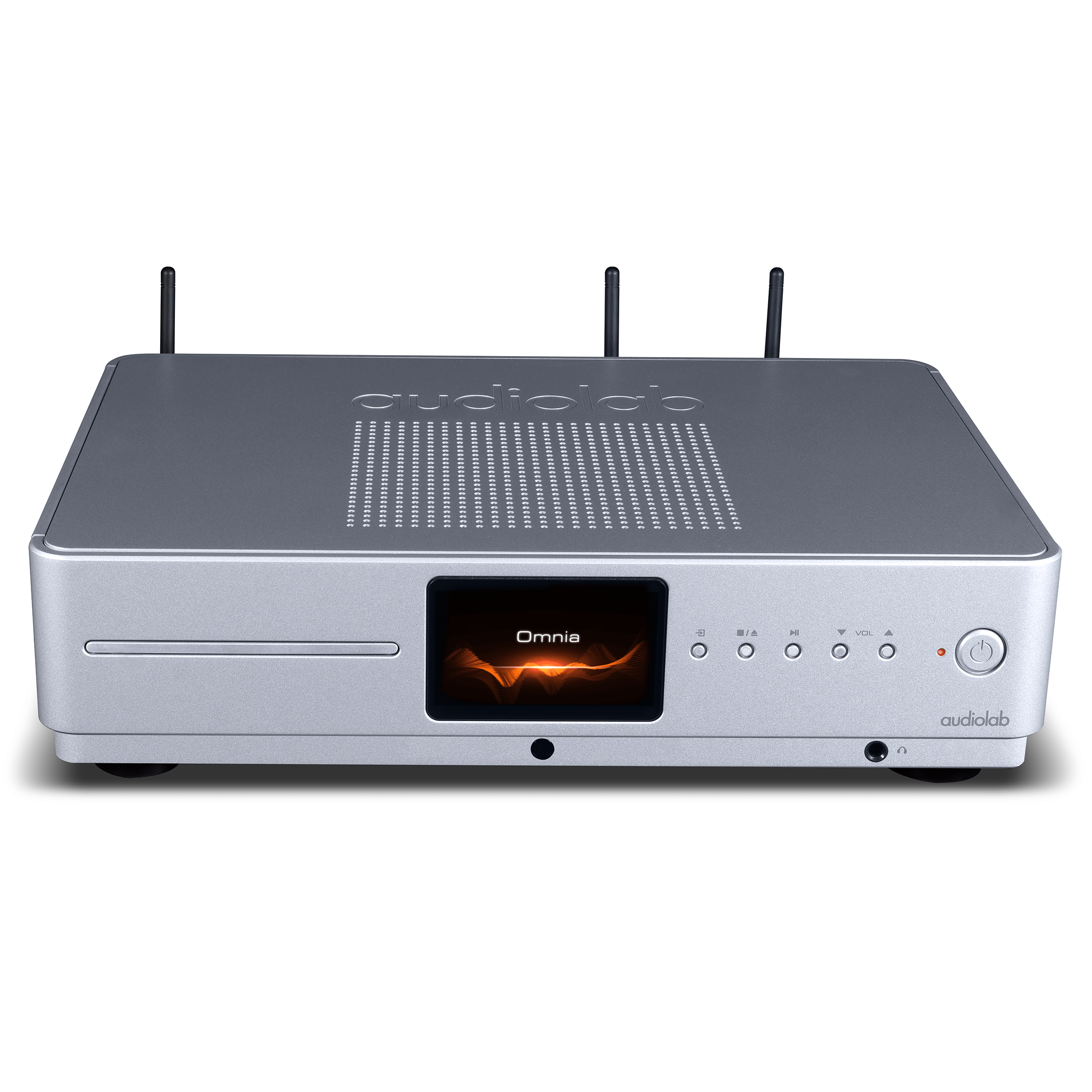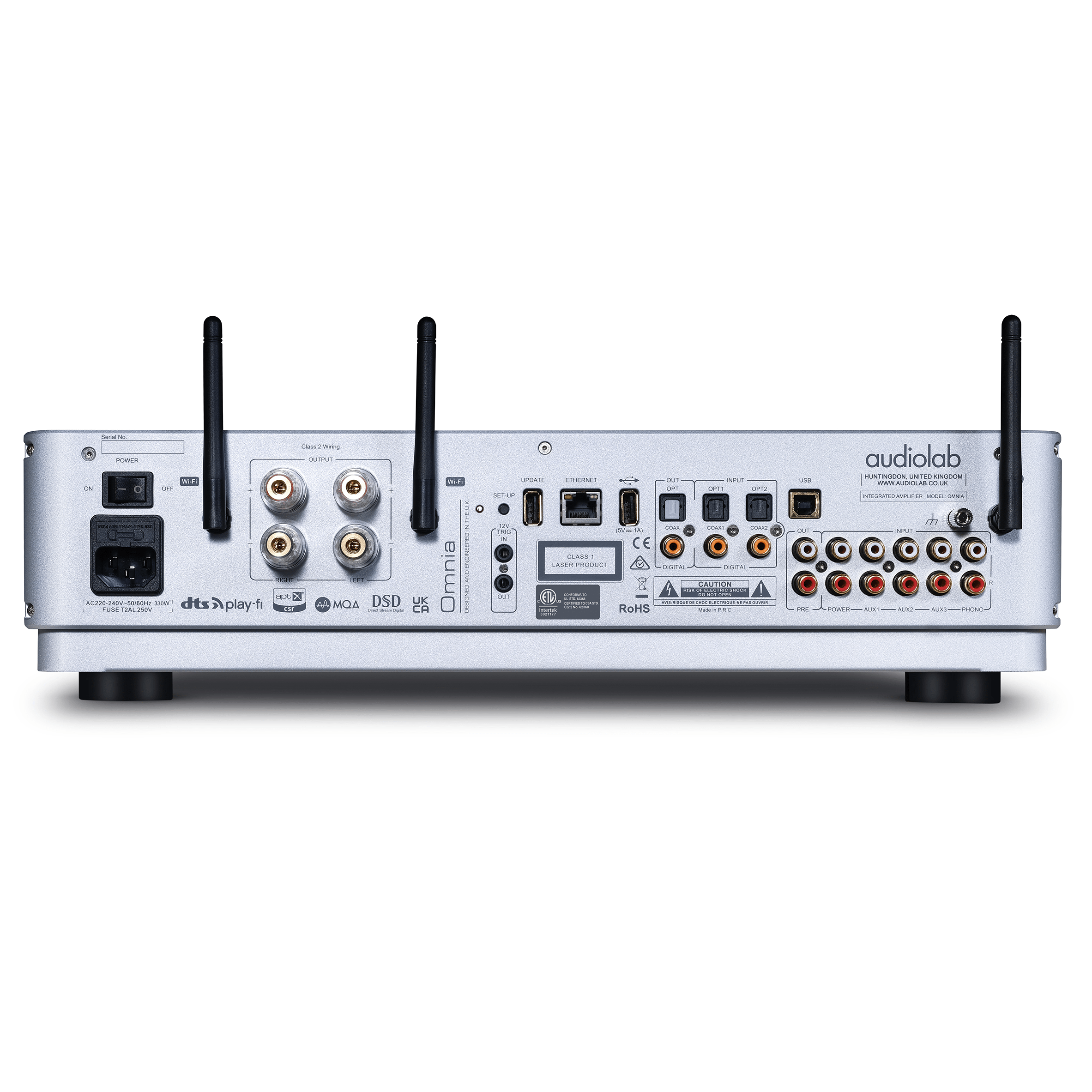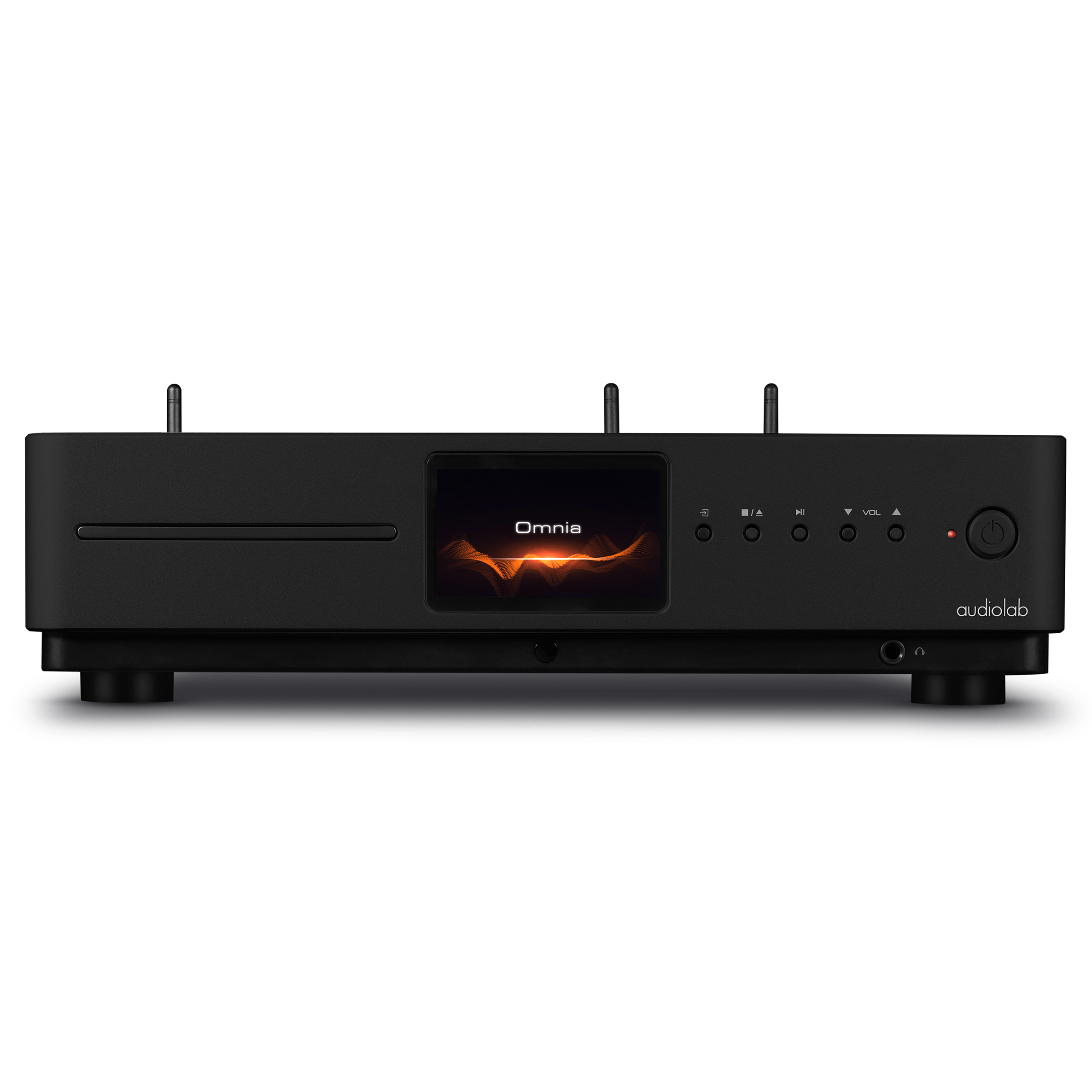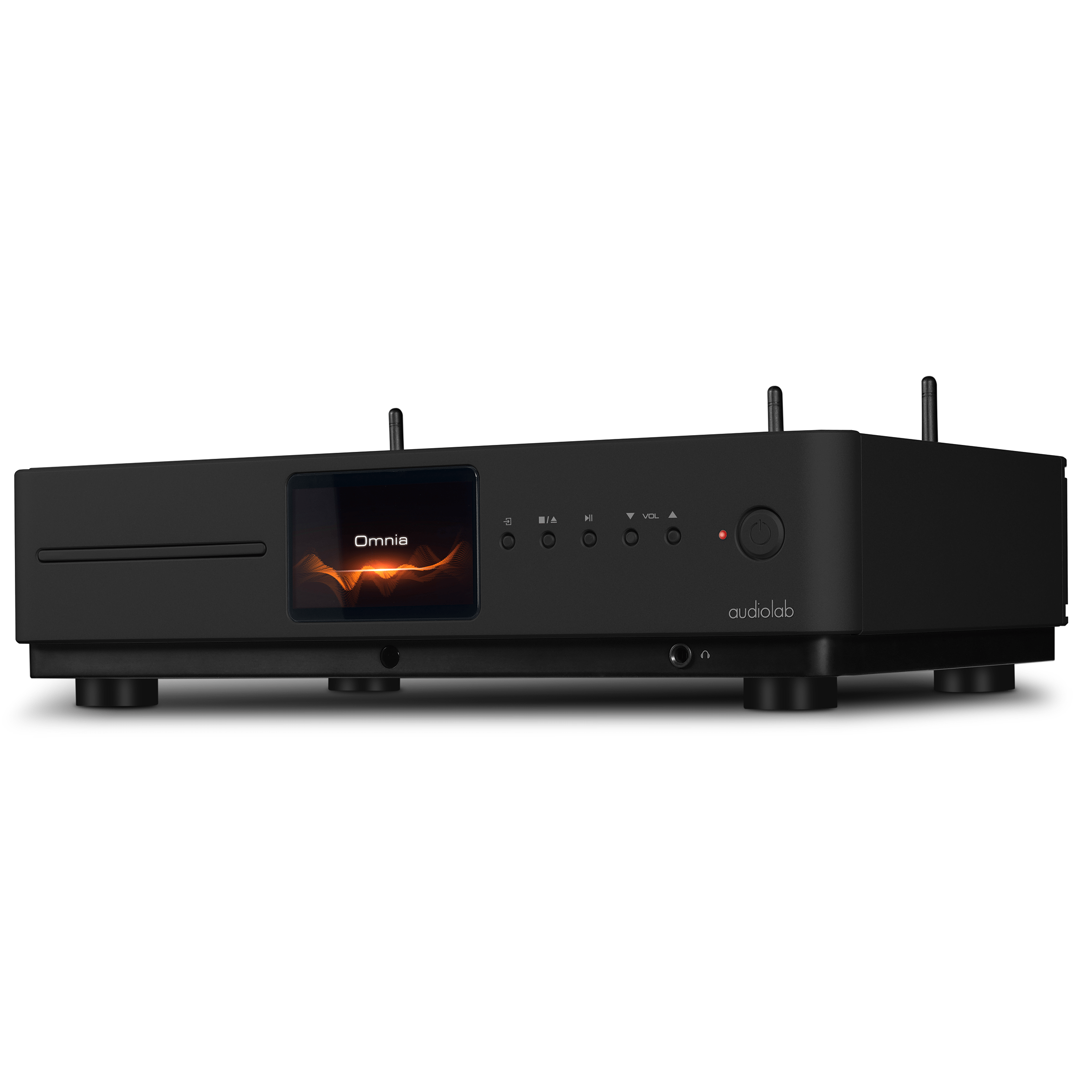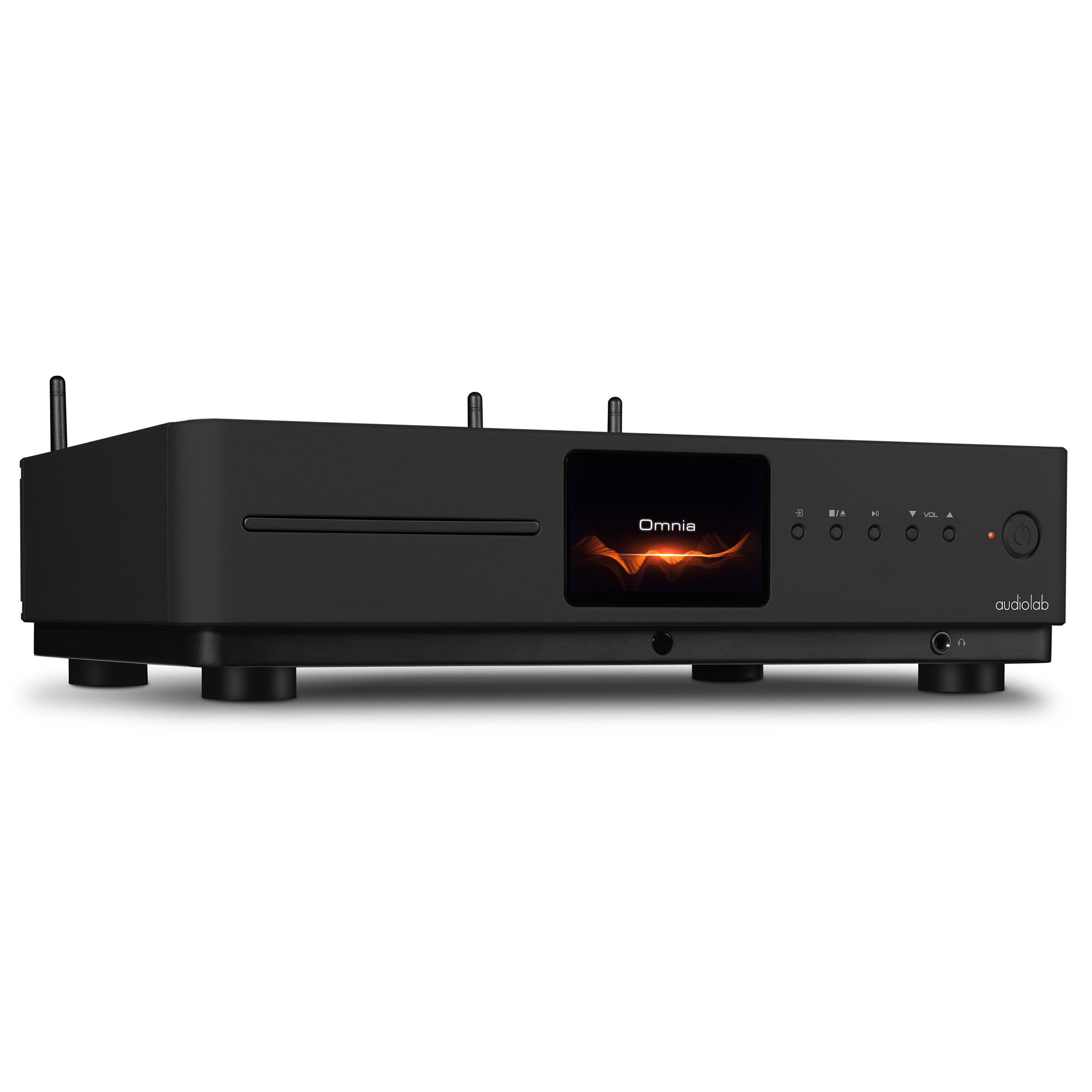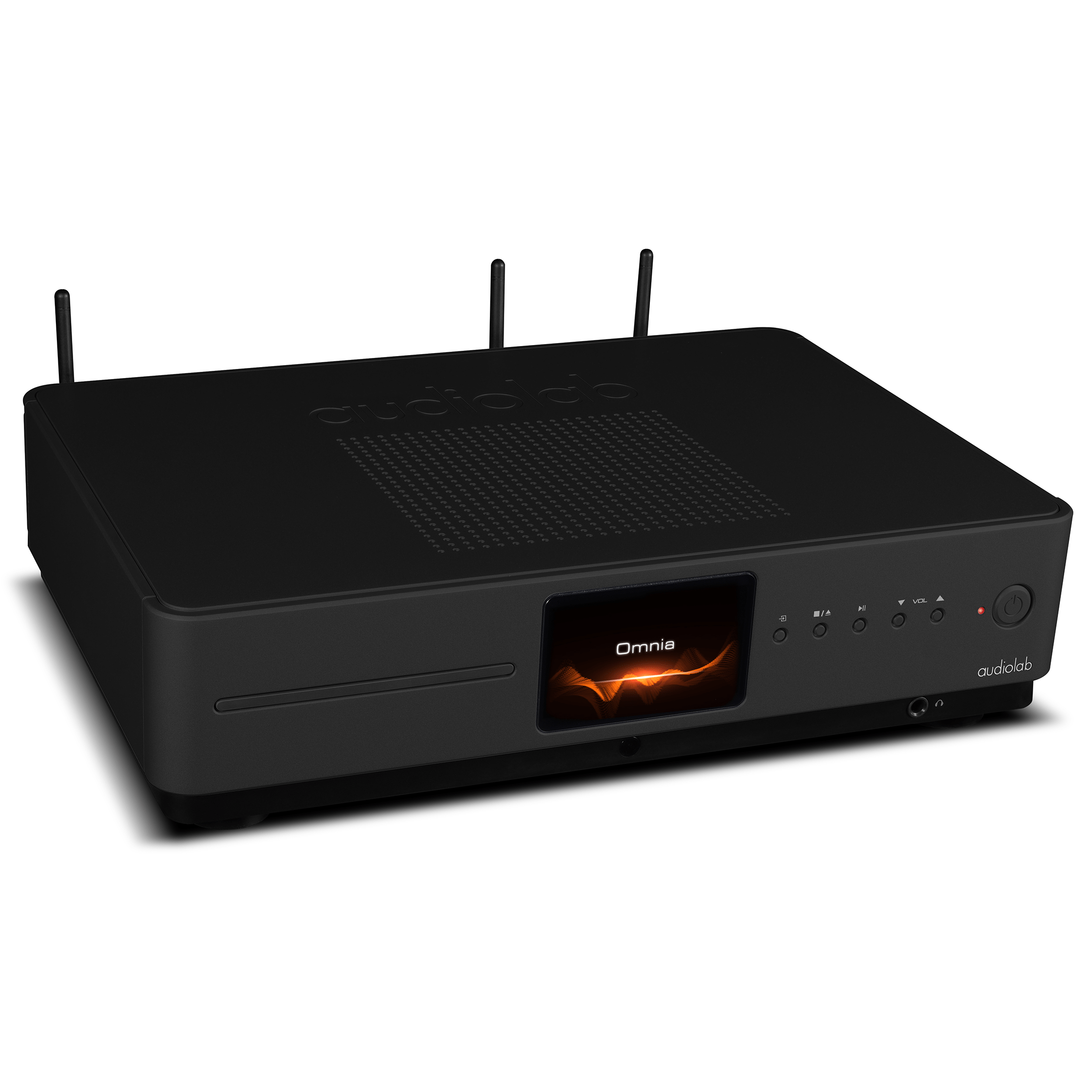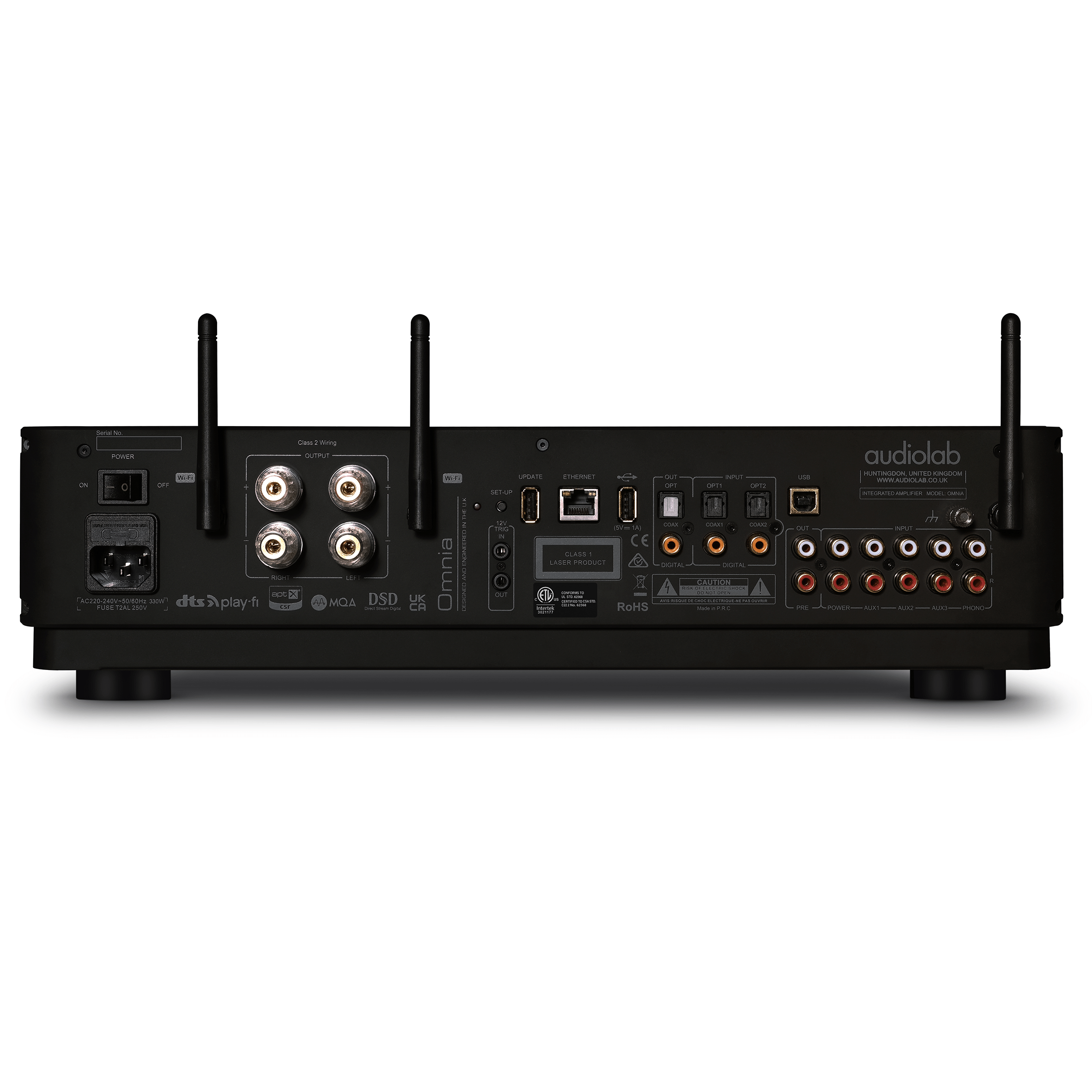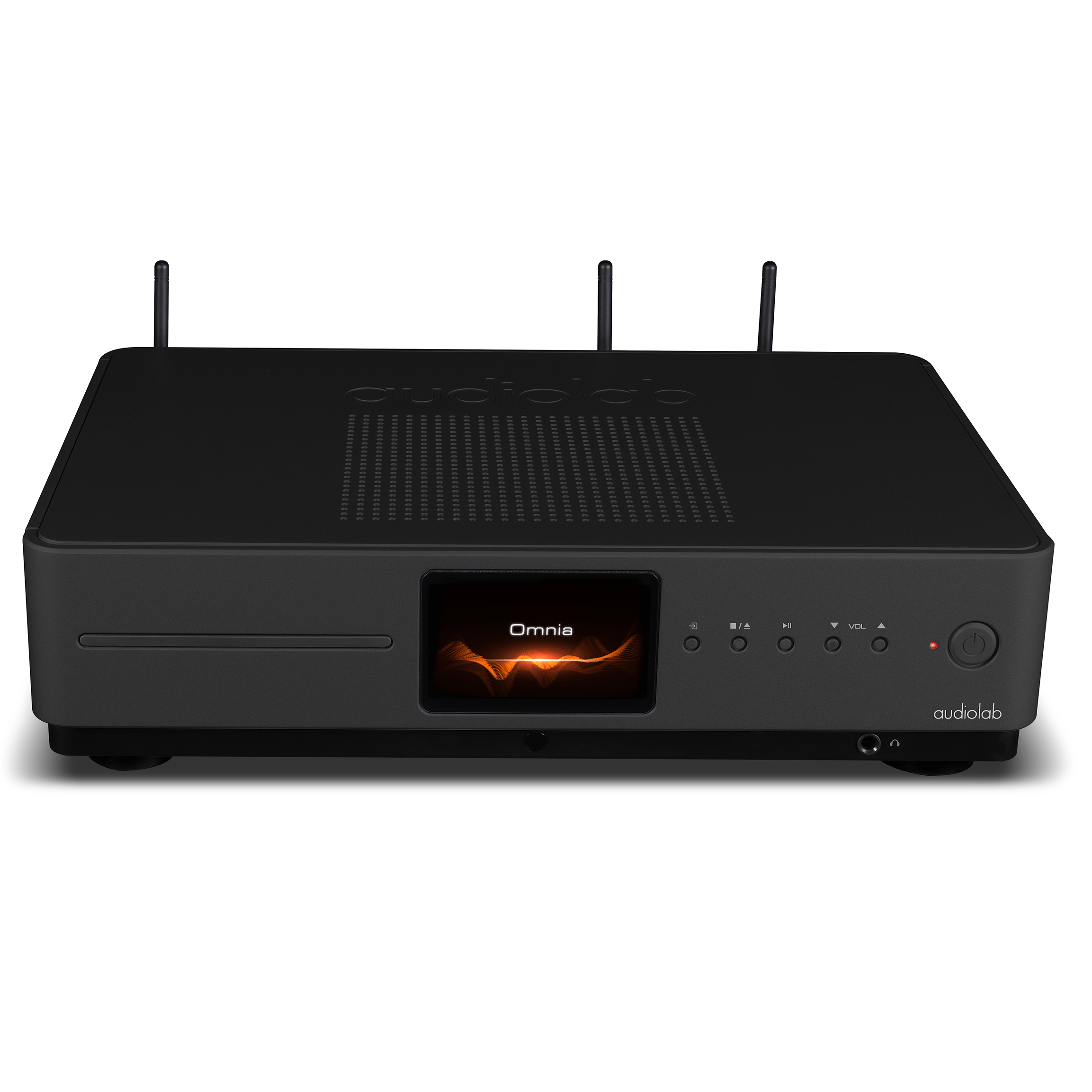 Audiolab Omnia All-In-One Integrated Amplifier
---
We're giving away 2 sets (4 pairs of earbuds) with every purchase. Before being eligible to receive their give-away, customers who purchase a qualifying product must first complete the product's Warranty Registration https://www.avrevolution.com.au/pages/register-your-warranty
Specifications

General Description:
Integrated Amplifier
Design Philosophy and Core Technology:
2x50W (8ohm) / 2x75W (4ohm) Class AB
ES9038Q2M 32-bit DAC
- 4.3
Built in certified hardware MQA Full decoder (PC USB, Coax/Optical)
CD playback compatible with CD, CD-R, CD-RW discs
USB memory device support (MP3/WMA/AAC/WAV)
DTS Play-Fi technology (IEEE 802.11 a/b/g/n/ac)
Streaming service support includes Amazon Music, Spotify, TIDAL, KKBox, SiriusXM, Napster, Internet Radio, Deezer, iHeartRadio, PANDORA, Qobuz, QQmusic and more
Multi-room / multi speaker group support
Bluetooth 5.0 (aptX/aptX LL) streaming
Low Noise Moving Magnet Phono stage
Dedicated Current-Feedback Headphone AMP
Integrated / PRE-POWER / PRE only Modes
Android / iOS / Kindle Fire / Windows PC Control Support
USB firmware upgrade input
Inputs:
3 x Analogue, 1 x Phono (MM) , 1 x Power Amplifier, 2 x SPDIF (Coax)
2 x SPDIF (Optical), 1 x DTS Play-Fi Streaming, 1xPC USB(USB B)
1xUSB HDD(USB A), 1 x Bluetooth(aptX/aptX LL), 1 x 12V Trigger
Outputs:
1 x PRE Amplifier, 1 x Stereo Speaker, 1 x Headphone, 1 x 12V Trigger
Sampling Frequency:
Optical / Coaxial:44.1kHz ---192kHz
Optical / Coaxial: 44.1kHz ---192kHzPC USB: 44.1kHz - 768kHz (PCM) / DSD64, DSD128, DSD256, DSD512
Preamplifier Section
Gain:
+8dB (Line)+47dB (Phono MM)
Input Sensitivity:
720mV (Line, Volume = 0dB)3.1mV (Phone MM, Volume=0dB)
Input Impedance:
10K (Line)47K // 100pF (Phono MM)
Total Harmonic Distortion (THD):
< 0.0004% (1KHz @ 2V, Volume = 0dB)
Frequency Response:
20Hz-20kHz (+/-0.1dB)
Output Voltage:
2.3V max. (Volume = 0dB)
Output Impedance:
100 ohm
Signal-to-Noise Ratio:
>110dB (Line,A-weighted)76dB (Phono MM,A-weighted)
DAC
D to A Converter:
ES9038Q2M
Total Harmonic Distortion (THD):
< 0.0006% (1KHz @ 0dBFS)
Output level (0dBFS, 1KHz):
2.1Vrms
Max. Sampling Frequency:
Optical, Coaxial: 192KHzEthernet,Wi-Fi: 192KHzUSB A:48kHzPC USB: PCM768kHz, DSD512
Signal-to-noise Ratio (S/N):
114dB (A-weighted)
Power Amplifier Section
Gain:
+29dB
Rated Power Output:
2 x 50W (8 ohm, THD < 1%)2 x 75W (4 ohm, THD < 1%)
Frequency Response:
20Hz-20kHz (+/-0.3dB)
Total Harmonic Distortion (THD):
< 0.003% (1kHz @ 40W / 8ohm)
Input Sensitivity:
720mV
Signal-to-Noise Ratio (S/N):
110dB (A - weighted)
Max. Output Current:
9A
Headphone Amplifier
Total Harmonic Distortion (THD):
< 0.01% (1kHz, 50mW )
Output Impedance:
10ohm
Load impedance:
20-600 ohm
General
Standby Power Consumption:
< 0.5W
Net Weight:
9.1kg
Gross Weight:
11kg
Dimensions (mm) (W x H x D):
440 x156 x 327
Finish:
Black / Silver
Power Requirements (depending on region):
220-240V ~ 50/ 60Hz 100-120V ~ 50/ 60Hz
Standard Accessories:
Power Cord, Remote Control,User Manual, Antennas, etc.
To qualify for Audiolab's extended 3 year warranty, you must register your product within 90 days from the date of purchase. Visit https://www.audiolab.co.uk/registration to complete your online registration.

Items not registered online will have a 1 year warranty.
We offer free shipping on any product over $99. For full details please see our Shipping Policy.

Our returns policy lasts 30 days. If 30 days have gone by since your purchase, unfortunately, we may not be able to offer you a refund or exchange. For full details please see our Refund Policy.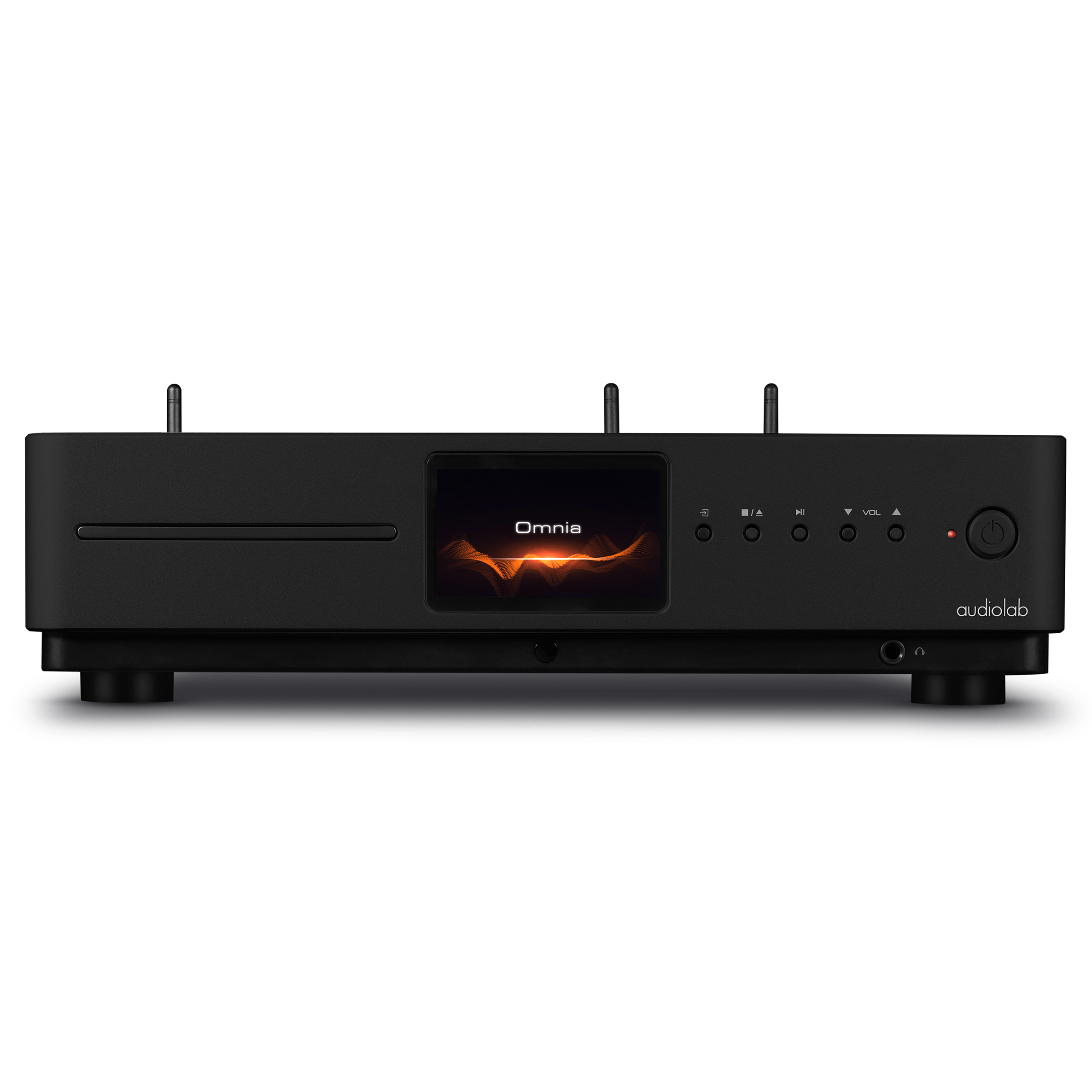 Audiolab Omnia
The All Encompassing Audio Solution
Blurring the lines that generally differentiate hi-fi and lifestyle, Omnia brings all of the pedigree that helps make audiolab electronics the connoisseur's choice. Yet, indulgence in design, material aesthetics, and useability mean it has all of the functionality to make it a sleek, convenient and easy-to-use center-piece, for an uncompromising home audio system.
The audiolab Omnia maintains the award-winning, instantly recognisable, audiolab design cues. Unfussy yet striking in appearance, the curved, brushed aluminum chassis is 'typical audiolab' but evolved to suit the modern-day living environment. Omnia is attractive but discreet, offering the perfect balance for living rooms and listening rooms alike.
In a world where music is more available than ever and sources more varied than ever, Omnia doesn't discriminate. However you listen to your music, Omnia has got you covered. To sum it up, the audiolab Omnia is a cd player, integrated amplifier, wireless streaming player, DAC, headphone amplifier, and pre-amp – in one single unit!
Want more information? Check out our Audiolab Omnia video:
Manufacturers Details:
High-Performance CD Drive

Networked Audio Playback
Engineered With Care:
USB DAC Section & More

IPS LC Display

ROON
Key Features:
Like To Use Headphones
The Hotel Revolution Pack includes the Audiolab Omnia with a pair of Wharfedale Evo 4.2 speakers. Check out why we think this combination sounds so good here.
The Omnia is extremely easy to listen to, and we can imagine many being more than content with its smooth, authoritative presentation.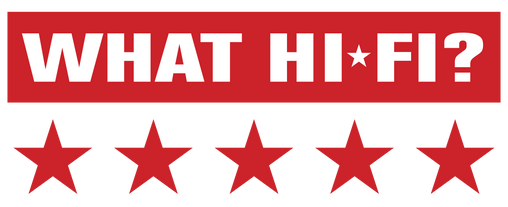 This product has no reviews yet.
WHILE YOU ARE BROWSING
You may also like