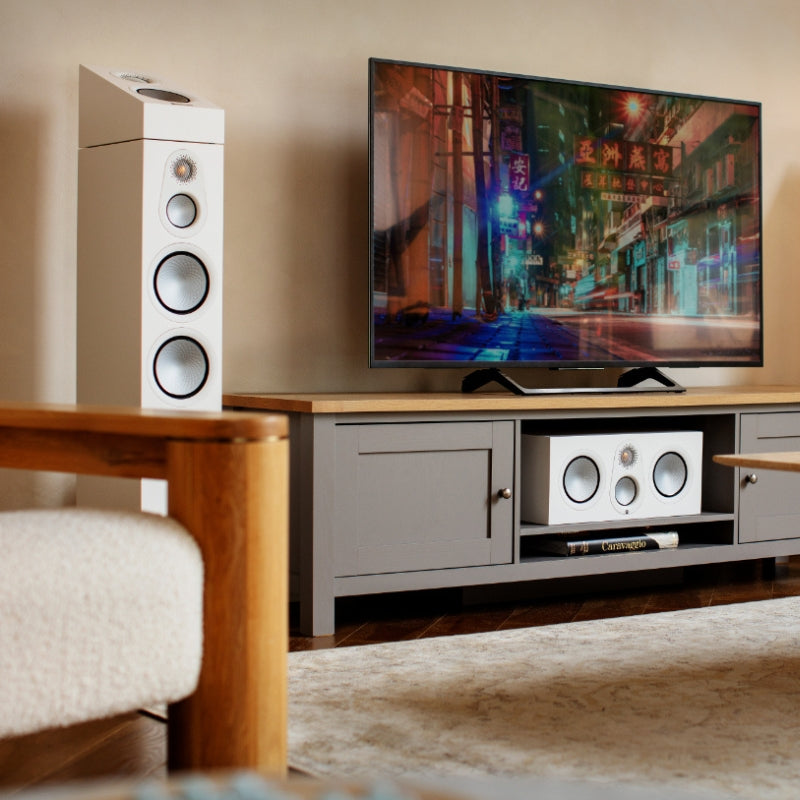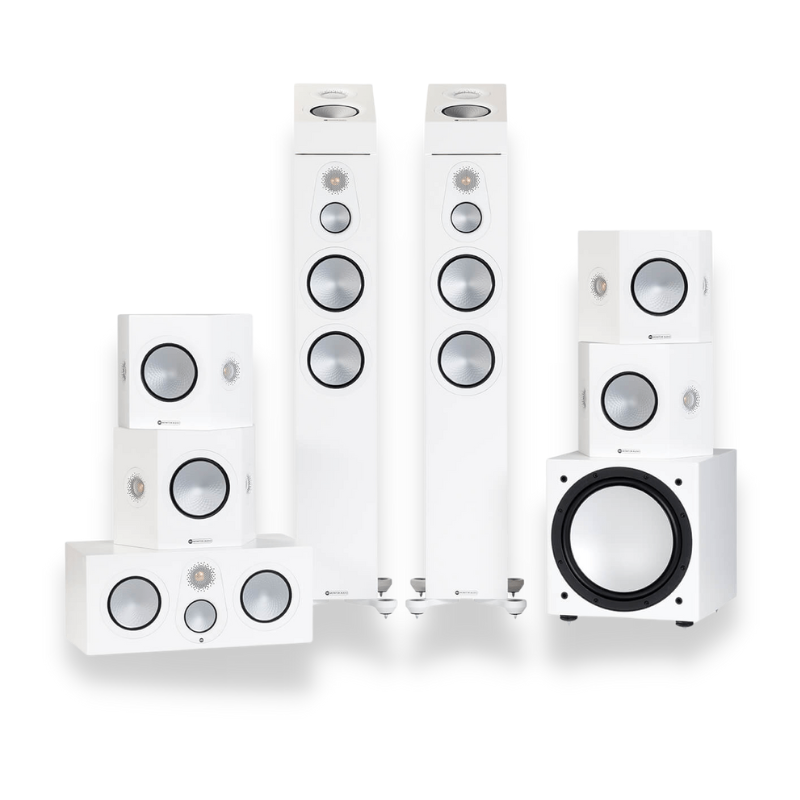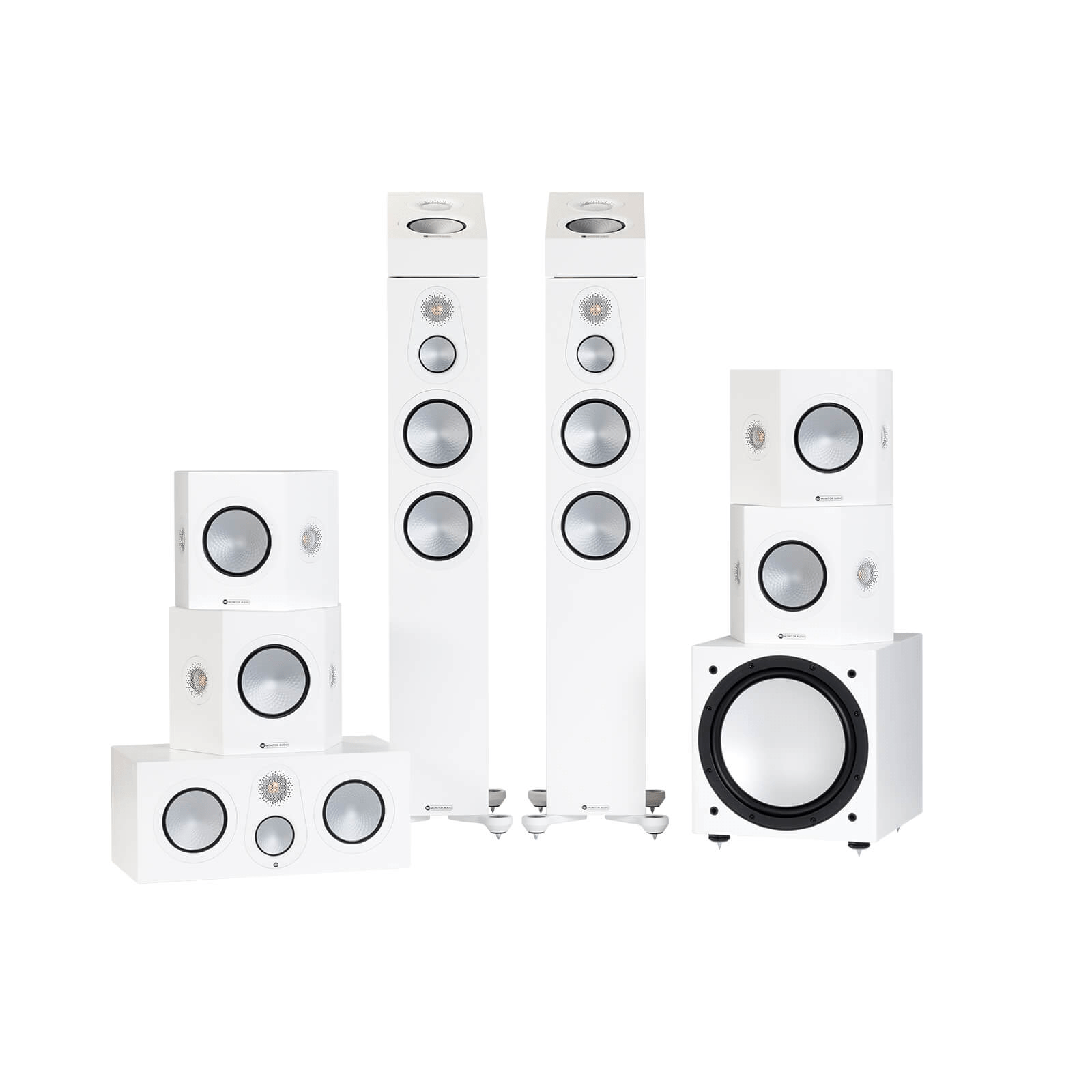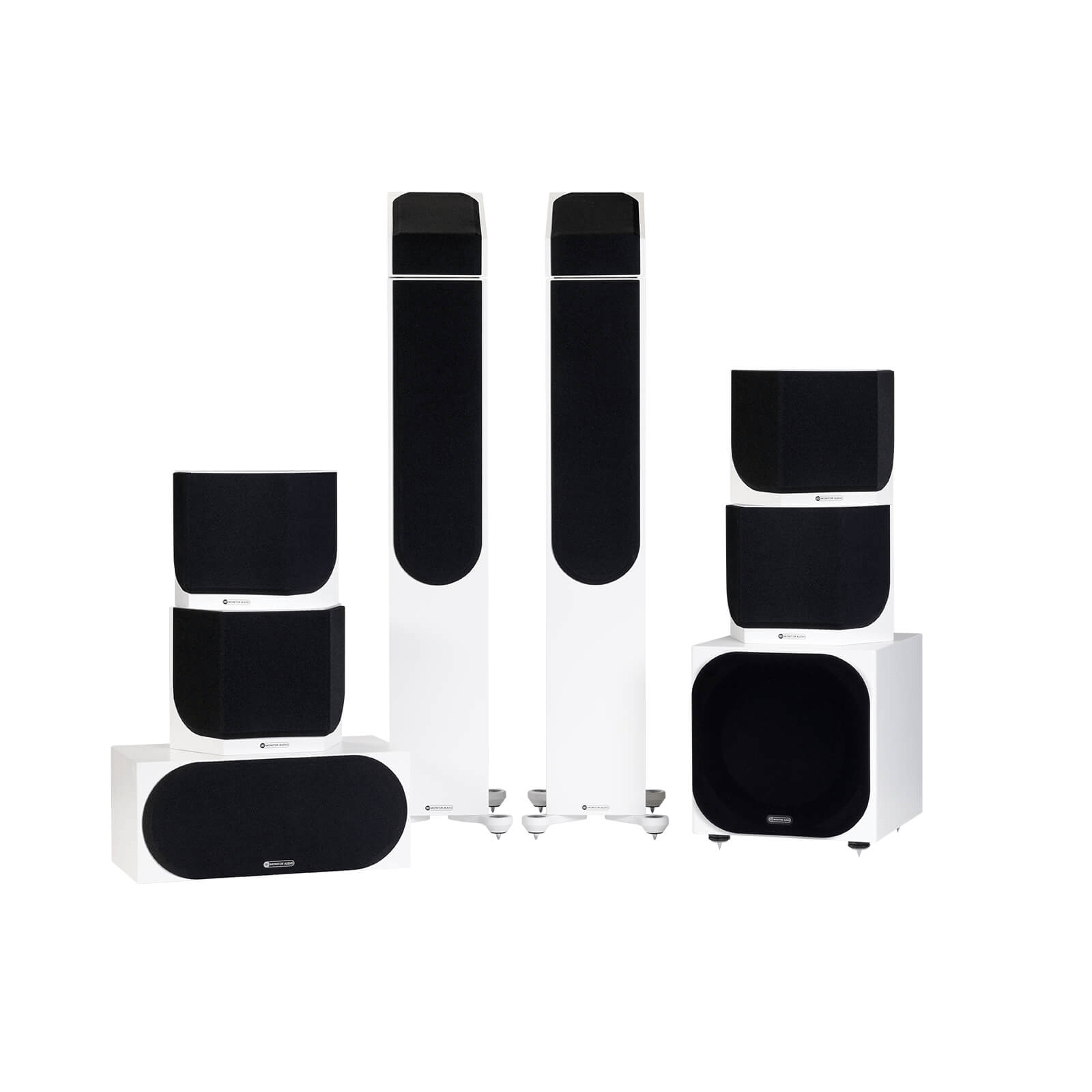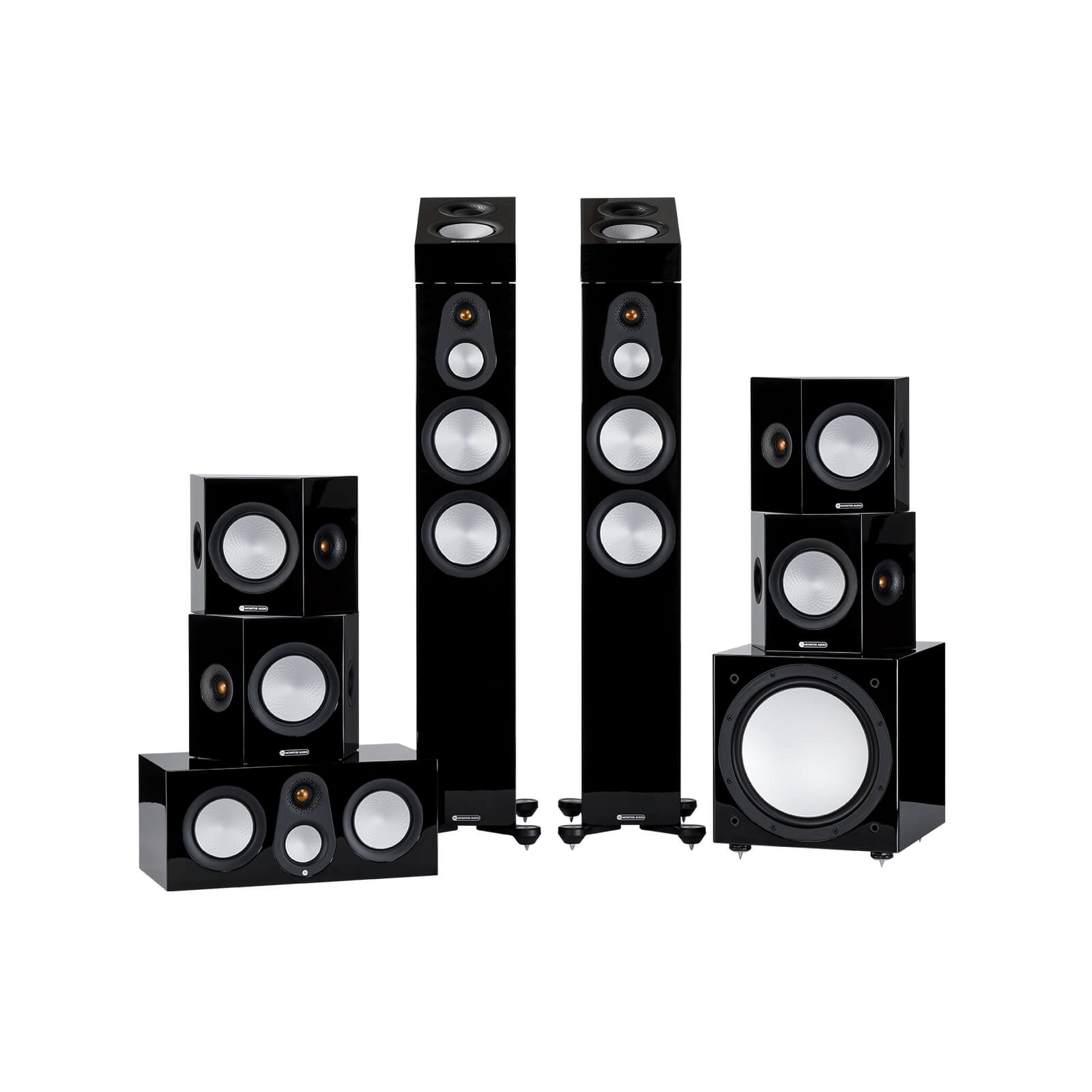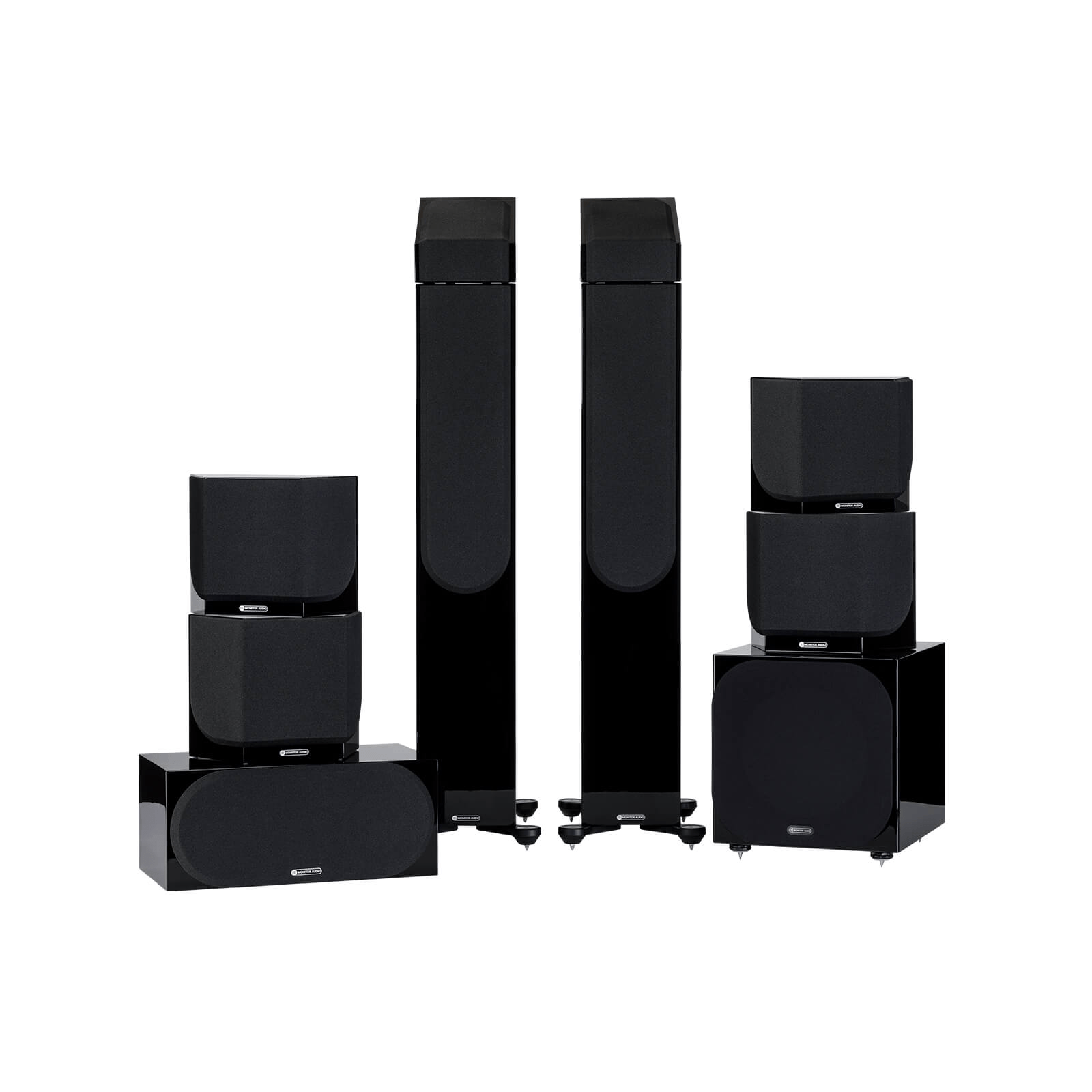 Monitor Audio Silver 300 7G Dolby Atmos® Cinema 7.1.2 Speaker Pack
---
All Monitor Audio products are covered for at least 5 years from purchase.

Selected custom install products feature a lifetime warranty.
We offer free shipping on any product over $99. For full details please see our Shipping Policy.

Our returns policy lasts 30 days. If 30 days have gone by since your purchase, unfortunately, we may not be able to offer you a refund or exchange. For full details please see our Refund Policy.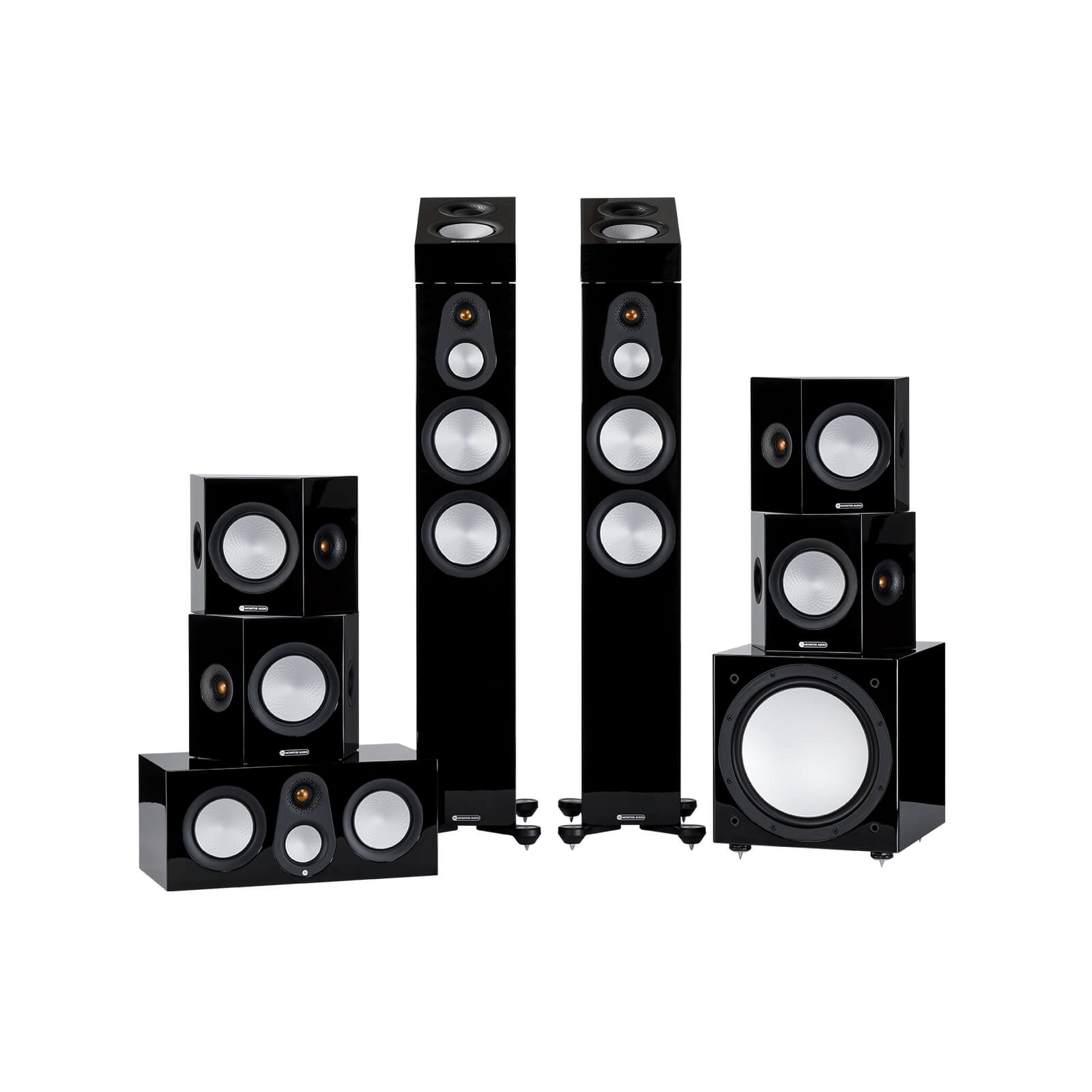 Monitor Audio Silver 300 7G Dolby Atmos® Cinema 7.1.2 Speaker Pack
The ultimate cinema set-up, with two Silver 300 7G floorstanders, two Silver AMS 7G speakers, a Silver C250 7G centre channel, four Silver FX 7G speakers and a Silver W-12 6G subwoofer. Thanks to Dolby Atmos® 3D sound, when you're watching a film, you're always centre stage.
Items included in the pack:
Monitor Audio Silver 300 7G Floorstanding Speakers
The Silver 300 7G features real-wood veneers for a natural look, along with a newly developed Rigid Surface Technology (RST) II driver design for the most natural possible sound. It's designed to reduce distortion, so when your music's loud, it remains very, very clear. The Silver 300 7G speakers incorporate some of our most advanced engineering yet, for sound that will leave you speechless. Much of the technology at play is hidden, but there's still plenty to feast your eyes on.
Monitor Audio Silver AMS 7G Dolby Atmos® Enabled Speaker
Thunder rolling in the distance, raindrops falling right behind you, an umbrella springing open above your head… Hear it as if you're really there, thanks to the Silver AMS 7G with Dolby Atmos® 3D surround sound. It takes the idea of surround sound and adds a whole new dimension, meaning that the movie or music maker can choose the exact point in space where they want you to hear a sound coming from. Shaped and sized to fit on top of your Silver 300 7G speakers perfectly, the Silver AMS 7G Dolby Atmos® enabled speakers and its grilles create one seamless element.
Monitor Audio Silver C250 7G Centre Channel Speaker
The soundtracks you love are now richer and more vibrant than ever, thanks to the Monitor Audio Silver C250 7G. It gives you clear, articulate dialogue of a cinema speaker set-up in a compact shape that's perfectly at home in your living room. Needless to say, it features the latest Silver Series innovations, including new Rigid Surface Technology (RST) II for ultra-clear sound. As the centrepiece of your home theatre, it envelops you in superbly detailed sound that makes you feel like you're right there in the middle of the action.
Monitor Audio Silver FX 7G FX Speaker
To create a truly immersive cinema experience, you need every part to work in harmony. These dedicated FX speakers give you the full 360-degree experience, providing the ideal complement to the rest of your set-up. While your main speakers do the heavy lifting, a pair of Silver FX 7G surround sound speakers add a world of depth and complexity to what you see and hear. Understated and unassuming, they have a simple magnetic grille for the cleanest possible look and the most unfussy performance. Aesthetically speaking, they couldn't be simpler. It's only the sound that's beautiful in its complexity.
Monitor Audio Silver W-12 6G Subwoofer
The Silver W-12 6G provides the perfect complement to your speaker set-up, making any song seem fuller, deeper and more impressive. And it's combined with the kind of seismic bass that will make you think the earth just moved. With its outstanding bass, the Silver W-12 provides the perfect sonic backdrop to your speaker set-up. The 500-watt amplifier gives incredible headroom, meaning more power doesn't equal more distortion. And it's intelligent, too, with features like Automatic Position Correction that learns the layout of the room and automatically corrects the acoustics of the music you hear. As a result, you can put your subwoofer wherever you like, with no restrictions, and still enjoy amazingly lifelike sound.
This product has no reviews yet.
WHILE YOU ARE BROWSING
You may also like