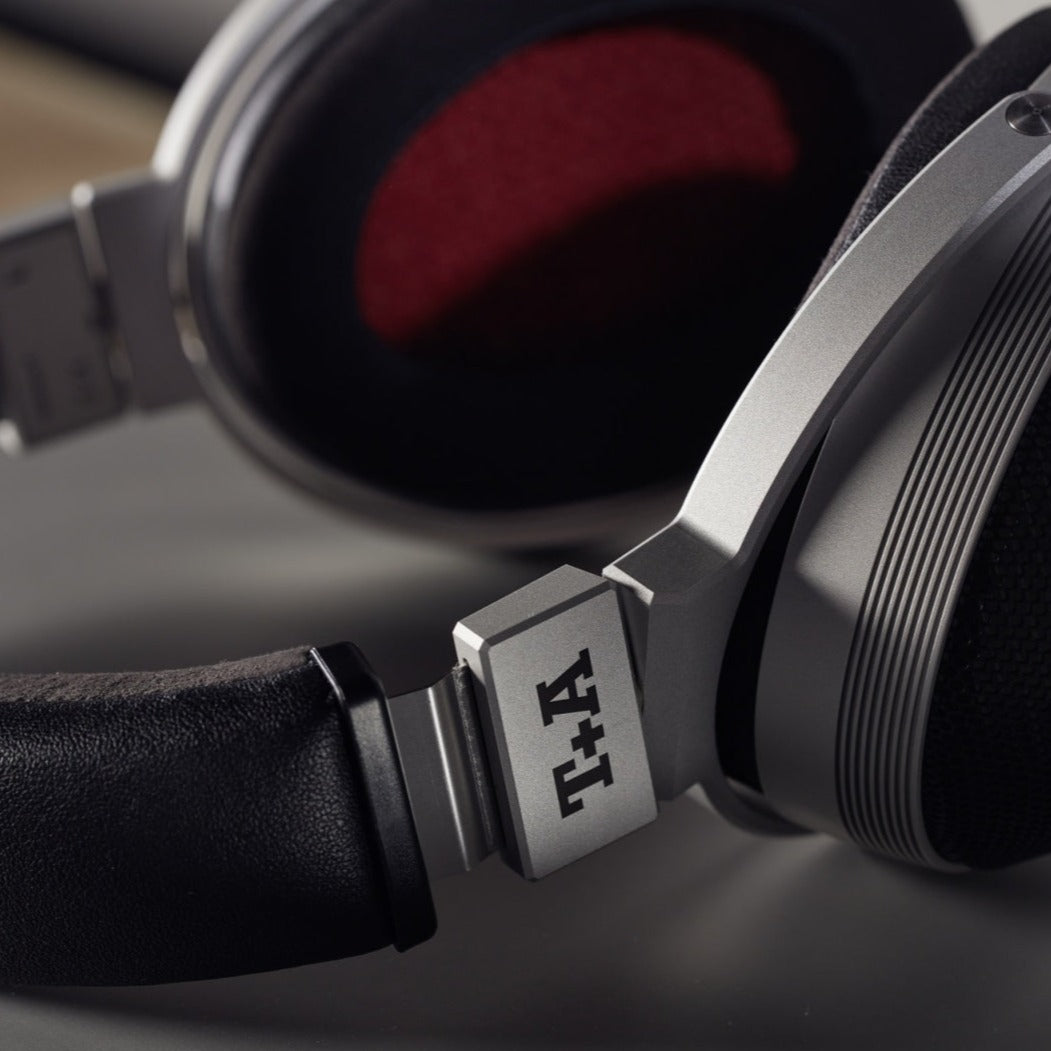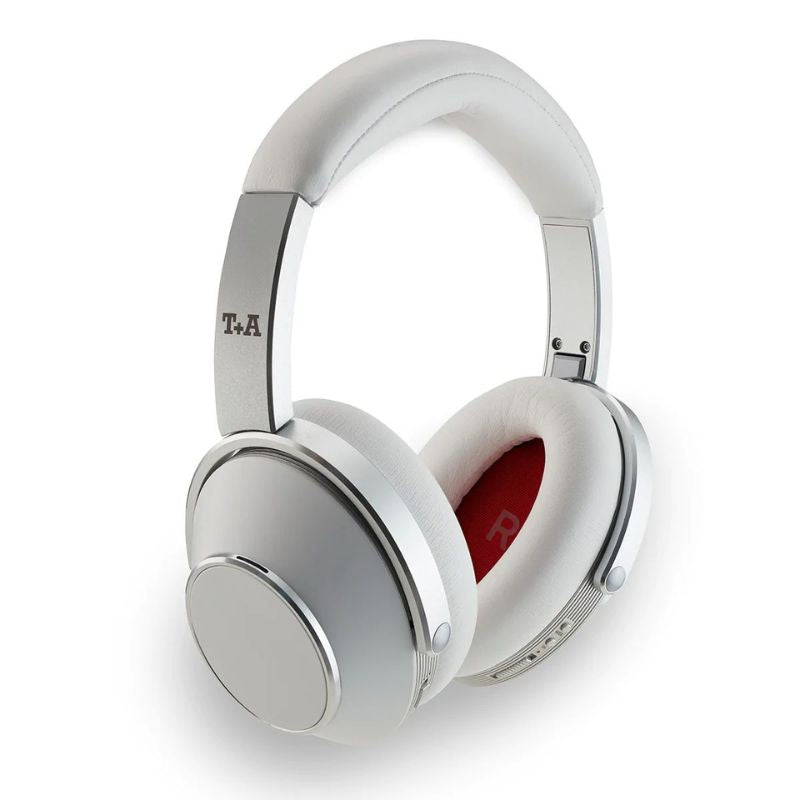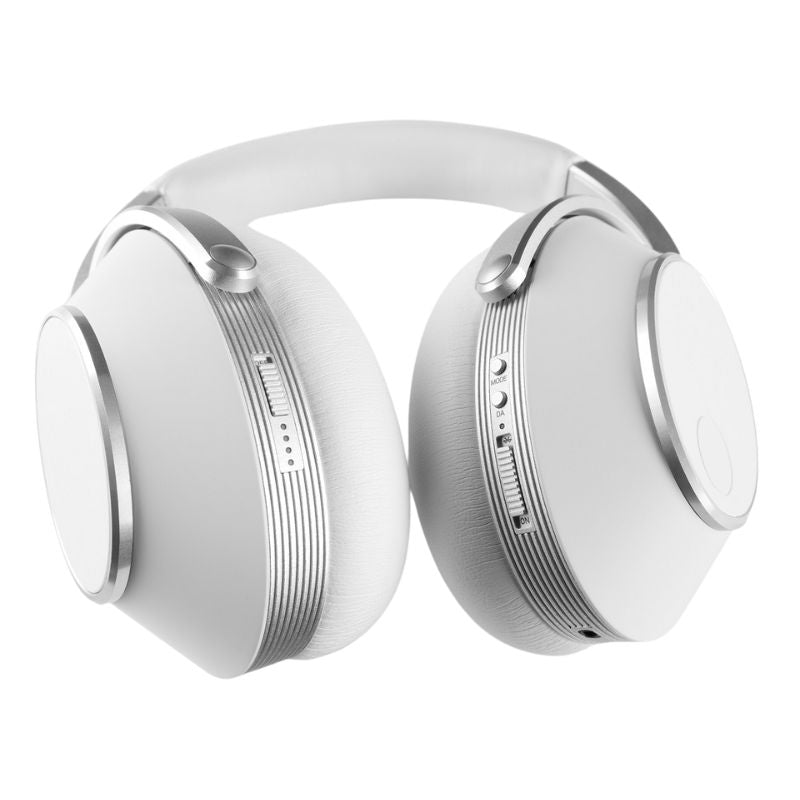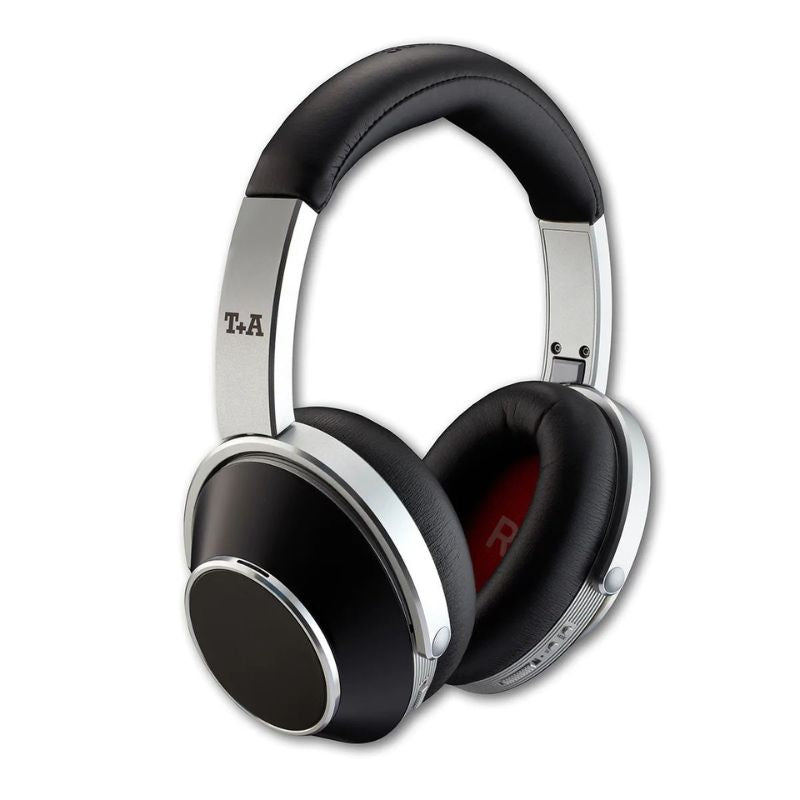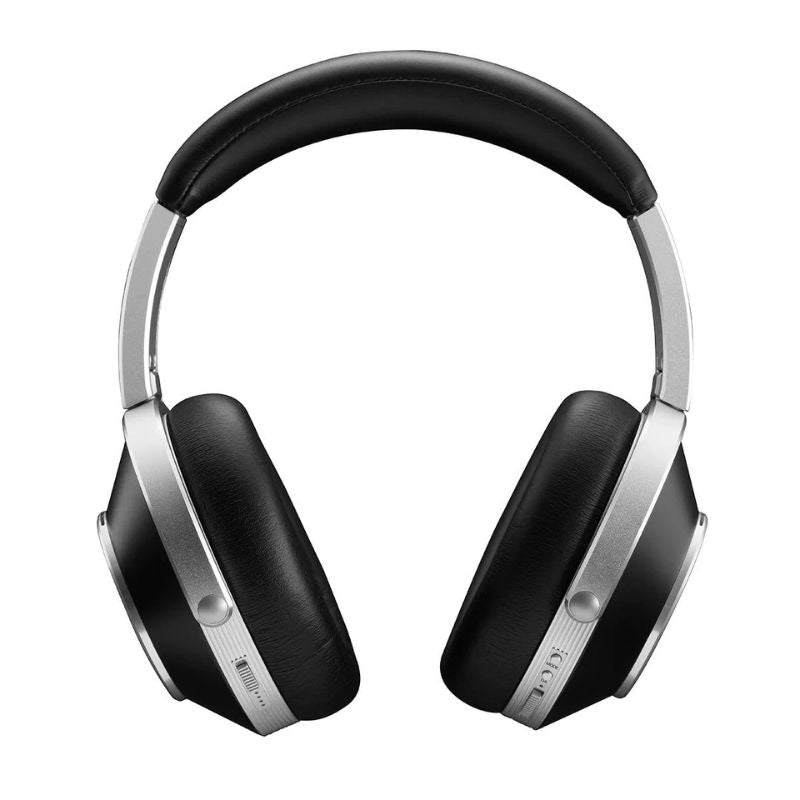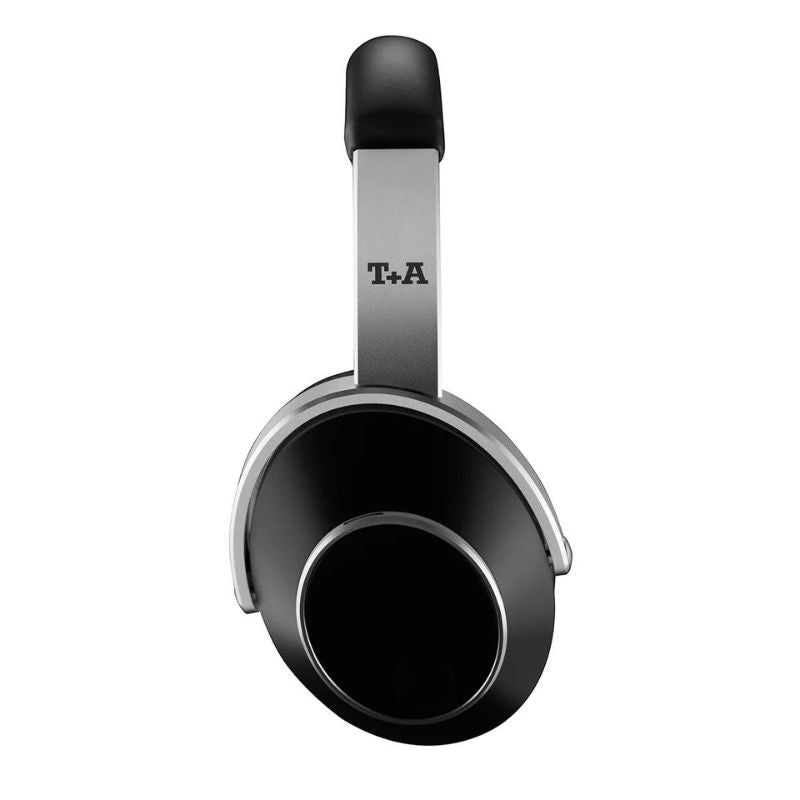 T+A Hi-Fi Solitaire T Noise Cancelling Headphones
---
All T+A Hi-Fi products are built to order. Please allow a 5 - 6 Week lead time after your purchase. There is occasionally a shorter lead time, depending on production runs. We will keep you up to date on your orders progress throughout.
Specifications

| | |
| --- | --- |
| Ear Coupling: | Around-ear, closed |
| Driver: | selected, low tolerance dynamic drivers |
| Frequency response: | 4 - 22,000 Hz |
| THD: | <0.05 % (1 kHz / 94 dB) |
| Noise Cancelling: | Hybrid |
| Microphones: | 2 communication microphones on the right,2 ANC microphones on each side |
| BT Chipset: | Qualcomm QCC 5127 |
| Codecs: | SBC, AAC, aptX, aptX HD |
| Battery: | Lithium Ion |
| Charging Time: | 2 Hours |
| Battery Life: | 70 Hourss, 35 in HQ mode |
We offer free shipping on any product over $99. For full details please see our Shipping Policy.

Our returns policy lasts 30 days. If 30 days have gone by since your purchase, unfortunately, we may not be able to offer you a refund or exchange. For full details please see our Refund Policy.
T+A Hi-Fi Solitaire T Noise Cancelling Headphones
All T+A Hi-Fi Products are built to order with a 5 - 6 Week lead time.
From the first day the Solitaire T was developed with a single goal in mind: to blur the distinctions between audiophile, working and travel headphones by making the values and convictions which are the hallmark of every T+A product accessible in almost every situation in life.
Their transducer system is a completely new development, capable of reproducing the most subtle nuances in audiophile quality in active and passive mode alike, while the passive insulation on its own is sufficient to push the outside world into the background. When combined with active background noise suppression, which can be switched on as required, unwanted sounds disappear completely behind the music.
The pearl-blasted aluminium components are machined from solid, and are much more than a design statement: they are so robust and durable that they ensure the headphones will remain their owner's companion for years. At the same time they emphasise in a subtle but distinctive manner the product's close relationship with our Solitaire P reference headphones.

Like its physical design, the Solitaire T's inputs are designed with one aspect in mind: versatility. The Solitaire T places no restrictions on its user, as they feature signal transfer via totally symmetrical passive and active analogue inputs as well as USB C and the very highest-quality wireless Bluetooth standards; the design maximises the potential of every imaginable music source.


Manufacturer Details:
Noise Cancellation & Portability
To ensure that the Solitaire T is truly versatile in use, we have taken great pains in the suppression of background noise, which is outstanding in both active and passive modes: the headphones' passive sound insulation alone effectively blocks out a great deal of unwanted mid-range and treble noise, while an extremely accurately calibrated active suppression system effectively eliminates the bass noise which cannot be damped by passive means. To ensure that all this potential is available on journeys, we insisted on the same uncompromising standards for the wireless connections as for the wired inputs: Bluetooth to Standard 5.2 with Codecs such as aptX HD and AAC deliver the convenience of fully wireless systems with a sound quality approaching the level of wired connections to high-quality components, and even exceeding the sound quality of wired connections to inferior equipment.
Design & Materials:
Like all T+A equipment the Solitaire T adheres to the tradition of our design language. This has evolved over a period of forty years, and its strength is its consistent simplicity. The carefully placed chamfers on headband and cups allow the Solitaire T to integrate effortlessly into the inimitable family of Solitaire headphones, while its new cup shape and two colours make their own entirely new contribution to the continuing development of the T+A design language. All the aluminium components are machined from solid material, and are pearl-blasted before being anodised. The ear caps are attached by means of precision-made, close-tolerance hard metal couplings, which allow both of them to rotate through 90° and fold inwards. In their case or worn round the neck, the Solitaire T 'phones become an incredibly compact travel companion. Ear and head pads are made of the very finest anti-allergenic synthetic leather, ensuring that the Solitaire T remains comfortable at all times - even during very long flights.


Designed with Care:
Operation
We believe that headphones are among our most personal products, and for this reason we gave very high priority to the operation of the Solitaire T. The headphones are immediately simple and intuitive to use, emphasised by multi-sensory feedback. No matter whether you use button or switch - machined from solid - or the inter-active touchpad, or switch to the environment by invoking a supplementary transparency field: all the important inputs are confirmed by feedback messages, spoken by T+A's distinctive voice. With the Solitaire T you see, feel and hear what you are doing.


Wired Input
The Solitaire T is the most versatile product T+A has ever developed: it is both a closed audiophile headphone as well as a lightweight, portable unit. And that is why it boasts two wired inputs, which are either digital and analogue - for the purist - or combine the advantages of both worlds: the Solitaire T can be operated fully digitally via its USB C socket without any form of data compression. In purely passive mode the Solitaire T transfers signals fully symmetrically to the transducer via Pentaconn, 3.5mm or 6.3mm connectors directly. Our concept, which we name Active Analog, is based on the analogue inputs and maximises their potential by allowing them access to the volume control and active background noise suppression. All leads take the form of OFC cable with low structural sound, terminating in gold-plated contacts.


Transducer & Sound Quality
Our guiding conviction is that music should be reproduced in as pure a form as possible. And that is why we take great trouble to eliminate all possible interference sources - no matter how minute - right at the development stage. Undamped diaphragms form just such a potential problem: seemingly insignificant coil reflections have the potential to create a serious adverse effect on the sound. We avert this problem before it can develop by means of carefully located damping at the edge of the 42mm transducer: the damping cushions coil reflections as they develop, and prevents them having any effect on the frequency response.
A cellulose diaphragm is attached to the damping. Compared with other materials, this diaphragm is extremely light and stiff, giving the advantage of agility and dynamics, without breaking up prematurely into eigenmodes. The optimised low bass system in the Solitaire T produces a completely new kind of bass matching, ensuring perfect transient response, and preventing disruptions in the frequency response. One result of this development work on the analogue aspect, combined with the Solitaire T's finely tuned acoustic design, is that the headphones require no power supply or signal processor in order to sound superb. In active as well as passive mode, every signal, every breath, every nuance is not just audible, but perceptible.
In active mode the sound quality of the transducer is fundamentally determined by the electronics employed: components of poor quality, not matched properly to each other, have an adverse effect on the sound experience. That is why we use one of the world's highest-quality Bluetooth chips in the form of the Qualcomm QCC 5127, which forms one of the digital bridges to the outside world. Its wide range of audiophile codecs combined with low energy consumption ensure that the traveller can rely on the availability of high-quality music even on long inter-continental flights.

The digital / analogue converter section is connected to the Bluetooth chip, and operates in a comparable way to the suspension of a sports car: its task is to convert the digital signals into analogue signals, and in the final analysis its quality decides whether the available performance can actually be utilised. The Esstech ES9218 Sabre DAC which we fit converts even high-resolution formats in the highest audiophile quality. Thanks to its high performance not one bit of the signal is lost: each nuance and every centimetre of the sound stage is reproduced in all their emotional power.
True to its Solitaire name, the T+A are gems, alone in a territory of wireless performance quality that no other pair we've heard can occupy.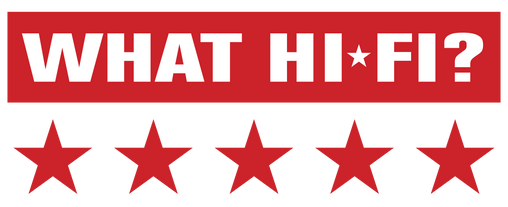 This product has no reviews yet.
WHILE YOU ARE BROWSING
You may also like