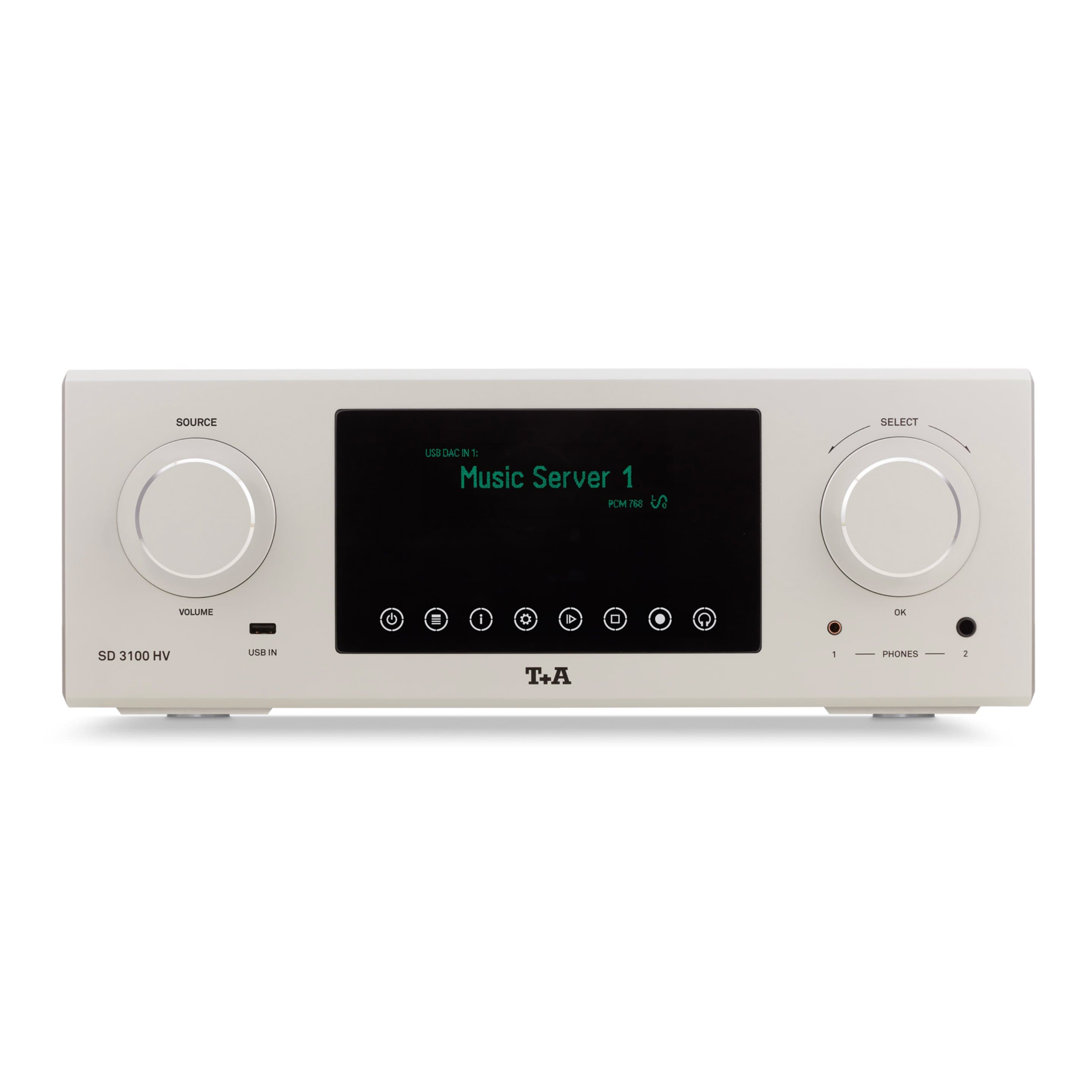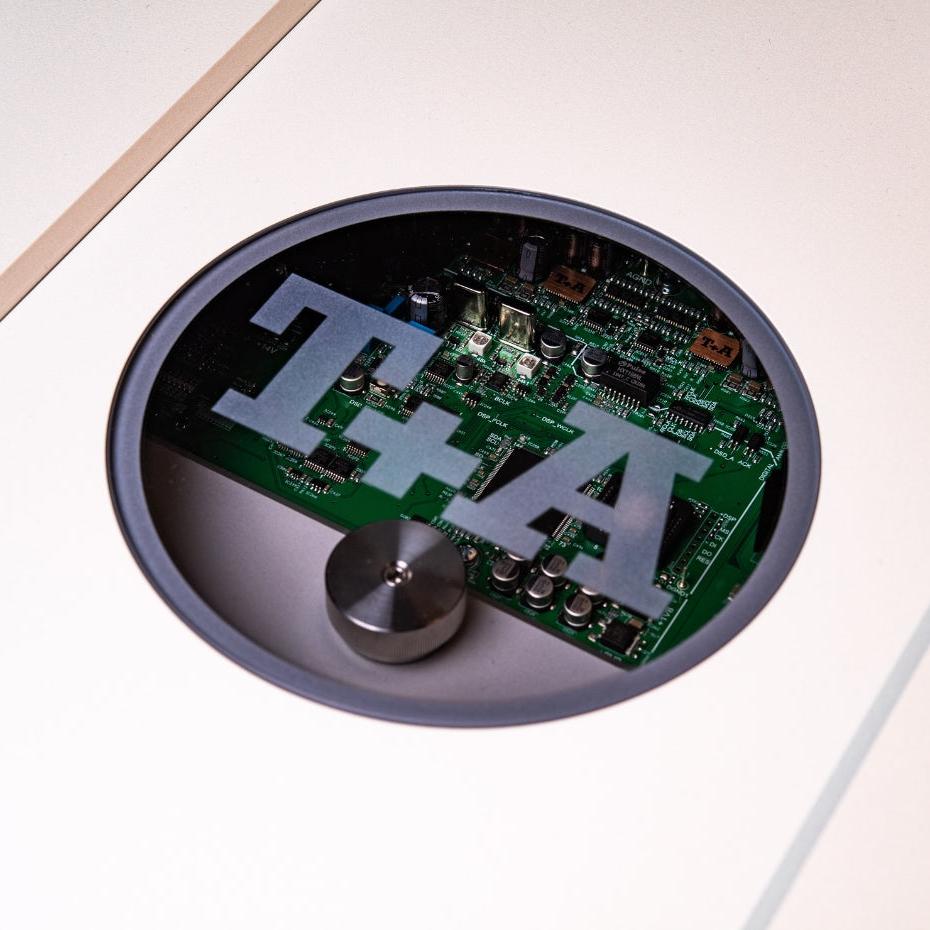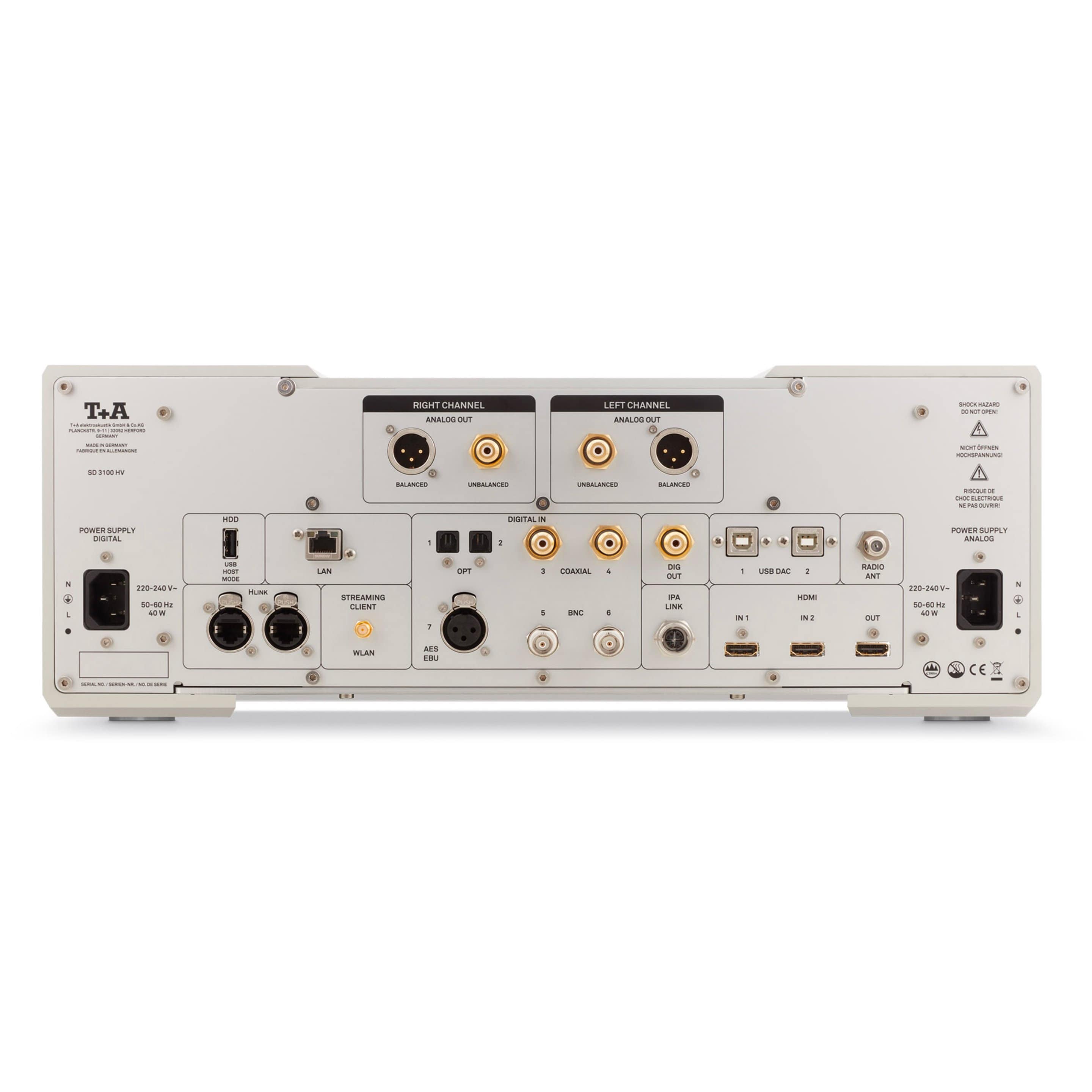 T+A Hi-Fi SD 3100 HV Reference Streaming DAC
---
All T+A Hi-Fi products are built to order. Please allow a 5 - 6 Week lead time after your purchase. There is occasionally a shorter lead time, depending on production runs. We will keep you up to date on your orders progress throughout.
Specifications

Analogue output
 
Coaxial (RCA) | Balanced (XLR):
2,5 Veff / 20 Ohm | 5,0 Veff / 40 Ohm
Headphone output
Headphone output:
6,3 mm Klinke (6 Ohms) and 4,4 mm Pentaconn (6 Ohms)
Connections
Digital output:
1x coax, IEC 60958 S/P-DIF (LPCM)
Digital inputs:
1 x AES-EBU 32...192 kHz / 16-24 Bit6 x S/P-DIF:2 x Standard Coax2 x high quality BNC 32...192 kHz / 16-24 Bit,2 x optical TOS-Link 32...192 kHz / 16-24 Bit2 x USB DAC:Device-Mode with max. 768 kSps (PCM) und DSD 1024*,supports asynchronous data transfer.*DSD512 und DSD 1024 with Windows PC with appropriate driver installed or Linux PC with 4.4 Kernel or higher only.2 x USB Master-Mode for USB-Mass storage (Stick or HDD)2 x HDMI IN, 1 x HDMI OUT with ARC1 x IPA (LVDS)
Network connection:
LAN: Fast Ethernet 10/100/1000 Base-T,WLAN: 802.11 b/g/n
D/A-Converter
PCM:
Double-Differential-Quadruple-Converter with four 32-Bit Sigma-Delta D/A-Converter per channel. 705,6 / 768 kSps conversion rate
DSD:
T+A-True-1Bit DSD D/A-Converter, up tp DSD 1024 (49,2 MHz), native bitstream
Upsampling (PCM):
T+A-Signalprocessor – synchronous upsamplingwith 4 selectable oversampling algorithmsFIR short, FIR long, Bezier/IIR, Bezier
Analogue filter:
Phase-linear Bessel filter 3rd order, switchablewith 60 or 120 kHz cut off frequency
Frequency response:
PCM 44.1 kSps: 2 Hz - 20 kHzPCM 48 kSps: 2 Hz - 22 kHz / DSD 64: 2 Hz - 44 kHzPCM 96 kSps: 2 Hz - 40 kHz / DSD 128: 2 Hz - 60 kHzPCM 192 kSps: 2 Hz - 80 kHz / DSD 256: 2 Hz - 80 kHzPCM 384 kSps: 2 Hz - 100 kHz / DSD 512: 2 Hz - 100 kHzPCM 768 kSps: 2 Hz - 120 kHz / DSD 1024: 2 Hz - 120 kHz
THD:
< 0.001 %
S/N ratio:
> 117 dB
Channel separation:
> 110 dB
Streaming Client
Formats / Standards:
MP3, WMA, AAC, OGG Vorbis, FLAC, WAV, AIFF, ALAC / UPnP AV, T+A Control
Data rates:
PCM 32...192 kHz,16/24 Bit; MP3 bis 320 kBit,variable and constant bit rate
Music services:
Tidal, Deezer, qobuz (Subscription required)
Features:
Gapless Playback for MP3 (Lame), WAV, FLACT+A MusicNavigator App for iOS und Android
Tuner
Internet Radio:
Airable Internet Radio Service (> 11000 Stationen weltweit)
FM, FM-HD:
87,5 - 108 MHz; sensitivity 1 µV; S/N > 65 dBA
DAB, DAB+:
168 -240 MHz (Band III); sensitivity 2,0 µV, S/N > 96 dBA
Features:
RDS/RDBS, Stationname (PS), Programm type (PTY), Radiotext (RT)
Bluetooth
Bluetooth Standard / Codec:
A2DP (Audio), AVRCP 1.4 (Control) / aptX®, MP3, SBC
Mains / Accessories / Dimensions
Mains:
2 x 110-120 V or 220-240 V, 50-60 HzOperation: 2 x 40 W
Standby:
< 0,5 W
Dimensions (W x H x D) / Weight:
17 x 46 x 46 cm / 26 kg
Accessories:
2x power cord, remote control F 3100, BNC adapter
Optional Accessories:
Power Three HD (Carbon) | Power Bar | Audio Quad (Carbon) | Audio Triax (Carbon) | HV-Individual finish (Individual colours on request)
We offer free shipping on any product over $99. For full details please see our Shipping Policy.

Our returns policy lasts 30 days. If 30 days have gone by since your purchase, unfortunately, we may not be able to offer you a refund or exchange. For full details please see our Refund Policy.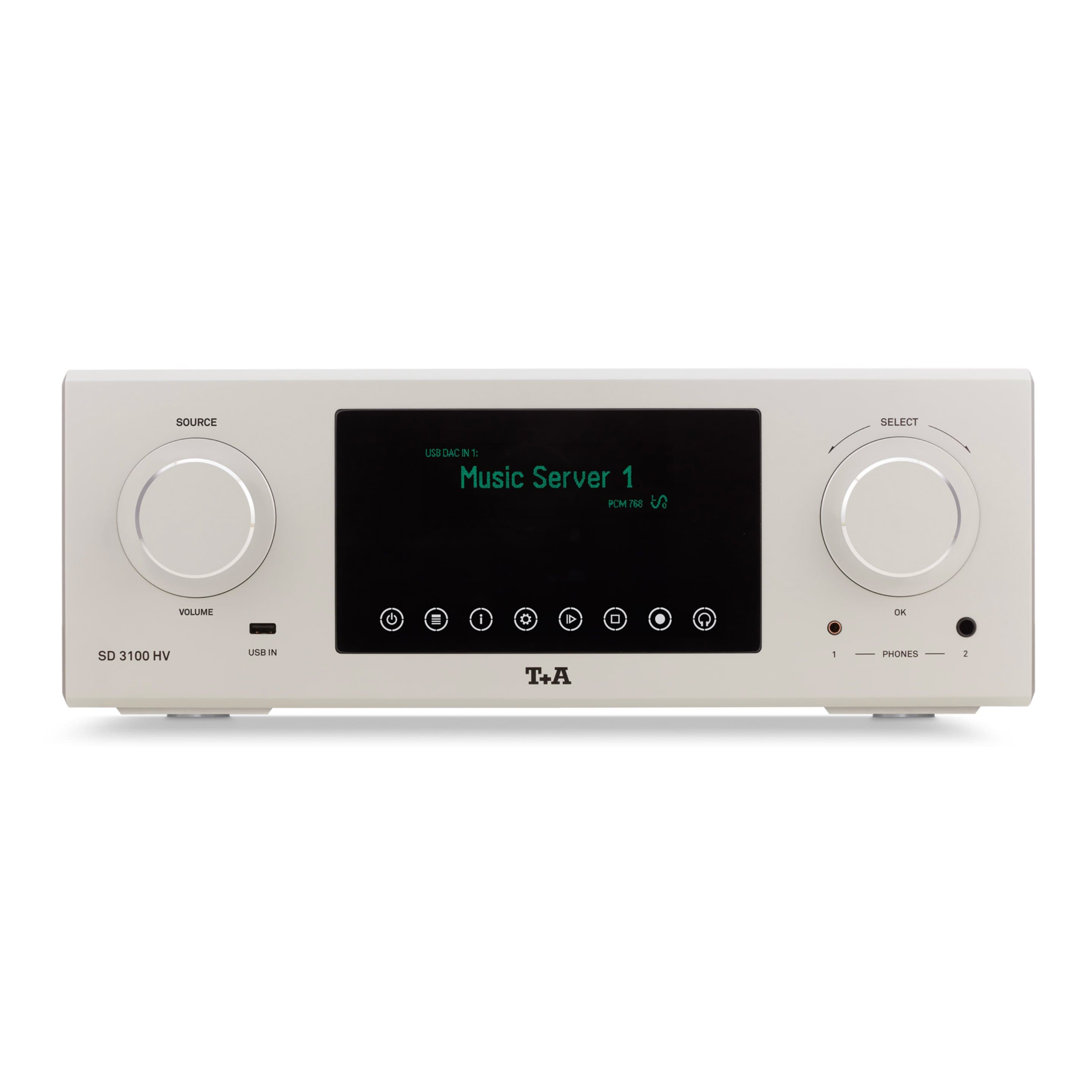 T+A Hi-Fi SD 3100 HV Reference Streaming DAC
All T+A Hi-Fi Products are built to order with a 5 - 6 Week lead time.
The SD 3100 HV is with the exception of the pre-amplifier section identical with the SCD 3100 HV.
The SD 3100 HV is a purist converter / streamer which in an HV system acts as ultra-high quality player and converter for every imaginable digital source. It can be connected to the P 3000 HV pre-amplifier or the PA 3100 HV integrated amplifier via one of its analogue outputs. If you wish to play CD or SACD, the PDT 3100 HV reference disc mechanism can be connected to the SD 3100 HV.
The SD 3100 HV – and also a full HV system – can be controlled using the F 3100 remote control handset or one of the T+A apps.
Manufacturers Details:
The SDV 3100 HV and SD 3100 HV are identical in their mechanical and electronic construction except for the pre-amplifier section, which is additionally equipped with the SDV 3100 HV.
The SDV 3100 HV – and also a full HV system – can be controlled using the F 3100 remote control handset or one of the T+A apps. 
Engineered With Care:
Headphone Amp
Audiophile music enthusiasts like to use high-quality headphones, that's why we have build in a particularly good, high-performance analogue headphone amplifier.
The SDV 3100 HV is fitted with the volume control module of the P 3000 HV and has one analogue input, enabling it to be employed as pre-amplifier in a complete HV system.
Key Features:
There are three aspects which have a crucial influence on the sound characteristics of high-quality Hi-Fi equipment: their mechanical construction, their analogue technology and their digital signal processing. Only if the development team balances all three facets perfectly can the device as a whole satisfy the most demanding requirements.
This is why all our HV devices are built of pure aluminium, without any ferro-magnetic materials at all, and features five compartments separated and shielded by aluminium dividing walls.
The current / voltage stages – crucial to sound quality – which follow the D/A converter stages are of totally discrete, channel-separate construction, and feature our HV technology, as does the analogue output stage. This ensures that a pre-amplifier or integrated amplifier connected to it are fed the ideal input signal.
This product has no reviews yet.
WHILE YOU ARE BROWSING
You may also like