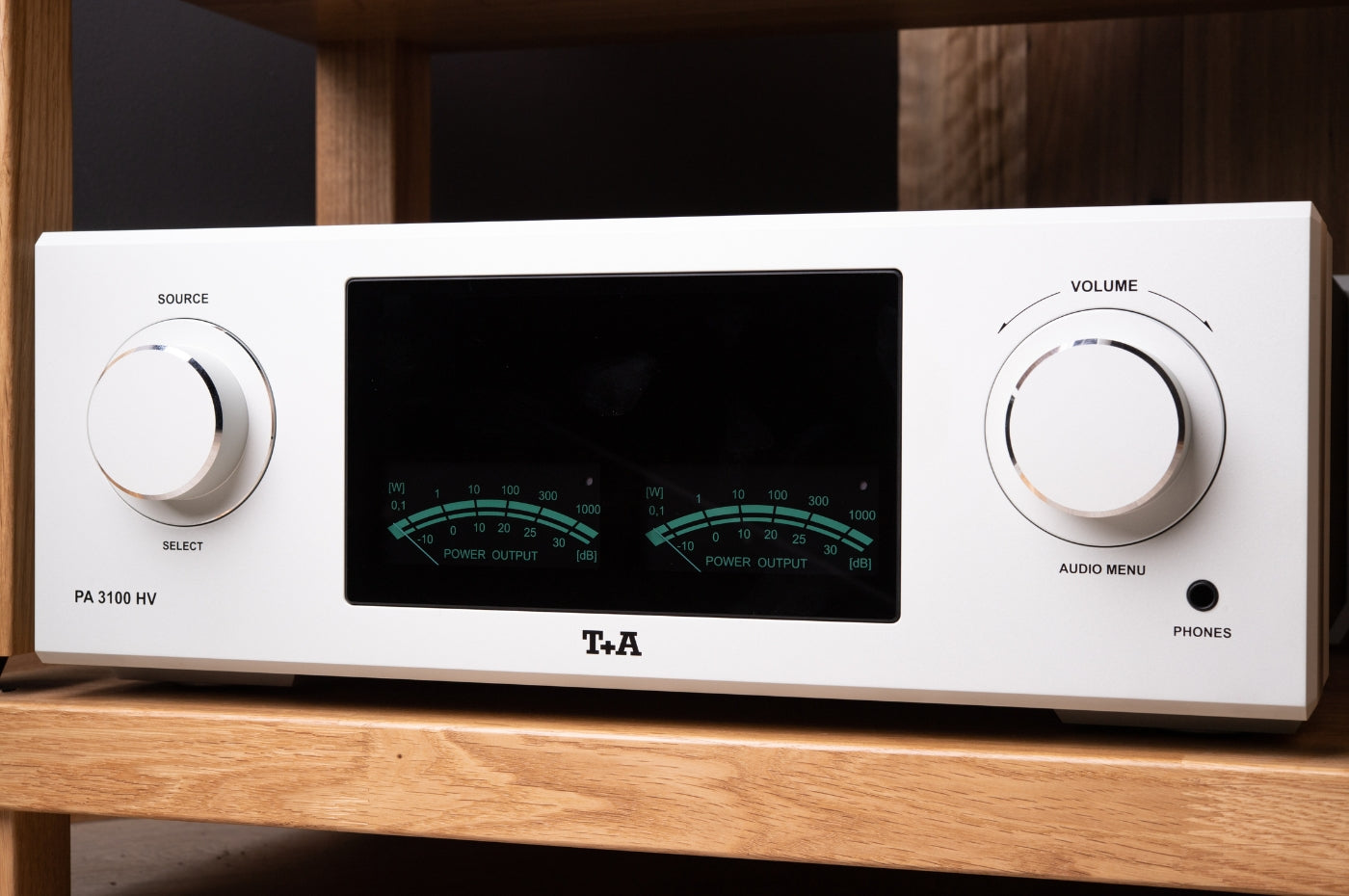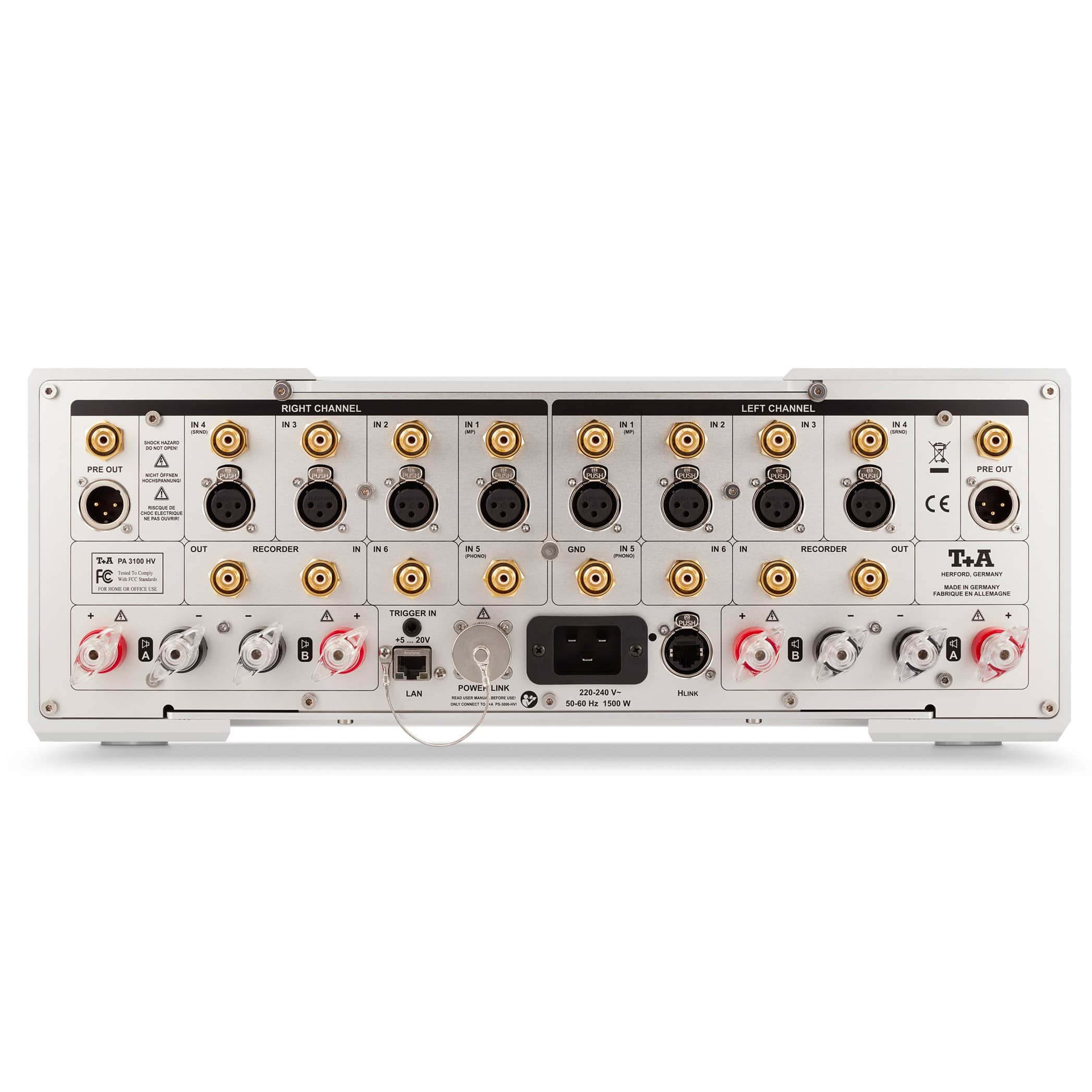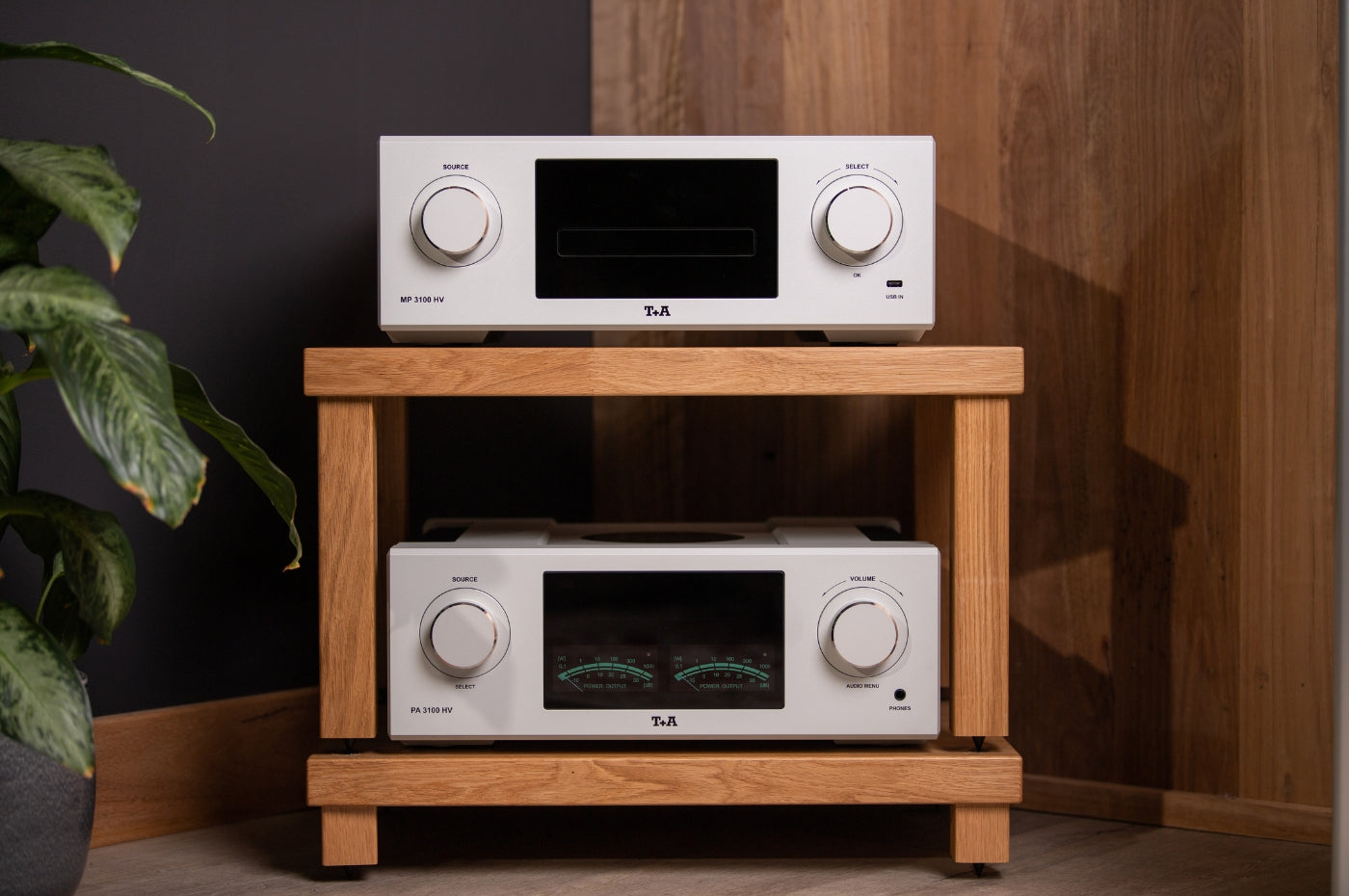 T+A Hi-Fi PA 3100 HV Integrated Amplifier
---
All T+A Hi-Fi products are built to order. Please allow a 5 - 6 Week lead time after your purchase. There is occasionally a shorter lead time, depending on production runs. We will keep you up to date on your orders progress throughout.
Specifications

Preamplifier stage
 
Frequency response + 0 / – 3 dB:
0,5 Hz – 300 kHz
Signal / noise ratio:
105 / 110 dB
Total harmonic distortion:
< 0,001%
Intermodulation:
< 0,001 %
Channel separation:
> 90 dB
Nominal input sensitivity High level (RCA)L:
7 x 250 mVeff ... 6 Veff / 20 kOhms
Nominal input sensitivity Balanced (XLR):
4 x 500 mVeff ... 12 Veff / 5 kOhms
Outputs
Headphones:
50 Ohms
1 x Recorder:
250 mVeff / 100 Ohms
PRE out RCA:
nom 1 Veff, max 9,5 Veff / 50 Ohms
PRE out XLR:
nom 1,45 Veff, max 19,6 Veff / 50 Ohms
Output stage
RMS output per channel into 8 Ohms:
300 Watts
RMS output per channel into 4 Ohms:
500 Watts
Peak output into 8 Ohms:
380 Watts
Peak output into 4 Ohms:
700 Watts
Power bandwith:
1 Hz – 150 kHz
Frequency response + 0 / – 3 dB:
0,5 Hz – 180 kHz
Slew rate:
60 V/µs
Damping factor:
> 65
Signal / noise ratio:
> 115 dB
Total harmonic distortion:
< 0,03 %
Reservoir capacity:
120000 µF
Mains / Accessories / Dimensions
Mains:
110 V/60 Hz or 220/240 V/50 Hz
Standbybetrieb:
< 0,5 W
Features:
Trigger input +5 ... 20V for external switching-onInput 4 can be configured in surround mode(Surround pass-through)connectivity for additional PS 3000 HVLAN connector for home-automation systems
Remote control:
F 3001
Accessories:
2 x power cord, remote control receiver E 2000
Dimensions (H x W x D):
17 x 46 x 46 cm
Weight:
38 kg
We offer free shipping on any product over $99. For full details please see our Shipping Policy.

Our returns policy lasts 30 days. If 30 days have gone by since your purchase, unfortunately, we may not be able to offer you a refund or exchange. For full details please see our Refund Policy.
T+A Hi-Fi PA 3100 HV Integrated Amplifier
All T+A Hi-Fi Products are built to order with a 5 - 6 Week lead time.
The PA 3100 HV is a further development of the PA 3000 HV, and most of its sub-assemblies are identical. The immediately obvious difference is the pair of VU meters in the front panel, which display the power generated per channel in logarithmic form in Watts into 4 Ohms. A revision of the pre-amplifier section (D.C. coupling) has brought an additional improvement in sound quality.
Manufacturers Details:
A further development is the redesigned analogue mains section and voltage power supply, which is similar to that of the A 3000 HV. This makes it possible to connect the supplementary PS 3000 HV mains section in order to gain a further increase in stability and performance of the power supply system as a whole. The additional unit provides an extra 1800 Watt of supply power, enabling the system to control even the most difficult loudspeakers without effort, so that they can unfold the best possible sound quality.
As an option the PA 3000 HV and PA 3100 HV can also be fitted with High-End phono pre-amplifier modules which feature different circuit topologies to suit MM or MC systems. It is also possible to install the analogue signal processor module which has been developed for the P 3000 HV to provide channel-separate tone and loudness functions.
The all-metal F3001 infra-red remote control handset is supplied as standard.
Engineered With Care:
Circuit Topology
As with the P 3000 HV, the circuit topology is based on a differential cascode amplifier with individually selected audio J-FET transistors, and stages of completely discrete construction without op-amps (operational amplifiers). Virtually no overall negative feedback is required due to this circuit arrangement and the quality of the components employed. The high operating voltage of HV technology is the key to excellent linearity combined with extremely wide dynamic range: signals up to 60 Vss can be processed without distortion.
Key Features:
Control Circuitry
In the HV series the signal switching and adjusting functions are carried out by encapsulated gas-tight gold-contact relays, which are totally immune to contact problems due to corrosion, dust, etc., and do not suffer from ageing effects even after many years of operation. The pre-amplifier even employs bi-stable relays, which require no permanent coil current, and this, in turn, eliminates any adverse inductive effect on the audio signals.
The direct integration of the relays into the circuit minimises the signal paths, and connecting cables – as required for conventional volume potentiometers – are no longer necessary. The volume control is assembled from discrete precision resistors and gold-contact relays. The result is totally precise channel matching, devoid of distortion and hiss.
This product has no reviews yet.
WHILE YOU ARE BROWSING
You may also like