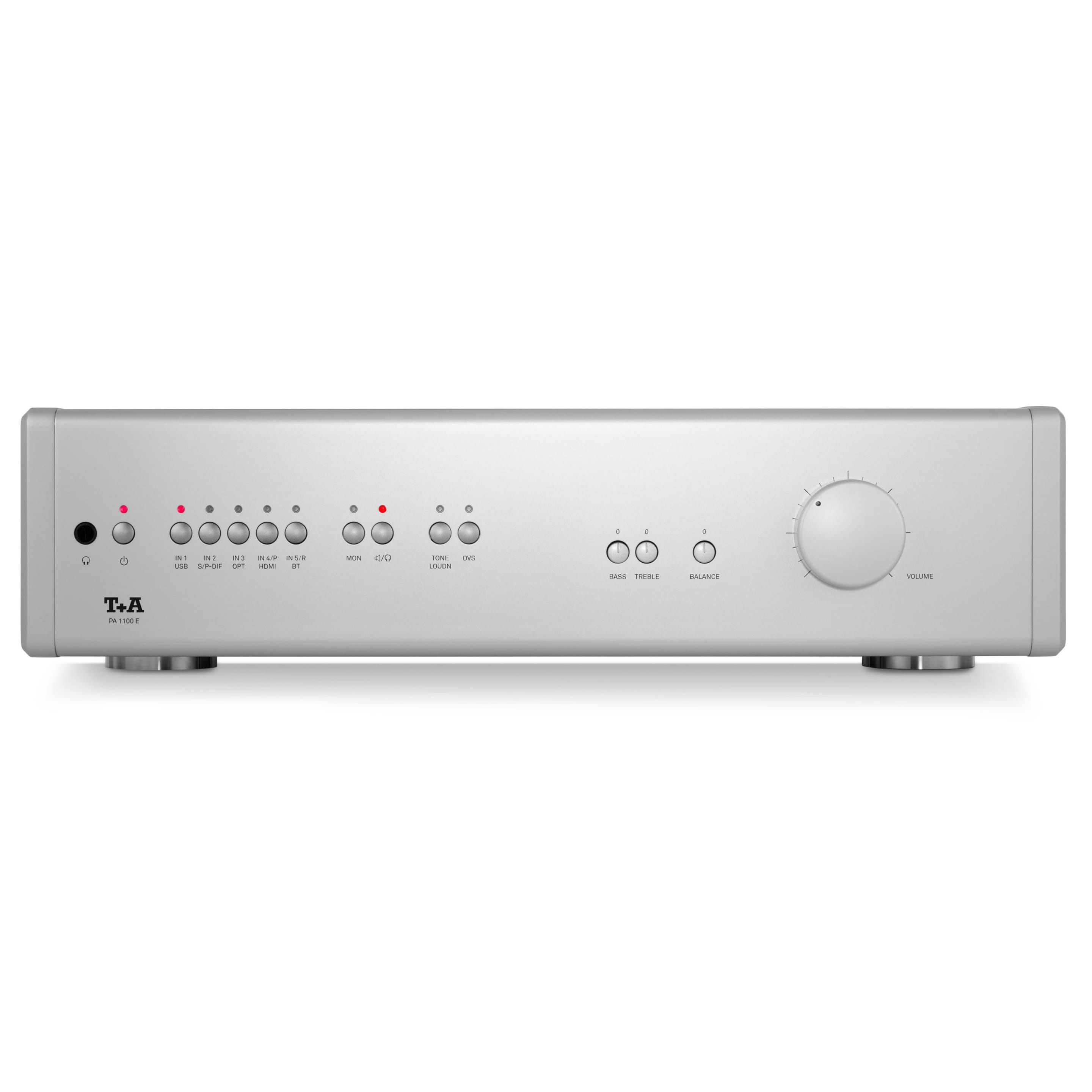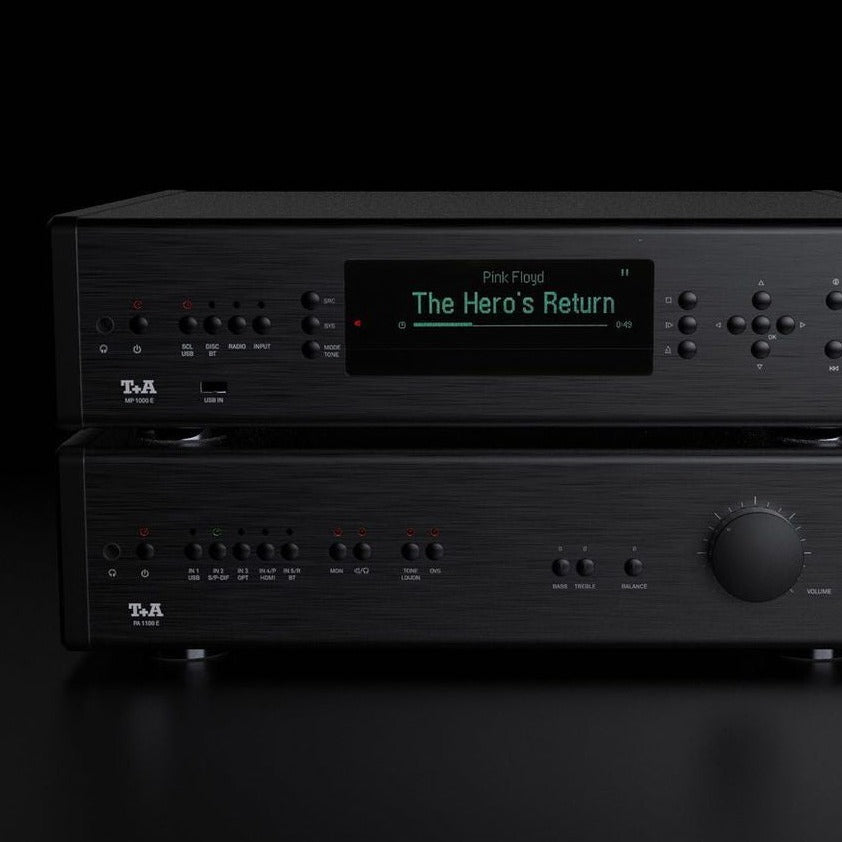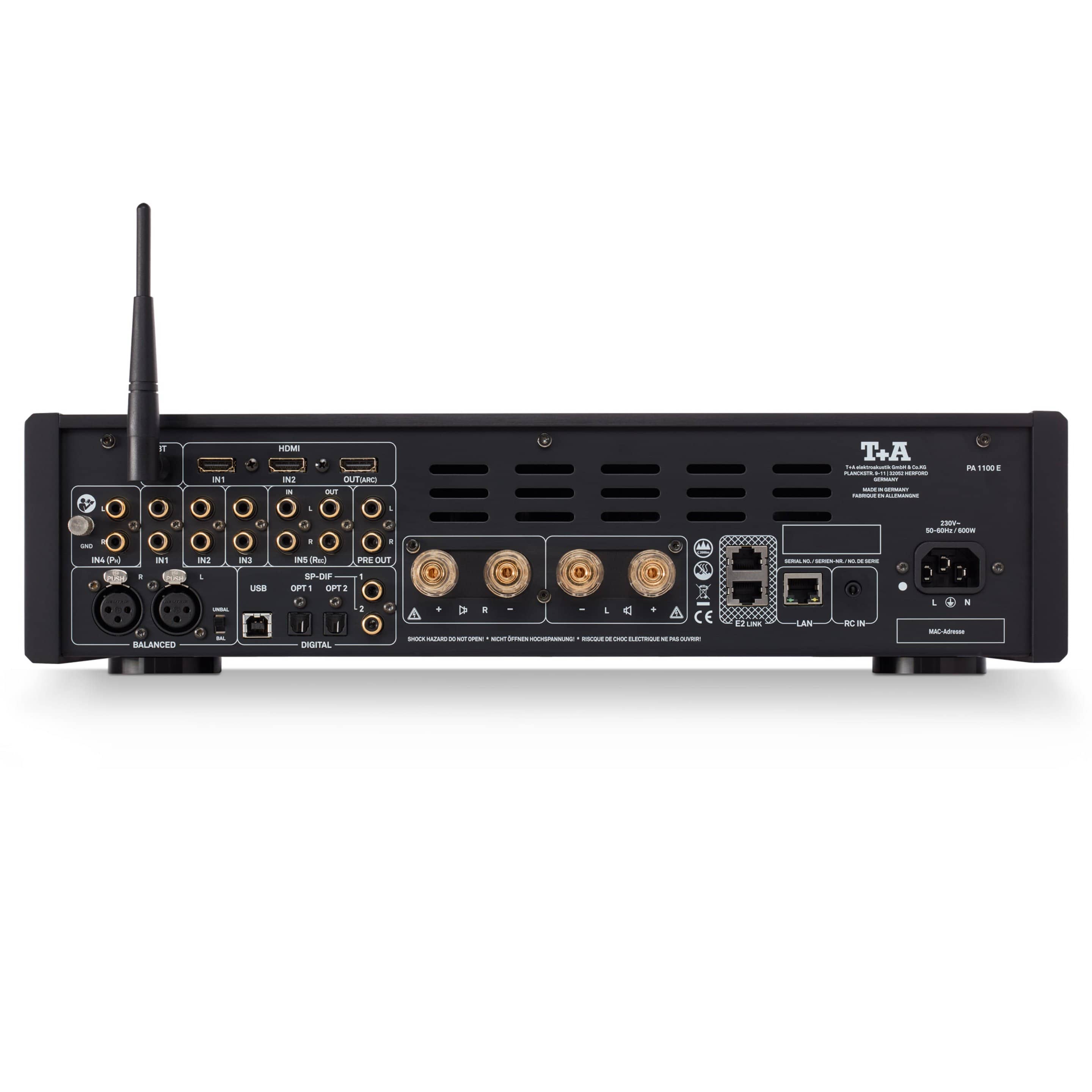 T+A Hi-Fi PA 1100 E Integrated Amplifier with DAC
---
All T+A Hi-Fi products are built to order. Please allow a 5 - 6 Week lead time after your purchase. There is occasionally a shorter lead time, depending on production runs. We will keep you up to date on your orders progress throughout.
Specifications

Specifications power-amplifier
Nominal output per channel 4 Ohms / 8 Ohms:
2 x 250 Watts / 2 x 140 Watts
Peak output per channel 4 Ohm / 8 Ohm:
2 x 400 Watts / 2 x 220 Watts
Frequency response -3dB:
1 Hz - 60 kHz
Total harmonic distortion / Intermodulation:
< 0,004 % / < 0,004 %
Pre amplifier (PRE, REC)
Total harmonic distortion:
0,0025 %
Signal / noise ratio:
108 dBA
Channel separation:
> 82 dB
Inputs 5 x RCA:
250 mVeff ... 3 Veff / 20 kOhms
Inputs 1 x balanced (XLR):
500 mVeff ... 6 Veff / 5 kOhms
Outputs 2 x RCA:
PRE OUT, REC OUT 2,5 Veff / 50 Ohms;Headphones 6,3 mm plug > 32 Ohms
Digital section (DAC, Inputs)
D/A converter:
PCM: 32-bit Sigma Delta, 384 kSpsDSD: up to DSD 256 (11,2 MHz)switchable oversampling algorithems: Standard-FIR and T+A Bezier
Digital inputs
2 x SP/DIF coax.:
PCM 32 ... 192 kSps
2 x TOSLINK opt.:
PCM 32 ... 192 kSps
1 x USB-B:
PCM 32 ... 384 kSps. DSD 64 ... DSD 256 (MAC-OS up to DSD 128)
2 x HDMI,1 x HDMI (ARC)(optional accessories):
Stereo: PCM 32 ... 384 kSps, DSD 64Stereo: PCM 32 ... 192 kSps
Bluetooth:
APT-X, MP3, AAC, SBC. AVRCP.
Mains / Accessories / Dimensions
Optional accessories:
plug-in phono module MM, 1 - 5 mV, 16 capacitance valuesplug-in phono module MC, 60 - 1000 µV, 16 impedance valuesplug-in HDMI Modul
Remote control:
FM 11 with E 2000
Mains:
220-240 V or 110-120 V, 50-60 Hz, 600 W
Standby:
< 0,5 Watts
Dimensions (H x W x D):
11,5 x 44 x 38 in cm
Weight:
14 kg
Colours:
Black, Silver
Optional Accessories:
PHE-MM or MC | HDMI module | Power Three HD (Carbon) | Power Bar | Audio Duo (Carbon) | Speaker Hex (Carbon)
We offer free shipping on any product over $99. For full details please see our Shipping Policy.

Our returns policy lasts 30 days. If 30 days have gone by since your purchase, unfortunately, we may not be able to offer you a refund or exchange. For full details please see our Refund Policy.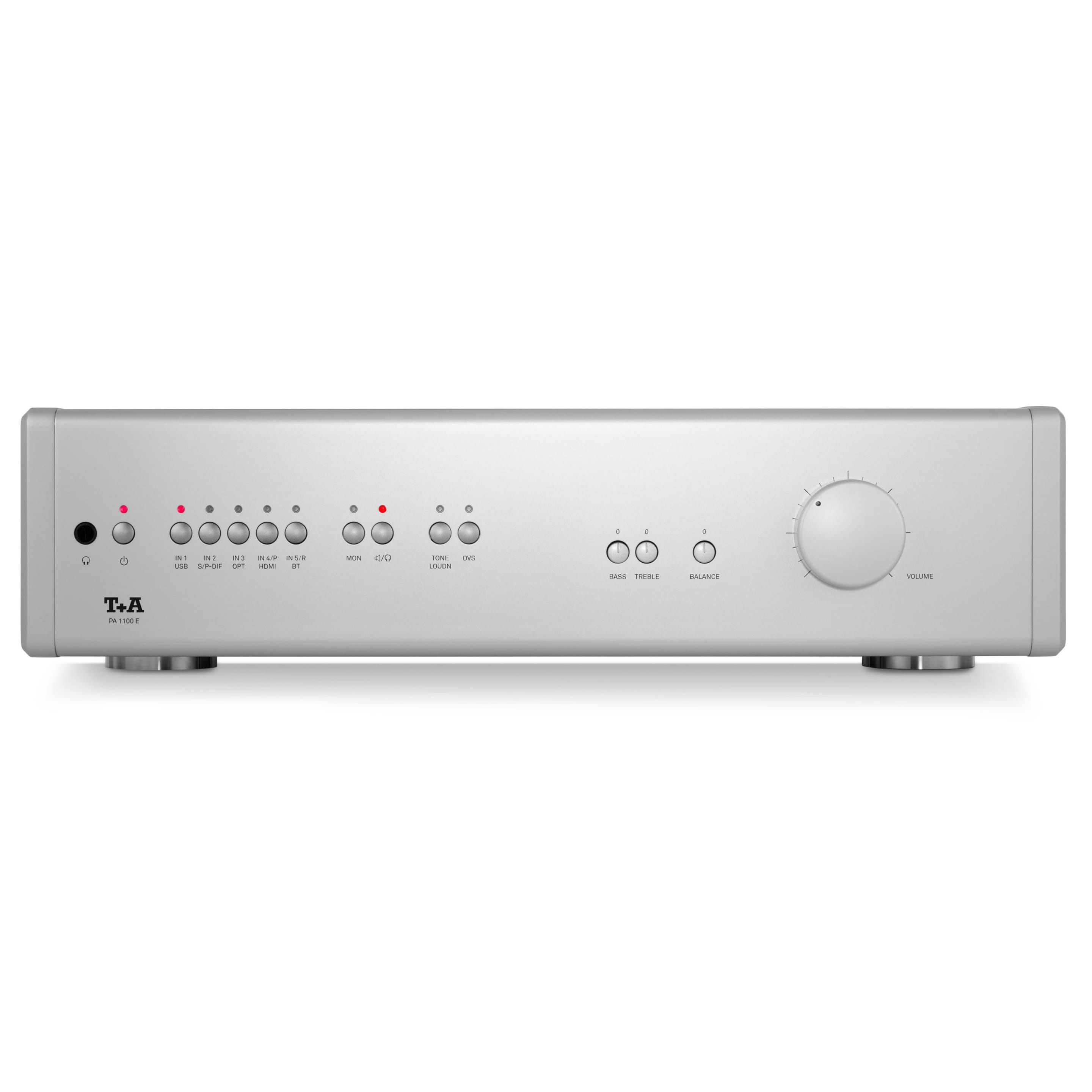 T+A Hi-Fi PA 1100 E Integrated Amplifier with DAC
All T+A Hi-Fi Products are built to order with a 5 - 6 Week lead time.
The PA 1100 E was developed for customers who are looking for an amplifier with various digital inputs, but who no longer need a CD drive. It was designed as a stand-alone unit and is not suitable for operation in combination with the MP 1000 E multi-source player. However, the PA 1100 E is equipped with the high-quality D/A converter of the MP 1000 E and has also been fitted with an HDMI input. When a TV is connected, the volume can be conveniently controlled via the TV remote control. All the sub-assemblies of the PA 1100 E are identical to those of the integrated amplifier PA 1000 E, and for this reason it shares exactly the same acoustic performance and characteristics.
Manufacturers Details:
The sole difference lies in the inputs: one of the PA 1000 E's symmetrical inputs has been replaced by a digital input board. This board operates completely autonomously from the rest of the machine, and separate voltages are fed to its digital and analogue sections. The board is fitted with its own micro-processor which assumes full control of the digital inputs, filters and converter. For this reason it has no influence of any kind on the analogue signal processing and sound qualities of the PA 1100 E. The high-quality Bluetooth® module provides music transfer from mobile devices at superb aptX™ quality.
Engineered With Care:
Inputs
The digital input board enables many digital sources to be connected directly at very high quality, using either coax or optical inputs. The USB-B input even makes it possible to play very high-resolution files from a PC or via Ethernet / USB bridges such as Roon or NAA, using data rates of up to 384 kSps for PCM and up to DSD 256.
The high-quality Bluetooth module provides music transfer from mobile devices at superb aptX™ quality, and the BT player can be controlled using the AVRCP protocol.
A further option is the additional installation of an HDMI circuit board featuring two input and one output socket with Audio Return channel for the television set. Sound output is exclusively in stereo.
The digital data are converted into analogue signals to very high standards of quality and resolution by the modern 32-bit converter. A further refinement for PCM data are two different oversampling algorithms: one of them a standard FIR filter, the other the Bezier oversampling developed by T+A, offering outstanding timing and transient handling.
Key Features:
Operation
The PA 1100 E can either be controlled directly on the machine itself, or using the FM 11 remote control handset supplied with the machine in conjunction with the E 2000 IR receiver. The latter can be set up anywhere close to the PA 1100 E, and connected to the RC-In socket on the back panel.
This product has no reviews yet.
WHILE YOU ARE BROWSING
You may also like