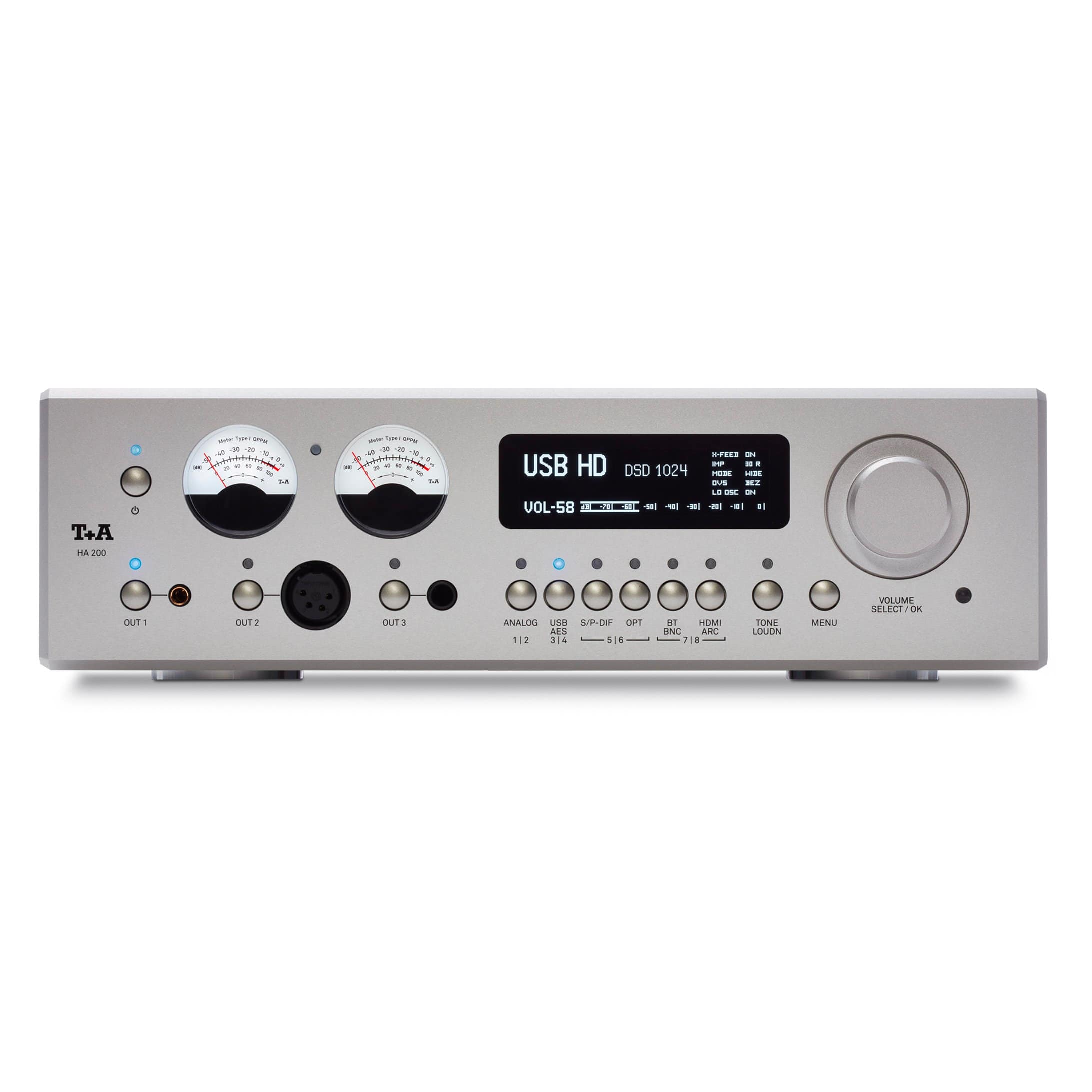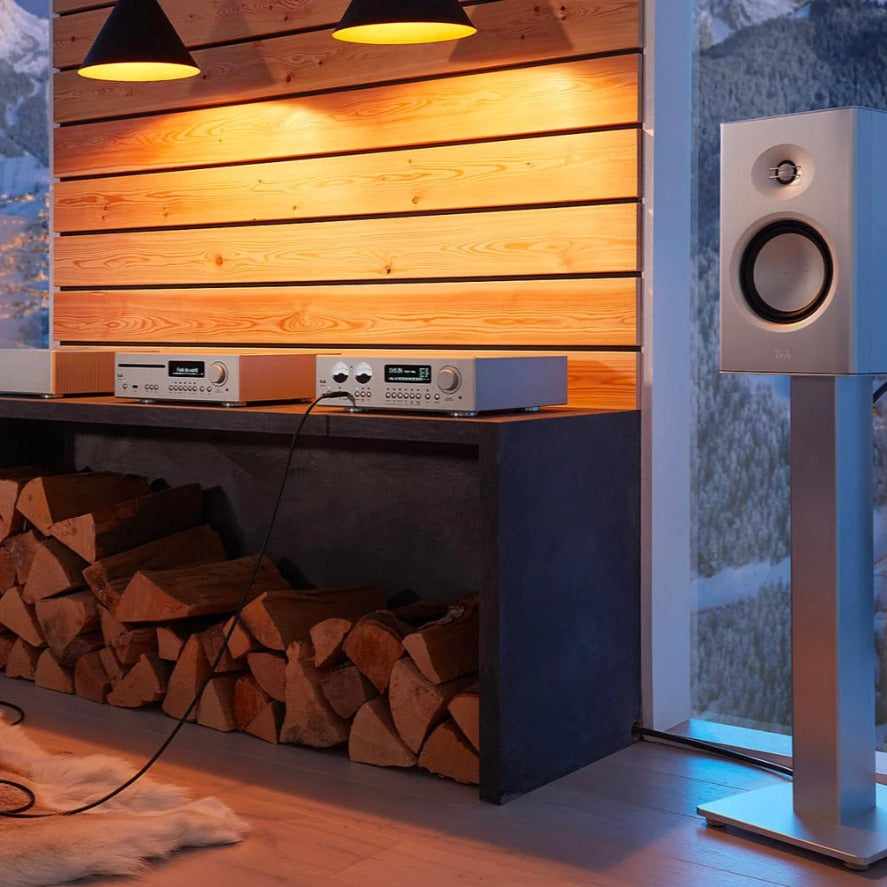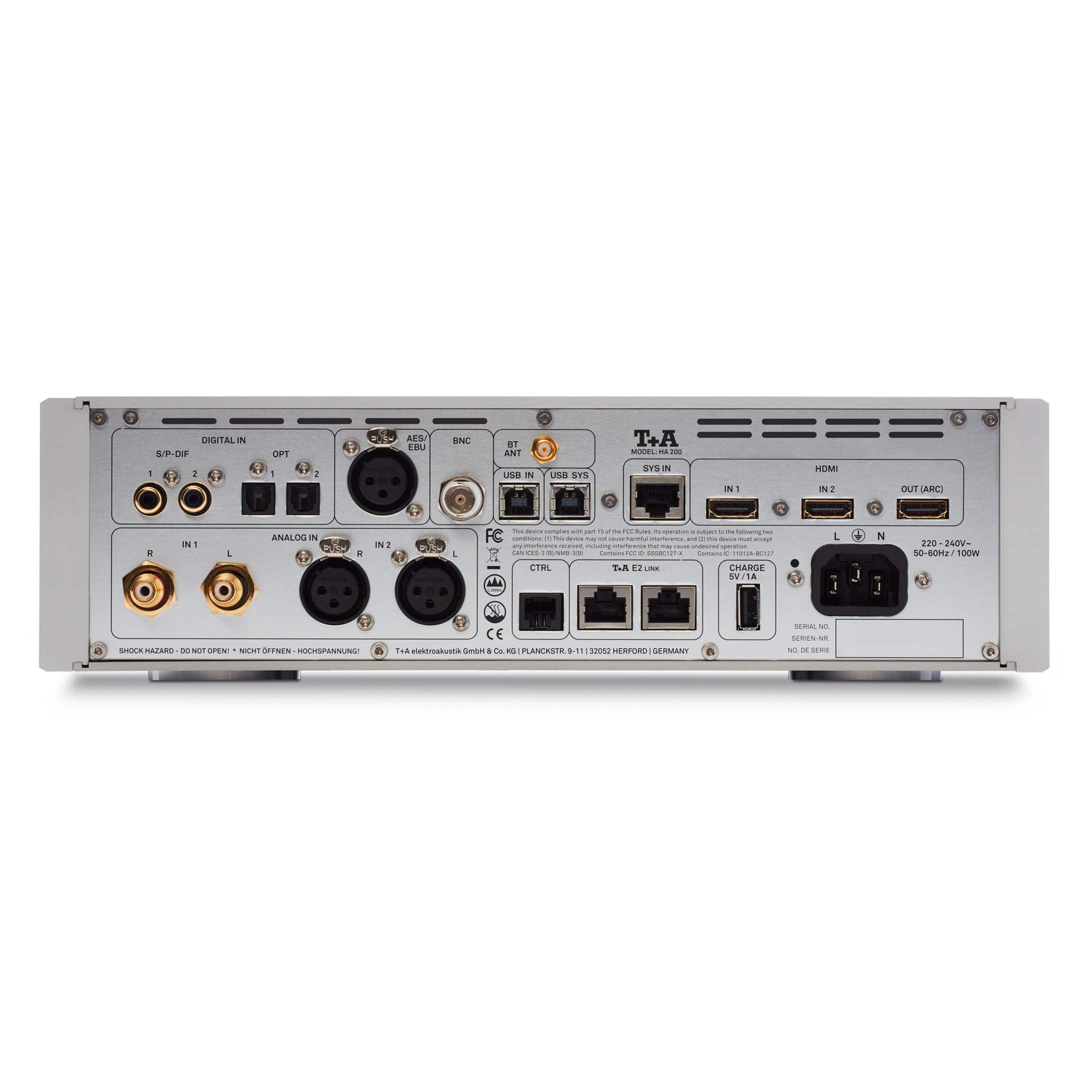 T+A Hi-Fi HA 200 Headphone Amplifier
---
All T+A Hi-Fi products are built to order. Please allow a 5 - 6 Week lead time after your purchase. There is occasionally a shorter lead time, depending on production runs. We will keep you up to date on your orders progress throughout.
Specifications

Analogue section
 
Frequency response + 0 / − 3 dB
D0,1 Hz – 200 kHz
Signal / noise ratio:
110/114 dB
THD  /  Intermodulation:
< 0,001 % / < 0,001 %
Channel separation:
> 108 dB
Class A operation:
up to 700 mA
Loudness:
switchable, adjustable on the speaker efficiency
Sound control:
switchable, channel separated. Bass and treble -6 dB to + 8 dB
Headphone outputs:
6.3 mm plug, 4.4 mm Pentaconn, XLR-4 pinImpedances: 8, 12, 18, 25, 40, 80 Ohms
Analogue inputs
High level (RCA) / balanced (XLR):
250 mVeff ... 4,5 Veff / 10 kOhms | 500 mVeff ... 9 Veff / 20 kOhms
Channel separation:
110 dB
Digital inputs
1 x AES-EBU 32...192 kHz / 16-24 BitS/P-DIF: 2 x Standard Coax, 2 x optical TOS-Link 32...192 kHz / 16-24 Bit,1 x BNC 32...192 kHz / 16-24 Bit,2 x USB DAC: Device-Mode 44,1 ... 768 kSps (PCM) and up to DSD1024*, supports asynchronous data transfer.*DSD 512 and DSD 1024 with Windows PC and appropriate driver installed or Linux PC with Kernel 4.4 or higher only. Supports DoP up to DSD 256 (0x05/0xFA Marker).2 x HDMI IN, 1 x HDMI OUT with ARC (as an option)
Bluetooth:
A2DP (Audio), AVRCP 1.4 (Control) / aptX® HD , SBC, AAC
D/A converter section
PCM:
Double-Differential-Quadruple-Converter with four 32-Bit Sigma-Delta D/A converter per channel 705,6 / 768 kSps conversion rate
DSD:
T+A-True-1Bit DSD D/A converter, up to DSD 1024 (49,2 MHz), native bitstream
Upsampling:
T+A signal-processor – synchronous upsampling with four selectable oversampling algorithms. FIR short, FIR long, Bezier/IIR, Bezier, NOS (non-oversampling))
Analogue filter:
Phase-linear Bessel filter 3rd order, switchable with 60 or 120 kHz cut of frequency
Mains / Accessories / Dimensions
Mains:
100 – 120 V or 200 – 240 V, 50 – 60 Hz, 100 Watts
Standby:
< 0,5 Watts
Dimensions (H × W× D):
10 × 32 × 34 cm
Accessories:
Remotecontrol FM8, power cord, USB-cabel for charging RC,USB cabel 2.0 for DAC, RCA cabel
We offer free shipping on any product over $99. For full details please see our Shipping Policy.

Our returns policy lasts 30 days. If 30 days have gone by since your purchase, unfortunately, we may not be able to offer you a refund or exchange. For full details please see our Refund Policy.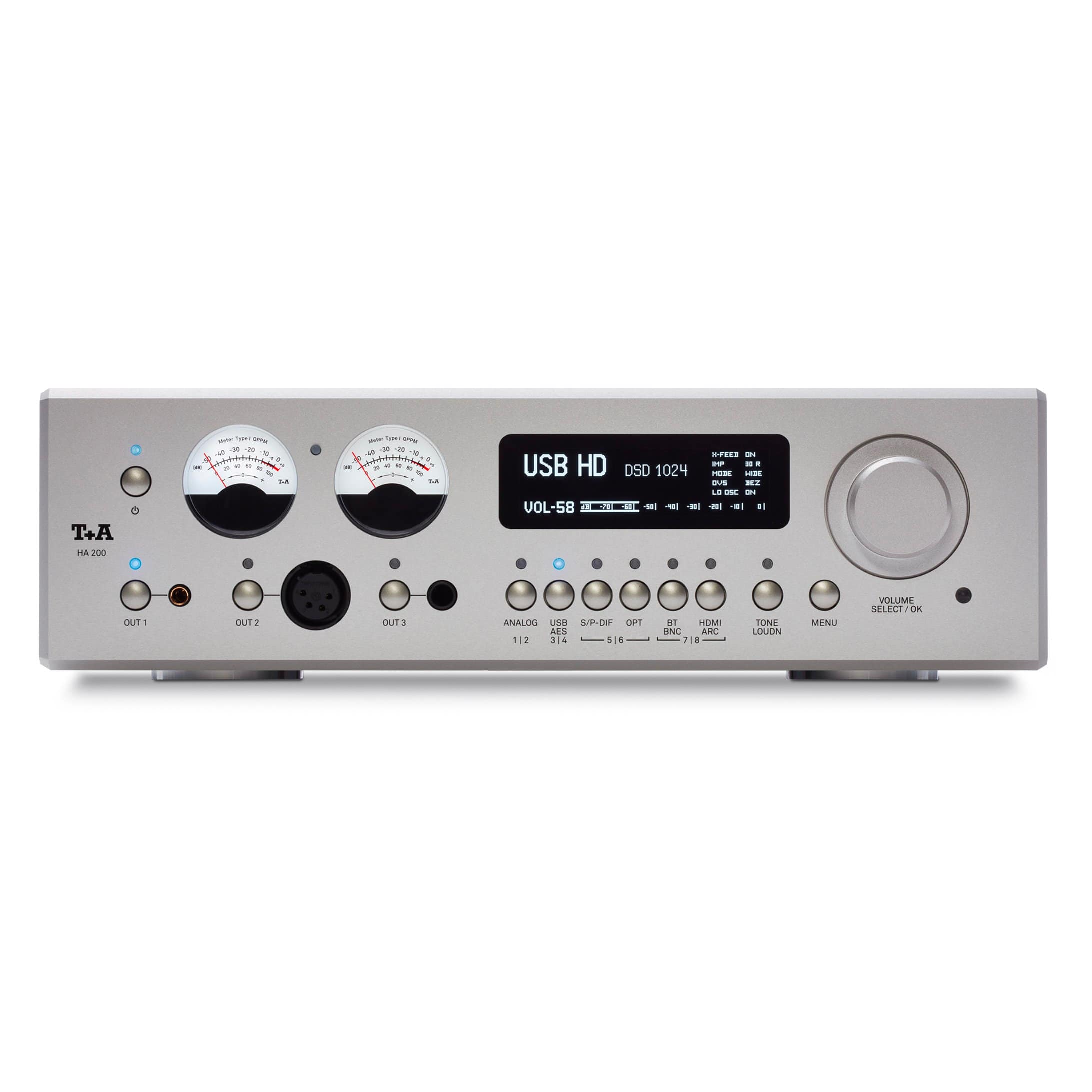 T+A Hi-Fi HA 200 Headphone Amplifier
All T+A Hi-Fi Products are built to order with a 5 - 6 Week lead time.
Our first headphone amplifier is a new and ground-breaking development in which the analogue amplifier section, the converter section and also the case mechanics operate to perfection. The analogue section of the HA 200 is based on the unique T+A HV technology. Its high-performance output stages operate in Class-A mode with a high idle current, and are effortlessly capable of driving even the most difficult of headphones. The impedance of the three headphone outputs can even be matched to the headphones in use and the individual sound ideas. A crossfeed function for creating a sound stage image positioned in front of the head is available on request. The high-quality mains sections – one digital, one analogue with two separate torroidal transformers- provide very generous reserves of power.
The digital section is fitted with the proprietary T+A True 1-Bit digital / analogue converter, which provides an incredible DSD 1024 for Bitstream, and the T+A quadruple converter with 32 Bit / 768 kHz for PCM. Like all current T+A DACs the new HA 200 also features a sophisticated and completely separate decoder architecture for DSD and PCM, ensuring that all digital formats are decoded to the finest standards.
The design and materials of the case harmonise perfectly with the unique electronics. The HA 200 is significantly larger and heavier than other headphone amplifiers, but this is not surprising given the more than 2300 components and the sophisticated HV technology. All the case components are produced from non-magnetic aluminium, and the front panel is machined from solid plate material – just like the HV series. Accurate QPPM metering instruments and a large screen supply important system information, and provide an accurate indication of operating conditions. The FM8 IR remote control controls all functions of the HA 200.
We have designed the HA 200 in every respect with no hint of compromise and without regard to cost, for we had only one goal in mind: musical reproduction to the very highest standard of perfection.

Manufacturers Details:
Amplifier Section 
The amplifier section has an absolutely crucial part to play in the overall design. And that's why we decided to adopt the principles of our HV series: pure analogue Class-A design with special MOS-FET transistors, no op-amps, no chips and a separate 100-Watt analogue mains section. Even the crossfeed function is generated by an analog filter circuit. The XLR and Cinch inputs take the same form as in the HV series, and the pre-amplifier is designed in such a way that it feeds the output stage in the optimum manner. Gas-tight encapsulated gold contact relays take over the volume control and adjustable loudness function and bridge the tone control completely (flat) on request, they are absolutely free of distortion and noise. Even after many years of operation these components are not subject to contact problems due to corrosion, dust or ageing effects. The relays are integrated directly into the circuit design, keeping the signal paths as short as possible.
Since we had decided to cater for different headphone types, the output stage needed to be extremely sophisticated. Normal loudspeakers have impedances in the range 2 to 10 Ohm, which is not critical. However, headphones may have impedances in the range 10 to 1000 Ohm, and this certainly presents a challenge. Low-impedance types draw high currents, whereas the currents flowing in high-impedance types are relatively low; however, the voltage must be very stable. We overcame this problem by designing the output stage of the HA 200 to be capable of effortlessly delivering relatively high currents, while the mains section transformers (2 x 50-Watt) are extremely stable and constant.
Engineered With Care:
Connections
The wide range of connection facilities requires a very sophisticated control system and display for the amplifier as a whole. In fact, the HA 200 is intuitive and simple to operate, thanks to an ingenious combination of operating buttons and menu control system. The two VU meters (QPPM = Quasi Peak Programme Meter Type 1) are accurate indicators which display the variation in various parameters, as in studio applications and measurement engineering. The level at the D/A converter and the amplifier can both be displayed, as can input level and output level, temperature and stream quality (which can be used to check the frequency of the data stream and even the cable quality). The pin-sharp screen displays the user's selected operating modes, such as output impedance, volume, data rate, oversampling filter type or crossfeed. The brightness of the display, the LEDs and the VU meter is adjustable. You can even adjust the colour of these.
Key Features:
Case Design
Since we have also designed the HA 200 for use in professional applications, the case is designed to be extremely solid and robust. The heatsinks are manufactured using an extrusion tool, the front panel is machined from solid metal, and the top, bottom and back panels are made from aluminium plates. Ultra-close tolerances and accurate fits are the hallmarks of this case, and at the same time the design provides for homogeneous heat distribution, leading to optimum operating conditions for the electronics as a whole.
Inputs & Outputs
Sound quality can be fine-tuned by selecting different output impedances for each output (6.3 mm, 4.4 mm Pentaconn, XLR 4-pin), and Crossfeed-mode can also be switched in. The XLR 4-pin output can be used to drive loudspeakers if the user wishes to connect a stereo power amplifier (such as the AMP 8); in this case we can supply an XLR-4 to 2xRCA adapter.
In addition to the conventional high-quality analogue inputs we have equipped the HA 200 with a large number of high quality digital inputs. This makes it possible to operate the unit as a stand-alone device, and connect it to various digital sources according to personal taste and requirements. There is no doubt that the HA 200's digital input section is currently the world's finest, since the USB-B inputs are based on the new high-resolution Thesycon chip, which can process up to DS 1025 and PCM 768. Professional AES/EBU and BNC sockets are also present, as are optical and co-axial SP/DIF. The Bluetooth input is fitted with AptX™ HD, two HDMI inputs (Stereo only) and one output ARC are available as options.
The extremely high quality of the inputs is maintained in the converter. The proprietary T+A True 1-Bit digital / analogue converter, which provides an incredible DSD 1024 for Bitstream, and the T+A quadruple converter with 32 Bit / 768 kHz for PCM, reflect the current State of the Art, and represent the limit of what is feasible today. The digital section features its own power supply, and is galvanically separated from the analogue section.
Although the primary purpose of the HA 200 is to be an amplifier with an extraordinarily high performance, this unusual flexibility on the input side is very helpful to various types of user. Since the amplifier employs our very finest DSD and PCM converters, the sound quality of the digital inputs is just as good as that of the analogue ones.
This product has no reviews yet.
WHILE YOU ARE BROWSING
You may also like