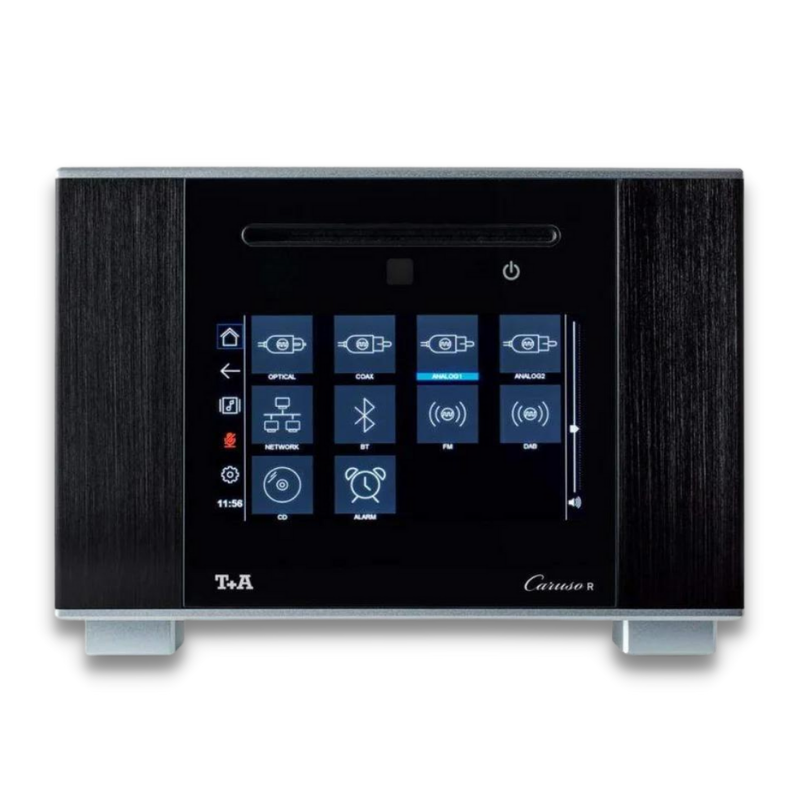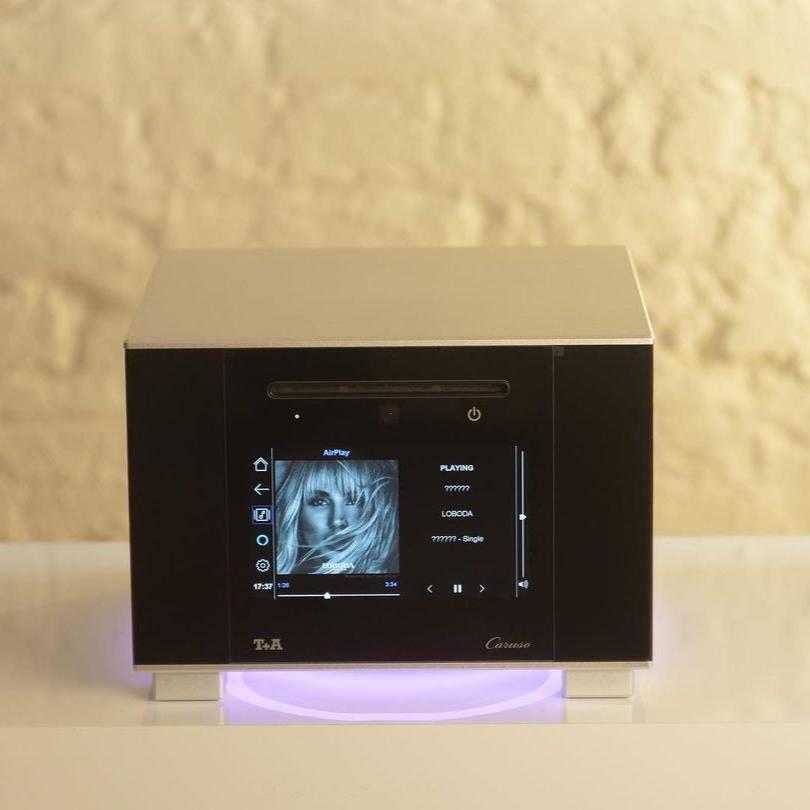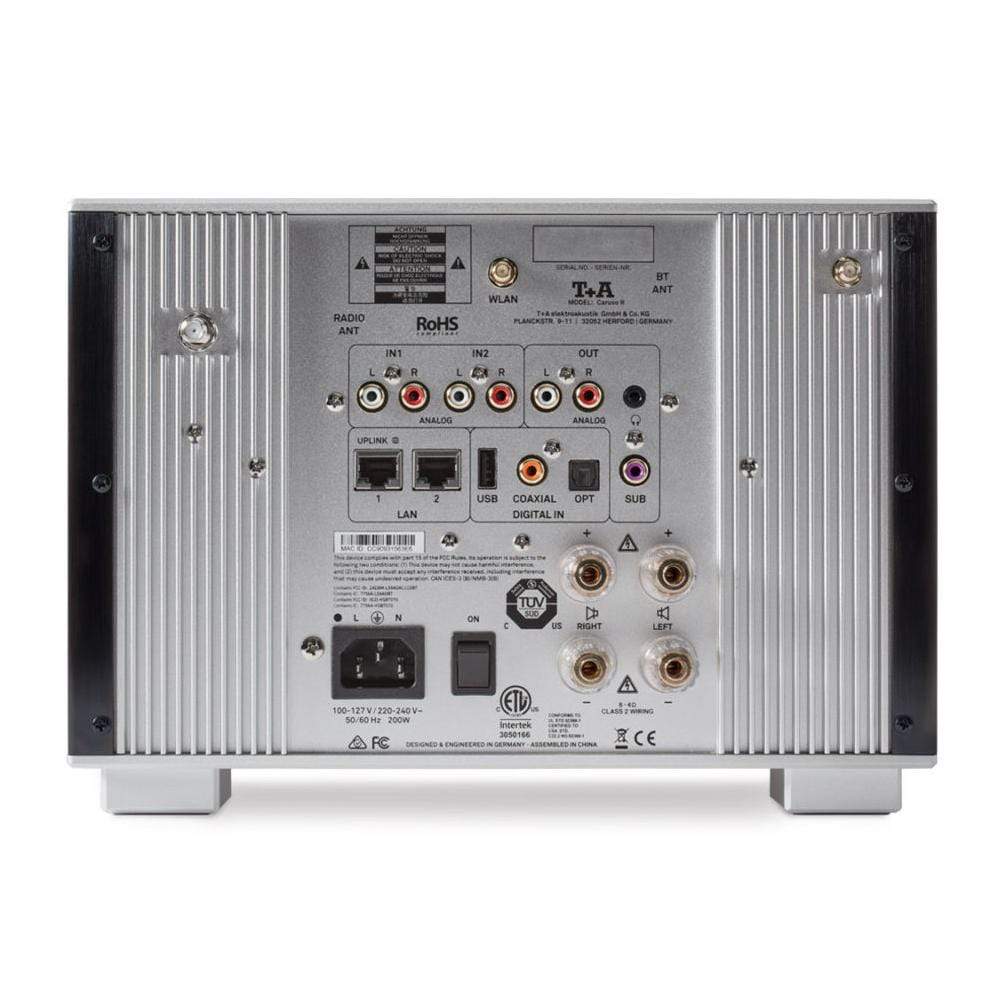 T+A Hi-Fi Caruso R Multi Source Receiver
---
All T+A Hi-Fi products are built to order. Please allow a 5 - 6 Week lead time after your purchase. There is occasionally a shorter lead time, depending on production runs. We will keep you up to date on your orders progress throughout.
Specifications

CD-Player
 
Formats / Frequency response:
CD-DA (12cm), CD-R*CD-RW*, Audio CDMPEG 1 Layer 3 (MP3)Windows Media Audio (WMA, DRM not supported) / 2 Hz - 20 kHz/100 dB / CD-Text.
Streaming Client
Formats:
MP3, WMA, AAC, OGG Vorbis, FLAC, WAV, ALAC
Services:
Tidal, Deezer, Amazon Music, qobuz, Spotify Connect (subscription required). DLNA
Interfaces:
LAN: Fast Ethernet 10/100 Base-TWLAN: 802.11 b/g/n
USB:
1 x USB 2,0 Mastermode
Bluetooth
Standards / Codecs:
A2DP 1.2 (Audio), AVRCP 1.4 (Control) / aptX®, MP3, AAC, SBCBi-directional sink + source
Tuner
Internet Radio:
Airable Internet Radio Service (> 11000 stations worldwide)
FM:
87,5 - 108 MHz; sensitivity 1 µV; S/N > 65 dBA
DAB+:
168 -240 MHz (band III); sensitivity 2,0 µV, S/N > 96 dBA
Features:
RDS/RDBS, station name (PS), station logo, radiotext (TR)
Amplifier
Nominal output:
at 4 Ohms 2 x 100 Wattsat 8 Ohms 2 x 50 Watts
Peak output:
at 4 Ohms 2 x 150 Wattsat 8 Ohms 2 x 75 Watts
Distortion:
< 0,02 %
Inputs:
2 x AUX (RCA) 2 Veff max1 x USB 2.0 Mastermode,SP/DIF:1 x coax (192 kSps)1 x TOS-Link (96 kSps)2 x LAN (1 x uplink, 1 x out)
Outputs:
Pre-Amp (RCA) 2 Veff, subwoofer (RCA)headphone 32 Ohm@30mW (3,5 mm jack)
Sound Management:
2 channel stereo system with DSP controlled sound characteristics
Mains / Accessories / Dimensions
Mains supply:
100-127 V, 220 - 240V, 50-60 Hz
Power consumption:
max. 300 Watts, Eco standby < 0,5 Watts, comfort standby 5 W
Dimensions (H x W x D):
21 x 29 x 29 cm
Weight:
7.5 kg
Accessories:
Remote control, power cord, USB cable for charging RC, antenna Bluethooth, antenna WLAN, telescopic antenna radio
We offer free shipping on any product over $99. For full details please see our Shipping Policy.

Our returns policy lasts 30 days. If 30 days have gone by since your purchase, unfortunately, we may not be able to offer you a refund or exchange. For full details please see our Refund Policy.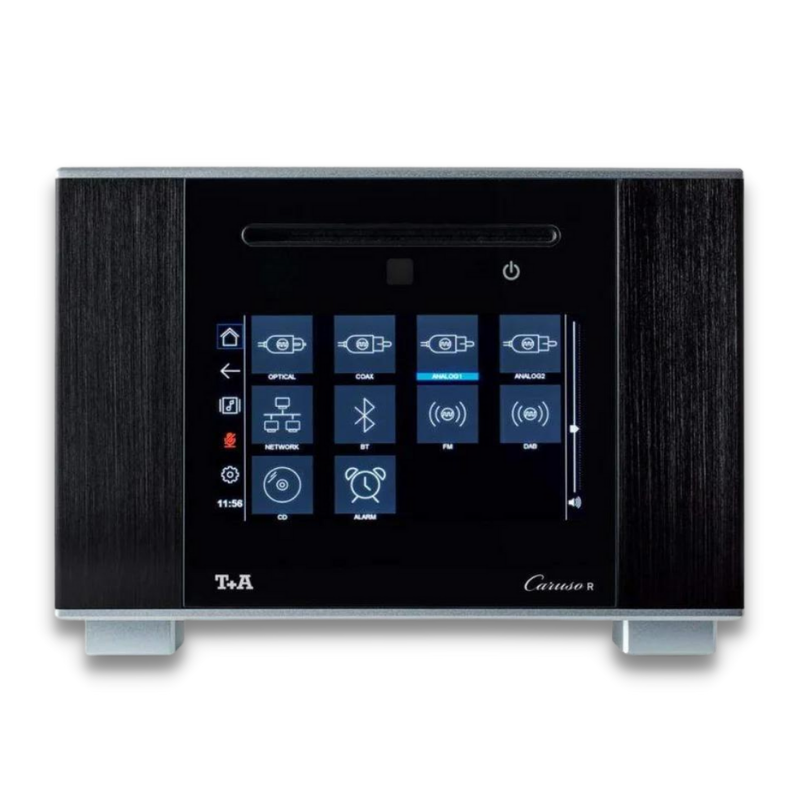 T+A Hi-Fi Caruso R Multi Source Receiver
All T+A Hi-Fi Products are built to order with a 5 - 6 Week lead time.
It was back in the year 2008 that T+A introduced the first Caruso, and within a very short time the device won numerous prizes, gaining absolute cult status due to its unique overall design. In 2020 a new generation of the Caruso appeared, and this constituted the greatest advance yet in the history of these devices: the new version represented a completely new development – both externally and in technical terms. Although its heritage remains clear, the new Caruso epitomised the transformation of the machine from an all-in-one device to a series of individual products.
The Caruso R continues the theme of the Caruso in a logical manner, and this is the key to its pleasantly familiar look. The T+A Aluminium Framework provides great precision and physical strength, while its external dimensions hark back to the first Caruso of 2008. The new 7" HD screen effectively extends the Caruso R, and gives it a look of restrained elegance even without loudspeakers.
Manufacturers Details:
7 Inch Touchscreen
The Caruso R's command centre is the T+A NavigatorOS: a 7" touch-screen combines all elements of the control system, and is capable of displaying cover art directly on the machine itself. The thinking behind the system architecture of NavigatorOS was the requirement to minimise the number of individual operations. The Settings menu unites all the machine's settings, from screen brightness to tone controls for bass, mid-range, treble and loudness. An additional Playscreen is available, which succeeds in visualising and informing at the same time: metadata have never been displayed in such fine form as here. In addition to touch-screen control the Caruso R can be operated using the T+A CarusoNavigator app or the FM Caruso remote control handset, which is supplied as standard.
The slot for the modern CD disc mechanism is located above the touch-panel. It analyses the disc's TOC data, which are then passed to Gracenote; the Playscreen can then display cover art and metadata for many CDs.
Engineered With Care:
Connections
The connection area on the back panel is an impressive reflection of the Caruso R's versatile nature. From the first day of its development programme the Caruso R was intended to be the centrepiece of a versatile, high-quality Hi-Fi system. One key feature of this was the requirement for a wide-ranging array of sources, as sources should not represent a restriction: analogue and digital inputs cover every conceivable need from turntable with phono pre-amplifier to TVs and set-top boxes. USB inputs cater for mobile and network sources, while LAN, WLAN and Bluetooth sockets are also available, their signals converted by the SC 100 – the T+A streaming client. The Caruso is our first product to exploit SC 100, which provides access to services such as Gracenote Music ID, Airable Music Services, Spotify Connect, Apple AirPlay and Amazon Music via Alexa. The capabilities of the Internet are no longer just used – they are raised to a new level.
Key Features:
Tuner, Amplifier
Although we have concentrated on progressive sources, this is not to the detriment of the DAB and FM tuners: we have fine-tuned their design to make best possible use of signals delivered by high-quality domestic aerials.
The entire amplifier section is controlled by the integral DSP, which linearises and optimises the frequency response, switches and manages all the inputs and outputs, and controls the high-performance output stages. The latter are designed to cope with a vast range of loudspeaker types, are completely stable under load, capable of handling very high currents and are distortion-free even up to extreme volume levels. The mains section is totally stable over the full operating range, i.e. it never collapses, and has very high current reserves.
The substantial weight of the Caruso R is a clear indication of its inner strength. The specially developed T+A Aluminium Framework makes the Caruso R tremendously rigid: a sophisticated profile extrusion serves as the principal load-bearing frame for all the internal architecture. It is manufactured to ultra-close tolerances and CNC-machined, and that's why all the components slot seamlessly together. As a result the case is totally composed and devoid of resonances.
This product has no reviews yet.
WHILE YOU ARE BROWSING
You may also like