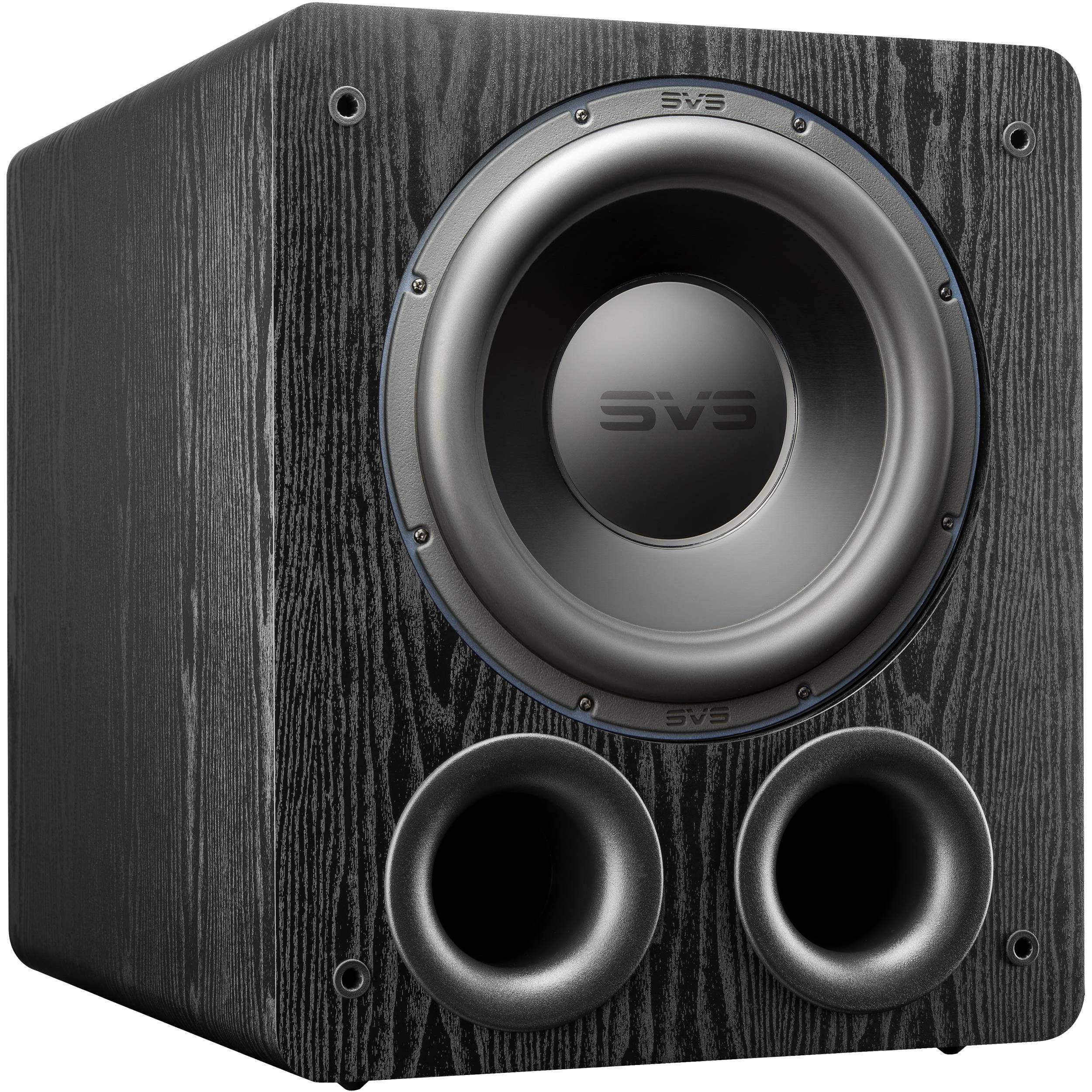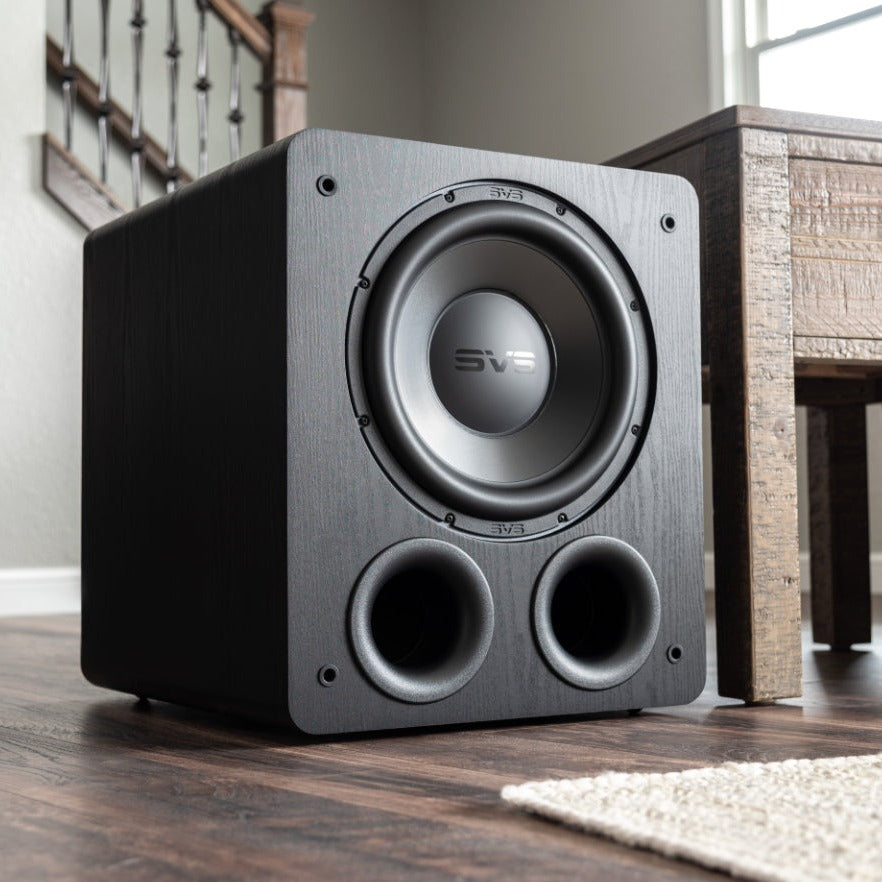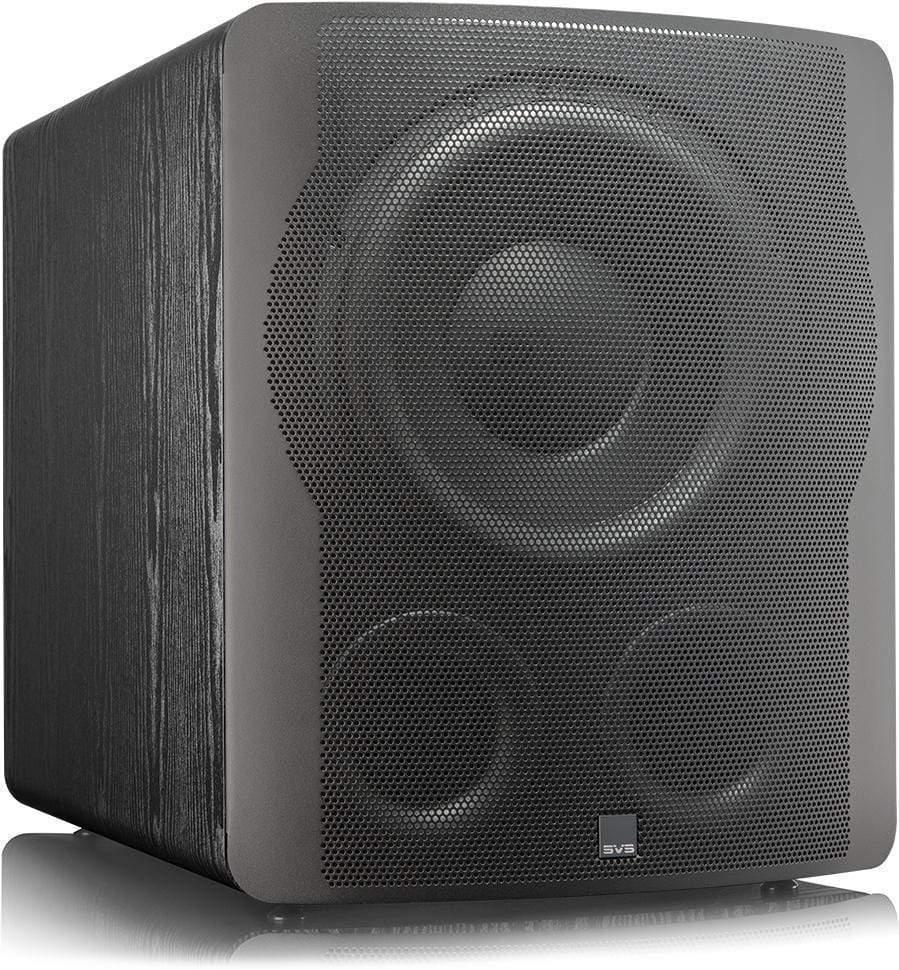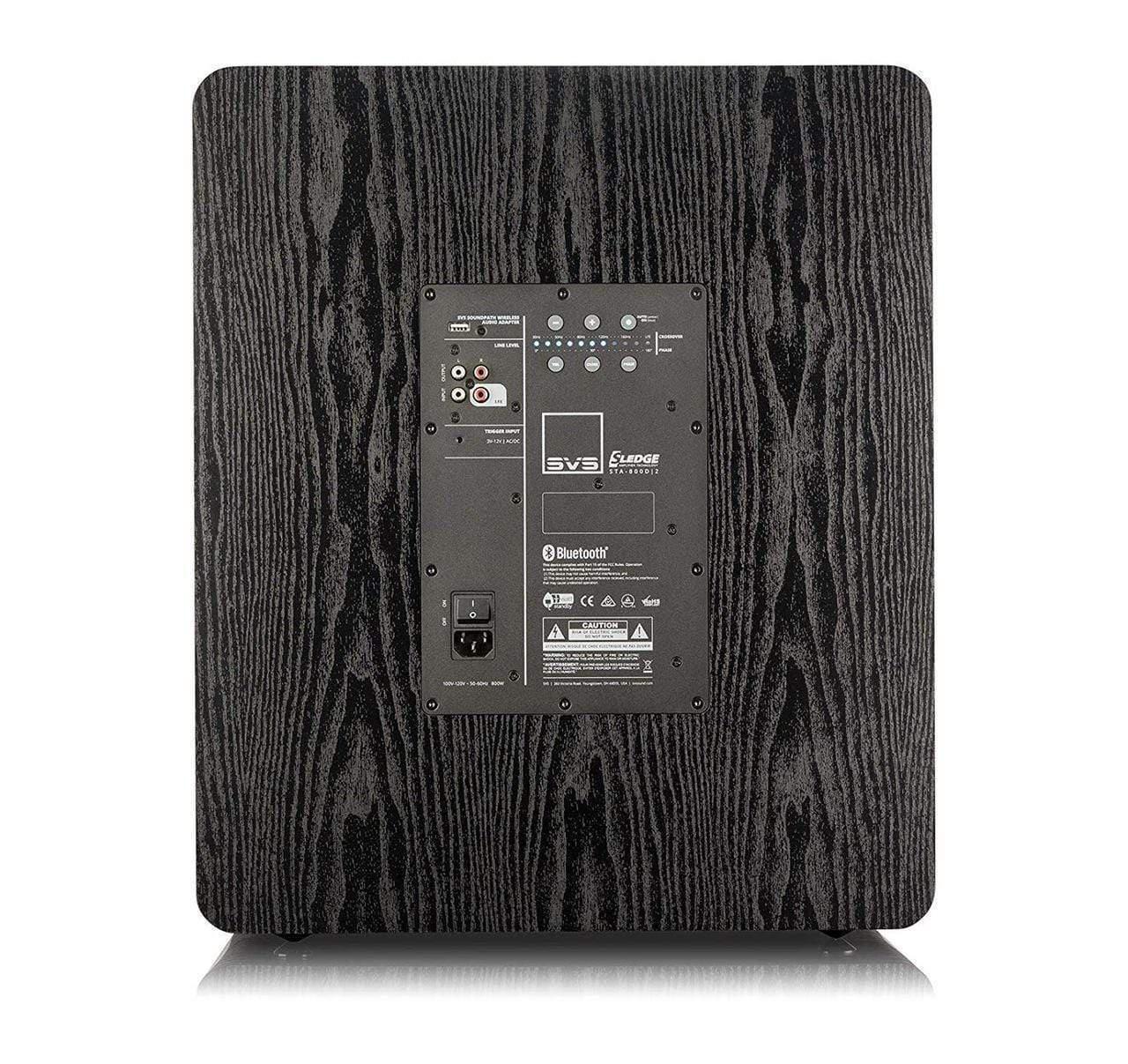 SVS PB-3000 Subwoofer
---
Specifications

| | |
| --- | --- |
| Frequency Response / Acoustic Data: | 18-270Hz ± 3 dB |
| | Roll-off slope specifically optimized to take maximum advantage of available room gain |
| | 2-meter ground plane away from reflective structures (quasi-anechoic) |
| Subwoofer Specs: | Premium Black Ash finish |
| | Protective non-resonant steel mesh grille |
| | Front-firing 13 inch high-excursion SVS driver |
| | Rear-mounted amplifier with Intelligent Control Interface(ICI) |
| | Screw-in rubber feet |
| | Robust Medium Density Fiberboard (MDF) cabinet construction |
| | Dimensions (w/ grille): 397mm H X 385mm W X 451mm D |
| | Dimensions (without grille):397mm H X 385mm W X 399mm D |
| | Shipped Dimensions: 603mm H 527mm W X 530mm D |
| | Weight (unboxed): 24.7 kg |
| | Shipped Weight: 28.9kg |
| Driver Specs: | All New Proprietary 13" high-excursion SVS 3000 Series Subwoofer Driver. |
| | SVS first flat edge wound split-wind voice coil provides maximum magnetics at high excursion while reducing mass and improving overall driver efficiency. Built around a premium grade 2" polyimide impregnated fiberglass former for maximum thermal conductivity. |
| | Two massive, dedicated toroidal ferrite magnets generate unparalleled levels of magnetic force to drive the highest levels of excursion, SPL, and start/go power for the deepest and most authoritative bass possible. |
| | All-new High density FEA-optimized cast aluminum basket provides unequaled levels of rigidity, tensile strength, and energy transference available from a subwoofer. |
| | Four balanced 24-strand silver plated Litz wire high temperature leads woven through the 6.5" 2-ply Nomex composite spider provide a pristine electrical connection from the amplifier to the voice coil. |
| | All new 13" 1050 Aluminum vented cone ensures a light, rigid, and neutral radiating surface. |
| | Precision machined motor elements and narrow tolerance suspension parts produce unmatched linearity at full excursion for exceptionally tight and fast output, even at reference volumes. |
| | Extreme oversized low carbon vented 1008 steel U-yoke and top plate provide superior cooling and improved magnetics for maximum performance and efficiency. |
| | 6063 Aluminum shorting sleeve reduces gap induction and distortion, enhances thermal conductivity, and improve magnetic linearity. |
| | Nickel-plated high-tension spring terminals. |
| | Proprietary injection molded gasket and SBR extreme-excursion surround maintains ideal pistonic motion for pinpoint accuracy and control. |
| Amplifier Specs: | Massively powerful Sledge 800-watt continuous Class D design with 2,500+ watts of Peak Power. |
| | High efficiency cool-running Class-D switching topology with massive 25 Amp 600 Volt MOSFET's result in lower EMI and highest efficiency while providing effortless power to produce SPLs and low frequency output with pristine clarity well beyond reference listening levels. |
| | High resolution 50Mhz Analog Devices Audio DSP with double precision 56bit filtering is the most advanced subwoofer processor available for perfect audio reproduction. |
| | Unmatched intelligence from user adjustable low pass, phase, polarity and room gain compensation with three parametric EQs for absolute best alignment with speakers and optimized performance in any room. |
| | Groundbreaking SVS Bluetooth DSP control app for iOS and Android devices with three user presets allow custom tuning for every room and system. |
| | RCA stereo input/output with ultra-wide input voltage for consumer and professional audio applications. |
| | All new rear panel Intelligent Control Interface (ICI) user interface with bright back-lit controls. |
| | Auto/On and 3-12V AC/DC trigger for Maximum Installation Convenience. |
| | Input impedance 16kohm (unbalanced RCA). |
| | Green 0.5-watt low standby power consumption. |
| | RoHS compliant, lead-free construction, world-wide safety certifications. |
| SVS App Specs: | The most powerful and flexible Bluetooth controlled subwoofer DSP app, works with both iOS and Android operating systems. |
| | Easiest and most convenient way to adjust crossover frequencies, parametric EQ, polarity, room gain and all other bass management functions. |
| | Three convenient custom presets allow for perfect tuning in any room or system, from your favorite seat. |
| | Single tap adjustment for controlling variable port tuning with standard, extended and sealed modes. |
| | Unique bidirectional feedback shows adjustments in real time on both app and subwoofer interface. |
| | Easy-to-follow tutorial provides clear guidance for all functions. |
| Included Accessories: | Protective non-resonant steel mesh grille |
| | Iso-elastomer feet included |
| | Extra heavy-duty, high current 6' power cord |
SVS Australia's warranty covers all products, excluding accessories, by a warranty for 5 years from date of purchase.
We offer free shipping on any product over $99. For full details please see our Shipping Policy.

Our returns policy lasts 30 days. If 30 days have gone by since your purchase, unfortunately, we may not be able to offer you a refund or exchange. For full details please see our Refund Policy.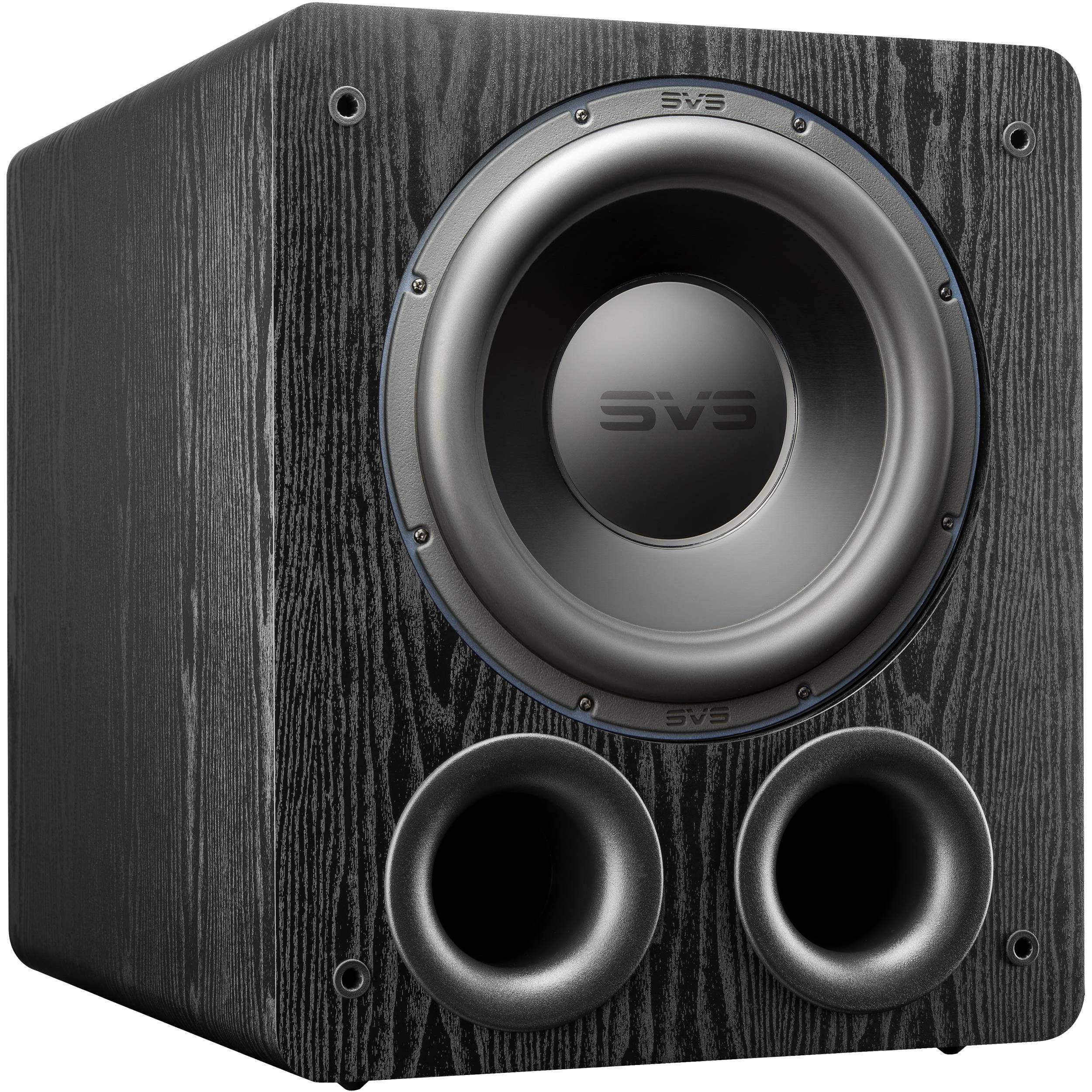 SVS PB-3000 Subwoofer
Reference Subwoofer Performance Hits New Lows.
Chest-thumping output and extreme low frequency extension with stunning refinement and musicality – reference subwoofer performance has never been available in this price range or from a cabinet of this size, ever. The SB-3000 features an all-new first ever 13-inch high-excursion SVS driver and 800 watts RMS, 2,500+ watts peak power Sledge amplifier with fully discrete MOSFET output. Its deep and thunderous low frequency output with revealing clarity and flawless tonal accuracy delights hardcore audiophiles and home theater fans alike. Measuring just over 15-inches cubed, the SB-3000 outperforms much larger subwoofers and takes command of a room sonically without taking over visually.
Manufacturers Details:
Reference Subwoofer Performance Hits New Lows.
Unheard of reference subwoofer performance for the price and also for its compact size differentiate the SB-3000 subwoofer from anything available. A sophisticated 800 watts RMS, 2,500+ watts peak power Sledge STA-800D2 DSP amplifier, innovative new 13-inch high-excursion SVS driver and an optimized sealed cabinet design take control of a room with deeper bass and higher output levels than what is typically possible from a relatively compact subwoofer. An ideal solution for reference bass in audiophile music systems or home theaters, the SB-3000 sets all performance benchmarks at its price and leaves larger and more expensive subs trembling in its wake.
Room-Shaking Power. Subterranean Extension. Uncompromising Sound Quality.
Featuring technology from the SVS 16-Ultra Series and 4000 Series, winners of nearly every industry and media award as the top subwoofers worldwide, the SB-3000 unleashes breathtaking output and extreme low frequency extension with pinpoint control and accuracy. The newest sealed cabinet SVS model combines the most sophisticated SVS subwoofer technology ever developed with trailblazing innovations to set a new standard for subwoofer performance based on price and cabinet size.
All New First Ever 13-inch High-Excursion SVS Driver – Iron Fist Inside a Velvet Glove.
Completely new 13-inch SVS driver delivers punishing levels of low frequency output, while maintaining crisp speed in transients by stopping and starting on a dime with pinpoint precision. An aluminum vented cone with exceptional stiffness to mass ratio and a proprietary injection molded extreme-excursion surround ensure flawless pistonic motion for pinpoint control and accuracy.
Flat edge wound split-wind voice coil

 

within the motor assembly provides effortless, on-demand power at the highest excursion levels, while reducing mass and improving overall driver efficiency. The result is room-shaking output with amazingly precise response when the music, movie or other content demands it most.
Dual ferrite magnet motor

 

assembly weighing nearly 25lbs generates massive amounts of current to produce extreme driver excursion with precise control for the deepest, most accurate and authoritative bass possible from a 13-inch driver.
Lightweight and rigid aluminum vented cone

 

with composite fiber dustcap generates massive output with pinpoint accurate frequency response.
Long-throw parabolic surround

 

and proprietary injection molded gasket ensure longevity and allow extreme excursion for room-energizing bass.
Engineered With Care:
Sledge STA-800D2 Amplifier – Massive Power with Precise Control.
Conservatively rated at 800 watts RMS, 2,500+ watts peak power, the Sledge STA-800D2 amplifier maximizes the full potential of the 13-inch driver with effortless power and absolute control. The innovative design combines the efficiency of a Class D amplifier with the ability to move colossal amounts of current through the fully discrete MOSFETs for outstanding real-world subwoofer performance at all drive levels.
High Current Output of Fully Discrete MOSFETs with Efficiency of Class D Amplifier

 

allows the Sledge STA-800D2 amplifier to move massive amounts of current through the fully discrete MOSFETs enabling immense output with surgical precision.
Sophisticated 50Mhz High Resolution Analog Devices Audio DSP

 

is the most advanced digital processor ever used in a subwoofer and maintains pinpoint accuracy and pristine sound quality through advanced in-room tuning, optimized frequency response curves, powerful DSP controls and more.
SB-3000 Smartphone App – Easiest Way Ever to Manage Subwoofer DSP and Control.
3000 Series subwoofer app is the most convenient way ever to control volume, access multiple DSP functions and program custom presets for one-touch tuning optimized for music, movies, gaming, and more. Adjust crossover frequencies, a three-band parametric EQ, polarity, room gain and more, all from your favorite seat.
The SVS subwoofer app also allows advanced customization so you can name your subwoofer for easy preset switching, choose the subwoofer standby mode and reset the subwoofer to factory settings. Bluetooth connectivity allows full control, even when the subwoofer is out of sight and bi-directional feedback shows adjustments in real time on both the app and rear panel subwoofer interface.
3 custom presets

 

can be saved for movies, music and more so you have one-touch tuning optimized for your listening preferences.
2-way feedback

 

shows updates in real time on both the app and rear panel subwoofer interface.
Connects via Bluetooth

 

for convenient control even when subwoofer is out of sight.
3-band parametric EQ controller

 

allows precise adjustments for frequency slope and Q factor down to the single Hz level with four different slopes, so users can improve performance by eliminating peaks, nulls and other room issues.
Key Features:
New Rear Panel Intelligent Control Interface (ICI).
Designed specifically for the 3000 Series Subwoofers, the first ever SVS Intelligent Control Interface (ICI) on the rear panel of the 3000 Series cabinets provide control options for the subwoofer's most critical functions. Adjustments can be made for volume based on listening preferences and content to achieve full and balanced bass response.
Other features of the ICI include a low pass filter to ensure smooth sonic transitions and seamless blending with loudspeakers and phase control to shift timing of subwoofer output to align with main speakers or additional subwoofers.
Acoustically Inert and Rigidly Braced Sealed Cabinet Design.
Double-thick MDF front baffle and extensive internal bracing in the acoustically optimized SB-3000 Series cabinet create a resonance-free environment that serves as a blank canvas for uncompromised subwoofer performance. Acoustic insulation eliminates all coloration or resonance from the cabinet, even when the deepest low frequencies are played at reference volume. Includes protective, non-resonant steel mesh grille and custom elastomer feet for reducing noise artifacts within a room.
This product has no reviews yet.
WHILE YOU ARE BROWSING
You may also like