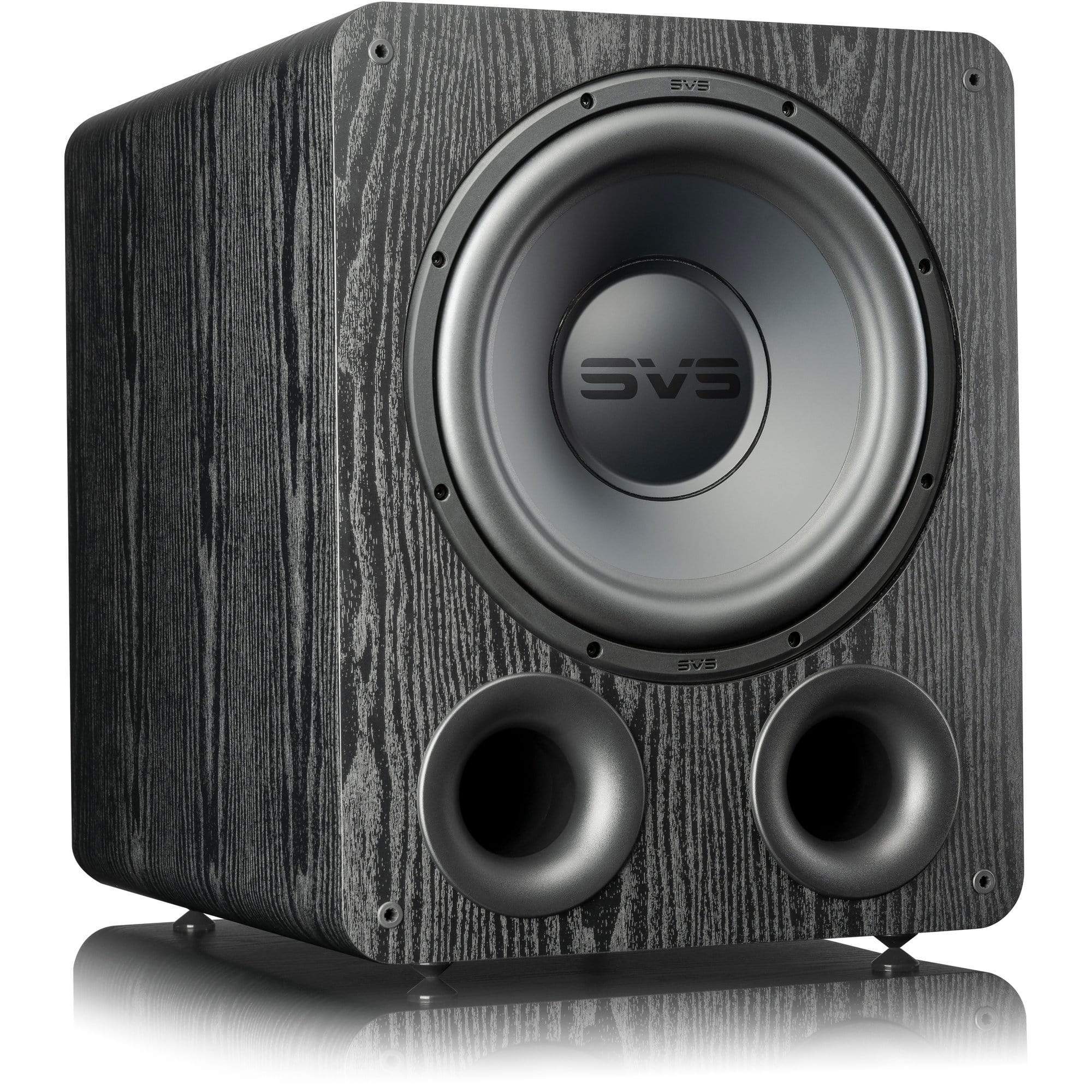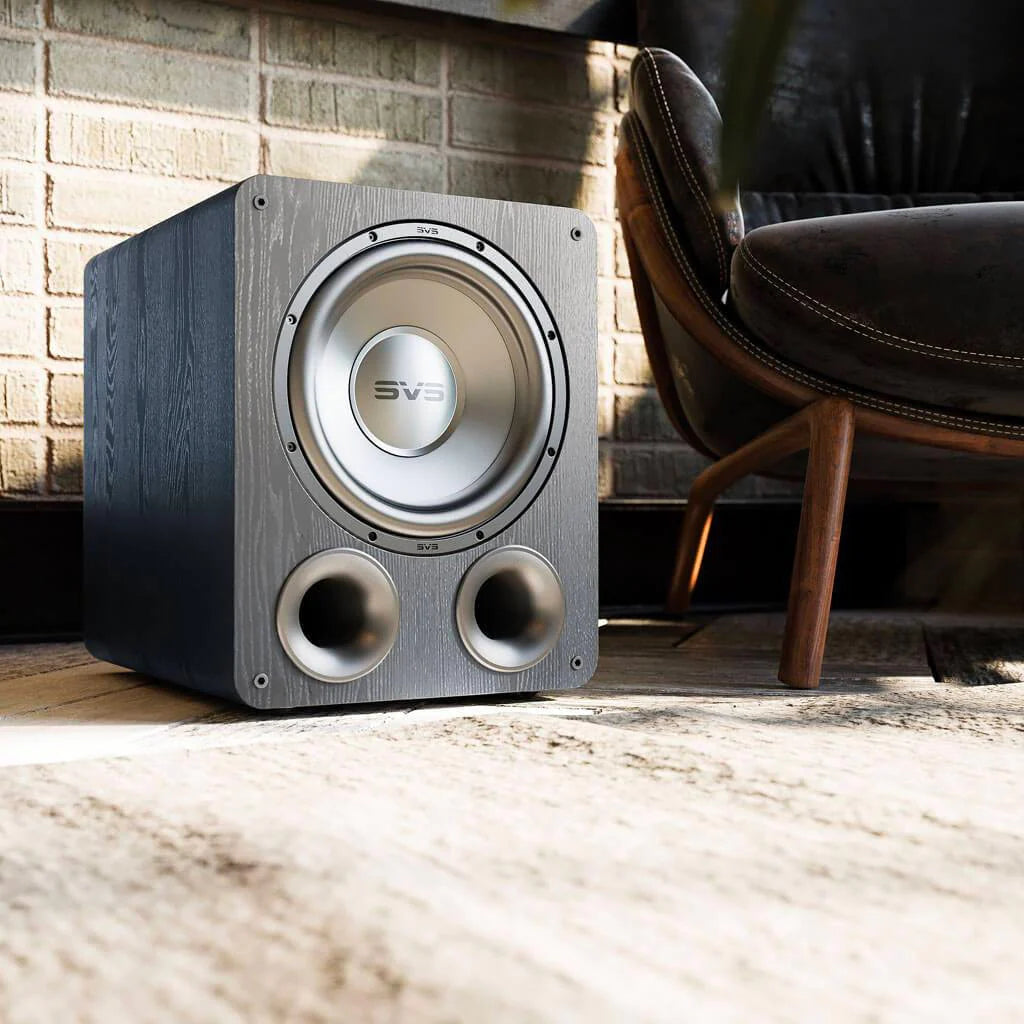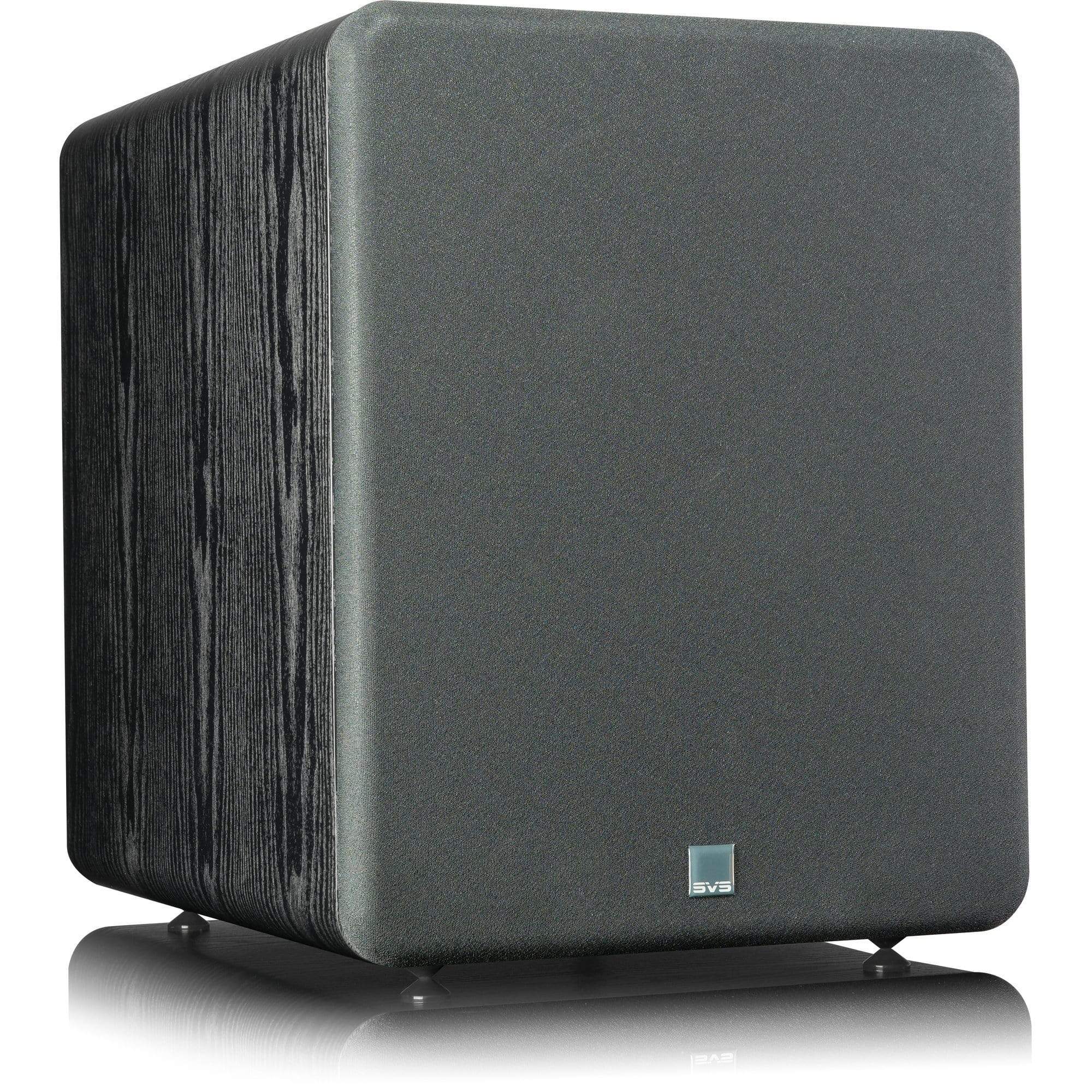 SVS PB-1000 Pro Ported Box Home Subwoofer
---
Specifications

| | |
| --- | --- |
| Subwoofer Specs: | Protective non-resonant extra-thick ABS fabric mesh grille |
| | Iso-elastomer feet included |
| | Extra heavy-duty, high current power cord 6' |
| | Quick Start Guide |
| | Port Plugs (free upon request) |
| | Unbalanced stereo input/output |
| | Speaker Level Stereo Input |
| | Auto/On and Trigger options through app, 3-12V AC/DC trigger |
| | RoHS compliant, lead-free construction, world-wide safety certifications |
| | Green 0.5-watt low standby power consumption |
| | Dimensions (w/ grille): 479mm x 380mm x 509mm |
| | Dimensions (without grille): 479mm x 380mm x 488mm |
| | Weight (unboxed): 19.3kg with Grille |
| Driver Specs: | All-new proprietary 12-inch long-throw driver with high-precision tuned overhung motor configuration |
| | 4.2kg Woofer with 3.14kg motor |
| | 13.1mm Xmax, 26.8mm Xmech precision aligned excursion |
| | 1.5" diameter Voice Coil with high current 6-layer high-purity copper wire windings |
| | Premium high-purity copper voice coil winding design minimizes distortion and power compression with maximum heat dissipation, linearity, and tuned magnetics for high excursion |
| | Two-piece high grade oversized Y35 Ferrite magnet motor |
| | High Temperature 3003-H18 aluminum former/bobbing |
| | 6" composite cotton-poly extreme excursion linear spider |
| | Dual 24-strand copper-alloy high-temperature leads |
| | Proprietary injection molded gasket and NBR extreme-excursion surround |
| | Lightweight treated Fiber Composite cone for enhanced sensitivity and transient response |
| | Top plate assembly with low carbon 1010 steel for optimal magnetics |
| | Oversized low carbon 1008 steel T-yoke with integrated pole piece extension for maximum cooling and electromagnetics |
| | 12" premium powder coated basket with FEA optimized analysis for maximum rigidity, tensile strength, and energy transference |
| | Oversized motor system for driving full excursion and industry best SPL, with pinpoint transient speed |
| | Precision machining for motor and narrow tolerance suspension parts ensure flawless linearity at full range of excursion |
| Amplifier Specs: | 325 watts RMS, 820+ watts peak power output Class D design |
| | 50Mhz Analog Devices Audio DSP, high resolution double precision 56bit filtering |
| | Wide input voltage bandwidth compliant for consumer and pro audio up to 4V line level input |
| | High efficiency LLC resonant SMPS with 17A 650V MOSFET, resonant switching results in lower EMI and highest efficiency |
| | Cool-running Class D amplifier switching topology with massive 34A 120V MOSFET's |
| | SVS BLE control app for iOS and Android contains 3 complete name-able and customizable User presets, supports IOS (iphone5 or newer or Android (4.42 or newer), 3 PEQ's per preset, adjustable low pass, phase, polarity, room gain compensation, and control for best alignment with speakers |
| | Customer EQ and DSP limiter settings specifically for the 1000 Pro |
| | Input impedance 16kohm (unbalance RCA) |
| | Input impedance 20kohm (speaker level) |
| | New Intelligent Feature control (IFC) user interface on the amplifier with bright blue 11 LED bar display and easy push-button controls |
SVS Australia's warranty covers all products, excluding accessories, by a warranty for 5 years from date of purchase.
We offer free shipping on any product over $99. For full details please see our Shipping Policy.

Our returns policy lasts 30 days. If 30 days have gone by since your purchase, unfortunately, we may not be able to offer you a refund or exchange. For full details please see our Refund Policy.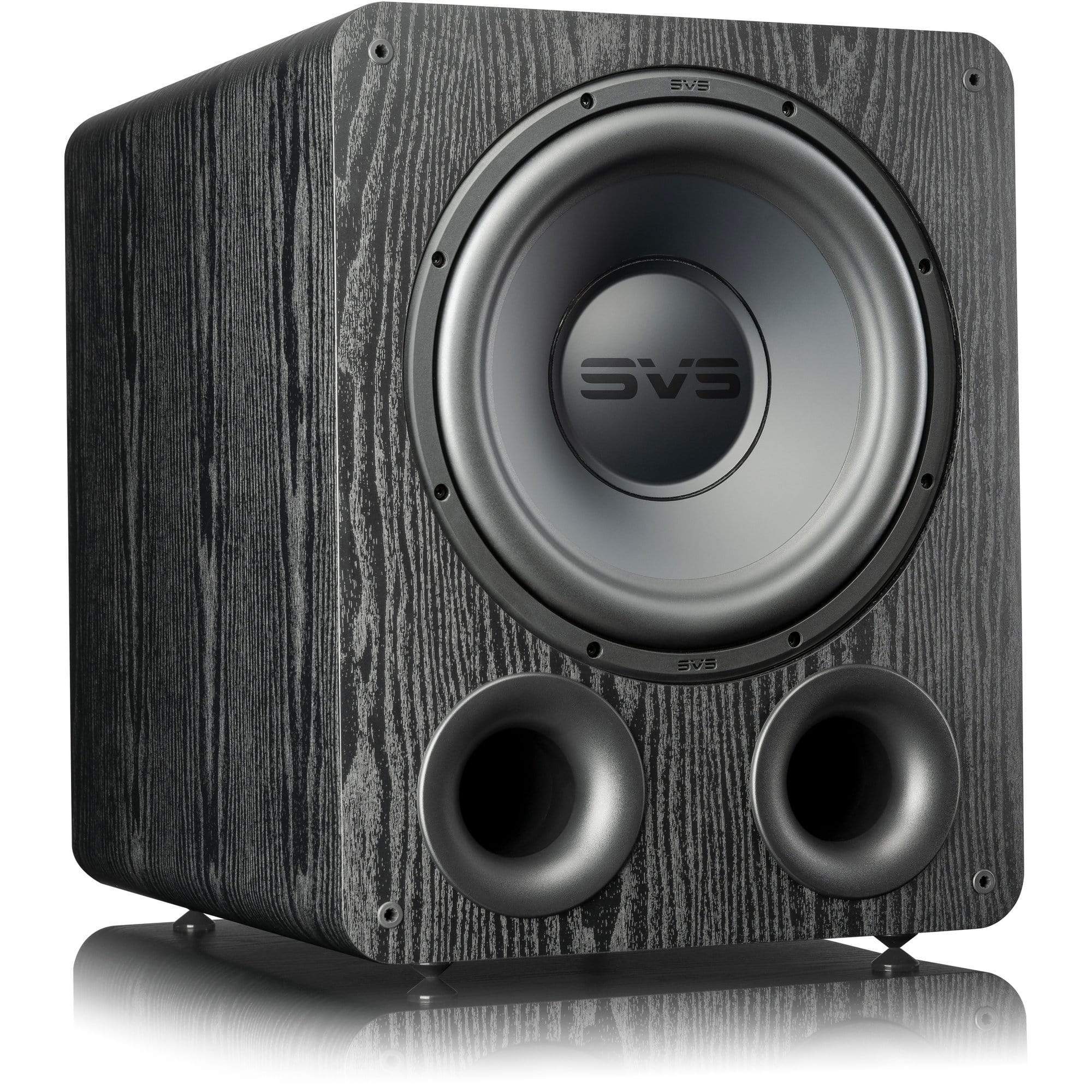 SVS PB-1000 Pro Ported Box Home Subwoofer
Room-shaking output well below the threshold of audibility, with pinpoint control and accuracy, the PB-1000 Pro obliterates performance expectations for subwoofers anywhere near the price. A reimagined 12-inch high-excursion SVS driver is married to a reference 325+ watts RMS, 820+ watts peak power Sledge amplifier with fully discreet MOSFET output for stunningly immersive cinematic bass. PB-1000 Pro is optimized with a new dual-port cabinet design for effortless bass with vanishingly low distortion and features the SVS Subwoofer DSP smartphone app for convenient tuning and control.
Manufacturers Details:
Reference Subwoofer Performance Hits an All-Time Low.
The original SVS PB-1000 rocked the subwoofer world with unparalleled performance at its price and beyond. Now, the PB-1000 Pro raises the bar even higher with greater low frequency output, deeper bass extension down to a guttural 17Hz, performance-enhancing dual port cabinet design, and a massive upgrade to the user experience.
A complete reimagination of the original 10-inch driver, the PB-1000 Pro features an all-new 12-inch high-excursion driver with dual high-grade ferrite magnets and FEA-optimized internal motor architecture for extreme excursion and massive, pristine output. With innovations to the cone, surround, voice coil, and motor assembly, the unflappable 12-inch driver unleashes room-shaking bass never-before-heard from a ported subwoofer anywhere near the price.
Using the same amplifier technology as the flagship SVS 16-Ultra Series, PB-1000 Pro features a 325 watts RMS, 820+ watts peak power Sledge STA-325D amplifier with fully discrete MOSFET output. Harnessing the massive power while ensuring accuracy and control is a 50 MHz Analog Devices Audio DSP with frequency response curves precisely tuned for the PB-1000 Pro.
PB-1000 Pro also features the SVS subwoofer smartphone app, the most convenient way to control volume, access multiple DSP functions, and program custom presets for one-touch tuning profiles optimized for music, movies, gaming, and more. Adjust crossover frequencies, a three-band parametric EQ, polarity, room gain and more, all from your favorite seat.
New to the PB-1000 Pro is a dual port configuration that enables greater output with much lower distortion compared to the original 1000 Series model.
Engineered With Care:
Inspired Subwoofer Engineering for Uncompromised Performance.
The new SVS 1000 Pro Series features technology breakthroughs from the 16-Ultra Series, 4000 Series, 3000 Series and 2000 Pro Series. This technology joins with exclusive 1000 Pro Series innovations to set a new standard for subwoofer performance value. More people than ever can now enjoy room-shaking bass below the threshold of human hearing with unerring accuracy and control.
PB-1000 Pro stands alone in its excellence with massive output well below the threshold of human hearing, where bass is only felt, with flawless tonal accuracy and precise control. The deepest, most effortless, and refined bass at a truly breakthrough price, PB-1000 Pro defies expectations at every level with performance-driven innovation.
Key Features:
12-inch SVS High-Excursion Driver – Room-shaking bass with subtlety and refinement.
Substantially upgraded from the previous 10-inch 1000 Series driver design, the PB-1000 Pro features a reimagined 12-inch high-excursion driver with dual ferrite motor assembly. Capable of moving massive amounts of air with crisp precision, the added surface area provides a major performance upgrade over the previous model and features multiple enhancements.
Fiber composite cone with exceptional stiffness-to-mass-ratio generates huge SPLs while starting and stopping on a dime with crisp precision.
Proprietary injection molded extreme-excursion surround ensures flawless pistonic motion for pinpoint control and accuracy without distortion, even at the highest drive levels.
Dual ferrite magnet motor assembly with extended aluminum polepiece produces effortless on-demand driving-force for subtle and over-the-top bass thrills.
Powder coated FEA optimized driver basket provides maximum rigidity, tensile strength, and thermal energy transference.
Dual layer voice coil design enhances linearity and fidelity at full excursion while minimizing distortion and power compression.
Sledge STA-325D Amplifier – Effortless power with sophisticated control.
Conservatively rated at 325 watts RMS, 820+ watts peak power, the Sledge STA-325D amplifier maximizes the full potential of the 12-inch driver with effortless power and precise control. The innovative design combines the efficiency of a Class D amplifier with the ability to move colossal amounts of current through the fully discrete MOSFETs for outstanding real-world subwoofer performance at all drive levels, in any room, allows easy integration with any home theater or stereo speaker system.
High Current Output from Fully Discrete MOSFETs coupled with efficiency of Class D amplification allows the Sledge STA-325D amplifier to produce massive amounts of current enabling immense output with surgical precision.
Sophisticated 50Mhz High Resolution Analog Devices Audio DSP is the most advanced digital processor ever used in a subwoofer and maintains pristine sound quality through advanced in-room tuning, powerful DSP controls, custom presets, and more.
Optimized frequency response curves for the ported PB-1000 Pro cabinet allow the subwoofer to take control of a room and completely pressurize it with accurate, heart-pounding bass.
PB-1000 Pro Smartphone App – Easiest way ever to manage subwoofer DSP and control.
The most convenient way ever to control volume, access multiple DSP functions, and program custom presets for one-touch tuning optimized for music, movies, gaming, and more. Adjust crossover frequencies, dial-in the three-band parametric EQ, polarity, room gain and more, all from your favorite seat.
Connects via Bluetooth for convenient control even when subwoofer is out of sight.
Saved custom presets for one-touch tuning with optimized settings based on listening preferences for movies, music, and more. All accessible from a single touch.
Variable port tuning modes with customized frequency response curves for "Standard" and "Sealed" allow tuning for maximum output or deep bass extension and transient speed.
3-band parametric EQ controller allows precise adjustments for boost or cut, Q-factor, and frequency down to the single Hz level with so users can customize performance by eliminating peaks, nulls and other room issues.
Rear Panel Intelligent Control Interface (ICI).
The rear-panel SVS Intelligent Control Interface (ICI) provides control options and connections for the subwoofer's most critical functions.
Level Control to fine tune the overall output level that best matches the system and room
Low pass filter control to ensure smooth sonic transitions and seamless blending with the main speakers
Phase control to align the subwoofer's output timing with the main speakers or additional subwoofers
USB port also provides power for the optional SVS SoundPath Wireless Audio Adapter which eliminates the need for a cable run to the subwoofer from the source component.
RCA Audio Interconnect Input for use with most AV receivers and preamplifiers
Speaker Level Stereo Inputs for use with older legacy receivers
Acoustically Inert and Rigidly Braced Ported Cabinet Design.
Classically handsome, the acoustically optimized ported cabinet features extra-thick MDF front baffle and rigid internal bracing for a resonance-free environment. Serves as a blank canvas for uncompromised subwoofer performance.
Dual port design allows for maximum airflow without distortion, enhancing the quantity and quality of bass output at all drive levels
Acoustic insulation eliminates all coloration from the cabinet, even when the deepest low frequencies are played at reference volume
Protective non-resonant extra-thick ABS grille frame with fabric mesh cover shield driver to prevent damage while ensuring longevity
Reinforced internal bracing for resonance free performance at highest drive levels
Custom iso-elastomer screw-in feet reduce noise artifacts and improve stability
This product is rated 5.0 of 5.0 stars.
It has received 1 review.
Packs a punch
The SVS PB1000 Pro replaces a 12 year old Velodyne CHT12-Q that's been great from day one (except the day it died), but the PB1000 Pro simply blows it out of the water and is a great addition to my HT setup. Impressive performance for the price.
WHILE YOU ARE BROWSING
You may also like