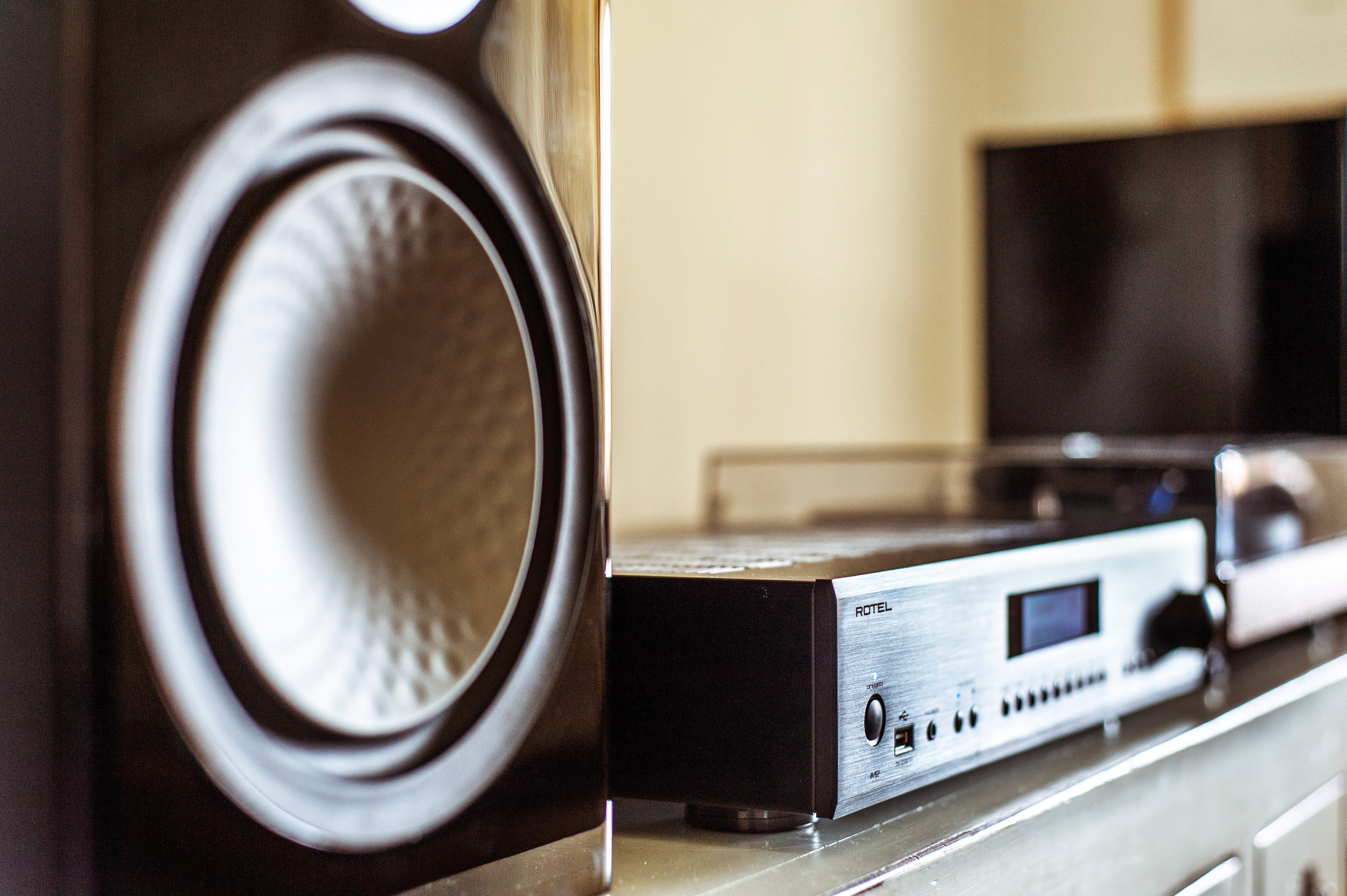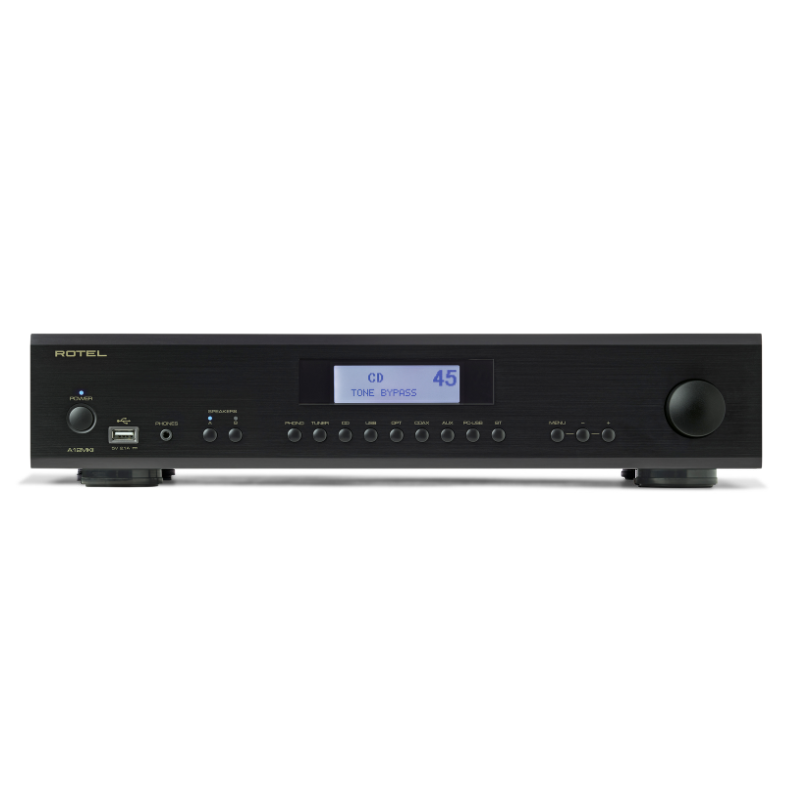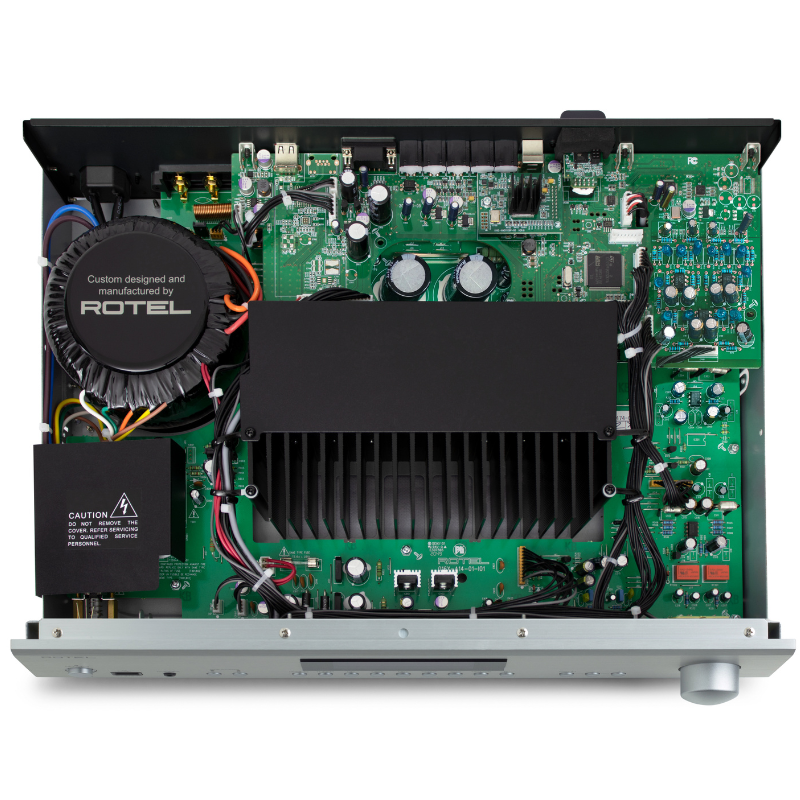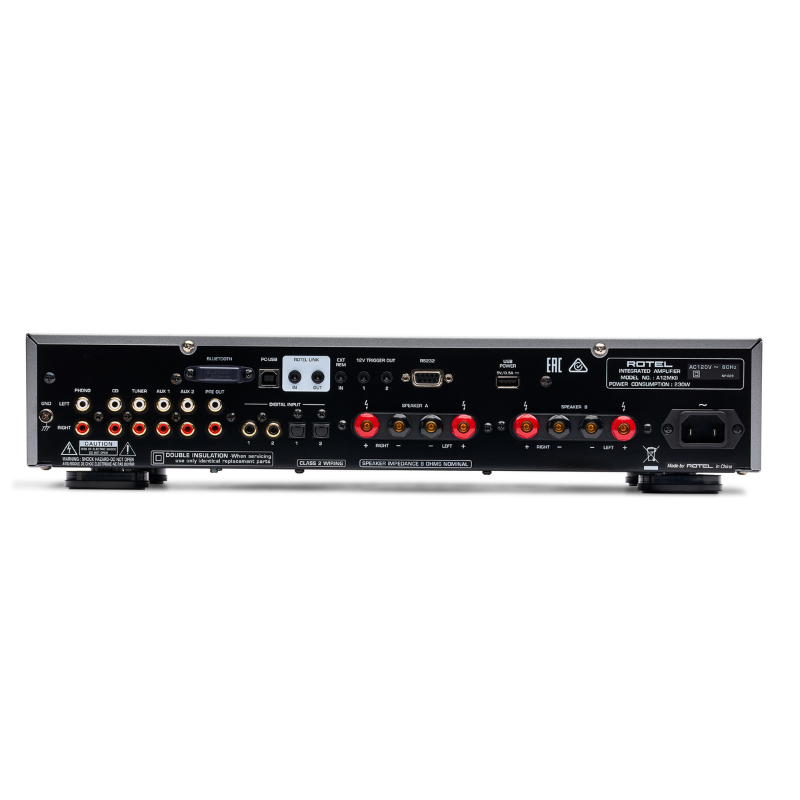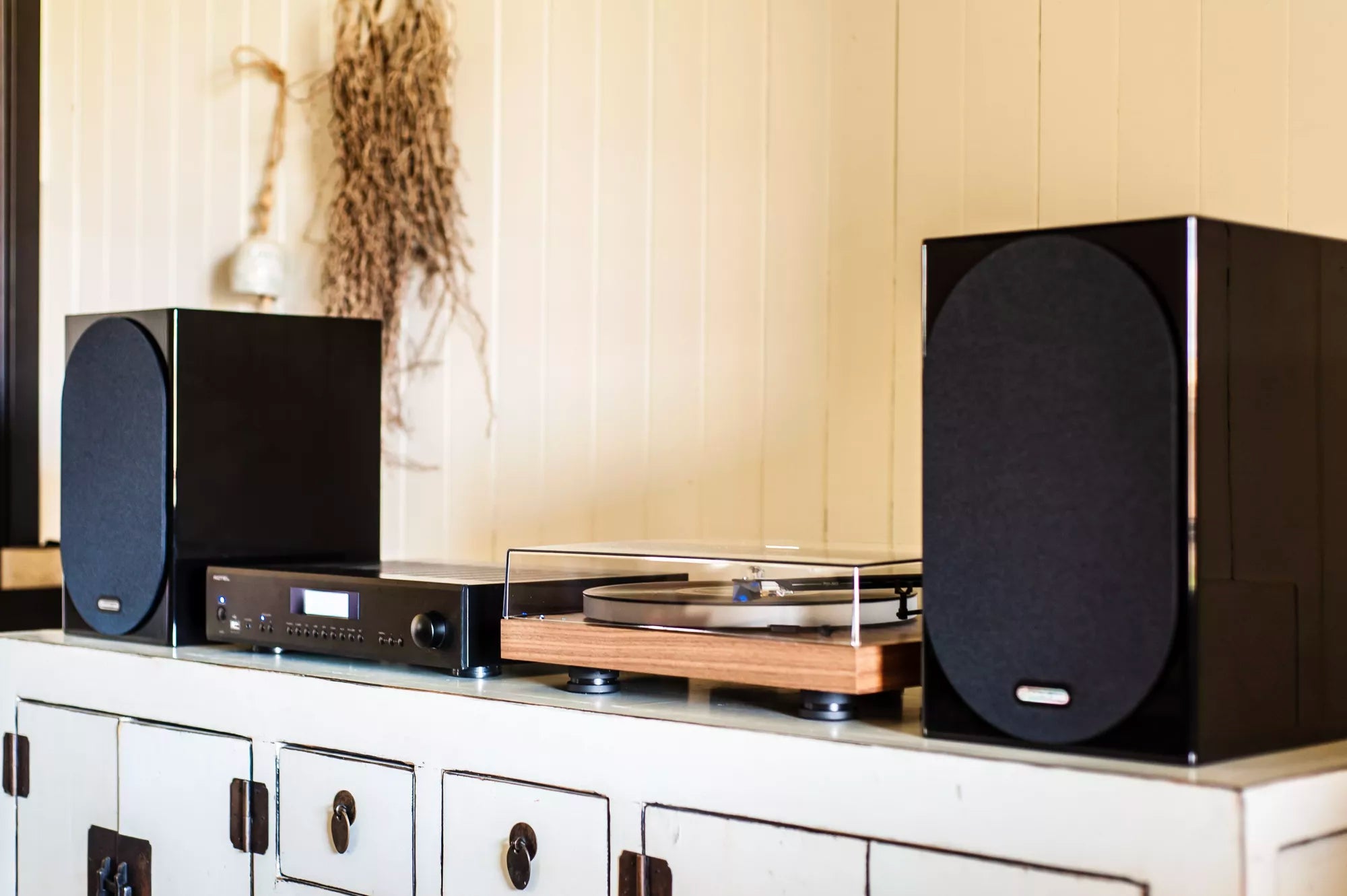 Rotel A12 MKII Integrated Stereo Amplifier
---
Specifications

 Maximum Power Output 
120 watts/ch (4 ohms) 
Continuous Power Output 
60 watts/ch (8 ohms) 
Intermodulation Distortion 
< 0.03% 
Total Harmonic Distortion 
< 0.018% 
Frequency Response Phono Input 
20 Hz - 20k Hz (0 ± 0.5 dB) 
Line Level Inputs 
10 Hz - 100k Hz (0 ± 0.5 dB) 
Damping Factor 
220 
Input Sensitivity / Impedance Phono Input (MM) 
3.4 mV / 47k ohms 
Line Level Inputs (RCA) 
 230 mV / 24k ohms 
Input Overload Phono Input (MM) 
 50 mV 
Line Level Inputs 
 4 V 
Preamplifier Output / Impedance 
 1.2 V / 470 ohms 
Tone Controls - Bass / Treble 
 ± 10 dB at 100 Hz / 10k Hz 
Signal to Noise Ratio Phono Input (MM) 
 90 dB 
Line Level Inputs 
 100 dB 
Frequency Response 
 10 Hz - 90k Hz (0 ± 2 dB, Max) 
Signal to Noise Ratio 
 103 dB 
Coaxial / Optical Digital Signals 
 SPDIF LPCM (up to 24-bit / 192k Hz ) 
PC-USB 
 USB Audio Class 1.0 (up to 24-bit / 96k Hz ) USB Audio Class 2.0 (up to 32-bit / 384k Hz )* *Driver installation required Roon Tested 
Dimensions (W x H x D)
 430 x 93 x 345 mm
Weight (net)
 8.76 kg
Analogue Inputs
3.5 mm
None
Phono
1
RCA
4
XLR
None
Analogue Outputs
Headphones
1
Pre
1
Sub
None
Tape
None
DAC
Resolution
24-bit/192kHz
Type
Wolfson
Digital Inputs
Coaxial
2
Optical
2
PC-USB
1
Bluetooth
1
All Rotel products, excluding accessories, are covered by warranty for 3 years from date of purchase.
We offer free shipping on any product over $99. For full details please see our Shipping Policy.

Our returns policy lasts 30 days. If 30 days have gone by since your purchase, unfortunately, we may not be able to offer you a refund or exchange. For full details please see our Refund Policy.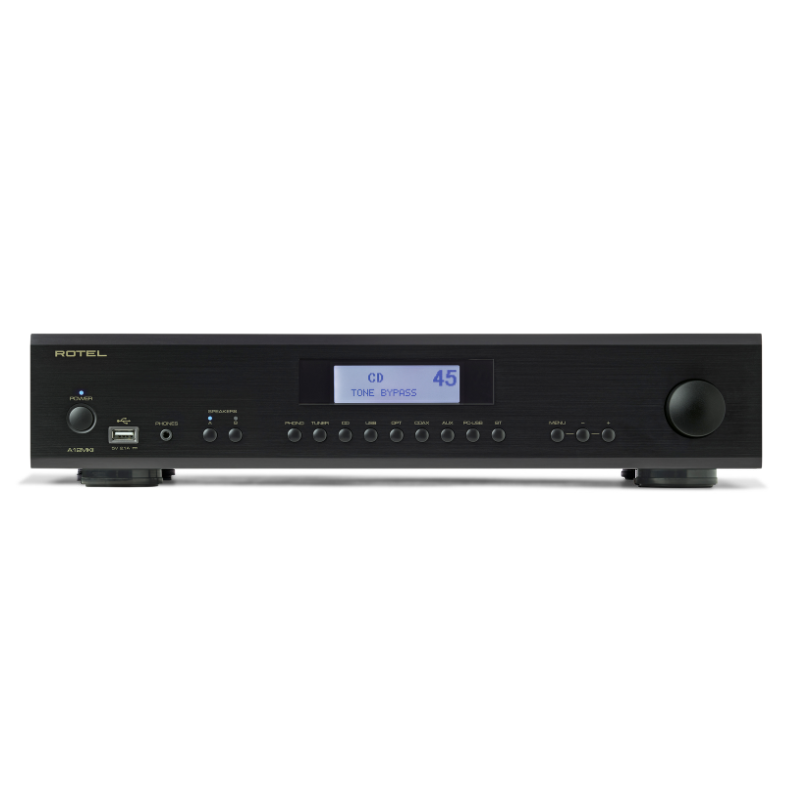 Rotel A12 MKII Integrated Stereo Amplifier
The heart of the A12MKII begins with Rotel's in-house manufactured oversized toroidal transformer feeding high efficiency storage and smoothing capacitors for deep, controlled bass energy. The power supply features multiple voltage and current regulators delivering independent power to critical analog, digital and amplification stage circuits isolating sensitive low voltage signals from high power speaker outputs lowering the noise floor and reducing unwanted distortion. Circuit design follows Rotel's proprietary Balanced Design Concept with physical and electrical isolation techniques delivering exceptionally clean audio.
Nat's thoughts:
As a multi-format user, I do not want to be limited by how I can play music. Sometimes it's vinyl, sometimes streaming, sometimes it's even a video clip on youtube - the A12 MKII has the capability to cater for those scenarios and many more.
When I think of the A12 MKII it reminds me a lot of my late grandfather "Noel", a very multifaceted man. You could say he was a 'jack of all trades' but unlike how the rest of the saying goes, Noel typically mastered most tasks he put his hands to.
The A12 MKII, just like Noel with its multi-faceted talents masters the task it's put to! 
Manufacturers Details:
The A12MKII is replete with inputs supporting your favourite sources including a Moving Magnet Phono Stage for vinyl fans, 4 RCA analogue, 4 digital, PC-USB and high quality aptXTM Bluetooth for wireless streaming.
A premium 32-bit Texas Instruments Digital to Analog converter extracts genuine and accurate details of the music with custom output filters and preamplifier circuits preserving the integrity of the audio stream.
The Class AB amplifier delivers 60 Watts of dynamic power into 8 ohms utilising high current, fast transient output devices for improved accuracy of the music timing and a more lifelike reproduction of audio into dual A-B speaker binding posts.
The IR remote, front panel controls, and graphic display ensure effortless operation. RS232, 12V triggers and remote input ensure seamless integration with control systems. Slim and powerful the A12MKII delivers on Rotel's iconic brand heritage. 
Who's This Amp For?
The A12 MKII is perfect if you have several source devices to hook-up such as a turntable, CD player, TV, Bluetooth ... the list goes on. Additionally, if you have lower impedance speakers such as 4 ohms that are a little hard to drive, the Rotel A12will be your new best friend.
Key Features:
Plethora of inputs
Great Phono Stage
Auto-sensing digital Inputs (Turns on when it senses a signal)
Fixed volume control available
Pair This With:
The Pro-Ject X1 turntable with Ortofon's 2m blue cartridge pairs amazingly with A12. Combing the smooth sound from the 2M blue with the A12's treble detail makes for a beautiful balance. As for speakers, the Monitor Audio Silver 100 7g bookshelf speakers with their awesome 8-inch woofer really benefit from the A12's dynamic range - when connected to the A12 MKII, you wouldn't be blamed for thinking they are a floor-standing speaker.
Manufacturers Warranty & Specifications:
Rotel A12 Warranty - All products, excluding accessories, are covered by warranty for 3 years from the date of purchase. Find out more here.
This product is rated 5.0 of 5.0 stars.
It has received 3 reviews.
Highly recommended.
This is my second Rotel A12. I was very happy with the first one and I needed an interim amp for my main stereo. I also wanted a built in DAC initially as I was transitioning to mainly streaming sources. I cannot tell you how well this thing performs on a speaker set up of over $5k. It is astonishingly good. I think the power supply must be brilliant because its presentation does not alter even on the most heavily modulated source. I find it hard to imagine equal let alone better performance at this price point. Highly Recommended.
Great little amp
Really happy with my new Rotel Amp. Records sound great
This is really really good.
The good people at LENC recommended this to drive some B&W 607 S2's. The result was amazing. There is no noise and no audible distortion of any kind. The bass is fantastic and the top end is smooth - at least with the B&Ws. Moreover the Bluetooth works perfectly every single time (!) and I don't know what voodoo is going on with the DAC but the results even from 'high quality mode' Spotify is almost disconcertingly good. The performance on digital optical input for movies is remarkable and it has every bit the impact of a smaller home theater amp (mind you without the distortion and noise floor), but I digress. It is also beautifully made and simple to use. Highly recommended.
WHILE YOU ARE BROWSING
You may also like