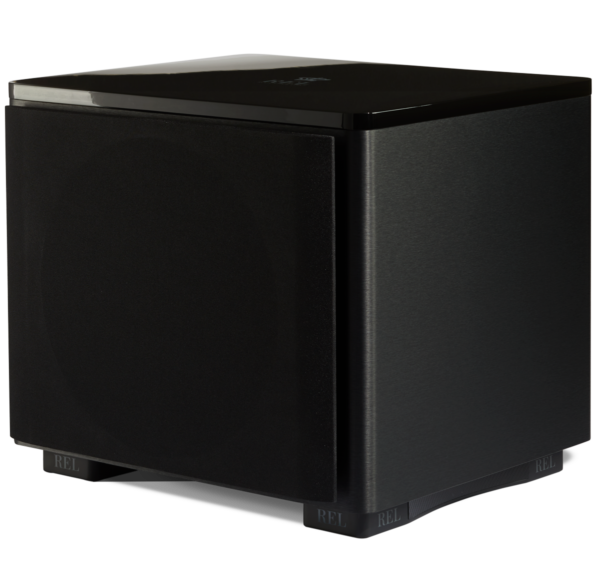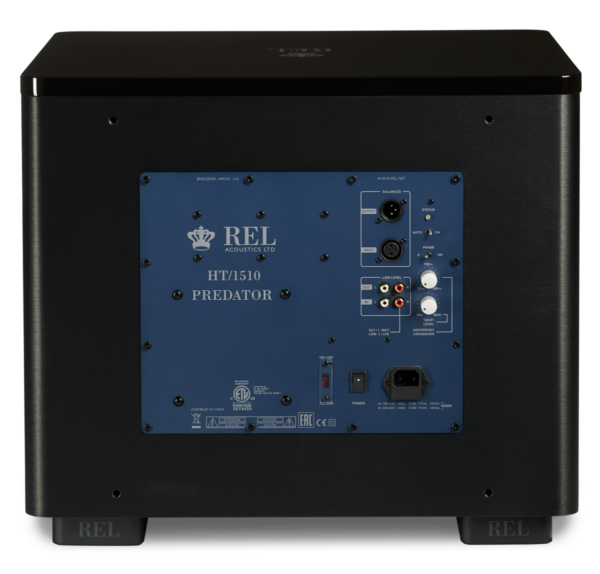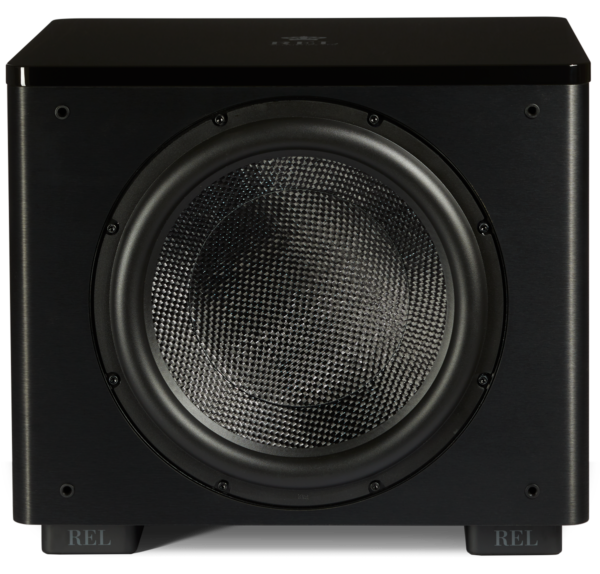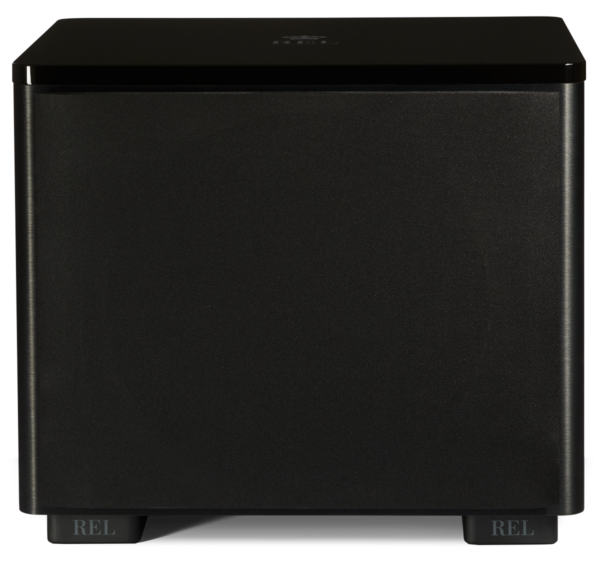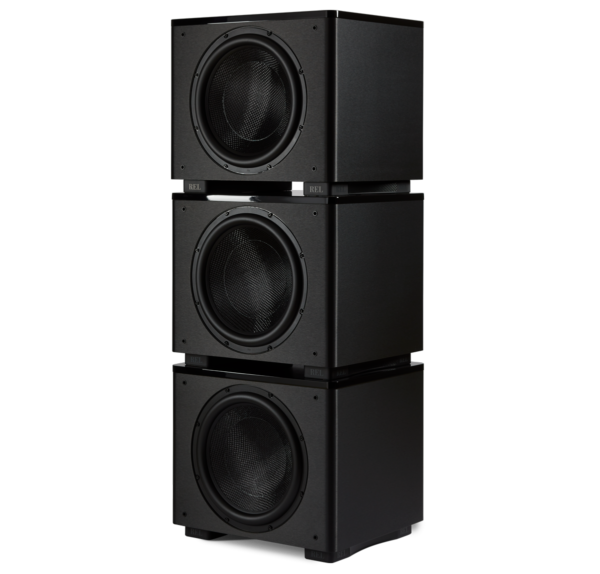 REL HT/1510 Predator 15" Subwoofer
---
Specifications

| | |
| --- | --- |
| Type |  Closed box, front-firing driver |
| Active Driver Size and Material | 15 in., CarbonGlas™ using glass fibre primary cone with true carbon fibre center cap for structural reinforcement |
| Passive Radiator Size & Material | NA |
| Low Freq. extension | -6dB at 20 Hz |
| Inputs | Low Level stereo RCA or LFE RCA |
| Outputs | Low Level stereo RCA or LFE RCA |
| Power Output | 1000 Watts RMS |
| Amplifier Type | NextGen5 Class D |
| Wireless Capability | *Optional HT Air Wireless, Zero Compression Single Large Scale Integrated Chip |
| Dual Parametric Filter | Yes |
| Dimensions | W X H X D540 x 457 x 494 mm |
| Net Weight | 45.22kg |
| Finish | Vinyl |
| Accessories | Power cable & Manual |
We stand behind every REL product with a 3-year parts and labor warranty on all subwoofers sold through our store. We've got you covered.
We offer free shipping on any product over $99. For full details please see our Shipping Policy.

Our returns policy lasts 30 days. If 30 days have gone by since your purchase, unfortunately, we may not be able to offer you a refund or exchange. For full details please see our Refund Policy.

REL HT/1510 15" Subwoofer
HT/1510 resets expectations for REL's standard bearer, with a confident, sexy new look that meshes perfectly into the traditional REL family, while delivering significantly increased power and improved, well, just about everything. Predator II delivers upgraded performance across every performance category: 1,000-watt amplifier with PerfectFilter™ inputs, new 15" CarbonGlas™ driver that handles vastly more power, and confident, elegant styling not previously seen in home theatre designs. This encourages use in multi-REL systems, allowing blending with Serie T/x and Serie S.

Manufacturer Details:
The Best Gets Better
Predator II, the full upgrade of HT/1510, builds on REL's original home theatre-subwoofer (winner of Home Theatre of the Year awards on multiple continents) by upgrading every component and aspect. These upgrades were based on three key learnings:
The sound was so good, people wanted more power
Looks matter and despite being enjoyed in the dark, a home theatre subwoofer must look every bit as stunning as its audiophile-driven kin
Mating the HT/1510 with Rel's high level models (Serie T/x and Serie S and Reference Models) produced dazzlingly rich, full continues theatre quality bass
So Predator II received a full 1,000-watt linear power supply amplifier and new 15" (380mm) driver with 40% greater power to give people what they wanted –– bigger, faster dynamics and flat out POWER. This attack is combined with a gorgeous new cabinet with sleek new proportions to perfectly mate with other REL designs for a surround sound system that truly looks as beautiful as it sounds. To make sure you received the benefits of these updates, we developed specialised HT versions of our award-winning PerfectFilter™ that delivers flatter deep bass, now down to 20 Hz. As icing on the cake, Predator II delivers the highest .1/LFE output of any REL. Ever.
Engineered with Care:
Design Isn't Everything, It's the Only Thing
Predator II confidently delivers massive upgrades in design elegance, performance and execution of every detail in cabinet design. Beauty, in this case, isn't skin deep. We start by using right-sized cabinetry, beautifully executed in horizontally line-grained black with a subtle sheen that evokes state of the art amplifiers. This brings to the HT range the same sleek, elegant proportions used in our Reference models at a fraction of the price. REL designs benefit from incorporating integral engineering solutions throughout their designs. Check out our BrilliantBrace™. Employed inside each HT/1510, it cradles the rear of the driver to eliminate shipping damage, quiets and redirects energy normally trapped in the driver, and quiets top, bottom and both sidewalls of the cabinet. Brilliant. And the full depth rails used to support and reactively brace against the powerful movements such a powerful subwoofer can produce, also means Predator II can be stacked in Line Arrays of 3/channel for the ultimate in home theatre, to carry performance up the entire height of massive projection screens.
Size Matters, Now More Than Ever
There is simply something special about a large driver effortlessly distributing bass that small subs working hard can never match. At the heart of every REL lies a truly great driver. Predator II's 15" (380mm) driver retains the combination of  glass fibre and carbon fibre centre cap that allows quick, reactive bass with slam that is the hallmark of great theatre sound. The lightweight glass fibre allows the 3" (75mm) voice coil to accelerate Predator II's cone instantly, while the carbon fibre centre cap stiffens the composite structure, ensuring that even in the biggest of moments, its cone structure remains intact and un-phased by massive signals. Naturally, this delivers benefits for music reproduction as well. Power handling has been increased permitting the much more powerful amp to give its best without fear that the driver might not keep up. Scale, speed and signature performance are this flagship's reason for being.
Now Hear This
If 800 watts wasn't enough for you, surely the 1,000-watt Class A/B linear power supply amplifier in the new Predator II will cure what ails you. Featuring (4) x 400-watt mosfets and a monster power supply—it's critically important to have massive current reserves for when the explosions and special effects hit. Predator II's amplifier brings massive power with almost limitless reserves. This creates huge output that is available instantly, almost dismissively, and is delivered in the effortless manner worthy of the lead dog in the HT family.
Stand and Deliver
HT/1510 Predator offers one more uniquely REL innovation. For truly over the top performance, Predators are designed to be stacked up to three (3) units high using included REL Couplers™ that connect lower units to upper units. These solid, milled aluminium couplers bolt securely to each sub and along with the substantial rails on the underside of each cabinet create an extremely heavy, sturdy tower of bass. When used in stereo stacks (6 total, 3 per side) it represents over 8000 watts of peak power forcing (6) x 15" drivers to give their utmost in the service of breathtaking bass delivered in oceanic torrents of bass.
Gabi Recommends:
If you want to have the flexibility to place your subwoofer in your room, then you must go wireless. There is wireless and then there is REL wireless. HT-Air™ Wireless Transmitter & Receiver is an adapter designed to leave old fashioned Bluetooth-based systems in the dust, delivering latency that is in the 16-20 millisecond range.
Speaker Pairing:
If you are confused about which model is the right REL subwoofer for your setup. Take a look at this handy Subwoofer Finder. You can punch in the make and model of your speakers, as well as the size of your room and the perfect subwoofer will be suggested for you.
Warranty:
3-YEAR REL WARRANTY
REL stand behind every subwoofer they make with a 3-year parts and labour warranty on all subwoofers sold through LENC.
This product has no reviews yet.
WHILE YOU ARE BROWSING
You may also like