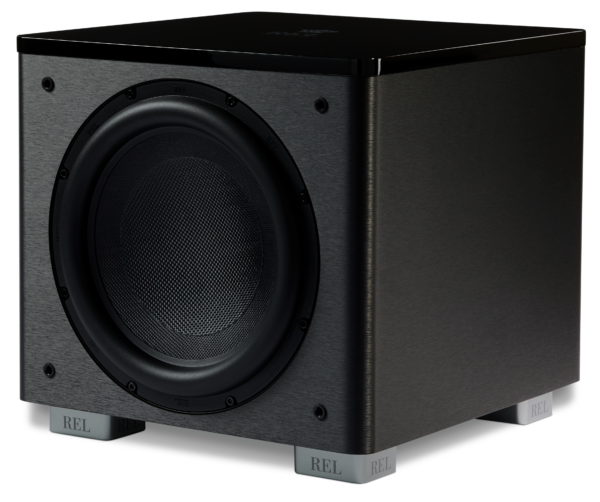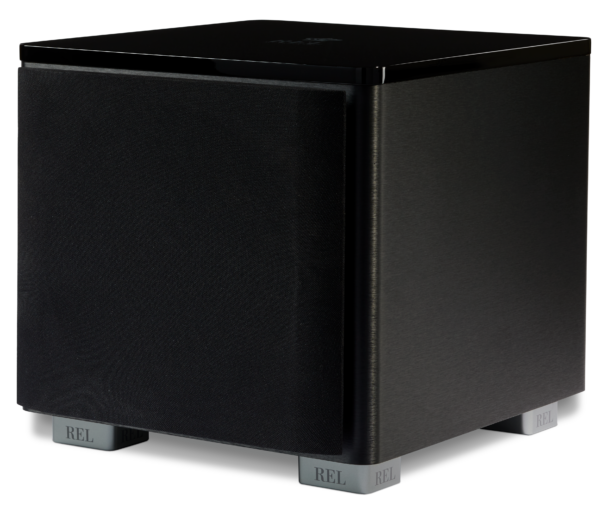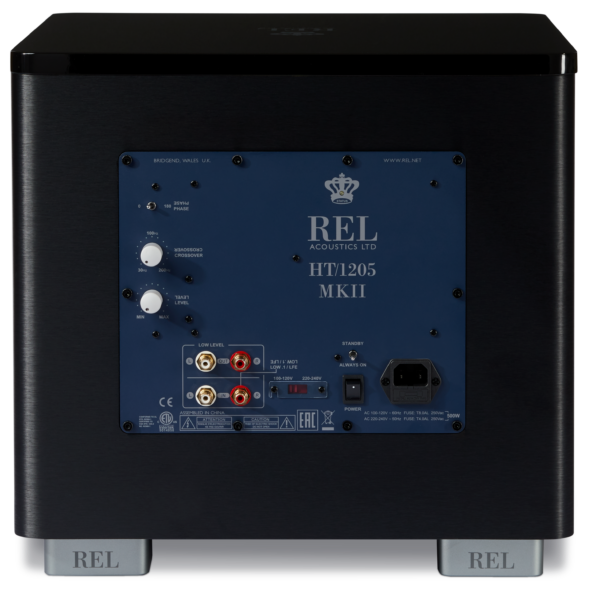 REL HT/1205 MKII 12" Subwoofer
---
Specifications

| | |
| --- | --- |
| Type |  Closed box, front-firing driver |
| Active Driver Size and Material | 12 in., 300mm long-throw, CarbonGlas™ cone structure, inverted carbon fibre dust cap, steel chassis |
| Passive Radiator Size & Material | NA |
| Low Freq. extension | -6dB at 22 Hz |
| Inputs | Dual purpose Low Level stereo RCA or LFE RCA |
| Outputs | Daisy Chain Low Level stereo RCA or LFE RCA |
| Power Output | 500 Watts RMS |
| Amplifier Type | NextGen5 Class D |
| Wireless Capability | *Optional HT Air Wireless, Zero Compression Single Large Scale Integrated Chip |
| Dimensions | W X H X D 1413mm x 387mm x 438mm |
| Net Weight | 19.6kg |
| Finish | Horizontally Oriented Lined Grained Black Composite Cabinet, 15mm Top Plate, finished in 5 coats of Hand rubbed High Gloss Black Lacquer |
| Accessories | Power cable & Manual |
We stand behind every REL product with a 3-year parts and labor warranty on all subwoofers sold through our store. We've got you covered.
We offer free shipping on any product over $99. For full details please see our Shipping Policy.

Our returns policy lasts 30 days. If 30 days have gone by since your purchase, unfortunately, we may not be able to offer you a refund or exchange. For full details please see our Refund Policy.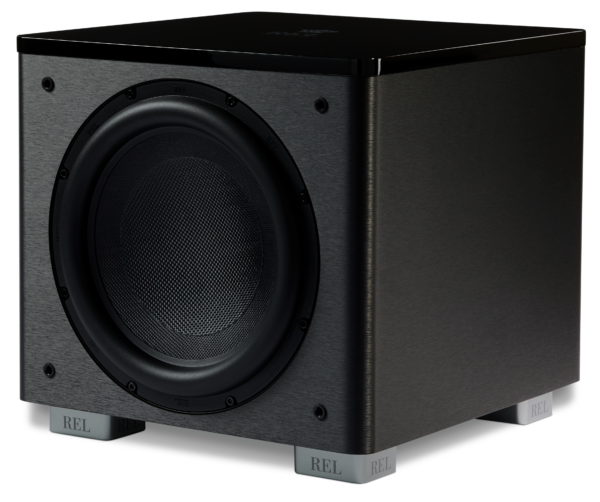 REL HT/1205 MKII 12" Subwoofer
HT/1205 MKII establishes a new performance standard for affordable home theatre subwoofers. Avoiding electronic gimmickry in favor of properly balanced priorities; cabinets that are right-sized, solidly braced and beautifully finished. A sparkling new amp design that effortlessly delivers 500W into an all-new CarbonGlas™ 12" (300mm) driver. The sexy new black lacquer top plate has a subtle REL logo floating on top, while the expensively wrought black line-grained composite for the cabinet looks the business.
HT/1205 MKII plays 50% louder than its predecessor, while also delivering more precision and subtlety. It is capable of output levels more commonly found in models well over $1,000/£1,000. Fantastic for music and available HT-Air rounds out a perfect offering.
Manufacturer Details:
PERFORMANCE HOME THEATRE
Serie HT is designed specifically to answer the challenge of creating affordably priced, exceptionally dynamic, pure home theatre powered subwoofers. The HT/1205 MKII is the ideal combination of a lightweight, modern 12" CarbonGlas™ (300mm) driver coupled to a powerful 500W Class D amplifier that runs cool, producing extraordinary dynamics. Internally, we developed specially adapted home theatre input filters that produce extremely flat bass down in the 20's.

We set out to build the loudest, relatively compact 12" unit available for pure home theatre use, and at truly attractive pricing. You'll be the judge of how well we accomplished that goal, but critics are already lining up for reviews. We believe the HT/1205 MKII is destined to become a modern classic with svelte cabinet dimensions finished in an attractive, yet purposeful line grained black aluminium-look and topped by a 12mm thick beautifully polished top that serves to damp vibrations on the critical top surface of the cabinet.

For REL owners already enjoying our Reference, Serie S and T/i subwoofers designed for both 2-channel and theatre use, the HT/1205 MKII is designed to supplement their system's .1/LFE output to produce extremely high output for chest rumbling home theatre special effects.

Engineered with Care:
Designer exterior

The beautiful new cabinetry is bespoke; it has new textures, proportions, and finishing touches previously unseen in the category. Lower, sleeker cabinetry borrows proportions drawn from our new Reference models. Over the years, our experiments have established that this results in a faster, deeper presentation of bass—all while looking smashing. Your eye is immediately drawn to the top panel, whose entire surface finished in 5 coats of hand-polished piano black lacquer. A discreet REL logo floats within the top layer of lacquer whilst the body of the cabinet is clad in horizontally streaked, line-grained composite. The entire affair looks expensive, bespoke, and tastefully restrained. Additionally, you can stylishly combine it with either Serie T/x or Serie S in large, fully-immersive REL HT/3D™ setups.*
Drive like you mean it

The HT/1205 MK II's driver is a 12" (350mm) CarbonGlas™ construct as it has always been, but all its components were beefed up. It is improved in both large and small ways, enabling it to deliver the greatest performance possible. Lightweight, stiff, and quiet, the combination of glass fibre primary cones with true carbon fibre centre caps results in a cost-effective yet pistonic cone. Larger, more powerful magnets produce more energy. Upgraded suspension designs control the HT/1205 MKII's output all the way out to the limits of both the amplifier and the driver. The result is crazy output, while the HT/1205 MKII remains fast and liquid.
Now hear this
Amplifiers do the heavy lifting in a theatre subwoofer. We turned to a true tier one amp supplier to build our latest design for us—they did not disappoint. They included thicker boards, upgraded the power supplies, and did all the stuff that results in a brutally powerful amp with remarkable longevity. Additionally, the MOSFET power modules rated at 800 watts mean this amp is just cruising at its 500-watt rating. It produces truly awe-inspiring sound. While the theatre gets all the headlines, the HT/1205 MKII's big secret is that it sounds sublime in musical applications. Big and robust-sounding, it is sure to become an instant classic.
PerfectFilters™: Where it All Starts – Amplifier
REL input filters are renowned throughout the audio world. They bring together ultra-fast crossovers, elevation filters that extend the flatness of deep bass, and explosive-sounding integrated limiters. This compact series of analogue circuits is REL's secret recipe in both music and film sound. Refined in this second generation, the secondary filters are much higher in frequency; they make the rarefaction of air in the sound of an explosion to feel that much more realistic. Also, our latest circuit includes an all-analogue subsonic filter that begins as low as 8 Hz to minimise the effects of infra-noise from soundtracks that extends well below the resonance point of the driver. The result is incredible delivered power with the ability to play all the way to the driver's limit without distortion.
Gabi Recommends:
If you want to have the flexibility to place your subwoofer in your room, then you must go wireless. There is wireless and then there is REL wireless. HT-Air™ Wireless Transmitter & Receiver is an adapter designed to leave old fashioned Bluetooth-based systems in the dust, delivering latency that is in the 16-20 millisecond range.
Speaker Pairing:
If you are confused about which model is the right REL subwoofer for your setup. Take a look at this handy Subwoofer Finder. You can punch in the make and model of your speakers, as well as the size of your room and the perfect subwoofer will be suggested for you.
Warranty:
3-YEAR REL WARRANTY
REL stand behind every subwoofer they make with a 3-year parts and labour warranty on all subwoofers sold through LENC.
This product has no reviews yet.
WHILE YOU ARE BROWSING
You may also like