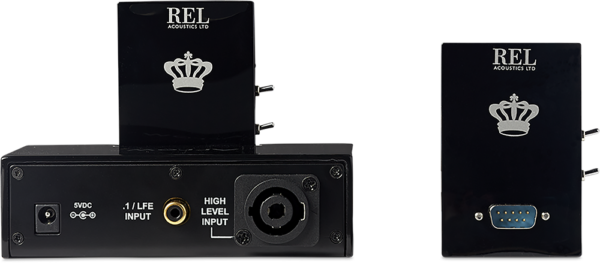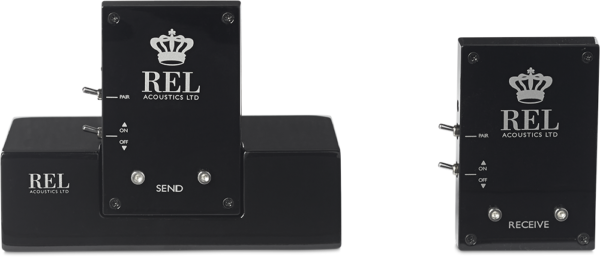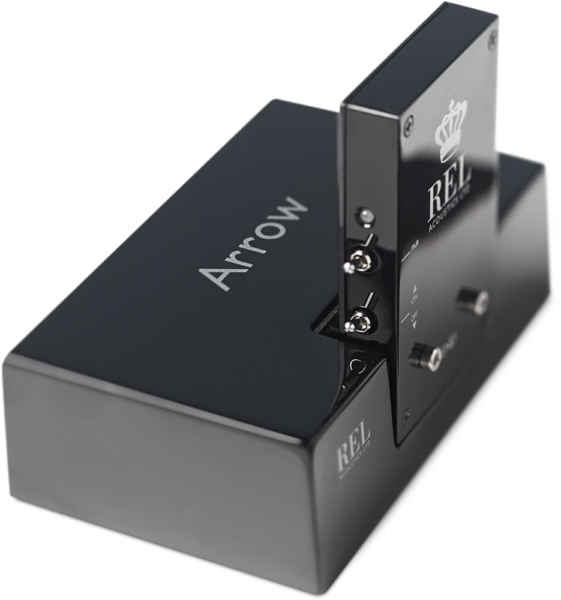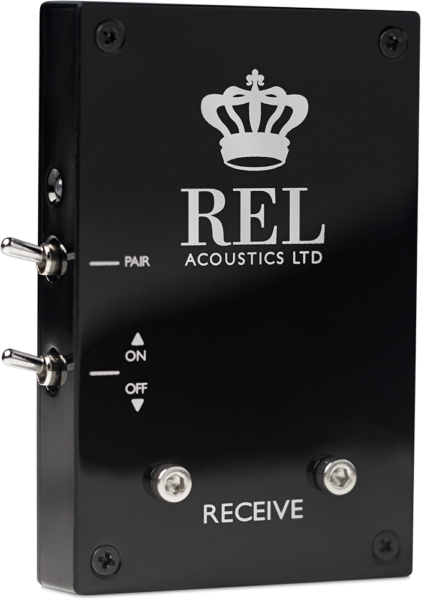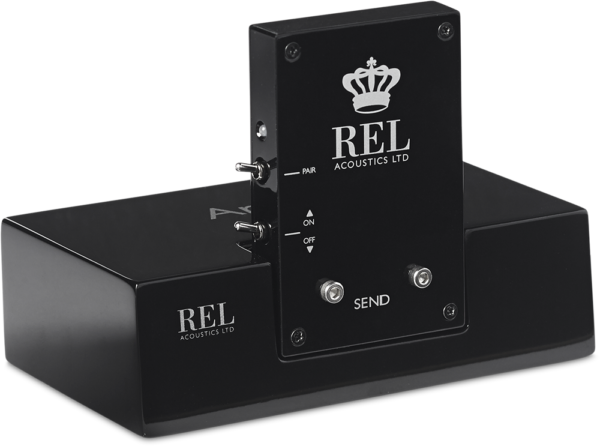 REL Arrow™ Wireless Transmitter & Receiver
---
Specifications

| | |
| --- | --- |
| Inputs | HIGH-LEVEL Neutrik Speakon, LFE single phono |
| Input Impedance | 10k ohms |
| Wireless output power | 10dBm |
| Wireless Effective Distance | 15.2 metres clear line of site |
| MAINS INPUT VOLTAGE | 5V DC, 5.5mm circular connector, positive centre |
| Power Consumption | 600 mWatts |
| Dimensions | W X H X D130 x 89 x 82.5 mm |
We stand behind every REL product with a 3-year parts and labor warranty on all subwoofers sold through our store. We've got you covered.
We offer free shipping on any product over $99. For full details please see our Shipping Policy.

Our returns policy lasts 30 days. If 30 days have gone by since your purchase, unfortunately, we may not be able to offer you a refund or exchange. For full details please see our Refund Policy.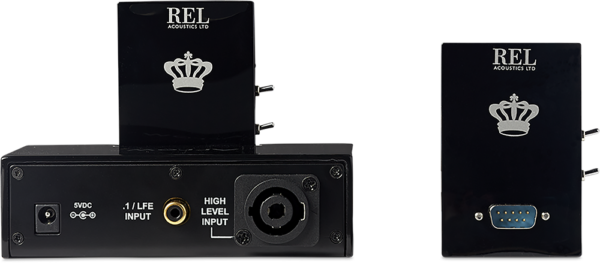 REL Arrow™ Wireless Transmitter & Receiver

Arrow wireless delivers much of the promise and connectivity of hardwired RELs with the placement flexibility and pure cool factor of great wireless.
Compatible with Serie T/x and T/i. Not compatible with Tzero.
Manufacturer Details:
Freedom, ARROW™ WIRELESS CONNECTIVITY
Arrow™ is our zero compression method of distributing wireless and delivers performance similar to our more expensive wireless systems quickly, reliably and without the thin, dried out sound most wireless systems deliver. In part, this is achieved by eliminating the often very slow delivery methods offered by off-the-shelf Bluetooth and wi-fi based systems. Arrow represents something of a cost breakthrough as it uses LSI (large scale integrated circuit chips) technology to lower the cost of our system by about 30% while preserving almost all the performance.

This freedom permits ultra-high performance without the cumbersome tether of a cable, allowing careful placement without being limited by the length of a wire and can lead to a better sounding, less cluttered experience. Giving you the ability to place subs in distant corners, along glass walls, or on hardwood floors where a cable would otherwise destroy the effect
Engineered with Care:
High-Level, THEATER OR STEREO
Arrow permits simultaneous distribution of our vaunted HIGH-LEVEL connection AND the .1/LFE needed for high quality theater. In this way, both 2-channel music and multi-channel theater are supported without the need for connecting and disconnecting one's REL.
The High-Level input is designed to accept the stereo (two-channel) signals from the speaker terminals of your receiver, integrated amplifier or basic amplifier. This has the advantage of ensuring that your subwoofer receives exactly the same signal as the main speakers, which means that the character of the bass from the main system is carried forward into the Sub-Bass System. This is a very important point and together with our Natural RollOffTM circuitry, ensures far superior system integration of the Sub-Bass System with the main system.
Flick Of A Switch, PAIRING MADE SIMPLE
We designed and engineered Arrow specifically for Serie T/x, allowing us to develop a holistic solution that operates as beautifully as it looks. No tinkering with devices waiting to sync like you find with Bluetooth solutions, because Arrow features a tandem transmitter and receiver that docks and locks directly to the rear of your T/i. Pairing consists of plugging the transmitter and receiver in (about 10 seconds each), then turning the Send unit on and flicking 2 switches. By the time you have released the second switch, you'll be hearing incredible sound quality emerging from your REL.
Gabi Recommends:
If you want to have the flexibility to place your subwoofer in your room, then you must go wireless. There is wireless and then there is REL wireless. REL Arrow™ Wireless Transmitter & Receiver is an adapter designed to leave old fashioned Bluetooth-based systems in the dust, delivering latency that is in the 16-20 millisecond range. This product is perfect for the Serie TX of subwoofers.
Warranty:
3-YEAR REL WARRANTY
REL stand behind every subwoofer they make with a 3-year parts and labour warranty on all subwoofers sold through LENC.
This product has no reviews yet.
WHILE YOU ARE BROWSING
You may also like