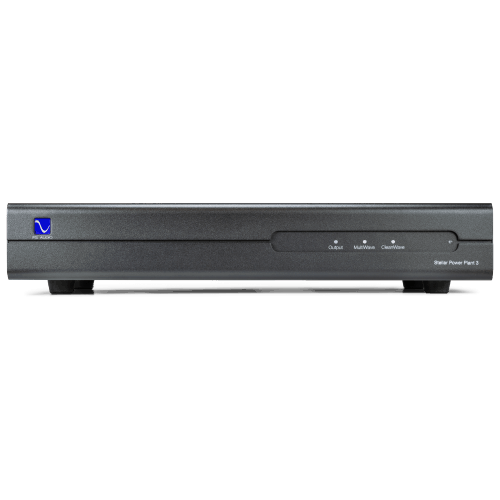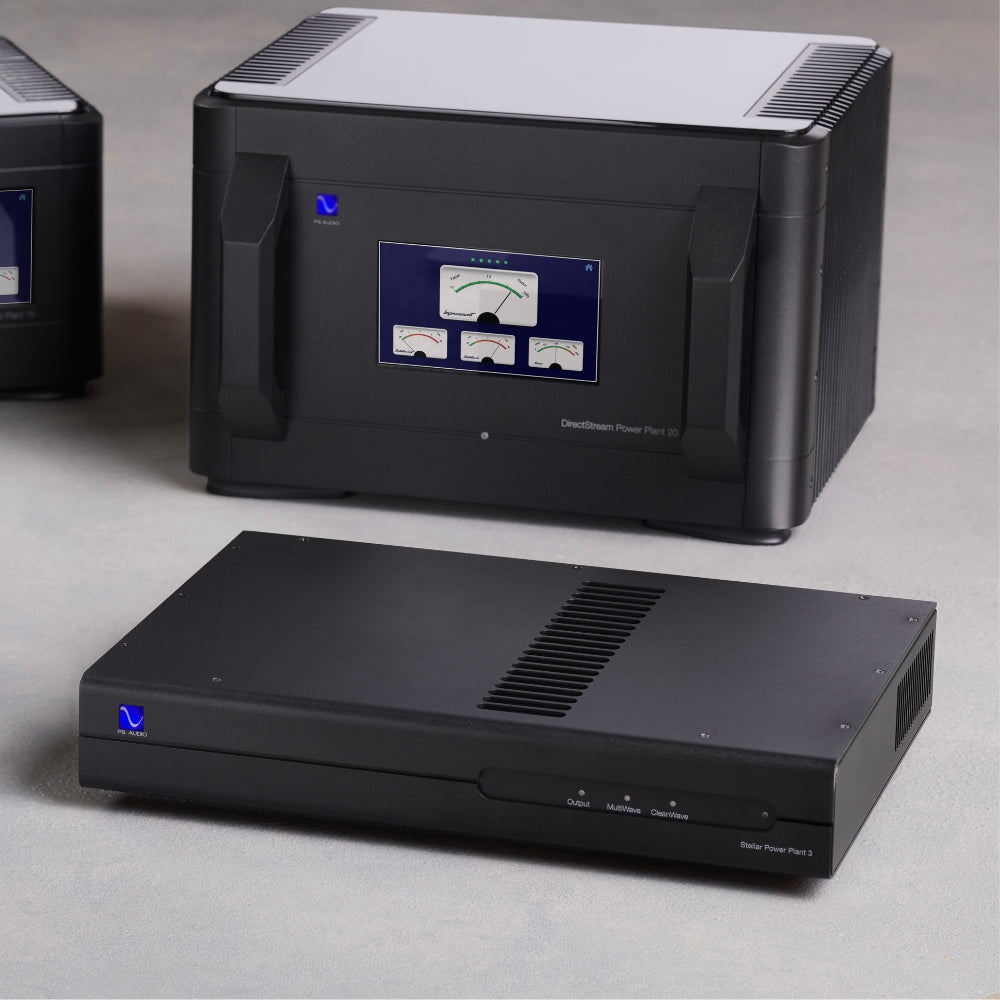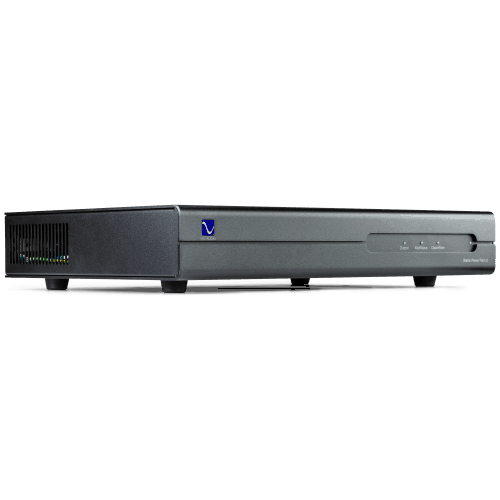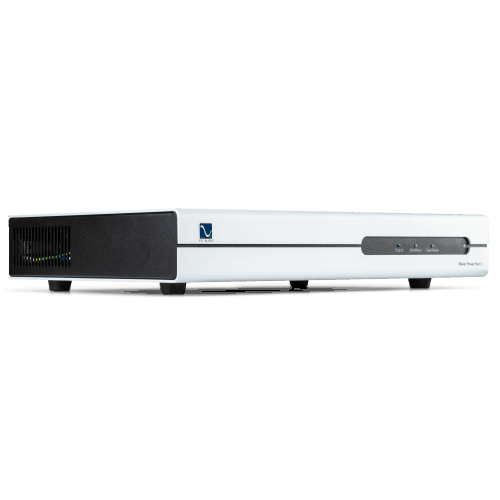 PS Audio Stellar PowerPlant 3 Regenerator
---
Specifications

| | | |
| --- | --- | --- |
| Environment Specification | U.S./Japan | Europe/Asia |
| Location | Indoor use only | Indoor use only |
| Duty Cycle | Suitable for continuous operation | Suitable for continuous operation |
| Moisture Sensitivity | Not sealed against moisture | Not sealed against moisture |
| Operating Humidity | <80%rh | <80%rh |
| Storage Temperature | -40C to +40C | -40C to +40C |
| Operating Temperature | 0C to 40C | 0C to 40C |
| Electrical Supply Nominal Rating | US – 120V 15A 60HzJP – 100V 15A 50/60Hz | 230V 10A 50/60Hz |
| Instrument Specification | U.S./Japan | Europe/Asia |
| Unit Dimensions | 17" W x 12" D x 3.25" H (43cm x 30.48cm x 8.255cm) | 17" W x 12" D x 3.25" H (43cm x 30.48cm x 8.255 cm) |
| Unit Weight | 31.4 lbs ( 14.24 kg) | 31.4 lbs ( 14.24 kg) |
| Shipping Dimensions | 22" x 17" x 8" (55.88cm x 43.18cm x 20.32cm) | 17" W x 12" D x 3.25" H (43cm x 30.48cm x 8.255 cm) |
| Shipping Weight | 39.4 lbs (17.87 kg) | 39.4 lbs (17.87 kg) |
| Nominal Input Voltage | US – 108 – 145 VACJP – 85 – 125 VAC | 200 –270 VAC |
| Maximum Continuous Load | US – 300VAJP – 300VA | 300VA |
| Maximum Peak Load (30 seconds) | 1000VA | 1000VA |
| Voltage Regulation | <0.1% | <0.2% |
| Typical Output THD | <0.3% | <0.3% |
| Output Impedance | <0.008 ohm | <0.008 ohm |
| Efficiency @ 300VA | >85% | >85% |
| Input Frequency | 45 – 65 Hz | 45 – 65 Hz |
| Energy Dissipation | 680J | 850J |
| Peak Current Surge | 60,000A | 60,000A |
| Max Surge Voltage | 6,000V | 6,000V |
| Clamp Level | 340V | 800V |
| DC Trigger | None | None |
PS Audio Australia offer a limited warranty for 3 years from the date the unit was first purchased from PS Audio or its dealers and agents. If you do not register your product within 30 days of service, a copy of your purchase receipt from an authorised PS Audio dealer may be used as proof of purchase to establish the warranty start date. You can register your product online, by phone, by mail, or by email.
We offer free shipping on any product over $99. For full details please see our Shipping Policy.

Our returns policy lasts 30 days. If 30 days have gone by since your purchase, unfortunately, we may not be able to offer you a refund or exchange. For full details please see our Refund Policy.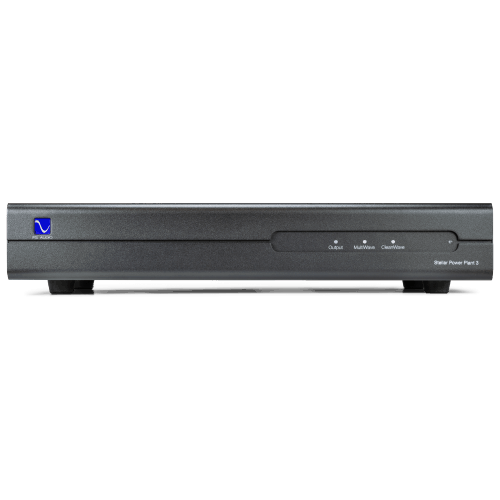 Stellar PowerPlant 3
Our most affordable AC regenerator, the P3 protects, purifies, and powers sources, as well as small to medium sized systems.
The Stellar Power Plant 3 stands on the shoulders of giants. Built as an evolution from our renowned P12, P15, and P20 the P3 is our most affordable regenerator – perfect for powering sources and small to medium systems. Power Plants generate sine-wave-perfect, regulated, high current AC power from your home's AC. Problems on your power line such as low voltage, distorted waveforms, sagging power, and noise are eliminated and the power quality enhanced. The Stellar P3 PowerPlant provides greatly improved performance and safety from just plugging into the wall socket, along with far better dynamics, more authoritative bass, and a much bigger, more open soundstage than any passive power conditioner on the market.
DESIGN
The Stellar P3 PowerPlant features an ultra-low impedance analog AC power amplifier, pure DSD FPGA based analog sine wave regenerator, and low distortion high-dynamic-peak-capable outputs found only in PS Audio PowerPlants. Designed with elegant simplicity in mind, the P3 is a plug and play device that will provide you with perfect power and worry free protection from surges, spikes, and ugly power without any fuss. Regulate, remove distortion, and get better performance.
APPLICATION
The P3 is the perfect companion for improving system performance and ensuring a safe environment for you Hi-Fi system. Providing 300 watts of continuous power output and peaks of 1000 watts, the P3 is just right for source gear or an entire systems running small to medium class AB amps or larger high-efficiency Class D amps like the Stellar M700 monoblocks. The P3 will bring forth all that's possible from your HiFi system, ensuring you get the same great performance every time you listen.
This product has no reviews yet.
WHILE YOU ARE BROWSING
You may also like