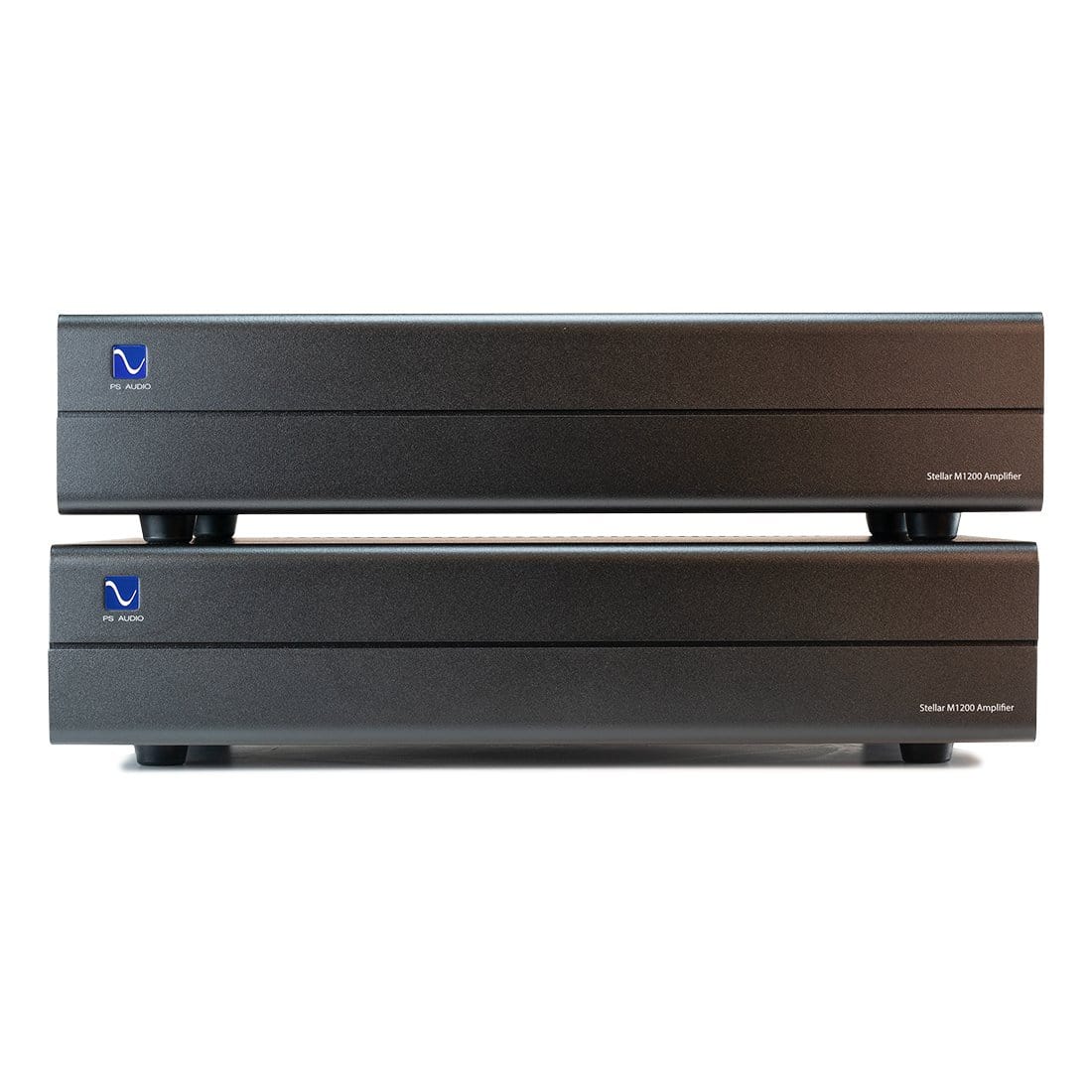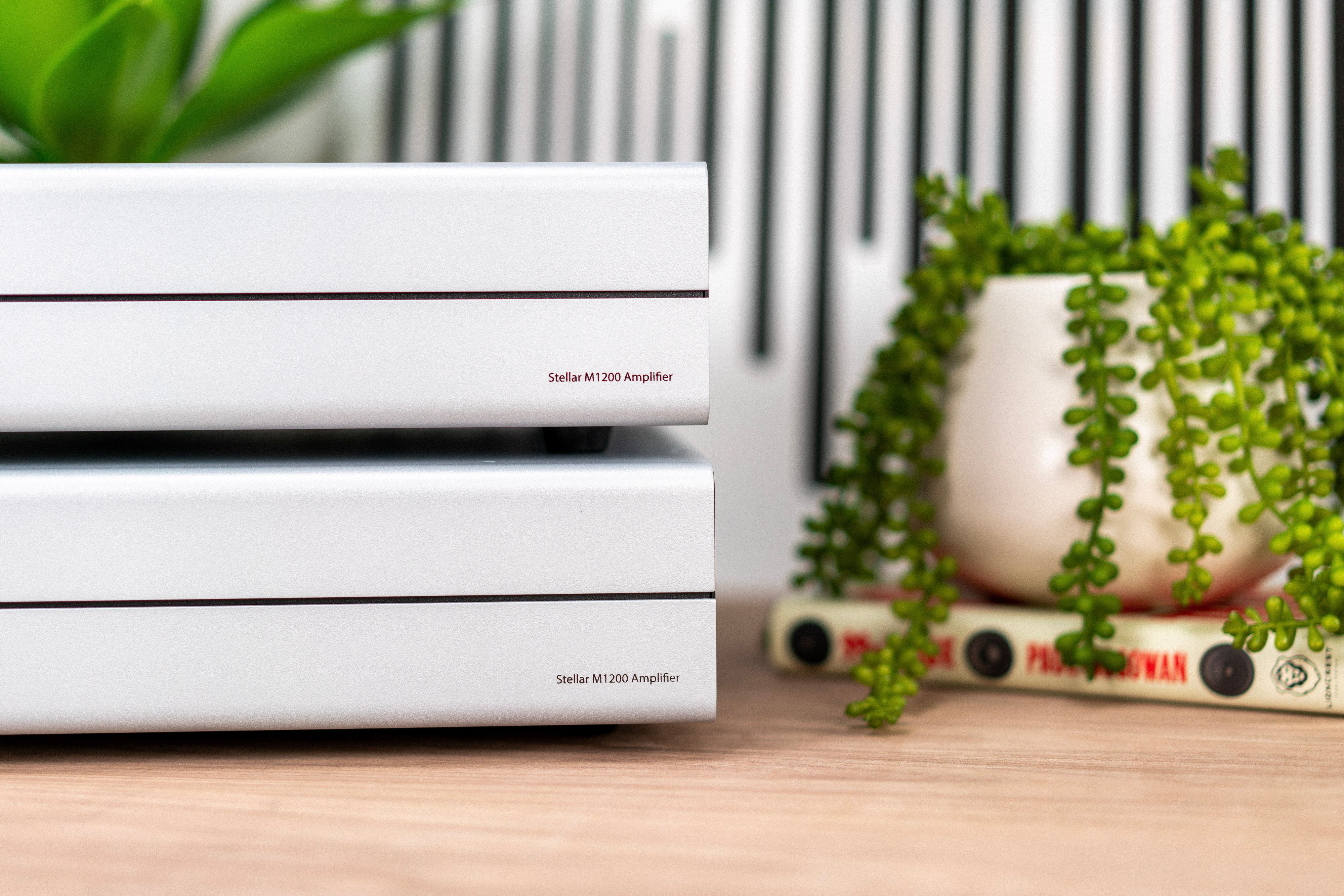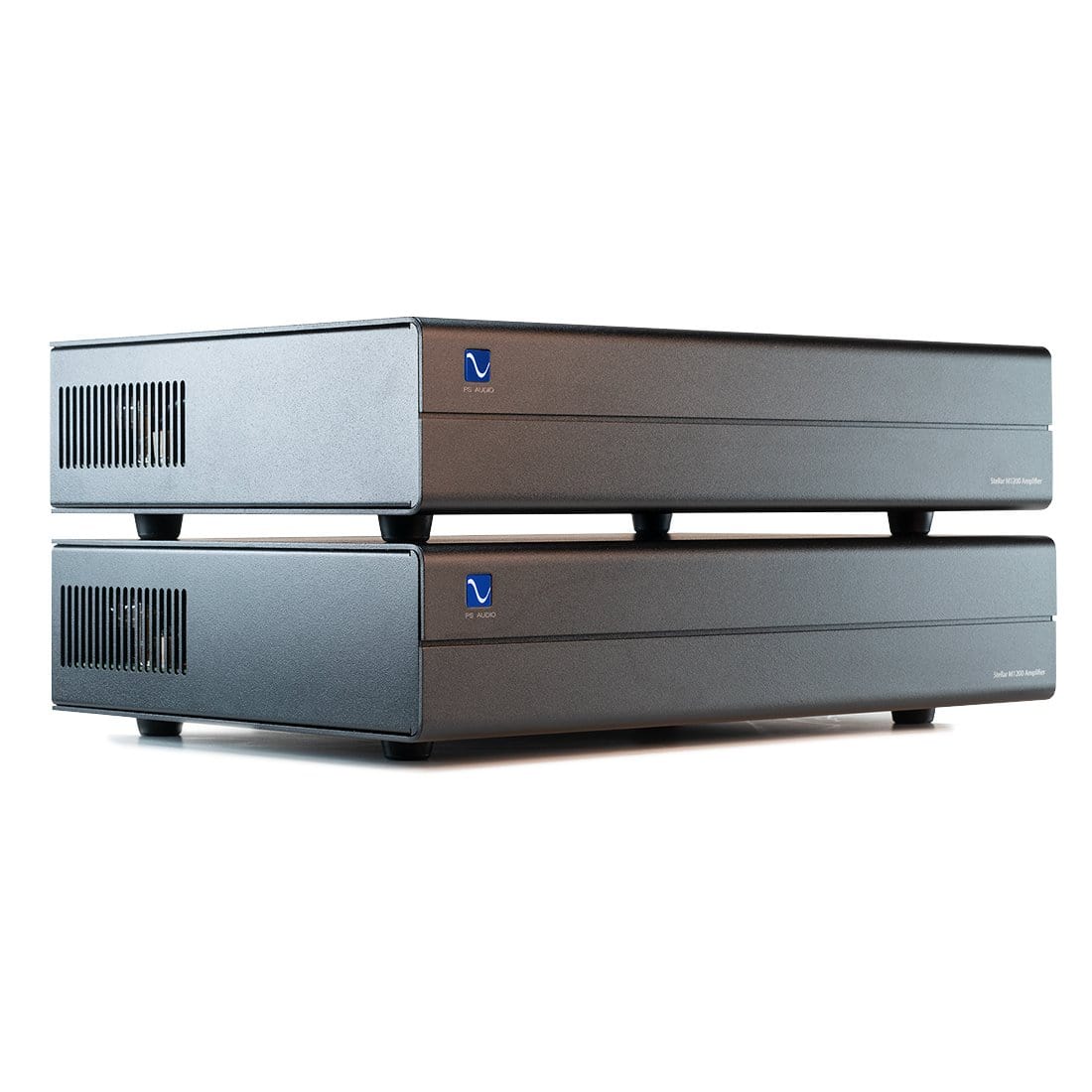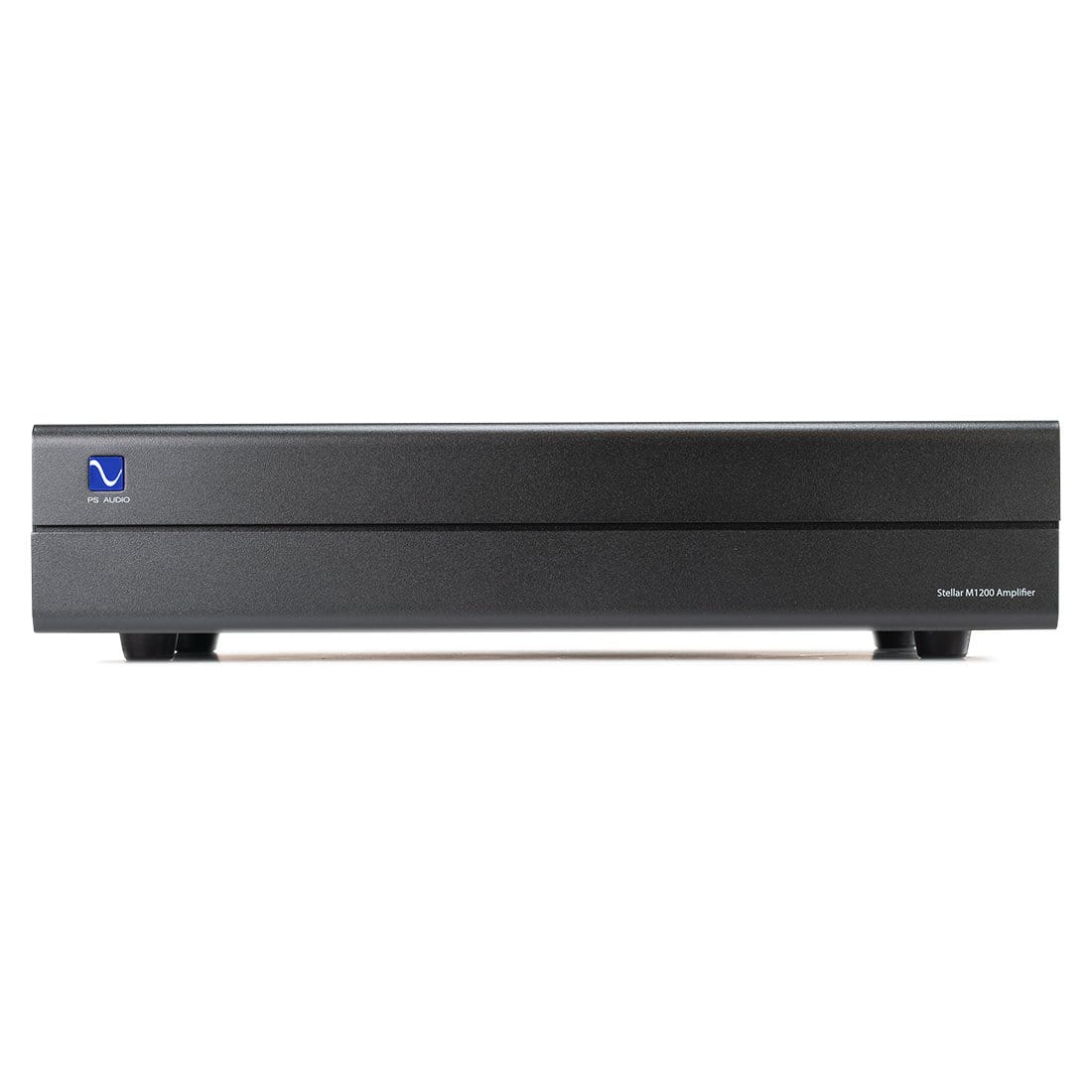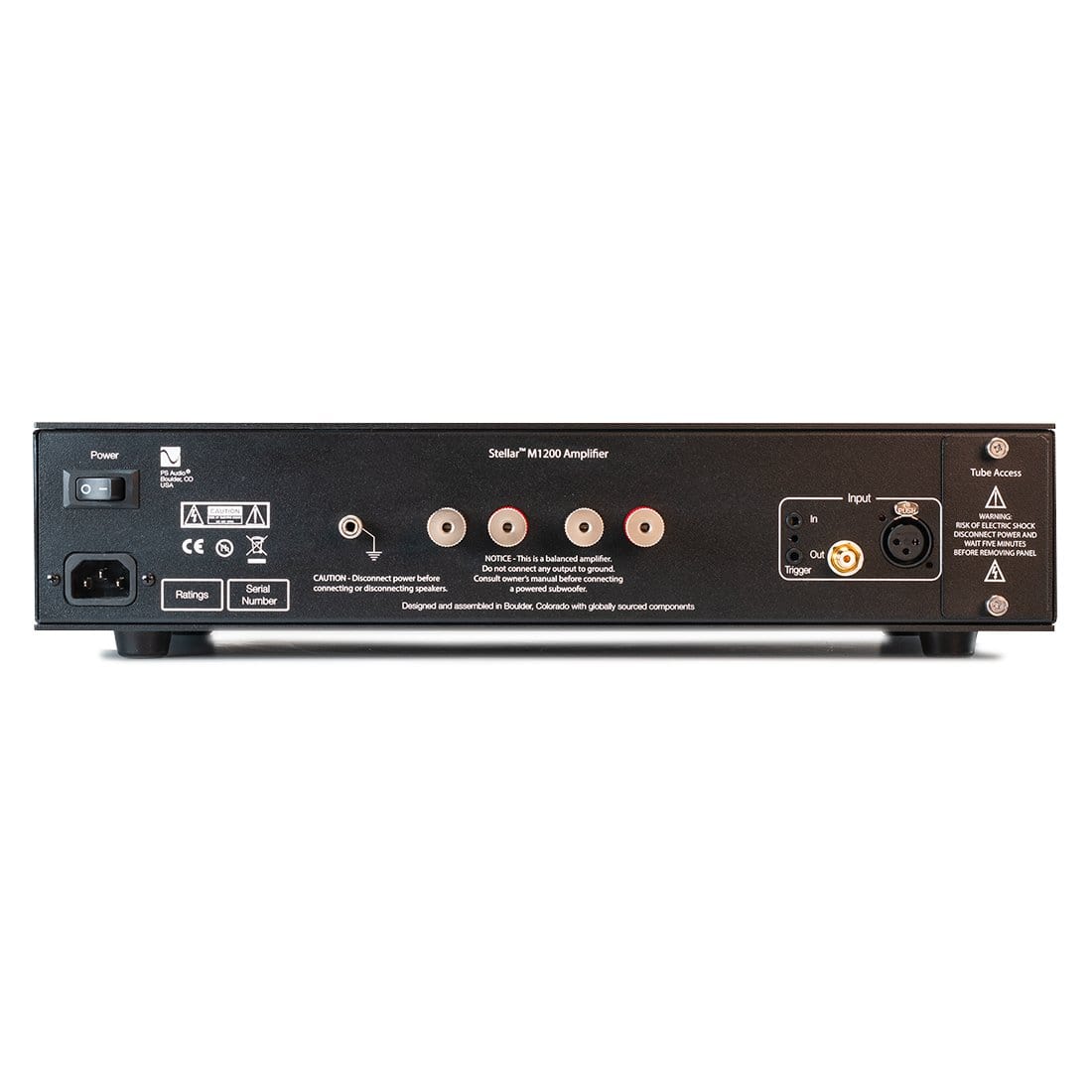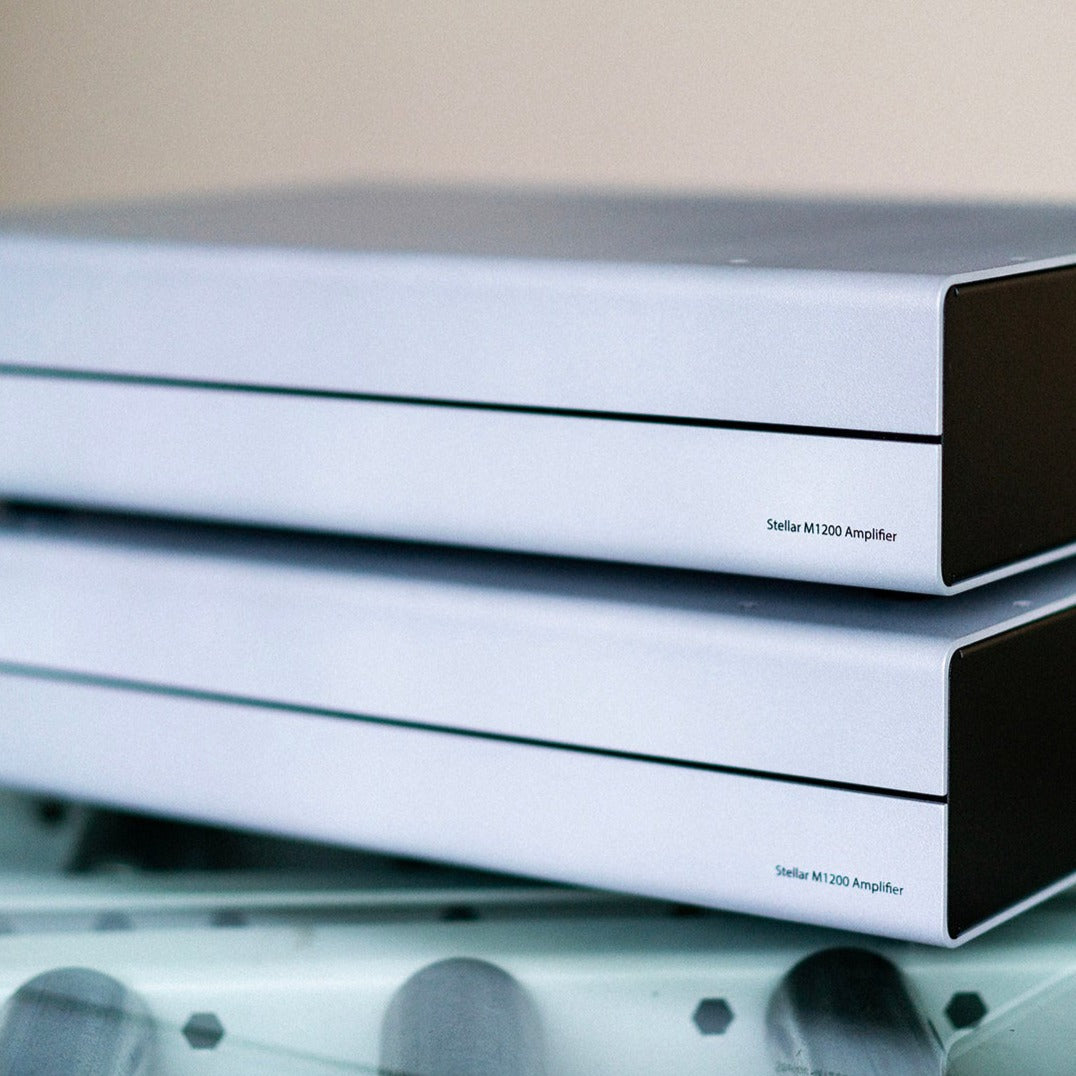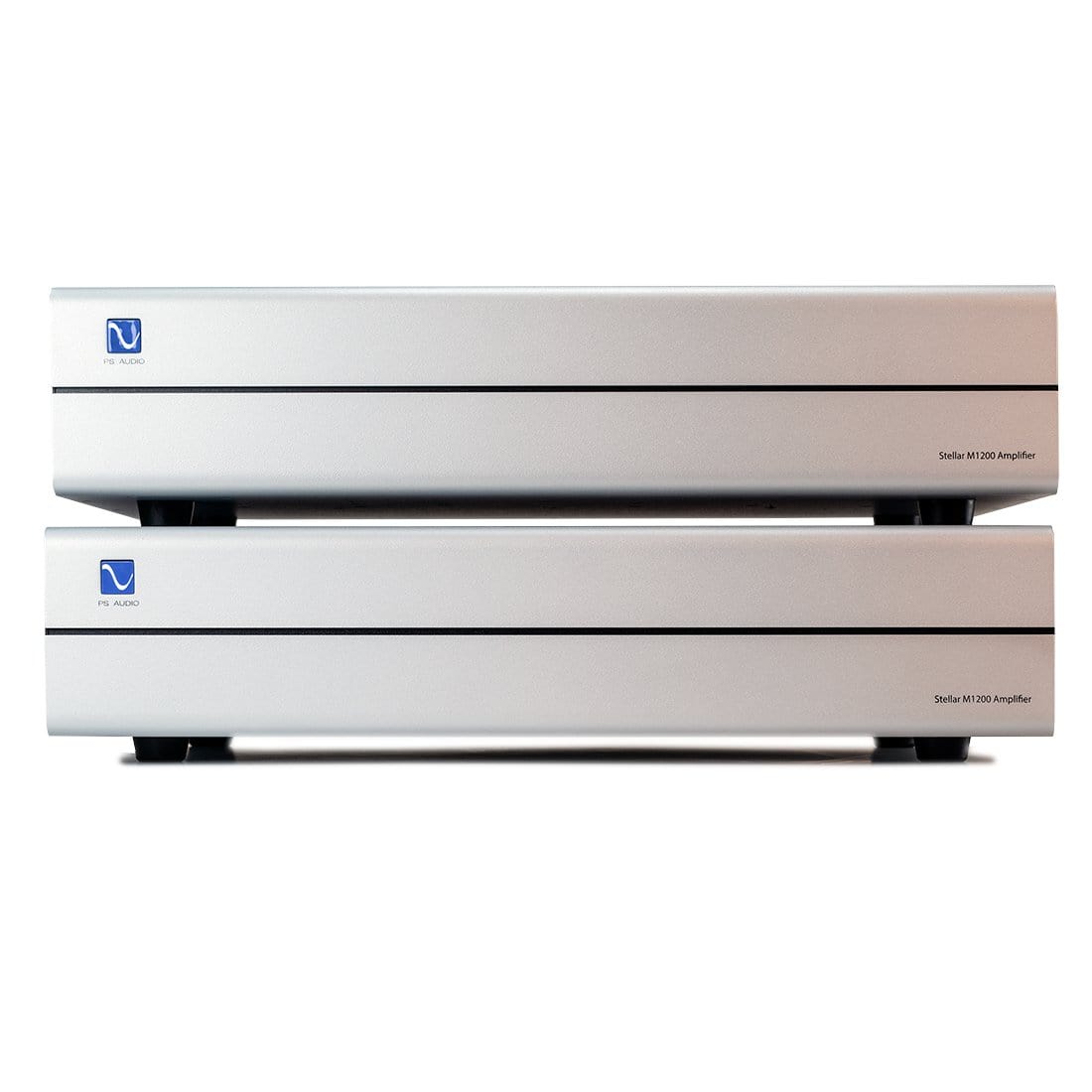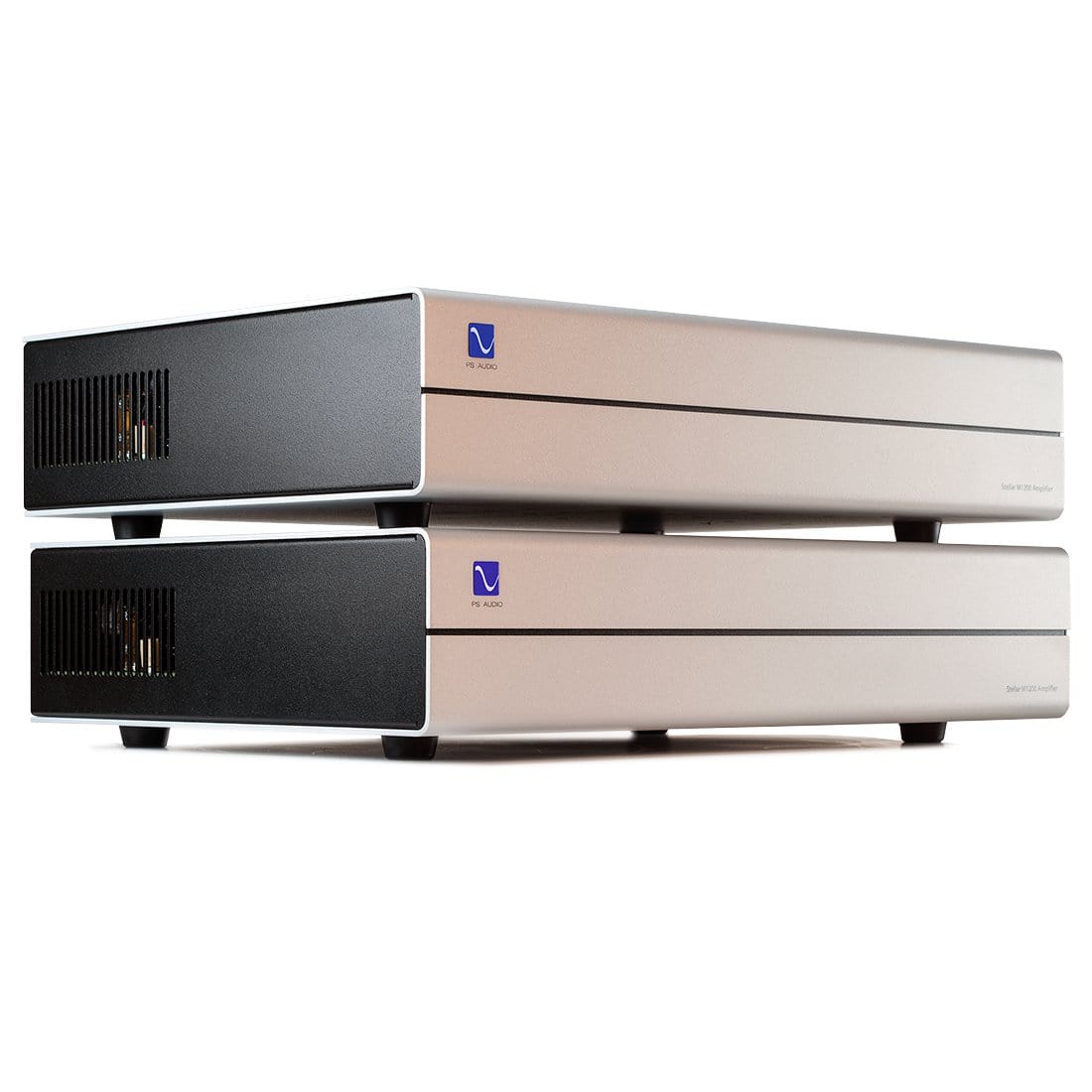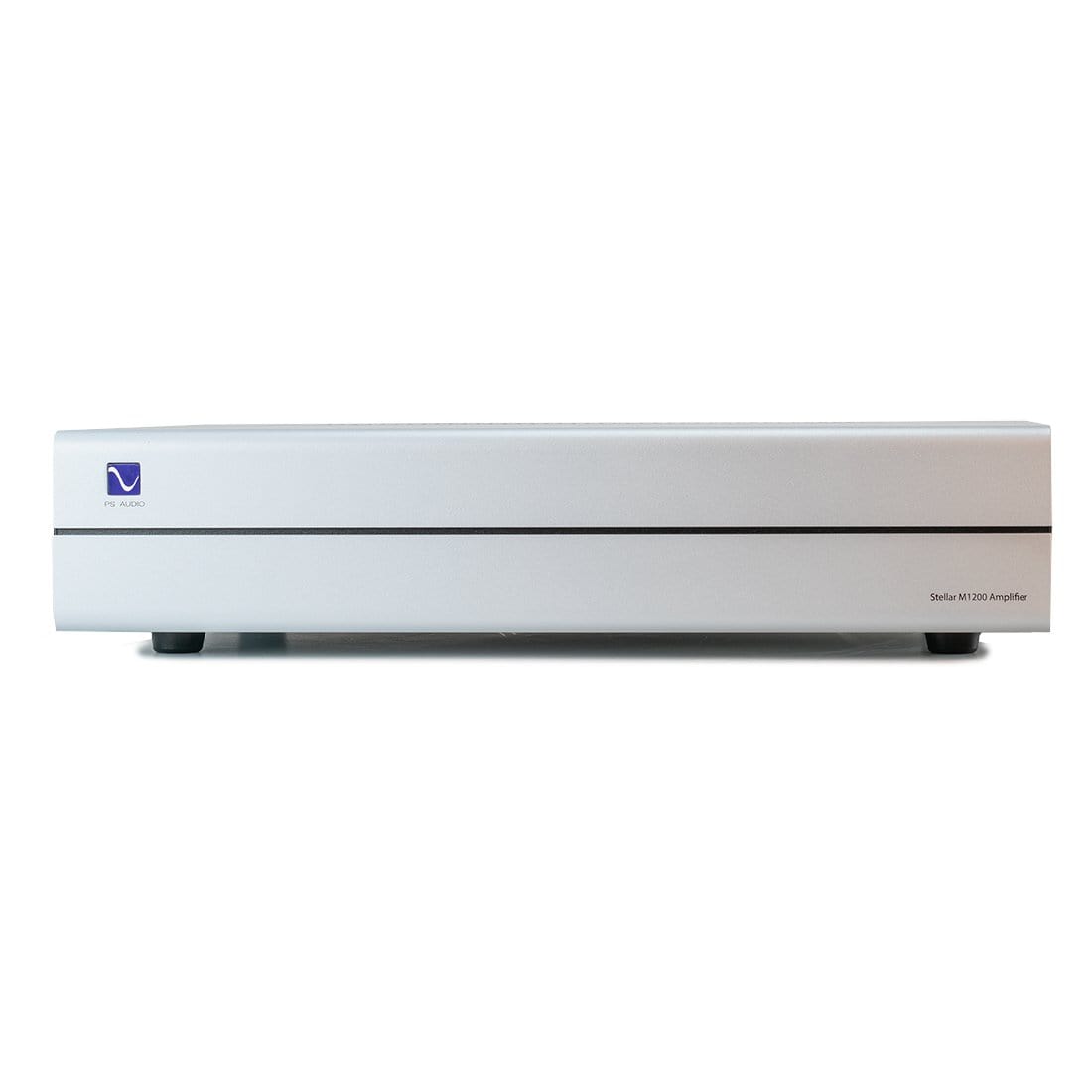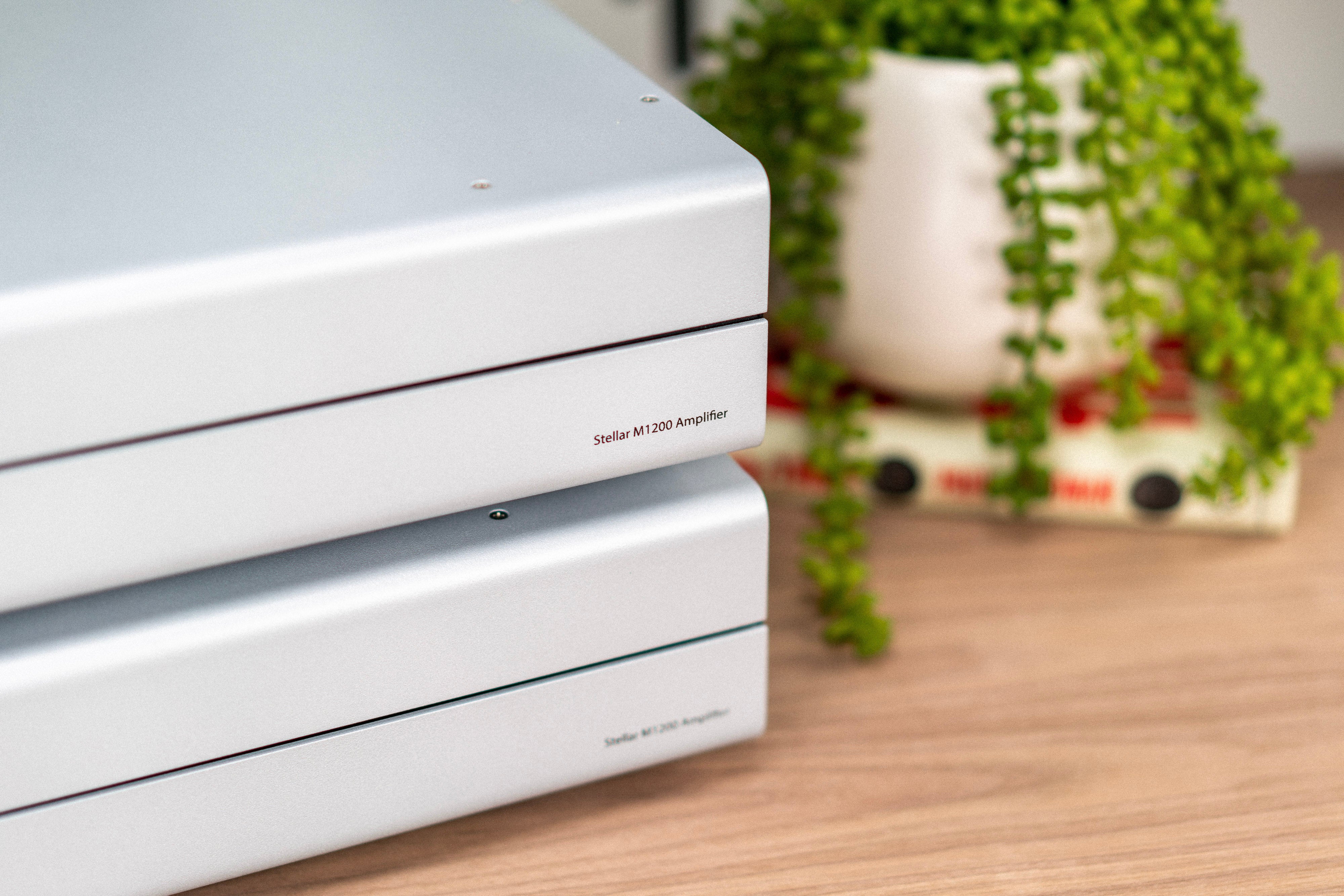 PS Audio Stellar M1200 Mono Amplifiers
---
Specifications

Physical
 
Unit Weight
12.2 kg each
Unit Dimensions
17"W x 3.75"H x 12"D (13
Vacuum tube type
12AU7
Voltage Options(Factory set only)
Japan 100VNorth America 120VEurope/Asia/Australia/New Zealand 230V
Mains Power Inputs
IEC C14
Idle Power Consumption
27W
Power Factor
>0.9 @ rated power 4Ω
Audio Inputs
RCA (Unbalanced)XLR (Balanced)
Speaker Outputs
Copper base nickel plated binding posts (2 pair)
DC Trigger Input
3.5mm 5-15VDC
Warranty
3 years parts and labor
Signal
Gain
30.5dB +/-0.5dB
Sensitivity for rated output power
2.08V
Signal to Noise
1kHz@1200 Watts > 112dB
Input impedance
Unbalanced 50KΩBalanced 100KΩ
Output Impedance
50Hz, 2.8VRMS <0.007Ω
Damping factor
50Hz. 2.8VRMS8Ω >11004Ω >550
Frequency Response
2.8VRMS into 4Ω10Hz – 20KHz - 0.5dB10Hz – 45KHz -0.5/-3.0dB
THD&IM
1KHz, 1W/4Ω
< 0.005%
10-20KHz, 1W/4Ω
< 0.01%
1KHz, 150W/4Ω
< 0.02%
Output Power
120vac mains, 1kHz, 1% THD
8Ω
600W minimum
4Ω
1200W minimum
2Ω
Stable for musical transients
PS Audio Australia offer a limited warranty for 3 years from the date the unit was first purchased from PS Audio or its dealers and agents. If you do not register your product within 30 days of service, a copy of your purchase receipt from an authorised PS Audio dealer may be used as proof of purchase to establish the warranty start date. You can register your product online, by phone, by mail, or by email.
We offer free shipping on any product over $99. For full details please see our Shipping Policy.

Our returns policy lasts 30 days. If 30 days have gone by since your purchase, unfortunately, we may not be able to offer you a refund or exchange. For full details please see our Refund Policy.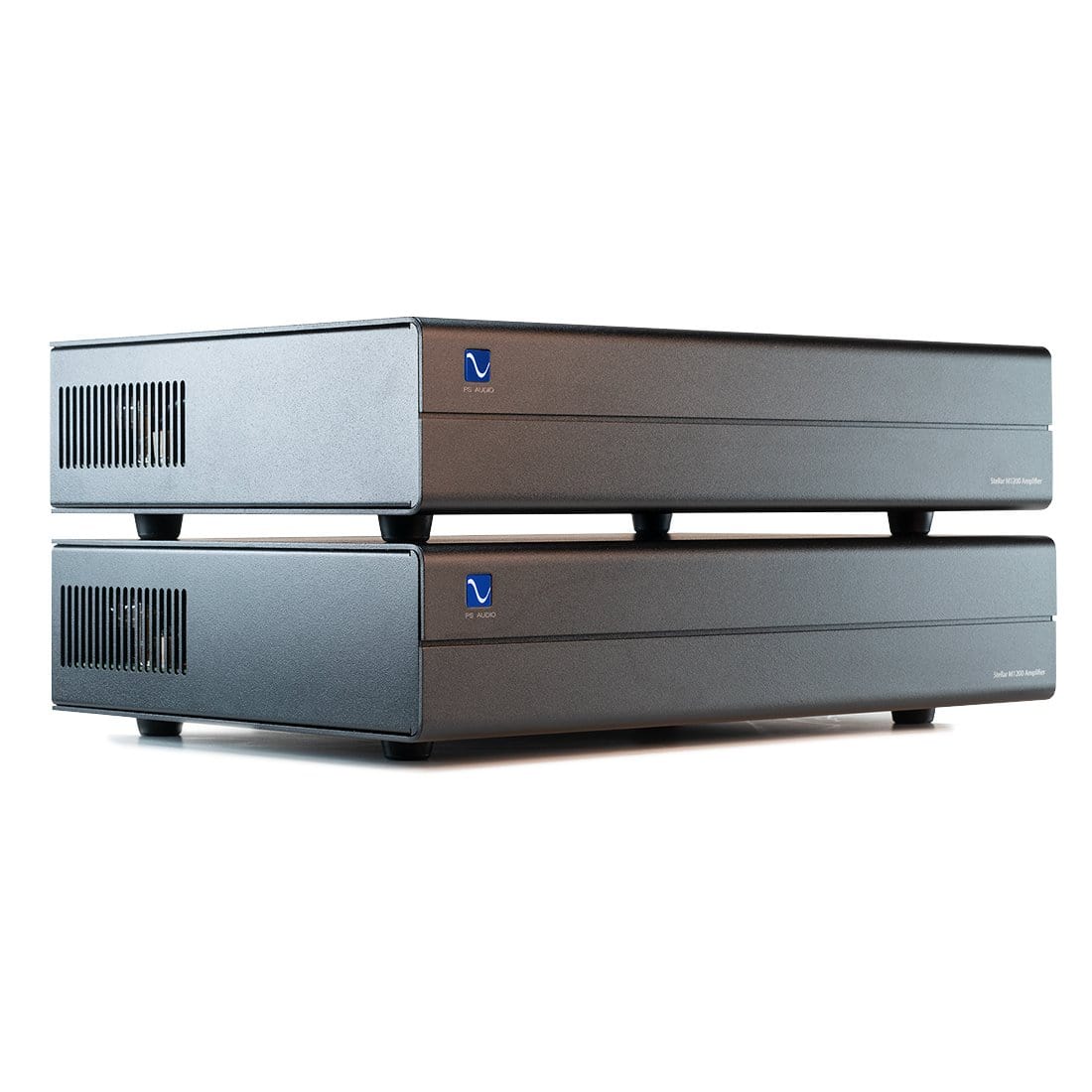 PS Audio Stellar M1200 Mono Amplifier Pair
The Stellar M1200 monoblock power amplifier combines the rich warmth and musicality of vacuum tubes with the jaw-dropping power and seemingly infinite headroom of a 1200 watt high-performance output stage. This extraordinary hybrid amplifier knows no limits. From the subtlest musical whisperings to the loudest crescendos an orchestra or rock band is capable of, Stellar M1200 never flinches. Regardless of your speaker's power demands or limitations, enjoy the once unachievable uncompressed effortlessness afforded by this design. Pure musical bliss for any loudspeaker made, from the smallest to the biggest. Stellar.
Manufacturers Details:
The Stellar M1200 mono amplifiers solve a classic problem with nearly every power amplifier made: sonic compression. When the orchestra gets loud and complex, or the band really starts to rock it out, most power amplifiers get out of their comfort zone and we hear their stress and strain as compression. The M1200 was designed to play any music into any loudspeaker with zero compression. Suddenly, more than just a sonic veil is lifted when a pair of M1200s are inserted. Where once music's character was preserved on only soft to medium loud passages, with the M1200s in play, there's no difference between the softest to the loudest complex passages known. Music is delivered without prejudice to the recording's dynamics.
Rated at 600 Watts into 8Ω and a whopping 1200 Watts into 4Ω, the M1200 combines the best of two worlds: ultra-linear, high-current, ICE Edge Class D technology for the output stage; and a discrete, Class-A vacuum tube for the all-important input stage. The M1200's rich, warm, and beautifully nuanced reproduction of music comes first from the zero feedback, class A vacuum tube input stage. Here nothing is lost in its hand-selected 12AU7 vacuum tube, fed from its own analog power supply.
Our mission with the Stellar M1200 was to produce a remarkably musical power amplifier without limitations, regardless of what speakers were paired with it. A common misconception in audio is that power amplifiers should be matched with loudspeakers by wattage: smaller sensitive speakers should be paired with small amplifiers and the opposite for larger, less sensitive speakers. The truth is, for a given loudness within a room all power amplifiers deliver the same wattage to match a loudspeaker's sensitivity. What's missing in most systems is a power amplifier with overkill-headroom.  Only then can we fully appreciate what a massive improvement unfettered dynamics brings to the system.
The M1200's designer, PS Audio engineer Darren Myers, wanted to see what would happen when he combined one of the world's highest power amplifier stages with a rich and warm vacuum tube input stage—the results set us all back on our heels. This hybrid approach combines the best of today's technology with time-honored techniques leveraging PS Audio's forty-plus years of experience.
The results are extraordinarily musical and dynamic, even on bookshelf loudspeakers. Never have listeners heard such uncompressed beauty from small or large speakers. This amplifier has transformed good to great in ways few among us have imagined possible. After hundreds of hours of tuning, voicing, and perfectionist tweaking, we were ready to release this extraordinary combination of power and delicacy to the world.
One listen to the Stellar M1200 pair and you'll appreciate Myers' dedication to musical truth without compromise. 
Engineered With Care:
The power amplifier is technology always present in stereo systems. Yet, despite the fact everyone uses them, few appreciate the power amp's critical role in preserving music's nuanced details because most amplifiers fail to preserve them. Overtones from plucked instruments, subtle cues defining placement, depth, soundstage width, and transient decays are often lost in the power amplifier. 
The M1200 loses nothing. Stellar's lead designer, engineer Darren Myers, was obsessed with its detail and voicing—lavishing great attention on even the tiniest nuances in the music. This helped Stellar capture the rich full-bodied essence of recorded music and presents it to your loudspeakers with authority and grace—with never a hint of glare or unnaturalness. The M1200 is faithful to the music like few amplifiers are.
The vacuum tube makes all the difference
The connection between preamplifier and power amplifier is critical, for it is at this junction where most essential musical details and dynamic contrasts are easily lost. Nothing in the design of a power amplifier is more important than its input stage when preserving music's finest nuances. In the M1200 a zero feedback class A vacuum tube input stage captures every whisper of music while preserving intact the most dynamic crescendos and quick rise time transients with zero loss.
Long hours of listening and tuning sessions in Music Room One, shared by PS Audio founder Paul McGowan and Darren Myers, resulted in a sonic signature that honors the music and never draws attention to itself.
The listening experience with the M1200 is nothing short of a revelation. Where most amplifiers do their best to preserve dynamics, they fail to present them as if they were live. The M1200 eliminates the tendency of nearly every power amplifier to change its sonic character as the music gets louder. First time listeners to the M1200 are stunned at the ease and openness of music while expanding and then maintaining width and depth of the M1200's soundstage; its preservation of the smallest details in reverb, room acoustics, musical overtones; its commanding presence without intrusion; it's delicate handling of subtle shadings; its authority as it grabs hold of the loudspeaker and breezes through even the most complex musical passages.
Key Features:
The hybrid approach used in Stellar's power amplifiers takes advantage of the best traits technology has to offer. Its all important input stage relies upon its 12AU7 vacuum tube to provide a zero-loss interface between the preamplifier or DAC, as well as imprint the amp's sonic character. It is then time to convert the perfected analog voltage into the all important high current output needed to drive loudspeakers.
A power amplifier connects a reservoir of energy to the loudspeaker through a type of valve (solid-state or vacuum tube) controlled by the input stage. If the input stage has done a good job of preserving music's subtle details, textures, timing and phase information, transferring it without loss to the loudspeaker can be accomplished in a few ways: the most efficient is Class D.
The history of Class D amplifiers stretches back to the 1950s, though those early designs—even those into the late 1990s—had much to be desired, sonically. Modern designs capable of high linearity and neutral sound quality weren't available until the early 2000s, and into late 2015.
There is a lot of misinformation surrounding class D amplifiers. Perhaps the most common is they are digital, which is incorrect. A Class D amplification stage is an analog process, known as Pulse Width Modulation (PWM). Class D amplifiers do switch in on/off fashion, which is likely the reason they wrongly acquired the "digital" moniker.
The Stellar M1200 has a massive power factor corrected power supply and ultra-linear high Wattage power amplification stage, based on the newest ICE Edge technology, designed in Denmark.
The Stellar M1200 provides excellent frequency extremes, low distortion, high efficiency, high damping factor, and a generous and powerful output of 1200 Watts into the most common loudspeaker loads of 4Ω.
Is 1200 Watts too much for my loudspeakers?
No. As mentioned, power amplifiers need not be matched to speakers for fear of overpowering them. Their output wattage is controlled entirely by the preamplifier and user's volume setting. The advantages of a massively powerful amplifier like the M1200 are headroom and increased linearity for any input signal of any size. The end results are nothing short of breathtaking Regardless of what loudspeakers, the massively powerful nature of the M1200 works well with any loudspeaker, providing huge amounts of headroom and effortless sound quality for even the most demanding orchestral crescendos.
This product has no reviews yet.
WHILE YOU ARE BROWSING
You may also like