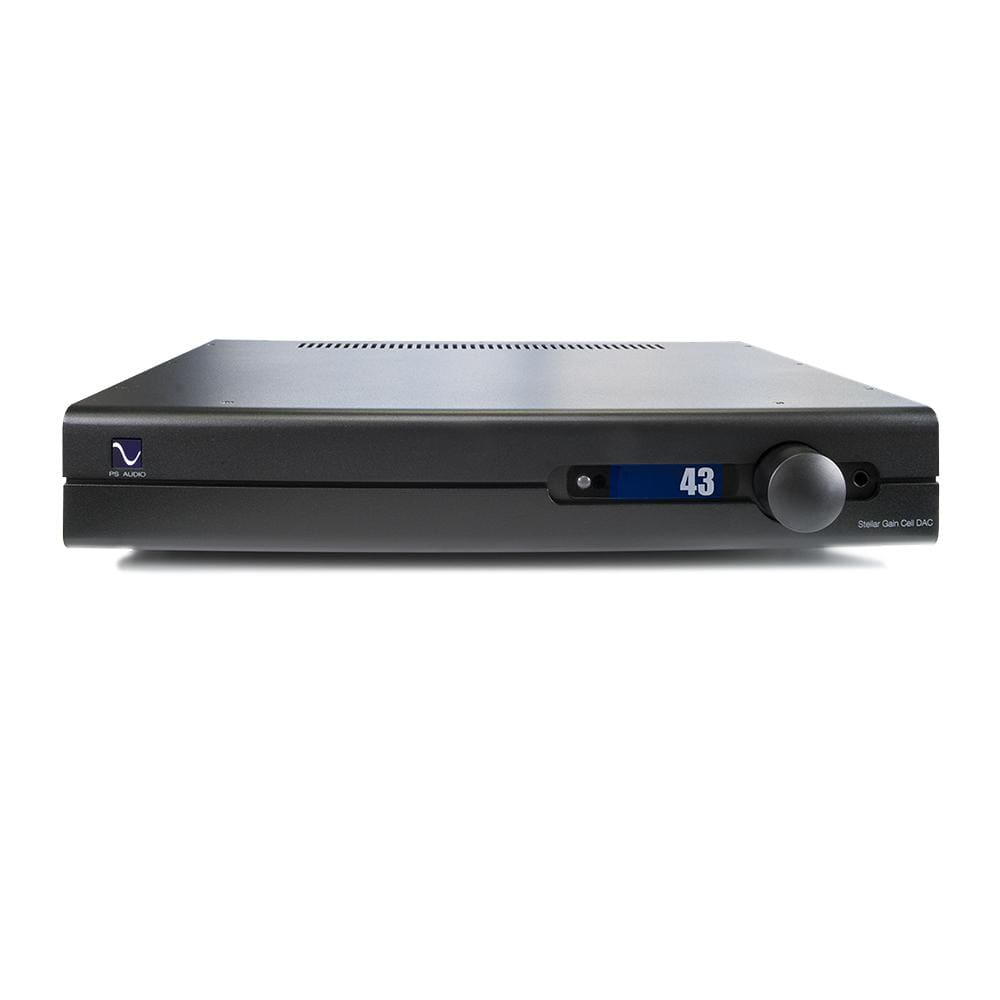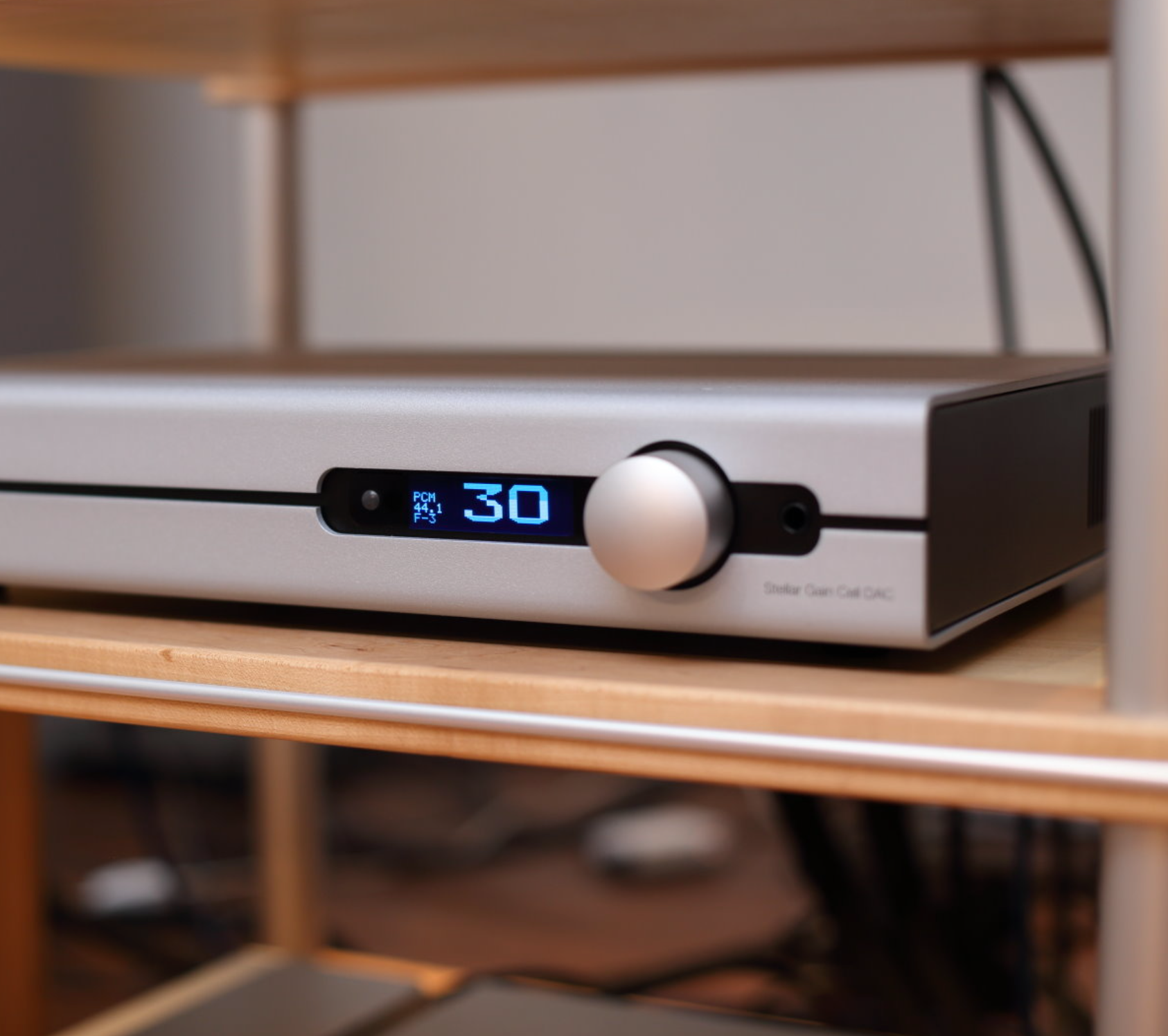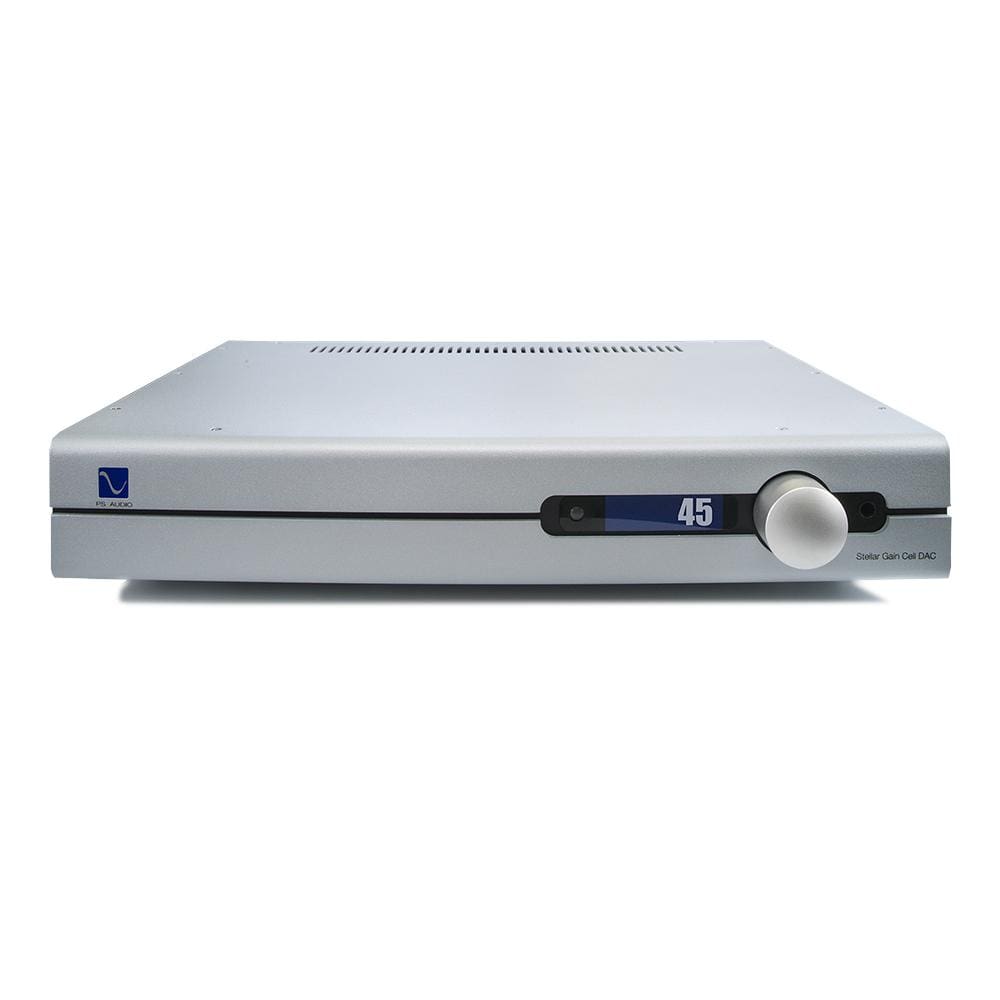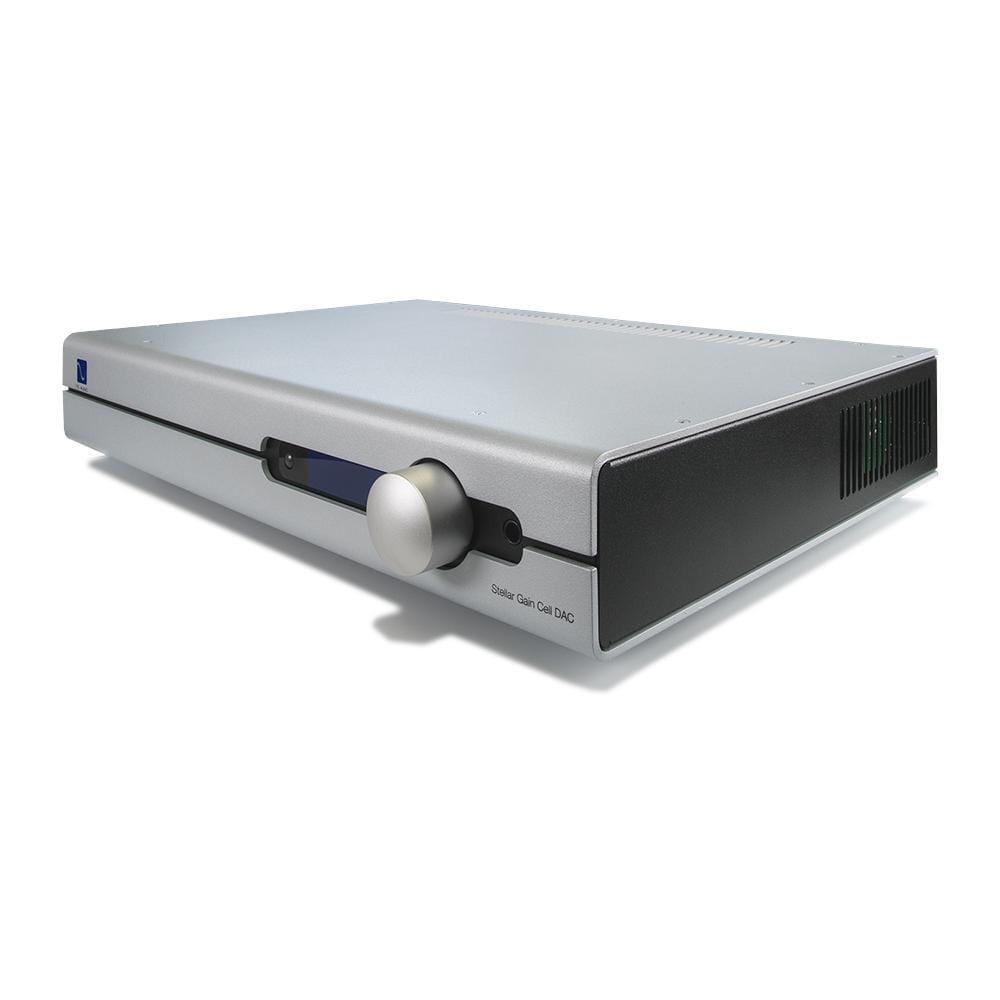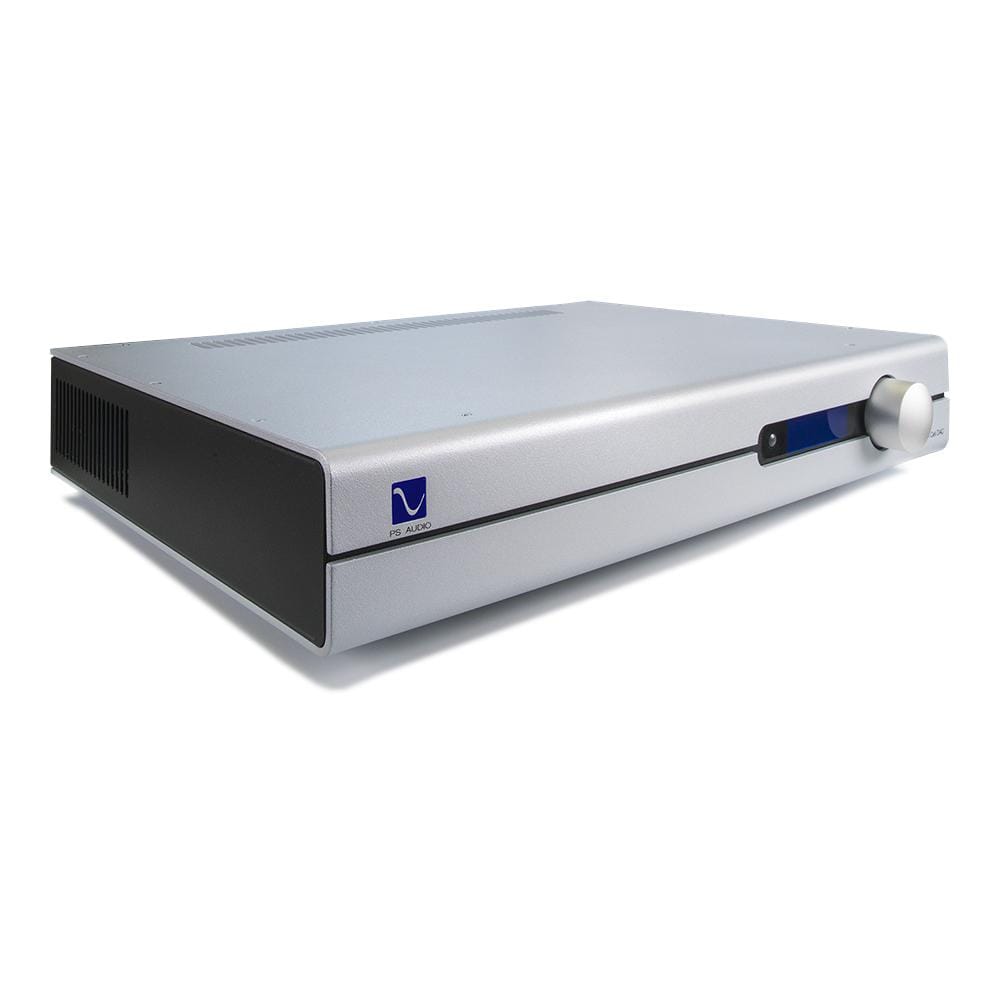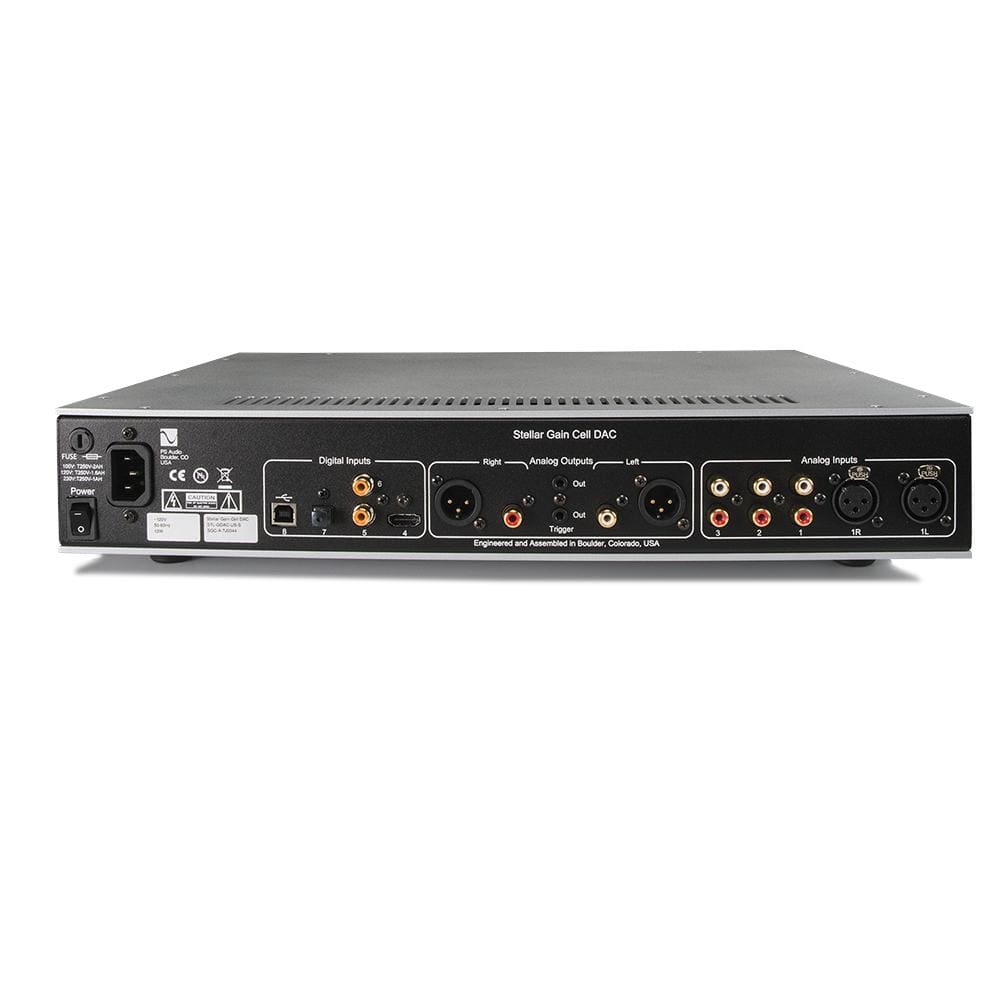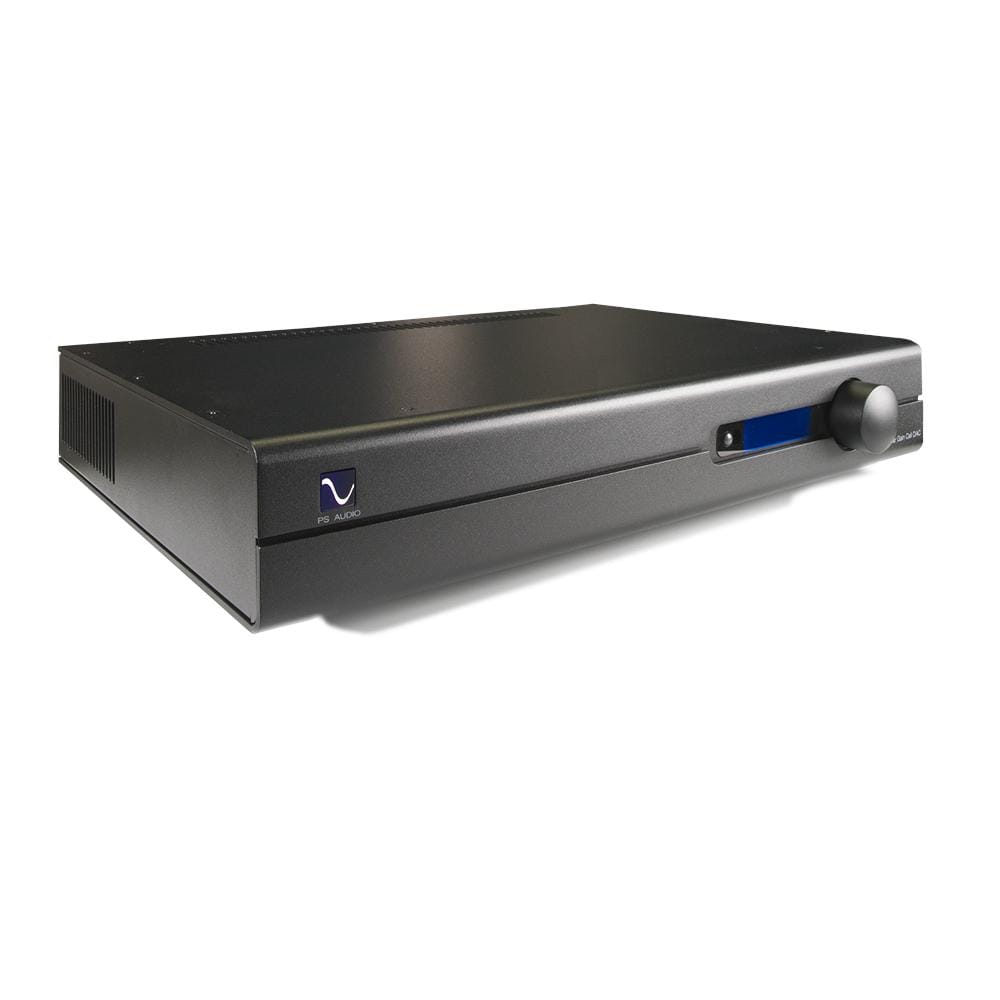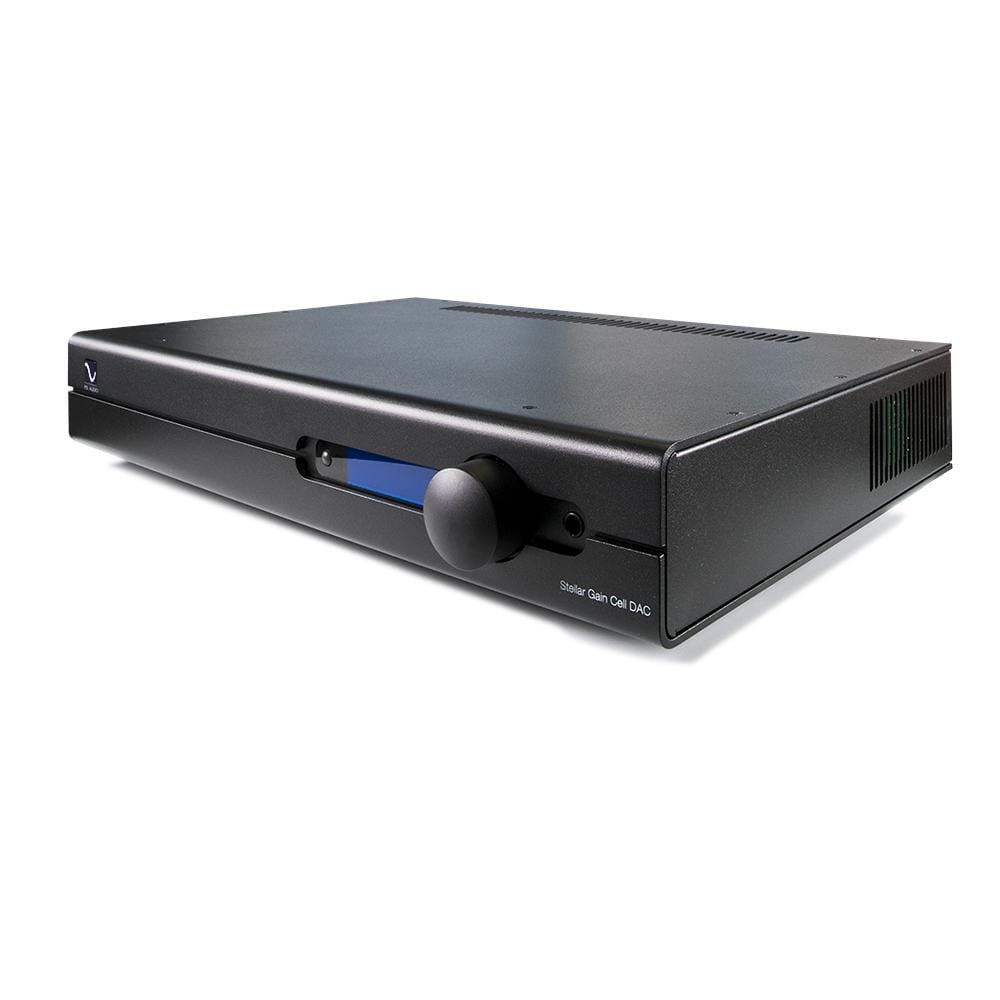 PS Audio Stellar Gain Cell DAC
---
Specifications

Physical
Unit Weight
6.1 kg
Unit Dimensions
430 x 310 x 76mm
Power Requirements
Input Power
Model specific 100VAC, 120VAC, or 230VAC 50 or 60Hz
Power Consumption
20W
Mains Power Input
IEC C14
Fuses
100V T250V-2.0AH (2A Slow Blow)120V T250V-1.6AH (1.6A Slow Blow)230V T250V-1.0AH (1.0A Slow Blow)
Accessories included
US (NEMA 5-15P) (all versions)Schuko (CEE7/7) (230V version)UK (BS1363) (230V version)
Analog Inputs
RCAXLR
3 stereo pair1 stereo pair
Digital Audio Inputs
I2S
1 PCM (384KHz max)DSD64 DSD128Compatible with DirectStream Transport SACD handshake for DSD playback
Coax
2 PCM (192KHz max)
Optical
1 PCM (96KHz max)
USB
PCM (384KHz max)DSD64 (DoP) DSD128 (DoP)
Format
PCM, DSD
Analogue Audio Outputs
RCA XLR Headphones
(Analog Unbalanced) 1 stereo pair(Analog Balanced) 1 stereo pairOne 1/4
Analog Performance
GainMaximum outputSensitivity
12dB +/-0.5dB20 Vrms5.3Vrms
Input Impedance
47KΩ single ended RCA100KΩ Balanced XLR
Output Impedance
100Ω single ended RCA200Ω balanced XLR
Frequency Response
20Hz – 20KHz +0/- 0.25dB10Hz – 100KHz +0.1/-3.0dB
Noise
20-20KHz <-90dBV
S/N Ratio
1KHz >110dB (max output)
Channel separation
1KHz >90dB
Input separation
1KHz >90dB
THD&IM
1KHz < 0.025%20-20KHz < 0.05%
Headphone Performance
Output power @1% THD
300Ω 300mW16Ω 3.25W
S/N Ratio 1kHzNoise
>95dB (max output)<-80dBV
THD & IM 1Vrms out
300Ω <0.05%16Ω <0.06%
Output impedance
<4 Ω
Features
Volume Control
0-100 (1/2 and 1dB steps, 80dB total range)
Balance Control
24dB each direction in 1/2dB steps
Home Theater Mode
Assignable to any analog inputAdjustable (in setup) to any level
Polarity (phase) Control
Digital sources only
Filter Control
3 selectable digital filters (PCM digital sources only)
Trigger output
(3.5mm 5-15VDC) 2
Remote Control
Yes. Infra Red
PS Audio Australia offer a limited warranty for 3 years from the date the unit was first purchased from PS Audio or its dealers and agents. If you do not register your product within 30 days of service, a copy of your purchase receipt from an authorised PS Audio dealer may be used as proof of purchase to establish the warranty start date. You can register your product online, by phone, by mail, or by email.
We offer free shipping on any product over $99. For full details please see our Shipping Policy.

Our returns policy lasts 30 days. If 30 days have gone by since your purchase, unfortunately, we may not be able to offer you a refund or exchange. For full details please see our Refund Policy.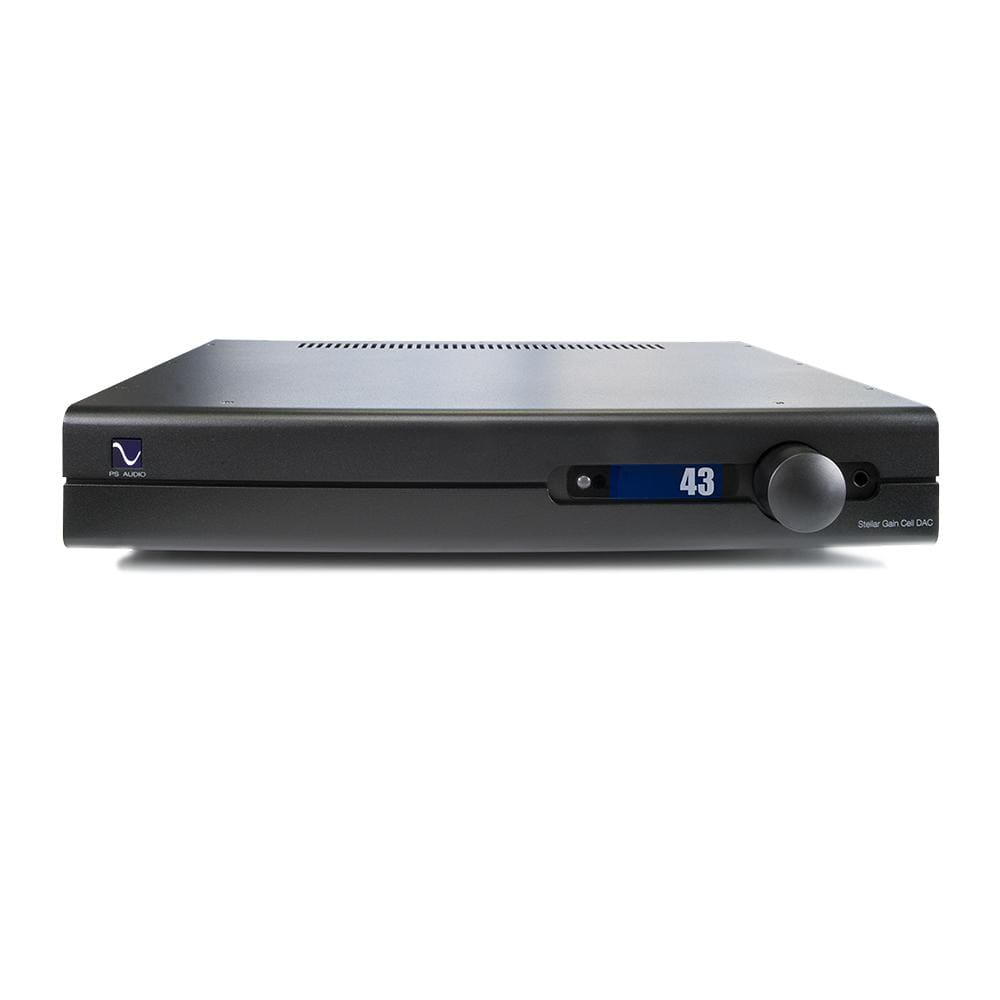 PS Audio Stellar Gain Cell DAC
What happens when you take a highly respected, cutting edge DAC, like the NuWave DSD, and connect it to your power amplifier through an analog preamp? Audio nirvana.
It turns out that a great analog preamp preserves a DAC's magic. Together, preamp and DAC form a new class of product whose sum is greater than its parts.
Stellar Gain Cell™. A redefined and improved instrument featuring our proprietary analog gain cell and digital to analog converter.
Think of the Stellar Gain Cell DAC as a complete analog control center with an exceptional performing DAC at its heart.
All the features and functions you'd ever want in an analog preamplifier and modern DAC are right here in Stellar. A zero-loss, fully balanced, pure, analog signal path combined with DAC features rarely found at any price level: pure DSD, asynchronous USB, Digital Lens technology, I²S to connect to our best transport, balanced throughout. Replace your preamplifier, your DAC—or both—and be stunned at the level of improvement when the full and rich tapestry of music surprises and delights your senses.
In the more than forty years of PS Audio's design innovations and breakthrough products, Stellar's groundbreaking level of performance as our gateway standalone DAC and preamplifier is unmatched for price and performance by their standalone competitors. Taken together, we're willing to bet you've never heard anything quite this good at anywhere even remotely close to this price.
Manufacturers Details:
At the heart of the Stellar Gain Cell is its analog preamplifier section: the Gain Cell. Invented in the early 2000s by PS Audio founder, Paul McGowan, this unique approach to variable gain amplification eliminates a classic problem for preamplifier designers. The volume control. 
All preamplifiers must provide a means for the level to be turned up or down. There are numerous methods of accomplishing this seemingly simple task: potentiometers, stepped attenuators, light dependent resistors, transformers, electronic switches, etc. All have something in common. They are inserted in the signal path and degrade the musical signal to varying degrees.
The Gain Cell solves the problem
Instead of inserting an additional level control in the signal path, the PS Audio Gain Cell relies on a different technology known as a variable gain amplifier (Gilbert Cell). This topology was invented in the 1960's by Howard Jones and Barry Gilbert and widely adopted by recording and mastering studios in their analog heyday—later abandoned when these same studios went digital.
The idea behind the Variable gain cell is simple. Instead of adding additional circuitry to the signal path to vary loudness, the preamplifier's actual amplifier stage varies its gain in response to the user's front panel volume control. This method requires zero additional circuitry in the signal path, offers more than 80dB of attenuation, and if designed properly performs to the equal of most high-end preamplifiers.
100% analog
The Gain Cell DAC has 100% analog input switching so users can select what they listen to without ever leaving the analog domain. The Gain Cell DAC's variable gain amplifier solves the problem of signal degradation from additional circuitry to control volume. Together, these pure analog technologies honor the signals passed through them, whether they're from Stellar's DAC or an external phono stage, nothing in the music is sacrificed or lost. Music's preserved in all its rich glory.
Stellar's Gain Cell is balanced from input to output and the sound is rich, full and engaging in ways few preamplifiers can claim. From the quietest micro-dynamics to the loudest macro-dynamic passages, Stellar's Gain Cell outputs gorgeous music through either its balanced or single ended outputs or its headphone amplifier. Music takes on new life through the Gain Cell.
Rich, powerful, analog headphone amplifier
For those into headphones (and who isn't?), Stellar Gain Cell offers an exceptional sounding and powerful analog headphone amplifier on the front panel. Stellar Gain Cell will automatically mute its main outputs when a headphone is plugged in and the listener can enjoy all that's great with a high-performance set of headphones. This is music reproduced at its finest.
Engineered With Care:
The DAC inside the Stellar Gain Cell will transform your expectations of what's possible in an under $2,000 DAC: performance is unparalleled in this price category, or anywhere near.
The DAC inside the Stellar Gain Cell produces a seamless 3D soundstage from even normal CDs. Labored over by its chief architect, Bob Stadtherr, and hand-tuned and voiced by Paul McGowan and Darren Myers, the improvement in sound quality over other DACs is astonishing. The Gain Cell DAC accepts inputs from any digital source including I²S and USB from your computer and outputs directly through Stellar's analog Gain Cell preamplifier with either single ended (RCA) or balanced (XLR) connections.
Used with music server software like JRiver, Bit Perfect, Amarra or Pure Music and an iPhone or Android app, the Gain Cell DAC becomes your entry into the world of high-end digital audio music, both PCM and DSD. Performance is superb at anywhere near the price and there are good reasons why, as you'll soon discover. In fact, the Gain Cell DAC is one of the best sounding products we have produced in our 24 years of building DACs. Sweet, spacious and effortless, this device will bring the life back into your music and all at the touch of a finger.
Digital Lens inside
All input signals are taken into the Gain Cell DAC in Native Mode, without Sample Rate Conversion (SRC) and fed directly into a simplified FPGA known as a CPLD (Complex Programmable Logic Device), which discovers sample rate and format, reclocks all incoming data, reduces jitter, waveshapes data output to the DAC chip, and utilizes high speed/low gate count logic to reduce propagation delay for faster throughput. This proprietary technology is called the Digital Lens.
The DAC chip itself is the acclaimed 32-bit ESS Sabre Hyperstream architecture, the output of which is passively filtered to reduce transient distortion. the Gain Cell DAC's power supply includes a large analog transformer, 7 regulators, properly-bypassed high-speed switching diodes, and a massive 15,000 mFd of storage capacitance.
The output stage is a unique Class-A configuration, fully balanced and direct coupled hybrid array (utilizing both discrete semiconductors and ICs), with an extended bandwidth of -3dB at 60 kHz feeding directly into Stellar's Gain Cell.
Asynchronous USB for PCM and DSD
The Gain Cell DAC features a high-resolution USB path based on the same XMOS technology found in our DirectStream DAC. Asynchronous and capable of 24-bit 384kHz performance for PCM and single or double rate DSD, the Gain Cell DAC USB input sounds every bit as good as the best digital audio is capable of. Using a high-quality USB cable between the Gain Cell DAC and your computer creates an instant media server that can be controlled through any number of handheld devices like an iPad, iPhone or Android using a 3rd party controller program. Your entire music library can be managed by iTunes, JRiver, Windows Media Player, Foobar, Pure Music, Bit Perfect, Media Monkey, Audirvana, or Ammara (to name a few) for ease of use. If you have yet to experience the pleasure of scrolling through your entire music library and selecting the next track at the touch of a finger, you're in for a quite a treat. With the Gain Cell DAC and a USB cable you can stream both PCM and DSD high-resolution audio, using nothing more than your computer and a handheld device to control and play your entire music library.
I²S input
I²S is the native format of all CD transports and many servers. I²S features a separate clock and data signal from the source. Typically, this clock and data signal are multiplexed together to be transmitted over a single cable in a format known as S/PDIF (Sony Philips Digital Interface), or AES/EBU (Audio Engineering Society/European Broadcast Union). Once received in multiplexed form, the DAC input must untangle the clock and data and once again separate them. I²S solves the problems associated with unraveling data of S/PDIF and AES/EBU formats. I²S outputs are sent via an HDMI cable and sources with I²S outputs can be purchased from PS Audio as well as other manufacturers.
The Gain Cell DACs I²S inputs are also compatible with our DirectStream Transport. What this means is important. The DirectStream Transport is one of only a very few players to output pure DSD from the locked SACD layer of SACD discs. Only PS Audio DACs, such as DirectStream and DirectStream Junior—and now Stellar—are authorized to play the pure DSD layer in all of its glory.
Choice of digital filters
The Stellar Gain Cell DAC offers the choice of three digital filters for users to select from. Each digital filter has a different sonic character and the choice of filters offers an excellent means of improving system synergy. No filter choice is wrong or right. Instead, each filter can be selected and auditioned by the user to more perfectly match their chosen collection of the amplifier, source, and loudspeaker, as well as personal tastes and biases.
Users can relax and use the supplied remote control to audition each of the three filter choices for best audio quality matching the system it is played on. Should users upgrade their amplifier, speaker or sources at some point, Stellar is there to help maximize performance.
Active vs. passive filtering
Once the digital audio data have been processed through the Gain Cell DAC's ESS Hyperstream 32 bit DAC, it's time to turn them into music and this is the job of the analog filter and output stage. Most DACs use an active filtering system to clean up the output of the internal DAC but this can add a harsh, bright sound to the music. In the Gain Cell DAC, we use all passive analog filtering giving our output a sweet, open sound unencumbered with harsh digital artifacts.
The challenge of the Gain Cell DAC's design
The real challenge designing the Gain Cell DAC was making sure both PCM and DSD were handled in a way that sacrificed as little as possible through the playback process. Entry level DACs that accept both PCM and DSD typically favor one format over another when it comes to voicing the device. The two designers of the Gain Cell DAC, chief engineer Bob Stadtherr and CEO Paul McGowan, worked together for nearly a year making decisions on power supplies, overall architecture, developing a custom, simplified FPGA for the input stage and voicing the output stage in a balanced and musical manner that honors both PCM and DSD formats.
The first choice was easy. Both Stadtherr and McGowan chose the ESS line of Hyperstream 32 architectures for the chip's unrivaled sound quality. Important to both designers would be bringing as much musical detail as possible out of Red Book CDs, and reducing the sonic gap between 44.1kHz/16 bit performance and high-resolution PCM and DSD. Lessons learned from years of building DACs aided design decisions critical to the mission of few musical compromises.
We believe that one audition of a simple CD, played through the Gain Cell DAC, will open your eyes to the magic these design efforts have brought. And once you hear what the Gain Cell DAC does on ordinary CDs, we can't wait for you to hear what the Gain Cell DAC can do for higher resolution PCM and DSD.
Pure analog + state-of-the-art digital
Whether you're playing a pure analog source like a turntable or the latest digital medium through the Stellar Gain Cell's zero-loss Analog Cell, you'll find yourself in audio heaven.
Key Features:
Work on the Stellar series began in 2015 with the goal of building a line of world-class, exceptional sounding, under $2,000 full-size chassis products at our Boulder facilities. What we hoped for was an affordable gateway into the world of PS Audio. We wanted to build a line of equipment we would be proud to place the PS Audio name upon, and customers would be equally proud displaying in their homes, at prices anyone can afford.
Our standards have always been high. In our forty plus years of business, we have never sacrificed quality, performance, or customer service when we launch a new product. If we can't proudly take a new product home and enjoy its musical delights, then it's never going to see the light of day as a PS musical instrument. Nothing is more important to us than honoring the music and those that use our products.
The first major challenge in Stellar's creation was how to build a beautiful, full-sized chassis, and still have budget enough for the level of audio quality we had envisioned. Once solved with the tireless help of PS Engineering and a cartel of local vendors eager to keep business local, our next hurdle was the biggest of all—crafting musical circuits that matched our lofty vision of sonic bliss. Nearly two years in the works, our vision of a locally built gateway line of musically gorgeous audio products took shape. The Stellar line became reality and one we hope will enjoy a lifetime legacy in the PS Audio family.
Each Stellar product is hand-built in our Colorado facility. We take great pride in what we build, how it sounds, and how the end user is treated. We're PS Audio, and making music and keeping our customers happy and thrilled is what we're all about.
This product has no reviews yet.
WHILE YOU ARE BROWSING
You may also like