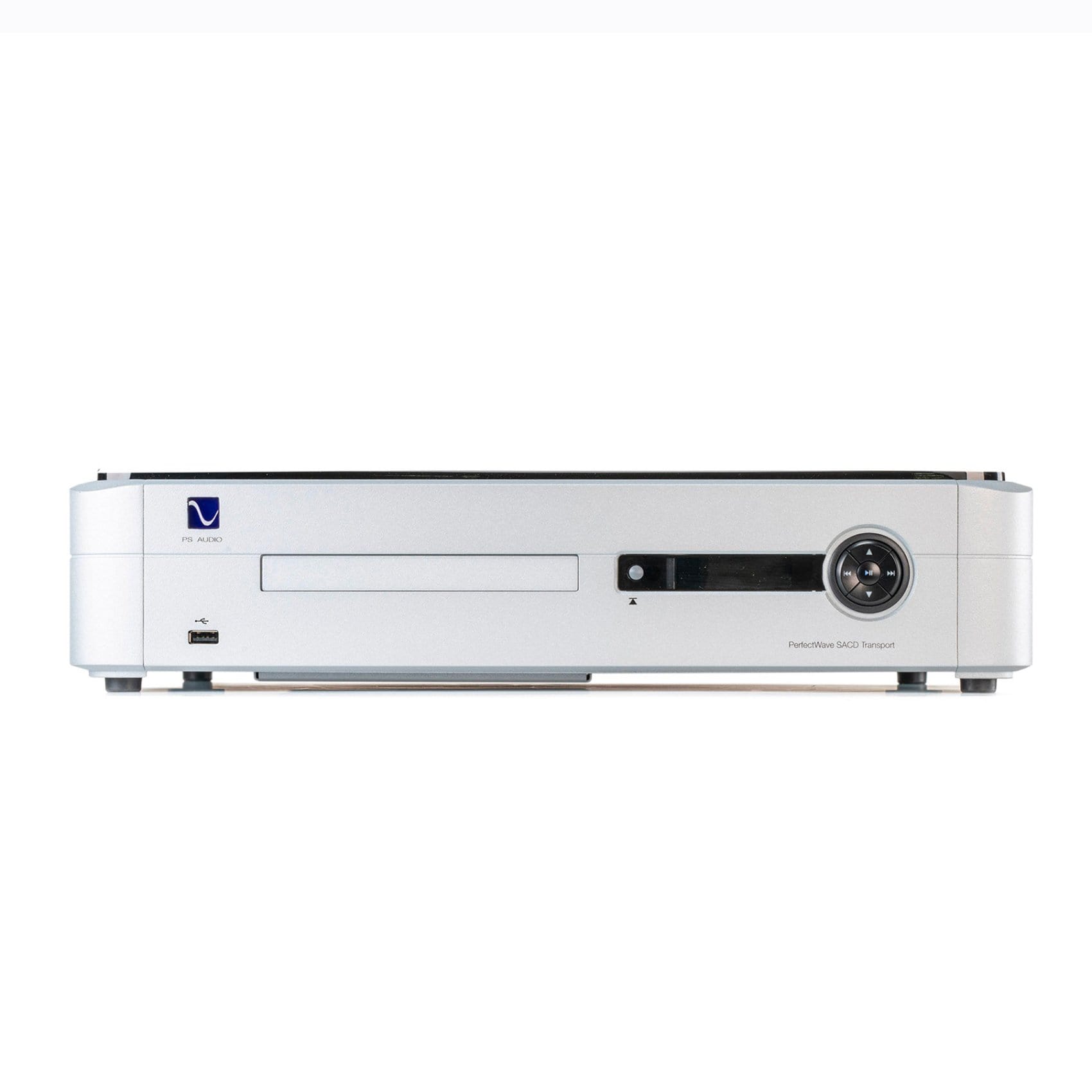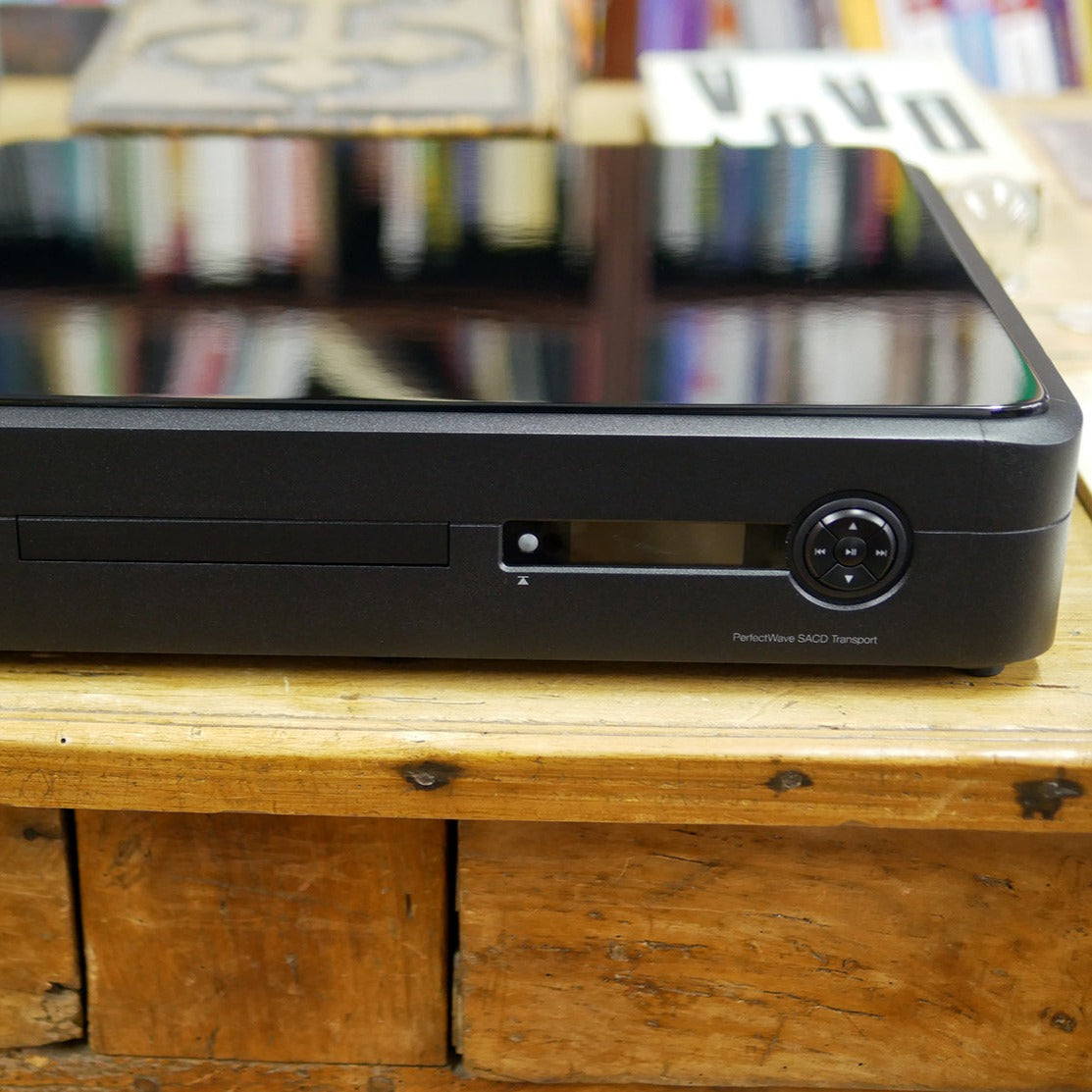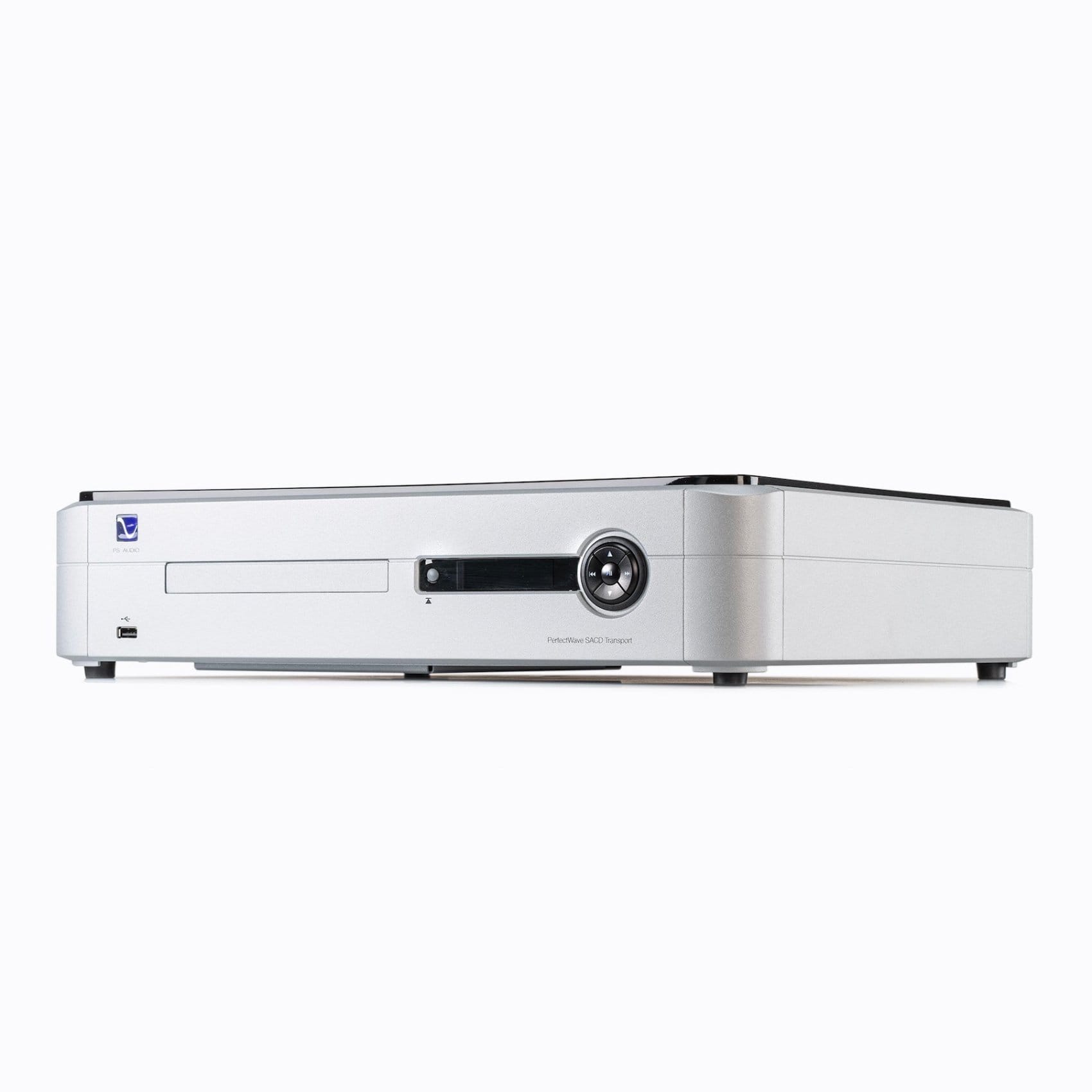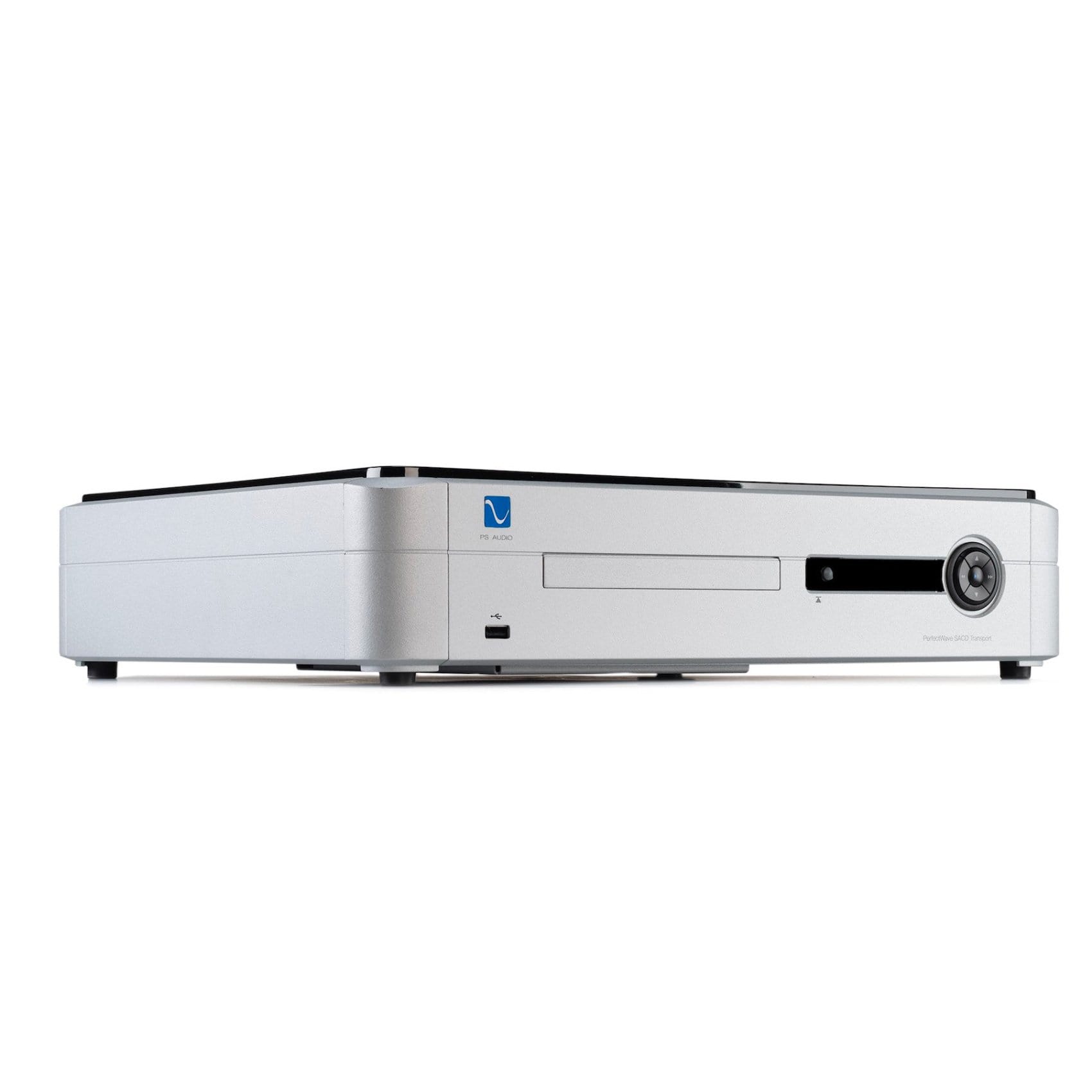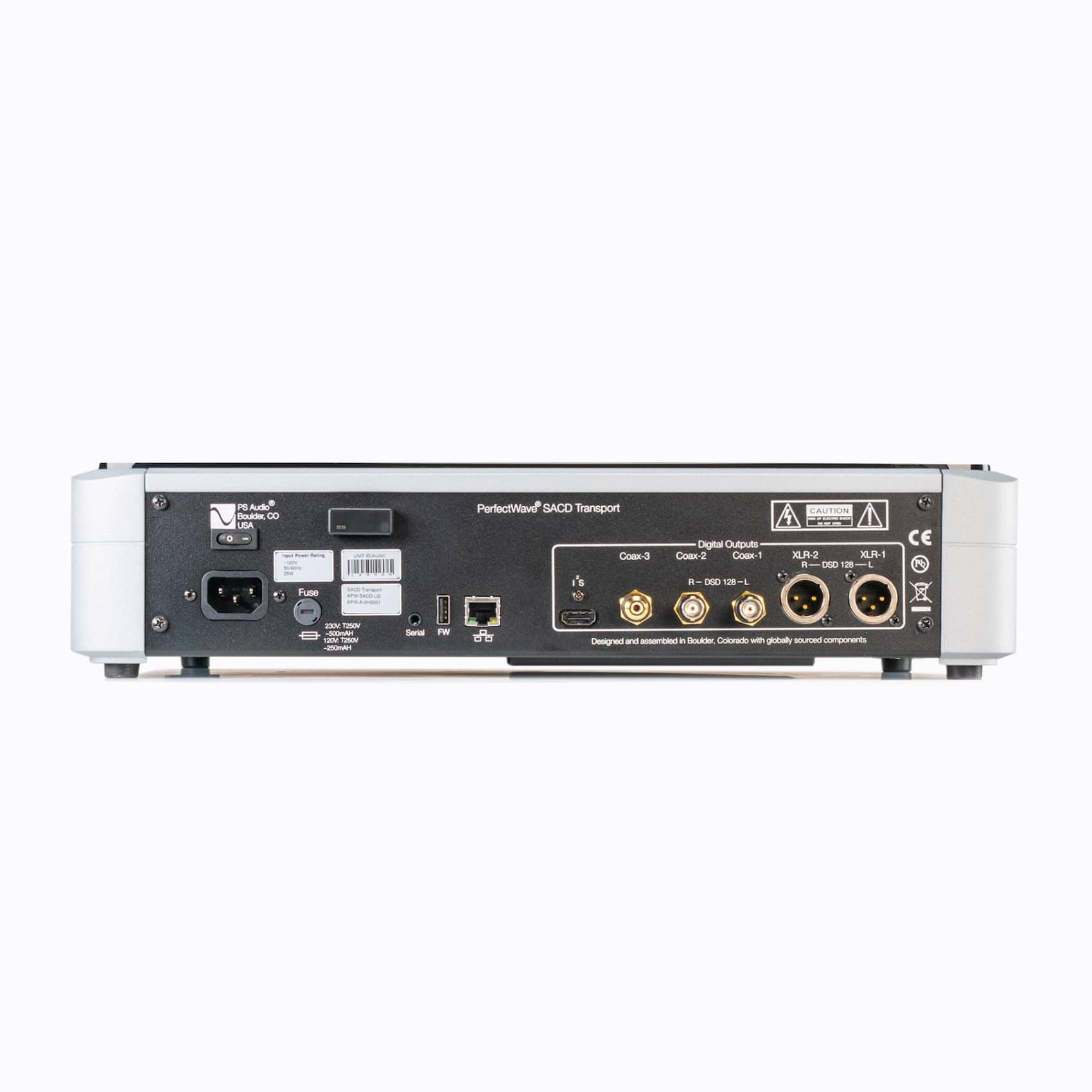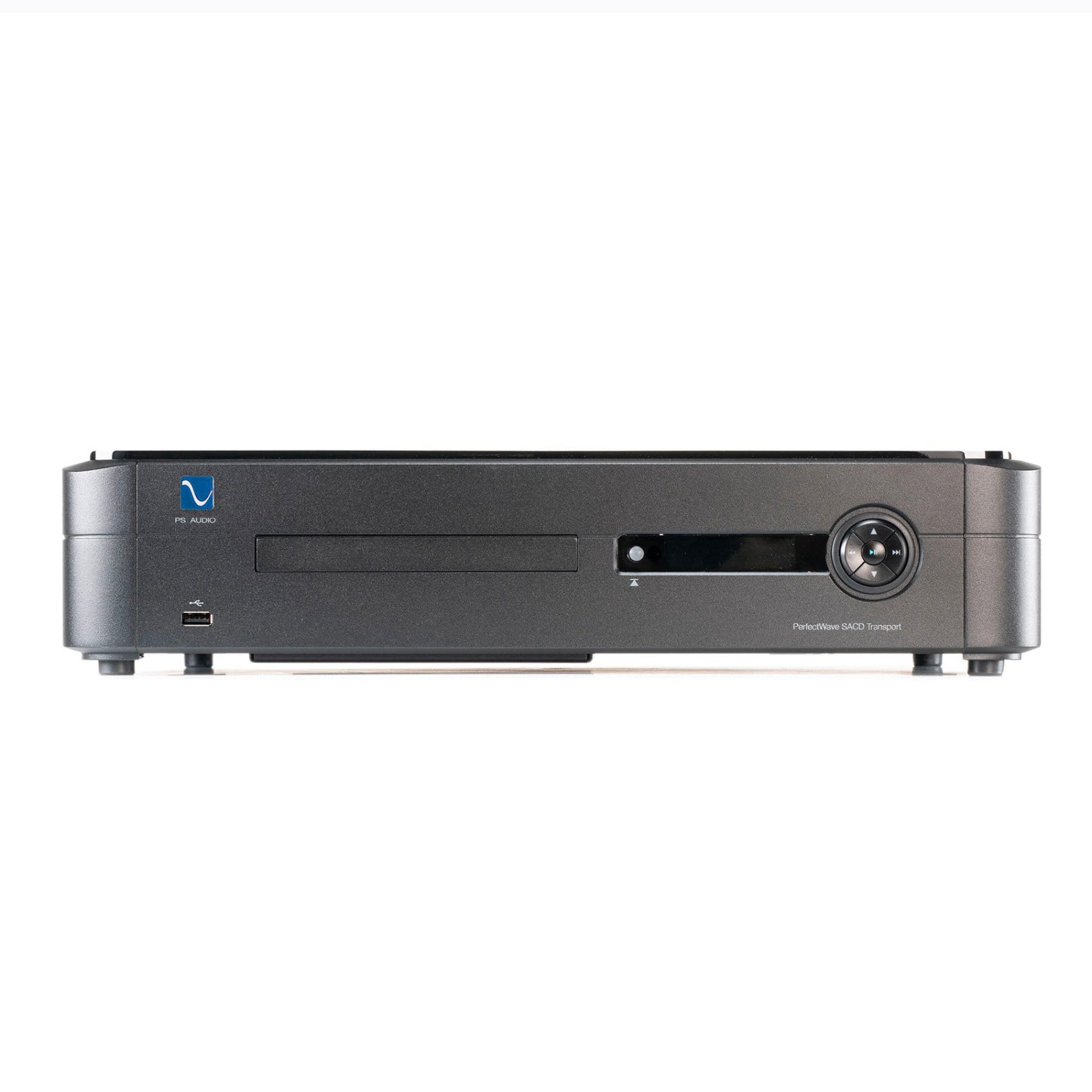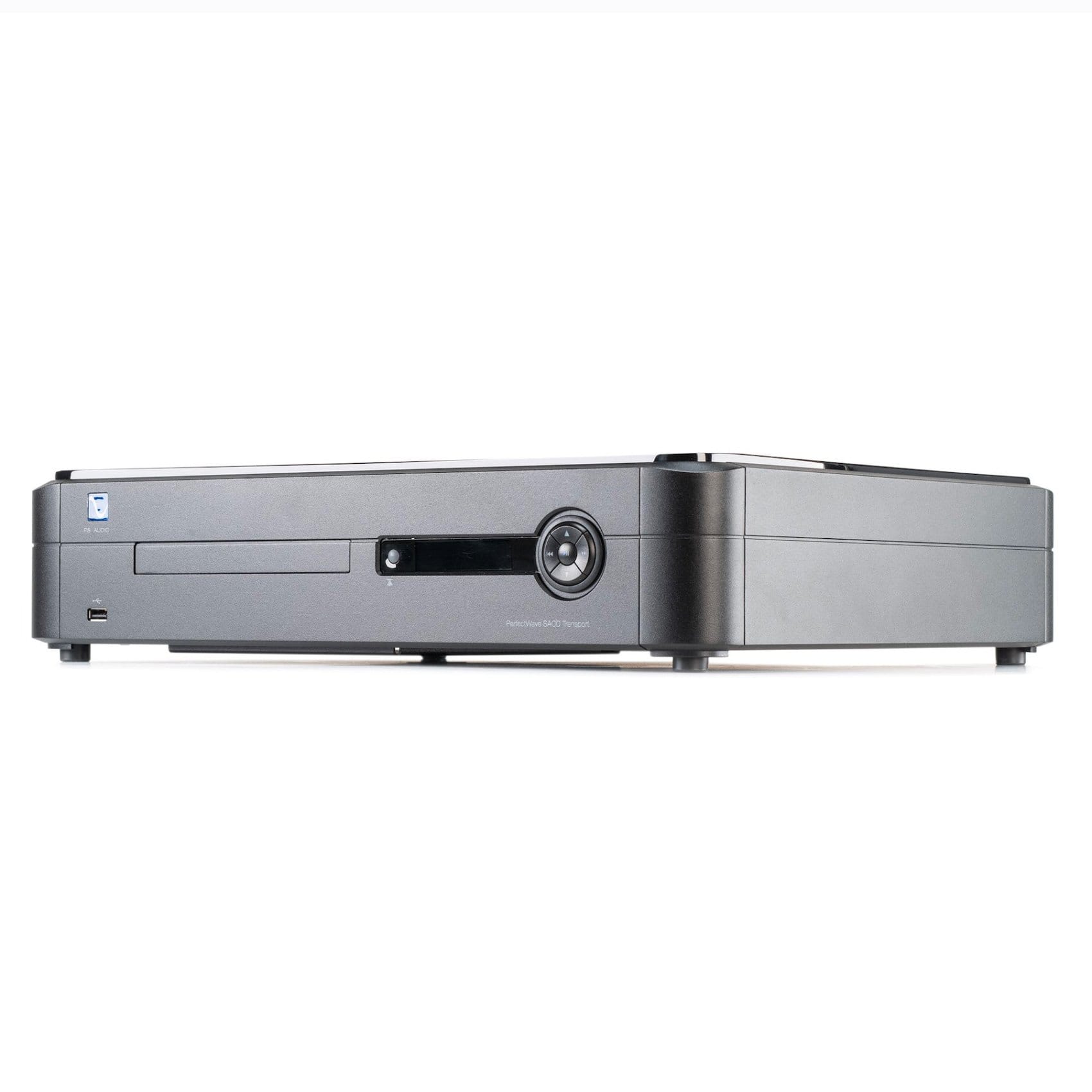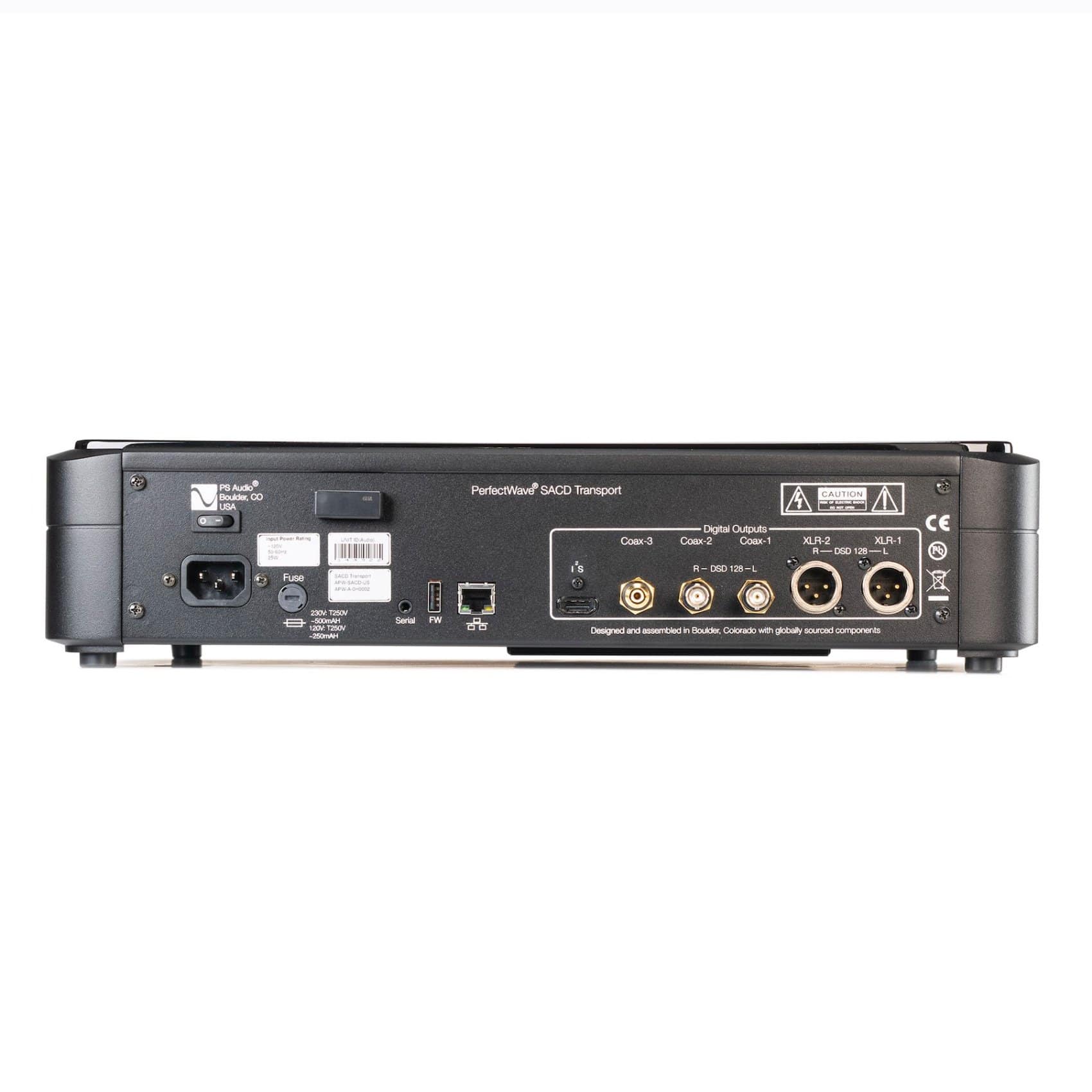 PS Audio PerfectWave SACD Transport
---
Specifications

Physical
 
Unit Weight:
9.97 kg
Unit Dimensions:
36cm x 43cm x 10cm
Shipping Weight:
14 kg
Shipping Dimensions:
52cm x 61cm x 25cm
Power Requirements
Input Power:
Model specific 100VAC, 120VAC, or 230VAC 50 or 60Hz
Power Consumption:
30W
Media
Optical discs:
SACD/CD/CD-R/CD-RW/DVD-R*/-RW*/+R*/+RW*(*Audio data file only)
USB Drive:
USB Flash Drive with audio files
Supported File Formats:
MP3/WMA/AAC (~48kHz/320bps)WAV/FLAC/AIFF (~192kHz/24bit)ALAC (~96kHz/24bit)DSD (~5.6MHz)
Outputs
I2S:
1 x I2S output for PCM and DSD (raw)
Coax:
1 x output for PCM and DoP
BNC:
2 outputs for PCM and DoPUse in tandem for double-rate DoP
XLR Balanced:
2 outputs for PCM and DoPUse in tandem for double-rate DoP
RJ45 and WIFI:
Ethernet and WIFI for over-the-air code updates
PS Audio Australia offer a limited warranty for 3 years from the date the unit was first purchased from PS Audio or its dealers and agents. If you do not register your product within 30 days of service, a copy of your purchase receipt from an authorised PS Audio dealer may be used as proof of purchase to establish the warranty start date. You can register your product online, by phone, by mail, or by email.
We offer free shipping on any product over $99. For full details please see our Shipping Policy.

Our returns policy lasts 30 days. If 30 days have gone by since your purchase, unfortunately, we may not be able to offer you a refund or exchange. For full details please see our Refund Policy.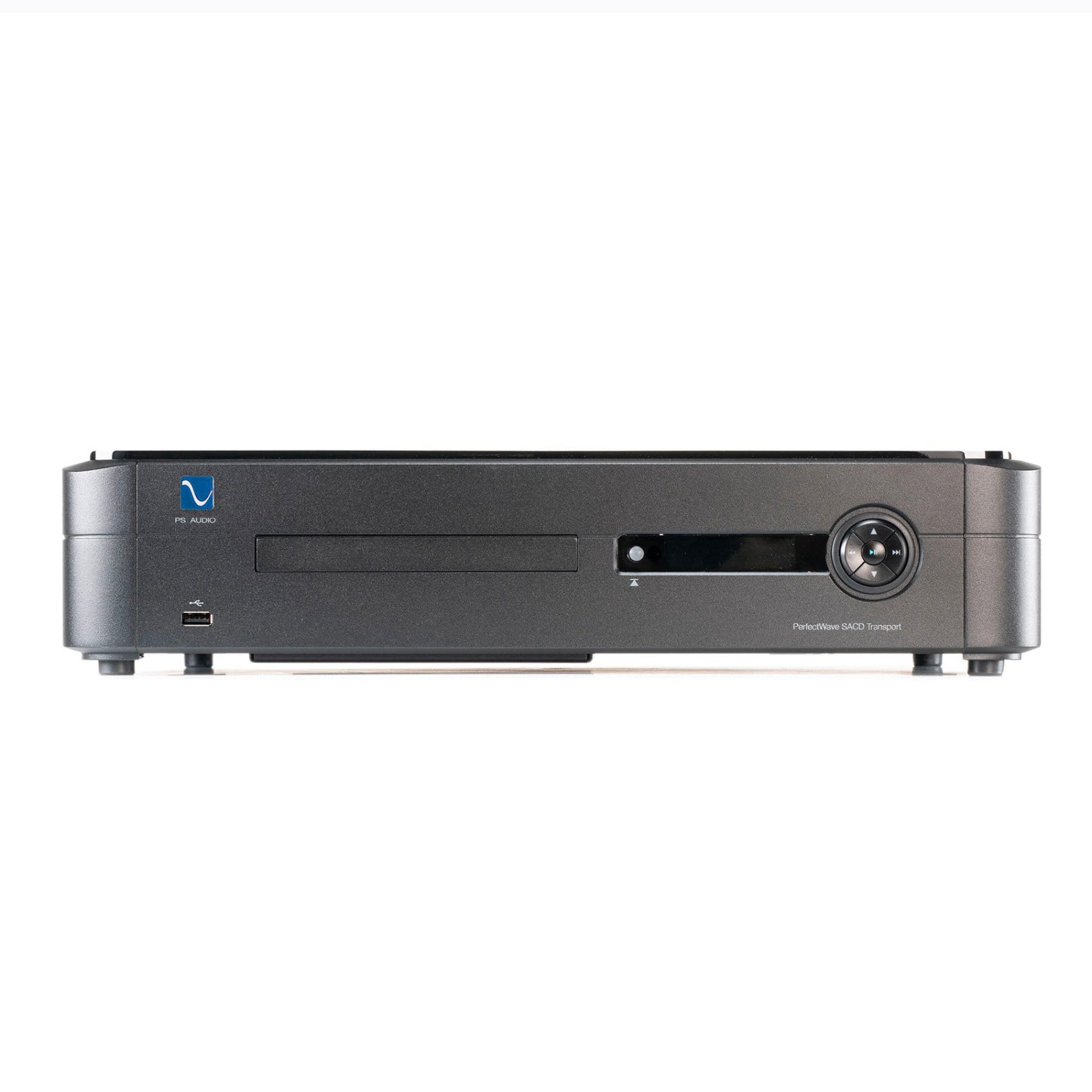 PS Audio PerfectWave SACD Transport
Unleash all that's been missing in your CD collection and, for the first time, hear what has been locked away on your SACD layer.
Locked inside your CD and SACD collection is a wealth of music you've not yet heard. How do we know that? Because we, like you, know what to expect from our reference discs. Imagine our surprise and delight as the first notes played on our new, galvanically isolated, PerfectWave SACD Transport. It was love at first listen. The PerfectWave SACD player is an engineering triumph—our finest achievement in musical reproduction and information retrieval from optical media.  Breathe new life into your CD collection played through any DAC. Send the raw DSD layer of SACD into your I2S input DAC so you can hear, for the first time, what's long been unavailable to external DACs in these high-resolution discs.
Manufacturers Details:
DESIGN
38 years after the introduction of the CD, PS engineers have continued our quest for perfection in the art of data extraction and delivery so you can finally hear what's been locked away in your CD and SACD collection. The PerfectWave SACD Transport (PST) is our most advanced optical disc transport. New to this model—and for that matter, any disc player ever made—is our galvanically isolated output stage. By coupling the output of the drive mechanism to the PST's internal Digital Lens by nothing more than a pulse of energy across space, any hints of noise or ground contamination are eliminated. The results of this complete isolation are magical: a previously unheard level of image separation, openness, and effortless reproduction. Never have we experienced noise levels this low—a seemingly velvet blackness that must be experienced to understand.
APPLICATION
CD, data discs, and SACD reproduction is unequaled by any other player we know of. CDs played through PST come closer than ever to high-resolution PCM and DSD, uncovering new layers of dimensionality, soundstage, depth and musicality previously unobtainable in other optical readers or server based audio systems. Like its predecessor, DMP, PST opens the long restricted DSD layer of SACD to PS Audio DACs. PST will deliver the raw DSD layer of copyright protected SACD directly into your PS Audio DAC through I2S. This means that for the first time you'll uncover the wealth of audio's finest digital medium, DSD, and hear exactly what the mastering engineers who created these discs have enjoyed all along. Hear what you've been missing with the PerfectWave SACD Transport.
Engineered With Care:
OVERVIEW
If you are like most of us, you still have a large library of physical discs. There's something about the tactile feel of opening a jewel case or pulling from a sleeve, the shiny silver disc, and enjoying what's captured on it. Despite today's trend towards streaming, CDs, SACDs, and data discs remain the best sounding media in many a library if a great disc reader is employed. None are finer or better sounding than PS Audio's PerfectWave SACD Transport. PST defines state-of-the-art performance. From the very first notes, you'll understand the sheer magnitude of performance increase brought to the system by PST. The secret to PST's ability to lower noise and jitter while extracting every nuance possible lies in its galvanically isolated output stage which separates both physically and electrically the pure digital audio data from its noisy environment. Hear more than you ever imagined possible on your discs with PST.
GALVANIC ISOLATION
Unlike the relatively quiet environment enjoyed by analog electronics, digital audio equipment is inherently noisy. Digital timing clocks running at high enough speeds to mirror those of radio transmitters is a serious technological challenge when the goal is a quiet, jitter-free digital audio output stream. Engineers have worked for years with shielding and advanced grounding technologies in an effort to keep noise levels at legal levels (let alone quiet levels). The most effective means of removing noise is by physically distancing noisy components from quiet ones and most important, electrical isolation. The standard means by which digital audio subsystems are interconnected is by the use of wires in the signal and power paths. These interconnecting media radiate high frequencies throughout the circuit and make noisy environments worse. PS Audio's solution is to both physically and electrically isolate PST's output stage: no wires, no ground connections, no common power supply interactions. Inside PST there are two completely separated power supplies: one for the noisy electronics, a second for the quiet output stage. Signals are transferred by a form of focused beam short-wavelength radio signals between the two boards. The results are spectacular. With PST playing your discs, musical information once hidden by noise and jitter are free to come to life.
DSD MASTER LAYER
The Sony/Philips introduction of the SACD (Super Audio Compact Disc) in 1999 heralded a new format of high-performance audio. Not since the original introduction of the Compact Disc in 1982 had there been a major improvement in the performance of digital audio. With the SACD, digital audio took a major leap forward, surpassing not only the Compact Disc but, to many, the performance of analog. The technology behind the SACD is DSD, a high-sample rate (2.8mHz or 64 times that of a CD) 1-bit recording system that achieves 120dB of signal to noise ratio and dynamic performance without any hint of digital glare. Unfortunately, the DSD layer on SACDs is locked and cannot be extracted from the disc for playback on an external DAC. That was until the introduction of the PS Audio PerfectWave SACD Transport. PST is able, through the use of our I2S output, to directly connect the DSD layer to a PS Audio enabled DAC. The results are breathtaking. Now, for the first time, SACD owners can connect directly to the master quality source locked onto the SACD's master layer. This is a major triumph for music lovers around the world. Hear for the first time what mastering engineers get to enjoy. The pure DSD Master layer.
Key Features:
SACD/CD/CD-R/CD-RW/DVD-R*/-RW*/+R*/+RW* (*Audio data file only)
PLAYS MP3, WMA, AAC, WAV, FLAC, AIFF, DSD, 2xDSD, AND ALAC FROM DISCS OR USB INPUT
2x BNC (COAX) OUTPUT FOR PCM AND DOP. USE IN TANDEM FOR DOUBLE-RATE DOP
USB DATA INPUT FOR STORED DIGITAL MEDIA
SACS DSD LAYER AVAILABLE THROUGH I2S OUTPUT
ADVANCED DIGITAL LENS TECHNOLOGY
I2S OUTPUT FOR PCM AND DSD (RAW)
2x XLR OUTPUT FOR PCM AND DOP. USE IN TANDEM FOR DOUBLE-RATE DOP
MEMORY PLAYER TRANSPORT
GALVANICALLY ISOLATED OUTPUT STAGE
1x RCA (COAX) OUTPUT FOR PCM AND DOP
LARGE ANALOG POWER SUPPLY
SEPARATE POWER REGULATORS
FPGA SIGNAL PROCESSING
NEAR-FIELD LATCH PLACEMENT
ZERO SETUP, JUST PLUG AND PLAY 
This product has no reviews yet.
WHILE YOU ARE BROWSING
You may also like