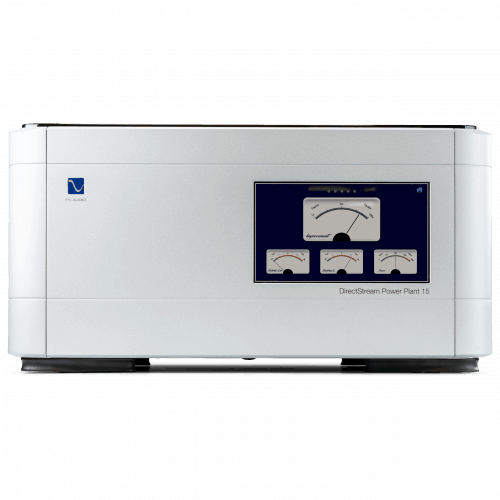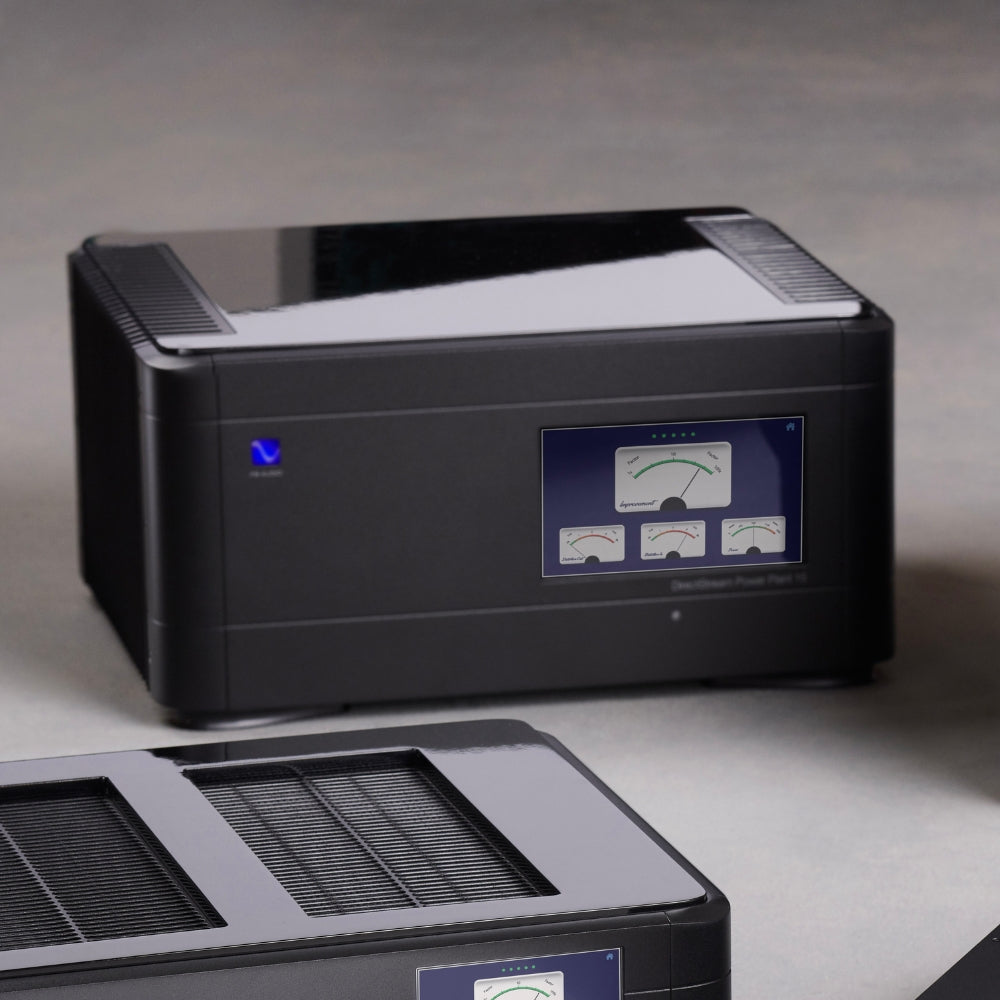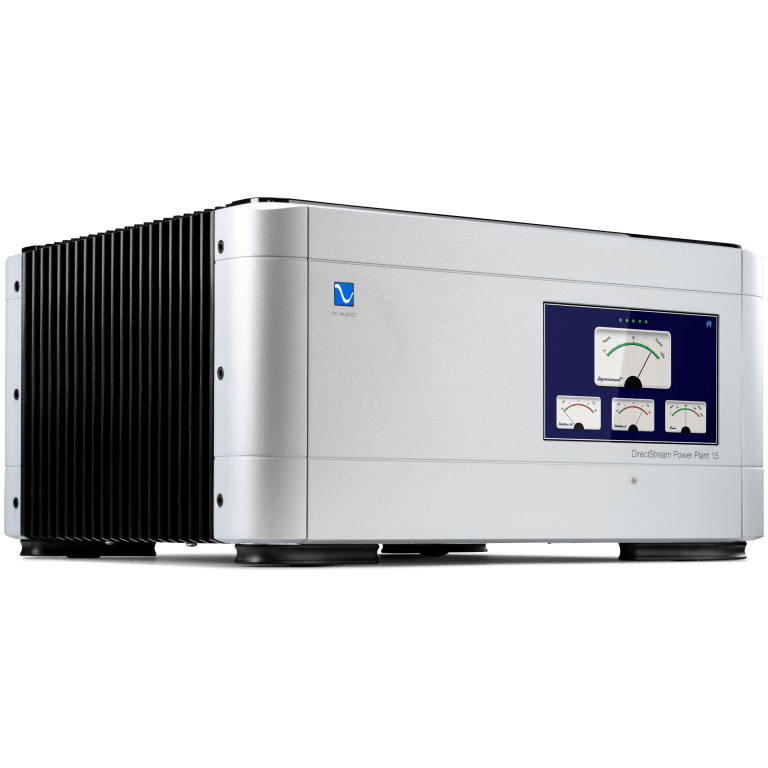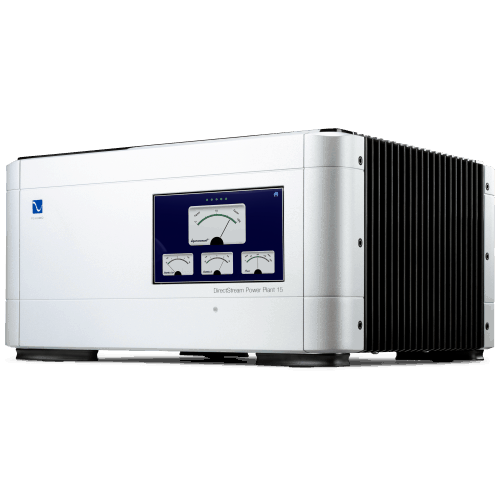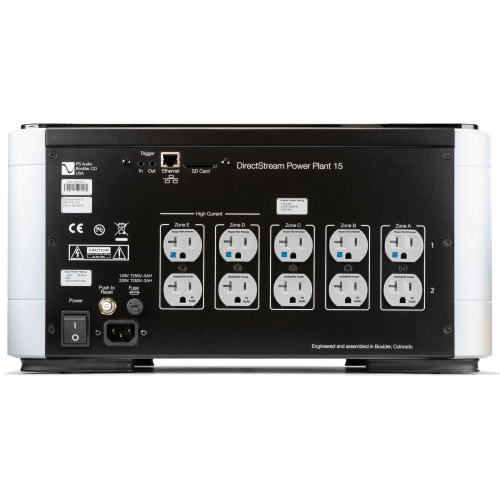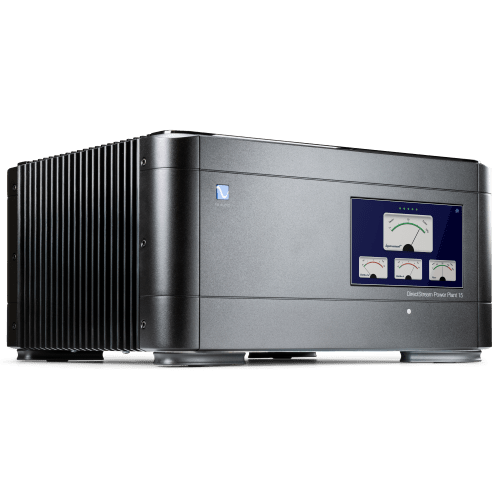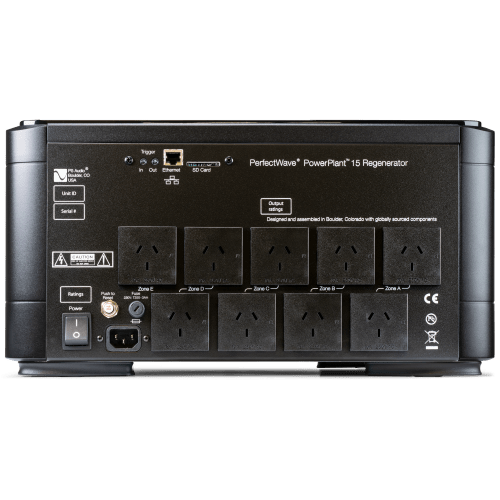 PS Audio DirectStream PowerPlant 15 AC Regenerator
---
Specifications

 ENVIRONMENT SPECIFICATION
EUROPE/ASIA:
Location:
Indoor use only
Duty Cycle:
Suitable for continuous operation
Moisture Sensitivity:
Not sealed against moisture
Operating Humidity:
<80%rh
Storage Temperature:
-40C to +40C
Operating Temperature:
0C to 40C
Max Operating Altitude:
3,500m
Electrical Supply Nominal Rating:
230V 10A 50/60Hz
INSTRUMENT SPECIFICATION
Unit Dimensions (W x D x H cm)
43 x 36 x 21.5 cm
Unit Weight: 
33 kg
Shipping Dimensions: 
58cm x 52cm x 34cm
Shipping Weight: 
38 kg
Nominal Input Voltage:
200 –285VAC
Maximum Continuous Load:
1500VA
Maximum Peak Load:
3600VA
Voltage Regulation:
1V
Output Distortion (Resistive Load):
<0.9%
Output Distortion (Reactive Load):
<0.9%0.1% typical
Output Impedance
<0.008 ohm
Noise Reduction:
100kHz – 2MHz >80dB
Efficiency at 1200 VA:
>85%
Input Frequency:
45 – 65 Hz
Under Voltage Limit:
Continuous -10% of setting 15 sec duration -15% of setting
Over Voltage Limit:
Continuous 5% of setting 15 sec duration 10% of setting
Energy Dissipation:
3670J
Peak Current Surge:
84,000A
Max Surge Voltage:
6,000V
Clamp Level:
800V
DC Trigger Configuration:
Tip Positive
DC Trigger Voltage:
5 – 15Vdc
Warranty:
3 Years
PS Audio Australia offer a limited warranty for 3 years from the date the unit was first purchased from PS Audio or its dealers and agents. If you do not register your product within 30 days of service, a copy of your purchase receipt from an authorised PS Audio dealer may be used as proof of purchase to establish the warranty start date. You can register your product online, by phone, by mail, or by email.
We offer free shipping on any product over $99. For full details please see our Shipping Policy.

Our returns policy lasts 30 days. If 30 days have gone by since your purchase, unfortunately, we may not be able to offer you a refund or exchange. For full details please see our Refund Policy.
PS Audio DirectStream PowerPlant 15 
AC Regenerator
Purify, protect, regulate, and rebuild unrestricted new power from old with the P15, our second most powerful AC regenerator.
Manufacturer Details:
The DirectStream P15 PowerPlant is the gold standard for safety, reliability, and high-performance AC power regeneration. The P15 improves micro and macro dynamics, audio purity, instrumental separation, soundstage width and depth, and lowers background noise for any connected equipment. From medium to large power amplifiers to the smallest pieces of source equipment, the P15 will work magic on your system's performance. Don't starve your music or risk damaging your equipment. A P15 gives you greatly improved performance and safety from just plugging into the wall socket and far better dynamics, bass and a much bigger, open soundstage than any power conditioner on the market.
Design
The P15 features an ultra-low impedance analogue power amplifier, FPGA based sine wave generator based on pure, clean, analogue DSD (PCM), 10 outlets (US version) across 5 separate regenerated zones, and 1/4" thick copper busbars that deliver regenerated power to each receptacle. Through regeneration, the P15 creates a completely new AC waveform that adds missing energy back onto the power line to correct for serious issues, such as distortion and voltage fluctuations.
Application
With a maximum output of 1500 watts, the P15 regenerates steady, regulated, pure AC that is unaffected by your equipment's demands for power. Powering your system from the outlets of the P15 will reveal new voices, new harmonics, and a renewed sense of musicality. As the gold standard for safety, reliability, and high-performance AC power regeneration, the P15 will ensure you receive the same great performance every time you listen and provide a firm foundation for your system.
Technology:
Overview
The DirectStream Power Plant 15 is the next generation of AC power regeneration. It has 5 separate regenerated zones, buss bar delivery system, and 1500 watts of pure regenerated power. From medium to large power amplifiers to the smallest pieces of source equipment, the P15 will work magic on your system's performance. Expect far better micro and macro dynamics as well as a cleaner, lower noise background. Power regeneration uses active components, like those found in large, powerful audio amplifiers, to rebuild the AC power and produce clean, clear, distortion-free, regulated AC to the equipment. The results are dramatic: unrestrained dynamics even under the loudest passages, an open, wide soundstage that does not collapse with volume and a naturalness to the music that is remarkable. The 7-inch, full colour display on the front panel of the P15 allows you to measure distortion, both incoming and outgoing, improvement levels, and power consumption. You can also adjust your settings, such as the turn on/off sequence and the output voltage, as well as turn individual zones on or off, and measure the power quality with either the built-in oscilloscope or the THD analyser.
Output
The P15 takes in your home's noisy, distorted, and unregulated AC and outputs pure and perfect power that dramatically enhances sound quality. It does this by rebuilding the AC, lowering output impedance, and regulating the voltage. Low output impedance is critical to maintaining a dynamic presentation. Powering equipment through a passive power conditioner only worsens the problem and should be avoided. The Power Plant, on the other hand, has such low output impedance (0.008Ω vs. typical 0.4Ω) that even the hungriest of amplifiers won't be starved for clean AC power. When your amp is asked to produce loud orchestral levels, you want to make sure it has all the power it needs and only a Power Plant provides a constant output regardless of the dynamic demands of equipment or your neighbours. Power Plants also generate new waveforms that enhance the capabilities of your equipment. MultiWave extends the peak charging time of the sine wave so connected equipment has more energy storage and less power supply ripple. The results are dramatic: a bigger more musically accurate soundstage than with a simple sine wave.
Protection
An electrical surge, or spiked transient, is an intense, short-duration voltage increase that travels through electrical wiring in our homes. It can severely damage connected equipment. Shielding devices from these potential electrical problems is mandatory if we're to protect our investment and ensure the safety of our homes. These electrical transients are not the only potentially damaging problems faced by our sensitive audio systems. There are also sustained over-voltage conditions that many surge suppression devices will not be able to protect equipment from. Owners who have invested in a Power Plant can rest assured their connected equipment will be safe from any power line event such as over voltage, under voltage, surges, spikes and potentially threatening problems. The input voltage to the Power Plant is fully protected by state-of-the-art clamping devices and the output of the Power Plant is fully regulated so even large voltage swings that would normally damage connected equipment are made safe by either clamping or regulating. In most cases, connected equipment enjoys the protection and performance benefits of fully regulated power, even under extreme circumstances.
Key Features: 
 Built-in Boulder, 

Colorado, USA

1500 VA output
3 x lower impedance than P10 PowerPlant
9 x

AU 

outlets
10 amp AC input AU
230 volt Regulated AU
Range 200 –285VAC AU
100% regenerated AC
Passively cooled
Pure Sine Wave
MultiWave
Integrated oscilloscope
THD meter
Improvement meter
Power meter
Control over the LAN
Adjustable output voltage
Colour touchscreen
Field upgradable
This product has no reviews yet.
WHILE YOU ARE BROWSING
You may also like