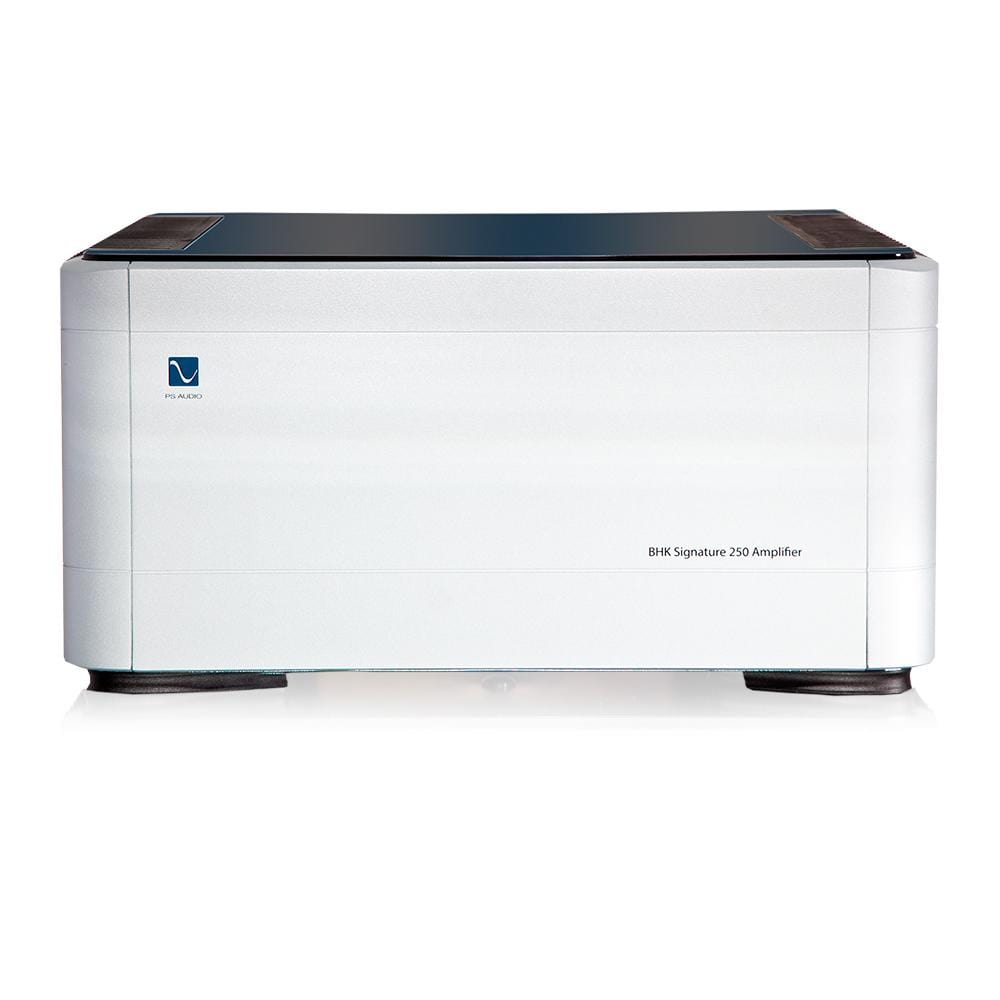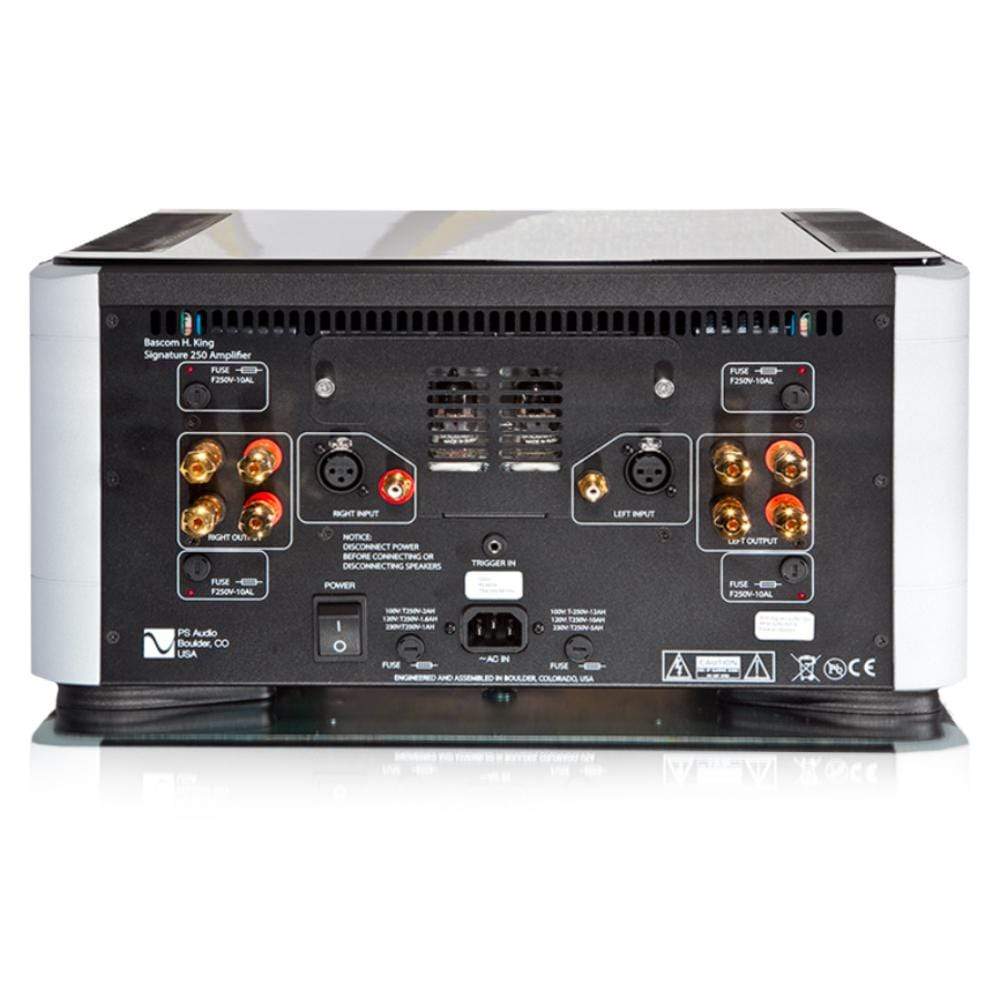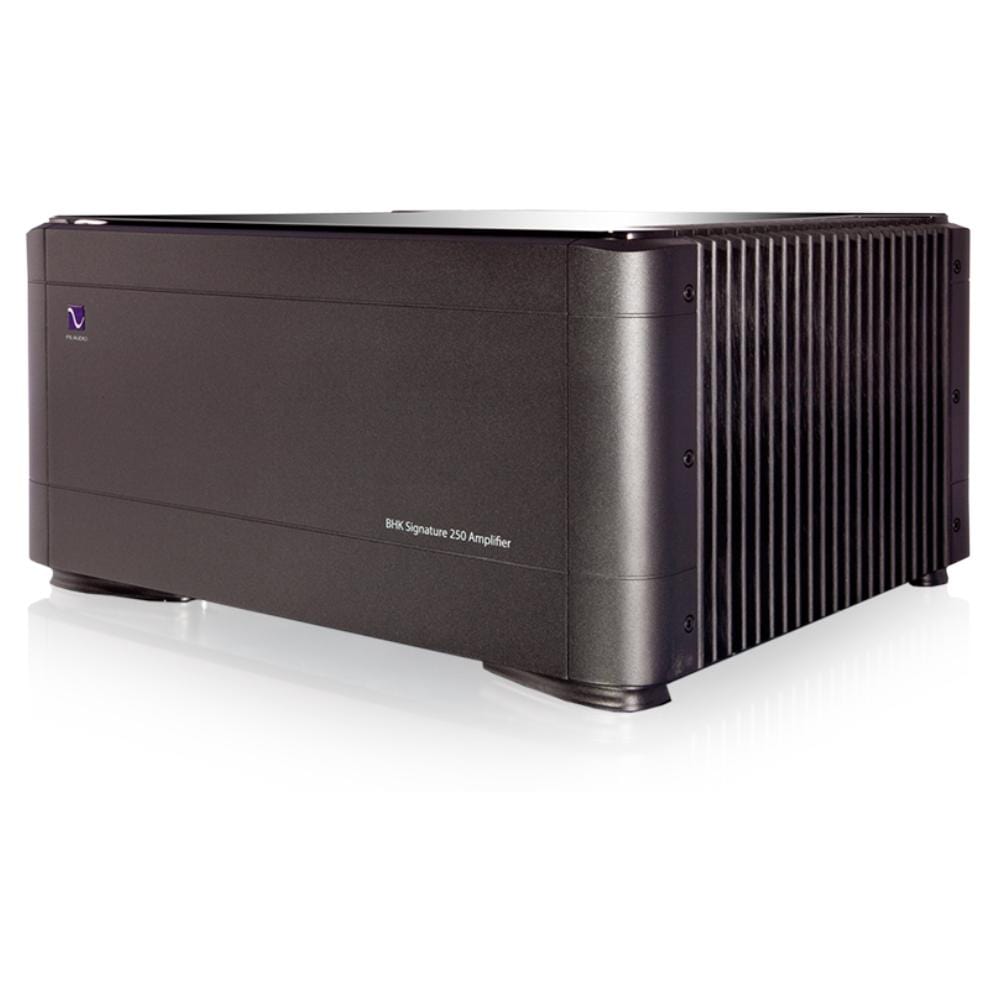 PS Audio BHK Stereo 250 Stereo Power Amplifier
---
Specifications

BHK Signature 250 Stereo and BHK Signature 300 Mono
 
Unit Weight
37.6 kg
Unit Dimensions
17.1" x 8.7" x 14" Chassis only. 15
Voltage OptionsFactory set only
Europe/Asia/Australia/New Zealand 230V
Mains Power Inputs
IEC C14
Fuse Compliment all Countries
4 - 10 amp fast blow H-Rated 5x20mm Rail Fuses
Fuse Compliment Mains
100vac Countries1 - 2 amp slow blow H-rated 5x20mm1 - 12 amp slow blow H-rated 5x20mm120vac Countries1 - 2 amp slow blow H-rated 5x20mm1 - 10 amp slow blow H-rated 5x20mm230vac Countries1 - 1.6 amp slow blow H-rated 5x20mm1 - 5 amp slow blow H-rated 5x20mm
Audio Inputs
RCA (Unbalanced)XLR (Balanced)
Speaker Outputs Signature 250
Gold plated copper binding posts (2 pair per channel)
Other
DC Trigger Input3.5mm 5-15VDC
Warranty
3 years parts and labor on unit1 year on vacuum tube
Power Consumption
@Ready
75 Watts
@Idle
175 Watts
@Rated power 8Ω
850 Watts
@Rated power 4Ω
1600 Watts
Signal
Gain
30.5dB +/-0.5dB
Sensitivity for rated output power of 250 watts into 8Ω
1.3V
Noise
100-20KHz <-85dBV
Input impedance Signature 250 stereo
Unbalanced 100KΩBalanced 200KΩ
Output Impedance
50Hz, 2.8VRMS <0.1Ω
Frequency Response
@2.8VRMS10Hz – 20KHz +/- 0.1dB10Hz – 200KHz +0.1/-3.0dB
THD&IM
1KHz, 1W/8Ω
<0.01%
20-20KHz, 1W/8Ω
<0.1%
1KHz, 200W/8Ω
< 0.1% (120VAC Mains input)
1KHz, 400W/4Ω
< 0.1% (120VAC Mains input)
Output Power
Both channels driven 120vac mains, 1kHz, 1% THD
8Ω
250W minimum
4Ω
500W minimum
2Ω
Stable for musical transients
Damping factor
>150
PS Audio Australia offer a limited warranty for 3 years from the date the unit was first purchased from PS Audio or its dealers and agents. If you do not register your product within 30 days of service, a copy of your purchase receipt from an authorised PS Audio dealer may be used as proof of purchase to establish the warranty start date. You can register your product online, by phone, by mail, or by email.
We offer free shipping on any product over $99. For full details please see our Shipping Policy.

Our returns policy lasts 30 days. If 30 days have gone by since your purchase, unfortunately, we may not be able to offer you a refund or exchange. For full details please see our Refund Policy.
PS Audio BHK Stereo 250 Power Amplifier
The BHK Signature 250 and 300 power amplifiers are the culmination of one man's half-century search for perfection in music's reproduction. Bascom H. King has designed amplifiers for many companies, some selling in excess of $100,000, including: Constellation Audio, Marantz, Infinity, and Conrad Johnson. This is the first amplifier Bascom felt was good enough to lend his name to. It is his finest achievement in a lifetime of work.
Available in both stereo and mono models, the BHK Signature series is unparalleled in its ability to render details formerly lost in the music. The BHK Signature is a hybrid design enjoying performance benefits from multiple design techniques including, a balanced differential vacuum tube input, balanced differential MOSFET power outputs, and separate, isolated, analog power supplies feeding each.
When it comes to musically controlling and powering loudspeakers, the BHK Signature has no peer. The stereo Signature 250 produces 250 watts/per channel into an eight-Ohm loudspeaker, 500 watts/channel into four-Ohms, and stable into 2-Ohms; enough power to satisfy even the hungriest of loads.
The Mono Signature 300 doubles the output current with half the impedance of the stereo model. Each Mono Signature produces 300 watts into an eight-Ohm loudspeaker, 600 watts into four-Ohms, and 1000 watts into 2-Ohms.  But more than just doubling the current, the BHK Signature 300 also doubles every internal component of the 250 into one: double tubes, double power supplies, transistors, capacitors and resistors. The results are hard to put into words. The BHK Signature 300 is a clear step above the stereo 250, on the order of 20% better, though both have the same character of sound. Both the Stereo 250 and Mono 300 are one of the best performing, musical sounding amplifiers ever made. Imagine your delight listening to either. 
Manufacturers Details:
The power amplifier is technology always present in stereo systems. Yet, despite the fact everyone uses them, few appreciate the power amp's critical role in preserving music's nuanced details, because most amplifiers fail to preserve them. Overtones from plucked instruments, subtle cues defining placement, depth, soundstage width, and transient decays are often lost in the power amplifier.
The BHK Signature power amplifiers are unique in their ability to faithfully pass even the tiniest of details. The first listen to the BHK is like pulling a blanket off the loudspeakers. Suddenly revealed are the tiniest of details that now ring clear through the BHK, perfectly preserved through its extraordinary bandwidth, low feedback, vacuum tube and MOSFET design.
The input stage is a critical interface
The connection between preamplifier and power amplifier is critical, for it is at this junction where most essential musical details are easily lost. Nothing in the design of a power amplifier is more important than its input stage when preserving music's finest nuances. In the BHK Signature a vacuum tube serves as the perfect interface between the preamplifier and the massive power output stage inside the BHK Signature. The input stage's seemingly impossible task of passing both delicate and powerful musical information without loss is made possible by massive numbers of free flowing electrons traveling within the BHK's vacuum tube; electrons quantities that are not to be found in transistors.
Used as the interface between the preamplifier and the input stage of a power amplifier, tubes have no peer. Invented by Fleming in 1904, and refined by deForest in 1906, the vacuum tube is unique amongst amplification devices: it boils an abundance of free electrons in empty space while modern devices pull fixed numbers through solids. A tube's high voltage, empty space, rich numbers of electrons and connection through unattached fields preserves details lost in the solidity of silicon. Tubes are the perfect interface between sources and power stages.
The BHK Signature input features a classic triode vacuum tube in a modern configuration. Hand matched pairs of Russian Gold Lion 6922s are self-biased with constant current and high voltage, free of timing and phase distortion without the use of negative feedback. They provide the perfect interface between the delicate musical transitions output by the DAC or preamplifier, and are electrically isolated from the BHK power output stage which is connected to the loudspeaker.
Engineered With Care:
The hybrid approach used in the BHK Signature takes advantage of the best traits technology has to offer, unavailable in traditional solid state or tube designs. While vacuum tubes are the perfect input stage, they cannot make the same claim on a power amplifier's output. Conversely, solid state designs are correct for output stages, but suffer when used as inputs. Only a hybrid approach takes advantage of the best in both disciplines.
A power amplifier connects its reservoir of energy to the loudspeaker through a type of valve (solid state or vacuum tube) controlled by the input stage. If the input stage has done a good job of preserving music's subtle details, textures, timing and phase information, transferring it without loss to the power stage and eventually the loudspeakers is best handled by a tube-like solid state device known as a MOSFET.
MOSFETs handle power without the additional circuitry needed by tube power amplifiers, and they sound better than tubes or their solid state alternatives, bipolar transistors. Field effect transistors were first invented by Julius Edgar Lilienfeld in 1925 and because they require very little current and operate with an invisible field, their sound is more closely related to vacuum tubes than transistors, without suffering any of the issues driving loudspeakers typical of vacuum tube power amplifiers.
Not all MOSFETs are the same, their differences characterized by their relationship with the input signal and the power supply driving them: N-types for the positive going signals, P-types for negative. It turns out that N-types have lower distortion and perform better than P-types. Despite this anomaly most power amplifier designs use both types of transistor in a configuration known as complementary symmetry. The BHK takes a different approach, one that avoids the problem of uneven performance between N and P devices altogether. Using only N Channel MOSFETS in its output stage, the BHK Signature produces a near-perfect balanced waveform without the degradation inherent in a complimentary design.
Key Features:
Work on the BHK Signature began in 2014 with the goal of building one of the top five power amplifiers in the world, regardless of price. Bascom H. King took the charge under the condition he be permitted to design and build the amplifier his way, without restriction and that is what happened.
Starting with a clean slate, he reimagined the traditional transistor and tube based amplifier as a hybrid, with vacuum tubes on its input and transistors on its output, an idea invented by him thirty years ago. In 1979 Bascom had designed the Infinity Class A, the world's first hybrid power amplifier, with tubes for inputs and transistors for outputs. Its success was great and reviewer J. Gordon Holt, founder of Stereophile magazine wrote: "it is the best sounding amplifier I have ever heard."
To maximize the benefits of the two amplification topologies inside the amplifier, it should be built as if it were two separate systems, each with their own power supply tailored to fit. Thus, the BHK Signature has two power transformers, one for the vacuum tube input stage, the other for the MOSFET power output stage. Regulation of the power supply for the input stage is important. Separate and discrete MOSFET regulators are used throughout to preserve details found in the music and keep noise levels to a minimum.
The path music takes through the amplifier must be pure and without a polluting sonic signature. Each passive component is hand selected to provide the cleanest path possible. PRP resistors, film and foil Rel Caps, and the finest sounding parts possible are hand soldered onto BHKs circuit boards. Bascom had insisted no surface mount parts be used in the signal path.
No expense was spared on the BHK. Even the output connectors are custom machined out of copper then polished and gold plated for best connection.
The BHK Signature 250 stereo amplifier, and the BHK Signature 300 Mono Amplifier embody one man's life's work and passion in the art of amplification. That these monuments to music can be offered to music lovers for less than $50,000 each is a testament to the years of experience invested in their design; that they are significantly less than $10,000 is a miracle.
This product has no reviews yet.
WHILE YOU ARE BROWSING
You may also like