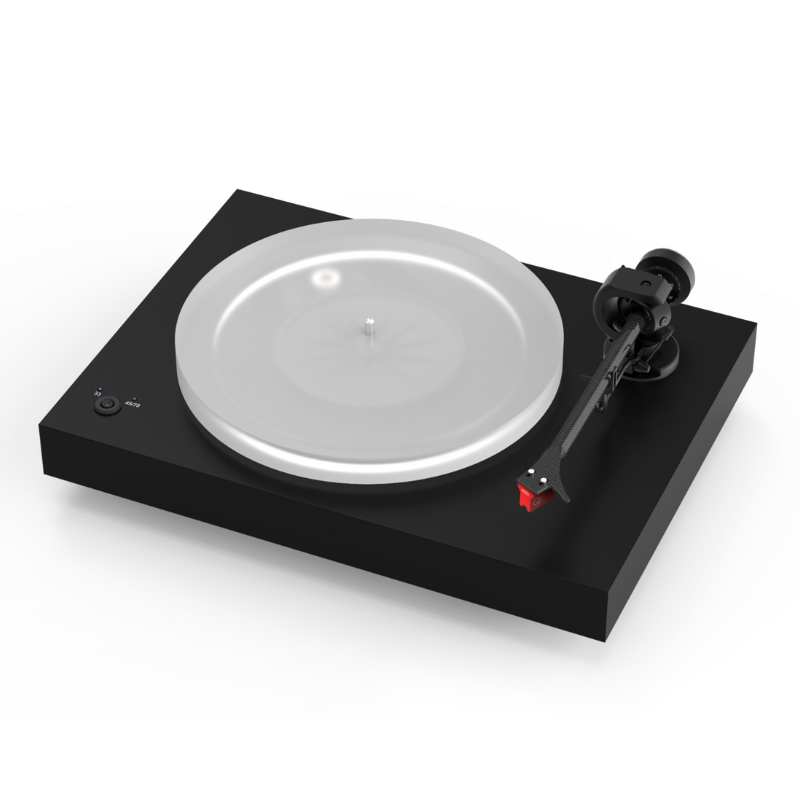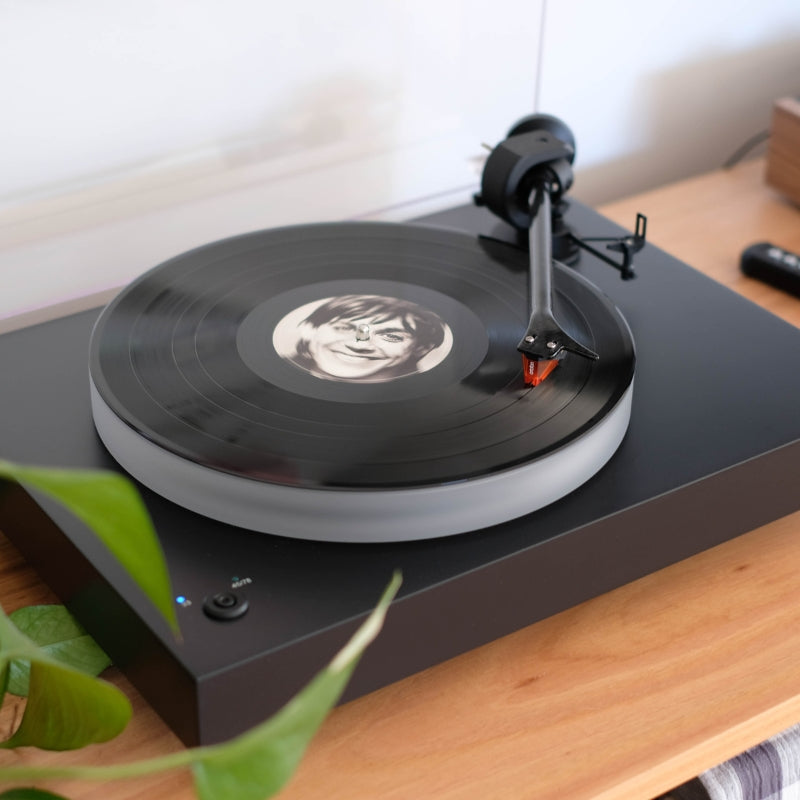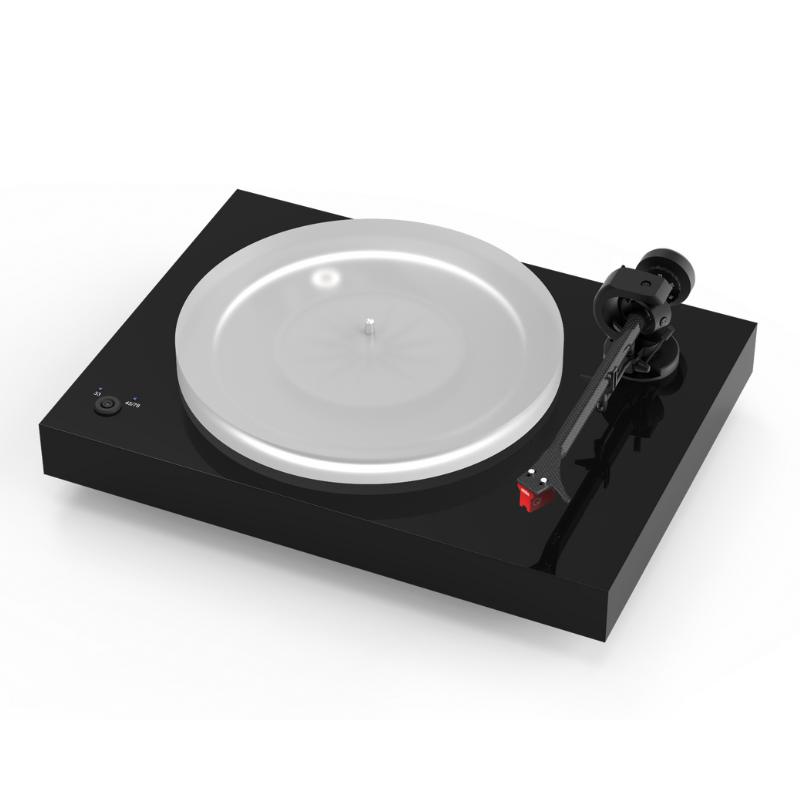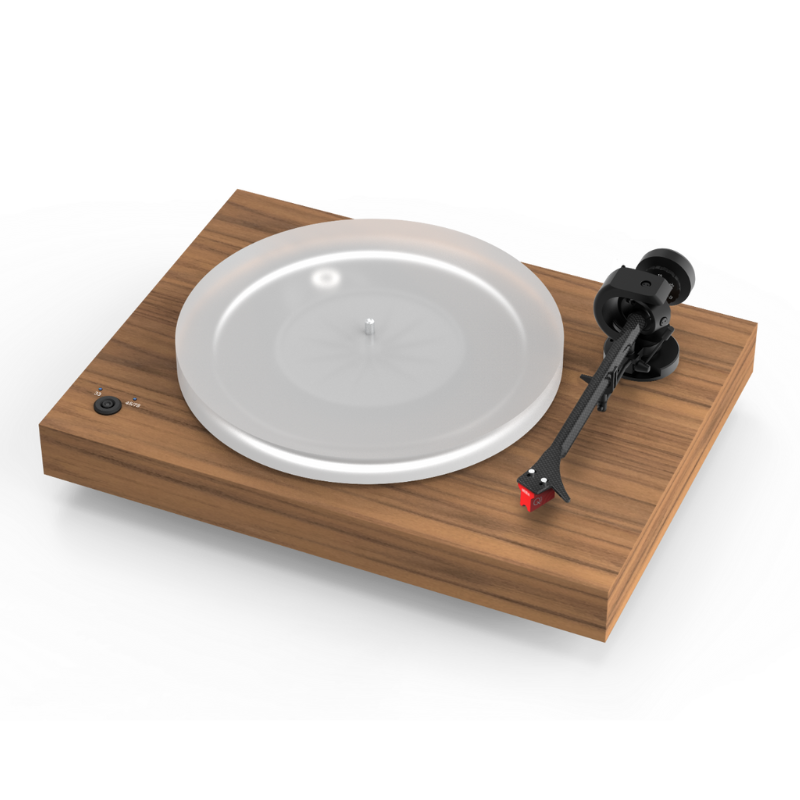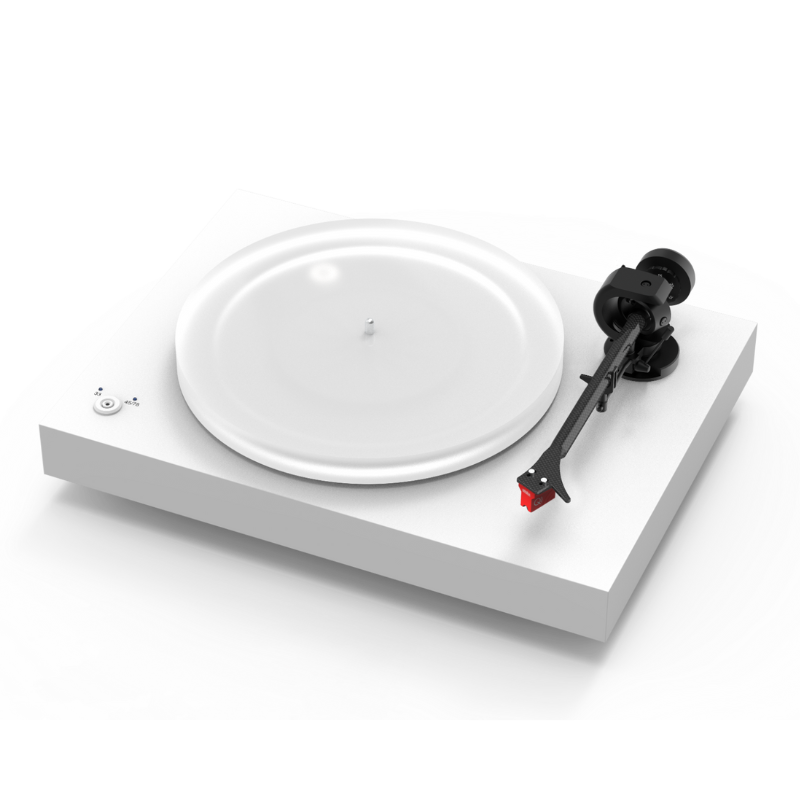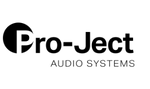 Pro-Ject X2 B Balanced Turntable
---
Specifications

| | |
| --- | --- |
| Speed: | 33, 45, 78 (electronic speed change) |
| Principle: | belt drive |
| Platter: | 30mm thick acryl, 2 kg heavy acryl |
| Main bearing: | Stainless steel |
| Speed variance: | 33: +/-0,25%; 45: +/-0,20% |
| Wow & flutter: | 33: +/-0,12%; 45: +/-0,10% |
| Signal to Noise: | 70 dB |
| Tonearm: | 9" carbon/aluminium sandwich tonearm |
| Effective arm length: | 9"/230 mm |
| Effective tonearm mass: | 13.5 g |
| Overhang: | 18.0 mm |
| Tracking force range: | 0 - 30mN (18mN recommended for Pick it 2M Silver) |
| Included accessory: | 15V DC / 800 mA power supply, dust cover, Connect it E Phono RCA cable, felt mat |
| Power consumption: | 4.5 W max / 0.3 W standby |
| Dimensions: | 460 x 150 x 340 mm (WxHxD) lid closed |
| Weight: | 10 kg net |
Pro-Ject Audio turntables and electronics are covered by a 2 year warranty from date of purchase.

Speakers are covered by a 5 year warranty from date of purchase.

Vacuum tubes used within components (such as the Tube Box S2) are covered for 90 days from date of purchase.
We offer free shipping on any product over $99. For full details please see our Shipping Policy.

Our returns policy lasts 30 days. If 30 days have gone by since your purchase, unfortunately, we may not be able to offer you a refund or exchange. For full details please see our Refund Policy.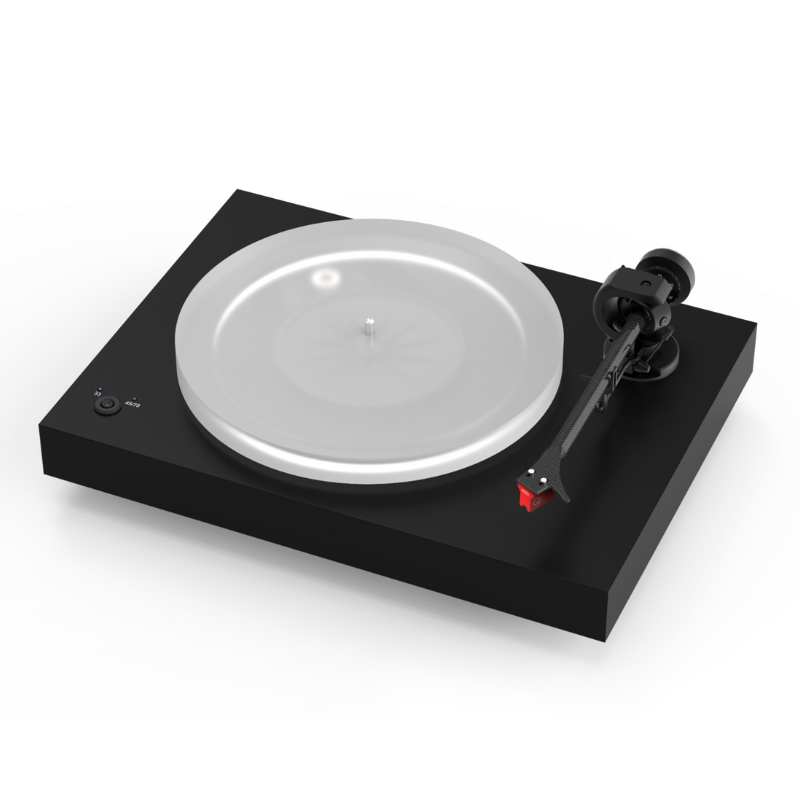 Pro-Ject X2 B Balanced Turntable
Cartridges are balanced signal transducers by nature; due to the internal wiring of MM cartridges, you'll need a MC cartridge to access the entirety of that balanced signal. The X2 B comes with an Ortofon Quintet Red MC cartridge factory aligned, and together with our new True Balanced Connection cables and our balanced phono stages you'll be able to access high-end features that were previously only available in the most expensive hifi categories. In combination with the Phono Box S3 B and X2 B, the True Balanced concept won the prestigious EISA Award for best Vinyl System. Read about that here.



Nat recommends:
Balanced audio connections are usually known from the professional sector like recording studios or live concerts. It is very important to have a stable & interference free connection, as these signals will be highly amplified. The same applies to the connection from your turntable to the phono preamplifier. The big advantage of a balanced connection is its ability to remove picked up noise and interferences. And best of all, cartridges by nature are already balanced signal transducers! With True Balanced your are simply using everything, literally everything, that your cartridge is picking up from the record groove. You are not throwing away half of the usable signal, like is done in typical single-ended RCA phono connections.
The X2 B comes with mini XRL and RCA outputs and with our standard semi-balanced Connect it Phono E RCA cable. By upgrading it to a fully balanced mini XLR to mini XLR version (available separately) and using a balanced phono stage, like the Phono Box S3 B or DS3 B, you are fully set-up for the True Balanced experience. This leads to increased dynamics, less noise and improved signal to noise ratios. You can imagine it, like hearing parts of your music that literally were not there before.


Manufacturers Details:


True Balanced
Unleash the full power
Connect your X2 B with one of our new True Balanced Phono Cables to your phono preamp and benefit from an interference-free signal with increased dynamics & lower noise level.
Mini XLR Output
One cable connects it all
We offer a wide range of balanced phono cables with different connectors to fit all our phono preamps. If you want to use your X2 B with a Phono Box S3 B you need a Connect it Phono Mini XLR / Mini XLR.
Balanced Preamps
A perfect match!
Pair your X2 B with one of our new balanced Phono Boxes and benefit from a fully balanced signal transmission to your phono preamplifier. Check out the new Pro-Ject Phono Box S3 B & DS3 B phonostage for further information.

The Chassis
Every aspect of the X2 is crafted to a premium standard, to ensure a sublime experience for all senses. The dense MDF plinth gives the X2 a solid feel that reflects its quality construction, while also providing another line of resistance against unwanted vibrations that can spoil your music. The gorgeous Piano Black finish is painted in eight careful layers and hand-polished for a lustrous feel that you'd expect to find on a far more expensive product. The Walnut finish has a more natural feel, bringing an understated elegance to spaces with warmer décor.
The Motor
The motor of the X2 has superb vibration expulsion. The motor suspends on a free-floating TPE belt with no points of contact to the chassis body, eliminating unwanted vibrations from the motor through to the turntable.


Engineered With Care:
The Tonearm
Sporting a 9" carbon fibre and aluminium sandwich construction tonearm, the X2 tonearm is perfect for the vinyl enthusiast looking to elevate in clarity and cartridge. It is suited to heavier cartridges with refined stylus profiles that require very precise alignment. VTA and Azimuth adjustments are also on-board, giving you the perfect upgrade path for future enhancements to your X2's playback.
Carbon fibre is popular in high-performance cars and bikes, prized for its incredible strength while adding very little weight. That same strength-to-weight ratio makes carbon fibre an ideal material for a tonearm, making it stiff (so the tonearm doesn't flex or bend, which causes distortions) while keeping it light enough to respond smoothly to the movement in the record grooves. The result is a detailed, clear sound that brings your records to life like no other. Carbon fibre also shields the sensitive tonearm wires from interference, keeping even more distortion from creeping into your music. The addition of aluminium to the construction of this tonearm ensures rigidity and longevity of your tonearm for years to come.
Push Button Speed Control
The X2 will play any record you have. Switch easily between 33⅓ and 45 RPM records with the X2's push-button speed control, and even play 78 RPM records with a suitable cartridge and change of belt (included in the box).


Heavy Acrylic Platter
The 30mm, 2kg platter of the X2 makes for a highly stable and consistent playing ground for the 9" tonearm, allowing it to transpose the information in the grooves with minimal feedback or interference. More than just an eye-catching aesthetic feature, the translucent acrylic platter is a perfect companion to vinyl, making sure nothing extra is added to the sound so you can enjoy your records exactly as they were intended. The X2's 2kg acrylic platter helps ensure smooth, accurate speed as well as further resisting unwanted vibrations.


Key Features:
More mass in the chassis, platter, and tonearm: Structurally, the X2 is supported by its large, heavy, dense and stiff MDF structure, reducing unwanted resonances to almost imperceptible levels. By adding this extra mass, the X2 is even quieter, allowing the vinyl reproduction to become more detailed and precise. Inside, it houses a sophisticated DC/AC generator board which, combined with the convenient speed control board, delivers clean and stable power to the silent motor system. The tonearm is longer – 9" in length – and the tube has a wider diameter and the carbon/ aluminium sandwich construction results in better internal damping. This also means, the entire tonearm bearing is upgraded to compensate for the extra mass; altogether tracking will be more precise, stable and accurate. The increased mass makes the tonearm an excellent fit for low compliance MC cartridges. The one-piece design avoids vibrations caused by detachable headshells. The TPE damped counterweight reduces arm-cartridge resonances by as much as 50%.
Precision tuned motor isolation: A good motor by itself, is already very quiet. To get the best performance out of it, we have improved the motor suspension. This will allow the motor to run stable and free from outside influences. Remaining vibrations are damped and eliminated, so they are not transmitted onto the chassis, platter and cartridge. The X2's motor chassis is carefully balanced and suspended on a precision-tuned TPE belt; this way the motor chassis is effectively decoupled from the main plinth for optimal performance. It is free-floating, horizontally completely level and able to operate at the highest performance levels.
Better Audiophile Features: Full aluminium tonearm base instead of a cheap plastic flange for better and stiffer fixing to the chassis with Azimuth and VTA adjustment.
Better Feet: Height adjustable, isolating Alu/ TPE sandwich feet.
Better Cable: All our turntables come with a high-quality phono RCA cable. Our Connect it E is a semi-balanced, low-capacitance cable, with superior shielding. Compared to other digital and analog music sources, the signal coming from a turntable cartridge is very fragile in nature and cheap RCA cables often do not provide the ideal conditions for getting a phono signal to an amplifier. The Connect it E is purpose-designed for this exact application.


This product has no reviews yet.
WHILE YOU ARE BROWSING
You may also like