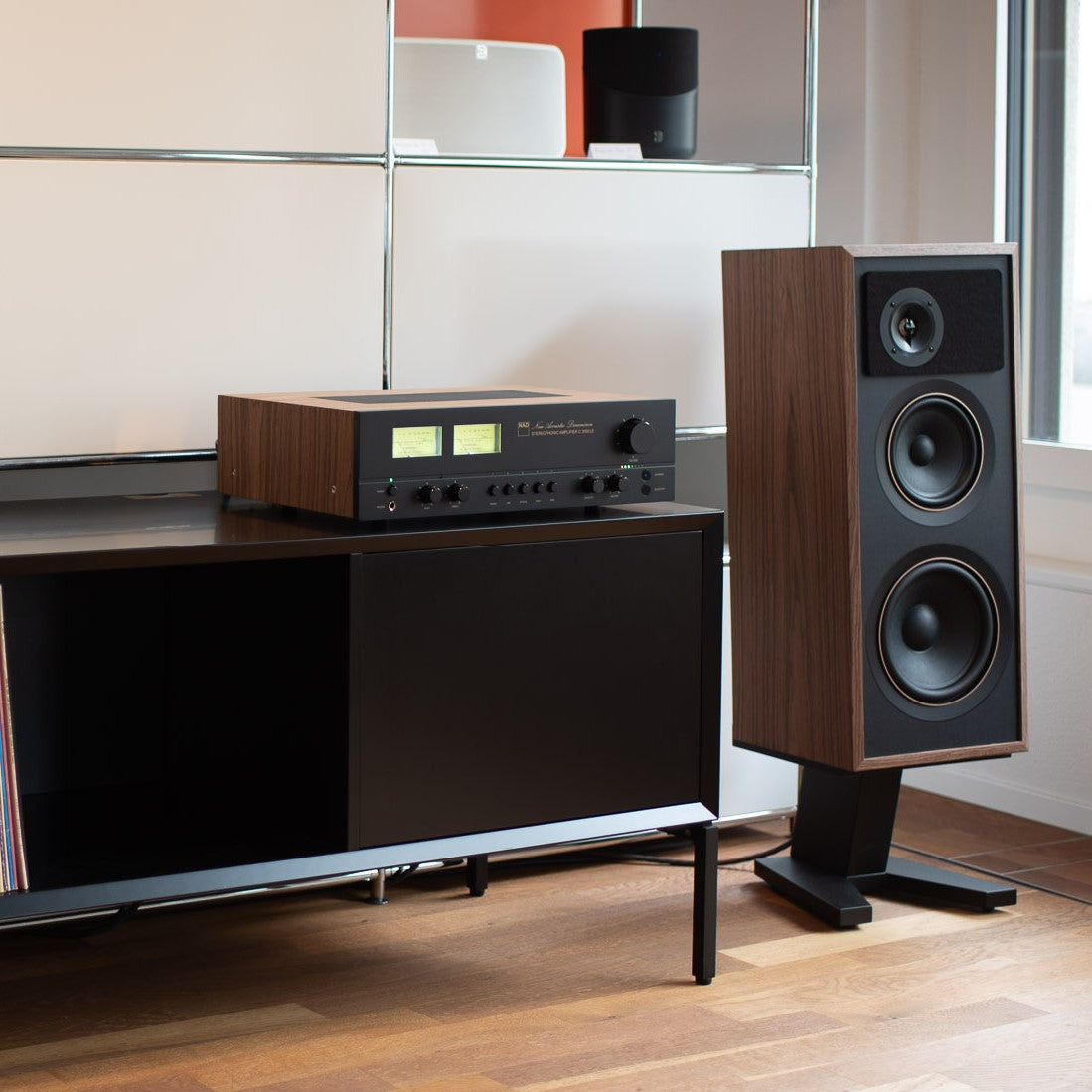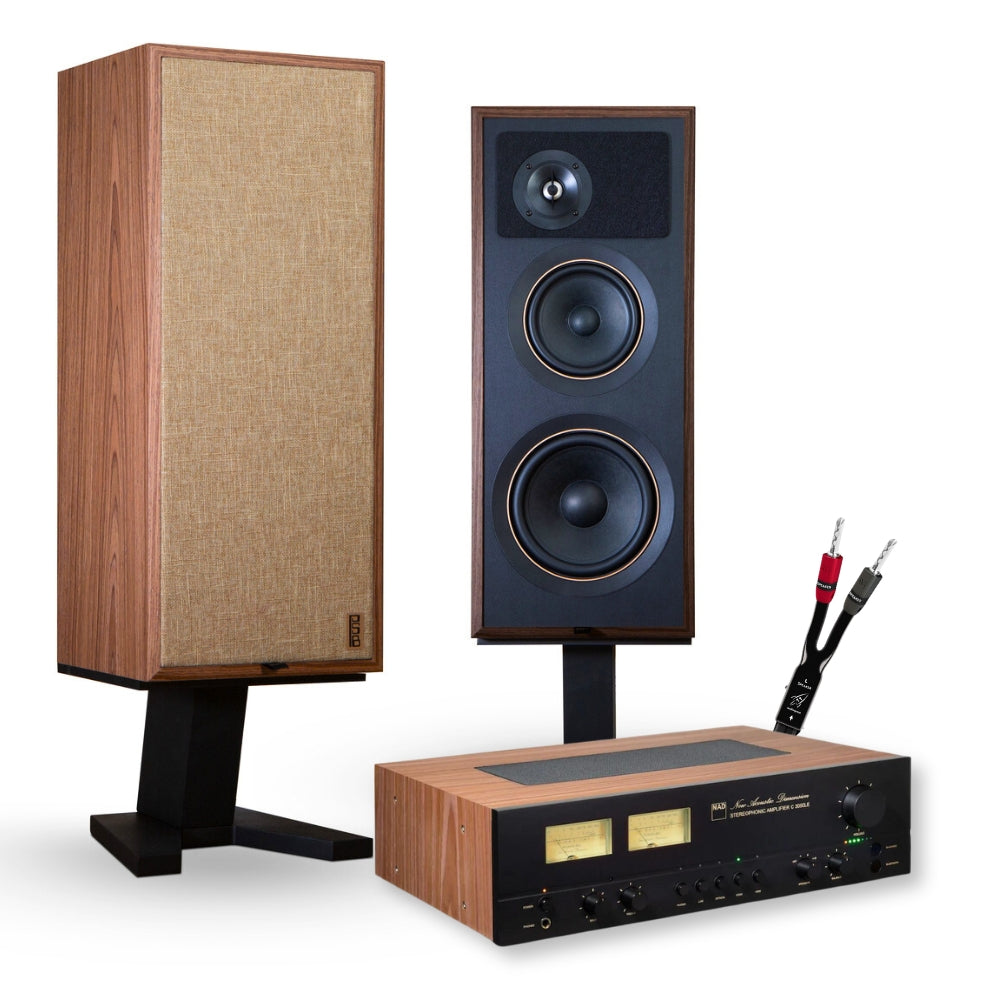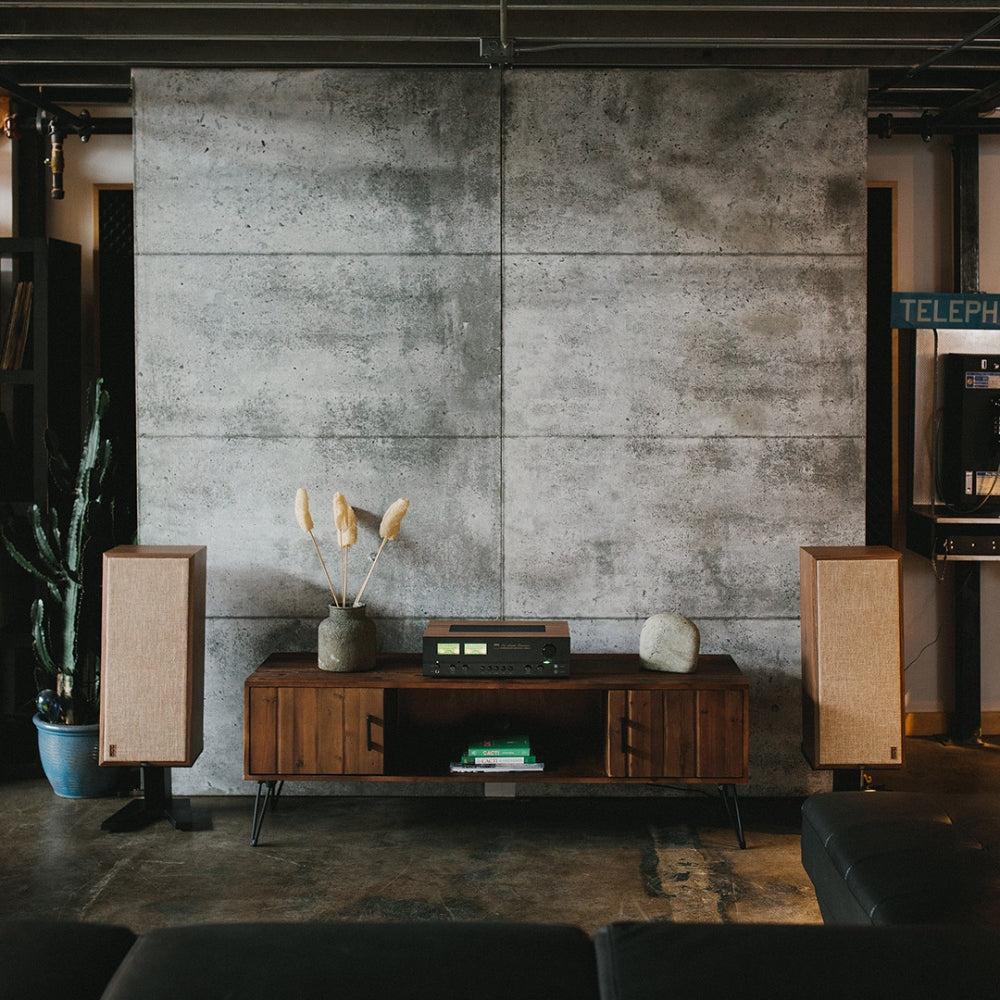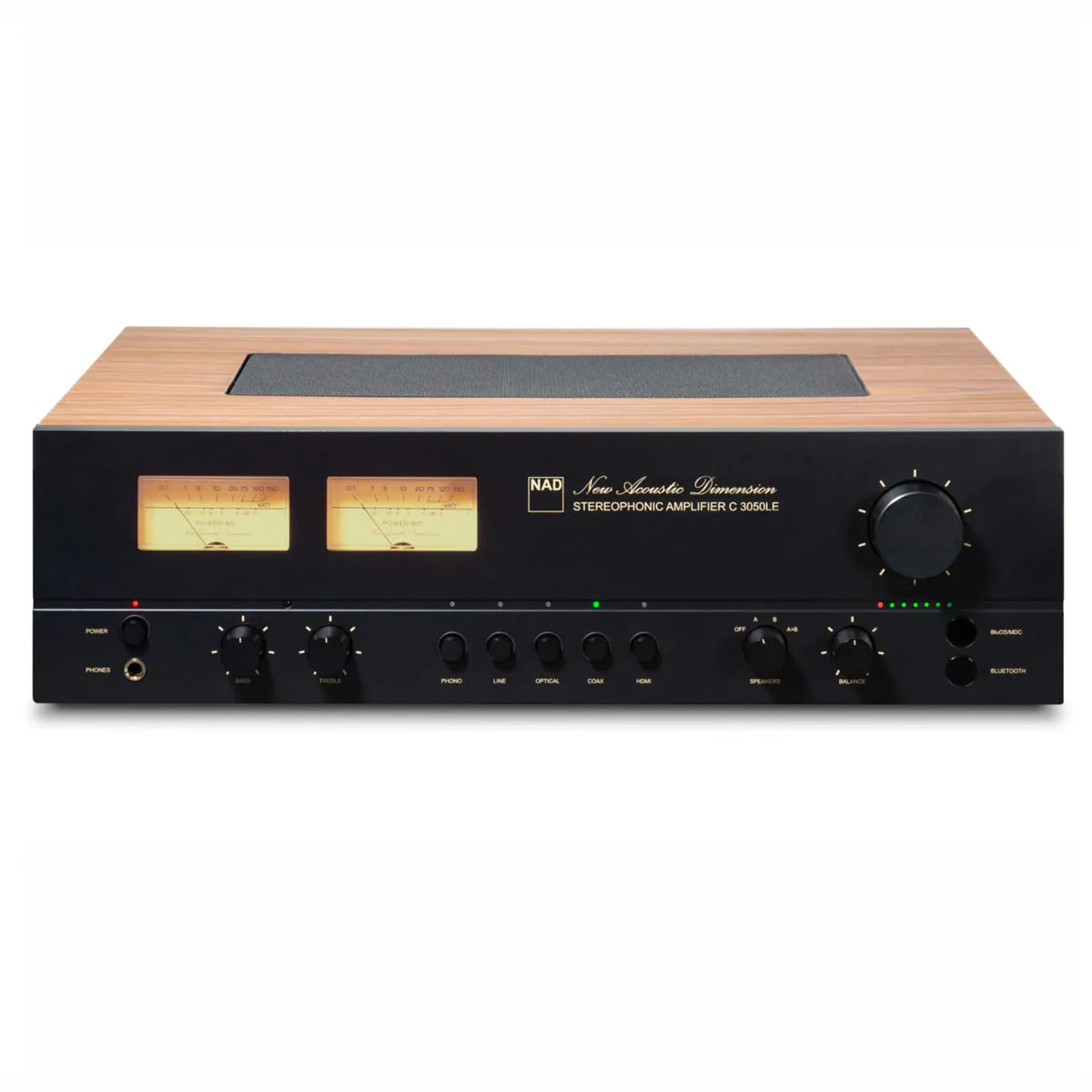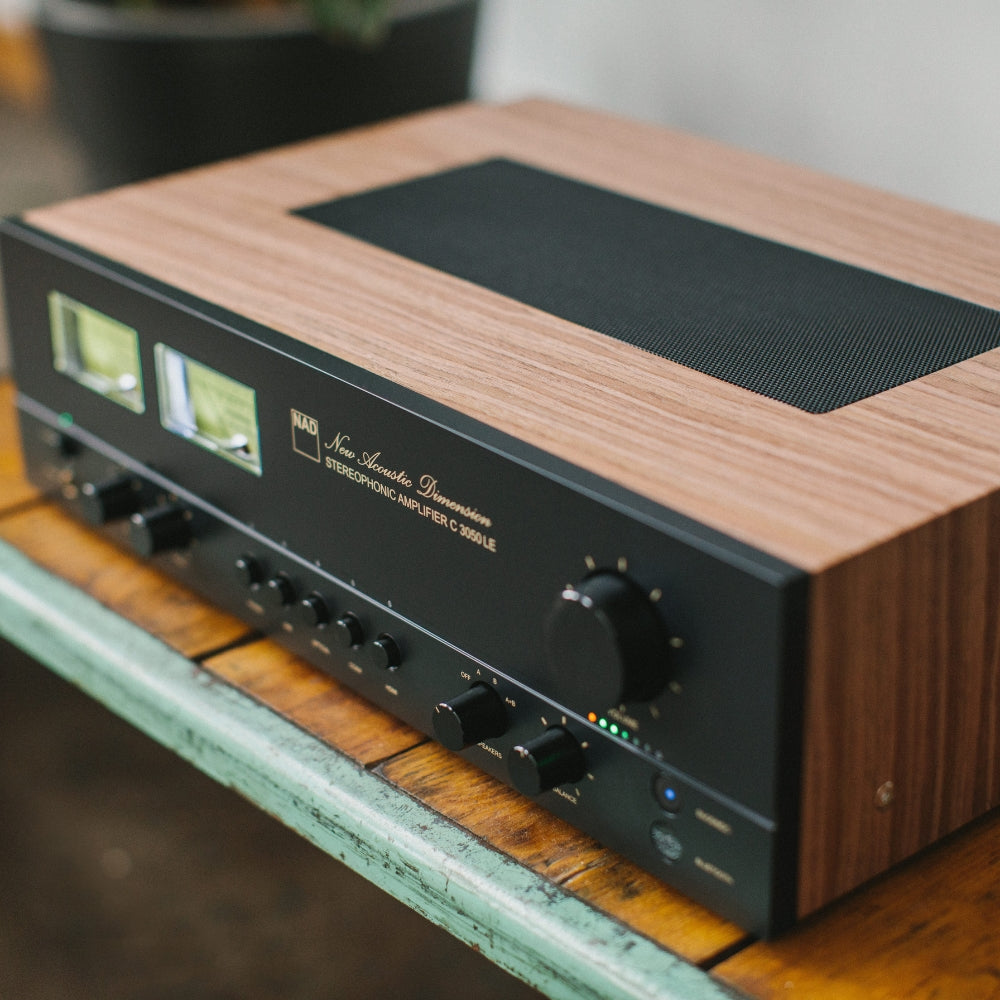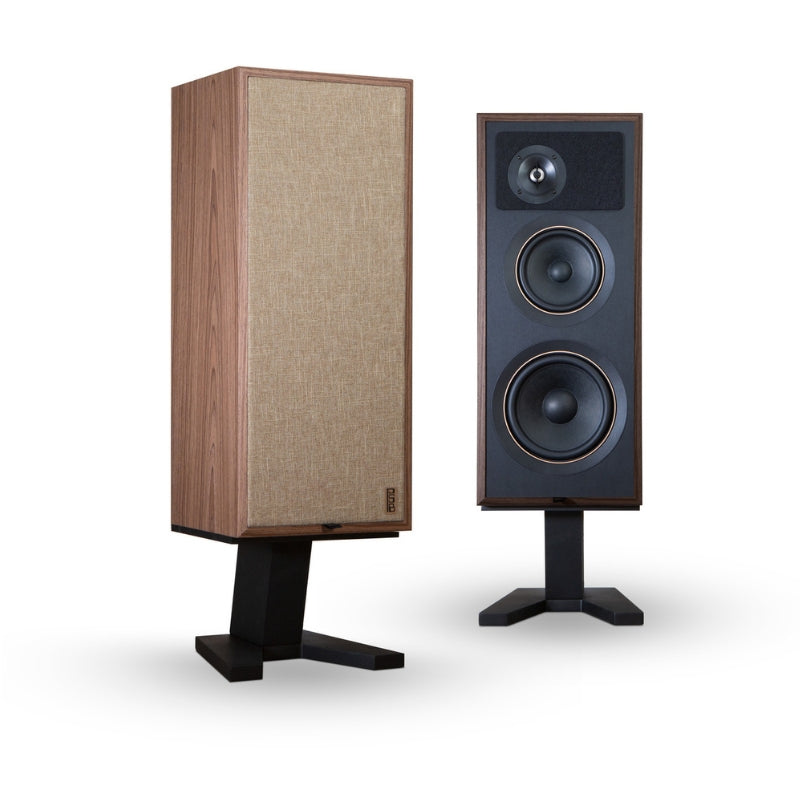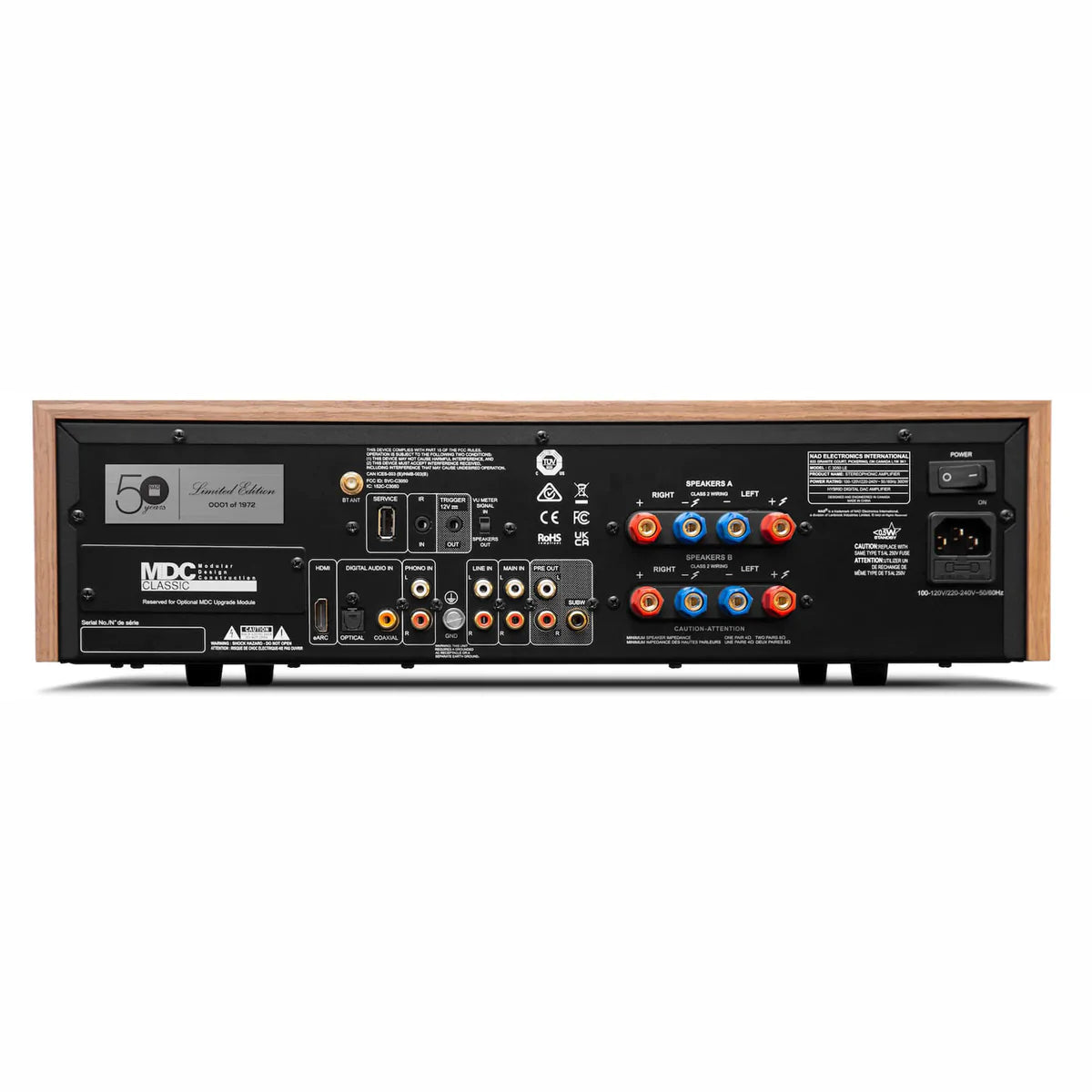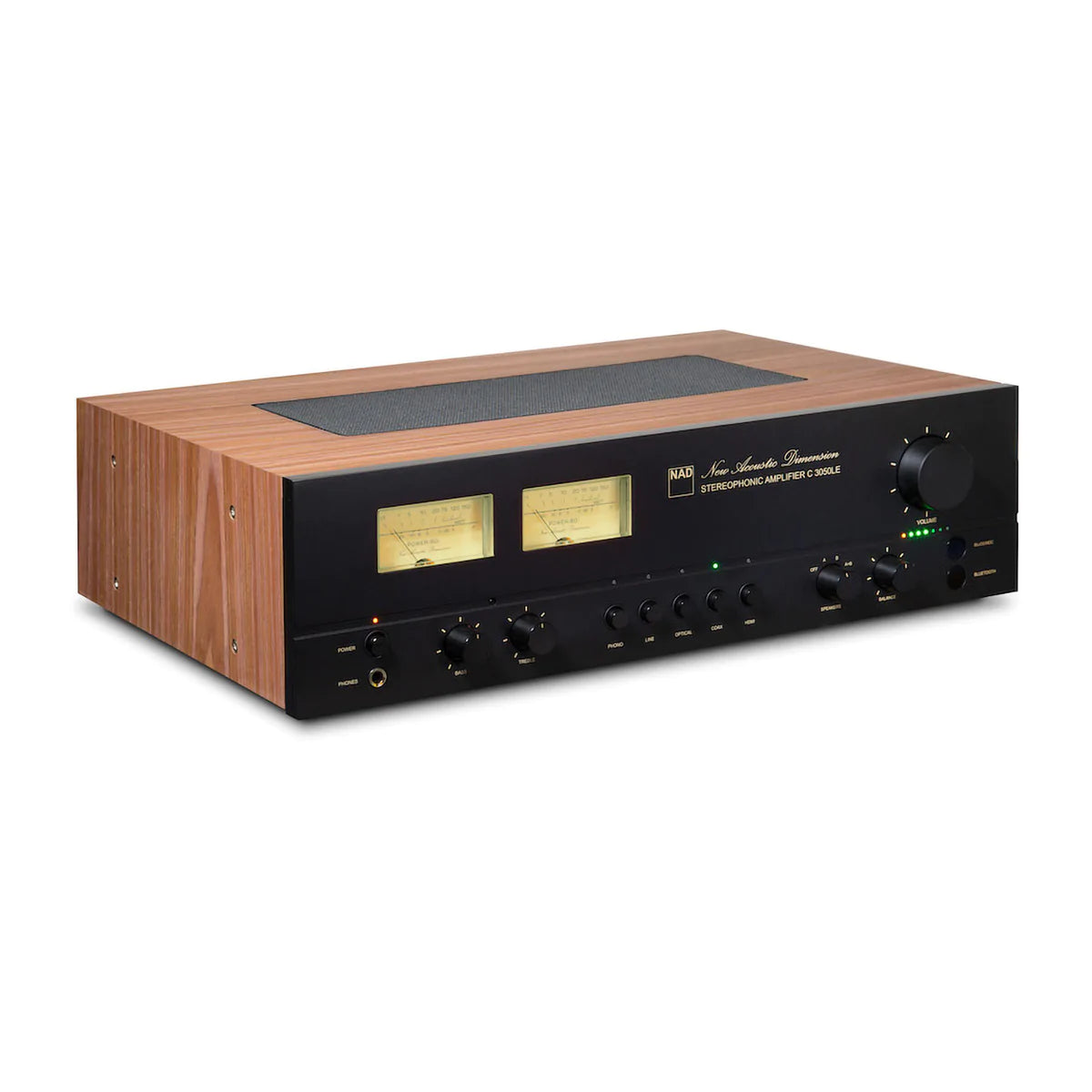 Passif Stereophonic Hi-Fi Pack
In the Passif Stereophonic Hi-fi Pack, NAD's 50-year history of innovation meets the future of hi-fi alongside the vintage inspired looks of the PSB Passif speakers. With its dual VU meters, push-button input selectors, walnut-finished vinyl-clad cabinet, and 1970s cursive-style branding, the C 3050 recalls the components that helped a generation of music-lovers discover the joys of great audio.
---
Specifications

Retro design elements include satin walnut case, front-panel VU meters, push-button input controls, 1970s cursive branding, and dark grey front panel
Limited-edition release: only 1,972 units will be produced, each of them individually numbered
HybridDigital UcD Amplifier
Continuous Power: 100 Watts per channel into 8/4 ohms
Instantaneous Power: 135 Watts per channel
Vanishingly low harmonic and intermodulation distortion
MDC2 port for expanded functionality
Pre-installed MDC2 BluOS-D module adds BluOS Hi-Res multi-room music streaming and Dirac Live room correction
MDC2 BluOS-D module provides access to more than 20 streaming services, including several that offer lossless and high-resolution audio
Support for Apple AirPlay 2, Spotify Connect, and Tidal Connect
Voice control via Amazon Alexa, Google Assistant, or Apple Siri
High-performance 32-bit/384kHz Texas Instruments differential DAC
Ultra-low-noise MM phono stage with infrasonic filtering circuitry
One optical, one coaxial digital input
HDMI-eARC input
One set of line-level analogue inputs with low-noise buffer amplifiers
Speaker A/Speaker B outputs
Two-way Qualcomm aptX HD Bluetooth
Subwoofer output
Dedicated headphone amplifier
Supplied accessories include an IR remote control and a calibrated microphone for Dirac Live setup
CI-Friendly – IR remote, 12V Trigger out, IR in
Seamless integrations with smarthome control systems such as Control4, Crestron, RTI, URC, Push, Lutron, iPort, and Elan
USER INTERFACE
Supported operating system
Music playback from network shares on the following desktop operating systems: Microsoft Windows XP, 2000, Vista, 7, 8 to current Windows Operating Systems and macOS versions
Mobile Application
Free BluOS Controller App available for download from the respective App stores of Apple iOS devices (iPad, iPhone and iPod), Android devices, Kindle Fire and Windows or macOS desktops
MAIN IN, SPEAKER OUT
Continuous output power into 8 ohms and 4 ohms
100W (ref. 20 Hz-20 kHz at rated THD, both channels driven)
THD (20 Hz – 20 kHz)
<0.03% (250 mW to 100 W, 8 ohms and 4 ohms)
Signal-to-Noise Ratio
>95dB (A-weighted, 500 mV input, ref. 1 W out in 8 ohms)
Clipping power
>115 W (at 1 kHz 0.1 % THD)
IHF dynamic power
8 ohms: 180 W
4 ohms: 250W
2 ohms: 300 W
Peak output current
>20A (in 1 ohm, 1 ms)
Frequency response
±0.3 dB (20 Hz – 20 kHz)
Channel separation
>75dB (1 kHz)
>70dB (10 kHz)
Input sensitivity (for 100 W in 8 ohms)
540 mV
Digital: -6dBFS
Power consumption – at Auto Standby ON and Network Standby OFF
0.5 W*
Power consumption – at Auto Standby ON and Network Standby ON
2.0 W**
Power consumption – OFF mode (Power switched OFF)
0.1 W
Frequency band
2.402G- 2.480G
DIMENSION AND WEIGHT
Gross dimensions (W x H x D) ****
435 x 110 x 355mm
17 1/4 x 4 3/8 x 14 inches
Net weight
10 kg (22 lbs)
Shipping weight
12.6 kg (27.8 lbs)
NAD Electronics offer a 2 year warranty on their products with proof of purchase.
We offer free shipping on any product over $99. For full details please see our Shipping Policy.

Our returns policy lasts 30 days. If 30 days have gone by since your purchase, unfortunately, we may not be able to offer you a refund or exchange. For full details please see our Refund Policy.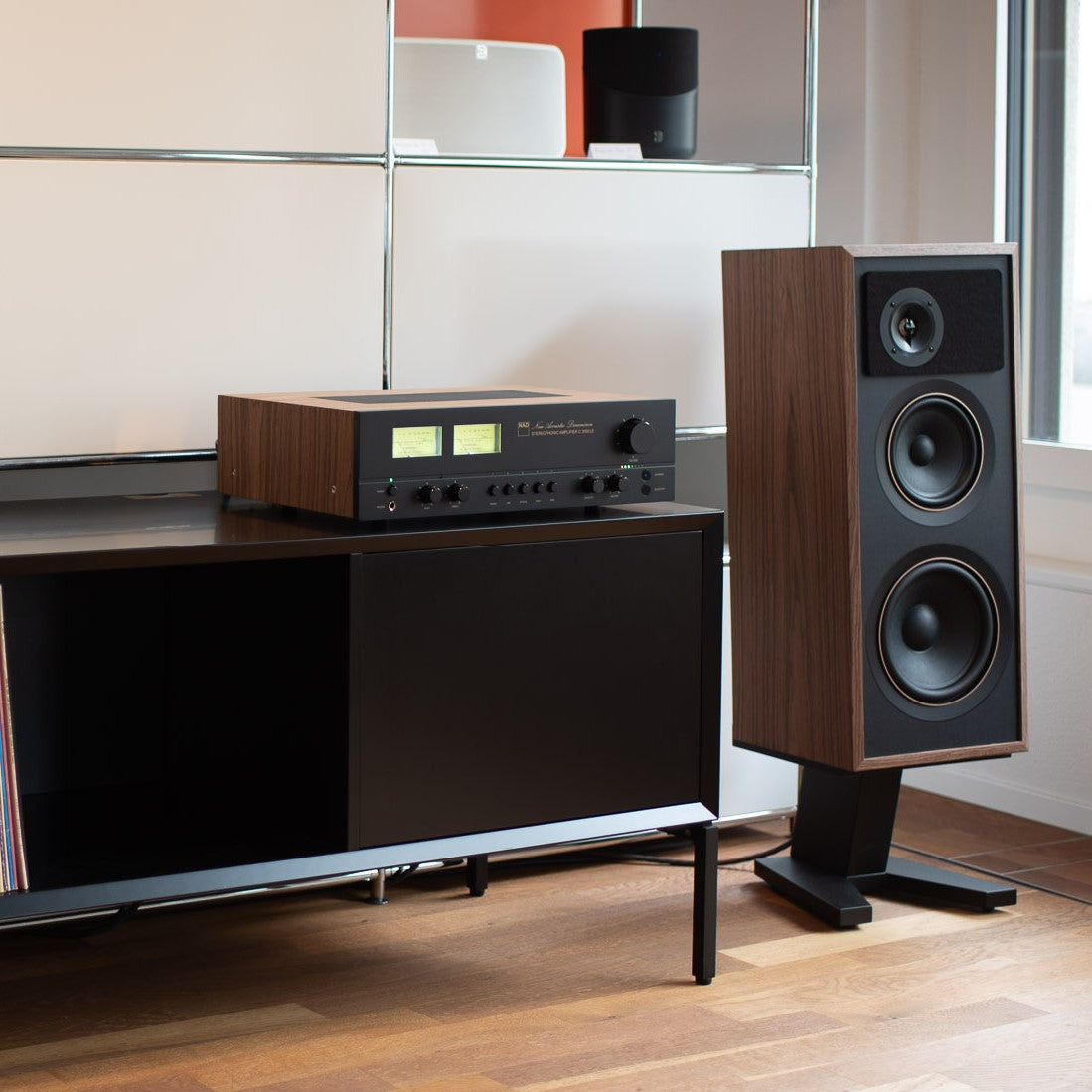 WHAT'S IN THIS PACK?
The Passif Stereophonic Hi-Fi Pack includes
Gabi's Home System
Save 12%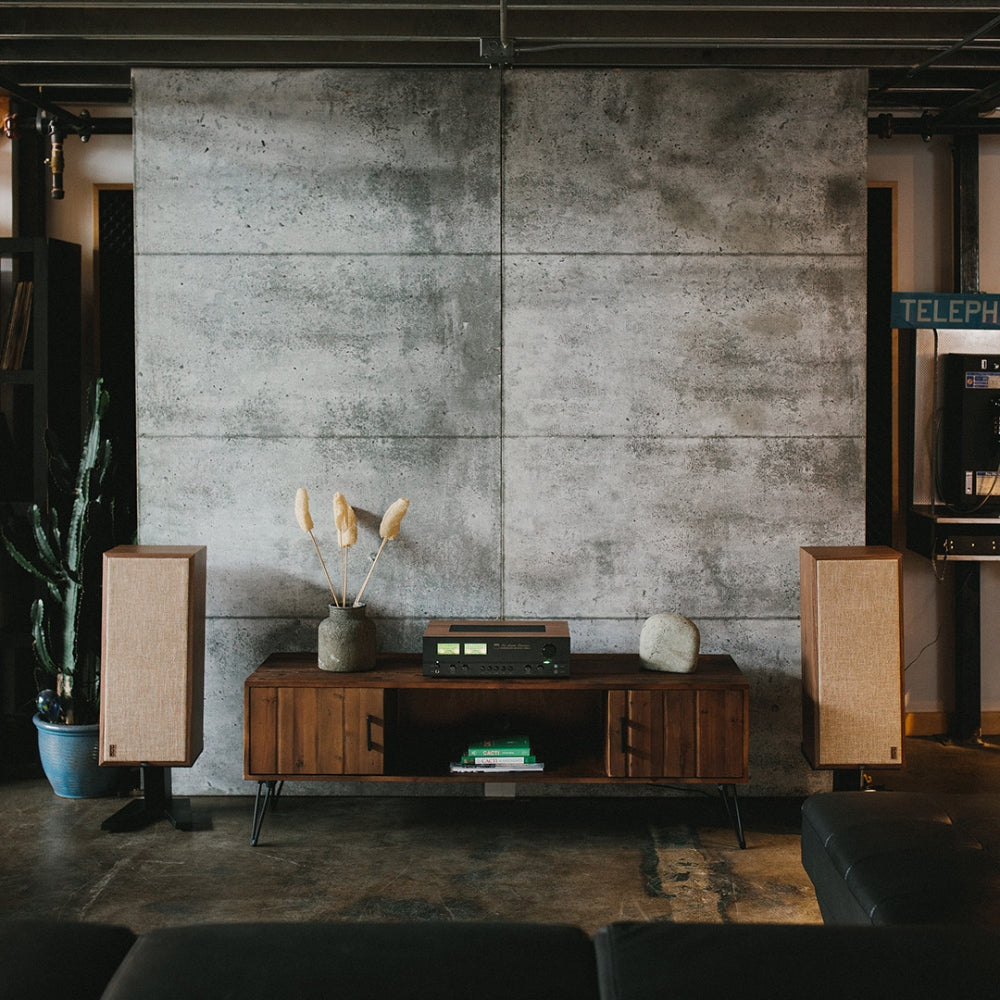 TELL ME MORE ABOUT
The Passif Stereophonic Hi-Fi Pack
Welcome to the future of hi-fi, with a nostalgic twist. NAD's 50-year legacy combines with the classic looks of the PSB Passif Standmount Speakers. VU meters, push-button input selectors, a walnut-finished vinyl-clad cabinet; all the vintage vibes without sacrificing sound quality - just take one look and you're transported back to the '70s. Get ready to experience hi-fi like never before!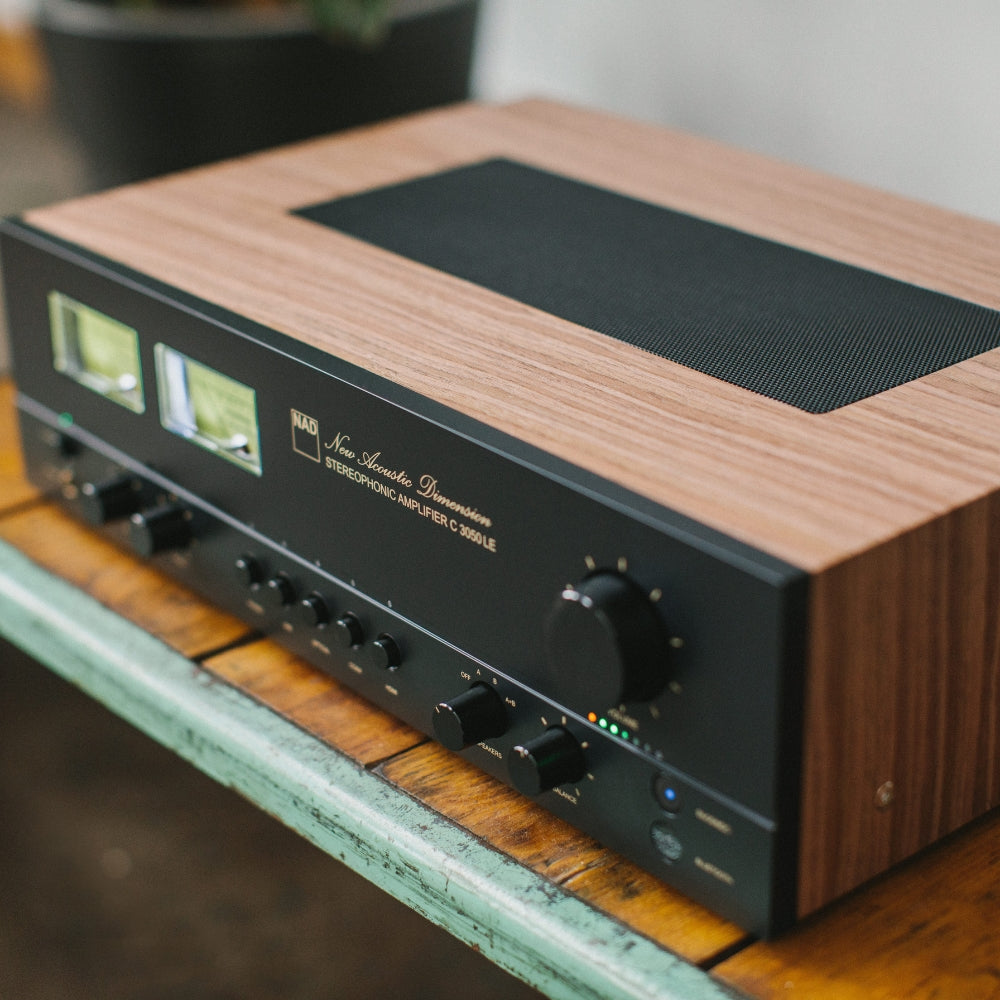 NAD C 3050 Streaming Amplifier
With its full suite of digital and analogue inputs, the C 3050 can accommodate all your source components. Vinyl fans will appreciate the C 3050's ultra-low-noise MM phono stage. For movie and TV viewing, there's an HDMI eARC interface, enabling the C 3050 to serve as the hub or a two- or 2.1-channel home-theatre setup. The C 3050 also has line-level analogue, coaxial digital, and optical digital inputs.

In addition to two sets of speaker terminals, the C 3050 has a subwoofer output and a dedicated headphone amplifier. It also features two-way Bluetooth aptX HD, so you can stream music to the amplifier from a mobile device or stream music from the amplifier to a pair of wireless headphones. Pre-out/main-in connections let you use the C 3050 as a preamp only and add a separate power amplifier. For custom integrators, there's a 12V trigger and IR input.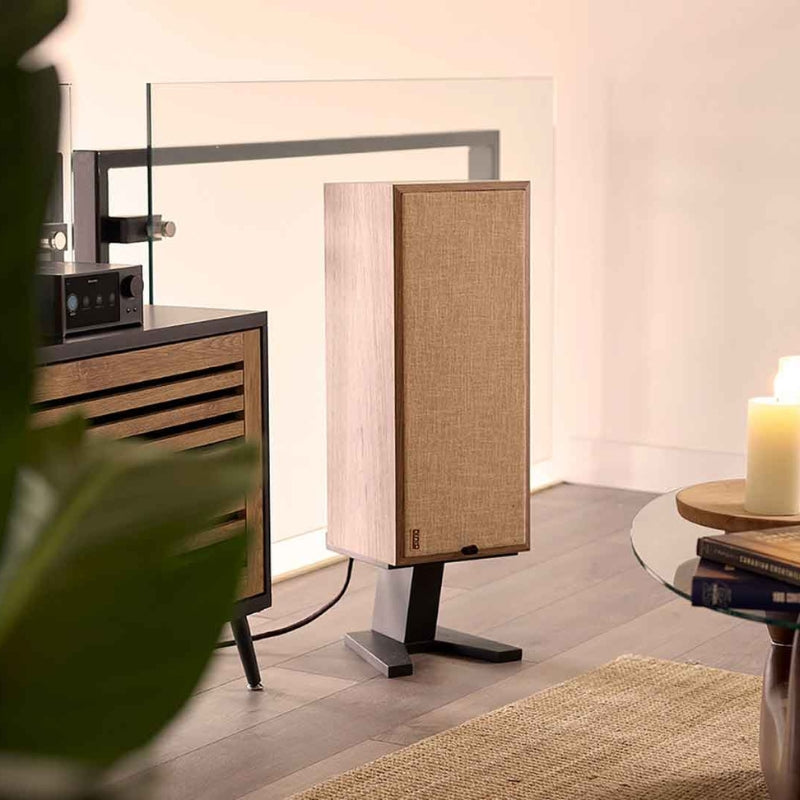 PSB Passif Loudspeakers
With an open-grained walnut veneer enclosure, magnetically attached woven cloth grille, and dedicated stand, PSB's anniversary edition, Passif 50 Standmount Loudspeaker evokes the storied history of one of the world's great audio brands. Created to commemorate 50 Years of PSB Speakers, the Passif 50 harkens back to the legendary Passif I and Passif II models that established the brand's reputation for performance and value, while being an all-new design employing technology tricked down from PSB's flagship Synchrony speakers. It's the latest application of PSB's True to Nature design philosophy.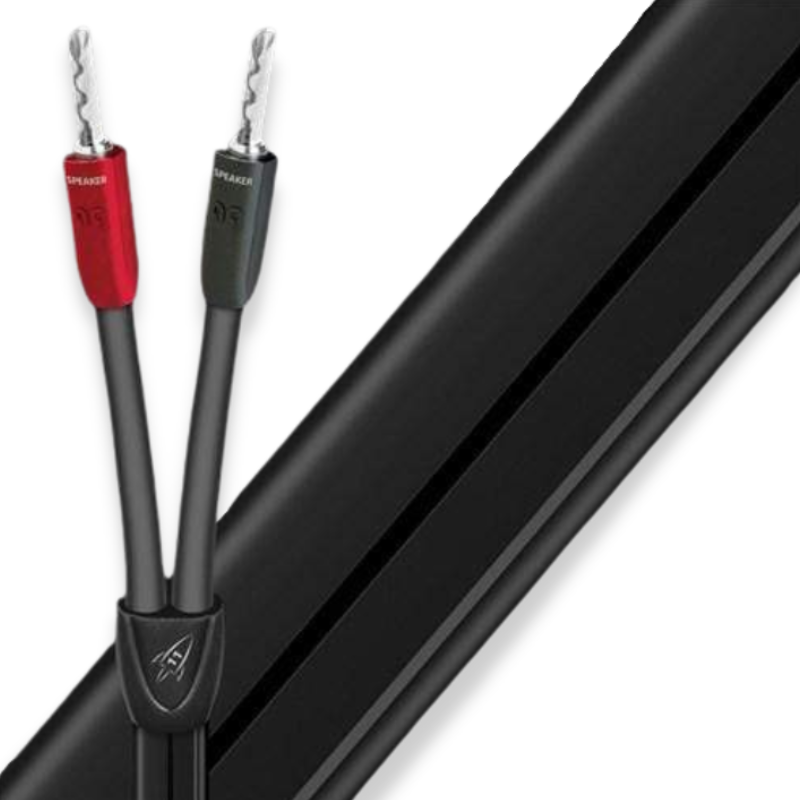 AudioQuest Rocket 11 Speaker Cable
Rocket 11 is an ideal Full-Range or Single-BiWire cable. Single-BiWire allows you to optimise performance when the speakers have Bass and Treble inputs. BiWiring reduces distortion in the cable — taking the big Bass energy out of the cable carrying the more delicate Treble is like taking the waves out of the water when you (the Treble) are trying to swim. The magnetic autonomy of the separate halves of the Rocket 11 maximises the BiWire advantage.

Semi-Solid Concentric conductors are a far-superior performance alternative to typical stranded conductors. Semi-Solid Concentric conductors use fewer, larger strands that do not change position down the length of the cable. The strands maintain their fixed, rigid relationships, reducing distortion, improving resolution and dynamics, and greatly minimising harshness and confusion due to strand interaction.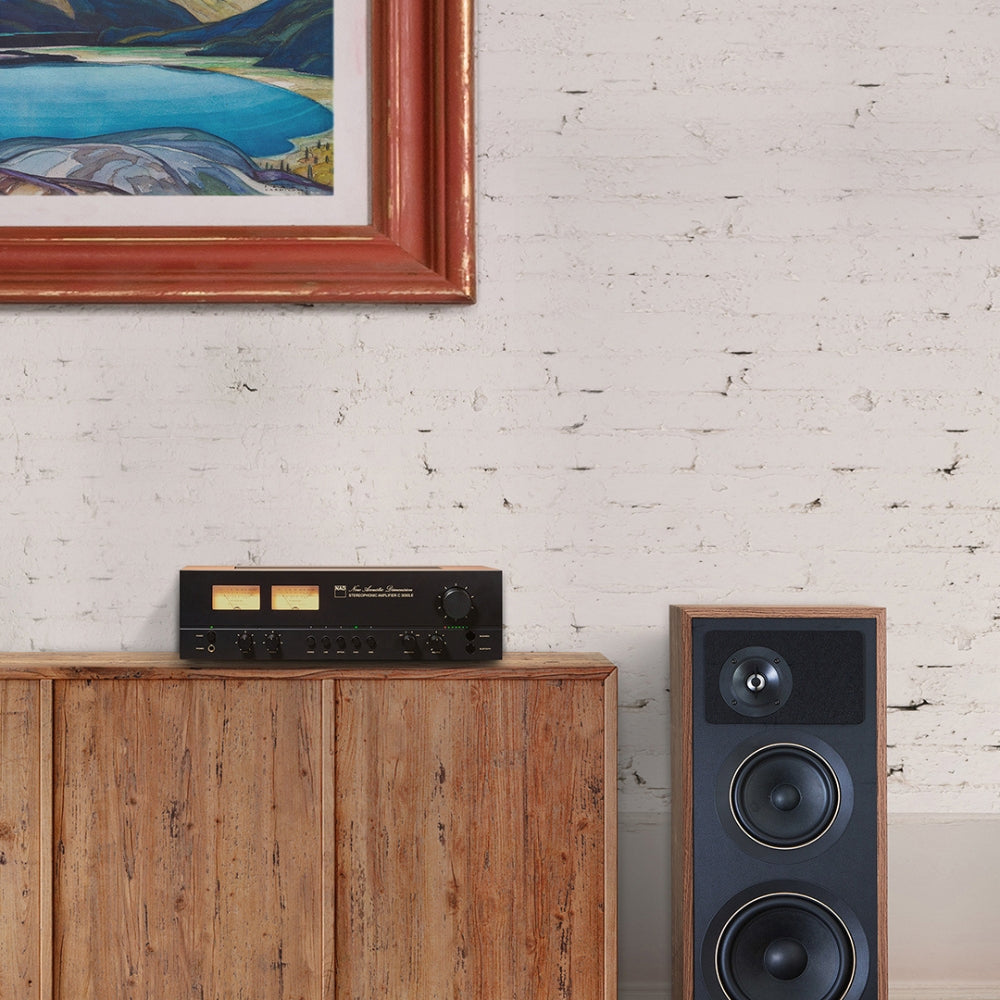 This is a deeply impressive speaker that pulls the neat trick of vanishing from the performance it creates.
WHILE YOU ARE BROWSING
You may also like