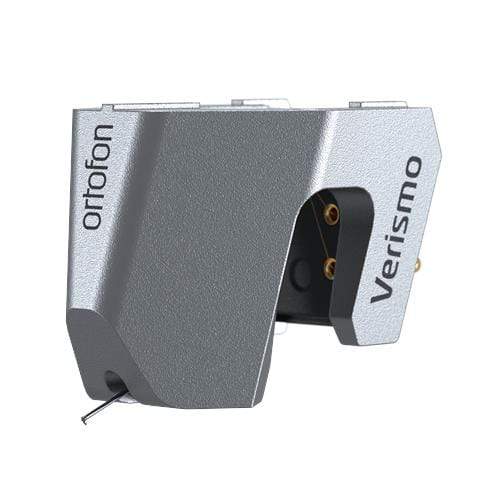 Ortofon MC Verismo Cartridge
---
Any condition Ortofon MC cartridge is accepted. The equivalent MC cartridge model can be purchased, or, you may wish to upgrade to a higher specification model. You'll get 25% off the RRP value of the current equivalent trade-in cartridge towards your upgraded model.
Specifications

| | |
| --- | --- |
| Output voltage at 1 kHz: | 5cm/sec. 0.2 mV |
| Channel balance at 1 kHz: | 0.5 dB |
| Channel separation at 1 kHz: | 25 dB |
| Channel separation at 15 kHz: | 20 dB |
| Frequency response: | 20 Hz-20 kHz +2 dB/- 1 dB |
| Tracking ability: | 315 Hz at recommended tracking force 80 µm |
| Compliance, dynamic, lateral: | 13 µm/mN |
| Stylus type: | Special polished Nude Ortofon Replicant 100 on Diamond Cantilever |
| Stylus tip radius: | r/R 5/100 µm |
| Tracking force range: | 2.5-2.8 g (25-28 mN) |
| Tracking force: | Recommended 2.6 g (26 mN) |
| Tracking angle: | 23° |
| Internal impedance: | DC resistance 7 Ohm |
| Recommended load impedance: | 10 Ohm |
| Coil wire material: | Aucurum, gold-plated, 6NX oxygen free copper |
| Cartridge body material: | SLM Titanium |
| Cartridge colour: | Silver |
| Cartridge weight: | 9.5 g |
All Ortofon products are backed by a 2-year limited warranty against defects in workmanship and materials.
We offer free shipping on any product over $99. For full details please see our Shipping Policy.

Our returns policy lasts 30 days. If 30 days have gone by since your purchase, unfortunately, we may not be able to offer you a refund or exchange. For full details please see our Refund Policy.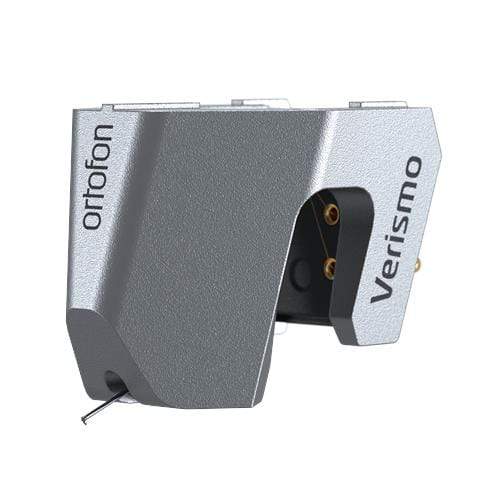 Ortofon MC Verismo Cartridge
The Ortofon Exclusives Series of highest performing Moving Coil cartridges has now been expanded to include a new premier model – the MC Verismo 
The Ortofon Exclusives series cartridges are widely acknowledged as being some of the best Moving Coil cartridges on the market, and we are continuously working on expanding the Exclusives range to offer music lovers even more opportunities to experience the supreme quality, precision, impact, and dynamics that a high-end reference cartridge conveys.
The MC Verismo has been developed based on our extensive knowledge of vibration properties, different shapes and materials characteristics, as well as competences in magnetism, mechanical design, and technologies. This new state-of-the-art product, representative of numerous Ortofon design ideals, is truly exemplary of the highest degree of performance possible in contemporary analogue playback technology. The MC Verismo will undoubtedly provide sound which simply has to be experienced.
Manufacturers Details:
The story behind the name
The name Verismo is derived from the Italian "vero", meaning "true" and is the Italian for "realism". Versimo was a post-Romantic operatic genre, that had its origins in an Italian literary movement in the late 19th and early 20th centuries. Verismo's operatic tradition is associated with Italian composers such as Pietro Mascagni, Ruggero Leoncavallo, Umberto Giordano, Francesco Cilea and Giacomo Puccini, who sought to portray the world with greater realism.
At Ortofon, our ultimate purpose is to continually raise the bar for true, faithful and accurate reproduction of the recorded sound. It is to provide the ultimate musical experience through a mixture of innovation and technical expertise, creating unique value for all listeners by allowing them to reveal music's true inner emotions.
Engineered With Care:
Design elements and high-end materials
The housing of the Verismo cartridge is made in Titanium with the Selective Laser Melting (SLM) technique pioneered by Ortofon. This technique allows for precise control of the density of the body material, allowing for extremely high internal damping.
The MC Verismo makes use of Ortofon's Replicant 100 diamond. This Line Contact type stylus distinguishes itself by having a narrow and long contact surface, which is as close as possible to the original cutting stylus. This ensures the most accurate reproduction, lowest distortion and extended frequency range.
The addition of a solid Diamond cantilever provides the best possible interface between the stylus and armature, owing to its hardness and crystal structure. The improvements found in the use of a Diamond cantilever have redefined the boundaries of analogue reproduction, presenting greater inner detail, subtlety, and depth like never before.
Key Features:
Performance with a range of compatibility
In the MC Verismo the cartridge's contact with the tonearm takes place through three well-defined contact points placed on the top side of the cartridge. This means that the mechanical integration of the cartridge and the tonearm arm is always absolutely perfect and will result in a significant and breathtaking increase in dynamics, resolution, and richness in detail.
With optimized weight and moderate compliance to suit the majority of modern tonearms, the MC Verismo is easily compatible with an endless array of contemporary high-end turntable equipment.
Manufacturers Warranty & Specifications:
All products, excluding accessories, are covered by warranty for 2 years from date of purchase.
This product has no reviews yet.
WHILE YOU ARE BROWSING
You may also like