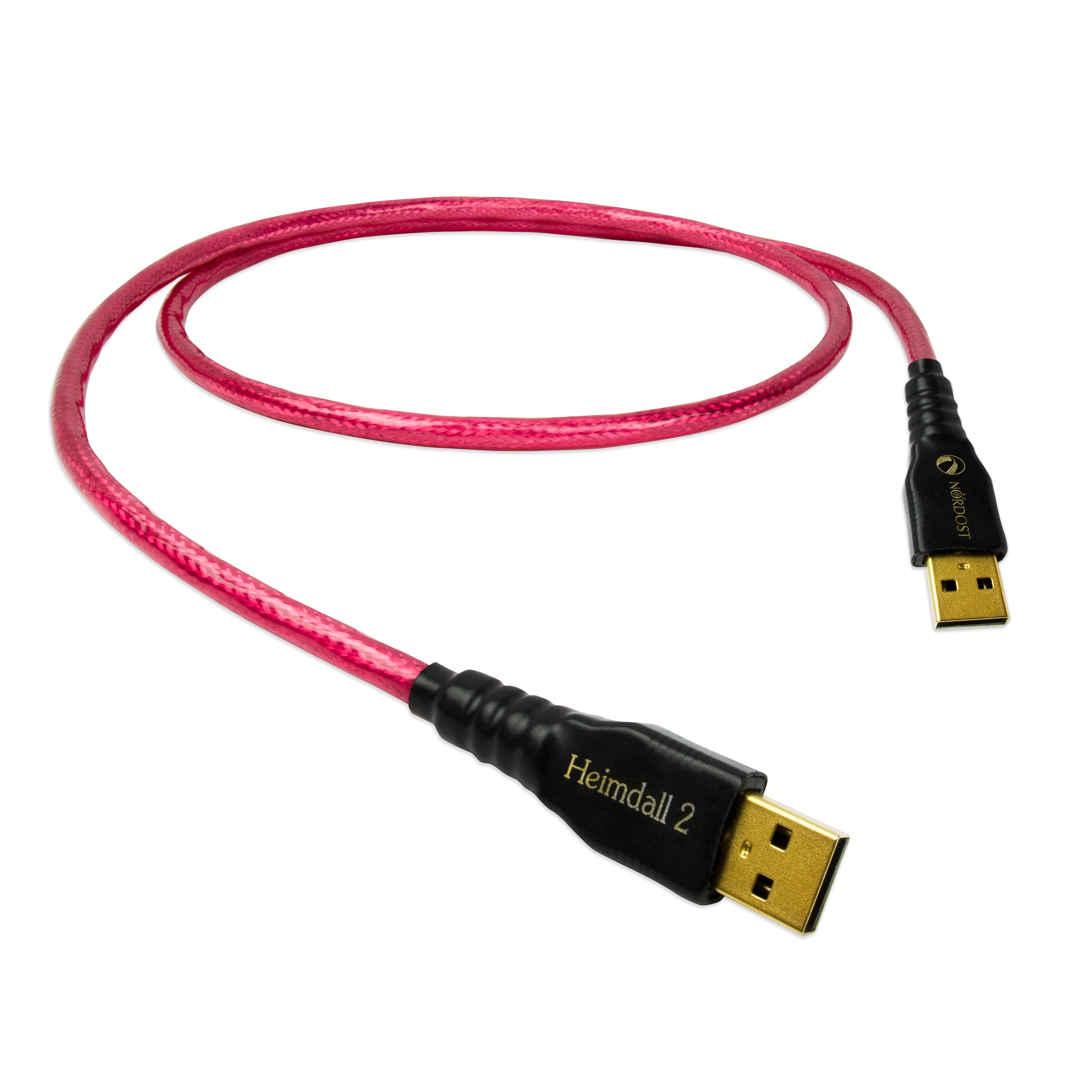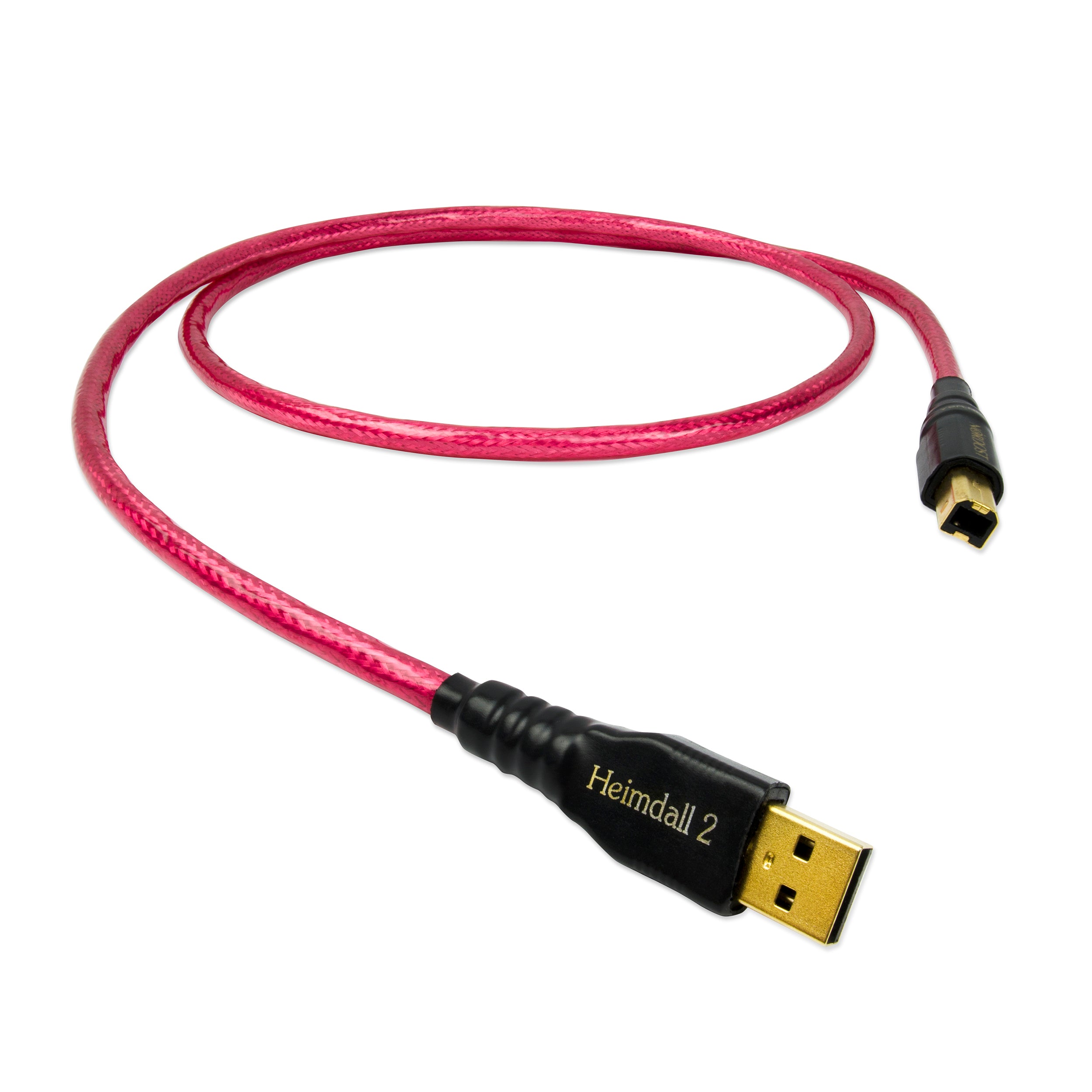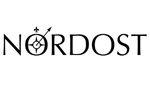 Nordost Norse Heimdall 2 USB 2.0 Cable
---
Specifications

| | |
| --- | --- |
| Insulation: | Fluorinated Ethylene Propylene (FEP) |
| Construction: | Mechanically tuned lay, length and Dual Mono-Filament, twisted shielded pair design |
| Conductors: | 4 x 20 AWG |
| Material: | Stranded silver-plated 99.99999% OFC |
| Overall Shield Coverage: | 100% Total coverage, dual-layer silver foil and braid |
| Velocity of Propagation: | 90% |
| Terminations: | Type A or B USB 2.0 |
| Warranty:  | 5 Years |
Nordost products have a limited lifetime warranty to the original purchaser, with the exception of QRT products which carry limited 2 year (QPOINT, QSOURCE, QNET, QKOIL, and QVIBE) or 5 year (QKORE and QBASE) warranties, and the VIDAR 2 which carries a limited 2 year warranty.
We offer free shipping on any product over $99. For full details please see our Shipping Policy.

Our returns policy lasts 30 days. If 30 days have gone by since your purchase, unfortunately, we may not be able to offer you a refund or exchange. For full details please see our Refund Policy.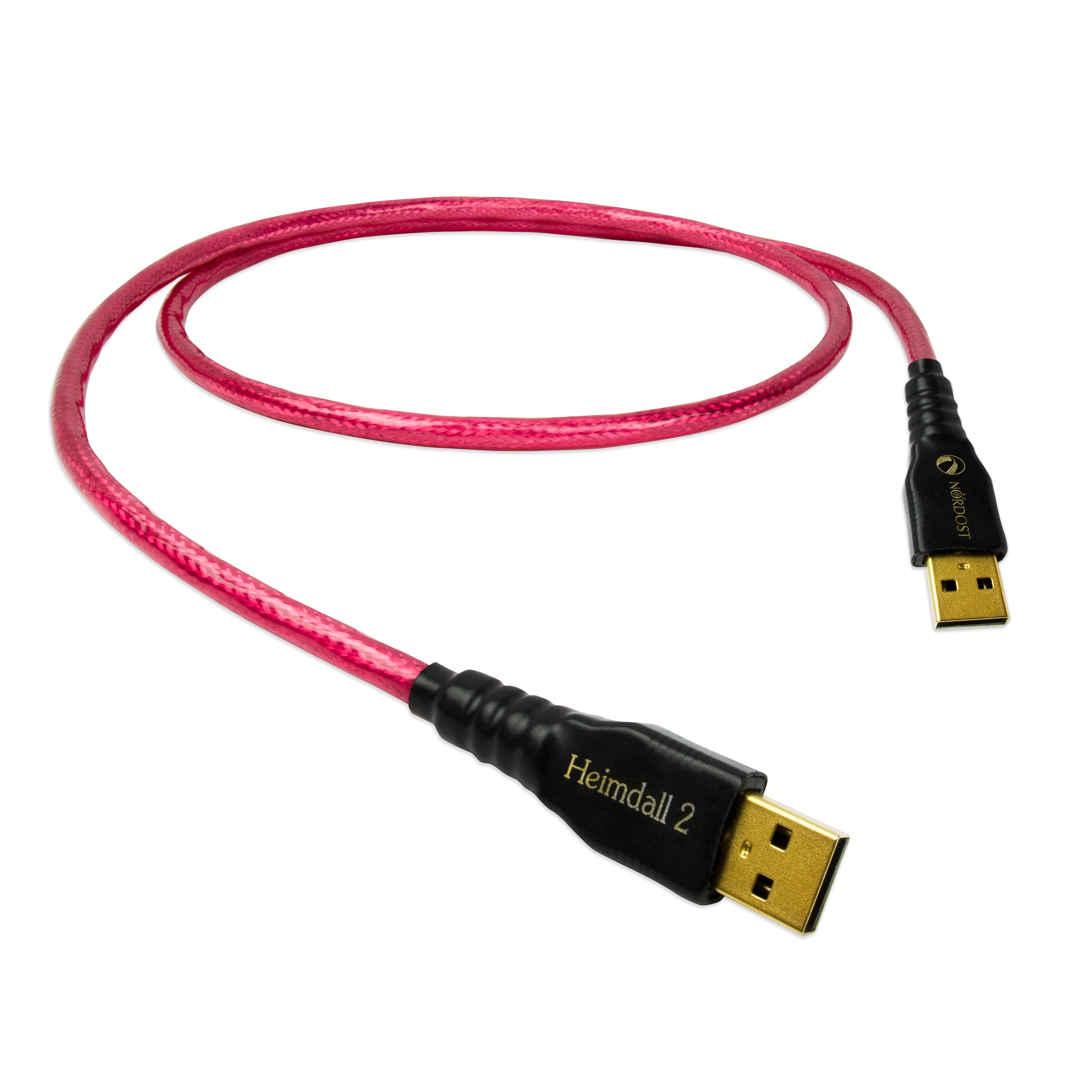 Nordost Norse Heimdall 2 USB 2.0 Cable
NOTE: This product has a typical lead time of 2-4 weeks.

Computer audio can finally compete with analog systems thanks to Nordost's range of USB cables. These USB cables provide the solution you need to achieve the superb sound staging, wide dynamic range, precise timing, and emotion you have been looking for in computer audio. With a wide variety of both termination possibilities and standards, Nordost's USB selection has you covered for virtually any component in the hifi industry that requires a USB connection. Only Nordost's, high-speed, low-loss cables will ensure that all the necessary information will be delivered with the efficiency and diligence needed to maintain the correct impedance, dramatically lifting your hifi system to a new level of performance.
Manufacturer's Details:
Improving upon Nordost's Blue Heaven USB 2.0, the Heimdall 2 USB 2.0 will dramatically lift your hifi system to a whole new level of performance, delivering those ones and zeroes with the efficiency and diligence necessary to maintain the correct impedance.

Thanks to the experience acquired in the fabrication of successful products such as the Blue Heaven HDMI and USB 2.0 cables, Nordost can further refine digital leads through its most current, proprietary technology. The Heimdall 2 USB 2.0 is constructed from 4 x 20 AWG stranded, silver-plated 99.99999% OFC conductors, arranged in a precise, twisted double helix in order to ensure character impedance, reduce noise and minimise cross-talk contamination. In order to increase dielectric, the conductors are suspended in Nordost's proprietary FEP Dual Mono-Filament, which is newly optimised to increase flexibility and mechanical damping. Add a dual layer silver foil jacket and silver braided shield and the Heimdall 2's extreme data transmission speeds surpass the USB 2.0 standards.

To further up the ante, the Heimdall 2 USB 2.0 implements mechanically tuned lengths. This technique, used in Nordost's Odin, Norse 2 and Valhalla 2 ranges, reduces internal microphonics and high-frequency impedance resonance, which ultimately allows you to enjoy the dynamics, coherence and balance of live music played in the comfort of your own listening room.

This product has no reviews yet.
WHILE YOU ARE BROWSING
You may also like