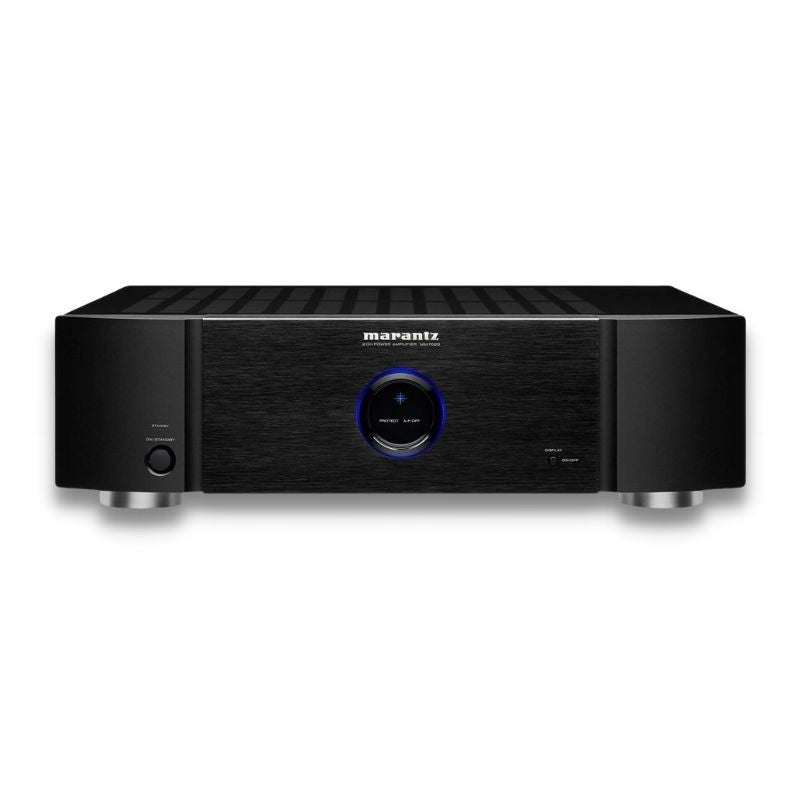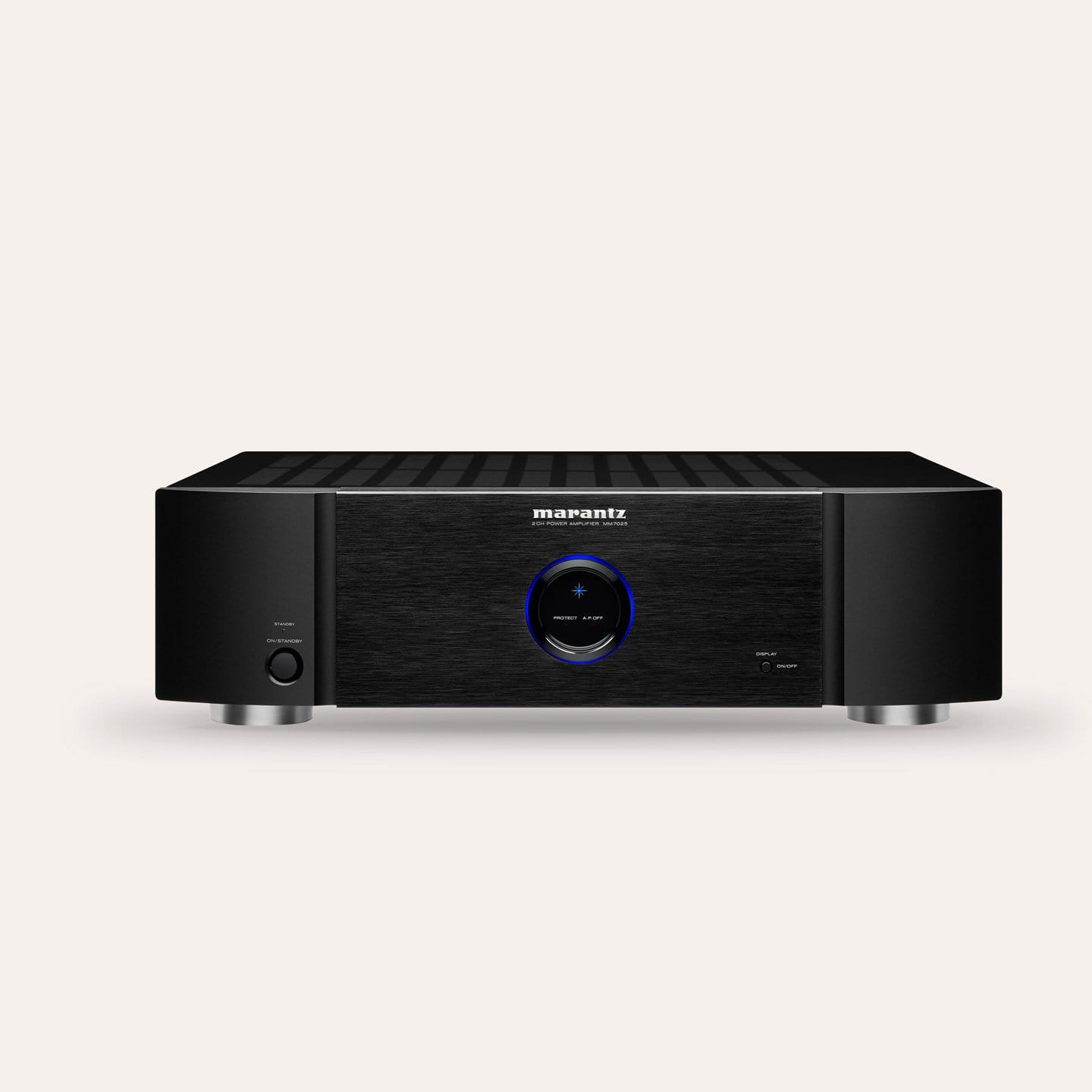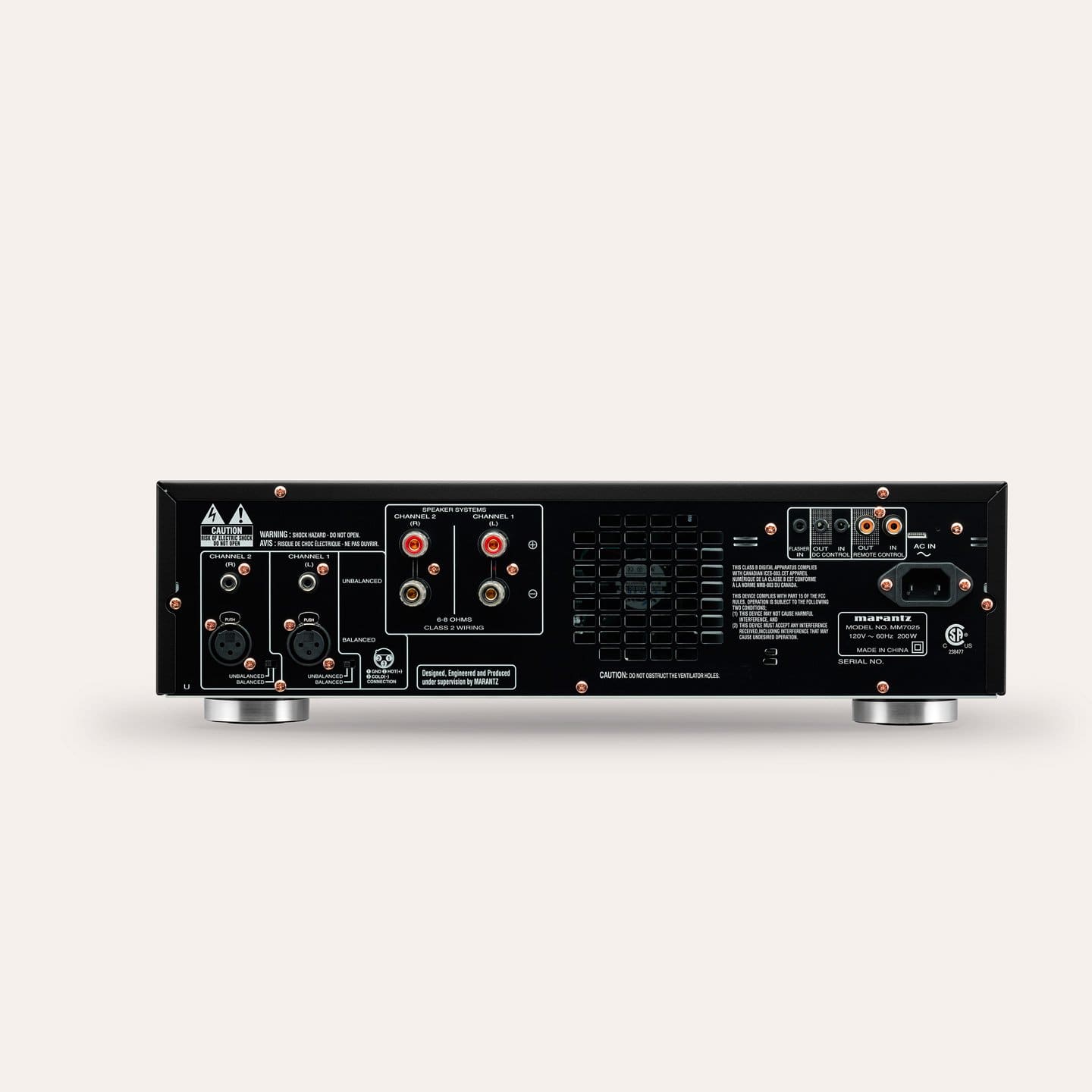 Marantz MM7025 Stereo Power Amplifier
---
Specifications

FEATURES
 
Number of Channels
2
THX
No
DTS
No
Dolby
No
DSD(SA-CD)/NEURAL
No
SRS
No
HDCD Decoder
No
Current Feedback Topology
Yes
Discrete Amplification
Yes
Power Transformer
Large Capacity EI
D/A Conversion
No
Digital Signal Processing
No
Video Off (Pure Direct)
No
Source Direct
No
Chassis
Steel
Variable X-over
No
Display Off
Blue LED Illumination off mode available
Video Up-conversion
No
Auto Calibration by MIC
No
Satellite Radio Ready
No
AM/FM Tuner
No
Bass Redirection
No
Software Upgradable
No
INPUTS / OUTPUTS
HDMI In
No
Component In
No
S-Video In
No
Composite In
No
HDMI Out
No
Component Out
No
S-Video Out
No
Composite Out
No
Analog L&R In
No
Analog L&R Out
No
Digital Optical In
No
Digital Coaxial In
No
Digital Optical Out
No
Digital Coaxial Out
No
Other
No
Pre-Amplifier Out
No
Main Amplifier In
Balanced & Unbalanced: 8ch (Exclusive use by a selector switch.)
Multi-Channel In
No
Multi-Room Audio Out
No
Multi-Room Video Out
No
Multi-Room Speaker Out
No
Networking
No
External control
No
DC Triggers
1 In / 1 Out
D-Bus Remote (RC-5) In/Out
1 - 1
Flasher In/IR Receiver In/Emitter out
1 - 1
Front Panel A/V Inputs
No
Headphone Out
No
AC Outlets (Switched/Unswitched)
No
SPECIFICATIONS
Power Output
140W (20Hz-20kHz, 0.08%)
S/N Ratio
105dB
Freq. Response (Analog In)
8Hz-100kHz (+/- 3dB)
Freq. Response (Dig In)
No
Frequency Range
No
S/N Ratio (Mono/Stereo)
No
Frequency Range
No
S/N Ratio
No
Video Freq. Response (Component)
No
Video Freq. Response (Composit, S-Video)
No
Signal to Noise
No
GENERAL
Front Panel
Aluminum/Glass-reinforced resin
Remote Control
No
Power Requirement
AC 120V 60Hz
Power Consumption
330W (Standby: 0.2W)
Dimensions W x H x D
Weight
Marantz offers a 2 year warranty from date of purchase.
We offer free shipping on any product over $99. For full details please see our Shipping Policy.

Our returns policy lasts 30 days. If 30 days have gone by since your purchase, unfortunately, we may not be able to offer you a refund or exchange. For full details please see our Refund Policy.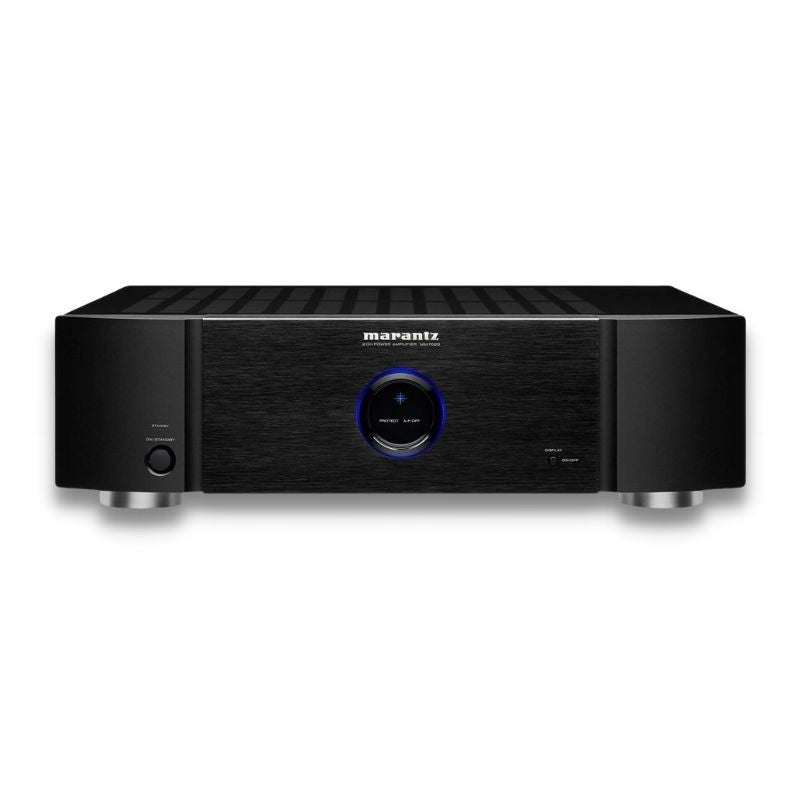 Marantz MM7025 Power Amplifier
The MM7025 is expertly crafted to meet all your high powered needs and drive even the most demanding speakers by designing the entire unit to deliver consistent and precise power wherever and however you need it.
Manufacturers Details:
The Power Supply
As befits a Marantz amplifier, the high-capacity power supply begins with an oversized EI-core transformer feeding carefully chosen capacitors capable of storing 30,000 µF of energy. This combination instantaneously delivers peak power to all amplifier stages for distortion-free reproduction of the most complex sources.
Output Devices
In the final amplification stage, specially selected LAPT Hyper-Power output transistors, originally selected for Reference Series use, deliver fortissimo and pianissimo passages with equal aplomb. To make sure they're always operating at ideal temperatures, these transistors are mounted on a forced-air "thermal tunnel."
Engineered With Care:
Marantz Sound Quality
The MM7025's advanced technology serves all your listening needs. Current feedback circuits, also used in Marantz's Reference Series amps, insure the purest sonic reproduction regardless of source.  Another MM7025 virtue, and one directly traceable to its substantial current capability, is the control it establishes over difficult speakers to reproduce both dynamic musical peaks and whispered dialog without blemish.
Remote Control, Too
You'll find rear panel connections for a "flasher" input that conveys On/Off commands from an infrared (IR) remote controller. There's a DC trigger input (and output) that lets you "daisy chain" one or several MM7025s to turn on and off in synchronization with your preamplifer or surround processor. If you're going to use the MM7025 with legacy Marantz products, there are RC-5 connectors to give you a level of operating convenience you might not have thought possible.
Key Features:
First Impressions
If you're impressed by elegantly restrained industrial design, the MM7025 is guaranteed to make a lasting – and very positive – impression.

Getting Connected
Both single-ended RCA and balanced XLR inputs assure system compatibility regardless of your preamplifier or processor.

Your System, Your Way
The MM7025 encourages various system configurations. Use one for dedicated two-channel listening, or use two to as zone amplifiers to power speakers in different rooms.

This product has no reviews yet.
WHILE YOU ARE BROWSING
You may also like