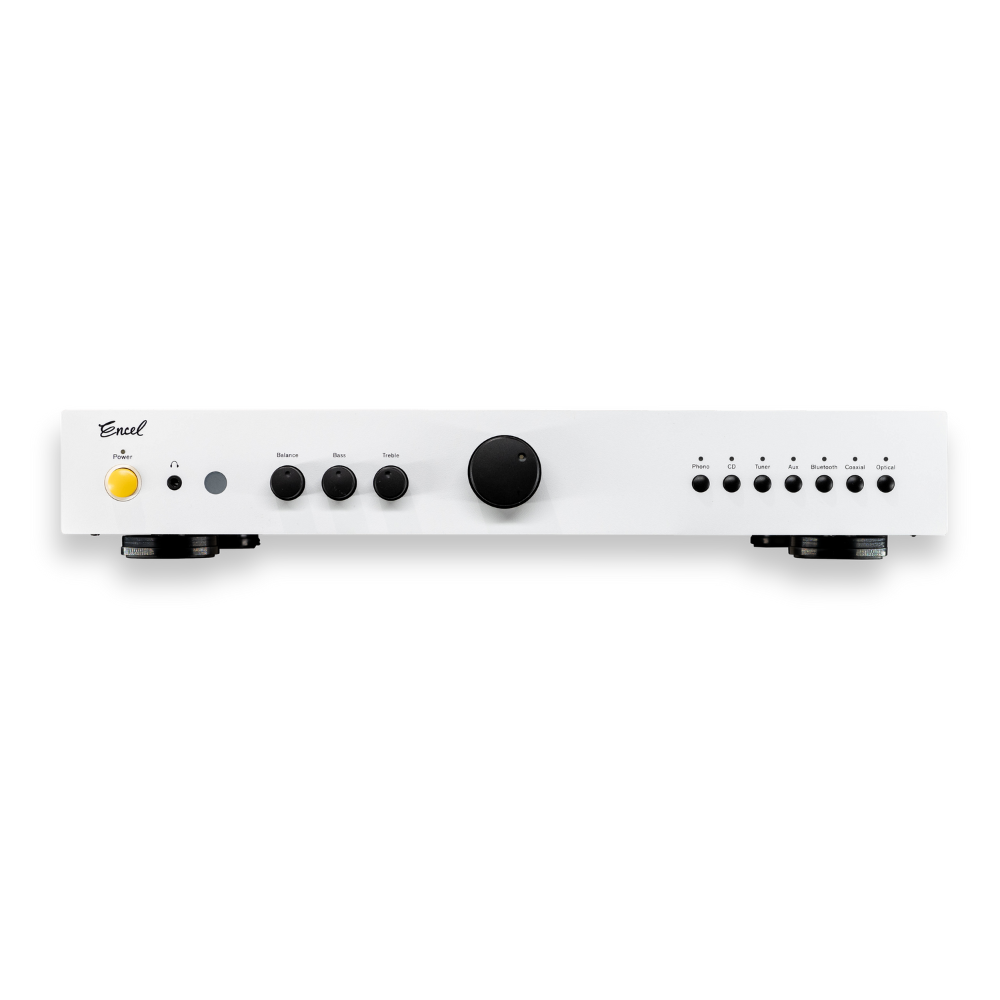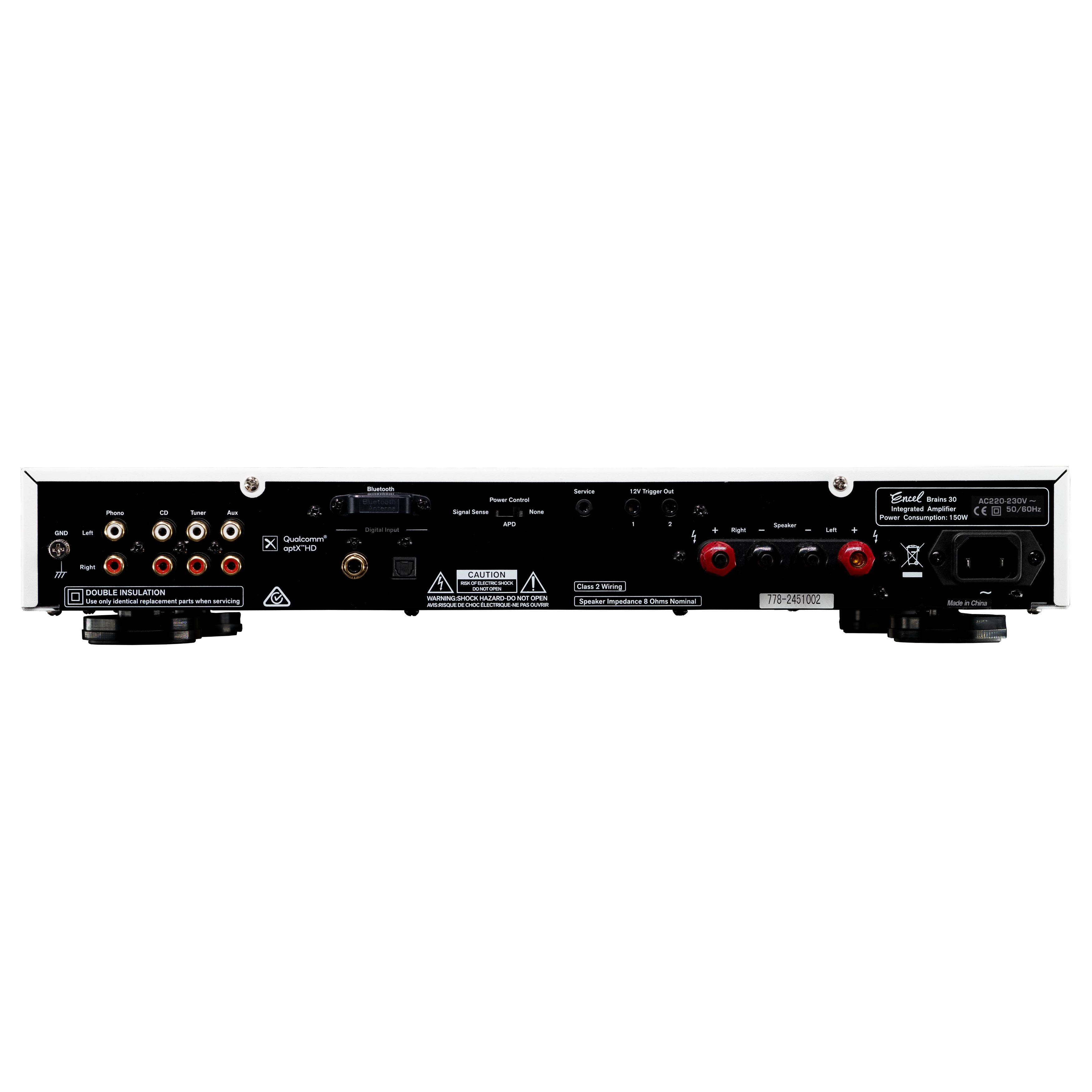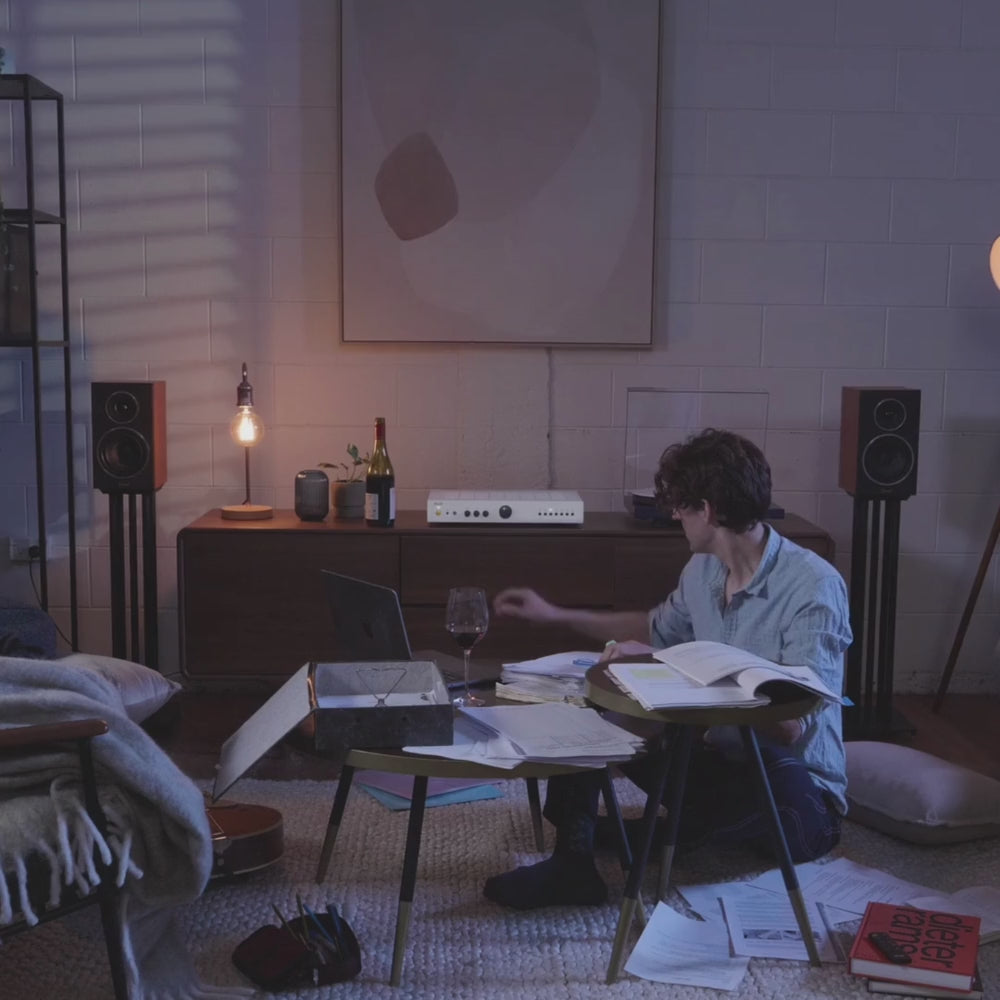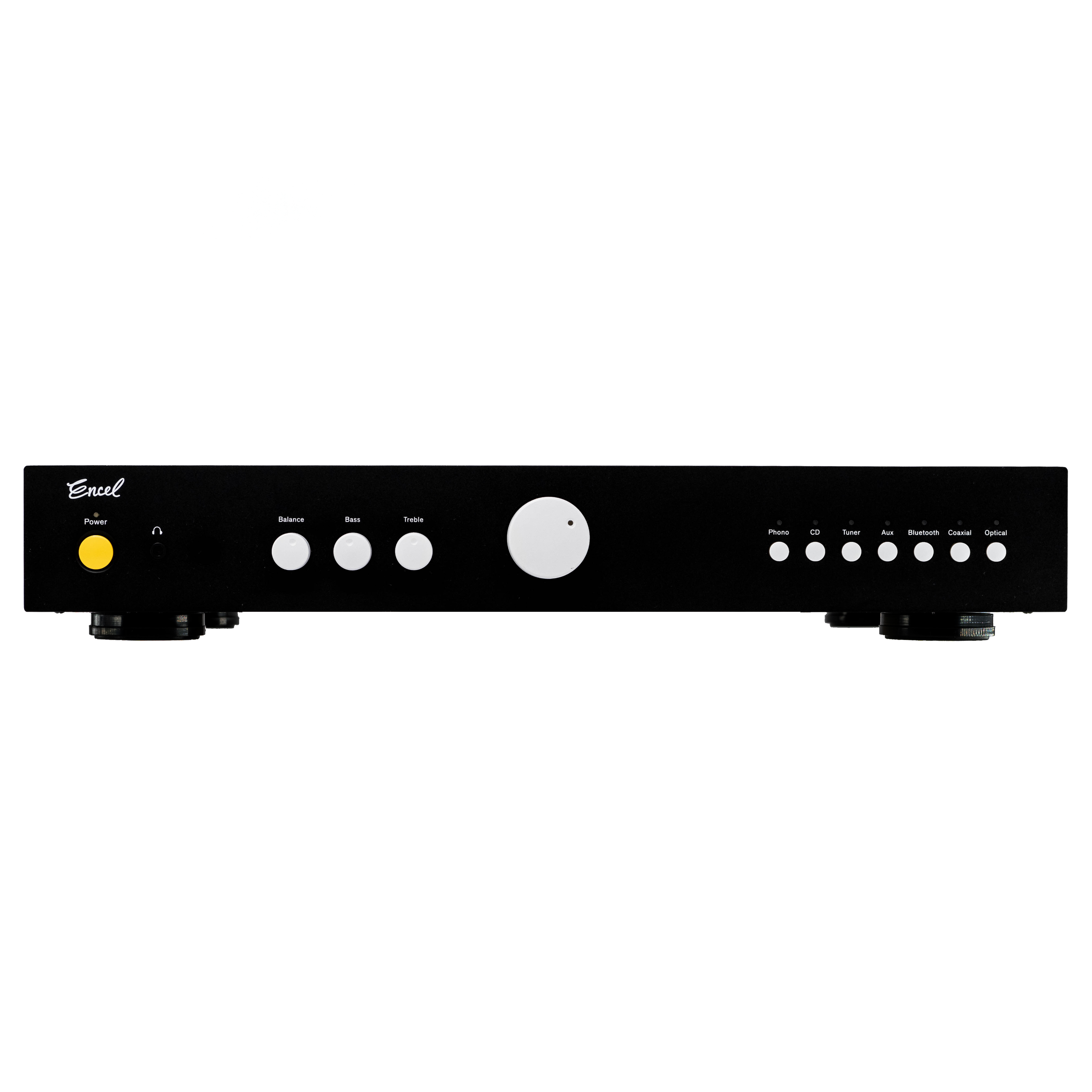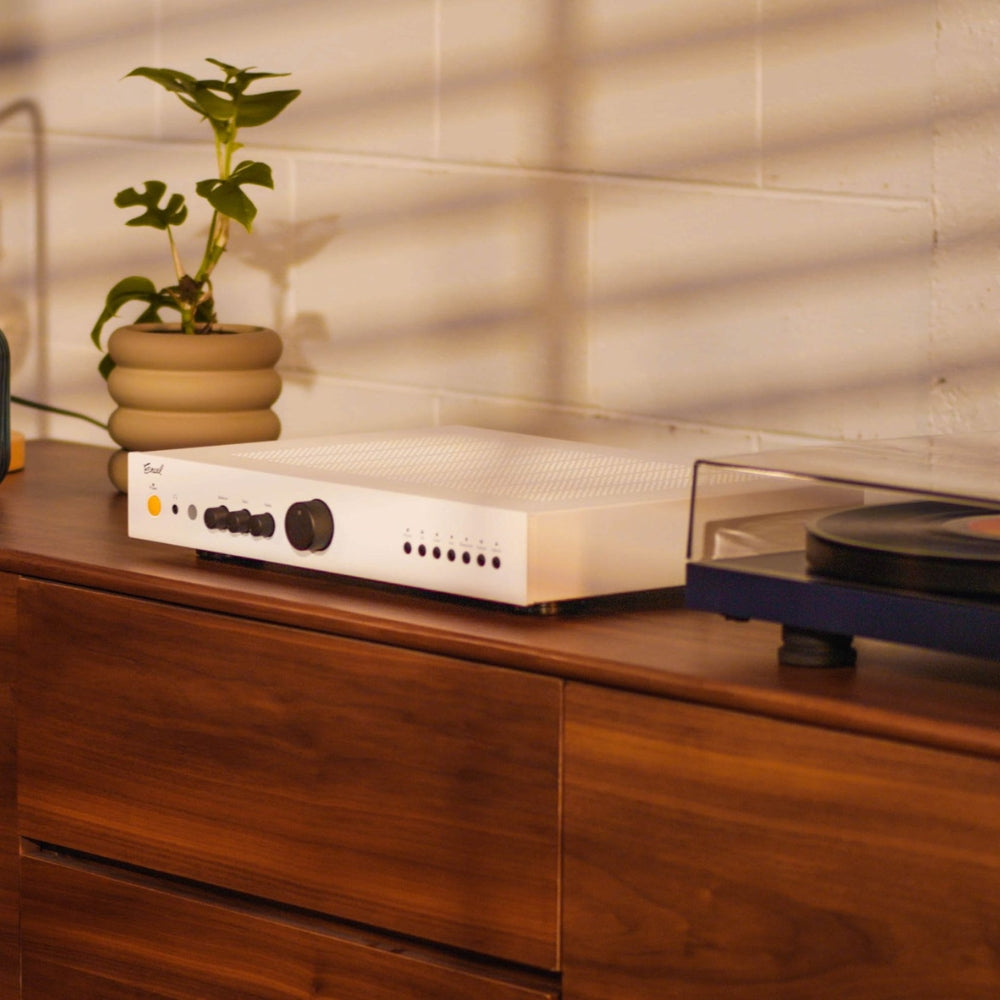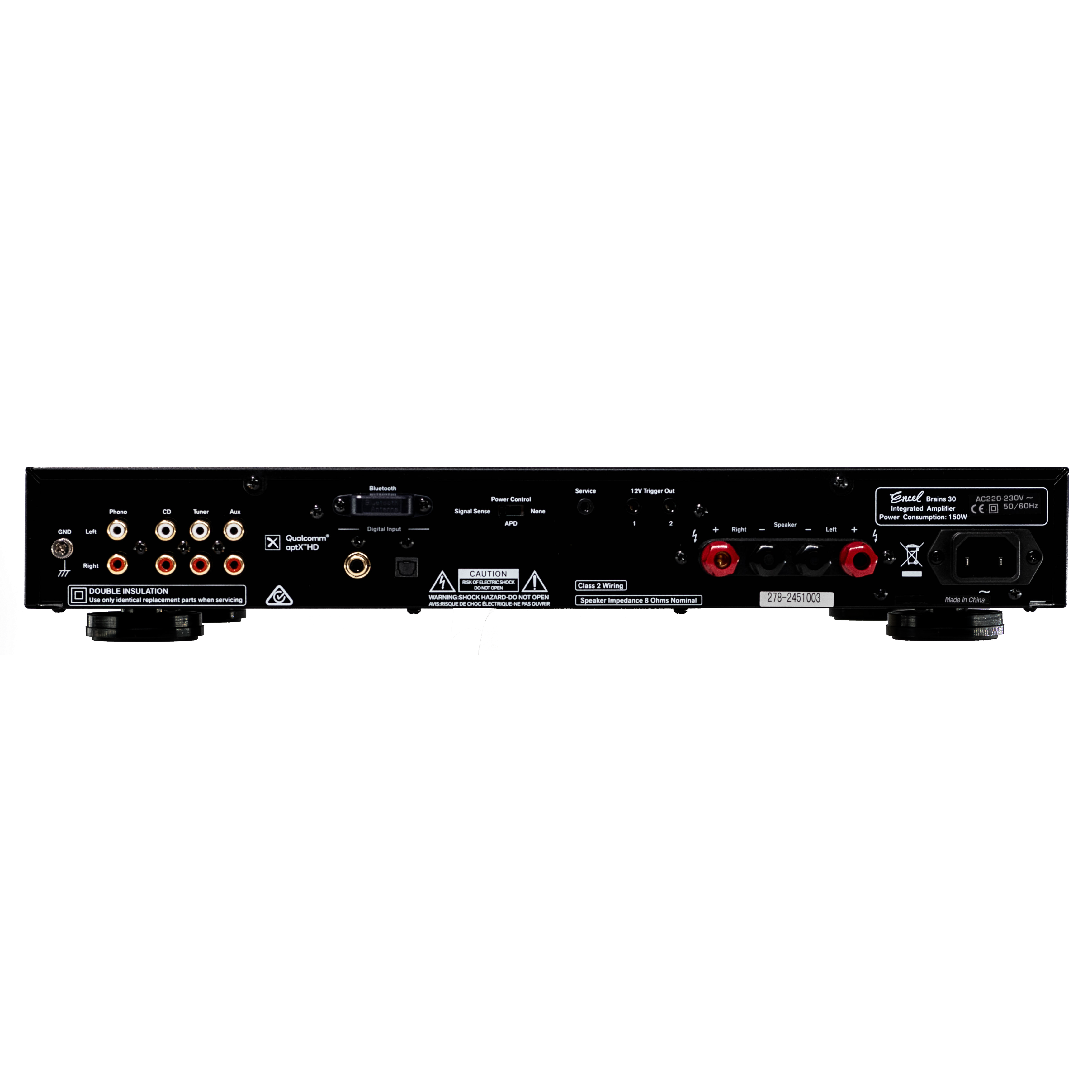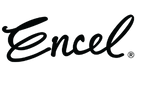 Encel Brains Integrated Amplifier
Brains delivers all your music sources. Think vinyl, streaming, CD, or TV in a sleek, minimalist design.

Bonus: it even has a headphone output for private listening.
---
Specifications

| | |
| --- | --- |
| Inputs | • 1 x MM Phono • 3 x RCA line level • 1 x S/PDIF optical • 1 x S/PDIF coaxial • 1 x Bluetooth aptX HD |
| Outputs | 1 x 3.5mm headphone out |
| Amplifier Class | AB |
| Power Output | 40 watts/ch (20 - 20k Hz, < 0.03%, 8 ohms) |
| Total Harmonic Distortion (20 Hz - 20k Hz) | < 0.03% at rated power, 1/2 power or 1 watt |
| Frequency Response | Phono input 20 Hz-15k Hz, ±0.3 dB Line Level Inputs 10 Hz - 40k Hz, ±1 dB |
| Damping Factor (20 - 20,000 Hz, 8 ohms) | 180 |
| Input Sensitivity / Impedance | Phono input 2.5 mV / 47 k Ohms Line Level Inputs 150 mV / 24 k Ohms |
| DAC | Texas Instruments 32bit/384kHz PCM5102 |
| Dimensions (W, H, D) | 430 x 73 x 347 mm |
| Weight (net) | 5.9 kg |
Brains is covered by a 3 year manufacturers warranty.
We offer free shipping on any product over $99. For full details please see our Shipping Policy.

Our returns policy lasts 30 days. If 30 days have gone by since your purchase, unfortunately, we may not be able to offer you a refund or exchange. For full details please see our Refund Policy.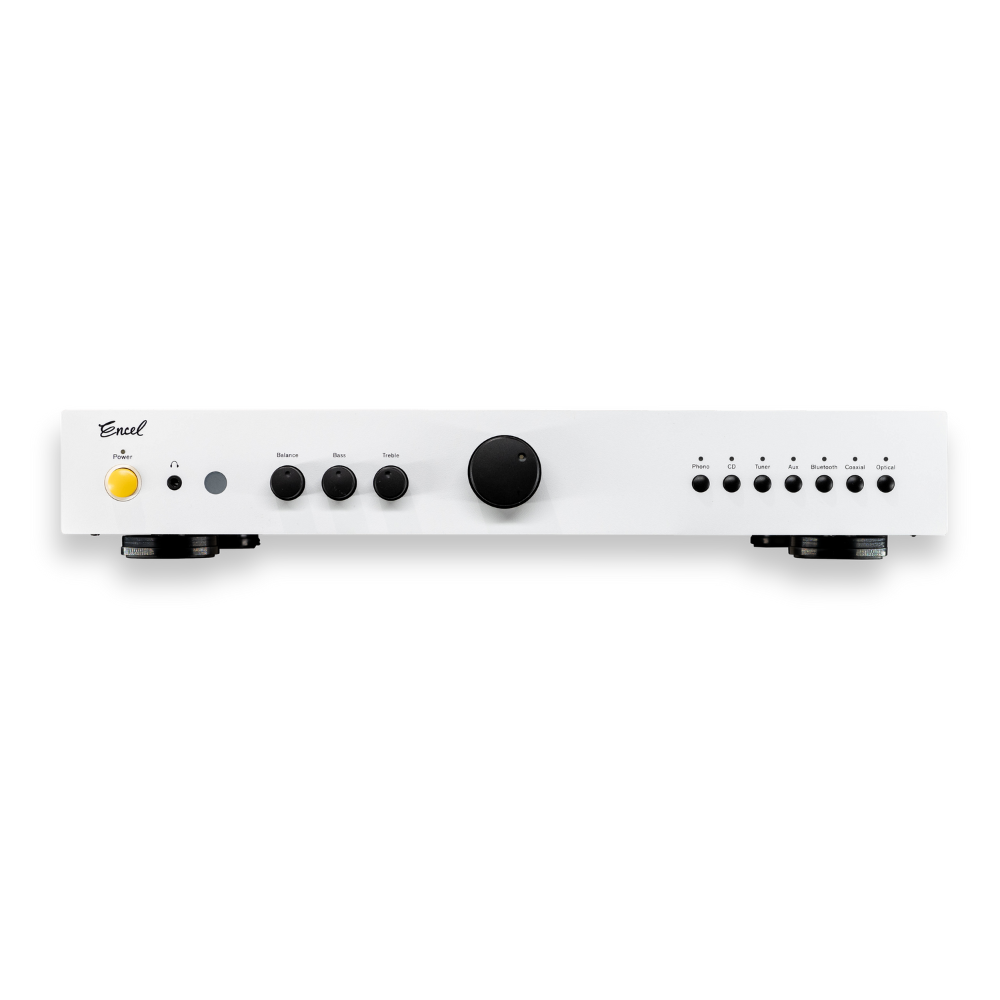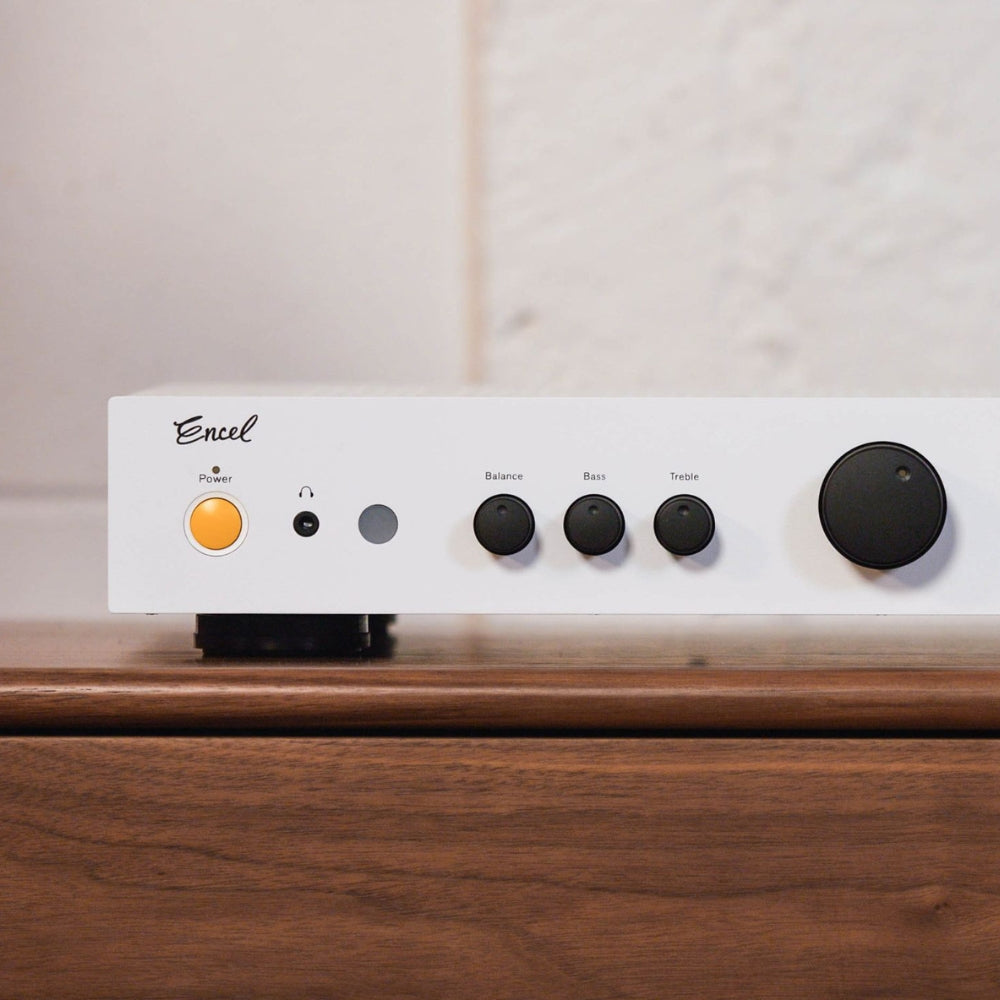 TELL ME MORE ABOUT THE
Encel Brains Integrated Amplifier
Without a conductor, an orchestra is a room of unguided elements, struggling to find cohesion with one another. All of them individually brilliant, but without a guide to give them direction, to make the collective into one breathtaking whole. A good quality turntable and speakers both have the capacity to render music with majesty and emotion, though without an amplifier to process the turntable's signal and provide the speakers with an electrical current infused with all that information, they both lie dormant.

An amplifier is the processing centre and the drive behind a great hi-fi system. It takes an input signal, imparts just the right amount of clean power, then pushes it out to the speakers, causing their drivers to vibrate and fill your room with wonderful music. If a turntable or CD player's signal were played directly through your speakers you'd barely hear a thing. A quality amplifier significantly boosts the precious information from these source components without degrading or distorting it. In essence, an amplifier is the Brains that brings everything to life and paints all the rich, vivid detail.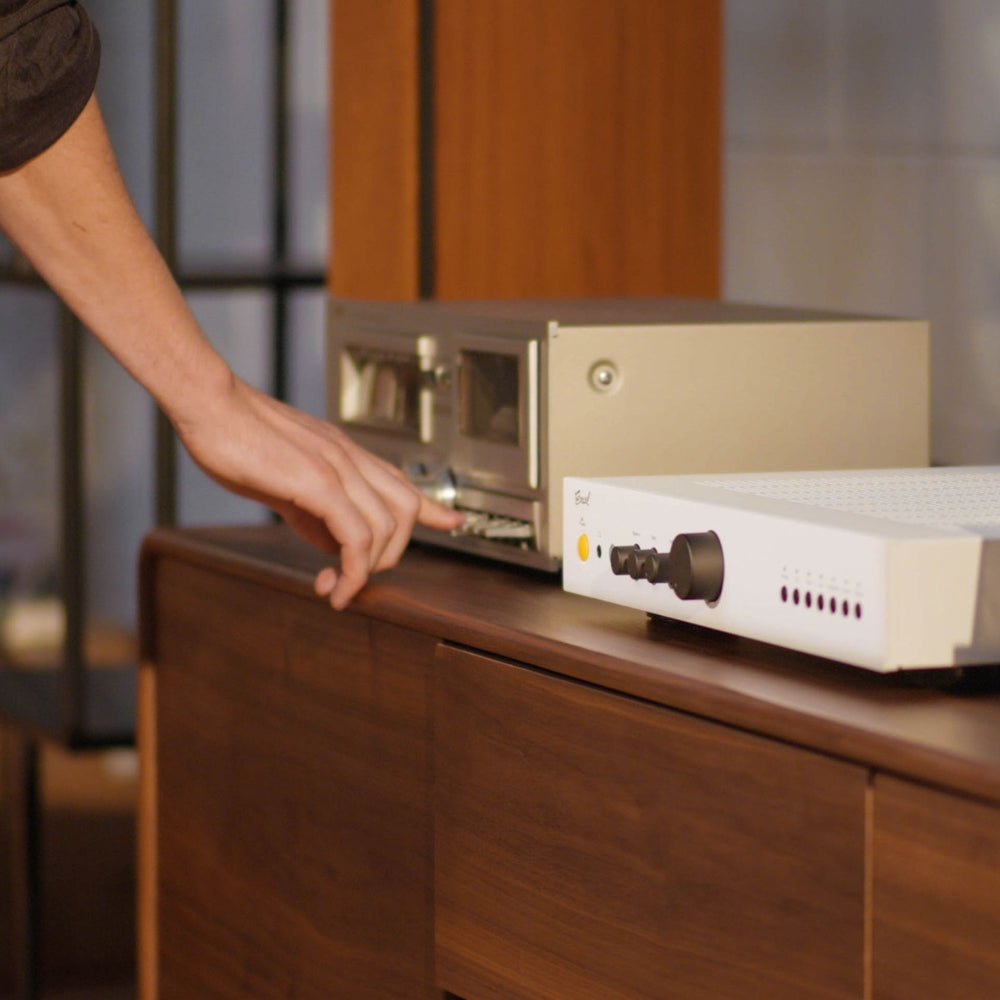 The Flexible Core of Any System
Brains is an integrated amplifier equipped with an impressive range of inputs, the perfect focal point around which to build your sound system. You could be diving into vinyl for the first time, streaming music from your phone, digging out your old CD collection, or hooking up your TV for stirring cinematic sound.

It has all those bases covered, and is housed in a beautifully minimalist chassis that slides comfortably into any room's unique aesthetic. You can also enjoy some one-on-one time with your music with the headphone output, excellent for late night listening.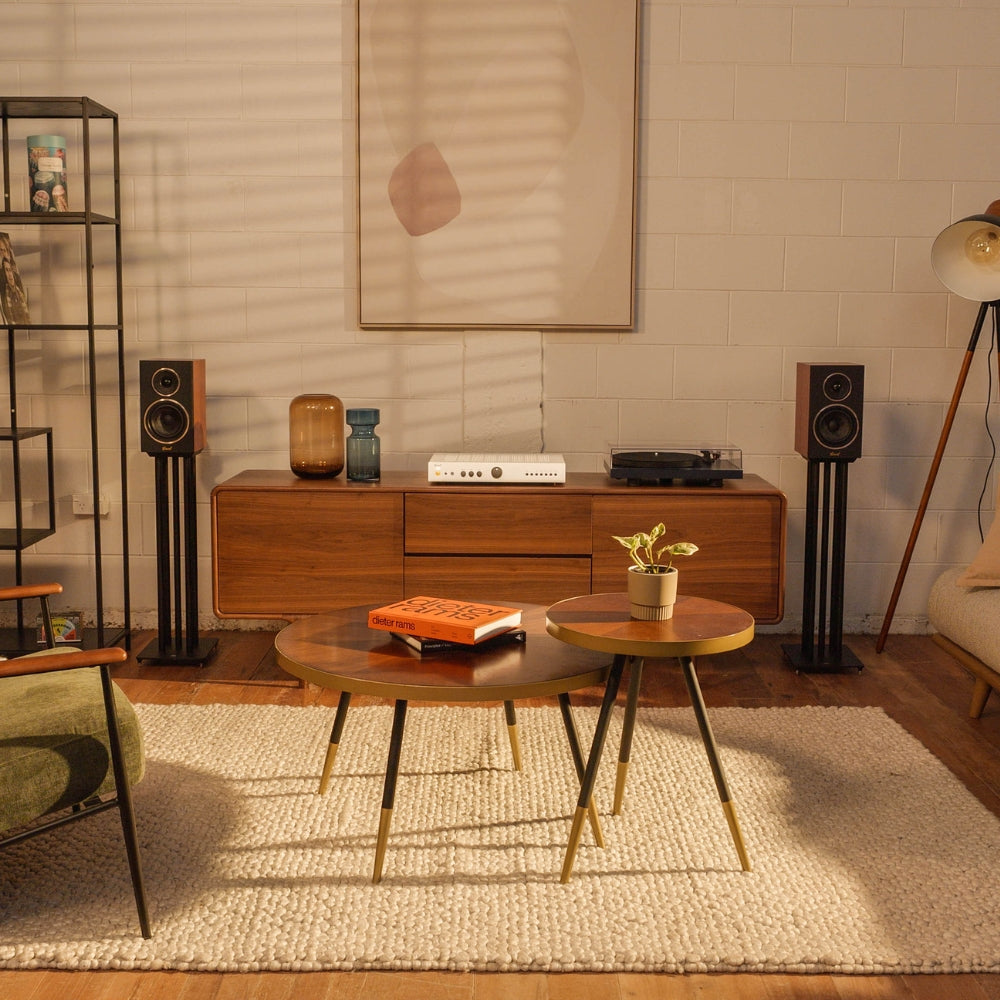 Part of the Family
Brains is made from durable materials, chosen for their sturdy, robust qualities. With so many modern audio products designed to be upgraded or replaced within a few years, its beautiful, timeless looks and longevity are a breath of fresh air.

Every aspect of the componentry is repairable, meaning it'll continue bringing joyful sound into your life for as long as it's loved, a wonderful family heirloom to deliver music for generations ahead.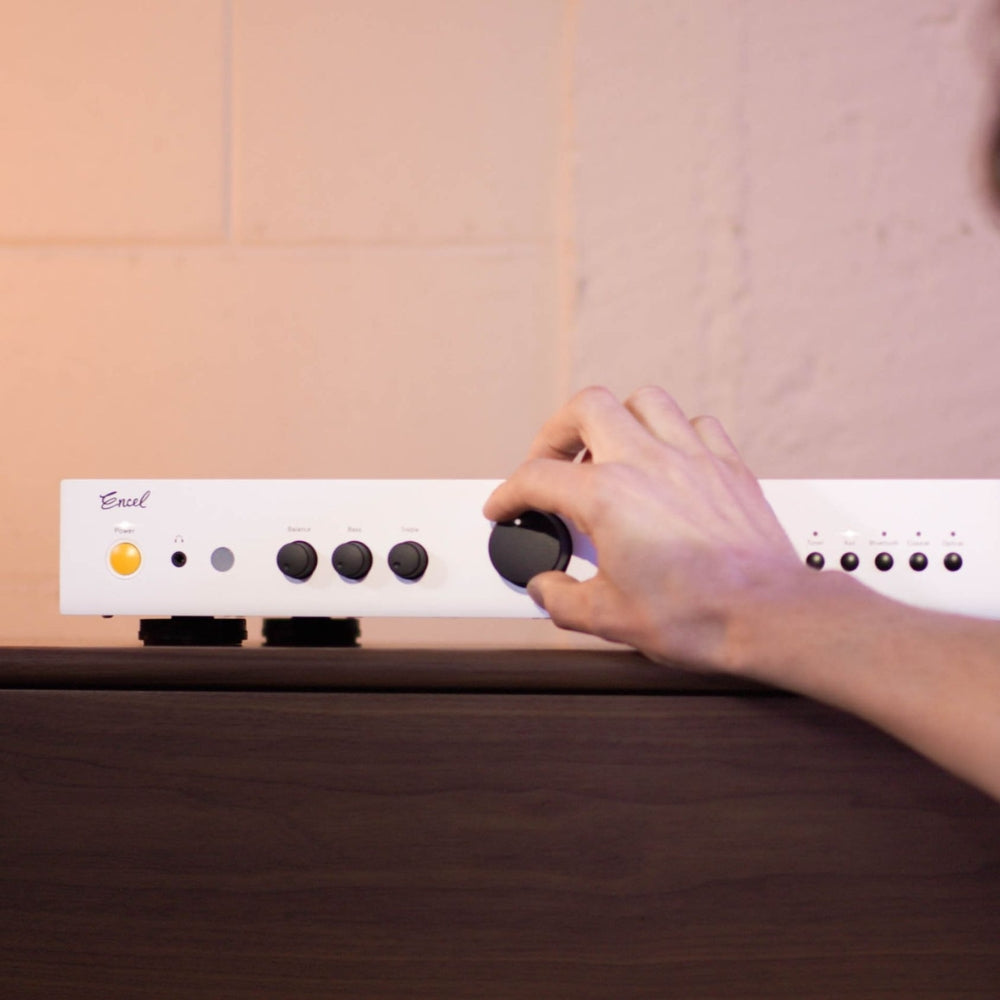 Total Control of Your Sound
Simple bass and treble controls allow you to shape your sound as you like, enriching music, films and games with low-end thunder or adding a touch of extra sparkle and clarity. Tone controls give the benefit of allowing you to adapt your sound to your specific listening conditions. Smaller speakers in a large room? Give the bass dial a generous spin. Music sounding a little flat in a smaller carpeted space? Get that treble singing. Brains hands you full control of your sound.

Input selection and volume can be adjusted from afar with the remote control, which is bundled free of charge at launch.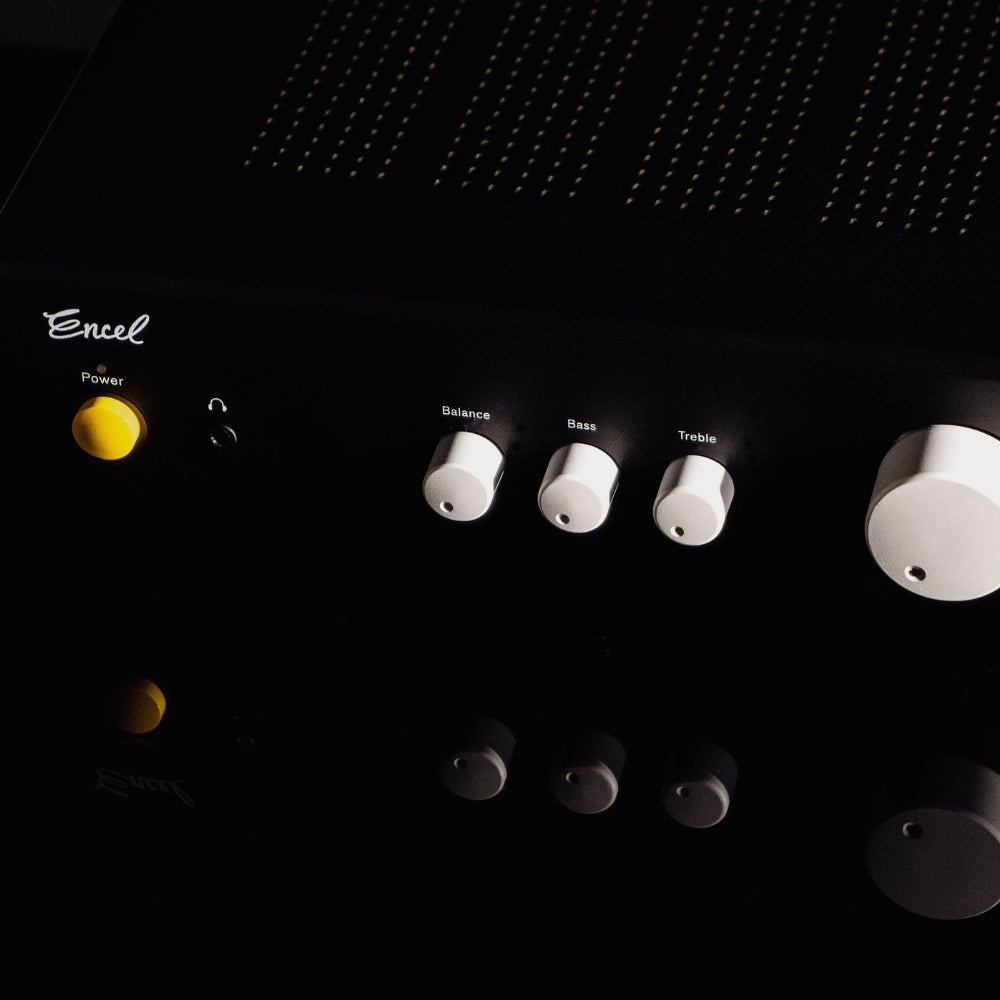 Designed in Melbourne to Last a Lifetime
Brains boasts a high-current, low-noise transformer, engineered to eliminate unwanted physical vibrations and electrical interference. Think of it as the bridge between the power from the wall socket and the delicate internal circuitry of an amplifier. It's absolutely essential that this circuitry is fed with clean power, free of electronic noise, and that's precisely what the transformer does.

Under the hood you'll also find Class A/B amplification. Bluetooth speakers and wireless headphones use what's called Class D amplification. It's more efficient, and certainly fits into smaller spaces, but the organic, faithful, vividly rendered sound of Class A/B can't be imitated or replaced. The resulting sound that's created by these elements is nothing short of breathtaking.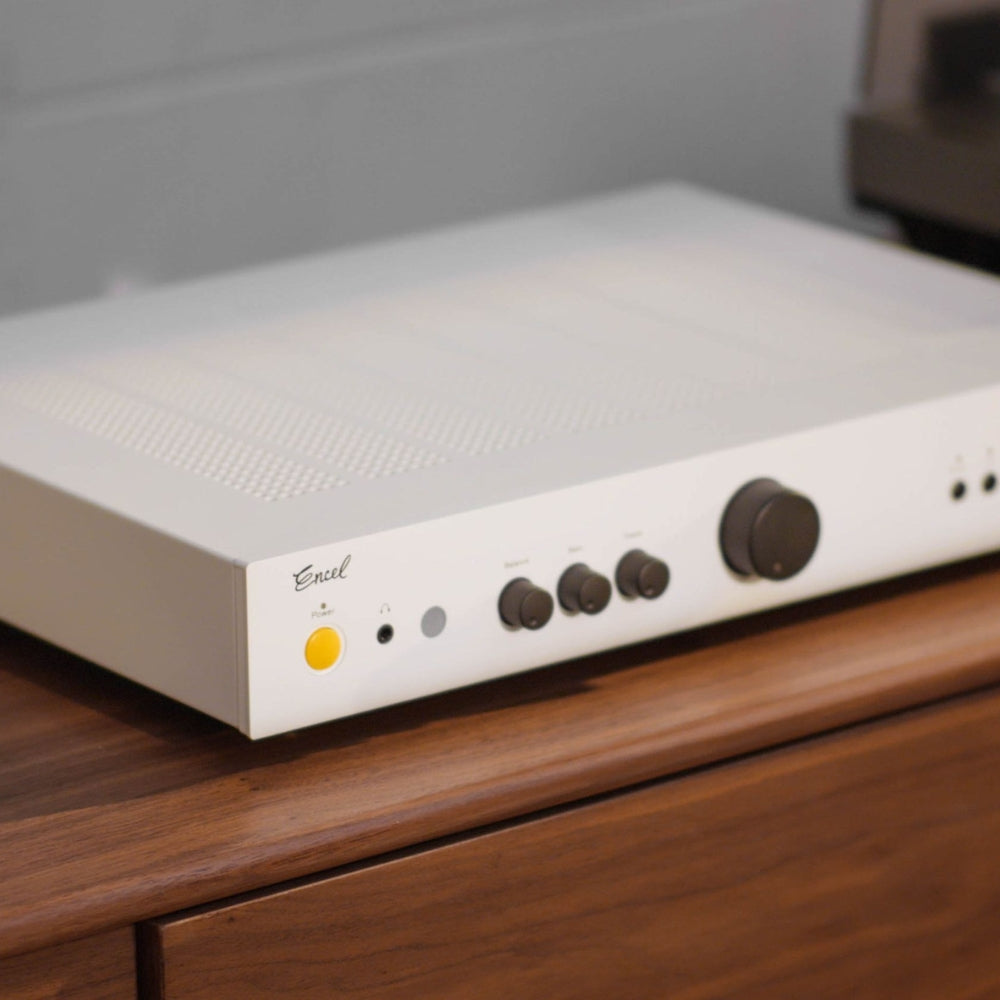 Meticulous Engineering
The main chassis is custom-engineered from steel with special tooling for the solid aluminium front panel, and finished with a fine sand-blast to accentuate its elegant lines. Volume is controlled entirely in the analog domain, eliminating the introduction of digital artefacts.

Design work was undertaken in Melbourne, with dozens of iterations experimented with and refined before arriving at the finished product. Every aspect of the engineering and hardware have been chosen with beautiful, natural sound at front of mind.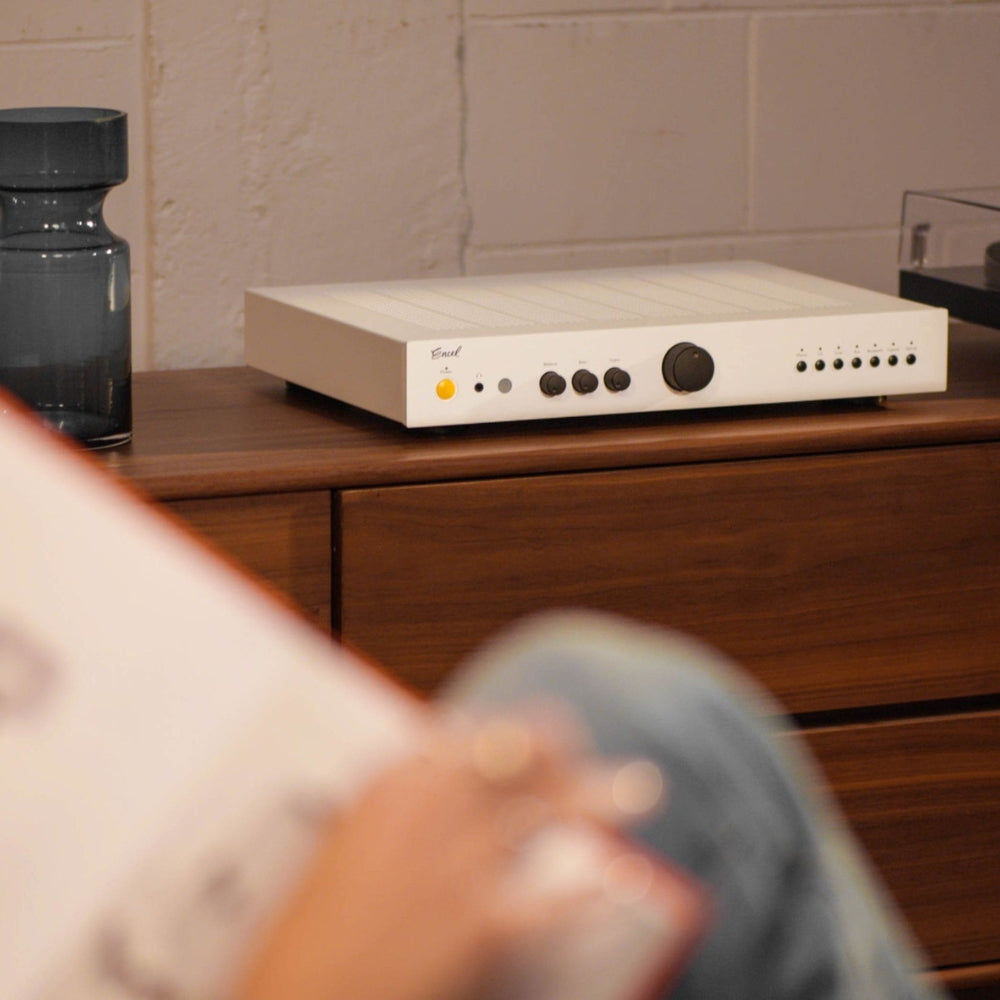 Anyone looking for a well-built, competitively-priced amplifier should not look past the Encel Brains.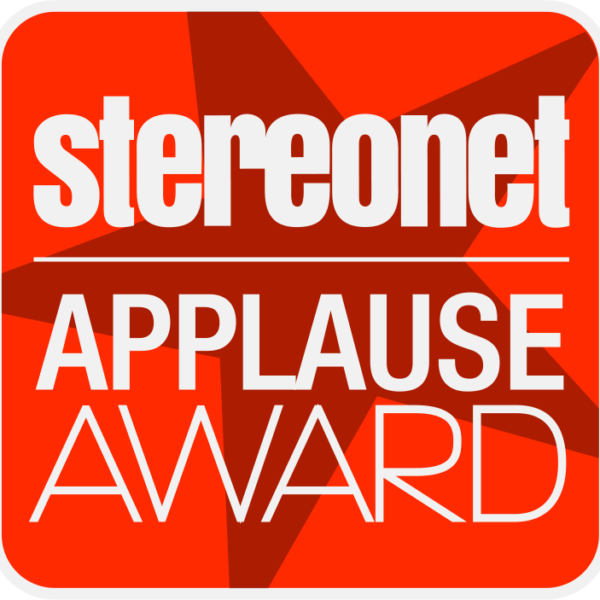 impressed
I was pretty skeptical due to the dearth of reviews but glad I did. The alternative for me was a Schiit combo - this is so much cheaper with a pretty, subtle remote. Pairing Q3030is and definitely very happy with the sound - pretty much playing constantly
So many inputs, auto on when starting tunes on my AirPort Express and a motorised volume knob that moves with the remote volume buttons.
I think the only thing it's missing is some form of sub out for more flexibility
WHILE YOU ARE BROWSING
You may also like