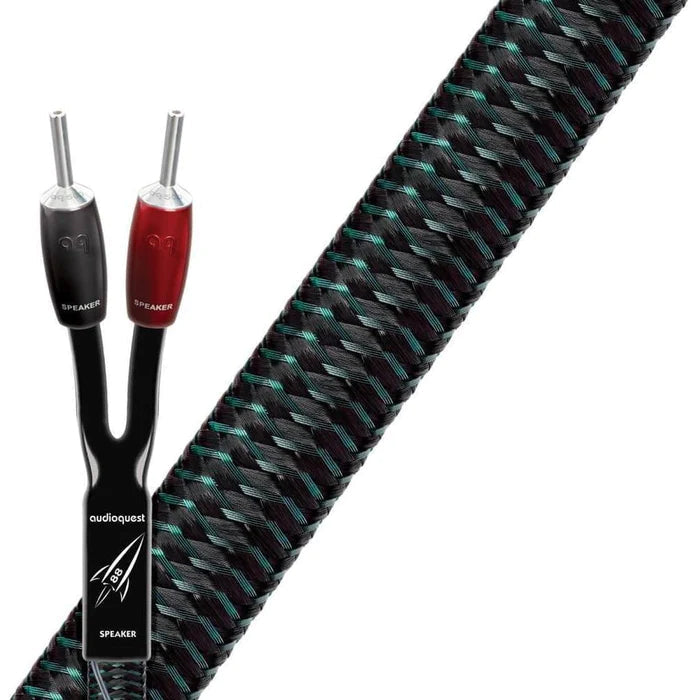 AudioQuest Rocket 88 - 3 Metre Banana to Banana Speaker Cable Pair
---
Specifications

| | |
| --- | --- |
| Design | A pair of speaker cables with pre-attached banana plugs |
| Conductors | Eight solid copper conductors per cable, each made of a combination of Perfect-Surface Copper and Perfect-Surface Copper+ |
| Dielectric-Bias System | Battery-powered active Dielectric-Bias System maintains a constant 72V charge for more consistent cable performance (batteries included) |
| Jacket | Textile braid jacket |
| Standard Lengths | 2, 3, 4, 5 & 6 metre terminated pairs - other lengths available to special order - please enquire |
| Terminations | Silver-plated AudioQuest 500 banana plugs at both ends |
| Manufacturer's Warranty | 5 Years |
AudioQuest Australia will repair or replace any defective product that has not been abused, for the lifetime of the product, as long as you are the original owner.

Proof of original purchase is required.
We offer free shipping on any product over $99. For full details please see our Shipping Policy.

Our returns policy lasts 30 days. If 30 days have gone by since your purchase, unfortunately, we may not be able to offer you a refund or exchange. For full details please see our Refund Policy.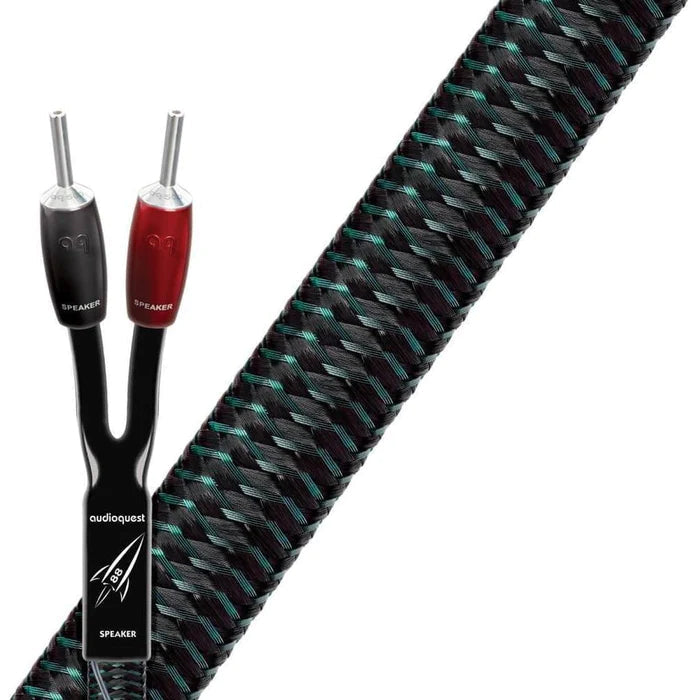 AudioQuest Rocket 88 Speaker Cable
AudioQuest's Rocket 88 speaker cables are designed to help high-performance audio systems sound their very best. AudioQuest cables are known for their ability to deliver smooth, engaging sound that never sacrifices a bit of detail. The company's goal is to transfer signals as faithfully as possible, and it's reflected in their motto: "Do no harm." AQ's secret recipe combines innovative design, top-quality materials, and lots and lots of careful listening.
One of the most important ingredients in a high-quality cable is the metal used for the signal conductors. This is of course not Rocket science. Like all AudioQuest cables, Rocket 88 uses a carefully finessed combination of AudioQuest's Perfect-Surface Copper and their even-higher-purity Perfect-Surface Copper+. The metal mix is dominated by PSC+, which significantly reduces harshness while increasing clarity. Each of the cable's eight solid conductors is a single unbroken length of pure copper, to minimise signal loss.
AudioQuest's Patented Dielectric-Bias System: Dielectric-Bias System (DBS): All insulation slows down the signal on the conductor inside. When insulation is unbiased, it slows down different parts of the signal differently, a problem for time sensitive multi-octave audio. AudioQuest's DBS creates a strong, stable electrostatic field which saturates and polarises (organises) the molecules of the insulation. This minimises both energy storage in the insulation and the multiple nonlinear time-delays that occur. Sound appears from a surprisingly black background with unexpected detail and dynamic contrast. The DBS battery packs will last for years. A test button and LED allow for the occasional battery check.
AudioQuest's active Dielectric-Bias System (DBS) creates a strong, stable electrostatic field which saturates and polarises the molecules of the insulation. A small battery pack attached to the cable produces a constant 72-volt charge, which maintains optimum bias level, giving you clear, expressive sound from your system every time you turn it on. The DBS battery packs will last for years. A test button and LED allow for the occasional battery check.
High-Quality Connectors: Rocket 88 cables feature banana plugs fastened by cold welding — a process that uses extremely high pressure to create solid secure connections that minimise signal loss. By contrast, solder tends to impede the signal, and heating the copper can negatively affect its conductivity.
Double Star-Quad Geometry: The relationship between conductors defines a cable's most basic electrical values (capacitance and inductance). However, even when those variables are kept in a reasonable balance, the relationship between conductors can be varied in ways that greatly affect the sound. The Double Star-Quad construction of Rocket 88 cables results in better dynamic contrast and information intelligibility than the same conductors run in parallel.
Spread-Spectrum Technology (SST): Any single size or shape of conductor has a specific distortion profile. Even though radially symmetrical conductors (solid or tubular) have the fewest discontinuities, any conductor of a particular size does have a sonic signature. SST is a method of reducing the awareness of these character flaws by using a precise combination of different sized conductors. The four different SST-determined conductor sizes used in Rocket 88 cables allow an exceptionally clear, clean and dynamic sound.
This product has no reviews yet.
WHILE YOU ARE BROWSING
You may also like