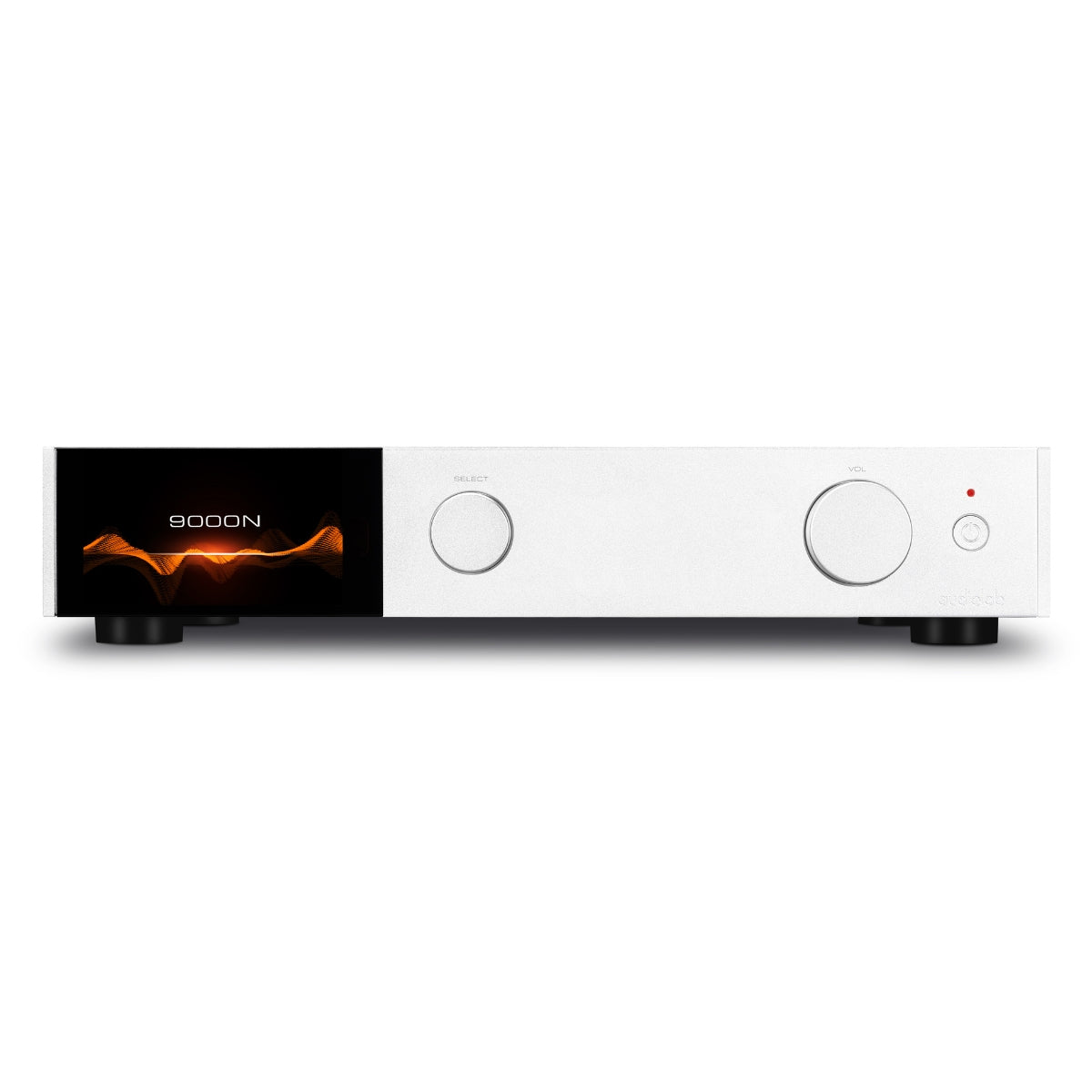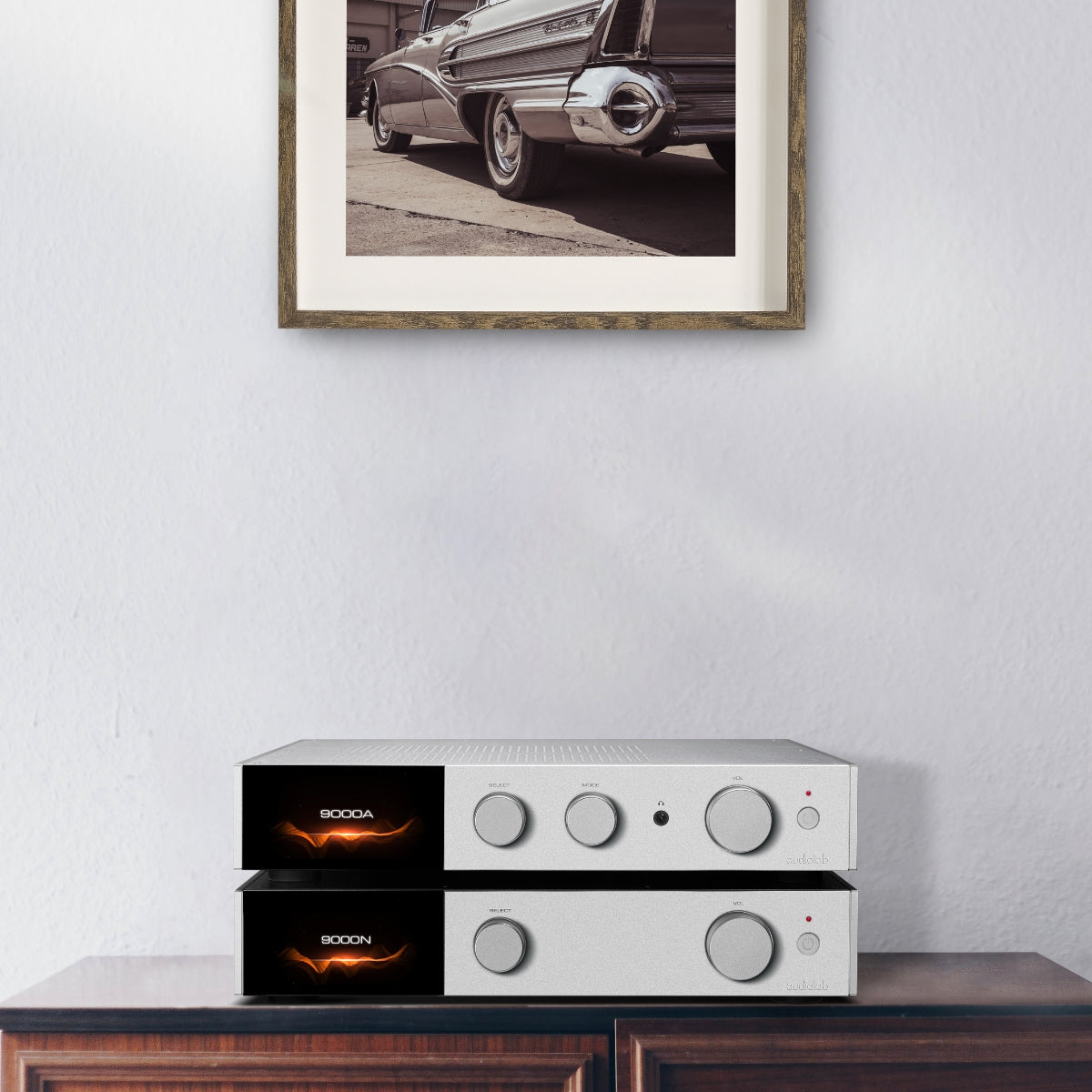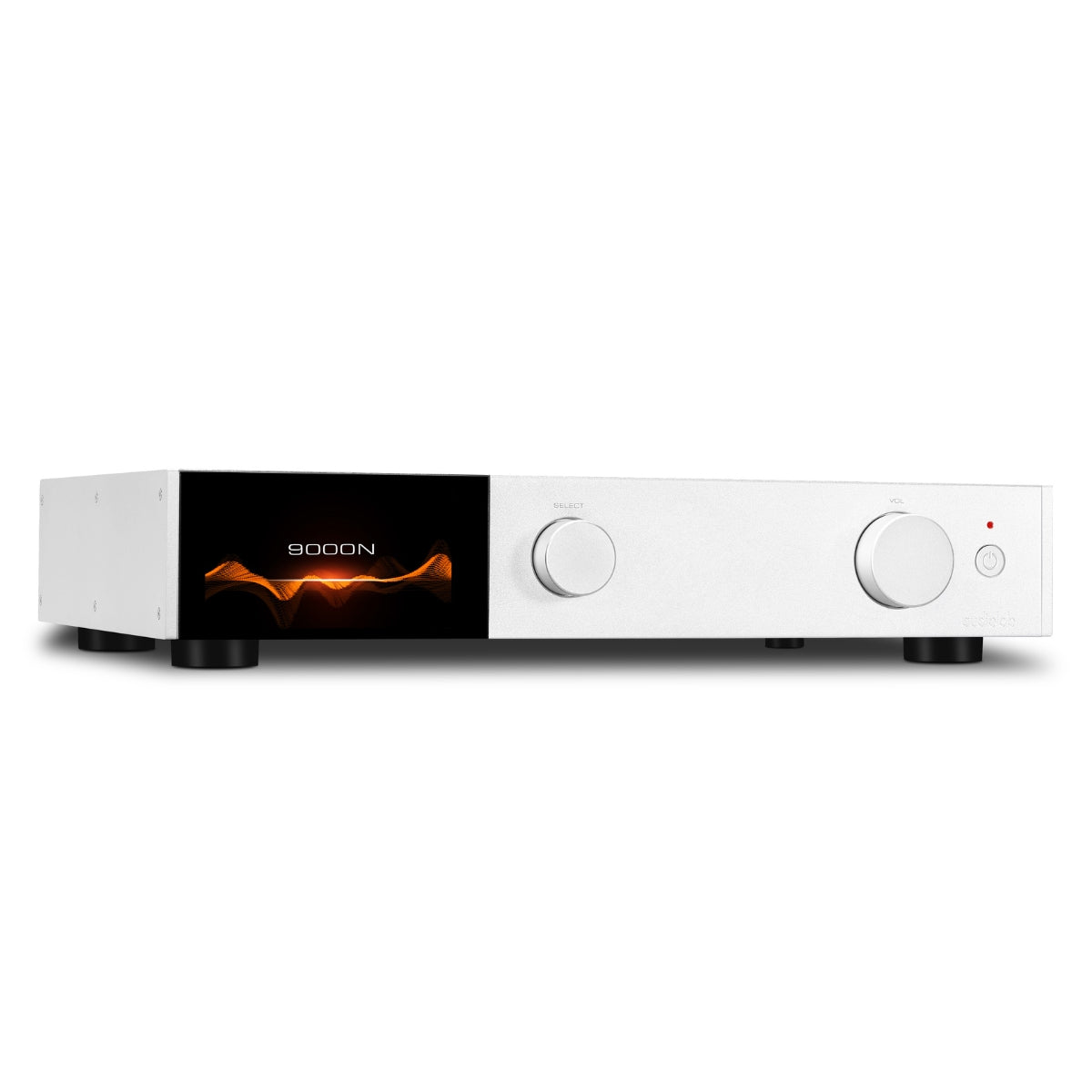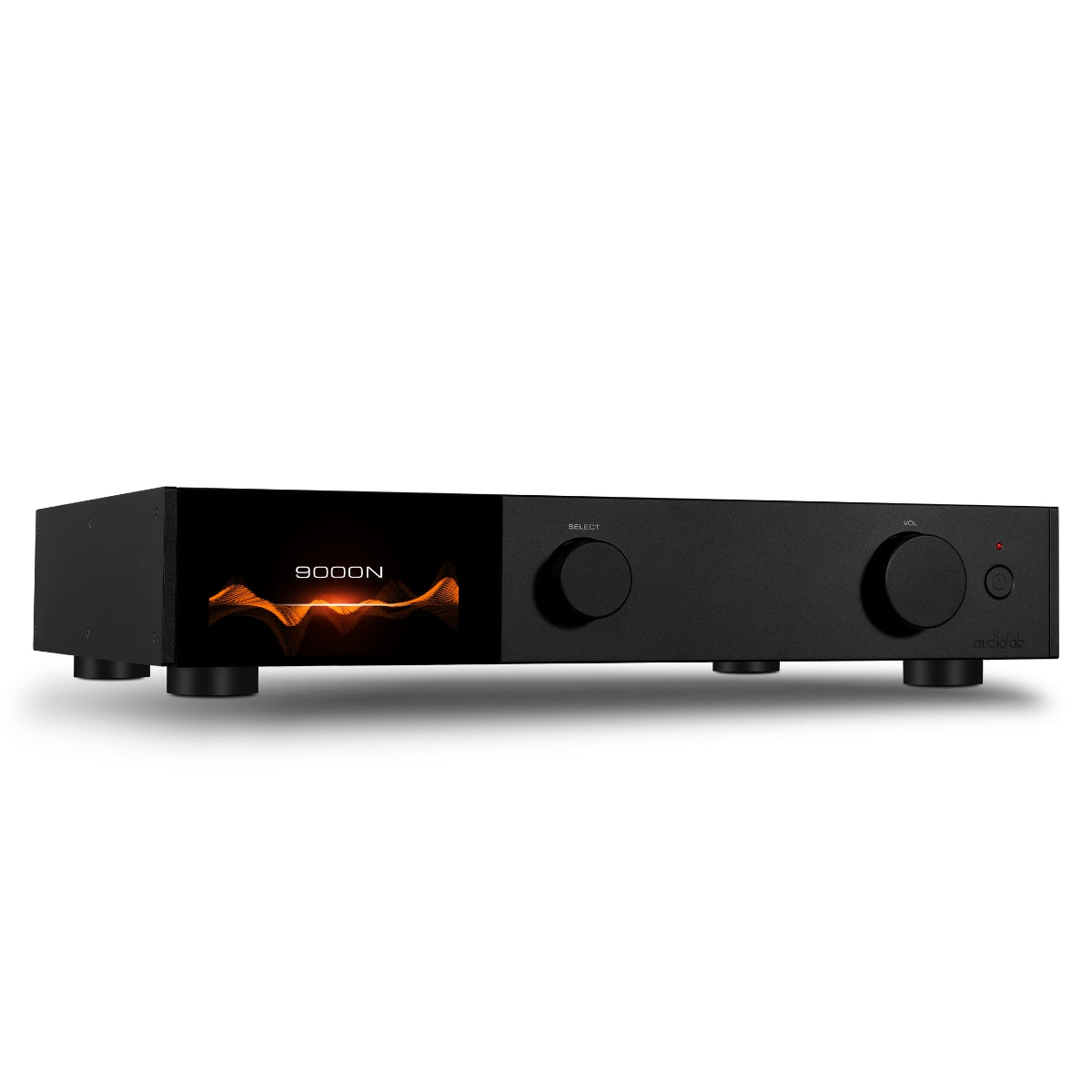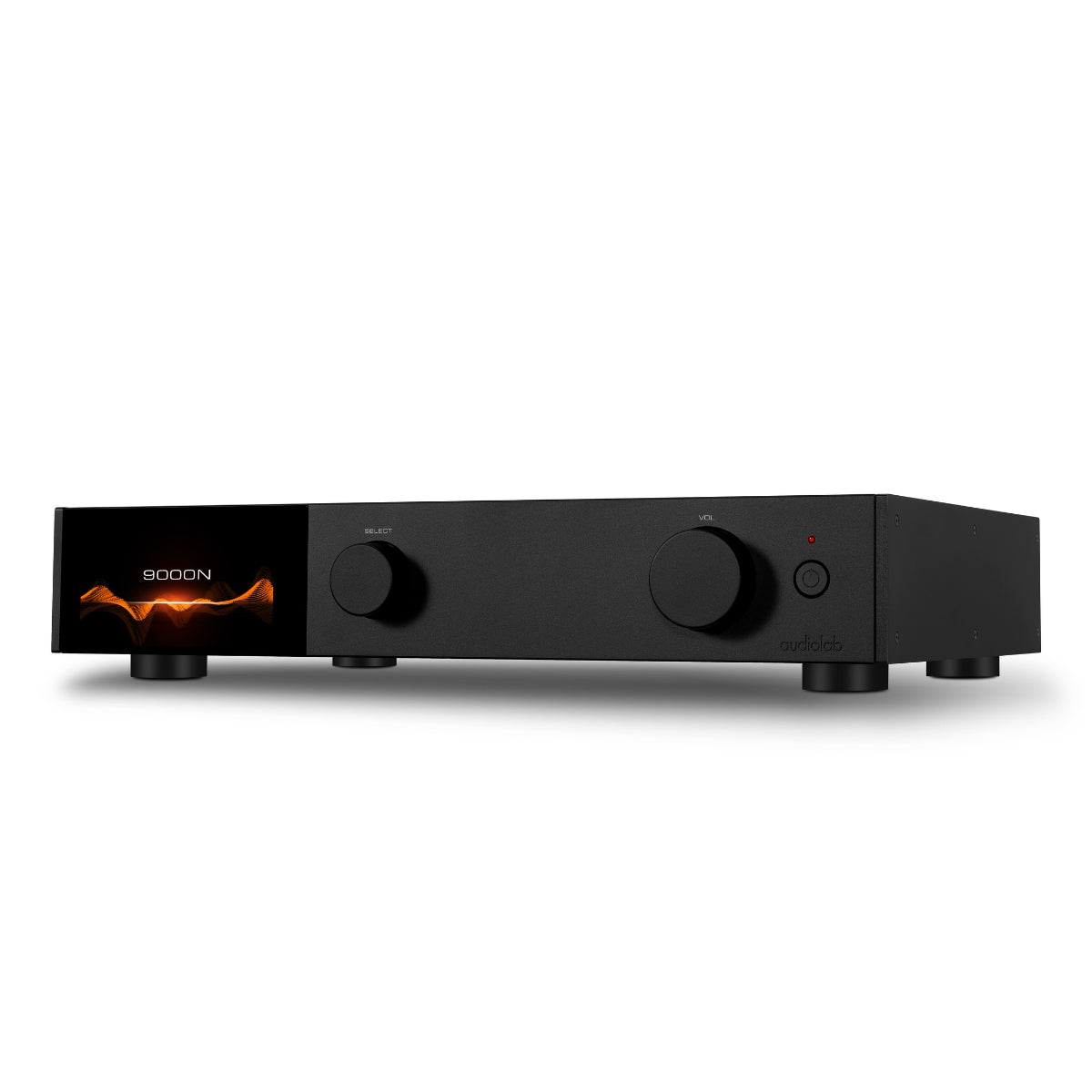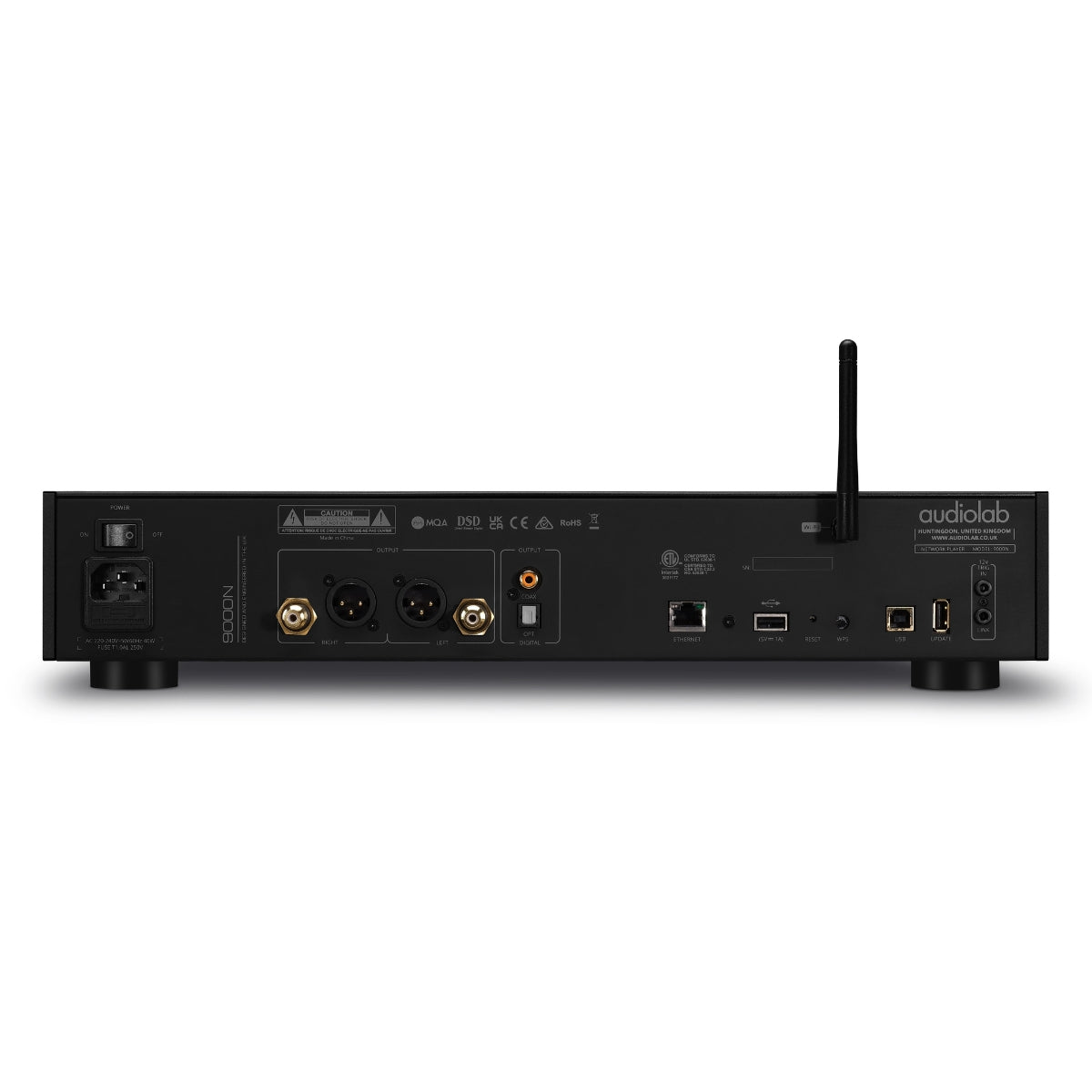 Audiolab 9000N Network Streamer
Developed to be the perfect digital streaming companion for the flagship audiolab 9000 series, the new 9000N is the result of over three year's development and innovation to provide a critically stable, high-resolution wireless (and wired) digital music playback.
---
Specifications

General Description
Wireless Audio Streaming Player
Design Philosophy and Core Technology
ESS Sabre ES9038Q2M Reference DAC
Quad Arm® Cortex®-A53 core,1.8 GHz per Core
LUMIN MUSIC Streaming technology (IEEE 802.11 a/b/g/n/ac,2.4/5GHz)
UPnP AV protocol with audio streaming extension (OpenHome)
Built-in Certified MQA Full decoder (via streaming & PC USB)
Native support for Spotify Connect, TIDAL Connect, MQA, Qobuz and TuneIn Radio
Roon Ready
Gapless Playback
High-resolution album artwork display
Lumin Music App features
Native support for TIDAL, MQA, Qobuz and TuneIn Radio
Tidal MQA icons to easily identify high-res music
Qobuz high-res icons to identify high-res music
Volume control
High-resolution album artwork display
Artwork caching
Intelligent search functionality
Multiple Playlist complications & functionality
Multiple tag handling
Composer tag support
Album-grouping in playlist
Automatic internet links to artists/album/songs
Saving and restoring of playlists (including Tidal and Qobuz)
4.3" (800 x 480px) IPS LCD screen
File compatibility
DSD Lossless: DSF (DSD), DIFF (DSD), DoP (DSD)
PCM Lossless: FLAC, Apple Lossless (ALAC), WAV, AIFF
Compressed (lossy) Audio: MP3
MQA
PCM: 44.1kHz-768kHz (705.6kHz / 768kHz Fixed-point supported via Lumin Music App streaming)
DSD: DSD64, DSD128, DSD256, DSD512 (Native)
Inputs
1 x Network Streaming
1 x PC USB (USB Type-B)
1 x Ethernet 10/100/1000Base-T Ethernet
Outputs
1 x Gold plated RCA (pair)
1 x XLR (pair)
1 x Optical
1 x Coaxial
1 x 12V Trigger (Link)
DAC
Variable Output voltage
0 – 2.05Vrms
DAC
ES9038Pro
Frequency Response
+/-0.5dB (20Hz - 20KHz, ref.1KHz)
Total Harmonic Distortion
<0.001% (1kHz @ 2.05Vrms)
Max. Sampling Frequency
768KHz / 32-bit
Signal-to-noise ratio (A-weighted)
>116dB(RCA), >120dB(XLR)
Output Impedance
120ohm
General
Standby Power Consumption
<0.5W
Net weight
6.2KG
Dimensions (mm)(W x H x D)
444 x 89 x 333
Finish
Black/Silver
Power requirements
220-240V ~ 50/ 60Hz
Standard accessories
Power Cord, Remote Control, User Manual
To qualify for Audiolab's extended 3 year warranty, you must register your product within 90 days from the date of purchase. Visit https://www.audiolab.co.uk/registration to complete your online registration.

Items not registered online will have a 1 year warranty.
We offer free shipping on any product over $99. For full details please see our Shipping Policy.

Our returns policy lasts 30 days. If 30 days have gone by since your purchase, unfortunately, we may not be able to offer you a refund or exchange. For full details please see our Refund Policy.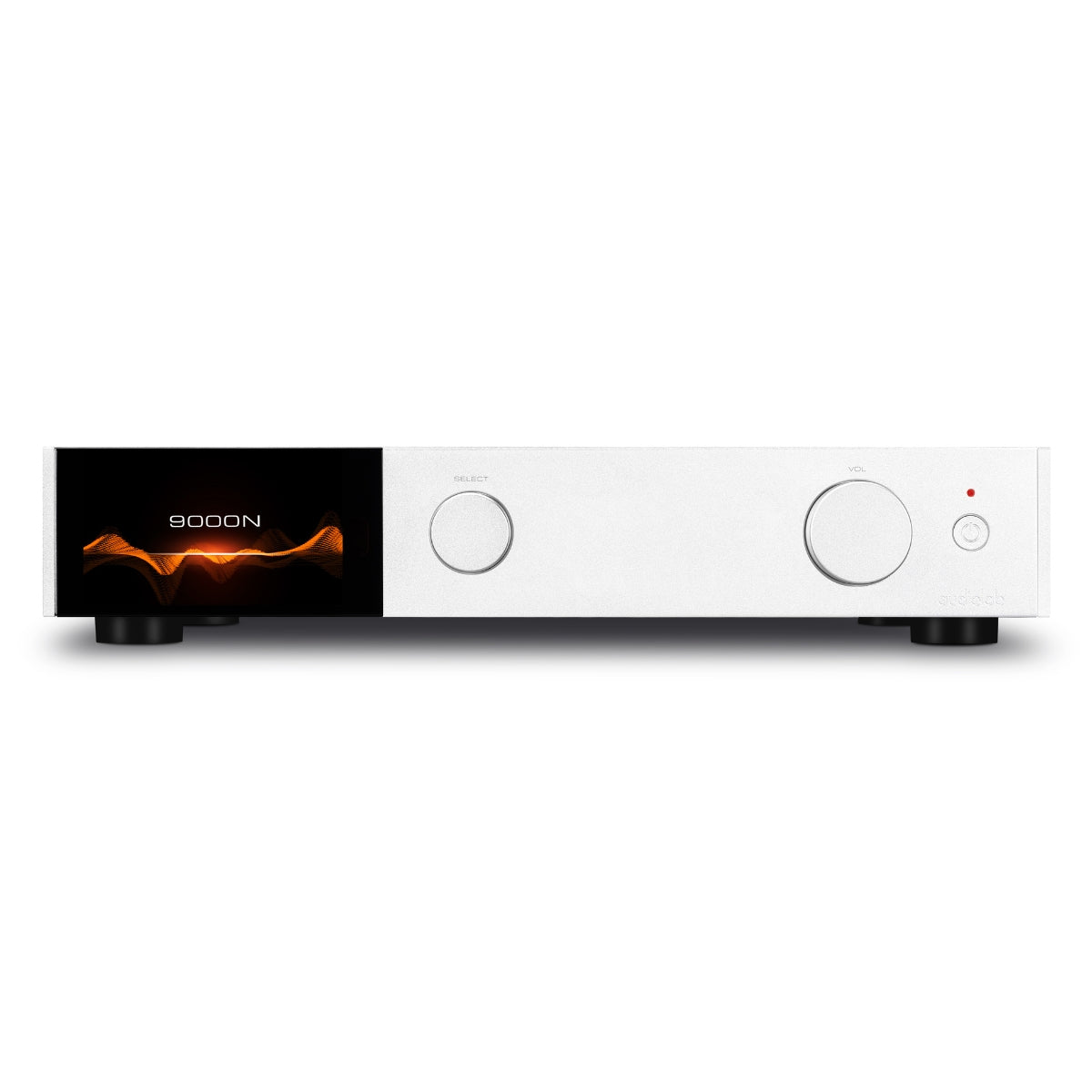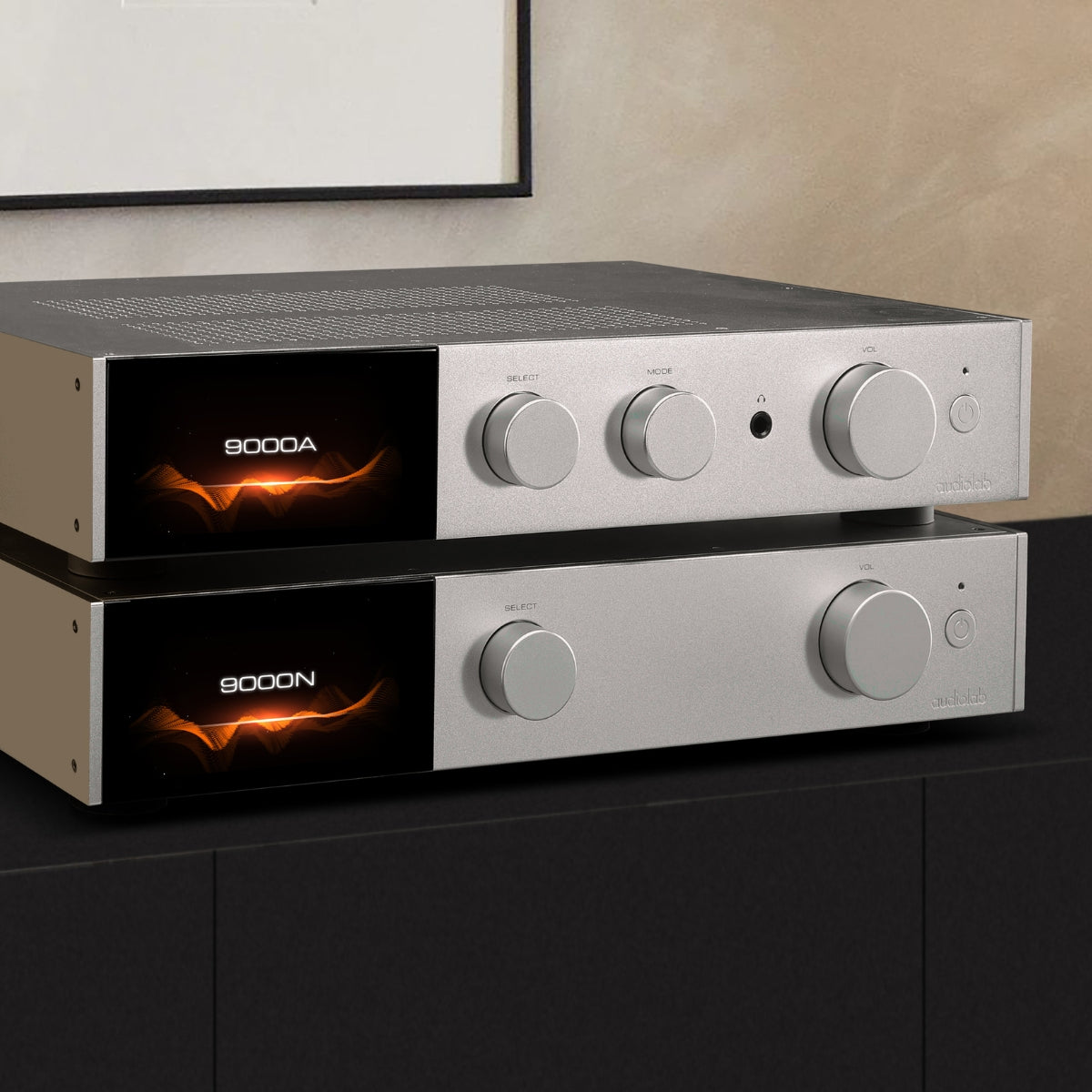 TELL ME MORE ABOUT THE
Audiolab 9000N Network Streamer
The format of the 9000N reflects the crisp elegance of the 9000A and matching CDT. Equipped with rotary controls and an absence of buttons (except for the power switch), the 9000N also implements the 4.3in colour screen, as found in the rest of the series – the perfect window for presentation for your digital music files… including full-colour album artwork!

The screen displays a variety of information in a more visually appealing way than most other streaming devices, many of which have traditionally relied upon the accompanying app for operational feedback and user control and interface. The 9000N's display offers full menu controls, an array of options, and user settings, including multi-language selection and general display options.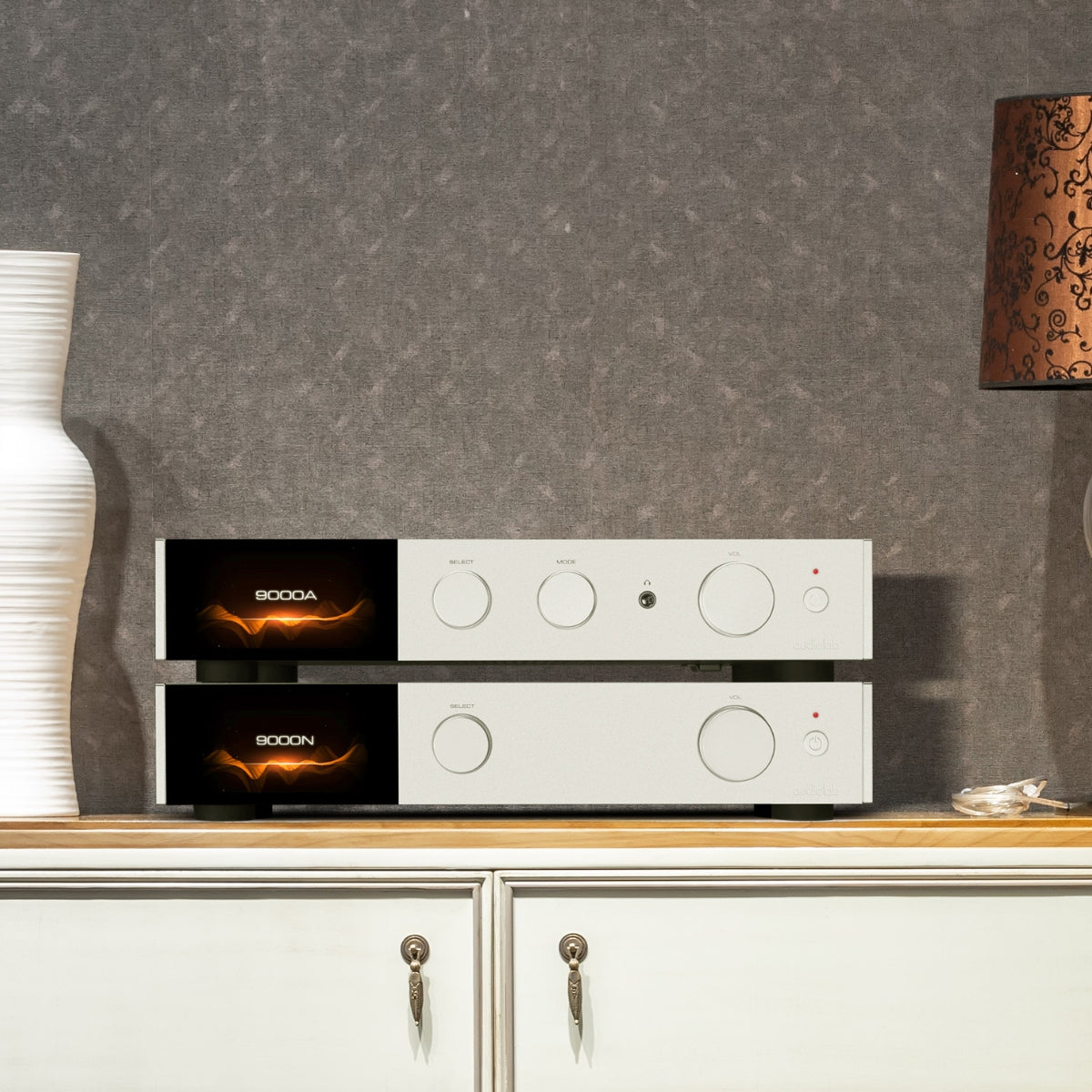 Stream like a dream
The Audiolab 9000N is a cutting-edge streaming solution, merging a robust streaming platform with Audiolab's digital expertise, superior DAC implementation, and user-friendly 9000 series interface.

Its dedicated app grants instant access to Qobuz and Tidal, including hi-res and MQA content, as well as Spotify, TuneIn internet radio, UPnP music servers, and USB HDD-stored digital audio files. The app offers intelligent search, playlist creation, and file management features, seamlessly identifying hi-res and MQA tracks.

Notably, the 9000N offers wireless playback over Wi-Fi, alongside full album artwork and ESS9038Pro DAC chipset integration, setting it apart from competitors. Additionally, it supports Airplay II, Tidal Connect, and Spotify Connect for versatile streaming options.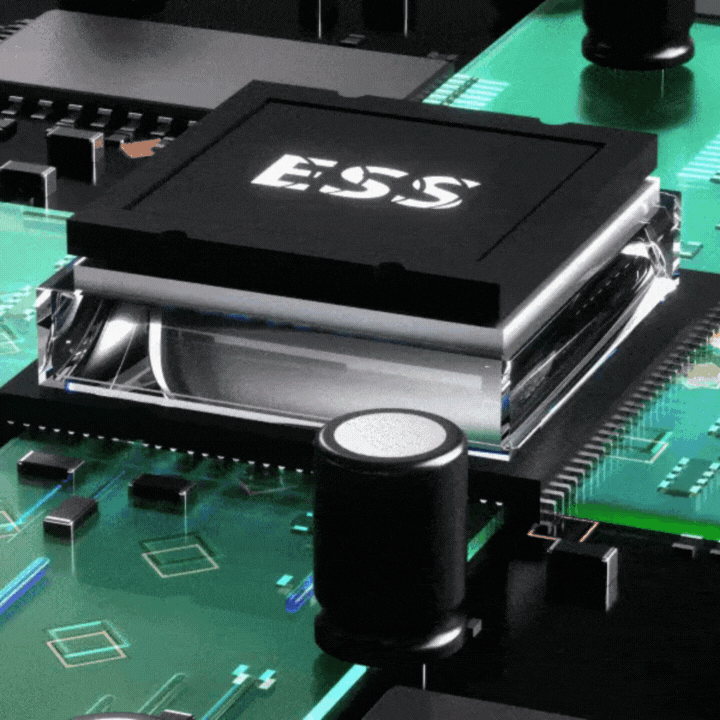 Digital Circuitry
The hardware of the 9000N is built around a robust Quad Arm Cortex-A53 core MCU with a speedy 1.8 GHz per core, guaranteeing smooth and stable performance. This core not only ensures seamless operation but also improves the user experience by caching album artwork for faster loading. Audiolab's expertise in DAC circuitry, honed since the acclaimed M-DAC's release over a decade ago, shines through in the 9000N, which features the ES9038PRO eight-channel DAC chip known for its exceptional performance. Audiolab's proprietary circuitry optimizes this chip's capabilities, delivering unmatched dynamic range and minimal distortion. The 9000N also provides full decoding of hi-res streaming technology, making it an ideal amplifier for Tidal's 'HiFi Plus' tier with MQA content. It's officially Roon Tested, ensuring seamless integration in a Roon audio setup.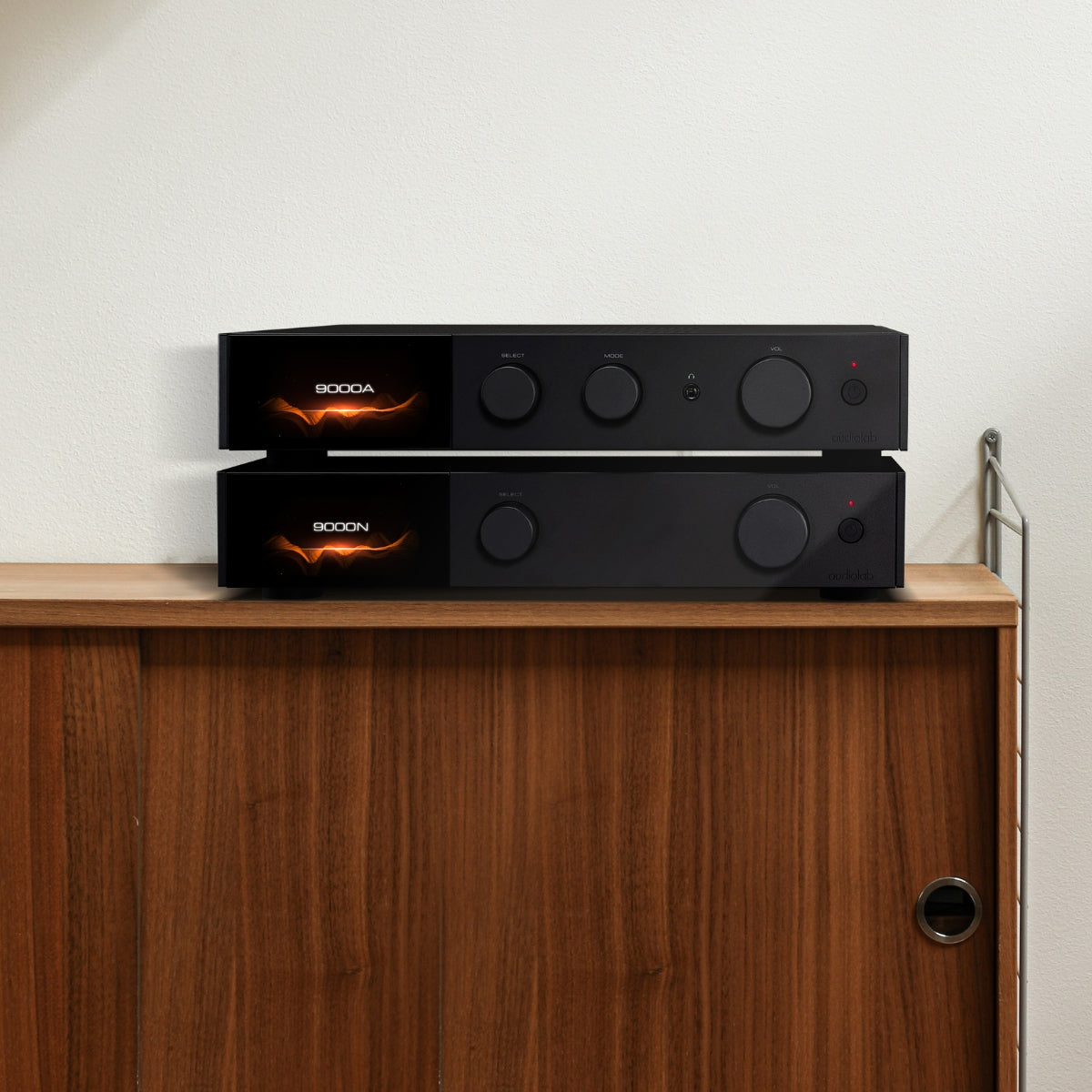 Versatile Connectivity
As any audiolab fan would expect, the 9000N incorporates state-of-the-art digital-to-analogue signal conversion. The 9000N offers connectivity via analogue XLR or RCA outputs. As a standalone MQA full decoder, it can be used with any amplifier or secondary pre-amp system that offers analogue connections. Further magic is employed through the digital output and option 'MQA Pass through functionality'. For users who may employ an equally powerful DAC (9000A owners, for instance), the 9000N can stream and throughput an untouched MQA signal (from Tidal or Qobuz, for example) which that secondary DAC can then decode. This offers further functionality and versatility, not to mention a totally unadulterated signal flow – a benefit for the purists.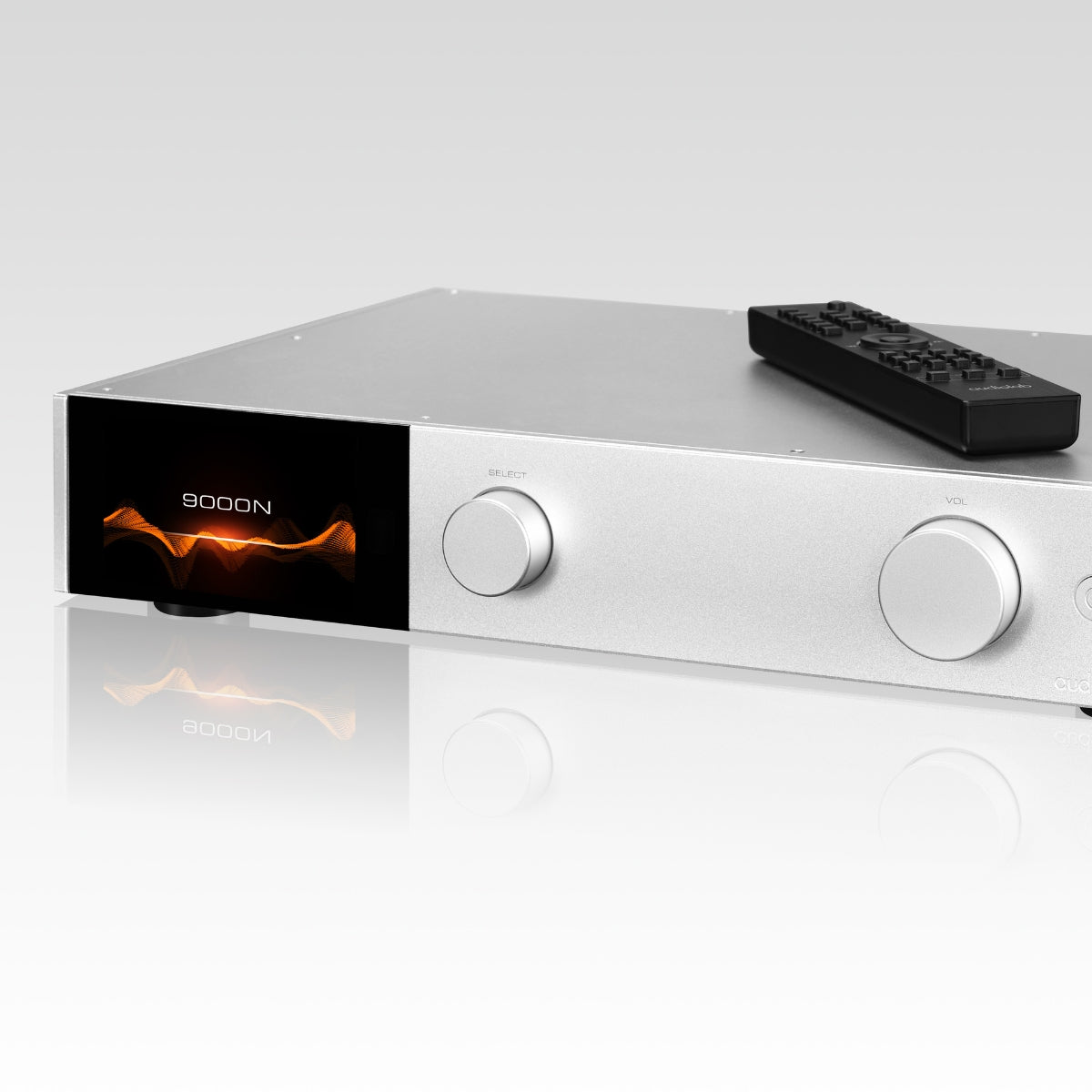 Shoots for the stars but doesn't cost the Earth
The 9000 series enters the streaming realms with a view of bringing the epitome of affordable high-end audio – build quality to be proud of, versatile functionality without a hint of compromise, and a performance that delivers every detail of the music and brings it to life in captivating style. It provides remarkable sonic consistency across all manner of digital and analogue sources, always musically engaging yet also refined.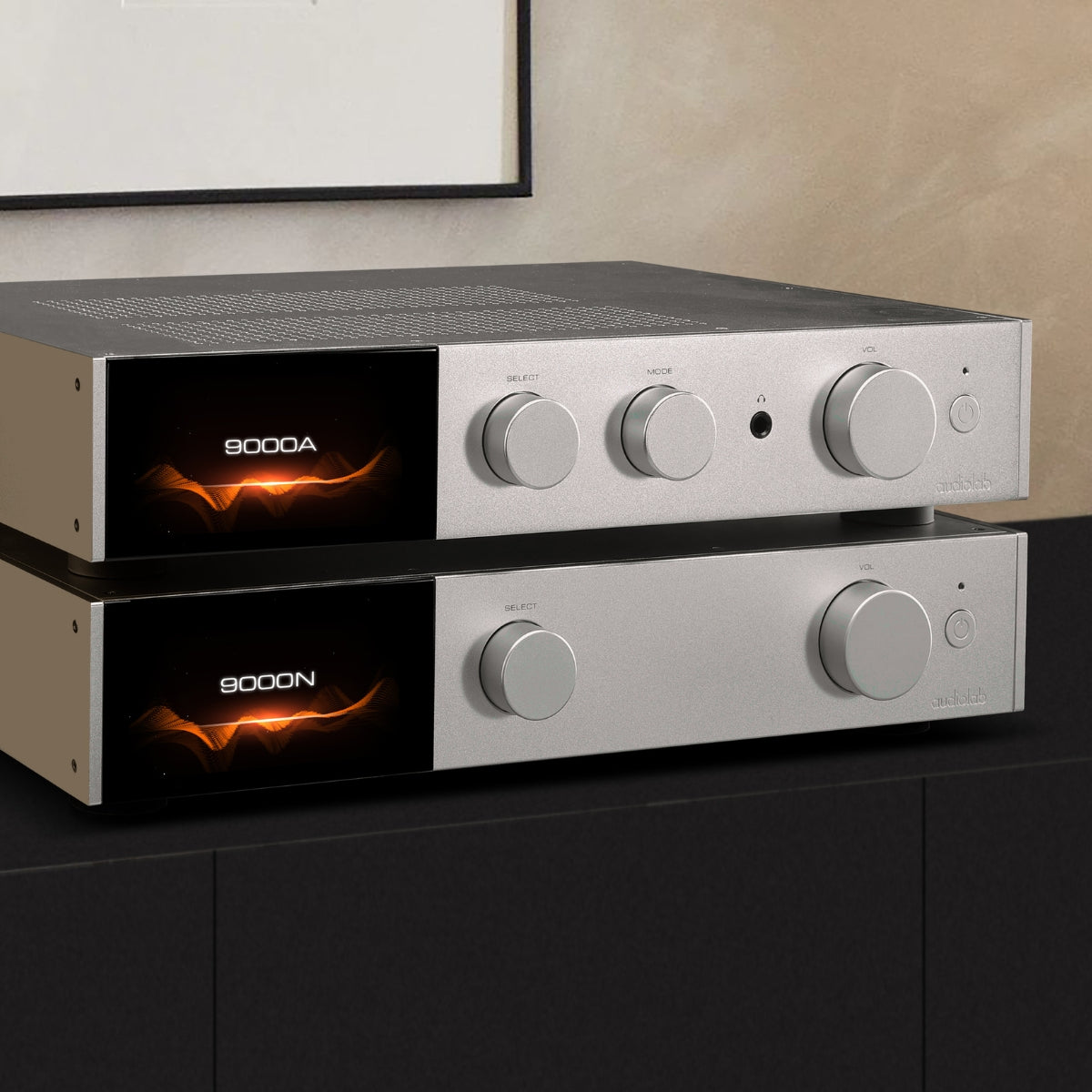 WHILE YOU ARE BROWSING
You may also like