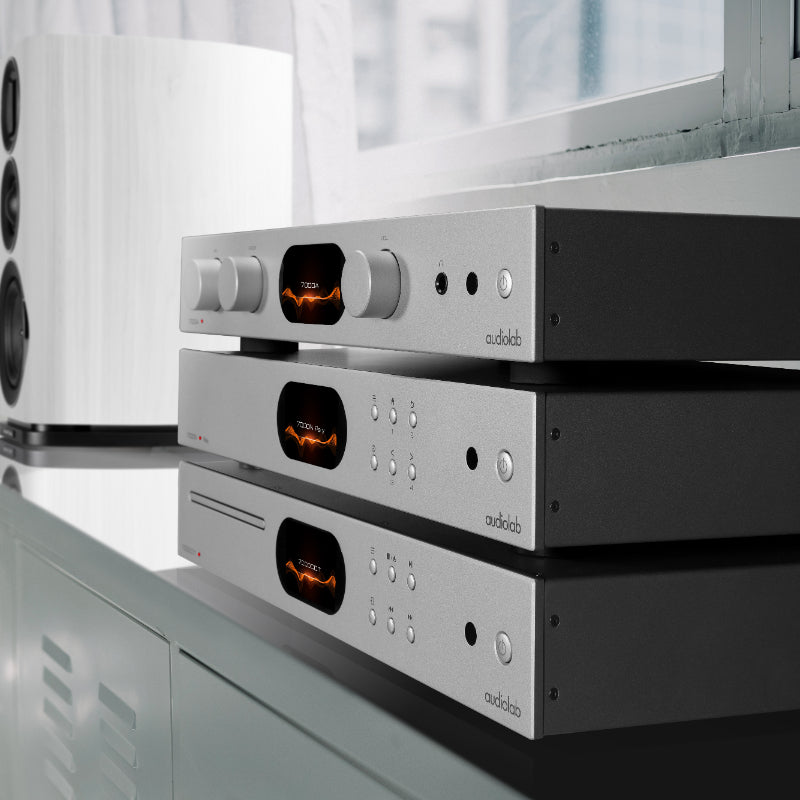 Audiolab 7000A Integrated Amplifier
Nestled between the 6000 and 9000, the 7000 fuses premium traits into a pricing category that follows the mantra of class-leading performance.

Outwardly resembling the sequential series and therefore offering a brand-wide visual aesthetic match, the audiolab 7000A improves on the 6000A with a genuine 70W per channel output, a new DAC, a new full-colour IPS LCD screen and more! More compact than the 9000 series, it maintains crisp ergonomics, high-quality engineering, a useful range of facilities and an excellent all-around acoustic performance and connectivity.
---
Specifications

General Description
Integrated Amplifier
Design Philosophy and Core Technology
- 2 x 70W (8 ohms) / 2 x 110W (4 ohms) Class AB
- ES9038Q2M 32-bit DAC
- 2.8
- Built in Certified Hardware MQA Full Decoder (PC USB, Coax / Optical)
- Bluetooth 5.0 (aptX / aptX LL) Support
- Low Noise Moving Magnet Phono Stage
- Dedicated Current-Feedback Headphone amp
- Integrated / PRE-POWER / PRE only Modes
- VU Digital / VU Analogue Meter
- USB Upgrade Support
Inputs
3 x Analogue, 1 x Phono (MM), 1 x Power Amplifier,
2 x SPDIF (Coax), 2 x SPDIF (Optical), 1 x HDMI ARC,
1 x PC USB (USB B), 1 x Bluetooth (aptX/aptX LL), 1 x 12V Trigger
Outputs
1 x PRE Amplifier, 1 x Stereo Speaker, 1 x Headphone, 1 x 12V Trigger
Sampling Frequency
Optical / Coaxial: 44.1kHz - 192kHz;
PC USB: 44.1kHz-768kHz (PCM) / DSD64, DSD128, DSD256, DSD512
Preamplifier Section
Gain
+6dB (Line); +55dB (Phono MM)
Input Sensitivity
820mV (Line, Volume = 0dB); 3.1mV (Phone MM, Volume = 0dB)
Input Impedance
10K (Line); 47K // 100pF (Phono MM)
Total Harmonic Distortion (THD)
< 0.0005% (1kHz @ 2V, Volume = 0dB)
Frequency Response
20Hz-20kHz (+/-0.1dB)
Output Voltage
2.3V max. (Volume = 0dB)
Output Impedance
100 ohms
Signal-to-Noise Ratio
> 110dB (Line, A-weighted); > 76dB (Phono MM, A-weighted
DAC
D to A Converter
ES9038Q2M
Total Harmonic Distortion (THD)
< 0.0005% (1KHz @ 0dBFS)
Output Level (0dBFS, 1kHz)
2.1Vrms
Max. Sampling Frequency
Optical, Coaxial: 192kHz;
Ethernet, WiFi: 192kHz;
USB A: 48kHz;
PC USB: PCM768kHz, DSD512
Power Amplifier Section
Gain
+29dB
Rated Power Output
2 x 70W (8 ohms, THD<1%); 2 x 110W (4 ohms, THD<1%)
Frequency Response
20Hz-20kHz (+/-0.3dB)
Total Harmonic Distortion (THD)
<0.003% (1kHz @ 40W / 8 ohms)
Input Sensitivity
720mV
Signal-to-Noise Ratio (S/N)
> 110dB (A-weighted)
Max. Output Current
9A
Headphone Amplifier
Total Harmonic Distortion (THD)
< 0.01% (1kHz, 50mW)
Output Impedance
4.7 ohms
Load Impedance
20-600 ohms
General
Standby Power Consumption
<0.5W
Net Weight
8.4kg
Gross Weight
10.7kg
Dimensions (mm) (W x D x H)
444 x 340 x 78
Carton Size (mm) (W x D x H)
500 x 455 x 140
Finish
Black / Silver
Power Requirements
220-240V ~ 50/ 60Hz;
(depending on region)
100-120V ~ 50/ 60Hz
Standard Accessories
Power Cord, Remote Control, User Manual, Antennas, etc.
To qualify for Audiolab's extended 3 year warranty, you must register your product within 90 days from the date of purchase. Visit https://www.audiolab.co.uk/registration to complete your online registration.

Items not registered online will have a 1 year warranty.
We offer free shipping on any product over $99. For full details please see our Shipping Policy.

Our returns policy lasts 30 days. If 30 days have gone by since your purchase, unfortunately, we may not be able to offer you a refund or exchange. For full details please see our Refund Policy.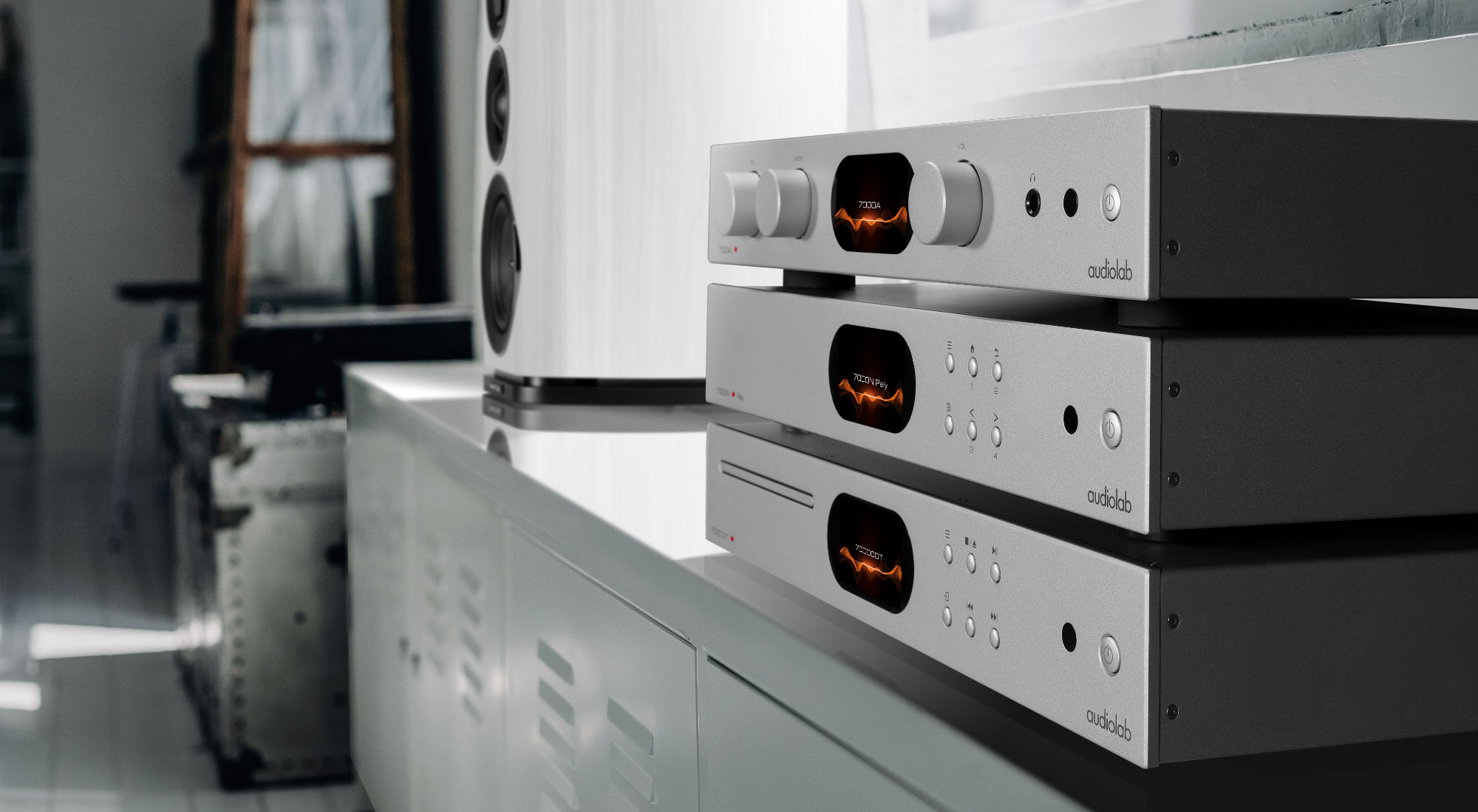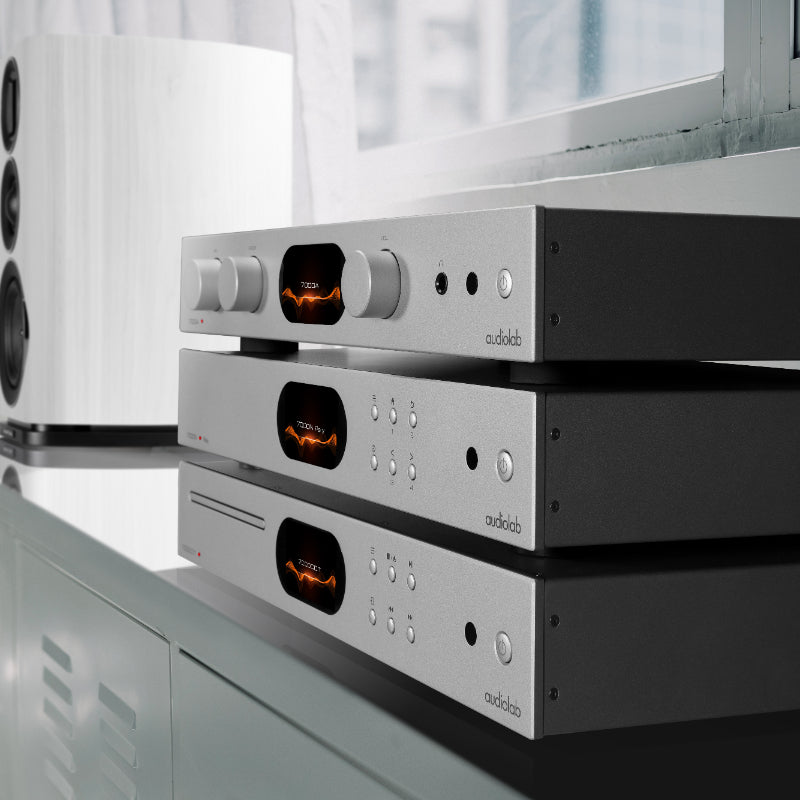 TELL ME MORE ABOUT THE
Audiolab 7000A Integrated Amplifier
As the engineers in the audiolab camp have learned with every model and series; greatness can be improved upon. Taking the 6000A as the standard, audiolab know that the regular audio enthusiast's thirst for specification and features would mean that the eagerly anticipated linear upgrade from the 6000A would instinctively also offer an improved display and general user interface (GUI); hence the vibrant and visually informative 2.8″ (480 x 640mm) IPS display. The detailed but simple-to-use GUI also carries through a general theme of information and structure from the 9000A, just in a more compact style. The GUI includes settings for the digital phase lock loop of the D/C converter.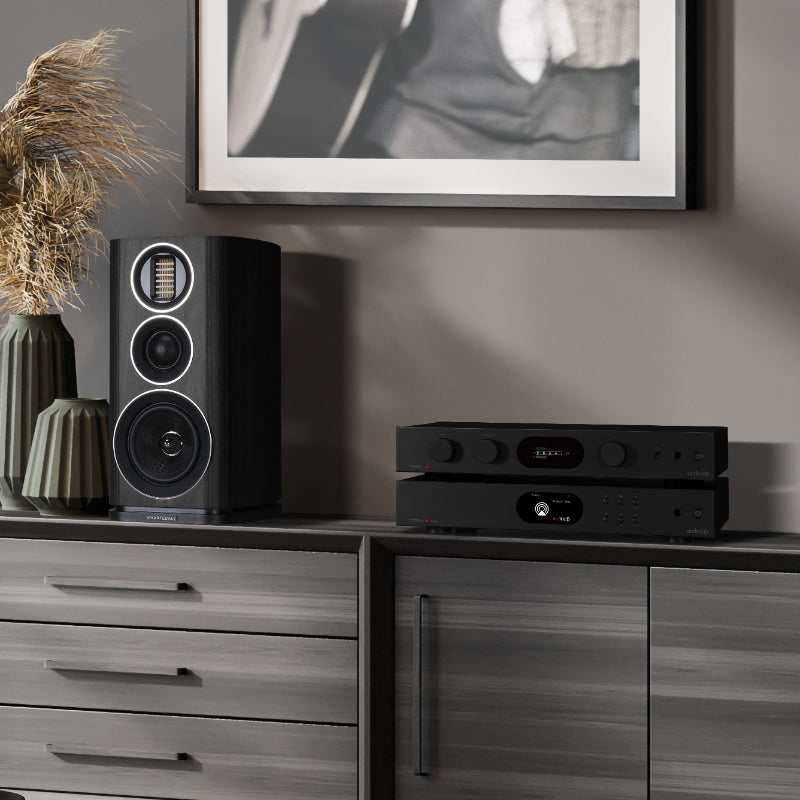 Tables are turning
With a further improved phono stage for moving magnet cartridges and a dedicated headphone output, this amplifier offers the most versatile, detailed and dynamic sound available. Immerse yourself in rich, emotive audio and explore the depths of your music.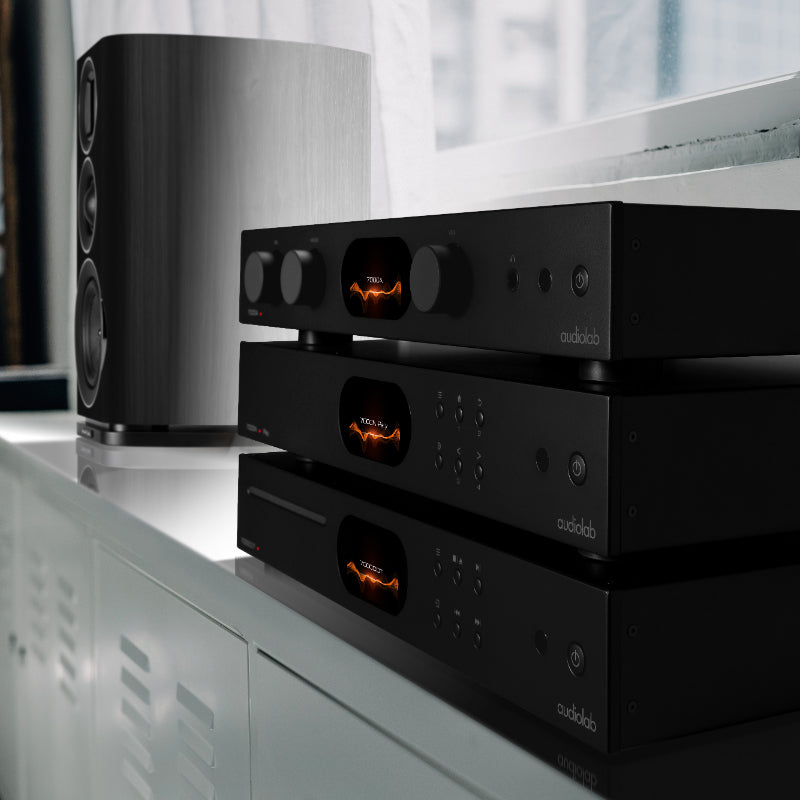 All the sources
Experience a whole world of audio power and innovation with the Audiolab 7000A Integrated Amplifier: a high-end audio solution with tech of the future, ready to bring your home cinema system and music setup to life. Connect directly with PCs and TVs for powerful sound, and experience unparalleled levels of quality, flexibility and performance.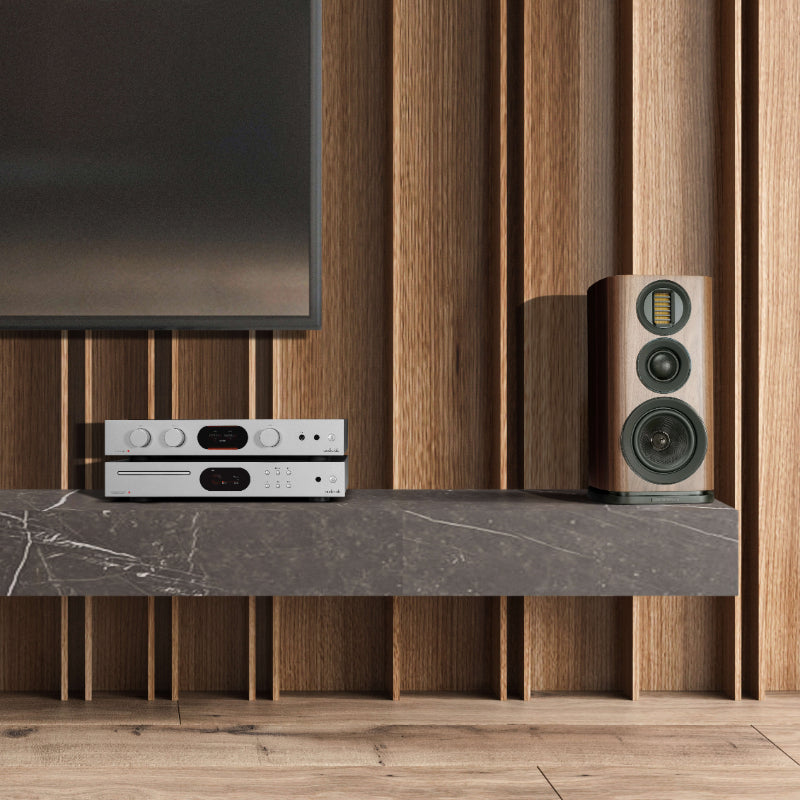 Flagship MQA Dac
The 7000A reaffirms the natural integration and synergy with an ESS ES9038Q2M chip. The 7000A utilises ESS Technology's 32-bit HyperStream architecture and Time Domain Jitter Eliminator. As with the 9000A, the 7000A uses a post-DAC filter based upon Class A topology and proprietary DC-coupled high-gain electronic amp designs to deliver ultra-low noise and high dynamic range for the digital audio connoisseur.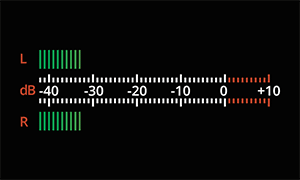 Everybody loves a VU Meter
The Audiolab 7000A Integrated Amplifier's technology & adjustable brightness, operational modes and VU meter represent real-time decibel levels for the left and right channels with broadness, depth and toe-tapping rhythm. Experience the benchmark in this price class – it's now in the 7000 series domain!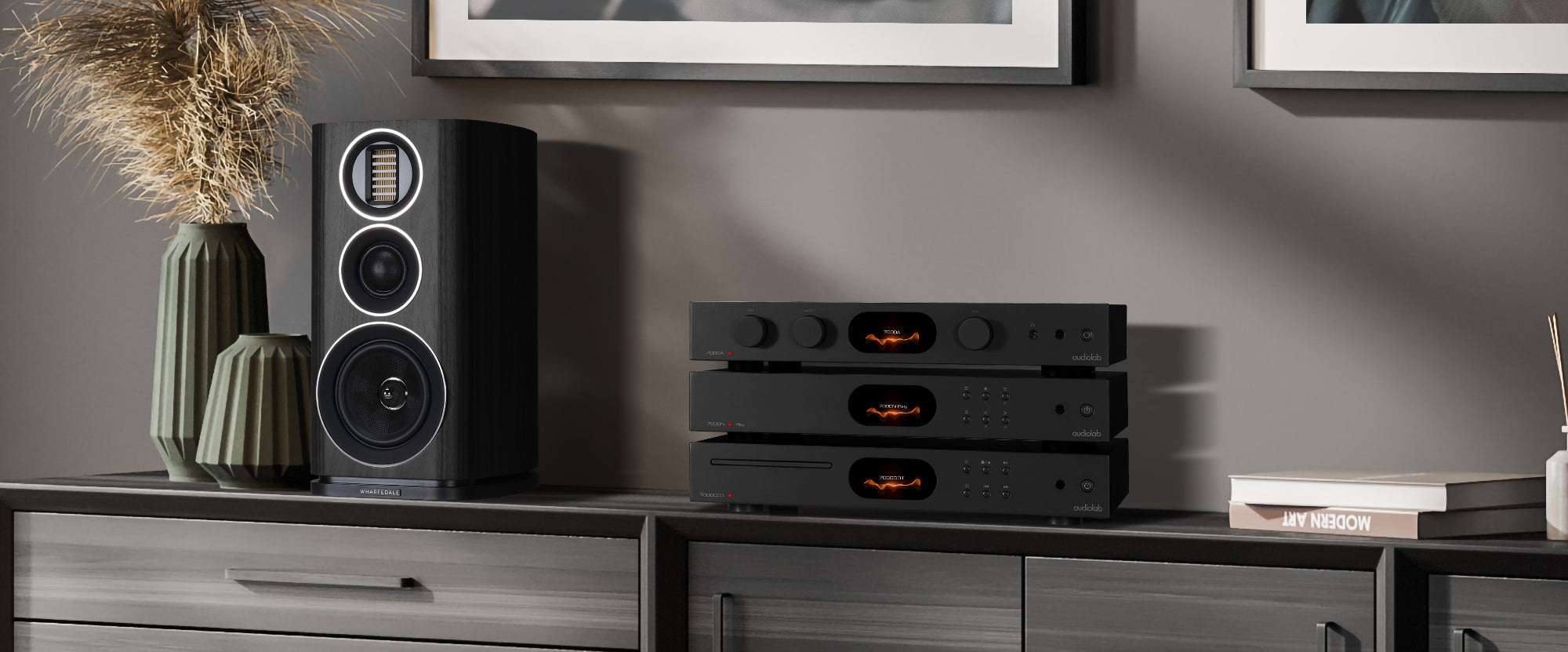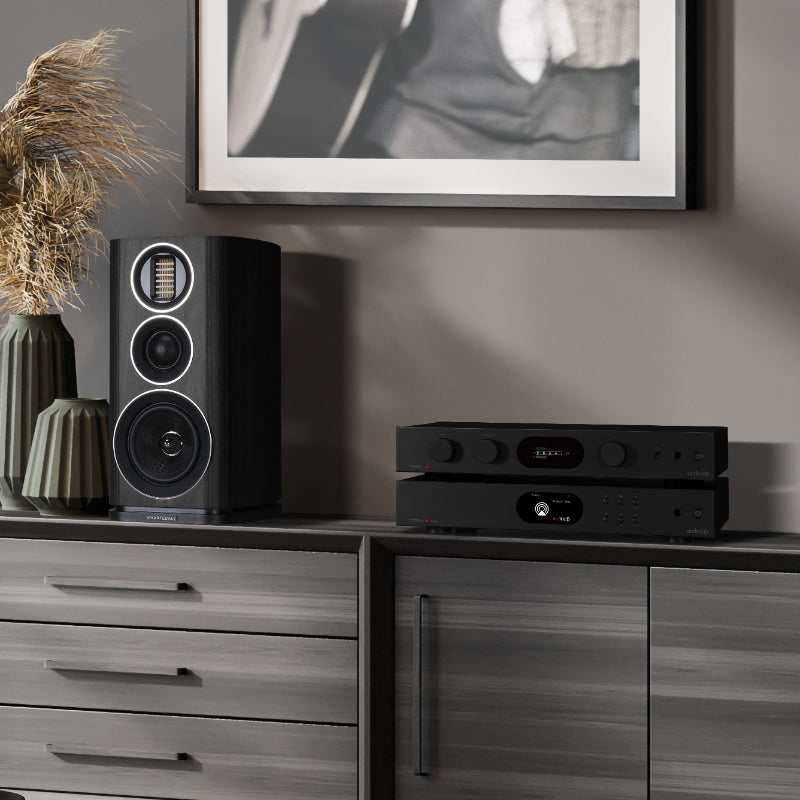 What impresses me the most about the 7000a is just how much more powerful & spacious it feels than the specs would lead you to believe.
Great amp good price and great service from LE. Courier was a few days slower than advertised though with no effective tracking to let the customer know whats happening...
Should.be five stars
Only let down was by crappy courier THIRTEEN DAYS TOO LONG
WHILE YOU ARE BROWSING
You may also like