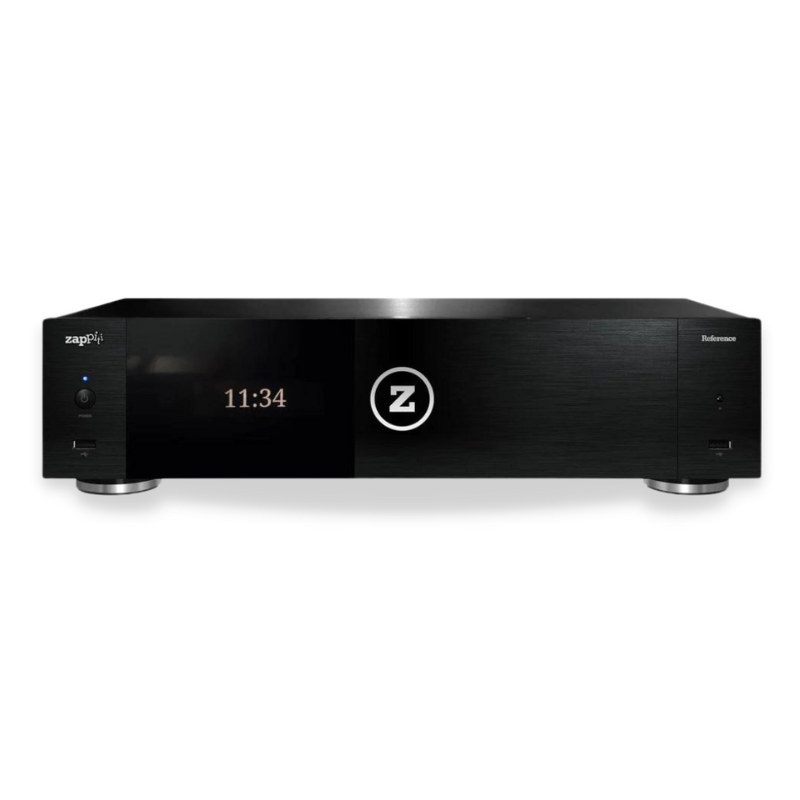 Zappiti Reference Media Player & Server
---
Specifications

| | |
| --- | --- |
| Chipset: | Realtek RTD1619DR. |
| CPU: | ARM Cortex-A55 (hexa core). +77% faster than 4-core ARM A53 used in the previous generation media players. |
| GPU: | ARM Mali-G51 MP3. +50% faster than Mali T-820 used in the previous generation media players. |
| Operating System: | Linux + Android 9. |
| DSP: | Video and Audio DSP with hardware acceleration. Native hardware 10-bit YUV support. Hardware performance optimizations for Zappiti UI. |
| Cache: | 1 MB L2. |
| RAM: | 4 GB. 2x more than in the previous generation media players. |
| NAN eMMC: | 32 GB NAN eMMC. 2x more than in the previous generation media players. |
| Connectors: | Gold-plated HDMI Audio Video 2.0b (HDCP 2.2, CEC, Deep Color, 12-bit, xvYCC, MHL 3.0), HDMI Audio Only 1.4a, HDMI In, 3x USB 2.0, 1x USB 3.1, 1x USB Type-C, CVBS Video Analog, Audio Analog RCA, HiFi analog RCA and Balanced XLR, Digital Audio Coaxial and S/PDIF Optical (TO-slink), Ethernet Gigabit 10/100/1000 Gb/s, Wi-Fi 2.4 & 5 GHz with 2 gold-plated removable antennas, Bluetooth with dedicated antenna, IR input for IR extender, AC input, AC button On/Off, Power LED. |
| Dual HDD Rack Enclosure Option: | Easily and quickly insert and exchange internal 3.5'' SATA hard drives up to 40 TB (2x 20 TB). |
| Media sources: | External HDD (USB), USB devices (USB flash drive, USB card reader, etc), PC and NAS in local network (SMB), other Internet and local network media sources. External multi-bay USB storage enclosures supported. |
| Easy and fast file transfers: | Up to 90 MB/s via SATA and USB 3.1 / 115 MB/s via Ethernet. |
| Internet navigator: | Connect a computer mouse and keyboard to browse Internet as on a computer. |
| DLNA Server: | Direct access from another Zappiti / computer through your local network. Samba Client up to SMB2/SMB3. |
| Video codecs: | HEVC, H.265, x265 (up to Main10 Level 6.1 High 60p in 4K UHD), MVC, AVC, MPEG-2, MPEG-4, VC-1, H.264/x.264 (up to 60p in Full HD and 24p/20 Mbps in 4K UHD), FLV, AVS, XVID, DIVX (from version 4 using Zappiti Video), Sorenson Spark L70, VP9 Profile 2 (up to 4K 60p and HDR) ; ultra high bitrate support (up to 400 Mbit/s in HEVC 4K UHD). |
| Video file formats: | UHD ISO, 3D BD ISO, BD ISO, BDMV, MKV, MKV 3D, MK3D, MPEG-TS, MPEG-PS, MPEG, MPE, MPG, TS, TP, M2TS, VOB, AVI, MOV, MP4, QT, WebM, DVD-ISO, VIDEO_TS, RMVB, RM, DAT, VOB, 3GP, FLV, DAT, AVCHD 2.0 (AVCHD 3D, AVHD Progressive). |
| Dolby Vision Support: | ISO, BDMV, MKV, MPEG-TS, TS, M2TS, MP4. |
| Widevine L1 DRM: | Watch premium online video services in 1080p and UHD. Security Level 1 (L1) is a complete processing performed in a Trusted Execution Environment (TEE). This level refers to the highest level of DRM (hardware DRM) and let Zappiti to stream premium video services at resolutions up to UHD quality. Level 2 cannot stream videos higher than 480p. |
| Video output flexibility: | Output video in any resolution and format from SD to 1080p, Ultra HD (3840x2160) and 4K (4096x2160). Up to 4K 60p. Display your movies in true 24p (23,976 Hz ouput). |
| Audio / Video Sync: | Adjust audio / video sync forward / backward (in ms). |
| Audio Codecs: | AC-3 / Dolby Digital, EAC3, DTS, DTS-WAV, MPEG, MP3, ALAC (Apple lossless), APE (Monkey's Audio), M4A, M4A, AIFF, WAV, WavPack, VSELP, FLAC (2.0 only), AAC, AAC-LC, HEAAC, HE-AAC v2, AMR-NB, OGG (Ogg/Vorbis), RA_COOK, LPCM, PCM, ADPCM, FLA, MQA; lossless and audiophiles formats support (up to 32-bit / 384 kHz), SACD ISO, SACD DSF, SACD DFF. |
| SACD (DSD): | Play top quality Super Audio CD (DSD) music files in all any popular formats  (ISO, DFF, DSF), including both stereo and multichannel files as well as files which use DST compression. Multichannel DSD files can be output to HDMI as high quality multichannel PCM (up to 176.4kHz). Stereo DSD files can be output to HDMI and S/PDIF as high quality stereo PCM (up to 176.4kHz). |
| Multichannel home cinema audio: | Bitstream, downmix stereo (DTS, DTS-HD MA, DTS-HD HRA, DTS:X, DTS:X Pro, Dolby Digital, Dolby Digital EX, Dolby Digital Plus, Dolby TrueHD, Dolby Atmos, Auro 3D). |
| Playlist Formats: | M3U, PLS, CUE. |
| Subtitle formats: | SRT (Subrip / external), SUB (MicroDVD) (external), text (MKV), SSA/ASS (MKV, external), VobSub (MP4, MKV, SUB/IDX external), SMI (Sami), IDX, PGS (UHD ISO, BD ISO, BDMV, M2TS, MKV), DVBSUB (DVB-T, DVB-S, DVB-C). |
| Subtitle options: | Option to download subtitles. Forced subtitles support for MKV, ISO and BDMV (simultaneous display of multiple subtites no supported). Customization of sync, size, color and encoding. Changing the vertical position of subtitles, including on Blu-ray (PGS) subtitles. Multiple external subtitles supported. Customization of the default subtitles. |
| 3D Hardware acceleration: | OpenGL. |
| Photo file formats: | JPEG (hardware decoding), PNG, BMP and GIF. Slideshow, transition effects, picture rotation, zoom, browse playlist, repeat, shuffle. |
| Supported Formatting: | FAT16/FAT32 (read-write), EXT2/EXT3/EXT4 (read-write), NTFS (read-write), exFAT (read-write), HFS/HFS+ (Mac OS Standard/Extended) (read-only), BTRFS (read-write). |
| Ethernet: | 10/100/1000 Mb/s. |
| Wi-Fi: | Dual Band 2.4+5 GHz 802.11b/g/n/ac 2T2R, two external Wi-Fi antennas (gold-plated and removable). |
| Bluetooth: | BT5.0, separate external Bluetooth antenna. |
| Advanced Silent Cooling: | The Zappiti Reference is equipped with a silent cooling system based on an ultra-low noise 120mm fan. |
| Android 9.0: | Install and enjoy additional apps via GooglePlay or APK files.  Warning! Some Android apps are not suitable for use with the remote control. In this case, use a connected computer mouse or an AirMouse (not supplied). |
| Network Playback: | Special optimisation of the network, guaranteeing better performances of the local network playback no matter which type of media thanks to SMB protocol (HEVC UHD files included) via Gigabit Ethernet or Ethernet 10/100. |
| Universal RC: | Integrate seamlessly into smart home installations via ready-to-use Control4 driver, RTI driver, Elan Driver, Crestron IP codes, Savant, ProControl, Logitech, URC, Pronto, and general IP codes.  |
| Dimensions: | 43.0cm × 11cm × 34.3cm (W × H × D) |
| Weight: | 6.7 Kg |
| Certification: | RoHS, CE, FCC |
| Country Of Origin: | Designed in FranceMade in ChinaSoftware made in France |
| EAN: | 7421122798010 |
| TARIC Number: | 8521900090 |
| Operating Temperature: | 10~30°C |
| Operating Humidity: | 30%~70% |
| Consumption: | Max consumption: 45WTypical: 40W (Without HDD)High power standby: 10WLow power standby: 0.02W |
| Rack Mount Kit: | Included (ears) |
| Power: | AC ~220-240/110-120V, 50/60Hzwith detachable line cord |
We offer free shipping on any product over $99. For full details please see our Shipping Policy.

Our returns policy lasts 30 days. If 30 days have gone by since your purchase, unfortunately, we may not be able to offer you a refund or exchange. For full details please see our Refund Policy.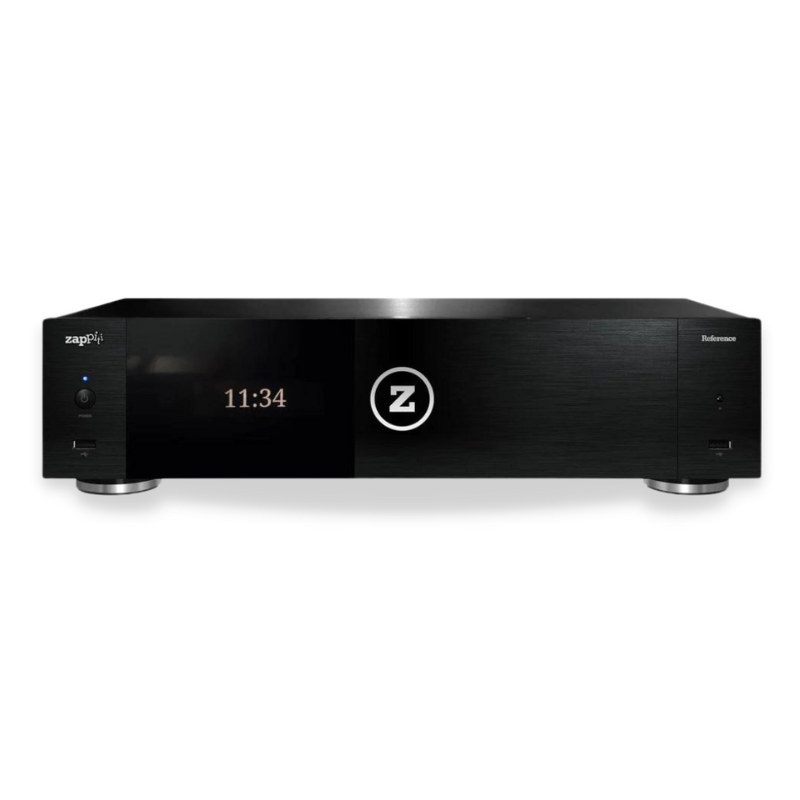 Zappiti Reference
Zappiti Reference combines all of the color and crisp detail of true 4K Ultra HD, Dolby Vision and HDR10+ with stunning sound.
The Zappiti Reference is at the same time a high end media player and  a media server capable of streaming content to other Zappiti devices within your house through the exclusive Zappiti Share advanced streaming protocol.
The Zappiti Reference media player comes with a dual internal hard drive bay capable of hosting up to 40 TB of movies, TV shows and music files, and features dual HDMI output. It includes a premium 32-bit DAC ESS ES9038Q2M, a massive toroidal transformer and offers an astonishing picture and sound quality to fit the requirements of the top home theater systems.

Manufacturers Details:
The Uncompromised Audiovisual Quality Of The Original Film
Zappiti designs and manufactures only professional grade Video Management Systems; delivering the highest quality, outstanding performance and best possible user experience.
All the Zappiti products are designed to provide our end-user customers with convenient and intuitive access to their entire movie library collection, in stunning 4K High-Definition resolution. Your movie files are delivered to your private cinema with the highest video quality available and pure high fidelity, lossless reproductions of the original motion picture soundtracks. The Zappiti Reference combines the best performance possible with an utterly unique design for high-end home entertainment.
Our award-winning user interface Zappiti Video provides the best AI available on the market to organize your movie library. Zappiti Video offers advanced features that allow you to play trailers, create custom categories or groups of movies, browse while listening the original soundtracks of your movies in the background, customize the homepage and buttons, special top banners such as director's cut or unrated editions, access to the online additional contents, or add your personal movie covers,
background, or soundtrack. In addition, the parental control code protects your kids from adult content.​
The Zappiti Reference supports the majority of digital audio and video formats, including the most modern 4K HDR standards such as Dolby Vision and HDR10+, almost all recent video file formats, full BD/UHD Menus, HEVC video codec with one billion colors (10-Bit color encoding), VP-9, 3D video standards with 3D subtitles, high resolution audio files such as FLAC, ALAC, or MQA up to 352 kHz and features wide solid chassis, dual HDMI output with audio only for perfect audio video split, an audio-video sync settings option (forward/backward), 4K 60p compatibility, Dolby Atmos and DTS:X, for the best possible home theater experience. The Zappiti Reference includes Premium DAC ES9038Q2M with ultra-low jitter, bit-perfect digital audio processing, "Direct DSD" mode, Toroidal power transformer with separated circuits for both digital and analog parts, premium balanced XLR connectors and OLED display to control the media player without TV.
Engineered With Care:
Dolby Vision 
The ultra-vivid image of innovative visual technology Dolby Vision®, brings characters to life with darker darks, brighter brights, and a remarkable color range you can't get anywhere else.
Experience a remarkable color palette, sharper contrasts, and incredible brightness that feel more like looking through a window than at a screen. This is HDR like you've never seen it before.​
Discover subtle details you simply can't see with a standard picture, for a viewing experience without compromise, just as the filmmakers and creators intended.
Zappiti Reference media player supports direct playback of full Blu-ray disc images (BDMV and ISO) with menus in Dolby Vision (MEL and FEL), as well as various file formats including MKV, MP4, TS, and M2TS. All popular Dolby Vision profiles (P4, P5, P7 MEL and FEL, P8) are supported. The extended Dolby Vision metadata is used and transmitted to the TV to improve picture quality.
Dolby Vision® VS10 Video Processing 
The advanced Dolby Vision VS10 video processing engine ensures maximum image quality when playing any type of content (SDR, HDR, Dolby Vision) with any type of video output signal (SDR, HDR, Dolby Vision), improves the SDR/HDR/Dolby Vision conversion quality, minimizes the effect of "posterization" ("banding") due to more advanced 12-bit video processing. This gives benefits even when using the media player with older TVs that do not support Dolby Vision.
HDR10+
The Zappiti Reference is compatible with HDR10+ technology. HDR10+ is the latest and most advanced HDR technology, building upon HDR10 to further enhance the viewing experience. HDR10+ signals not just the dynamic range (the ratio of light to dark) of video content on a scene-by-scene (or even frame-by-frame) basis, it also provides, with minimal metadata, the scene characteristics between bright and dark so that important detail can be kept. This enables displays to reproduce images more realistically, adhering to the creator's intent. Whereas static HDR, such as HDR10, utilizes static tone mapping uniformly across the duration of the content, HDR10+ employs dynamic tone mapping to optimize each scene, individually increasing brightness and adding contrast to fit within a display's capabilities.
Ultra HD 4K.
Zappiti Reference features HDMI 2.0b output to provide ideal compatibility with the latest UHD 4K video content such as HDR. Zappiti MagicPixel upscales your video files up to UHD (3840x2160) into 4x times Full HD! The high-quality upgrade dramatically improves video image quality.
HDR > SDR
With the VS10 processor, any HDR content is converted into traditional SDR with perfect color grading. In addition, the Zappiti MagicPixel processing converts Ultra HD video content into extremely high-quality 1080p uncompressed 4:4:4 video for viewing 4K content on Full HD 1080p displays. This process increases the resolution by about 30% compared to Blu-ray on a 1080p TV or projector. With Zappiti MagicPixel v3 and VS10 technologies combined, you can benefit from the benefits of the 4K UHD contents on your 1080p TV or projector. Less compression. More colors. More details! For some 4K projectors, the HDR > SDR conversion by Zappiti provides even better results than the direct HDR display managed by your projector. 
DVD, Blu-ray & UHD Menu Support
Display the DVD, Blu-ray and UHD menus and get access to additional content (director's cuts, theatrical versions, bonus extras, bookmarks, etc.) This feature is compatible with both ISO and BDMV (DVD, Blu-ray, Blu-ray 3D and 4K UHD). Or, if you do not want to display menus, you can start a movie immediately without trailers or warnings. The seamless branching is also perfectly supported for perfect gapless playback on director cut editions.
Astonishing GUI
Zappiti Reference includes Zappiti Video — the best entertainment hub available on the market, featuring an impressive user interface with movie covers. Zappiti scans your video content (movies and tv shows) located on a local drive connected to your Zappiti player, or on a NAS through the local network. Zappiti then collects the cover art and various info such as casting, director, release date, rating, etc. ​. ​Sit back in your home theater seat with your friends or family. Choose your film easily. Browse a genre. Sort movies by rating, duration, or release date. Read a synopsis. Watch the trailer. Then, press PLAY to enjoy your movie. After the end credits roll, eventually watch the extras or wait for the auto launch of the next episode of your favorite tv show.
Zappiti Video features an astonishing GUI, and optional beautiful skins. Zappiti features an automatic top banner (4K Ultra HD Blu-ray, Blu-ray, Blu-ray 3D, DVD, etc...), and a special top banner for Final Cut, Director's Cut, Theatrical Cut, Unrated, Disc 1/2, Bonus, Concert, Special Edition, etc. It also features: 2.35:1 mode, soundtracks while browsing movies or Tv shows, parental control and admin functions using a tablet or smartphone, exclusive Zappiti AI for the best movie identification possible, exclusive top quality multilingual movie covers, utilization of fanarts database, Zappiti DB and TMDB search engines, filtering and sorting, automatic playback of the next TV show episode and many more exclusive features.
Dual HDD Slot
With its dual 3.5 "SATA hot-swap rack, the Zappiti Reference is capable of supporting up to 40 TB total storage internally; the equivalent of about 1,000 Blu-rays or 500 4K Ultra HD Blu-rays. And as it is possible to exchange hard drives, you have no capacity limit! With the Zappiti Reference, you no longer need to worry about storage problems.
Note: When using 2 hard drives, you can mix contents from the 2 drives into a single collection.
Hi-Quality Backlit RC.
Easily control the Zappiti Reference media player with the IR remote control (accessory included). You can also control the player using a wireless mouse or keyboard (not supplied). In addition, the Zappiti Reference can be controlled by the leading brands of universal remote controls such as Crestron, ProControl, RTI, Control4, Elan, Savant or Logitech Harmony.

Direct access & shortcut buttons.
Switch instantly from one application to another (Zappiti or Explorer) using the direct access buttons: image ratio, 3D, subtitles, audio tracks, repeat mode, ... The remote control of the Zappiti Reference feature true STOP button, and direct playback access to 1 min. forward / backward and 10 sec. forward / backward.
Wide Range IR Sensor
The Zappiti Reférence features a high sensibility infrared sensor that cover a wide angle on long distance (60° / 26 ft). In addition, the remote control is equipped with two IR diodes. 
Key Features:
IR Extender.
The Zappiti Reference comes with an IR extender. This allows you to place your Zappiti behind closed doors in a cabinet or in another room and still be able to control them from in front of your TV. It comes with self stick tape on the back of the IR bud for easy installation on any flat surface.
Dual HDMI Output.
The Zappiti Reference features two HDMI outputs – one HDMI Out Main port for connecting to the latest UHD 4K TVs, projectors and A/V receivers, and an additional HDMI Out Audio Only port (v1.4) dedicated to audio for connecting to older A/V receivers and for better audio performances. The HDMI Audio Only port features a high-stability, high-precision clock. This design significantly reduces jitter and eliminates timing errors, allowing you to enjoy your audio & video contents with increased accuracy when you use the audio-only HDMI output port for connecting the audio signal to your A/V receiver. In addition, on the video output, the audio stream is automatically muted when the HDMI Audio Only output is used, thereby reducing the effects of video noise on the main HDMI output.
Toroidal Power Supply
The Zappiti Reference is powered by a massive toroidal power transformer, which provides superior efficiency over standard power supplies and delivers a very clean and robust power source. As a result,  the Zappiti Reference provides a christal sharp picture and extreme depth of black, particularly critical in video projection systems. The flesh, sand and grass tones, very difficult to reproduce, are rendered to perfection. The materials are more detailed and the plans are more detached from the others, offering a three-dimensional aspect. Audio outputs are noise-free for more natural timbres, perfect channel balance, for perfect silence in quiet scenes and nuance breathing, and faster dynamic accents. The toroidal power transformer of the Zappiti Reference sonically "aligns" the complex analog and digital signal into something that's properly outlined and shaped. This alignment is responsible for tighter lines and an overall more insightful listening experience. 
Top-Quality Components
The Zappiti Reference also includes Hi-End components from famous vendors such as JEC power connector (used in aerospace industry), Neutrik audio connectors (Germany) Philips diodes (NL), Nichicon Audio Series and Nippon Chemi-Con capacitors (Japan), ERO series from Vishay Roederstein and WIMA capacitors (Germany). WIMA filter capacitors are designed based on low loss polypropylene film and feature high AC capacity at high frequencies as well as low ESL and ESR values.
Premium DAC ES9038Q2M
The Zappiti Reference in based on a premium 32-bit DAC ESS ES9038Q2M with industry's leading level low distortion characteristics. The ES9038Q2M SABRE32 Reference DAC is a very high-performance, 32-bit, stereo audio D/A converter designed for audiophile-grade power sensitive applications such as digital music players, or professional applications such as audio studio recording systems, mixer consoles and digital audio workstations. Using the critically acclaimed ESS patented 32-bit HyperStream® II DAC architecture and Time Domain Jitter Eliminator, the ES9038Q2M delivers a DNR of up to 128dB and THD+N of -120dB, a performance level that will satisfy the most demanding audio enthusiasts. The Zappiti Reference handles up to 32-bit 384kHz FLAC / PCM, DSD256 via DoP and native DSD512. The ES9038Q2M SABRE32 Reference DAC sets the standard, SABRE SOUND®, for HD audio performance. You can play music in the most advanced DSD format in "Direct DSD" mode, as well as in various lossless formats. 
Hi-Fi Analog Audio Output
The modern world is awash in electrical interference signals. These come from all sorts of sources including nearby electronics, or things like microwave ovens, or anything with a radio transmitter in it (such as a cordless house phone or cell phone), or even the electrical wiring both inside the walls of your house (50 or 60 Hz) and on the utility poles outside your house. The Zappiti Reference has been specifically designed to reject external interference signals like this. The XLR connection carries a balanced signal. The hot pin carries the signal, the cold pin also carries the signal but inverted (think mirror image) and the third carries the earth. The connector indications are printed in both directions, so that you can read them easily in the correct direction when you connect your device.
XMOS Audio Processor
The Zappiti Reference incorporates an XMOS XU208-128-QF48 audio processor that delivers perfect digital audio processing with original sample rate preservation, ultra-low jitter and reclocking. The XMOS XU208-128-QF48 chip offers significant power allowing fast and efficient data processing for the minimum latency required for bit-perfect reading. It is accompanied by 3 separate clocks precisely respecting each multiple of 44.1kHz and 48kHz from 16 to 32-bit but also by an ultra-low noise voltage regulator ADP150 and MLCC decoupling capacitors for precise and clear reproduction. The most advanced DSD formats are supported in "Direct DSD" mode, as well as various lossless formats, including FLAC / PCM up to 384kHz.
Zappiti Real Cinema.
Cinema movies are shot at 24 frames per second (fps), but most video or Blu-ray files are recorded at 23.976 fps. Today, many multimedia players output a video signal at 24,000 Hz. However, this conversion generates problems of stuttering, in particular on video projectors. Zappiti Real Cinema technology maintains the original frame rate of the file, whether in 23.976 fps or 24,000 fps until the final display in order to enjoy the same fluidity as in the cinema and preserve the original integrity of the work displayed. On the other hand, thanks to autoframerate, the player automatically switches to the correct output frequency depending on the frame rate of the file, namely: 23.976 Hz, 24 Hz, 50 Hz and 59.94 Hz (60 Hz) depending on the type of file being played.
Audio/Video Sync. adjustment
The Zappiti Reference offers a new feature to adjust the audio / video sync forwards and backwards. This pro-level functionality is especially useful when using an external scaler.
Integration.
Zappiti products have been specially designed to operate in high-end installations and integrations using multi-level security locking, IP and IR control codes for ProControl, RTI, Control4*, Crestron*, Savant*, Philips Pronto, Elan*, URC* and Logitech Harmony, a Middle Atlantic rack mount kit and even a Zappiti API for high-end custom integrations.
*Coming Soon.
Manufacturers Warranty & Specifications:
2 years Limited Warranty.
This product has no reviews yet.
WHILE YOU ARE BROWSING
You may also like