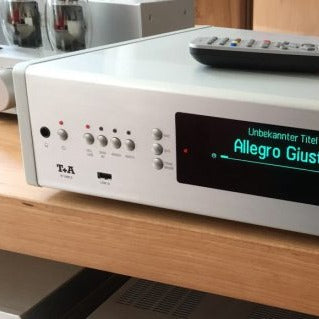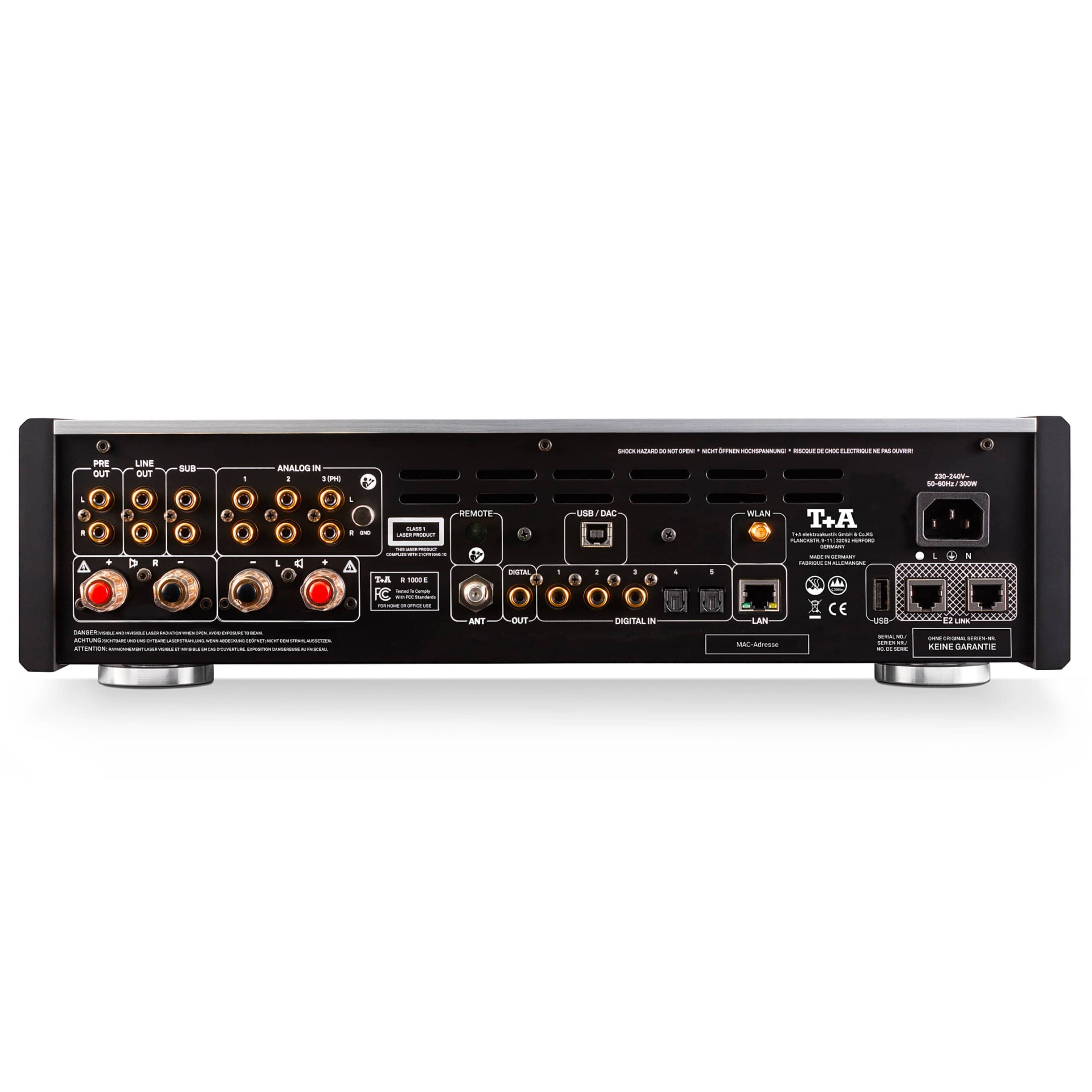 T+A Hi-Fi R 1000 E Multi Source Receiver
---
All T+A Hi-Fi products are built to order. Please allow a 5 - 6 Week lead time after your purchase. There is occasionally a shorter lead time, depending on production runs. We will keep you up to date on your orders progress throughout.
Specifications

Audio data Output stage
 
Nominal output power per channel 4 Ohms / 8 Ohms:
2 x 180 Watts / 2 x 115 Watts
Peak output power per channel 4 Ohm / 8 Ohm:
2 x 300 Watts / 2 x 180 Watts
Frequency response -3dB:
1 Hz - 60 kHz
Total harmonic distortion:
< 0,004 %
Intermodulation:
< 0,004 %
Specifications preamplifier (PRE, REC)
Frequency response:
1 Hz - 250 kHz
Total harmonic distortion:
0,0022 %
Signal / noise ratio:
106 dBA
Channel separation:
> 90 dB
Outputs
Analogue 3 x unbalanced (RCA):
PRE-, LINE-, SUB OUT 2,5 Veff / 50 Ohms; Headphones 6,3 mm plug > 32 Ohms
Digital 1 x coax:
IEC 60958 (CDDA/LPCM)
Inputs
Analogue 3 x unbalanced (RCA):
250 mVeff ... 3 Veff / 20 kOhm, optional Phonomodule as PA 1000 E
Digital Connecting Board
Inputs 2 x USB 2.0:
for USB storage/HDD. Formats: NTFS, FAT 16/32, Ext2 + 3 + 4
Inputs 1 x USB-B:
Class 2 Device Mode, asynchron, PCM 32...96 kHz, DSD64 (depending on Player-Software and operating system)
Inputs 3 x coax S/P-DIF:
PCM 32...192 kHz
Inputs 2 x opt. S/P-DIF:
PCM 32...96 kHz
Output 1 x coax S/P-DIF:
PCM 32...192 kHz (IEC60958)
CD-Player
Formats:
CD/DA,CD-R, CD-RW, CD-Text
Frequency response:
2 Hz - 20 kHz / 100 dB
Bluetooth
Standards / Codecs:
A2DP (Audio), AVRCP 1.4 (Control) / aptX ® , MP3, SBC
Streaming Client
Formats:
MP3 , AAC, OGG-Vorbis, FLAC, WAV, AIFF, ALAC
Data rates:
PCM 32...192 kHz,16/24 Bit; MP3 up to 320 kBit, constant and variable Data rate.
Features:
Gapless Playback for MP3 (Lame), WAV, FLAC.T+A MusicNavigator App for iOS und Android
Standards:
UPnP AV
Services:
Tidal, Deezer, qobuz, Roon Ready (subscription required)
Interfaces:
LAN: Fast Ethernet 10/100 Base-T, WLAN: 802.11 b/g/n
D/A-Converter
D/A-Converter:
32-bit, 384 kHz Sigma Delta, double-mono differential converter, switchable oversampling filtersPCM 32...192 kHz; DSD 64
Analogue filter:
Symmetrical, phase linear Besselfilter 3rd order 100 kHz
Frequency response up to PCM 192:
2 Hz - 100 kHz
Frequency response up to DSD 64:
2 Hz - 80 kHz
Tuner
Internet Radio:
Airable Internet Radio Service (> 11000 Stations world wide)
FM, FM-HD:
87,5 - 108 MHz;Sensitivity 1 µV;S/N > 65 dB
DAB, DAB+:
168 -240 MHz (Band III);Sensitivity 2,0 µV,S/N > 96 dBA
Features:
RDS/RDBS, station name (PS), program type (PTY),Radio text (TR), clock
Mains / Accessories / Dimensions
Accessories:
IR-Remote control SRC 1; WLAN Modul; Bluetooth aerial; power cord
Remote control:
SRC1
Mains:
220-230 V or 110-115 V, 50-60 Hz
Power consumption max.:
300 Watts
Power consumption idle:
22 Watts
ECO-standby:
0,3 Watt
Auto power off function:
yes (after 90 minutes without audio signal)
Dimensions (H x W x D):
11,5 x 44 x 37 in cm
Weight:
13 kg
Finishes:
Silver case + silver side panels. Black case + black side panels.
Optional Accessories:
PHE MM/MC phono module | Power Three HD (Carbon) | Power Bar | Audio Duo (Carbon) | Speaker Hex (Carbon) IP-Control
We offer free shipping on any product over $99. For full details please see our Shipping Policy.

Our returns policy lasts 30 days. If 30 days have gone by since your purchase, unfortunately, we may not be able to offer you a refund or exchange. For full details please see our Refund Policy.
T+A Hi-Fi R 1000 E Multi Source Receiver
All T+A Hi-Fi Products are built to order with a 5 - 6 Week lead time.
This all-purpose device contains the genes of the superlative PA 1000 E and MP 1000 E separate devices. It is equipped with the very latest technologies and components, and certainly ranks as one of the most modern and innovative receivers available anywhere in the world. It combines classic analogue technology for the amplifier section with the latest digital circuit design for the internal sources. It also features a large number of extremely high-quality inputs for external analogue and digital sources, making it the perfect universal nerve center of a really modern, high-quality stereo system. It can cope with almost anything: you can connect a turntable (optional phono modules are available) or improve the sound of your television; connect a set-top box using an optical lead, or even stream music from a PC – there are no limits. What's more, the R 1000 E caters for all formats, since its high-quality converter processes the audiophile DSD format as well as PCM files to very high standard.
Manufacturers Details:
The outstanding feature of this superb device is that we have equipped it with every available modern source: a high-quality CD mechanism, an aptX® Bluetooth module, a high-performance digital tuner, the Digital Connecting Board for external sources and our new High Res Streaming Client Board. This simply means that the R 1000 E can access everything which delivers music: CD, FM, FM-HD and DAB+ radio; Internet radio with Airable Internet Radio Service; UPnP network music servers; USB memory media; laptops and PCs, music services and mobile devices with Bluetooth!
Engineered With Care:
Conception
The R 1000 E was developed as a combination of the essential elements of two separate High-End units: the PA 1000 E and the MP 1000 E. Since the case is no larger, it inevitably has a slightly reduced array of sockets than the two separate units, and its output power is also a little lower. At present the R 1000 E is certainly the most powerful, best equipped and most modern receiver in its price class available anywhere in the world!
Our development team designed an entirely new, superb-sounding pre-amplifier for the R 1000 E. It has many smart functions including balance, tone controls, variable Loudness, "Flat" function and sub-sonic filter for use with satellite speakers and sub-woofers.

Key Features:
Digital Connecting Board
The outstanding 32-bit double-mono differential converter, the CD mechanism (without pushrods), the motherboard with Bluetooth module, the digital tuner and a new Streaming Client originate from the MP 1000 E. The R 1000 E also shares the same Digital Connecting Board for connecting external sources.
The R 1000 E is also fitted with three high-quality analogue inputs (one of them upgradable as a phono input), a pre-amplifier output for connecting active loudspeakers or additional power amplifiers, two sub-woofer outputs and a Line output, which can be used for applications such as a radio transfer module.
The output stages have been adopted from the PA 1000 E, with the same overall circuit design, albeit with slightly reduced power. The mains power supply and ancillary circuits are of the same design as those of the PA 1000 E.
The optional high-quality phono modules for MM or MC pick-up systems are those of the PA 1000 E, and can be retro-fitted at any time.
This product has no reviews yet.
WHILE YOU ARE BROWSING
You may also like