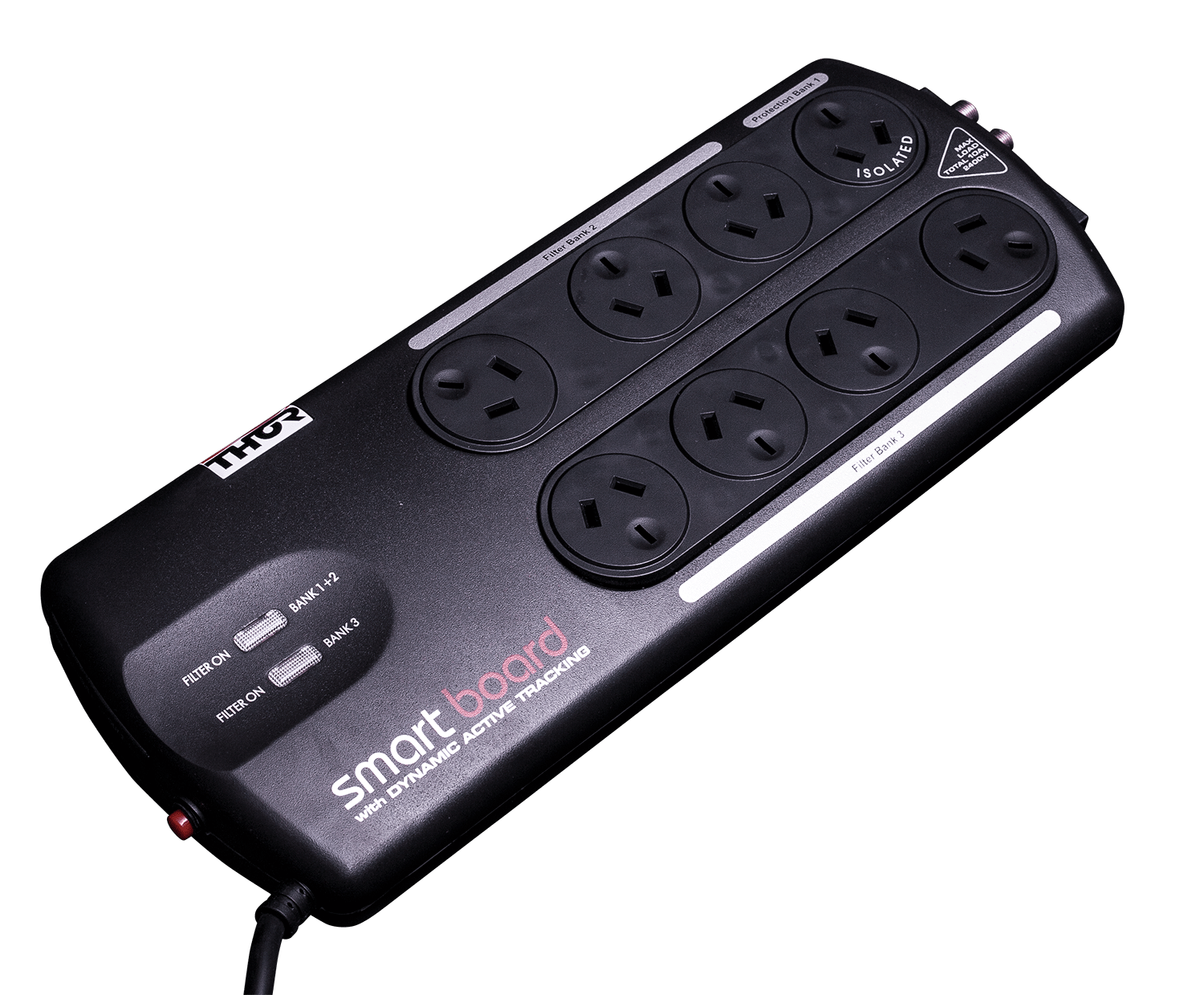 Thor A12BF Smart Board 8-way Powerboard
---
Specifications

| | |
| --- | --- |
| Product Dimensions | 350mm(L) x 45mm(H) x 140mm(W) |
| Supply voltage | 240/V AC 50/Hz |
| Maximum current rating | 10amps/2400 W (VA) |
| Clamping voltage | 275VAC |
| Reaction time | less than 1 nanosecond |
| Maximum transient | spike impulse current 208,000 amps (equivalent to 52,000 amps using UL1449 standard) |
| Maximum energy dissipation | 6080 Joules (equivalent to 2050 Joules using UL1449 standard) |
| Protection modes (all 8 outlets protects on all 3 conductors) | Active/Neutral, Active/Earth, Neutral/Earth) |
| EMI/RFI noise reduction | filter type Dynamic Active Tracking™ incorporating 38 separate protection components in 3 cascading circuits |
| Number of multi-stage filter banks | 2 |
| Number of isolated banks | 3 |
| Number of dedicated outlets | 4+3+1 |
| Total number of protected AC outlets | 8 |
| RJ 45 data protection | 1 in and 2 out |
| AV/TV Connection | In and out |
| Cable TV 'F' type connection | In and out |
| | Earth potential rise protection |
| | Earth leakage range less than 1 milli amp |
| Operating conditions | Indoor/AC mains |
| Operating temperatures | -10C/+60C |
| Cable length | 1.8m |
| Model No | A12BF |
THOR power protection products are guaranteed for a period of six (6) years from date of original purchase against damage or failure due to faulty components or workmanship.
We offer free shipping on any product over $99. For full details please see our Shipping Policy.

Our returns policy lasts 30 days. If 30 days have gone by since your purchase, unfortunately, we may not be able to offer you a refund or exchange. For full details please see our Refund Policy.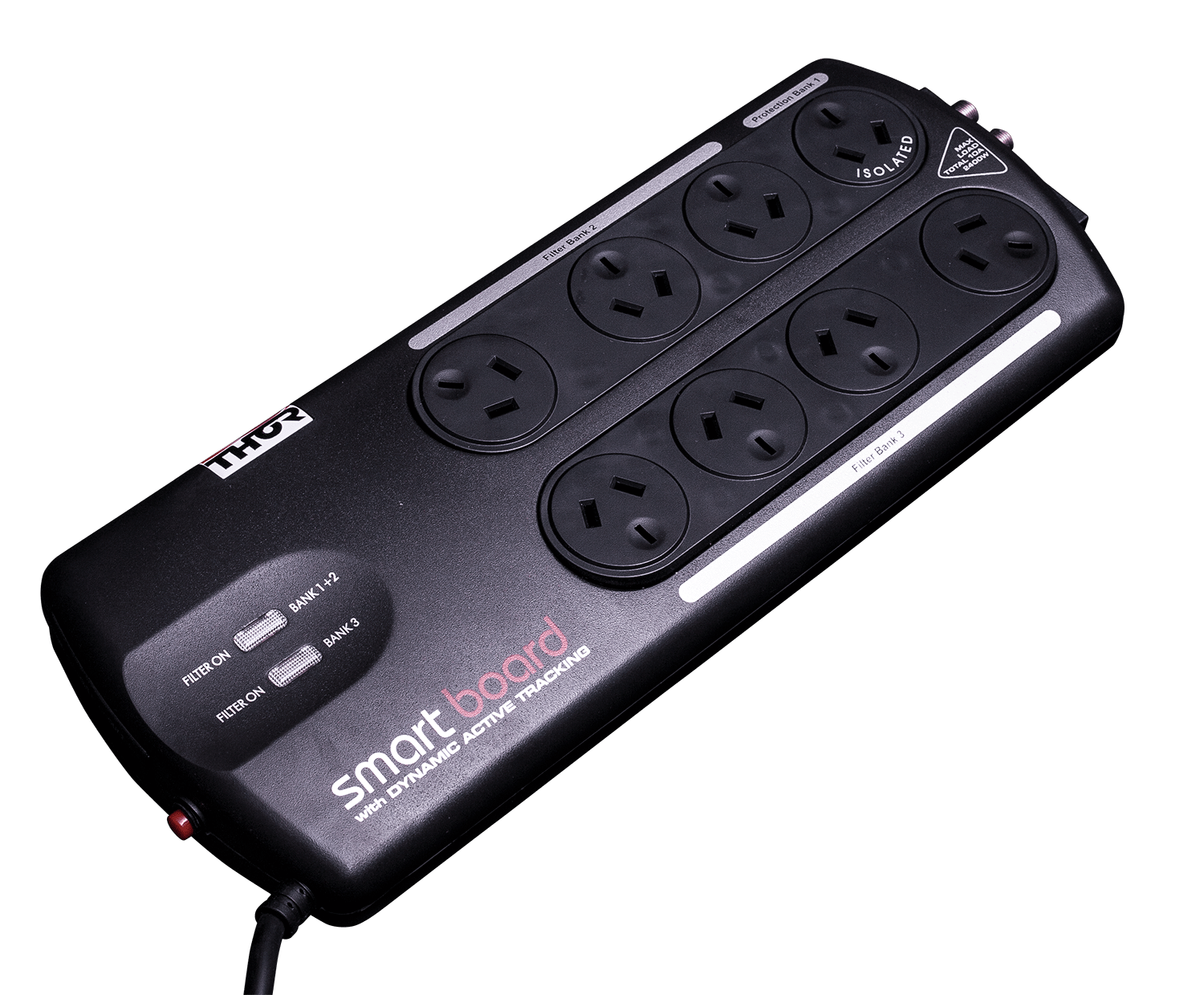 THE ULTIMATE PROTECTION
SmartBoard Smart Series with unique Dynamic Active Tracking™ is the most comprehensive and advanced solution to protect your electronic equipment.
The Thor SmartBrain not only protects from surges, it also filters and cleans electrical frequency noise to give you unbeatable sound and video quality. Enjoy a truer AV experience with better picture quality and purer sound. Can also improve computer gaming speeds and fix internet dropouts.
INSIDE THE BRAIN
SmartBrain has a premium filter technology called Dynamic Active Tracking. This unique filter has the best chance of "cleaning" electrical noise because it shields around 40% more frequencies when compared to other filters. It is an Active filter and can "clean" unwanted frequencies on both the upward curve and the downward curve of a sine wave (power). Most other  filters only work at the crest of the wave and therefore miss a huge section of these unwanted frequencies that can generate noise on sensitive electronic devices.
There are 5 separate earth lines which is a hum/loop reducing feature. This feature stops component cross talk and ensures isolation between the 3 x AC Banks (1 x 1 outlet; 1 x 3 outlet; 1 x 4 outlet) as well as the antenna/F type and Data connections. True circuit isolation ensures best performance for all connected equipment.
This product has no reviews yet.
WHILE YOU ARE BROWSING
You may also like