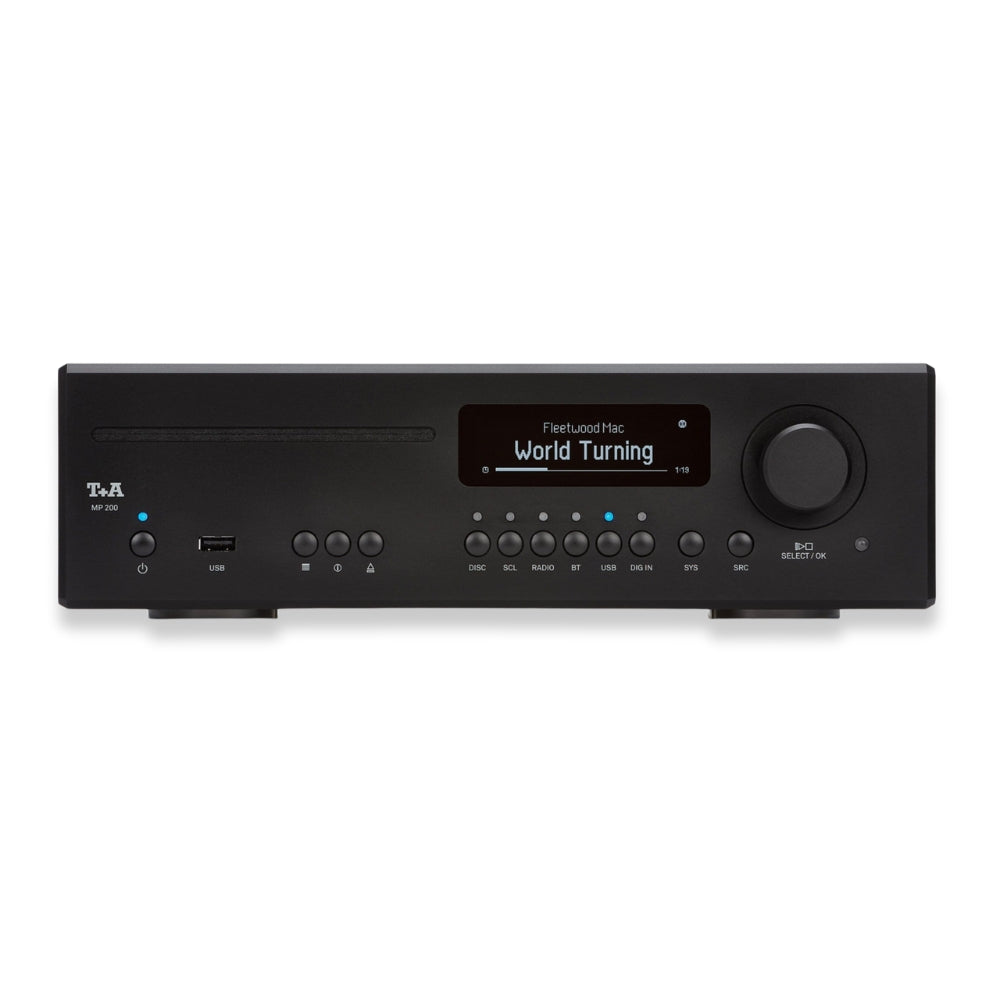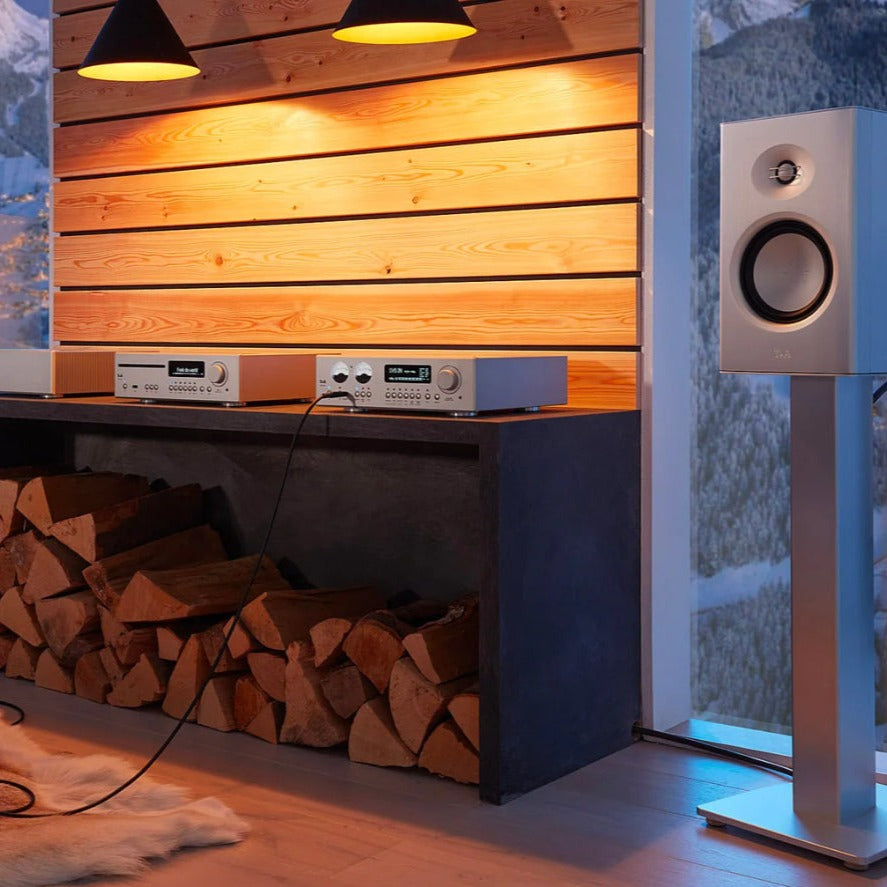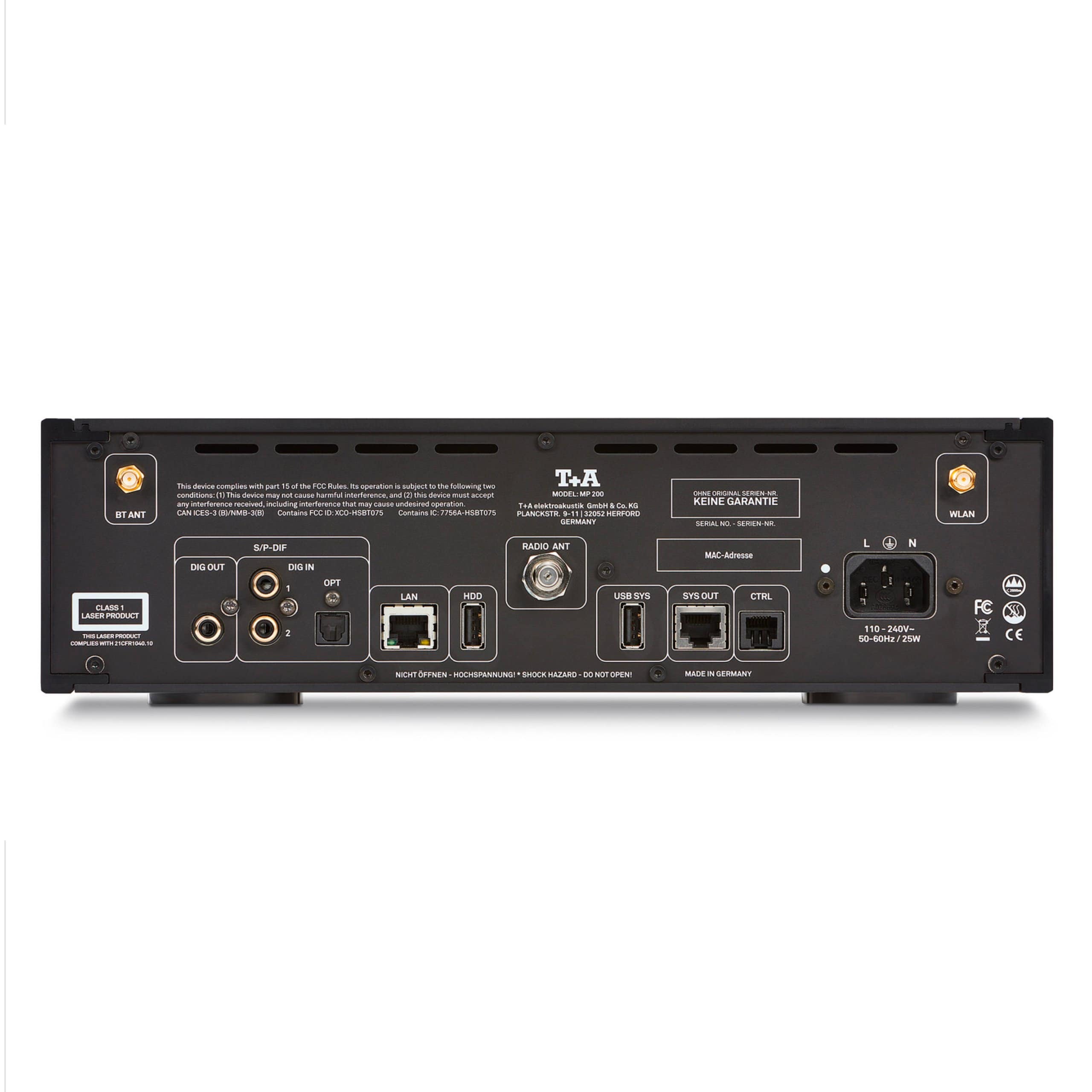 T+A Hi-Fi MP 200 Multi-source Player
---
All T+A Hi-Fi products are built to order. Please allow a 5 - 6 Week lead time after your purchase. There is occasionally a shorter lead time, depending on production runs. We will keep you up to date on your orders progress throughout.
Specifications

CD-Player
 
Formats:
CD/DA, CD-R, CD-RW, CD-text
Frequency response and dynamic range:
2 Hz – 20 kHz / 100 dB
Streaming Client
Formats / Standards:
MP3, AAC, FLAC, OGG-Vorbis, FLAC, WAV, AIFF, ALAC
Data rates:
PCM 32 … 192 kHz, 16/24 Bit; MP3 bis 320 kBit
Supported media servers:
UPnP 1.1, UPnP AV and DLNA kompatible Server, Microsoft Windows MediaConnect Server WMDRM10, DLNA compatible servers
Services:
Tidal, Deezer, qobuz, (subscription required) Roon Ready (in preparation)
Features:
Auto Network Config., Internet Radio Station database (automatic updates)
Interfaces:
LAN: Fast Ethernet 10/100 Base-T,WLAN: 2,4 GHz,+20 dBm (100 mW), IEEE 02.11 b/g/n2 x USB 2.0 Master mode
Tuner FM
Frequency range:
FM Radio 87,5 – 108 MHz (Europe / US); 76 – 90 MHz (Japanese version)
Sensitivity:
Mono (26dB S/N) 0,9 µV, Stereo (46 dB S/N) 40 µV
Overload margin:
103 dB µV
Stereo channel separation:
50dB
RDS Functions:
Stationname, Radio text
Tuner DAB
Reception standard:
DAB, DAB+
Frequency band:
168 – 240 MHz (Band III)
Overload margin:
103 dB µV
Sensitivity (BER = 10 – 4):
2,5 µV
Bluetooth
Supported audio formats:
aptX HD™, MP3, AAC, SBC
Frequency band:
2,4 GHz: 2042Mhz ... 2480Mhz Max. transmission power <10 dBm (EIRP)
RC protocol:
AVRCP
Inputs
SP/DIF (16-24bit):
2x coax (192kHz)1x TOS-Link (96kHz)
Outputs
Digital output coax (IEC 60958)SYS-LINK and USB-SYS output
Mains / Accessories / Dimensions
Mains in:
200 – 240 V, 50 – 60 Hz, 25 Watts
Normal operation (max.):
25 W
Standby (ECO):
< 0,50 W
Automatic power down:
After 90 Minutues without music signal
Dimensions:
10 × 32 × 34 cm 4,4 kg
Accessories:
Remote control handset FM200, Mains cord, USB-SYS-cable and RJ-45 SYS-Link-cable for connection of a DAC 200 or HA 200, WLAN and Bluetooth antenna
We offer free shipping on any product over $99. For full details please see our Shipping Policy.

Our returns policy lasts 30 days. If 30 days have gone by since your purchase, unfortunately, we may not be able to offer you a refund or exchange. For full details please see our Refund Policy.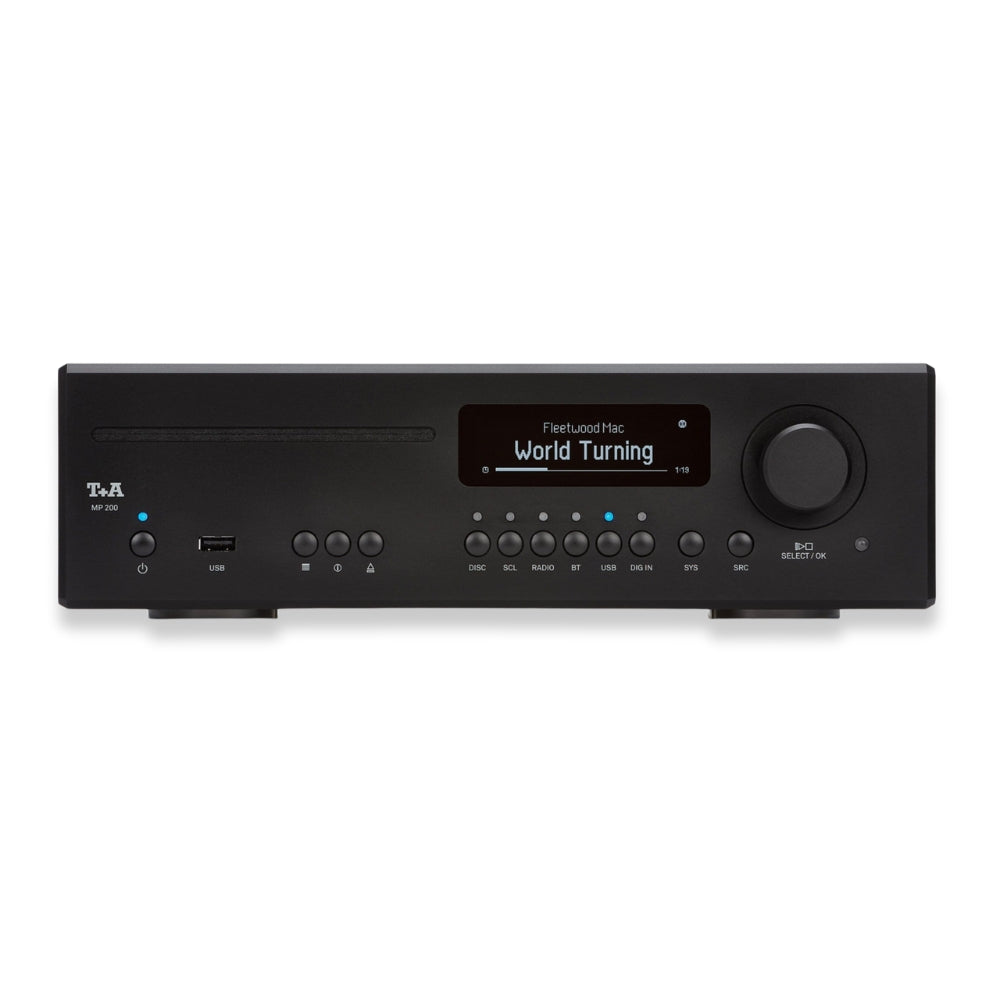 T+A Hi-Fi MP 200 Multi-source Player
All T+A Hi-Fi Products are built to order with a 5 - 6 Week lead time.
The MP 200 was developed with the design requirement of combining compact dimensions with a wide range of sources. From Bluetooth and CD to the very latest streaming and radio reproduction, the unit is able to exploit all sources to their fullest potential. The MP 200 can handle not only FM, FM-HD and DAB+ reproduction, it also offers equally convenient streaming from mobile devices and local network memory devices. External digital sources benefit equally from its outstanding signal processing capabilities.
Although the MP 200 works with any D/A converter, its overall design was developed to provide a special synergy when used with the Series 200 converters – the DAC 200 and HA 200: the T+A SYS Link exchanges control data, routes audio signals along the optimum path, and allows the MP 200 to become the command centre of a complete system when the T+A MusicNavigator app is used.
Manufacturers Details:
Radio & CD
In addition to Internet radio access, which is an integral part of the MP 200's streaming client, the device provides three additional forms of radio access: FM, FM-HD and DAB+. The unit's high sensitivity to incoming signals is in part responsible for its superlative sound quality, but the digital intermediate frequency, demodulation and stereo decoder output stages employed also play an important role. It is only the intelligent combination of all these qualities which makes the most classical of all signal sources sound so outstanding, whether using cable or an aerial.
Although digital streaming content has now gained a dominant position in the audio world, we continue to work constantly on further developing our CD mechanisms: this is the only way we can maintain a position where we can give our customers the unrestricted freedom to select their preferred music sources. The size of the MP 200's integral slot mechanism was developed specifically to suit the space available in the MP 200, where it fits seamlessly into the case. With its short access times and excellent error correction system – the result of further development – it plays back disc content with virtually zero delay once the CD is inserted, and operates completely without reproduction errors.
Engineered With Care:
Digital Inputs
The MP 200's digital connecting board features two digital S/P DIF inputs and one optical input, which enable any external source to be connected – including set-top boxes, disc drives and memory devices. A supplementary S/P DIF output is also available. Signal transfer and processing are carried out at HD-quality.

Control System
The App control system provides full control of every aspect of the MP 200, including access to streaming services and radio stations, as well as adjusting the smallest details of each device connected to the system. The MP 200 and the T+A MusicNavigator App – developed here in Herford – deliver a convenient and complete method of control using any iOS or Android device.
The front panels of the Series 200 devices were designed to be ergonomically efficient, with an intelligent combination of direct-access buttons and a jog dial (rotary push-dial).
Key Features:
Streaming Client & Bluetooth
Our streaming client was developed in-house, and forms one of the links between the MP 200 and the outside world. This network circuit, designed with audiophile criteria in mind, processes incoming WLAN, LAN and USB Master-Mode signals, thereby providing access to high-quality streaming services such as Tidal, Qobuz and Deezer. For local applications the streaming client is able to stream audio data up to a quality of 192/24 (HD). 
In contrast to standard computer-based solutions, which are typical in the audio industry, our streaming client is an in-house development from the ground up, and for this reason is completely free of quality losses, as often occurs due to high-frequency interference. 
In addition to exceptionally high reproduction quality, the outstanding feature of the streaming client is its convenience of operation: all streaming services and Internet radio stations are managed by the free Airable service, which carries out the system administration in the background. 
Thanks to the aptX HD™ technology employed in the MP 200, mobile data transmission no longer represents a barrier to high sound quality: in spite of the limited bandwidth of Bluetooth, the system can even cope with uncompressed Flac files.
This product has no reviews yet.
WHILE YOU ARE BROWSING
You may also like