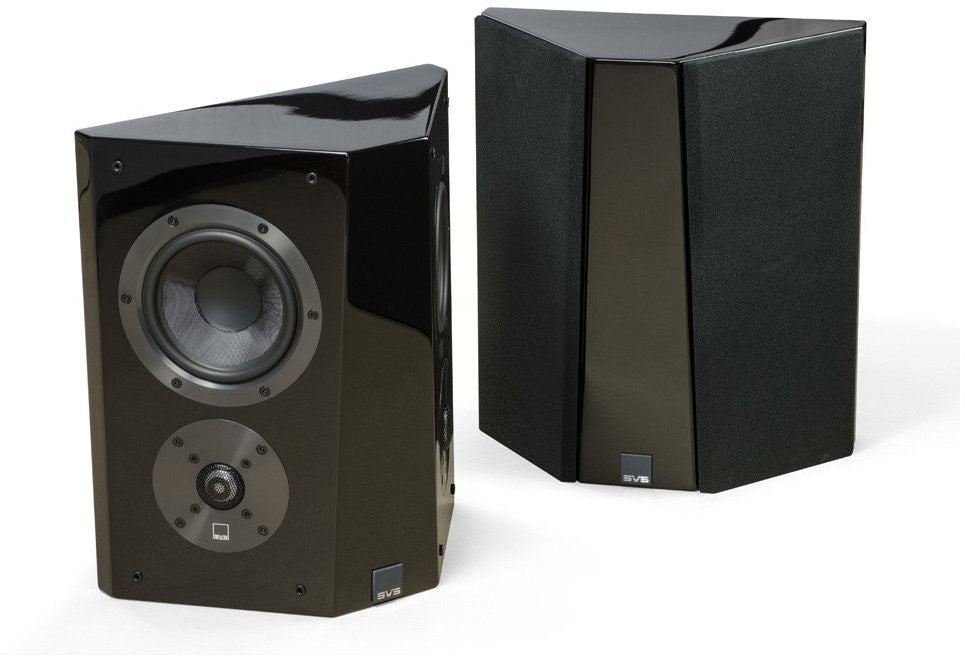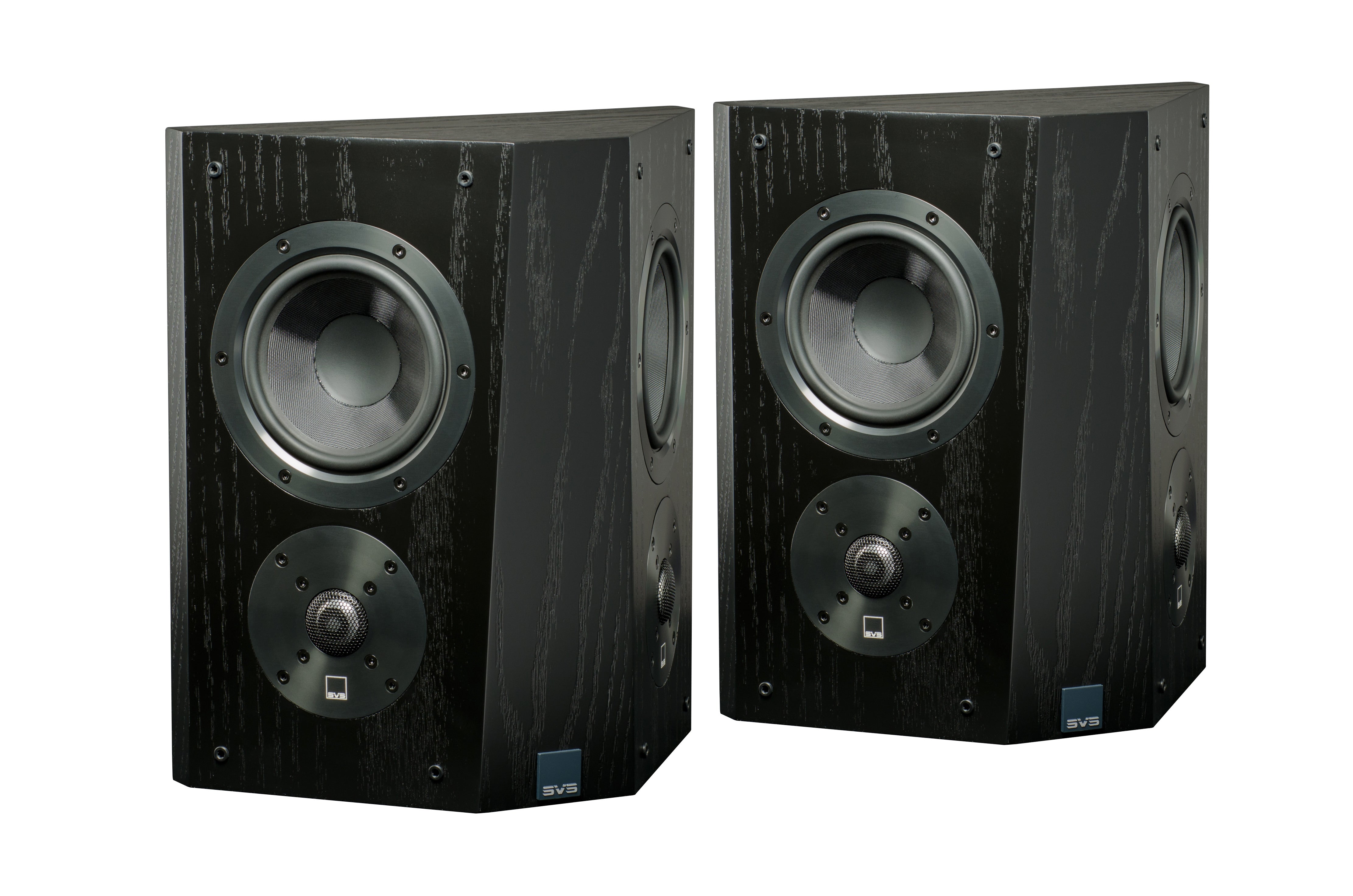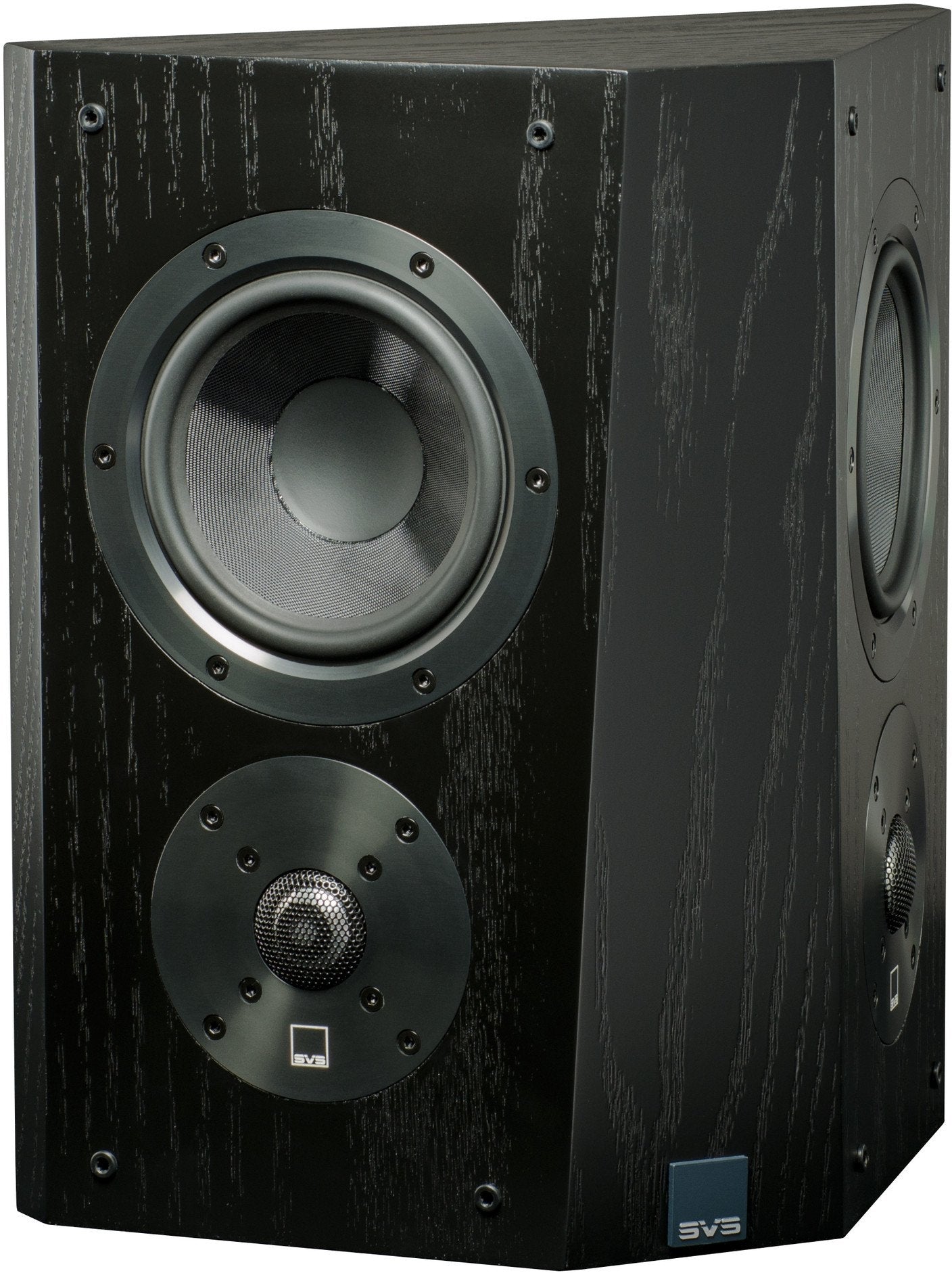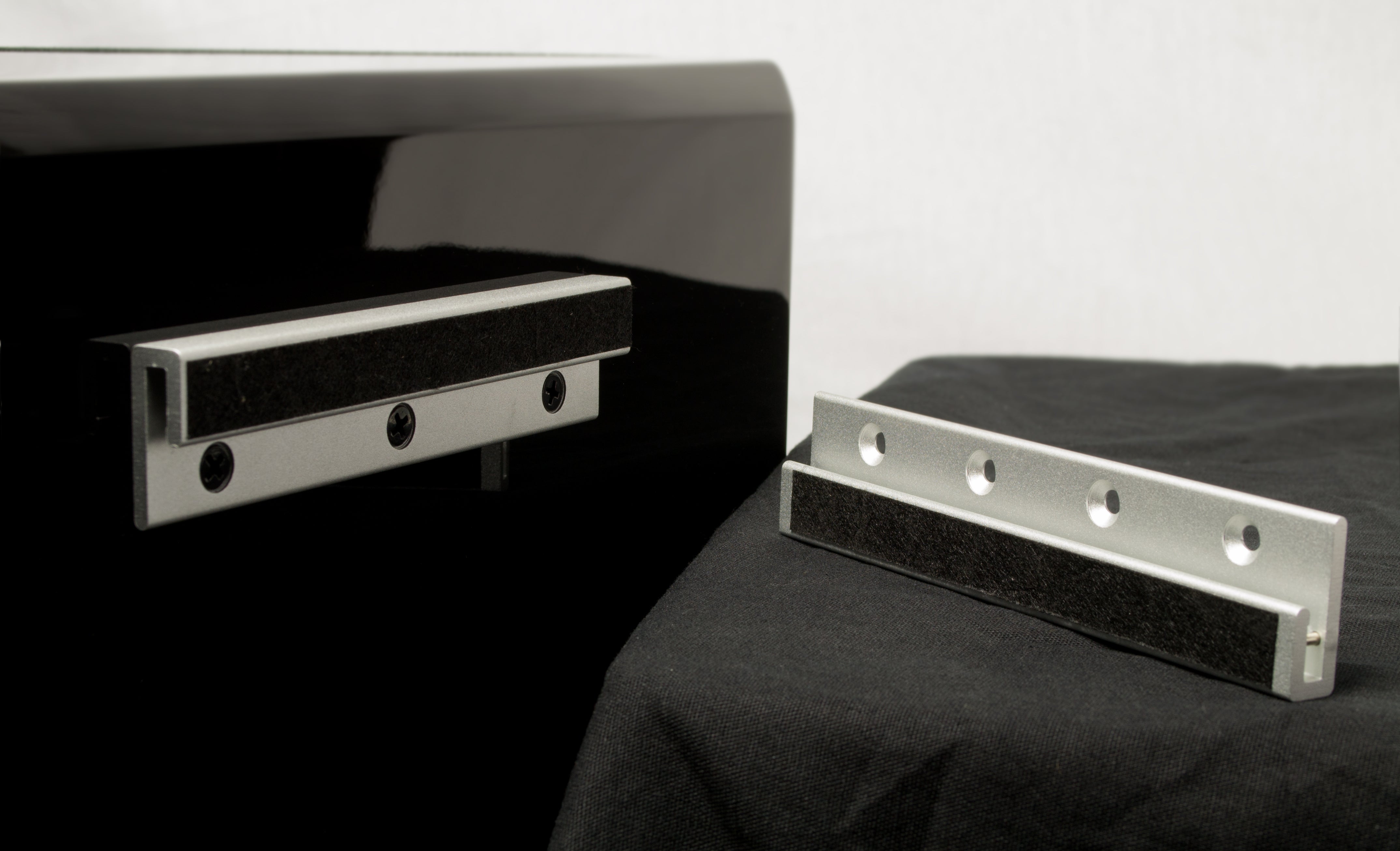 SVS Ultra Surround Speakers
---
Specifications

| | |
| --- | --- |
| Weight: | 8.2 kg |
| Dimensions: | 38.1cm (H) x 21.6cm (W) x 26.9cm |
| Colour: | Black Ash, Glossy Black |
| Enclosure Type: | Dual Baffle Surround Loudspeaker |
| Frequency Response: | 58 Hz-32 kHz (+/-3 dB) |
| Impedance: | 8 Ω |
| Sensitivity: | 87 dB |
SVS Australia's warranty covers all products, excluding accessories, by a warranty for 5 years from date of purchase.
We offer free shipping on any product over $99. For full details please see our Shipping Policy.

Our returns policy lasts 30 days. If 30 days have gone by since your purchase, unfortunately, we may not be able to offer you a refund or exchange. For full details please see our Refund Policy.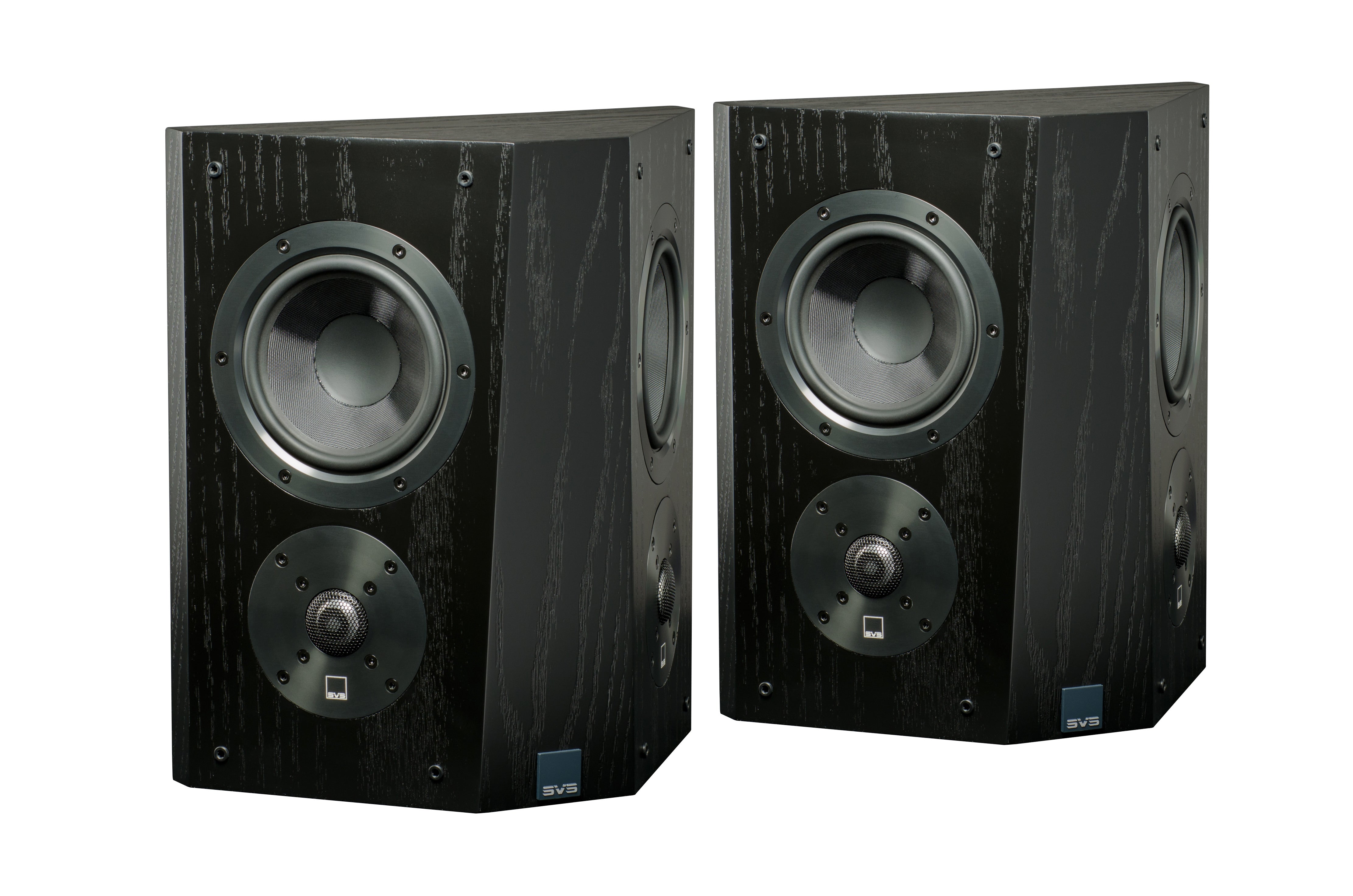 SVS Ultra Surround Speakers 

Innovative engineering and intelligent design come together in the SVS Ultra Surround home theatre speakers. Acoustically voiced to blend seamlessly with all models in the SVS Ultra and Prime series speaker lines, the Ultra Surround speaker deeply immerses you in the onscreen action by conveying a massive soundstage and rendering the smallest details with pinpoint clarity and spatial imaging.
Designed with dual isolated SoundMatch two-way crossovers for each tweeter and woofer, the SVS Ultra Surround can operate in either bi-pole, dipole, or in the unique SVS Duet Mode, which creates two separate speakers in a single cabinet. In Duet mode, each set of drivers in the Ultra Surround speaker receives a discrete signal, so your system can deliver true 7 channel surround sound using only 5 full-range speakers.
Every design element of the SVS Ultra Surround speakers was scrutinised to achieve cost-no-object audio performance and build quality, creating a groundbreaking home theatre surround sound loudspeaker. Countless design innovations and world-class build materials result in reference sound quality and stunning dynamics normally reserved to for the world's most expensive speakers.
Whether playing the aggressive, multi-layered soundtrack of an action movie or the understated effect of rain falling all around the listener, the Ultra Surround speaker delivers a powerful and convincing audio experience. From the drivers to the crossover and cabinet, each component is painstakingly engineered and tested to achieve breathtaking realism.


Manufacturer Details
Ultra Driver & Tweeter Design
Room-filling low frequency and midrange playback is handled by dual 5.5-inch mid-bass drivers that feature glass-fibre cones with excellent stiffness to mass ratio for enhanced sensitivity and voicing that's transparent and completely faithful to the source material. Whether conveying the nuance of subtle surround effects like a car driving by or a door closing, or the head-spinning sonic impact of an explosion happening behind you, the Ultra Surround drivers deliver pinpoint accuracy with precise imaging and a massive soundstage.
Elevating high frequency performance, the Ultra Surround speaker's aluminium dome tweeter is pristinely neutral and revealing. Light, efficient, rigid and impervious to distortion even at high sound pressure levels, the tweeter's airy, unveiled highs compare with the best home theatre surround sound speakers in the world. The FEA-optimised tweeter diffuser ensures broad dispersion for a wide and convincing soundstage and perfect on- and off-axis frequency response. This means the largest possible "Sweet Spot" for surround effects so everyone can be equally immersed with what's happening onscreen.
Innovative Two-Way SoundMatch Crossover
No expense was spared with the innovative SVS SoundMatch two-way crossover. The unique topology reveals a broad, yet focused soundstage, with accurate frequency response and imaging at all listening positions. You clearly sense the directionality of sound coming from different places all around you. The crossover also enables SVS's innovative Duet Mode, so you can go from 5.1 to 7.1 or 7.1 to 9.1 without adding additional surround sound speakers. The precise tuning of the SoundMatch Crossover also ensures balanced output throughout the frequency spectrum.
The Ultra Surround speaker also comes standard with a wall-mounting bracket or it can easily be placed on a speaker stand for maximum placement flexibility.
Performance Driven Cabinet Design and Geometry
Every feature on the Ultra Surround speaker's cabinet was designed with a sonic purpose in mind. Tapered edges on the cabinet's front baffle, known as chamfers, minimise edge diffraction for clear and precise sound staging. Internally, each cabinet employs separate sealed enclosures for both mid-bass drivers and tweeters to optimise performance and minimise interaction. Even the grille design is FEA-optimised to maximise acoustic transparency.
Meticulous, Innovative Design Process
All SVS speakers, regardless of price or form factor, are crafted in the same painstaking fashion. Call it a marriage of exacting science and a passionate expression of technique and love of great sound.
Before a model is ever constructed, drivers and cabinets are theoretically designed using the most sophisticated computer-aided design (CAD) processes in the world. Then prototypes are carefully measured and optimised in an anechoic environment for pitch-perfect frequency response. After the ideal theoretical frequency response is attained, exhaustive listening and measurement is done in listening rooms calibrated to closely resemble typical home-like room environments.
The result is a speaker that measures well with near-perfect real world frequency response, but also optimised to sound amazing on a human level through listening tests with real music and cinematic content, in a real world listening environment like yours.


Engineered With Care
Driver Specs:
1" Aluminum Dome Tweeter:
Vertically aligned tweeter and midrange improves horizontal axis polar response, with reduced lobing and comb filtering
FEA-optimised diffuser for airy and unveiled presentation
Aluminium dome delivers exceptional transient response and exceptional stiffness/mass ratio
5.5" Woofers:
Composite glass-fibre cone with excellent stiffness/mass ratio for high sensitivity and pistonic behaviour beyond pass band.
Aluminium shorting rings to reduce gap inductance and lower distortion
Cast aluminium basket to ensure precise alignment of critical components and additional heat-sinking capacity
Vented voice coil formers to minimise air compression artefacts at high drive levels
Crossover & Cabinet Specs:
Crossover:
2-way crossover with premium-grade capacitors, air-core inductors and heavy-trace printed circuit boards
Dual isolated crossover networks allows for bi-pole, dipole or unique Duet mode
Crossover frequency and slopes optimised for excellent off-axis polar response, outstanding phase coherency, and total radiated sound power
Tweeter-to-woofer crossover: 2.0 kHz
Cabinet:
Non-parallel cabinet panels reduces axial standing waves within the cabinet, reducing frequency response coloration
Acoustically transparent and FEA optimised grilles, wedge-shaped front baffle and flush-mounted drivers all contribute to reduced edge diffraction and improved on-axis high frequency response


This product has no reviews yet.
WHILE YOU ARE BROWSING
You may also like