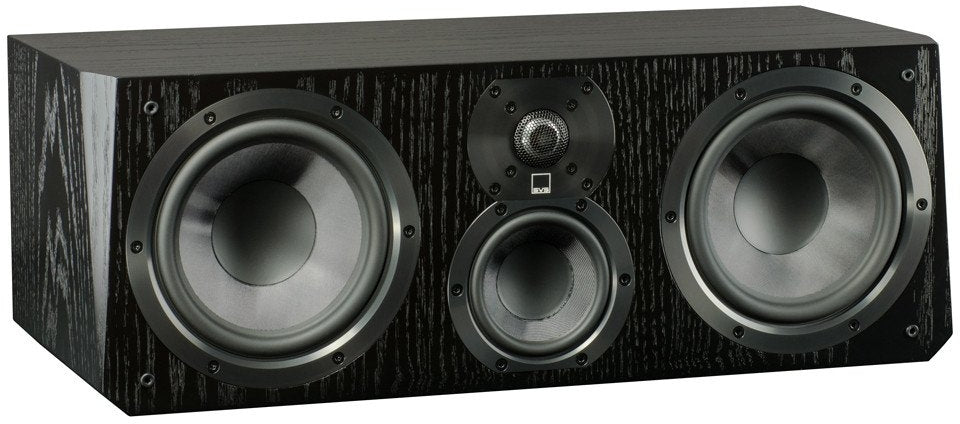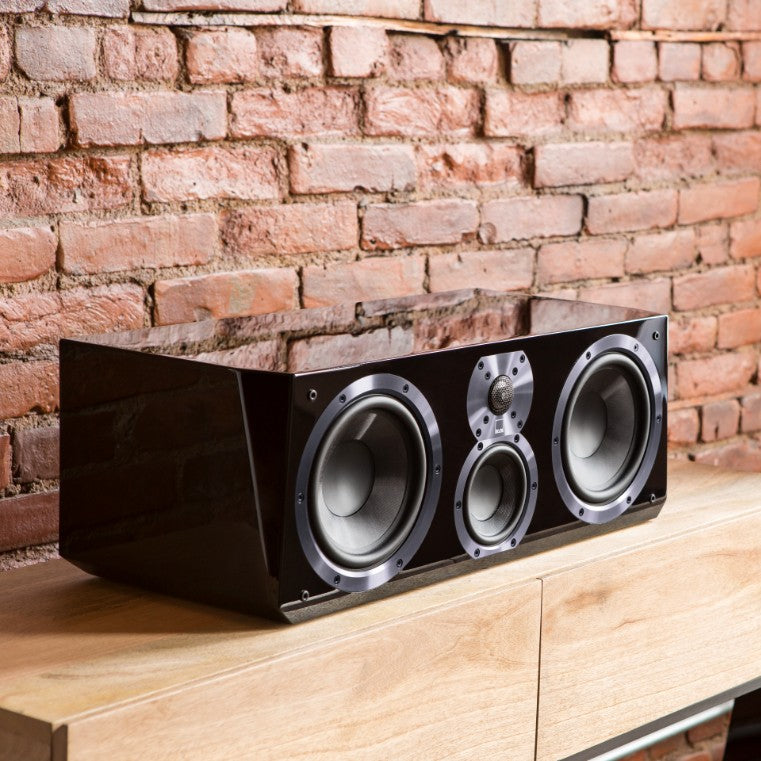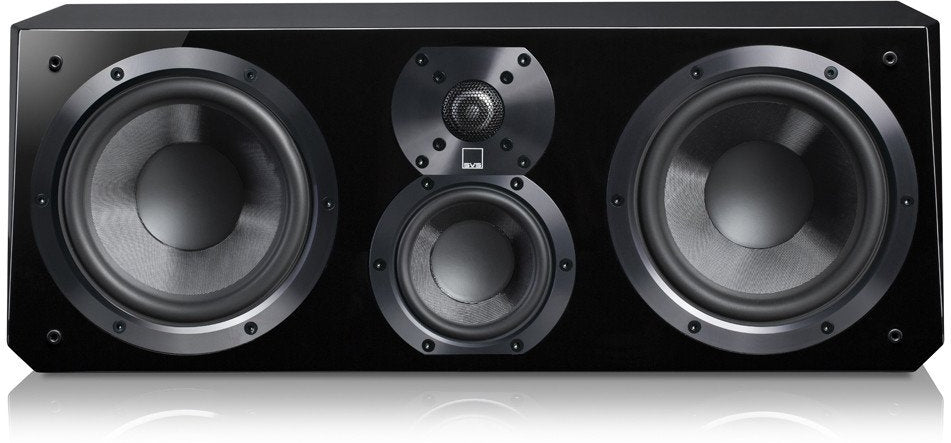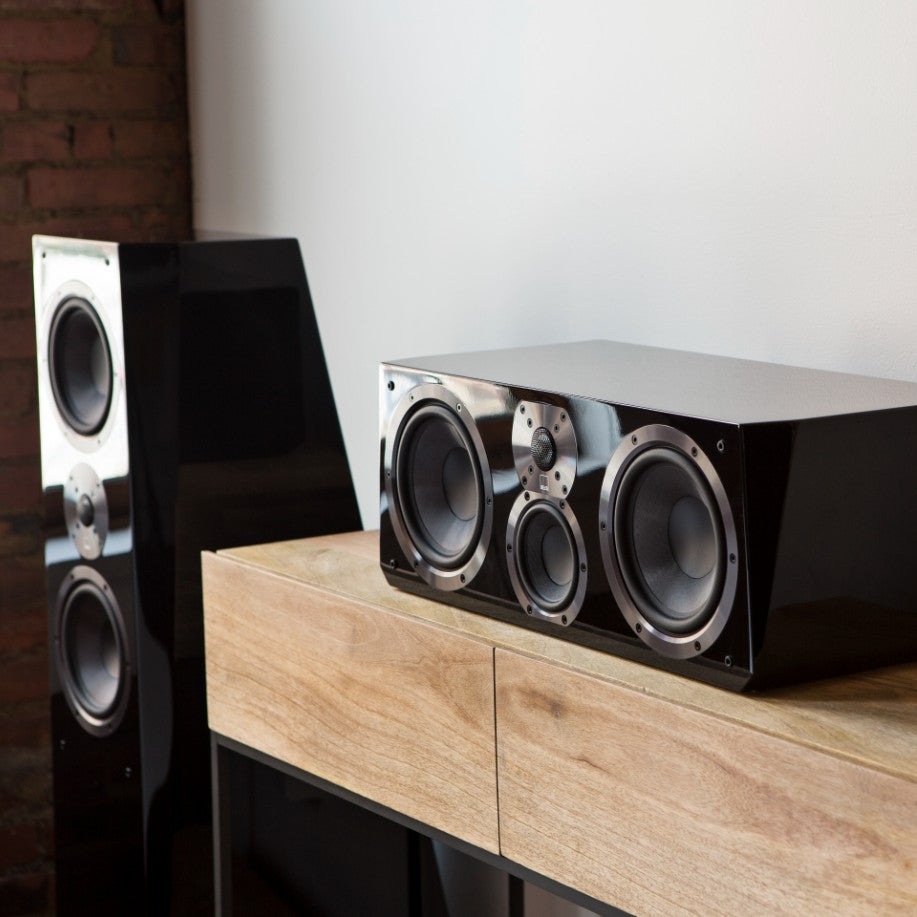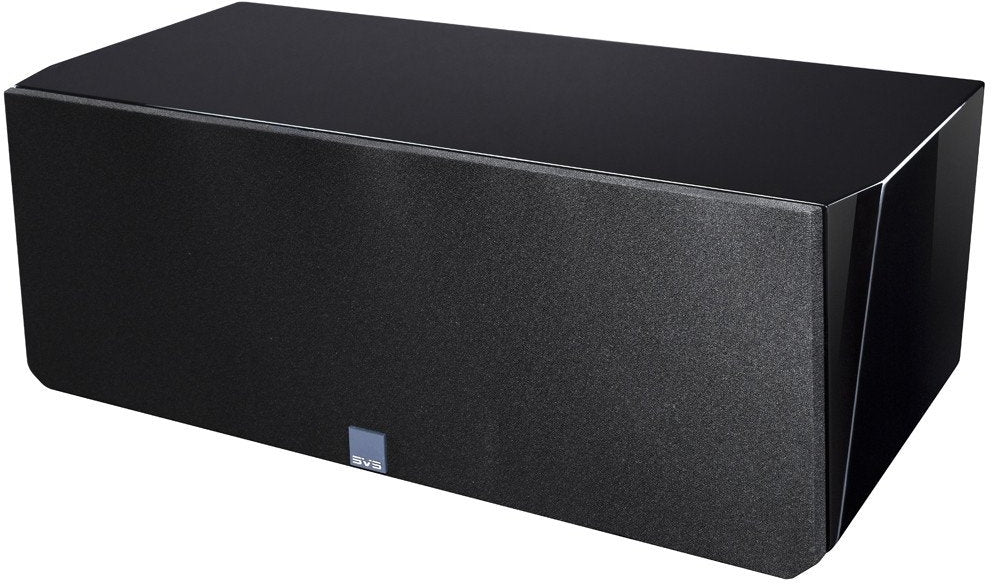 SVS Ultra Centre Channel Speaker
---
Specifications

Frequency Response / Acoustic Data
Rated bandwidth
45 Hz-32 kHz (+/-3 dB)
Nominal impedance
8 ohms
Sensitivity
87 dB (2.83V @ 1 meter full-space, 300-3kHz)
Recommended amplifier power
20-225 watts
Speaker Specs
Center Channel Loudspeaker
Real black oak veneer and piano gloss black finish options
Dual gold-plated 5-way binding posts
Dual 1.7" wide-flared rear-firing ports
Cloth grille with pin/cup retention system
Elastomer stick-on bumper feet (adds 3mm to height)
Cabinet Dimensions
8.2" (H) x 22" (W) x 10.6" (D) (without grille)
Overall Dimensions
8.2" (H) x 22" (W) x 10.9" (D) (with grille)
Shipped Dimensions
14" (H) x 27" (W) x 15" (D)
Weight
31 pounds
Shipped Weight
35 pounds
Driver Specs
1" Aluminum Dome Tweeter
Vertically aligned tweeter and midrange improve horizontal axis polar response, with reduced lobing and comb filtering
FEA-optimized diffuser for airy and unveiled presentation
The aluminium dome delivers exceptional transient response and exceptional stiffness/mass ratio
4" Midrange Drivers
Composite glass-fibre cone with excellent stiffness/mass ratio for high sensitivity and pistonic behaviour beyond pass band
Aluminium shorting ring to reduce gap inductance, lower distortion, and enhance high-frequency response
Cast aluminium basket to ensure precise alignment of critical components and additional heat-sinking capacity
Vented voice coil former to minimise air compression artefacts at high drive levels
6.5" Woofers
Composite glass-fibre cone with excellent stiffness/mass ratio for high sensitivity and pistonic behaviour beyond pass band
Aluminium shorting rings to reduce gap inductance and lower distortion
Cast aluminium basket to ensure precise alignment of critical components and additional heat-sinking capacity
Vented voice coil formers to minimise air compression artefacts at high drive levels
Crossover & Cabinet Specs
Crossover
3-way crossover with premium-grade capacitors, air-core inductors and heavy-trace printed circuit boards
Midrange-to-tweeter crossover: 2.2 kHz
Midrange-to-woofer crossover: 500 Hz
Cabinet
Acoustically transparent and FEA optimised grilles, wedge-shaped front baffle and flush-mounted drivers all contribute to reduced edge diffraction and improved on-axis high-frequency response
FEA-optimised bracing reduces cabinet resonances
SVS Australia's warranty covers all products, excluding accessories, by a warranty for 5 years from date of purchase.
We offer free shipping on any product over $99. For full details please see our Shipping Policy.

Our returns policy lasts 30 days. If 30 days have gone by since your purchase, unfortunately, we may not be able to offer you a refund or exchange. For full details please see our Refund Policy.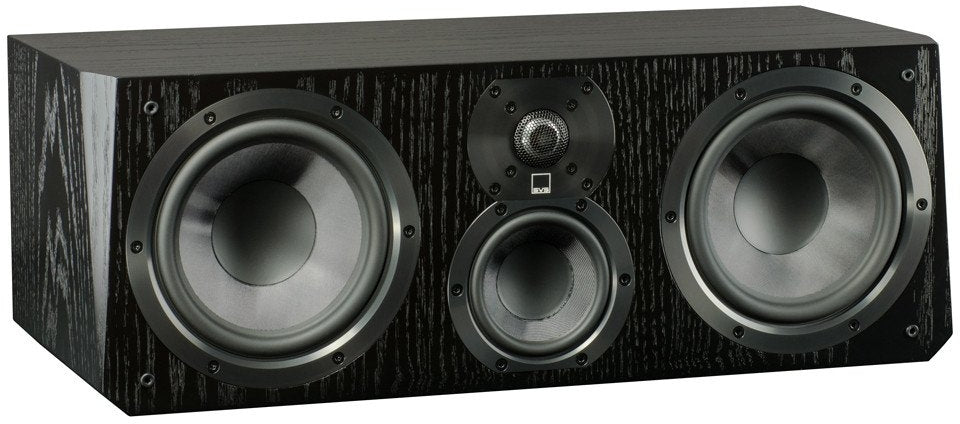 Ultra Centre Speaker
The reference 3-way SVS Ultra Centre channel speaker reproduces the most demanding movie and music content with depth, clarity and vigour, while serving as the main soundstage anchor and critical sonic bridge between the front left and right speakers in a surround sound home theatre. Amazingly detailed and revealing of the finest nuance and textures with excellent low-frequency extension, the SVS Ultra Center combines power and precision to outperform much larger and more expensive centre channel speakers.
Built without compromise, the SVS Ultra Centre speaker features a painstakingly tuned SoundMatch three-way crossover with dual 6.5-inch glass fibre composite woofers and a vertically aligned 1-inch aluminium dome tweeter and 4-inch midrange driver. From the acoustically enhanced cabinet geometry to the high-end components and build quality, the Ultra Center is a star among home theatre speakers.
A centre channel speaker is often considered the most underrated speaker in a home theatre surround sound system because it handles the majority of the dialogue, vocals, music and sound that's coming from right in front of you in a movie, but rarely does a home theatre centre speaker get the same love as a tower or bookshelf speakers. Many speaker manufacturers compromise with a two-way design or thin centre channel speaker with flimsy drivers as an afterthought, not SVS. The SVS Ultra Center channel speaker flexes serious sonic muscle and is optimised for horizontal placement and elevating the most challenging movie and music content to reference quality.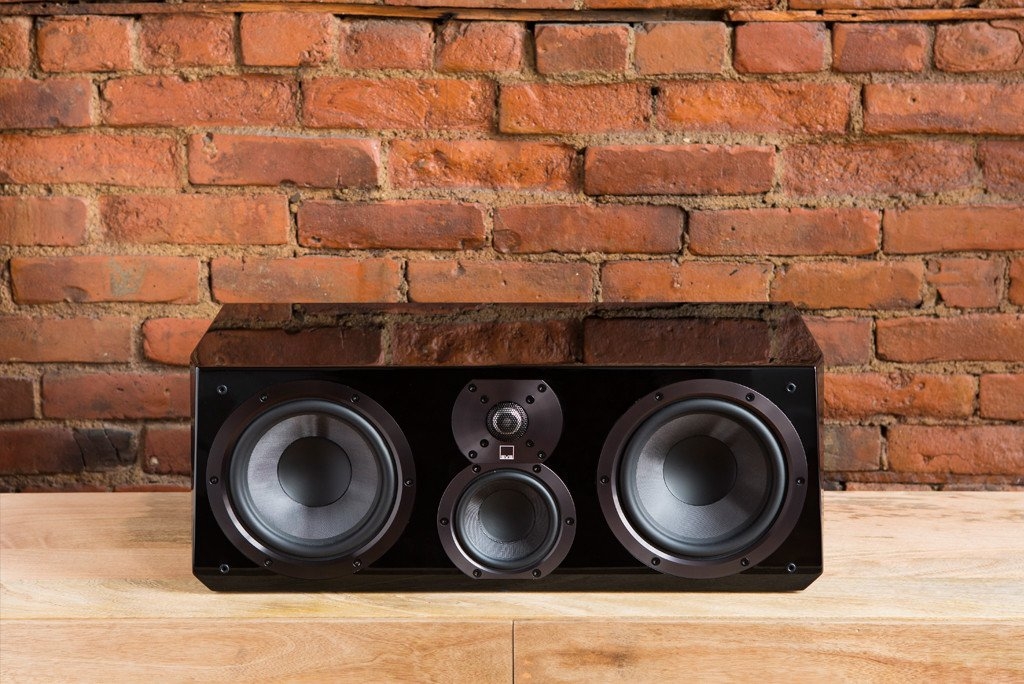 Ultra Driver & Tweeter Design

For the all-important midrange where the majority of audio content lives, the SVS Ultra Center speaker features a robust 4-inch composite glass-fibre cone midrange driver with an excellent stiffness to mass ratio for high sensitivity and maintaining pistonic behaviour well beyond the pass-band of the driver. The midrange is housed in its own sub-enclosure and vertically aligned with the 1-inch aluminium dome tweeter, which features an FEA-optimized diffuser to ensure broad dispersion for an incredibly wide and convincing soundstage and perfect on- and off-axis frequency response. This means the largest possible "Sweet Spot" so everyone can experience the same stunning clarity. Dual 6.5-inch woofers deliver the effortless bass output and power handling capabilities rarely found in a centre channel home theatre speaker.
During movie, TV or music playback, all components within the Ultra Center channel speaker act in perfect unison to provide crisp vocal clarity, unerring dialogue intelligibility and powerful dynamics, while anchoring the front stage with seamless transitional effects and a massive soundstage. Whether conveying the breathy dialogue of an intense conversation or the multi-layered, high-impact soundtrack of an action movie, the Ultra Surround speaker delivers a powerful and convincing audio experience.
Innovative SoundMatch Crossover Design
A three-way crossover design is imperative for a truly stand-out centre channel. The Ultra Center speaker features a unique SVS SoundMatch three-way crossover with precisely tuned crossover frequencies and slopes that result in a smooth off-axis response, outstanding phase coherency and a stable, robust soundstage. Premium-grade capacitors, air-core inductors and other high-end components ensure pristine signal transmission and utter neutrality.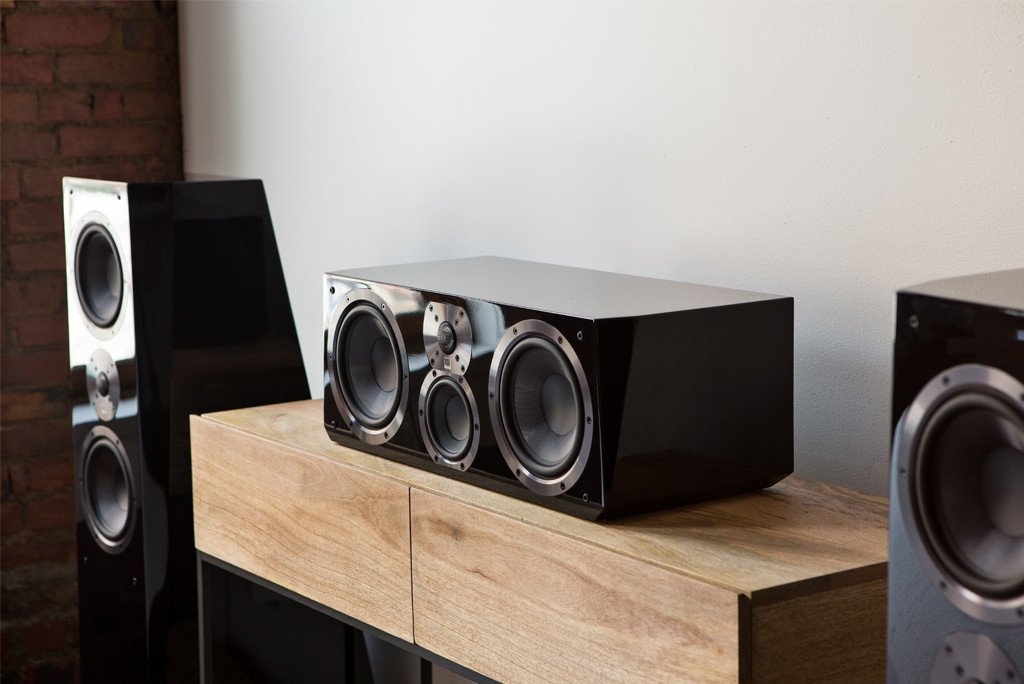 Performance Driven Cabinet Design and Geometry

Every feature on the Ultra Center channel speaker's cabinet was designed with a sonic purpose in mind. Tapered edges on the cabinet's front baffle, known as chamfers, minimise edge diffraction for clear and precise sound staging. Internally, each cabinet employs separate sealed enclosures for both mid-bass drivers and tweeters to optimise performance and minimise interaction. Even the grille design is FEA-optimized to maximise acoustic transparency.
This product has no reviews yet.
WHILE YOU ARE BROWSING
You may also like