SONOS Indoor-Outdoor Pack
Includes SONOS One and SONOS Move.
Get brilliant sound at home and beyond with Sonos Move and One. Control with your voice, the Sonos app, and Apple AirPlay 2 on WiFi, and stream via Bluetooth everywhere else. 
SONOS Move
The durable, battery-powered smart speaker for outdoor and indoor listening.
Get brilliant sound anywhere with the weatherproof and drop-resistant Move. Control with your voice, the Sonos app, and Apple AirPlay 2 at home, and stream via Bluetooth when WiFi isn't available.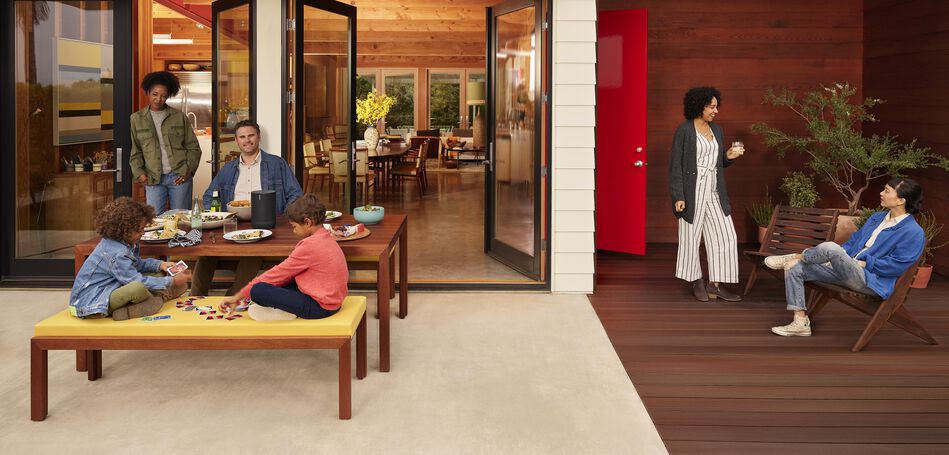 Great sound in the great outdoors

Experience surprisingly deep bass, a wide soundscape, and automatic Trueplay™ tuning that perfectly balances the sound for where you are and what you're listening to.
Voice control
The Google Assistant and Amazon Alexa are built right in so on WiFi you can play music, check news, set alarms, get your questions answered, and more, completely hands-free.

WiFi at home, Bluetooth everywhere else
Stream over WiFi and connect Move to the rest of your Sonos system at home. Switch to Bluetooth when you're away and offline. Weather-resistant
With an IP56 rating, Move stands up to humidity, rain, snow, dust, salt spray, UV rays, and extreme heat and cold.
Battery that lasts
Enjoy up to 10 hours of continuous play time and deep, powerful sound. Easily recharge Move on the included base, or get power on the go with the USB-C travel charger.
Grab and go
Move fits seamlessly into the included charging base and features an ergonomic handle, making it easy to pick up and carry.
Ultra-durable
Don't worry about accidental drops or bumps. Move's components are protected by a hardwearing, shock-resistant case.
Simple recharging
No need to plug Move in. Set the speaker on the included indoor charging base for quick power while you listen.
Features & Specs:

Audio:
Two Class-D digital amplifiers perfectly tuned to match the speaker drivers and acoustic architecture.

Responsive audio chime lets you know Sonos Move has heard you and is working on a response.

Far-field microphone array uses smart voice capture and noise cancellation.

One downward-firing tweeter creates a crisp, clear high-frequency response that disperses evenly for an ultra-wide soundscape.

One mid-woofer integrated into the cabinet ensures faithful playback of mid-range vocal frequencies plus deep, rich bass.
Dimensions:
Rated IP56 for protection from dust particles and liquid splashes.

Dimensions: H x W x D  - 

9.44 x 6.29 x 4.96 in. (240 x 160 x 126 mm)

Product finish: Black with black grille

Top-panel features: Capacitive touch controls for volume up/down, previous/next track, play/pause, microphone mute. LED indicates status, mute status, and voice feedback.

Complete privacy: 

An illuminated LED indicator light ensures you're always aware when the speaker's microphone is active.

Weight: 6.61 lb (3 kg) including battery
Power and Networking:
Power supply: USB-C adapters must support one or more of the following output levels: 12V/3A, 15V/3A, 20V/2.25A.

Charging base power supply: - Input: 100-240V, 50-60 Hz, 1.2A; Output: 18VDC, 2.5A

WiFi: Supports 802.11 b/g/n, 2.4 GHz, and 5GHz.

Bluetooth: Stream music and more with Bluetooth when you're away from home using your phone or another capable device.

Apple AirPlay 2: Works with AirPlay 2 on Apple devices iOS 11.4 and higher.

Battery: 10 hours per charge

Playback from -10°C to 55°C. Charging from 0°C to 45°C.
Contents:
Sonos Move, charging base, QuickStart Guide, and legal/warranty information.

SONOS One
The Smart Speaker for Music Lovers
Sonos One with Amazon Alexa built in
Start and control music with your voice, with Amazon Alexa built right in.
Use the Sonos app to manage all your music in one place: Amazon Music, Spotify, Apple Music, internet radio and 80 other streaming services globally.
For Alexa-supported services, use your voice to request artists, songs, albums, playlists, podcasts and radio stations.
For services not currently supported by Alexa, use your voice to pause a song, turn up the volume and other basic playback controls.
Connect wirelessly with other Sonos Home Sound System speakers to play music in any or every room.
Enjoy surprisingly rich, room-filling sound from a smart speaker.
Seamless all-black or all-white colour with a smooth matte finish for an appearance that fits in any home.
AirPlay 2 is now available.
Play and control your music, hands-free. Just ask.
Sonos One blends great sound with Amazon Alexa, the easy-to-use voice service, for hands-free control of your music and more. Use your voice to play songs while you cook. Tell Alexa to turn the volume up while you're in the shower. You can even request a lullaby, out loud, when you're tucking in the kids.
Ask Alexa to play music from these featured music services.
Or to pause, resume, skip or change the volume with all other music services available. 


Multi-room listening
Sonos One wirelessly connects to Sonos speakers in additional rooms, allowing you to expand your Home Sound System when you're ready.
Be heard
Built with a custom six-microphone array to hear you from anywhere in the room, no matter how loud the music is playing. With smart voice capture and noise cancellation, the Sonos One makes sure you're heard.


Superior sound
Built on the mini-but-mighty blueprint of Play:1, Sonos One is backed by a pair of Class-D amplifiers and custom-built drivers, meticulously tuned to the speaker's unique acoustic architecture.
Better over time
Since Sonos is continually updating with new features, services and skills, both your music and voice options will keep getting better over time.
Enhanced features 
 

Fits almost anywhere

Mount Sonos One to the wall, ceiling or a speaker stand. Its small size also makes it perfect for bookshelves, counters and snug spaces.

 

Create a home theatre

Use a pair of Sonos Ones and Playbar or Playbase to create surround sound for all your movies, games and TV shows. And stream music too.

Humidity resistant

We built One to be humidity resistant so you can enjoy your favourite songs in music-starved places like bathrooms and outdoor patios. All you need is WiFi access and a place to plug it in. Just remember, it's not waterproof or weather resistant.

 Complete Privacy

  

An illuminated LED indicator light ensures you always know when your speaker's microphone is active. And when the light's off, the mic is off. Sonos One is designed with extra security - the hard-wired LED connection ensures no one is listening when you want privacy.
Specifications